Private construction & engineering law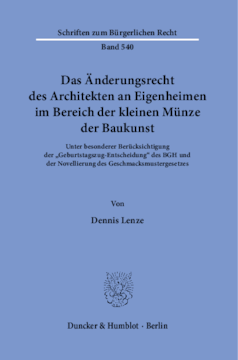 BOOK
Das Änderungsrecht des Architekten an Eigenheimen im Bereich der kleinen Münze der Baukunst
Unter besonderer Berücksichtigung der »Geburtstagszug-Entscheidung« des BGH und der Novellierung des Geschmacksmustergesetzes
Schriften zum Bürgerlichen Recht, Vol. 540
(2022)
Additional Information
Book Details
ISBN

978-3-428-58483-3
978-3-428-18483-5 (print edition)

DOI

https://doi.org/10.3790/978-3-428-58483-3

Edition

1

Language

German

Pages

198

Collections

Subjects
Pricing
Institution

€ 80.00 (incl. local VAT if applicable)

Individual

€ 62.90 (incl. local VAT if applicable)
About The Author
Dennis Lenze studierte Rechtswissenschaften an der Philipps-Universität Marburg und legte die erste juristische Staatsprüfung 2015 ab. Im Anschluss arbeitete er als wissenschaftlicher Mitarbeiter am Institut für Verfahrensrecht an der Philipps-Universität Marburg bei Herrn Prof. Dr. Wolfgang Voit und betreute unter anderem die Zusatzqualifikation im privaten Baurecht. Derzeit ist er als Rechtsreferendar beim OLG Frankfurt am Main und wissenschaftlicher Mitarbeiter bei Homann Rechtsanwaltsbüro tätig.
Dennis Lenze studied law at the Philipps University of Marburg and passed the first state law examination in 2015. Subsequently, he worked as a research assistant at the Institute for Procedural Law at the Philipps University of Marburg under Prof. Dr. Wolfgang Voit and supervised, among other things, the additional qualification in private construction law. He is currently a legal trainee at the Higher Regional Court of Frankfurt am Main and a research assistant at Homann Rechtsanwaltsbüro.
Abstract
Durch die Novellierung des Geschmacksmustergesetzes im Jahre 2004 und die »Geburtstagszug-Entscheidung« des BGH wurde einer erhöhten Schutzuntergrenze im Urheberrecht und so auch in Bezug auf Werke der Baukunst der Boden entzogen. Werke der kleinen Münze, auch der Baukunst, sind daher in den Schutzbereich des UrhG einzubeziehen. Durch diese Verschiebung umfasst der urheberrechtliche Schutz nicht mehr zumeist Prestige- oder Sakralbauten, sondern möglicherweise auch Werke, die dem privaten Bauherrn als Eigenheim dienen und einen sensiblen Rechtsbereich darstellen.

Die Untersuchung befasst sich mit den Möglichkeiten des Ausgleichs der nunmehr kollidierenden Interessen des Architekten und des Bauherrn bei Eigenheimen der kleinen Münze. Durch eine induktive Betrachtung des UrhG wird der Versuch unternommen, die entscheidenden unbestimmten wertungsausfüllungsbedürftigen Rechtsbegriffe auszufüllen und in Anlehnung an Walter Wilburg die gefundenen Elemente in ein bewegliches System zu fassen. »The Architect's Right of Modification of Homes in the Field of the ›Kleine Münze‹ of Architecture«: The work addresses the balancing of the conflicting interests of the architect and the builder in the case of owner-occupied homes. By means of an inductive consideration of the UrhG, an attempt is made to fill in the decisive indeterminate legal terms in need of evaluation and to summarise the elements found in a moving system following Walter Wilburg. It is examined whether the UrhG is capable of adequately regulating the legally sensitive area of the owner-occupied home.
Table of Contents
Section Title
Page
Action
Price

Vorwort

7

Inhaltsverzeichnis

9

Einleitung

17

1. Kapitel: Private Bauherren in der Auseinandersetzung mit dem Urhebergesetz

20

A. Die ("neue") Ausgangslage des urheberrechtlichen Schutzes

20

I. Werke der Baukunst

20

1. Das Bauwerk nach § 2 I Nr. 4 UrhG

20

a) Zweckneutralität des urheberrechtlichen Schutzes

20

b) Schutz von Teilleistungen

21

2. Der Kunst‍(werk)‌begriff des Urhebergesetzes

21

II. Der Werkbegriff des § 2 II UrhG

23

1. Persönlich

23

2. Geistig

24

3. Schöpfung

24

a) Wahrnehmbare Formgestaltung

24

b) Individualität/Eigentümlichkeit

25

aa) Subjektive Neuheit

26

bb) Vorhandener und genutzter Gestaltungsspielraum

27

c) Die Gestaltungshöhe als deskriptives Element

27

d) Die Gestaltungshöhe als konstitutives Erfordernis

28

e) Allmählicher Abschied von der Gestaltungshöhe als konstitutives Element

30

f) Indizwirkung des Denkmalschutzrechts

32

III. Entstehen des urheberrechtlichen Schutzes

33

B. Folgen dieser Rechtsentwicklung für Werke der Baukunst

33

I. Private Eigenheime als Schutzobjekte des Urheberrechts

33

II. Fehlende vertragliche Bestimmungen zum Urheberrecht

34

III. Nunmehr kollidierende Interessen

35

1. Die Interessenlage auf Seiten des Bauherrn

35

a) Das Eigentumsrecht des Bauherrn

35

aa) Verfassungsrechtliche Eigentumsgarantie und einfachgesetzliche Konkretisierung

35

bb) Freiheitsaspekt und Sozialbindung des Eigentumsrechts

37

cc) Die Wohnung als Ort der freiheitlichen Entfaltung des Eigentümers

38

b) Das Äquivalenzinteresse des Bauherrn aus dem Architektenvertrag

41

2. Die Interessenlage auf Seiten des Architekten

42

a) Das Eigentumsrecht nach Art. 14 GG

42

b) Ideelles Schutzinteresse

42

c) Wirtschaftliches Nutzungsinteresse

44

aa) Zusammenspiel von Ausschließlichkeitsrechten und Nutzungsrechteeinräumung

44

bb) Monistische Verknüpfung ideeller und wirtschaftlicher Interessen

44

d) Wahrnehmung der Rechte im Falle des angestellten Architekten

45

e) Die Kunstfreiheit nach Art. 5 III GG

45

aa) Das Schaffen des Architekten als Kunst i.S.d. Art. 5 III GG

46

bb) Der durch Art. 5 III GG gewährte Schutz

47

f) Auswirkung der geringen Individualität

49

C. Zwischenbetrachtung

50

2. Kapitel: Theoretischer Ansatz eines angemessenen Ausgleichs der kollidierenden Interessen

52

A. Der Regelungsgehalt des Urhebergesetzes und das zwingende Bedürfnis einer "Flexibilität" des Rechts

52

B. Die Möglichkeit einer "Flexibilisierung" durch unbestimmte Rechtsbegriffe und Generalklauseln

53

I. Ausgangspunkt der Utopie rein kasuistischer Gesetzgebung

53

II. Die Entwicklung von Generalklauseln und unbestimmten Rechtsbegriffen

55

C. Generalklauseln bzw. unbestimmte Rechtsbegriffe an den entscheidenden Stellen des urheberrechtlichen Änderungsrechts

58

I. Entstellungsverbot nach § 14 UrhG – berechtigte Interessen

59

II. Änderungsverbot nach § 39 UrhG – Treu und Glauben

60

D. Die Schlüsselfunktion von Generalklauseln und unbestimmten Rechtsbegriffen für einen angemessenen Ausgleich der widerstreitenden Interessen

60

I. Ausfüllungsbedürftigkeit durch Verwendung unbestimmter Rechtsbegriffe im Normtext

61

1. Randunschärfe und "offener Begriffskern"

61

2. Das Kriterium der Wertungsausfüllungsbedürftigkeit von Normen "offenen Begriffskerns"

62

a) Ausfüllung des Norminhaltes durch die Gerichte

62

b) Notwendigkeit der Qualifikation als Generalklausel

64

II. Die Ausfüllung des Norminhaltes durch Wertungsentscheidungen der Gerichte als Gefährdung für die Rechtsordnung

65

1. Unbestimmte, wertungsausfüllungsbedürftige Rechtsbegriffe als mögliches Einfallstor für Willkür und Rechtsmissbrauch

65

2. Berechtigung und zwingende Notwendigkeit der Würdigung der Kritik

66

III. Eindämmung einer Gefährdung des Rechts im Ausfüllungsprozess unbestimmter, wertungsausfüllungsbedürftiger Rechtsbegriffe

68

1. Notwendigkeit einer Systematisierung des Ausfüllungsprozesses

68

2. Die Konkretisierung unbestimmter, wertungsausfüllungsbedürftiger Rechtsbegriffe als Grundlage eines solchen systematisierten Ausfüllungsprozesses

69

a) Begriff der Konkretisierung

69

b) Unmöglichkeit der Konkretisierung im engsten Wortsinn und Ausschluss einer urheberrechtlichen "Universalformel"

69

c) Eingrenzung der Wertungsentscheidungen der Gerichte

72

aa) Hinweise durch einen verfassungsrechtlichen Rahmen und die induktive Betrachtung der Norm selbst

73

bb) Ordnung möglicher Anknüpfungs- und Gewichtungskriterien

75

(1) Anlehnung an das bewegliche System nach Wilburg

75

(2) Zusammenfassung generalisierbarer Sachverhalte

76

IV. Zwischenbetrachtung

78

3. Kapitel: Ausgestaltung einer systematisierten Konkretisierung zur Eingrenzung der Wertungsentscheidung durch die Gerichte

81

A. Verfassungsrechtliche Rahmensetzung einer systematisierten Konkretisierung – Bindung der Gerichte nach Art. 1 III GG

81

I. Der Grundsatz der praktischen Konkordanz

81

1. Ausgleich des Spannungsverhältnisses durch beidseitige, größtmögliche Geltung

82

2. Erkenntnisse hinsichtlich einer Wertungsentscheidung im Rahmen der Ausfüllung unbestimmter, wertungsausfüllungsbedürftiger Rechtsbegriffe

83

a) Ausgangspunkt der "Waffengleichheit" kollidierender Rechte

83

b) Keine urheberrechtliche Verlagerung dieses Gleichgewichts

83

II. Der Verhältnismäßigkeitsgrundsatz

85

1. Inhaltliche Anforderungen

87

a) Legitimität des verfolgten Zwecks

87

b) Geeignetheit des Mittels

87

c) Erforderlichkeit des Eingriffs

87

d) Angemessenheit bzw. Verhältnismäßigkeit im engeren Sinne

87

2. Die Anwendung des Verhältnismäßigkeitsgrundsatzes im Zivilrecht

88

3. Partiell mögliche Anwendung des Verhältnismäßigkeitsgrundsatzes im Zivilrecht

91

a) Anspruchsbegründung und staatliche Sanktionierung des Ausbleibens versprochener Leistungen

91

b) Die Disposition des Schuldners über seine Freiheitssphäre als Ausdruck zivilrechtlicher Privatautonomie

93

c) Privatheteronome Eingriffsrechte als Gegenstück der Privatautonomie

93

d) Änderungsrechte des Architekten als privatautonome Öffnung der Freiheitssphäre des Bauherrn

97

e) Zuspitzung auf die Erforderlichkeit und Verhältnismäßigkeit im engen Sinne als Hauptprüfungspunkte

99

f) Verpflichtete‍(r) einer Verhältnismäßigkeitsprüfung bei "offengelassener Gesetzgebung"

100

4. Die gleichwohl problematische Erforderlichkeitsprüfung im Zivilrecht

103

a) Erforderlichkeitserwägungen in Bezug auf das Änderungsbegehren des Bauherrn

105

b) Erforderlichkeitserwägungen in Bezug auf die Abwehrrechte des Architekten

107

5. Erkenntnisse hinsichtlich einer Wertungsentscheidung

109

a) Unzulässigkeit einer urheberrechtlichen "Überreaktion" auf die Einordnung als Baukunst i.S.d. §§ 1, 2 I Nr. 4, II UrhG

109

b) Fokussierung der Betrachtung auf die Kollisionssituation und Minderung der Bedeutung des Kunstbegriffes

110

c) Anwendbarkeit des Erforderlichkeitsgrundsatzes in Bezug auf den Architekten

111

III. Zwischenergebnis

112

B. Ausfüllung des verfassungsrechtlichen Rahmens durch eine induktive Betrachtung der urheberrechtlichen Normen

113

I. Die relevanten Bestimmungen für eine induktive Betrachtung

114

1. Normkanon des Integritätsschutzes

114

2. Einschlägige Normen des Integritätsschutzes für Bauwerke

114

3. Notwendigkeit eines stillschweigend vorausgesetzten und allgemeinen Änderungsverbotes des UrhG

115

II. Das Entstellungsverbot gem. § 14 UrhG

116

1. Geltung aller Schutzrechte unter der "Präambel" des § 11 UrhG

116

a) Die Entwicklung des Urheberrechts vom rein wirtschaftlichen Schutzrecht zu einer Verknüpfung vermögensrechtlicher und ideeller Interessen

117

b) § 14 UrhG als Teil des Urheberpersönlichkeitsrechts

119

aa) Schutzzweck und Wesen des Urheberpersönlichkeitsrechts

120

bb) Erkenntnisse aus der Einordnung des § 14 UrhG als Norm des Urheberpersönlichkeitsrechts

121

(1) Die Gestaltungshöhe als erstes Kriterium für die Interessengewichtung des Architekten

121

(2) Keine eigenständige Wirkung der Gestaltungshöhe als konstitutives Merkmal

122

(3) Abnehmende Gewichtung des Urheberpersönlichkeitsrechts nach dem Tod des Schaffenden

122

(4) Beschränkung des Schutzes auf die individuell gestalteten Teile des Werkes

124

2. Der Entstellungsbegriff

125

3. Andere Beeinträchtigungen

127

a) Begriff

127

b) Gesamtzerstörungen eines Werkes als Beeinträchtigung

127

aa) Einbezug von Zerstörungen durch den BGH

128

bb) Die Notwendigkeit und Systemwidrigkeit einer solchen Einbeziehung

129

cc) Festzustellender, dringender legislativer Handlungsbedarf

131

c) Die Teilzerstörung eines Werkes als Entstellung

133

aa) Betroffenheit sämtlicher individueller Gestaltungselemente durch die Teilzerstörung

134

bb) Betroffenheit eines Teils der individuellen Gestaltungselemente bei bestehender "Restindividualität"

136

d) Anspruch des Architekten auf Zerstörung des Werkes

137

4. Eignung zur Entstellung oder Beeinträchtigung

138

a) Grundsätzliche Indizierung einer Beeinträchtigungsgefährdung

138

b) Beeinträchtigung bei geminderter Wahrnehmung im Privatbereich

138

5. Das Merkmal der "Gefährdung berechtigter Interessen"

141

a) Generelles Erfordernis der Abwägung auch bei Entstellungen eines Werkes

142

b) Unzulässigkeit rein kategorischer Ausschlüsse oder Vermutungswirkungen zu Gunsten des Urhebers

144

c) Berücksichtigung der Eingriffsintensität als Gewichtungskriterium zu Gunsten des Urhebers

145

d) Berücksichtigung des intendierten Gebrauchszwecks als Gewichtungskriterium zu Gunsten des Eigentümers

146

aa) Notwendigkeit der Mitwirkung eines Bauherrn zur Realisierung eines Architektenkunstwerkes

146

bb) Regelmäßige Änderungsbegehren aus der Nutzung eines Bauwerkes als Wohnraum

147

e) Berücksichtigung der Notwendigkeit der begehrten Änderung des Bauwerkes

148

aa) Einordnung etwaiger Änderungsbegehren in Anlehnung an Aufwendungen in der Bruchteilsgemeinschaft, der Erbengemeinschaft und im EBV

148

bb) 1. Stufe: Zwingende Änderungsmaßnahmen

149

(1) Änderungsvorhaben auf Grund behördlicher Anordnungen

150

(2) Bestandserhaltende Änderungsvorhaben

150

(3) Gebrauchssichernde Maßnahmen

151

(4) Geltung der gefundenen Gewichtungsergebnisse für Entstellungen

151

cc) 2. Stufe: Dienliche Änderungsvorhaben

152

(1) Änderungsbegehren zur Modernisierung des Werkes

152

(2) Änderungsbegehren zur Optimierung oder Erweiterung des Gebrauchszwecks

153

dd) 3. Stufe: Änderungsvorhaben aus ästhetischen Gründen

154

III. Das Änderungsverbot nach § 39 UrhG

154

1. Verhältnis zwischen §§ 14 und 39 UrhG

154

2. Übertragbarkeit der Überlegungen zu § 14 UrhG

157

C. Zwischenergebnis

157

I. Generelle Abwägungsnotwendigkeit unter Vermeidung kategorischer Ausschlüsse

158

II. Abwägungsnotwendigkeit bei Zerstörungen des Werkes und dringender legislativer Handlungsbedarf

158

III. Individualität als fließendes Gewichtungskriterium der Interessen des Architekten

159

IV. Abnahme der Gewichtung mit dem Tode des Schaffenden

159

V. Eingriffsintensität in das Werk

159

VI. Besondere Gewichtung der Eigentümerinteressen bei Eigenheimen

160

VII. Berücksichtigung des intendierten Gebrauchszweckes des Bauwerkes

160

VIII. Notwendigkeit von Änderungen als Gewichtungskriterium für die Interessen des Bauherrn

160

D. Verdeutlichung der Interessengewichtungen bei Änderungsbegehren an privaten Eigenheimen und Fassung in ein "bewegliches System"

161

I. Grundsätzliche Gleichrangigkeit der kollidierenden Rechte

162

II. Minderung der Gewichtung des Persönlichkeitsrechts des Architekten im privaten Innenbereich

163

III. Berücksichtigung der Betroffenheit des Eigentumsrechts des Bauherrn in dessen Freiheitsaspekt

163

IV. Steigende Gewichtung des Urheberrechts mit zunehmender Bindung des Schaffenden zum Werk

164

V. Steigende Gewichtung des Eigentumsrechts mit zunehmender Notwendigkeit der Änderungen

164

VI. Abnahme der Urheberpersönlichkeitsinteressen nach dem Tode des Urhebers

165

VII. Einfluss des Grades an Betroffenheit der individuellen Züge

165

VIII. Gesamtbild

166

E. Beachtung der so entstehenden Abwägungskonstellationen innerhalb der Schutzumfangbestimmung des Urhebergesetzes

166

I. Fortsetzung der Flexibilität des Urhebergesetzes bei der Bestimmung des Schutzumfangs

166

1. § 14 UrhG als in der Rechtsfolge zunächst "starr" formulierte Norm

167

2. Die Gefährdung als Anknüpfungspunkt für eine Schutzumfangbestimmung

167

II. Schutzumfang bei einem deutlichen Überwiegen der Interessen einer Partei

168

III. Weitere mögliche Rechtsfolgen mit Blick auf die Optimierung bei einem Auf- oder leichtem Überwiegen

168

1. Anspruch des Urhebers auf Anonymität nach § 13 UrhG

168

2. Zugangs- und Dokumentationsrecht nach bzw. in Anlehnung an § 25 UrhG

169

3. Hinzuziehungsanspruch des Architekten

171

F. Anwendung des gefundenen Abwägungssystems und Rechtsfolgenzuordnung unter Berücksichtigung der unterschiedlichen Abwägungssituationen

173

I. Starkes Überwiegen der Interessen einer der Parteien

173

1. Mögliche Fallgestaltungen eines eindeutigen Überwiegens der Eigentümerinteressen

174

a) Zwingende Änderungsbegehren an der Außen- oder Innengestaltung eines Eigenheims im Bereich der kleinen Münze

174

b) Dienliche Änderungsbegehren an der Außen- oder Innengestaltung eines Eigenheims im Bereich der kleinen Münze

175

c) Ästhetische Änderungsbegehren an der Innengestaltung eines Eigenheims im Bereich der kleinen Münze

175

2. Mögliche Fallgestaltungen eines eindeutigen Überwiegens der Architekteninteressen

176

3. Schutzumfang des Urhebergesetzes in den Fällen des starken Überwiegens

176

II. Aufwiegen der Interessen der Parteien

177

1. Mögliche Fallgestaltungen eines Aufwiegens der Interessen der Parteien

177

a) Ästhetische Änderungsbegehren an der Außengestaltung eines Eigenheims mit deutlich wahrnehmbarer Individualität

177

b) Dienliche Änderungsbegehren an der Außengestaltung eines Eigenheims mit hoher Individualität

178

c) Ästhetische Änderungsbegehren an der Innengestaltung eines Eigenheims mit deutlich wahrnehmbarer Individualität in Form einer Entstellung

178

d) Zwingende Änderungsbegehren im Außenbereich eines Eigenheims mit hoher Individualität in Form einer Entstellung

179

2. Schutzumfang des Urhebergesetzes in den Fällen des Aufwiegens der gegenläufigen Interessen

179

III. Leichtes Überwiegen der Interessen einer Partei

180

1. Mögliche Fallgestaltungen eines leichten Überwiegens der Eigentümerinteressen

180

a) Ästhetische Änderungsbegehren an der Außengestaltung eines Eigenheims im Bereich der kleinen Münze

180

b) Ästhetische Änderungsbegehren an der Innengestaltung eines Eigenheims im Bereich der kleinen Münze in Form einer Entstellung

181

c) Ästhetische Änderungsbegehren an der Innengestaltung eines Eigenheims mit deutlich wahrnehmbarer Individualität

181

d) Zwingende Änderungsbegehren an der Außengestaltung eines Eigenheims mit hoher Individualität

182

2. Mögliche Fallgestaltung eines leichten Überwiegens der Architekteninteressen

183

a) Ästhetische Änderungsbegehren an der Außengestaltung eines Eigenheims mit hoher Individualität

183

b) Dienliche Änderungsbegehren an der Außengestaltung eines Eigenheims mit hoher Individualität

183

c) Ästhetische Änderungsbegehren an der Außengestaltung eines Eigenheims mit deutlich wahrnehmbarer Individualität in Form einer Entstellung

184

3. Schutzumfang des Urhebergesetzes in den Fällen des leichten Überwiegens der Interessen einer Partei

184

a) Rechtsfolgen bei einem leichten Überwiegen der Eigentümerinteressen

184

b) Rechtsfolgen bei einem leichten Überwiegen der Architekteninteressen

185

Gesamtergebnis

186

Literaturverzeichnis

188

Sachwortregister

197