Political oppression & persecution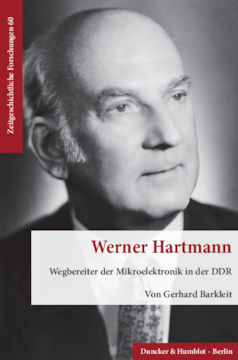 Additional Information
Book Details
ISBN

978-3-428-58446-8
978-3-428-18446-0 (print edition)

DOI

https://doi.org/10.3790/978-3-428-58446-8

Edition

1

Language

German

Pages

272

Collections

Subjects
Pricing
Institution

€ 58.00 (incl. local VAT if applicable)

Individual

€ 44.90 (incl. local VAT if applicable)
About The Author
Gerhard Barkleit studierte Physik an der TU Dresden und promovierte am Institut für Physikalische Chemie der Bergakademie Freiberg. In Diensten der Akademie der Wissenschaften der DDR forschte er zwei Jahrzehnte auf den Gebieten Kernenergie und Mikroelektronik. 1992/93 gehörte er zum engsten Kreis der Gründer des Hannah-Arendt-Institut für Totalitarismusforschung e. V. an der TU Dresden. Sein Forschungsschwerpunkt war die Geschichte von Industrie, Technik und Naturwissenschaft in der SBZ/DDR. In zahlreichen Studien und Aufsätzen analysierte er die Rolle der Staatssicherheit an den Hochschulen sowie in Forschung und Entwicklung, insbesondere in den Hochtechnologien Flugzeugbau, Kernenergie und Mikroelektronik. Darüber hinaus veröffentlichte er eine Biografie des Ausnahmewissenschaftlers Manfred von Ardenne sowie mit »EinBlick in zwei Welten. Das Ende der DDR als Glücksfall der Geschichte« einen autobiografisch angelegten Systemvergleich von Bundesrepublik und DDR, die beide bereits in zweiter Auflage erschienen.
Gerhard Barkleit studied physics at the Technical University (TU) of Dresden and earned his doctorate at the Institute for Physical Chemistry at the Freiberg Mining Academy. As an employee of the Academy of Sciences of the GDR, he conducted research in the fields of nuclear energy and microelectronics for two decades. In 1992/93, he belonged to the inner circle of founders of the Hannah Arendt Institute for Research on Totalitarianism e. V. at the TU Dresden. His research focused on the history of industry, technology, and science in the Soviet Occupation Zone (SOZ) as well as in the GDR. In numerous studies and essays, he analyzed the role of the state security service in teaching, research, and development, especially in the fields of high technologies like aircraft construction, nuclear energy, and microelectronics.
He also published a biography of the exceptional scientist Manfred von Ardenne as well as »EinBlick in zwei Welten. Das Ende der DDR als Glücksfall der Geschichte« [»A look at two worlds. The end of the GDR as a stroke of luck in history«], an autobiographical comparison of the Federal Republic of Germany and the GDR, both of which have already appeared in second editions.
Abstract
Der am 30. Januar 1912 in Berlin geborene Physiker Werner Hartmann wirkte als Abteilungsleiter der Fernseh AG während des 2. Weltkriegs an der Entwicklung von Gleitbomben mit. Von Juni 1945 bis April 1955 gehörte er zu den deutschen Wissenschaftlern, die für Stalin die Atombombe bauten.

Gemeinsam mit Manfred von Ardenne gründete Hartmann Mitte der 1950er Jahre in Dresden zur Entwicklung und Produktion von kernphysikalischen Messgeräten den VEB Vakutronik. 1961 gründete er die »Arbeitsstelle für Molekularelektronik«, die erste Forschungs- und Entwicklungseinrichtung der DDR auf dem Gebiet der Mikroelektronik.

Mitte der 1970er Jahre beschuldigten leitende Mitarbeiter mit SED-Parteibuch und Verbindungen zum Ministerium für Staatssicherheit Hartmann, den unübersehbaren Rückstand der DDR in der Mikroelektronik bewusst herbeigeführt zu haben. Er wurde als Direktor abgesetzt und zum einfachen wissenschaftlichen Mitarbeiter degradiert. Als gebrochener Mann verstarb er am 8. März 1988 nach einer Prostata-Operation im Krankenhaus.

Gerhard Barkleit analysiert die persönlichen und systemischen Ursachen für das tragische Schicksal eines herausragenden Wissenschaftlers. »Werner Hartmann. Pioneer of microelectronics in the GDR«: The physicist Werner Hartmann (born in 1912) was one of those scientists who, after their internment in the Soviet Union, occupied a prominent position in the GDR's innovation system. With his decision to live in the GDR, he exposed himself to permanent surveillance by the Ministry of State Security. Suspicions of cooperating with Western intelligence services have never been proven. An intrigue by heads of department who also worked as unofficial collaborators for the Ministry of State Security led to his humiliating dismissal in 1974. He died a broken man.
Table of Contents
Section Title
Page
Action
Price

Vorwort

5

Inhalt

9

Abbildungsverzeichnis

12

Abb. 1: Straße und Moschee in Kairo.

22

Abb.2: Der zweijährige Werner 1914, umgeben von Eltern und Großeltern.

23

Abb. 3: Nr. 190, die linke Doppelhaushälfte auf dem Quermatenweg in Berlin-Zehlendorf.

24

Abb. 4: Austrittsgesuch aus dem SA-Sturm 12/7 vom 7. Oktober 1935.

32

Abb. 5: Von Hartmann durch rote Unterstreichungen markierte Ereignisse.

47

Abb. 6: Die beiden Typen der ersten Generation von Kernwaffen.

64

Abb. 7: Standorte des "Manhattan Projects" in den USA.

65

Abb. 8: Standorte des Projekts "Atomnaja Bomba" in der Sowjetunion.

68

Abb. 9: Agudseri an der Ostküste des Schwarzen Meeres.

73

Abb. 10: Das Sanatorium in Agudseri.

76

Abb. 11: Grüße aus Deutschland.

86

Abb. 12: Rückseite des Fotos.

87

Abb. 13: Lageplan des Instituts in Agudseri.

89

Abb. 14: Sommer 1947 am Strand (1. v. l. Liselotte Hartmann, 2. v. l. Achim Höhne).

90

Abb. 15: Lilo und die Töchter warten auf das Ende der Internierung.

92

Abb. 16: Tochter Sylvelie und der Moskwitsch vor dem Finnenhaus.

94

Abb. 17: Das Wiedersehen in Leipzig im April 1955, Sylvelie (2. v. l.).

95

Abb. 18: Unterzeichner der Glückwunschkarte zum 44. Geburtstag des Chefs.

106

Abb. 19: Grüße Erich Apels aus Marienbad vom 13. Januar 1960.

114

Abb. 20: Messtechnik von Vakutronik auf der Leipziger Messe.

116

Abb. 21: Besuch von Prof. Jemeljanow (zwischen von Ardenne und Hartmann) im August 1955 in Dresden.

125

Abb. 22: Chruschtschow am Messestand von Vakutronik.

129

Abb. 23: Briefmarken als eigentlicher Zweck der Sendung.

131

Abb. 24: Die Einladung nach Wien.

132

Abb. 25: Taschenrechner minirex 73 vom VEB Röhrenwerk Mühlhausen.28

151

Abb. 26: Der Chef in der Versuchsfertigung.

155

Abb. 27: Nationalpreis 1970: Hartmann mit Minister Steger und Parteichef Ulbricht im Gespräch.

161

Abb. 28: Hartmanns Haus auf der Klengelstraße.

165

Abb. 29: Das Wohnzimmer Anfang der 1970er Jahre.

166

Abb. 30: Das sowjetische Patent von 1962.

168

Abb. 31: Der Mikroprozessor U 808 aus dem VEB Mikroelektronik "Karl Marx" Erfurt.

170

Abb. 32: Der 75. Geburtstag – Gratulation oder Verabschiedung?

203

Abb. 33: Herbst 2017: Renée Hartmann im Gespräch mit dem Autor.

207

Abb. 34: Renée 1971.

211

Abb. 35: Die Wandzeitung von 1986.

218

Abb. 36: Der Hartmann-Bau.

221

Abkürzungsverzeichnis

14

A. Einleitung

17

I. Ein Leben im Jahrhundert der Diktaturen

17

II. Quellen

20

B. Kindheit und Jugend

21

I. Das Elternhaus

21

II. Die Schulzeit

24

C. Studium, Berufseinstieg und kriegswichtige Forschung

27

I. Der steinige Weg zu akademischen Würden

27

II. Physiker in der Industrie

31

1. Siemens & Halske – nur eine Episode

31

2. Die "Fese"

34

Ehe und Familie im Zweiten Weltkrieg

43

IV. Persönliche Chronik des Zweiten Weltkriegs

46

1. Erfolge der deutschen Wehrmacht

46

2. Auszug aus dem Original der Chronik

51

3. Stalingrad und die Wende

55

V. Der Krieg ist aus

59

D. Stalins Bombe

62

I. Kernwaffen der ersten Generation

62

1. Vorgeschichte des Atomzeitalters

63

2. Physik und Konstruktionsprinzipien von Kernwaffen

63

3. Das "Manhattan Project"

65

4. Stalins Projekt "Atomnaja Bomba"

66

II. Die Siegermächte und die deutschen Spezialisten

69

1. Jagd auf deutsche Gehirne

69

2. Aus Sanatorien werden Forschungsinstitute

72

3. Beginn der wissenschaftlichen Arbeit

75

III. Messtechnische Herausforderungen

78

1. Messtechnik für die Urananreicherung

78

2. Der gefürchtete Marschall Berija

82

IV. Der Alltag im "goldenen Käfig"

84

1. Die privilegierten Internierten

84

2. Leben mit Frau und Töchtern

87

3. Vorbereitung auf die Rückkehr ins geteilte Deutschland

91

V. Später Rückblick und atomares Patt

96

1. Das atomare Patt

97

Persönliche Bilanz und (In-)Konsequenzen

100

E. Der wissenschaftlich-technische Industriebetrieb VEB Vakutronik

102

I. Als Netzwerker und Unternehmensgründer in Dresden

102

1. Gelungener Start in Dresden

102

2. Das Ringen um Namen und Profil des neuen Unternehmens

104

II. Die ersten Konflikte

107

1. Die "Abnabelung" von Manfred von Ardenne

107

2. Eine parteifeindliche Plattform

109

III. Das Unternehmen zwischen Gründung und Mauerbau

114

1. Personal- und Produktentwicklung

114

2. Isotopentechnik in der DDR-Industrie

119

IV. Der Chef: Alltag, Anerkennung und Ehrungen

122

1. Trennung von Liselotte

122

2. Netzwerker und gefragter Experte

123

3. Nebenamtlicher Professor an der TH Dresden

127

4. Chruschtschow lädt ein

128

5. Reise ans Ende der Welt

130

6. Erster Nationalpreis und öffentliche Anerkennung

131

7. Aufbruch in ein neues Forschungsfeld

135

V. Der Chef: Im Visier der Staatssicherheit

137

F. Vater der Mikroelektronik in der DDR

139

I. Der Transistor öffnet das Tor ins Kommunikationszeitalter

139

1. Planwirtschaft und Innovationen

139

2. Halbleitertechnik in der DDR in den 1950er Jahren

140

II. Die Arbeitsstelle für Molekularelektronik

143

1. Ein Konzept wird Realität

143

2. Konkurrierende Technologien

146

Vom Schaltungsentwurf zum fertigen Chip

147

5. Die Strategie des Nachempfindens

152

III. Der Chef: Alltag, Anerkennung und Ehrungen

154

1. Eigeninitiative versus Linientreue

154

2. Eigenbau von Technologischen Spezialausrüstungen

157

3. Konkurrenz im eigenen Hause

162

4. Prinzipien geraten ins Wanken

163

IV. Der Chef: Absturz

170

1. Die Staatssicherheit im Bereich der Hochtechnologien

170

2. Der Operative Vorgang "Molekül"

175

3. Der Fall Dr. Konrad Iffarth

179

4. Hartmanns Abberufung

183

5. Ein Doppelschlag

187

6. Das Nachspiel

191

7. Iffarths Entlohnung

196

8. Hartmann in Muldenhütten

197

9. Stirb und werde

201

10. Tod im Krankenhaus

204

G. Würdigung ja, Rehabilitation nein

206

I. Renée, die dritte Ehefrau

206

1. Die Interviews

206

2. Kindheit und Jugend

206

3. Übers "Rote Kloster" in den Westen

209

4. Zurück in den Osten

210

5. Das Leben mit Werner

211

6. Ausreise aus der DDR

213

7. Rückkehr nach Dresden

215

II. Hartmann in den Augen der anderen

217

1. Wider das Vergessen

217

2. Öffentlicher Tabu-Bruch

218

3. Mediale Würdigung

220

III. Vernichtet oder gescheitert

223

1. Die privilegierten Spezialisten

223

2. Einsichten und Bekenntnisse

225

3. Zwei in einem Boot

226

4. Weltanschauung und Wissenschaftsverständnis

229

5. Innere Emigration und später Ruhm

230

Kurzbiografien

233

Quellen- und Literaturverzeichnis

256

I. Ungedruckte Quellen

256

II. Gedruckte Quellen

258

Stichwortverzeichnis

265