Private or civil law: general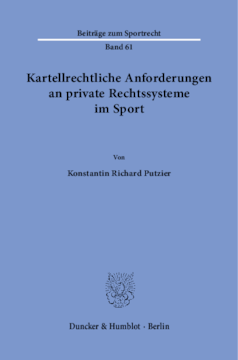 Additional Information
Book Details
ISBN

978-3-428-58425-3
978-3-428-18425-5 (print edition)

DOI

https://doi.org/10.3790/978-3-428-58425-3

Edition

1

Language

German

Pages

313

Collections

Subjects
Pricing
Institution

€ 104.00 (incl. local VAT if applicable)

Individual

€ 79.90 (incl. local VAT if applicable)
About The Author
Konstantin Richard Putzier studierte Rechtswissenschaft an der Westfälischen Wilhelms-Universität Münster und an der George Washington University in Washington, D.C., USA. Das Referendariat absolvierte er am Hanseatischen Oberlandesgericht Hamburg mit Stationen beim Bundeskartellamt und in internationalen Anwaltskanzleien in Hamburg und Brüssel. Im Anschluss nahm er seine Tätigkeit als Rechtsanwalt im Bereich Kartellrecht in Essen auf. Er wurde 2021 an der Universität Bremen promoviert.
Konstantin Richard Putzier studied law at the Westfälische Wilhelms University in Münster and at The George Washington University in Washington, D.C., USA. He did his legal clerkship (Referendariat) at the Hanseatic Higher Regional Court in Hamburg (Hanseatisches Oberlandesgericht Hamburg) which included traineeships at the German Federal Cartel Office and in international law firms in Hamburg and Brussels. He then began working as a lawyer in the field of competition law in Essen. He received his doctorate from the University of Bremen in 2021.
Abstract
Das Kartellrecht hat auch vor der Welt des Sports nicht Halt gemacht, eine Bereichsausnahme existiert nicht. Diese Arbeit befasst sich mit den Anforderungen, die das Kartellrecht an private Rechtssysteme im Sport hinsichtlich Rechtssetzung, Rechtsanwendung und Rechtsdurchsetzung stellt. Das pyramidale internationale Verbandswesen im Sport, die Besonderheiten des sportlichen Wettbewerbs und das Spannungsverhältnis zwischen Kartellrecht und grundrechtlich verbürgter Vereinigungsfreiheit führen zu Herausforderungen bei der Subsumtion sportlicher Sachverhalte unter die kartellrechtlichen Normen des Kartellverbots und des Missbrauchsverbots. In diesem Rahmen befasst sich die Arbeit mit der reichhaltigen kartellrechtlichen Entscheidungspraxis der Behörden und Gerichte der Europäischen Union und Ihrer Mitgliedstaaten im Bereich des Sports. Sie zeigt ferner Wege zur Lösung einiger noch nicht entschiedener kartellrechtlicher Fragen im Sport auf. »Competition Law Requirements on Private Legal Systems in Sport«: The pyramidal system of associations, the special characteristics of sports competition and the conflict between competition law and the fundamental right of freedom of association lead to challenges in the application of competition law to sports matters. This work presents the rich antitrust casuistry of the authorities and courts of the European Union and its Member States in the field of sports. It also suggests ways to resolve issues that have not yet been decided.
Table of Contents
Section Title
Page
Action
Price

Vorwort

7

Inhaltsverzeichnis

9

Abkürzungsverzeichnis

22

Einleitung

27

A. Problemaufriss

27

I. Sportlicher Wettbewerb und seine Organisation

27

II. Anwendbarkeit des Kartellrechts im Sport

28

1. Verrechtlichung des Sports

28

2. Wirtschaftliche Bedeutung des Sports

28

3. Anwendung des Kartellrechts

29

III. Private Rechtssysteme

30

B. Gang der Untersuchung

30

Teil 1: Grundlagen

32

Kapitel 1

32

Rechtssysteme

32

A. Rechtssetzung

33

I. Rechtsquellen

33

II. Arten von Rechtsnormen

34

III. Entstehung von Recht

36

B. Rechtsanwendung

37

I. Begriff der Rechtsanwendung

37

II. Fragestellungen zur Rechtsanwendung

38

1. Materieller Gehalt

38

2. Formelles Verfahren

39

C. Rechtsdurchsetzung

39

I. Begriff der Rechtsdurchsetzung

40

II. Verfahren der Rechtsdurchsetzung

41

Kapitel 2

41

Private Rechtssysteme im Bereich des Sports und Lex Sportiva

41

A. Zweck privater Rechtssysteme

42

B. Struktur privater Rechtssysteme im Sport

43

I. Grundlagen

43

II. Internationale Verbände

46

1. Weltverbände

46

2. Kontinentalverbände

47

III. Nationale Verbände

47

1. Nationalverbände

48

2. Regionale Verbände

49

3. Ausgegliederte Profiligen

50

IV. Unabhängige Wettbewerbe

51

V. Vereine

52

VI. Sportler

52

VII. Sportartübergreifende Verbände

53

1. Internationales Olympisches Komitee

53

2. Nationale Olympische Komitees

54

VIII. Anti-Doping Agenturen

54

C. Rechtssetzung

55

D. Rechtsanwendung

55

I. Spruchkörper der Verbände

55

II. Court of Arbitration for Sports

56

III. Deutsches Sportschiedsgericht

58

E. Durchsetzung des Rechts

59

F. Der Begriff der lex sportiva

60

Kapitel 3

61

Der sportliche Wettbewerb

61

A. Leistungsprinzip

61

B. Konkurrenzprinzip

62

C. Gleichheitsprinzip

64

Kapitel 4

65

Kartellrecht im Sport

65

A. Anwendung des Kartellrechts auf den Sport

65

B. Funktion des Kartellrechts

66

I. Festlegung des Wirtschaftssystems durch das Kartellverbot

66

II. Schutz der Mitglieder durch das Missbrauchsverbot

67

III. (Bereichs-)Ausnahme vom Kartellrecht?

67

C. Durchschlagskraft des Kartellrechts

68

I. Räumlicher Anwendungsbereich des Kartellrechts

69

II. Rechtsfolgen eines Verstoßes

69

III. Wirtschaftliche Bedeutung Deutschlands und der EU

71

IV. Anwendbarkeit in schiedsgerichtlichen Verfahren

71

D. Kartellrechtliche Vorgaben für den Sport

72

I. Kartellverbot

72

1. Unterschiede zwischen § 1 GWB und Art. 101 AEUV

72

2. Märkte im Bereich sportverbandlicher Rechtssysteme

72

a) Sachliche Marktabgrenzung

73

b) Räumliche Marktabgrenzung

74

3. Sportspezifische Auslegung der Tatbestandsmerkmale

75

a) Unternehmen bzw. Unternehmensvereinigung

75

b) Vereinbarungen und Beschlüsse

78

c) Wettbewerbsbeschränkung

78

d) Kontextanalyse (Drei-Stufen-Test)

81

aa) Gesamtzusammenhang und legitimer Zweck

82

(1) Gerichtliche und behördliche Entscheidungspraxis

82

(2) Schrifttum

85

(3) Eigener Standpunkt

86

(a) Zweck der Vereinigung

88

(b) Keine unmittelbare Wirkung gegenüber Verbandsfremden

88

bb) Weitere Voraussetzungen des Drei-Stufen-Tests

89

e) Freistellung vom Kartellverbot

89

4. Gesetzgeberische Entwicklungen des Kartellverbotes

90

II. Missbrauchsverbot

90

1. Unterschiede zwischen Art. 102 AEUV und §§ 18 ff. GWB

91

2. Märkte im Bereich sportverbandlicher Rechtssysteme

91

a) Sachliche Marktabgrenzung

91

b) Räumliche Marktabgrenzung

92

c) Weitere Erwägungen zu relevanten Märkten

92

3. Sportspezifische Auslegung der Tatbestandsmerkmale

93

4. Fallgruppen des Missbrauchsverbots im Sport

95

5. Gesetzgeberische Entwicklungen des Missbrauchsverbots

97

III. Treu und Glauben

99

IV. Art. 165 AEUV

101

Kapitel 5

102

Relevante wirtschaftliche Beziehungen

102

A. Verhalten innerhalb der jeweiligen Rechtsordnung

102

B. Verhalten gegenüber Dritten

102

C. Verhalten gegenüber Aufnahmewilligen

103

Teil 2: Analyse der kartellrechtlichen Anforderungen an den Sport

104

Kapitel 6

104

Rechtssetzung

104

A. Kartellverbot

104

I. Organisationsnormen

104

1. Vermarktung Europapokalheimspiele, Deutschland

105

2. Vermarktung von Automobilrennen, Deutschland

106

3. Vermarktung der Formel 1, Europäische Kommission

106

4. Vermarktung der Premier League, England

106

5. Vermarktung von Fußballligen, Europäische Kommission

107

6. Vermarktung Dänische Superligaen, Dänemark

109

7. Vermarktung Fußball-Bundesliga, Deutschland

109

8. Zwischenergebnis

111

II. Außenbeziehungsnormen

113

1. Spielervermittler

113

2. Genehmigungsvorbehalt für verbandsfremde Wettkämpfe

114

3. Zwischenergebnis

115

III. Verhaltensnormen

115

1. Sportausübungsregeln

115

2. Wirtschaftliche Lenkungsregeln

117

a) Regeln ohne Bezug zur Ausübung des Sports

117

aa) Kontrahierungsverbot mit Spielervermittlern ohne Lizenz

117

bb) Verbote bestimmter Vergütungsklauseln

118

cc) Vorgaben für die Vergütung von Spielervermittlern

120

dd) Verbote längerer Vertragslaufzeiten

120

ee) Werbebeschränkungen

120

ff) Verbot der sog. Third-Party-Ownership

122

gg) Mehrfachbeherrschungsverbote

123

hh) Financial Fairplay

124

ii) Transferfenster

126

jj) Transferablösezahlungen

126

kk) Zwischenergebnis

127

b) Regeln mit unmittelbarem Bezug zur Ausübung des Sports

127

IV. Verteilungsnormen

128

1. Umverteilung zwischen den Teilnehmern des Wettbewerbs

128

2. Bezug von Ressourcen der Mitglieder durch den Verband

129

a) Verpflichtung zu Werbetätigkeiten

129

b) Abstellungspflicht von Nationalspielern der Vereine

129

3. Bezug von Ressourcen Dritter durch den Verband

130

4. Zwischenergebnis

131

V. Innenbeziehungsnormen

131

1. Rechte der Mitglieder

131

a) Nominierungskriterien

131

b) Lizenzierungsregeln

132

c) Nachträgliche Änderung von Regeln

132

d) Zwischenergebnis

133

2. Pflichten der Mitglieder

134

a) FIA, Europäische Kommission

134

b) WPBSA, Vereinigtes Königreich

134

c) Reitverband, Italien

135

d) Motorsport, Italien

135

e) Springreiter, Irland

135

f) Automobilsportverband, Schweden

136

g) Bodybuilding, Schweden

137

h) Boxfunktionäre, Vereinigtes Königreich

137

i) Pferdesport, Belgien

137

j) Eisschnelllauf, Europäische Kommission und EuG

138

k) Zwischenergebnis

141

B. Missbrauchsverbot

142

I. Organisationsnormen

142

II. Außenbeziehungsnormen

143

1. Solidarität I, BGH

143

2. Solidarität II, BGH

144

3. Taekwondo I und II, OLG München

144

4. FBV, LG Duisburg

145

5. Einrad, OLG München

146

6. Cheerleader, OLG Dresden

146

7. Zwischenergebnis

146

III. Verhaltensnormen

147

1. Sportausübungsregeln

147

a) Dopingverbote

147

b) Hin- und Rückspiele

148

c) Regeln über die Zusammensetzung von Mannschaften

148

d) Zwischenergebnis

149

2. Wirtschaftliche Lenkungsregeln

149

a) Mehrfachbeherrschungsverbote

149

b) Transferfenster

149

c) Beschränkung der Trikotwerbung

149

d) Veräußerung der Namensrechte am Verein

150

e) Werbeverbote während Olympischer Spiele

151

f) Zwischenergebnis

152

IV. Verteilungsnormen

152

1. Bezug von Ressourcen der Mitglieder durch den Verband

152

a) Verpflichtung zu Werbeaktivitäten

152

b) Abstellungspflicht von Nationalspielern der Vereine

153

aa) LG Dortmund

153

bb) OLG Düsseldorf

154

cc) Zwischenergebnis

155

2. Bezug von Ressourcen Dritter durch den Verband

155

3. Zwischenergebnis

156

V. Innenbeziehungsnormen

156

1. Rechte der Mitglieder

156

a) Zulassung von Vereinsmannschaften (Lizenzierung)

156

aa) Handballbundesligalizenz, LG Dortmund

156

bb) Profi-Fußballliga, Belgisches Conseil de la Concurrence

157

cc) Basketballligalizenz, Finnische Wettbewerbsbehörde

157

dd) Europäische Kommission

158

ee) Zwischenergebnis

158

b) Zulassung von Einzelsportlern

158

c) Wettkampfmodi

159

d) Nominierungskriterien

159

e) Zwischenergebnis

160

2. Pflichten der Mitglieder

161

a) Loyalitätspflichten

161

b) Teilnahmeverpflichtung

163

c) Sonstige Loyalitätspflichten

163

d) Zwischenergebnis

163

Kapitel 7

164

Rechtsanwendung

164

A. Kartellverbot

164

I. Verfahrensrechtliche Anforderungen

164

1. Schiedszwang

164

2. Unterwerfung Dritter unter Verbandsgerichtsbarkeit

165

3. Zwischenergebnis

166

II. Materiell-rechtliche Anforderungen

167

1. Auslegung von Regeln

167

2. Feststellung von Tatbestandsmerkmalen

168

3. Ausübung des Ermessens

168

4. Zwischenergebnis

168

B. Missbrauchsverbot

169

I. Verfahrensrechtliche Anforderungen

169

1. Formelle Voraussetzungen für Anträge

169

2. Verfahren vor Verbandsgerichten in Disziplinarsachen

170

a) Reiter, BGH

170

b) FIBA I, OLG München

170

c) Hürdensprinter, OLG Dresden

171

d) Dieter Baumann, LG Stuttgart

172

e) Zwischenergebnis

173

3. Ausgestaltung sonstiger Verfahren

173

4. Schiedszwang

173

a) Pechstein, BGH

174

b) Türkgücü München, BayObLG

176

c) DIS-Sportschiedsgericht, OLG Karlsruhe

176

d) BDR, OLG Frankfurt a. M.

177

e) Fall Jena, OLG Frankfurt a. M.

177

f) Olympia, Bundeskartellamt

177

g) Zwischenergebnis

178

5. Ausgestaltung des Schiedsverfahrens

178

II. Materiell-rechtliche Anforderungen

179

1. Grundsätze zur Anwendung von Regeln

179

2. Materieller Gehalt der Entscheidungen

180

a) Entscheidungen im Außenverhältnis

180

aa) Landessportbund, BGH

180

bb) Solidarität I, BGH

181

cc) Aikido, BGH

181

dd) Eiskunstlaufverband, OLG Düsseldorf

182

ee) Stadtsportbund, BGH

183

ff) Bogensport, OLG Stuttgart

183

gg) Handballverein, OLG Frankfurt a. M.

183

hh) Taekwondo I und II, LG München und OLG München

184

ii) Einrad, OLG München

185

jj) Schwimmsportverein, AG Frankfurt a. M.

185

kk) Zwischenergebnis

186

b) Entscheidungen im Innenverhältnis

186

aa) Teilnahme an Veranstaltungen

186

bb) Ablauf sportlicher Veranstaltungen

187

(1) Entscheidungen aus individuelle Gründen

187

(2) Entscheidungen aufgrund höherer Gewalt

188

cc) Zulassung zu sportlichen Wettbewerben

189

dd) Nominierung von Sportlern

191

ee) Zwischenergebnis

193

Kapitel 8

193

Rechtsdurchsetzung

193

A. Kartellverbot

194

I. Ermittlungsbefugnisse

194

II. Durchsetzungsmaßnahmen

195

1. Grundsätzlich zulässige Durchsetzungsmittel

195

2. Härte von Sanktionen

196

3. Dauer des Sanktionsverfahrens

197

4. Sanktionsadressat

198

5. Verschuldenserfordernis

199

B. Missbrauchsverbot

199

I. Ermittlungsbefugnisse

200

II. Grundsätzliche Zulässigkeit von Durchsetzungsmaßnahmen

200

III. Sanktionsnormen

201

1. Formelle Anforderungen an die Sanktionsnorm

201

2. Inhaltliche Anforderungen an die Sanktionsnorm

202

3. Zwischenergebnis

202

IV. Zulässige Durchsetzungsmaßnahmen

203

1. Grundsätzlich zulässige Durchsetzungsmittel

203

2. Sportliche Sanktionen bei nichtsportlichem Fehlverhalten

204

3. Zwischenergebnis

205

V. Zulässiges statutarisches Sanktionsmaß

205

VI. Härte der Sanktion im Einzelfall

205

1. Motorradsport, OLG Frankfurt a. M.

205

2. Katrin Krabbe, OLG München

206

3. Dieter Baumann, LG Stuttgart

206

4. Profispringreiter, LG Dortmund

206

5. Jahresturnierlizenz, LG Dortmund

207

6. Hustenzeichen, OLG Düsseldorf

207

7. Zwischenergebnis

208

VII. Verfolgungsverjährung

209

VIII. Sanktionsadressat

209

1. Triathlon, OLG Düsseldorf

210

2. FIBA, LG München I

210

3. Zwischenergebnis

211

IX. Verschuldenserfordernis

211

1. Sperren

211

a) Dieter Baumann, OLG Frankfurt a. M.

211

b) Dieter Baumann, LG Stuttgart

212

2. Suspendierung

212

3. Nachträgliche Disqualifikation

213

4. Zwischenergebnis

213

X. Inhaber der Sanktionsgewalt

214

1. Reitsport, BGH

214

2. FIBA I, OLG München

214

3. Hürdensprinter, OLG Dresden

215

4. Katrin Krabbe, OLG München

215

5. Dieter Baumann, LG Stuttgart

216

6. Zwischenergebnis

216

XI. Beweisanforderungen

217

1. Nachweis des objektiven Tatbestandes

217

2. Nachweis des Verschuldens

218

a) Meca-Medina, Europäische Kommission

218

b) Dieter Baumann, OLG Frankfurt a. M.

218

c) Hürdensprinter, OLG Dresden

218

d) Turnierreiter, OLG Düsseldorf

219

e) Dieter Baumann, LG Stuttgart

221

f) Zwischenergebnis

221

Teil 3: Folgen und Folgerungen aus der Spruchpraxis

222

Kapitel 9

222

Bisherige Auswirkungen der Entscheidungspraxis auf das Verhalten von Sportverbänden

222

A. Zentralvermarktung von Fußballligen

222

B. FIFA-Spielervermittlerreglement

223

C. Loyalitätspflichten

224

D. Hosenwerbung

224

E. Financial Fairplay

225

F. Abstellungspflicht von Nationalspielern

225

G. Organisation des Motorsports

226

H. Aufnahmeregeln des Rad- und Kraftfahrerbund Solidarität

226

I. Aufnahmeregeln der Deutschen Taekwondo Union

227

J. Werbung während Olympischer Spiele

227

K. Vollständigkeit der Lizenzierungsregeln der HBL

228

L. Schiedszwang im FIFA-Spielervermittlerreglement

228

Kapitel 10

229

Übertragbarkeit der Ergebnisse

229

A. 50+1-Regel

229

I. Kartellverbot

229

1. Tatbestand

230

2. Freistellung

232

II. Missbrauchsverbot

234

B. Absolutes Salary Cap

235

I. Kartellverbot

235

1. Tatbestand

236

2. Freistellung

238

3. Vereinbarung in Tarifvertrag

239

II. Missbrauchsverbot

239

C. Luxury Tax

240

I. Kartellverbot

240

1. Tatbestand

240

2. Freistellung

241

II. Missbrauchsverbot

241

D. Einnahmenumverteilung

242

I. Kartellverbot

242

1. Tatbestand

242

2. Freistellung

243

II. Missbrauchsverbot

244

E. Lizenzierungserfordernis und -anforderungen

244

I. Kartellverbot

245

1. Tatbestand

245

2. Freistellung

245

II. Missbrauchsverbot

246

F. Geschlossene Ligasysteme

246

I. Kartellverbot

246

1. Tatbestand

247

2. Freistellung

247

II. Missbrauchsverbot

247

G. Wettbewerbsverzerrungen durch nationale Regelungen

248

I. Kartellverbot

248

II. Missbrauchsverbot

249

H. Drafting-System

249

I. Kartellverbot

249

1. Tatbestand

250

2. Freistellung

250

II. Missbrauchsverbot

250

I. Inländerquoten (6+5-Regel / home grown-Rule)

251

I. Kartellverbot

252

1. Tatbestand

252

2. Freistellung

253

II. Missbrauchsverbot

254

J. Verbot paralleler Minderheitsbeteiligungen

255

I. Kartellverbot

255

1. Tatbestand

255

2. Freistellung

255

II. Missbrauchsverbot

256

K. Transferbeschränkungen

257

I. Kartellverbot

257

1. Tatbestand

257

2. Freistellung

257

II. Missbrauchsverbot

258

L. Verbot und Sanktionierung der Anrufung staatlicher Gerichte

258

I. Kartellverbot

258

II. Missbrauchsverbot

259

M. Vierjährige Sperre bei erstmaligem Dopingverstoß

260

I. Kartellverbot

260

1. Tatbestand

260

2. Freistellung

261

II. Missbrauchsverbot

261

N. Sanktionen bei Zuschauerausschreitungen

261

I. Kartellverbot

262

1. Tatbestand

262

2. Freistellung

262

II. Missbrauchsverbot

263

O. Ausschluss und Suspendierung von Sportverbänden

263

I. Verschuldensabhängiger Ausschluss oder Suspendierung

264

1. Kartellverbot

264

2. Missbrauchsverbot

265

II. Verschuldensunabhängiger Ausschluss oder Suspendierung

265

1. Kartellverbot

265

2. Missbrauchsverbot

267

Zusammenfassung

268

A. Rechtssetzung

268

I. Organisationsnormen

268

II. Außenbeziehungsnormen

269

III. Verhaltensnormen

270

1. Sportausübungsregeln

270

2. Nichtsportbezogene wirtschaftliche Lenkungsregeln

271

a) Regeln zum Schutz der Stabilität und Redlichkeit des sportlichen Wettbewerbs

271

b) Regeln zur verbesserten Vermarktbarkeit des sportlichen Wettbewerbs

272

c) Sonstige nichtsportbezogene wirtschaftliche Lenkungsregeln

272

3. Sportbezogene wirtschaftliche Lenkungsregeln

273

IV. Verteilungsnormen

273

1. Verteilung zwischen Mitgliedern

273

2. Verteilung zugunsten des Verbandes

274

V. Innenbeziehungsnormen

275

1. Gewährung von Rechten

275

2. Anforderungen an Normen zur Gewährung von Rechten

276

3. Modus von Wettbewerben

276

4. Verpflichtung von Mitgliedern

277

B. Rechtsanwendung

278

I. Formelle Voraussetzungen für Anträge

278

II. Verfahren vor Verbandsgerichten

278

III. Schiedszwang und Ausgestaltung des Schiedsverfahrens

279

IV. Grundsätze zur Anwendung von Regeln

280

V. Materieller Gehalt von Entscheidungen im Außenverhältnis

280

VI. Materieller Gehalt von Entscheidungen im Innenverhältnis

280

C. Rechtsdurchsetzung

281

I. Ermittlungsbefugnisse

281

II. Zulässigkeit von Durchsetzungsmaßnahmen

282

III. Anforderungen an Sanktionsnormen

282

IV. Zulässige Durchsetzungsmittel

282

V. Zulässiges statutarisches Sanktionsmaß

283

VI. Härte der Sanktion im Einzelfall

283

VII. Verfolgungsverjährung

284

VIII. Sanktionsadressat

284

IX. Verschuldenserfordernis

285

X. Nachweis des objektiven Tatbestandes

286

XI. Nachweis des Verschuldens

286

XII. Inhaber der Sanktionsgewalt

286

Schlusswort

287

Literaturverzeichnis

289

Stichwortverzeichnis

309