Judicial review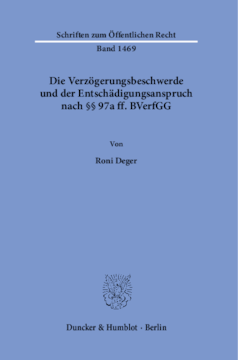 Additional Information
Book Details
ISBN

978-3-428-58444-4
978-3-428-18444-6 (print edition)

DOI

https://doi.org/10.3790/978-3-428-58444-4

Edition

1

Language

German

Pages

325

Collections

Subjects
Pricing
Institution

€ 104.00 (incl. local VAT if applicable)

Individual

€ 79.90 (incl. local VAT if applicable)
About The Author
Roni Deger studierte in Hannover Rechtswissenschaften und schloss das Studium 2018 als Bester seines Universitätsjahrganges ab. Bis Mitte 2020 arbeitete er neben seiner der Promotion am Leibniz Center for Science and Society (LCSS) und forschte zum Hochschulrecht. Nach einer etwa halbjährigen Beschäftigung bei einer international ausgerichteten Wirtschaftskanzlei trat er im Dezember 2020 in das Referendariat im Bezirk des Oberlandesgerichts Celle ein.
Roni Deger studied law in Hanover and graduated in 2018 as the best of his university class. Until mid-2020, he worked alongside his doctorate at the Leibniz Center for Science and Society (LCSS), conducting research on higher education law. After working for an international commercial law firm for about six months, he entered his legal clerkship in the district of the Higher Regional Court of Celle in December 2020.
Abstract
Nach mehreren Verurteilungen Deutschlands wegen Verletzungen des Anspruchs auf eine angemessene Ver fahrensdauer durch den Europäischen Gerichtshof für Menschenrechte (EGMR) erließ der deutsche Gesetzgeber Ende 2011 ein Gesetz über den Rechtsschutz bei überlangen Gerichtsverfahren, welches mit den neuartigen §§ 97a ff. BVerfGG auch vor dem Bundesverfassungsgericht nicht Halt machte.

Über zehn Jahre nach dem Erlass der Vorschriften untersucht und evaluiert der Autor die Normierungen im Verhältnis zur Europäischen Menschenrechtskonvention und dem Grundgesetz. Hierbei kann ein überwiegend positives Ergebnis hinsichtlich der kompensatorischen Verzögerungsbeschwerde gefunden werden. Allerdings wird hinsichtlich der präventiven Komponente – der Verzögerungsrüge – festgestellt, dass diese kein effektiver Rechtsbehelf i. S. d. Rechtsprechung des EGMR ist. Zudem werden vom Autor architektonische Unvollkommenheiten freigelegt, welche die objektive Unparteilichkeit der Beschwerdekammer tangieren. »The complaint for undue delay and the claim for compensation in accordance with sections 97a et seqq. of the BVerfGG«: After several rulings of the ECHR against Germany for violations of the right to a reasonable duration of proceedings, the legislature enacted in 2011 a law on legal protection in the case of overlong court proceedings, which did not spare the Federal Constitutional Court. More than ten years after the adoption of the regulations of the sections 97a et seqq. of the BVerfGG, the author examines and evaluates the provisions in relation to the European Convention on Human Rights and the Basic Law.
Table of Contents
Section Title
Page
Action
Price

Vowort

5

Inhaltsübersicht

7

Inhaltsverzeichnis

9

Abkürzungsverzeichnis

19

Kapitel 1: Einleitung

21

A. Problemaufriss

21

B. Ziele und Gang der Untersuchung sowie Stand der Wissenschaft

23

Kapitel 2: Historischer Überblick über das Problem der überlangen Verfahrensdauer vor deutschen Gerichten, insbesondere dem Bundesverfassungsgericht

33

A. Die überlange Verfahrensdauer und der Rechtsschutz hiergegen in der Rechtsprechung des EGMR sowie des Bundesverfassungsgerichts

33

I. Rechtsprechung des Europäischen Gerichtshofs für Menschenrechte

33

1. Die erste Verurteilung wegen überlanger Verfahrensdauer im Jahr 1978: König v. Germany

33

2. Das Bundesverfassungsgericht als "Randnotiz" in der EGMR-Rechtsprechung: Buchholz v. Germany und Eckle v. Germany

35

3. Der Beginn eines Richtungswechsels: Deumeland v. Germany; Bock v. Germany; Ruiz-Mateos v. Spain

35

a) Die Entscheidung vom 29. 05. 1986: Deumeland v. Germany

35

b) Die Entscheidung vom 29. 03. 1989: Bock v. Germany

36

c) Die Entscheidung vom 23. 07. 1993: Ruiz-Mateos v. Spain

38

4. Die Verfahrensdauer vor dem Bundesverfassungsgericht als isolierter Beschwerdegegenstand: Süßman v. Germany

40

5. Die Verfahrensdauer einer konkreten Normenkontrolle vor dem BVerfG als Gegenstand einer Individualbeschwerde: Pammel v. Germany; Probstmeier v. Germany

42

6. Strafprozesse als Ausgangspunkt: Gast and Popp v. Germany

43

7. Der Wendepunkt: Kudła v. Poland

45

8. Die Verurteilungen Deutschlands nach dem Kudła-Urteil

46

9. Das Urteil in der Sache Voggenreiter v. Germany vom 08. 01. 2004: Eine Gesetzesverfassungsbeschwerde als Ausgangverfahren

47

10. Sürmeli v. Germany: Die erste Verurteilung wegen der Verletzung von Art. 13 i. V. m. Art. 6 EMRK

48

11. Die Verurteilungen nach der Sürmeli-Entscheidung

51

12. Das Urteil vom 02. 12. 2010 im Pilotverfahren Rumpf v. Germany – Der Katalysator für die Kreierung der §§ 97a ff. BVerfGG und §§ 198 ff. GVG

52

13. Die ersten Auswirkungen der §§ 97a ff. BVerfGG, §§ 198 ff. GVG sowie die erste vorläufige Bewertung der Effektivität durch den Europäischen Gerichtshof für Menschenrechte

55

14. Kuppinger v. Germany: Die partielle Ineffektivität des Rechtsschutzes gegen überlange Verfahrensdauer in Kindschaftssachen

57

15. Zusammenfassende Bewertung der Rechtsprechung des Europäischen Gerichtshofs für Menschenrechte

59

II. Rechtsprechung des Bundesverfassungsgerichts

61

1. Der Anspruch auf einen effektiven Rechtsschutz aus Art. 19 Abs. 4 GG in der Rechtsprechung des BVerfG

62

2. Der allgemeine Justizgewährleistungsanspruch in der Rechtsprechung des Bundesverfassungsgerichts

64

3. Die Ausfüllung des Merkmals der Angemessenheit der Verfahrensdauer" durch die (Kammer-)Rechtsprechung des Bundesverfassungsgerichts

66

4. Zusammenfassende Bewertung der Rechtsprechung des Bundesverfassungsgerichts

68

B. Die Reaktion des deutschen Gesetzgebers

69

I. Anfängliche Debatte nach der Kudła-Entscheidung

69

II. Der Entwurf eines Untätigkeitsbeschwerdengesetzes

71

III. Ein neuer legislativer Ansatz: Schwerpunktmäßige Kompensationslösung

72

1. Die Beteiligung des Bundesverfassungsgerichts an der Ausarbeitung der §§ 97a ff. BVerfGG-E

72

2. Weitere Entwicklungen bis zur Initiierung des Gesetzgebungsverfahrens

74

IV. Das Gesetzgebungsverfahren des ÜGRG

75

1. Initiierung und Stellungnahme des Bundesrates

75

2. Beratungen im Bundestag, insbesondere im federführenden Rechtsauschuss

75

3. Schlussphase des Gesetzgebungsverfahrens in Bundestag und Bundesrat

77

V. Der Evaluationsbericht der Bundesregierung

77

1. Evaluierungsauftrag

77

2. Evaluierungsergebnis zu den §§ 97a ff. BVerfGG

78

3. Äußerungen von Verbänden

79

4. Stellungnahme

79

VI. Die Gesetzesreform nach dem Urteil Kuppinger v. Germany

80

VII. Zusammenfassung

81

C. Würdigung auf der Ebene des Europarats

82

I. Allgemeine Vorgaben auf der Ebene des Europarats

82

1. Die Arbeit des Ministerkomitees

83

2. Die Arbeit der Europäischen Kommission für die Effizienz der Justiz (CEPEJ)

85

3. Der Bericht der Venedig-Kommission

86

4. Zusammenfassung

88

II. Durchsetzung der EGMR-Entscheidungen wegen Verletzungen von Art. 6 und 13 EMRK durch die Bundesrepublik Deutschland

89

1. Resolution des Ministerkomitees bezüglich des Urteils Voggenreiter v. Germany und vier weiterer Fälle von 2007

90

2. Resolution des Ministerkomitees bezüglich 71 Verurteilungen Deutschlands (u. a. Sürmeli und Rumpf) von 2013

91

3. Resolution des Ministerkomitees bezüglich des Urteils Kuppinger v. Germany von 2018

92

4. Wertende Zusammenfassung

92

III. Zusammenfassung

93

D. Zusammenfassung

93

Kapitel 3: Konventionsrechtlicher und grundgesetzlicher Hintergrund der §§ 97a ff. BVerfGG

96

A. Der Anspruch auf ein Verfahren in angemessener Zeit, insbesondere vor dem Bundesverfassungsgericht

96

I. Aus Art. 6 Abs. 1 EMRK

96

1. Vorbemerkungen: Innerstaatlicher Rang und Wirkungsweise der EMRK

96

2. Anwendungsbereich

99

a) Persönlicher Anwendungsbereich

99

b) Sachlicher Anwendungsbereich

100

aa) Zivilrechtliche Ansprüche und Verpflichtungen

101

bb) Strafrechtliche Anklage

102

cc) Verfassungsrechtliche Streitigkeiten?

103

c) Anwendbarkeit auf das Bundesverfassungsgericht: Subsumtion unter Art. 6 Abs. 1 EMRK

105

aa) Verfassungsbeschwerdeverfahren

107

(1) Individualverfassungsbeschwerde

107

(2) Kommunalverfassungsbeschwerde

110

bb) Die konkrete Normenkontrolle

111

cc) Weitere Vorlageverfahren nach Art. 100 Abs. 2, 3, 126 GG

115

(1) Völkerrechtliches Verifikationsverfahren

115

(2) Divergenzvorlage

117

(3) Normqualifizierungsverfahren

117

dd) Abstrakte Normenkontrollverfahren

118

(1) Abstrakte Normenkontrolle

118

(2) Kompetenzkontrollverfahren

120

ee) Kontradiktorische Verfahren

120

(1) Organstreitverfahren

120

(2) Bund-Länder-Streitigkeiten

121

ff) Verfassungsschutzverfahren

123

(1) Parteiverbotsverfahren

123

(2) Ausschluss aus der staatlichen Parteienfinanzierung

127

(3) Grundrechtsverwirkung

128

(4) Präsidentenanklage

129

(5) Richteranklage

131

(6) Zwischenergebnis

133

gg) Sonstige Verfahren

133

(1) Verfahren in Zusammenhang mit Wahlen und Abstimmungen

133

(2) Verfahren nach dem PUAG

135

(3) Anträge auf Erlass einer einstweiligen Anordnung

135

hh) Verzögerungsbeschwerde

135

d) Ergebnis zum Anwendungsbereich

136

3. Inhalt: Angemessenheit der Verfahrensdauer

138

a) Berechnung des zu berücksichtigenden Zeitraumes

139

b) Komplexität des Falles

139

c) Verhalten des Beschwerdeführers

140

d) Verhalten der zuständigen Behörden und Gerichte

141

e) Bedeutung der Sache für den Beschwerdeführer

142

f) Die besondere Rolle des Bundesverfassungsgerichts

143

g) Gesamtbetrachtung

144

4. Ergebnis zu Art. 6 EMRK

144

II. Aus Art. 19 Abs. 4 und Art. 2 Abs. 1 i. V. m. Art. 20 Abs. 3 GG

146

1. Schutzbereich

147

a) Persönlicher Schutzbereich

147

aa) Art. 19 Abs. 4 GG

147

bb) Art. 2 Abs. 1 i. V. m. Art. 20 Abs. 3 GG

147

cc) Die Geltung des Grundsatzes der angemessenen Verfahrensdauer für juristische Personen des öffentlichen Rechts?

148

b) Sachlicher Schutzbereich

151

aa) Art. 19 Abs. 4 GG

151

bb) Art. 2 Abs. 1 i. V. m. Art. 20 Abs. 3 GG

152

c) Anwendbarkeit auf das Bundesverfassungsgericht

153

aa) Nationaler Interpretationsansatz

154

bb) Völkerrechtsfreundlicher Interpretationsansatz

156

cc) Zwischenergebnis

157

dd) Subsumtion der einzelnen Verfahrensarten

158

(1) Die Verfassungsbeschwerdeverfahren

158

(2) Vorlageverfahren

158

(3) Abstrakte Normenkontrolle und kontradiktorische Verfahren

159

(4) Verfassungsschutzverfahren

160

(5) Sonstige Verfahren und Verzögerungsbeschwerde

160

(6) Ergebnis

161

2. Inhalt

162

3. Ergebnis zu Art. 19 Abs. 4 und Art. 2 Abs. 1 i. V. m. Art. 20 Abs. 3 GG

164

B. Reaktion auf eine Verletzung des Anspruches auf eine angemessene Verfahrensdauer: Abwehr und Kompensation, insbesondere vor dem Bundesverfassungsgericht

165

I. Recht auf eine wirksame Beschwerde, Art. 13 EMRK i. V. m. Art. 6 Abs. 1 EMRK

166

1. Anwendungsbereich

166

a) Allgemein

166

b) Anwendbarkeit auf das Bundesverfassungsgericht – ein "infiniter Rechtsschutz"?

167

2. Inhalt

168

II. Abwehr- und Kompensationsrechte aus Art. 2 Abs. 1 i. V. m. Art. 20 Abs. 3 GG

170

1. Reaktionsmöglichkeiten nach Art. 2 Abs. 1 i. V. m. Art. 20 Abs. 3 GG?

170

a) Grundsätzliche Erwägungen

170

b) In Bezug auf das Bundesverfassungsgericht

172

2. Inhaltliche Dimension der Abhilfemöglichkeit: Abwehr oder Kompensation?

172

III. Zwischenergebnis

176

C. Zusammenfassung

177

Kapitel 4: Zulässigkeit der Verzögerungsbeschwerde sowie Voraussetzungen und Inhalt des Entschädigungsanspruches nach §§ 97a ff. BVerfGG

180

A. Zulässigkeit der Verzögerungsbeschwerde, § 97b BVerfGG

180

I. Einordnung der Verzögerungsbeschwerde

180

1. Dogmatische Verortung im Verfassungsprozessrecht

180

2. Zweck

181

II. Zuständigkeit des Bundesverfassungsgerichts

182

III. Statthaftes Ausgangsverfahren

184

1. Alle Verfahrensarten als statthaftes Ausgangsverfahren?

184

2. Die Verzögerungsbeschwerde: Nur ein Annex zum Ausgangsverfahren oder ein eigenständiges Verfahren?

185

IV. Beschwerdegegenstand

186

V. Beschwerdeberechtigte

187

1. Äußerungsberechtigte i. S. d. § 94 Abs. 3 BVerfGG als Beschwerdeberechtigte?

188

a) Planwidrige Regelungslücke

189

b) Vergleichbare Interessenslage

190

c) Zwischenergebnis

191

2. Die Stellung von staatlichen Verfahrensbeteiligten (insb. Verfassungsorganen) als Beschwerdeberechtigte

192

a) Analoge Anwendung von § 198 Abs. 6 Nr. 2 GVG?

192

b) Teleologische Reduktion von § 97a Abs. 1 S. 1 BVerfGG?

194

c) Zwischenergebnis

195

3. Ergebnis zum Beschwerdeberechtigten

195

VI. Beschwerdebefugnis

196

1. Das Erfordernis der individuellen Betroffenheit

196

2. Individuelle Betroffenheit in den einzelnen Verfahrensarten

198

3. Erleichterte Darlegung der Beschwerdebefugnis nach § 97a Abs. 2 S. 1 BVerfGG auch für staatliche Verfahrensbeteiligte?

201

4. Zwischenergebnis

202

VII. Ordnungsgemäße Verzögerungsrüge

202

1. Einordnung der Verzögerungsrüge

203

a) Dogmatische Verortung im Verfassungsprozessrecht

203

b) Zweck

204

2. Statthaftigkeit

205

a) Statthaft in allen Verfahrensarten

205

b) Präklusionswirkung

206

c) Statthaftigkeit von "Kettenrügen"?

207

3. Adressat, Form und Begründung

208

a) Adressat

208

b) Form und Begründung

208

c) Schwierigkeiten des Begründungserfordernisses

209

4. Wartefrist

211

a) Die zwölfmonatige Wartefrist

211

b) Einschränkung der Wartefrist?

212

5. Keine Bescheidung

213

6. Folgen einer fehlenden oder fehlerhaften Verzögerungsrüge

214

a) Fehlen der Verzögerungsrüge

214

b) Fehlerhafte Verzögerungsrüge

214

c) "Verspätete" Verzögerungsrüge?

215

7. Zwischenergebnis zur Verzögerungsrüge

216

VIII. Frist der Verzögerungsbeschwerde

216

1. Die Wartefrist nach § 97b Abs. 2 S. 1 Hs. 1 BVerfGG

217

2. Die Ausschlussfrist nach § 97b Abs. 2 S. 1 Hs. 2 BVerfGG

218

3. Ausschluss der Verzögerungsbeschwerde bei Erledigung des Verfahrens innerhalb der Wartefrist?

219

IX. Adressat, Form und Begründung der Verzögerungsbeschwerde

220

1. Adressat

220

2. Form und Begründung

221

3. Gleichzeitigkeit von Begründung und Erheben der Verzögerungsbeschwerde?

222

X. Allgemeines Rechtsschutzbedürfnis

223

1. Ausschluss bei formellem Missbrauch

223

2. Ausschluss von Bagatellen (de minimis non curat praetor)

223

3. Verwirkung infolge einer "verspäteten" Verzögerungsbeschwerde?

224

4. Ausschluss bei Litispendenz?

225

5. Zwischenergebnis

225

B. Entschädigungsanspruch, § 97a BVerfGG

225

I. Dogmatische Verortung des Entschädigungsanspruches

225

II. Anspruchsvoraussetzungen

228

1. Ausgangsverfahren vor dem Bundesverfassungsgericht

229

2. Anspruchsberechtigter

229

3. Anspruchsgegner

229

4. Angemessenheit der Verfahrensdauer

230

a) Berechnung des zu berücksichtigenden Zeitraums

231

b) Die Kriterien der Angemessenheit

232

aa) Die Umstände des Einzelfalles

232

bb) Unter besonderer Berücksichtigung der Aufgaben und Stellung des Bundesverfassungsgerichts

236

(1) Organisatorische Besonderheiten

236

(2) Verfahrensmäßige Besonderheiten

237

(3) Atypische Rechtfertigungsgründe

239

c) Zwischenergebnis

240

5. Kausaler Nachteil

240

a) Nachteilsbegriff

240

b) Kausalität

242

III. Rechtsfolge

243

1. Der Begriff der angemessenen Entschädigung

243

2. Inhalt und Umfang

244

a) Ersatz materieller Nachteile

244

aa) Unmittelbare und mittelbare Vermögenseinbußen

244

bb) Entgangener Gewinn?

245

cc) Zwischenergebnis

248

b) Ersatz immaterieller Nachteile

248

aa) Wiedergutmachung auf andere Weise

248

bb) Entschädigungszahlung

249

c) Entschädigungsansprüche des Staates gegen sich selbst?

250

d) Zwischenergebnis

252

C. Verfahren und Entscheidung

253

I. Prozessuale Besonderheiten

253

II. Die Entscheidung

255

III. Wirkungen der verfahrensrechtlichen Besonderheiten

256

D. Konkurrenzen

256

I. Präventive, konkurrierende Rechtsbehelfe?

256

1. Ungeschriebene Beschleunigungsrechtsbehelfe?

256

2. Einstweilige Anordnung nach § 32 BVerfGG

257

II. Amtshaftungsanspruch, § 839 BGB i. V. m. Art. 34 GG

259

III. Entschädigung nach Art. 41 EMRK

261

IV. Zusammenfassung

262

E. Ergebnis

262

Kapitel 5: Kritische Würdigung der §§ 97a ff. BVerfGG sowie der Entscheidungspraxis der Beschwerdekammer

265

A. Verzögerungsrüge als präventiver Rechtsbehelf

265

I. Die Effektivität der Verzögerungsrüge

265

II. Zwischenergebnis

268

III. Einbeziehung der einstweiligen Anordnung als präventiver Rechtsbehelf?

269

IV. Ergebnis zur Verzögerungsrüge

269

B. Verzögerungsbeschwerde als kompensatorischer Rechtsbehelf

270

I. Prozedurale Gesichtspunkte

270

1. Zugänglichkeit

271

a) Warte- und Ausschlussfristen

271

b) Begründungserfordernis

272

c) Präklusionswirkung und die Verknüpfung der Verzögerungsrüge mit der Verzögerungsbeschwerde

274

d) Zwischenergebnis

275

2. Einleitung der Verzögerungsbeschwerde während eines noch laufenden Verfahrens

276

3. Angemessene Dauer des Verzögerungsbeschwerdeverfahrens

276

4. Prozesskosten

277

5. Die Beschwerdekammer als unparteiliche Instanz

278

6. Ergebnis

281

II. Materiell-rechtliche Gesichtspunkte

281

1. Die Prüfung der Angemessenheit der Verfahrensdauer

281

a) In der Theorie: Der § 97a Abs. 1 BVerfGG

281

b) In der Praxis: Die Rechtsprechung der Beschwerdekammer

282

2. Die Entschädigung

285

a) Materielle Nachteile

285

b) Immaterielle Nachteile

286

3. Ergebnis

288

C. Zusammenfassung

289

Kapitel 6: Schlussbetrachtungen

291

A. Punktuelle Reformansätze

291

B. Bewertendes Fazit und Ausblick

295

Zusammenfassung der Dissertation in Thesen

298

Anhang: Chronologischer Überblick über die Rechtsprechungspraxis der Beschwerdekammer

303

Literaturverzeichnis

314

Sachwortverzeichnis

323