Landlord & tenant law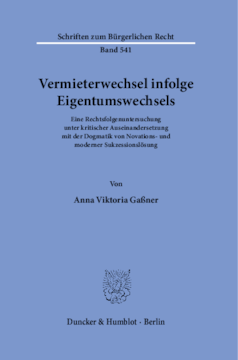 BOOK
Vermieterwechsel infolge Eigentumswechsels
Eine Rechtsfolgenuntersuchung unter kritischer Auseinandersetzung mit der Dogmatik von Novations- und moderner Sukzessionslösung
Schriften zum Bürgerlichen Recht, Vol. 541
(2022)
Additional Information
Book Details
ISBN

978-3-428-58417-8
978-3-428-18417-0 (print edition)

DOI

https://doi.org/10.3790/978-3-428-58417-8

Edition

1

Language

German

Pages

271

Collections

Subjects
Pricing
Institution

€ 104.00 (incl. local VAT if applicable)

Individual

€ 79.90 (incl. local VAT if applicable)
About The Author
Anna Viktoria Gaßner studierte von 2007 bis 2012 Rechtwissenschaften an der Ludwig-Maximilians-Universität in München. Ihr Referendariat absolvierte sie anschließend am OLG München. Nach dem erfolgreichen Bestehen des zweiten Staatsexamens im November 2014 arbeitete die Autorin als Rechtsanwältin in der Wirtschaftskanzlei ARNECKE SIBETH DABELSTEIN. Dabei spezialisierte sie sich auf Fragen des Immobilientransaktions-, Immobilienfinanzierungsrecht und auf das Mietrecht. Im Jahr 2017 begann Anna Viktoria Gaßner ihr Promotionsstudium an der Ludwig-Maximilian-Universität in München unter Betreuung von Professorin Beate Gsell. Seit August 2021 ist Anna Viktoria Gaßner als Leiterin Vertragswesen und Recht für den Immobilienprojektentwickler DIBAG Industriebau AG tätig.
Anna Viktoria Gaßner studied law at Ludwig Maximilian University in Munich from 2007 to 2012. She then completed her legal clerkship at the Higher Regional Court (Oberlandesgericht) of Munich. After successfully passing the second state examination in November 2014, Anna Viktoria Gaßner worked as a lawyer in the commercial law firm ARNECKE SIBETH DABELSTEIN. She specialized in real estate transaction, real estate financing and lease law. In 2017, she began her PhD studies at the Ludwig Maximilian University in Munich under the supervision of Professor Dr. Beate Gsell. Since August 2021, she has been working as General Counsel / Head of Contracting and Legal for the real estate project developer DIBAG Industriebau AG.
Abstract
Als »Enfant Terrible« genießt der Grundsatz »Kauf bricht nicht Miete« in § 566 Abs. 1 BGB unter Rechtsdogmatikern bis heute keinen guten Ruf. Die bewusste Abweichung des Gesetzgebers von zivilrechtlichen Prinzipien einer überzeugenden Lösung zuzuführen, ist Rechtsprechung und Literatur bis heute nicht gelungen.

Für den Praktiker erscheint dies auf den ersten Blick kaum relevant. Was ist aber, wenn sich der Mietvertrag durch ein erklärtes oder nur bestehendes Kündigungsrecht im Zeitpunkt der Veräußerung der Mietsache in einer komplexeren Rechtslage befindet? Weswegen, durch wen und mit welcher Wirkung kann ein Mietvertrag angefochten werden? Durch wen dürfen welche Gewährleistungsansprüche geltend gemacht werden? Wann und wie darf der Erwerber der Immobilie eine Mieterhöhung erklären? Diesen und vielen weiteren Fragen im Zusammenhang mit dem Vermieterwechsel infolge Eigentumswechsel und den dadurch ausgelösten Rechtsfolgen für das Mietverhältnis werden in diesem Werk nachgegangen. »Change of Landlord Due to Transfer of Ownership. Study of the legal consequences including a critical analysis of the principles of the Novation-Theory and the Modern-Succession-Theory«: The aim of this work is to provide a dogmatically convincing solution to the Civil Law anomaly ›purchase is subject to existing leases‹ in Section 566 (1) of the German Civil Code (BGB). This question is also of relevance for those applying the law. Having a close look at individual case constellations the effects of the change of landlord caused by the sale of real estate on termination notices, rent increases, warranty claims and many other legal consequences are examined.
Table of Contents
Section Title
Page
Action
Price

Vorwort

5

Inhaltsverzeichnis

7

Abkürzungsverzeichnis

12

A. Einführung, Aufbau und Eingrenzung der Arbeit

15

I. Dogmatischer Streit um § 566 Abs. 1 BGB und dessen Praxisrelevanz

15

II. Aufbau und Eingrenzung der Arbeit

18

B. Geschichtliche Entwicklung des Grundsatzes "Kauf bricht nicht Miete"

20

I. Erste Entwürfe eines vereinheitlichen Bürgerlichen Gesetzbuchs

21

1. Art. 550ff. des Dresdner Entwurfs von 1866

21

2. § 509 des Entwurfs des Bürgerlichen Gesetzbuchs von 1888

22

3. Maßgebliche Einflüsse auf § 509 des Entwurfs des BGB von 1888

25

a) Einflüsse des römischen und gemeinen Rechts

26

b) Einflüsse des Allgemeinen Landrechts für die Preußischen Staaten von 1794 (ALR)

29

c) Einflüsse des französischen Rechts

32

d) Einflüsse des Rechts in einzelnen Gebieten des deutschen Reichs und des Dresdner Entwurfs von 1866

33

II. Entwurf eines Bürgerlichen Gesetzbuchs von 1894 zur zweiten Lesung

36

1. Kritik am Grundsatz "Kauf bricht Miete"

38

2. Motive des Gesetzgebers zur Kehrtwende

40

3. Dogmatisches Verständnis des Gesetzgebers

41

III. § 571 des Bürgerlichen Gesetzbuchs von 1896

43

IV. Einordnung des § 571 BGB a.F. durch das Reichsgericht

43

V. Keine Inhaltsänderung durch Mietrechtsreformen

45

VI. Beibehaltung der Novationslösung durch den BGH bis heute

47

C. Anwendungsbereich des § 566 Abs. 1 BGB

49

I. Mietvertrag

49

1. Vertragsarten

50

2. Bestehen des Mietvertrags

51

II. Überlassung des Mietgegenstands an den Mieter

52

III. Veräußerung vom Vermieter an einen Dritten

56

1. Veräußerung

56

2. Identitätserfordernis von Vermieter, Veräußerer und Eigentümer

57

a) Personenidentität

57

b) Zeitpunkt des Identitätserfordernisses

60

3. Veräußerung an einen Dritten

60

4. Veräußerung von Wohnungseigentum

64

D. Rechtsfolgen des Vermieterwechsels

66

I. Dogmatik der Novationslösung

66

1. Novation

67

2. Grenzen der durch Novation übergehenden Rechte und Pflichten

69

a) Zeitliche Grenze des § 566 Abs. 1 BGB: Fälligkeitsprinzip

69

b) Inhaltliche Grenze des § 566 Abs. 1 BGB

71

II. Dogmatik der Sukzessionslösung

74

1. Sukzession durch Vertragsübernahme

76

2. Einwendungserhalt i.w.S. bzw. Anwendbarkeit der §§ 398ff. BGB

77

3. Beschränkung der Sukzession

79

a) Zeitliche Grenze des § 566 Abs. 1 BGB

80

b) Inhaltliche Grenze des § 566 Abs. 1 BGB

82

III. Kritische Auseinandersetzung mit Novations- und Sukzessionslösung

84

1. Wortlautauslegung

85

2. Historische Auslegung

88

3. Systematische Auslegung des § 566 Abs. 1 BGB im Kontext zivilrechtlicher Parallelvorschriften

94

4. Systematische Auslegung des § 566 Abs. 1 BGB im Kontext seiner Begleitvorschriften

98

a) Mietsicherheit, § 566a BGB

100

aa) Selbständigkeit des Mietsicherungsvertrags als Legitimation für § 566a BGB

100

bb) Dogmatische Einordnung des § 566a BGB

101

b) Vorausverfügung und Rechtsgeschäfte über die Mietforderung, §§ 566b, 566c BGB

104

aa) Verhältnis von §§ 566b, 566c BGB zu § 566 Abs. 1 BGB

106

bb) Dogmatische Einordnung der §§ 566b und 566c BGB

110

c) Aufrechnung durch den Mieter, § 566d BGB

112

d) Mitteilung des Eigentumsübergangs durch den Vermieter, § 566e BGB

113

5. Teleologische Auslegung

114

6. Zusammenfassung der Auslegungsergebnisse und Wertung

117

E. Untersuchung und Lösung materiell-rechtlicher Problemfälle

120

I. Primär- und Sekundäransprüche bezüglich der Hauptleistungspflichten

121

1. Gebrauchsüberlassung und -erhaltung des Mietgegenstands in gebrauchsfähigem Zustand

121

a) Primäranspruch des Mieters auf vertragsgemäße Gebrauchsüberlassung (§ 535 Abs. 1 BGB)

121

b) Sekundäransprüche des Mieters bei Verletzung der Erhaltungspflicht (§§ 536ff. BGB)

125

aa) Mängelanzeige nach § 536c BGB

125

bb) Mietminderung nach § 536 Abs. 1 BGB

128

cc) Schadensersatz des Mieters

129

(1) Anfängliche, verschuldensunabhängige Schadensersatzhaftung des Erwerbers nach § 536a Abs. 1 1. Alt. BGB

132

(2) Spätere, verschuldensabhängige Schadensersatzhaftung nach § 536a Abs. 1 2. Alt. BGB und Verzugsschadensersatzhaftung nach § 536a Abs. 1 3. Alt. BGB

133

dd) Aufwendungsersatz des Mieters bei Selbstbeseitigung

134

(1) Passivlegitimation bei "schwebenden Aufwendungsersatzlagen"

135

(2) Verjährung des Aufwendungsersatzanspruchs

135

2. Zahlung des Mietzinses

137

a) Vorausverfügungen des Veräußerers und Rechtsgeschäft zwischen Mieter und Vermieter über die Miete

138

b) (Un-)Wirksamkeit der Vorausverfügung des Veräußerers gegenüber dem Erwerber nach § 566b BGB

139

c) (Un)Wirksamkeit des Rechtsgeschäfts zwischen Mieter und Vermieter über die Miete gegenüber dem Erwerber nach § 566c BGB

141

d) Exkurs: Baukostenzuschuss

141

II. Nebenkostenabrechnung

146

III. Mietsicherheitsleistung

151

1. Vollzug der Vermögenszuordnung der Mietsicherheit

152

2. Recht des Vermieters auf Verwertung bzw. Recht des Sicherungsgebers auf Rückerstattung der geleisteten Sicherheit

154

3. Anspruch auf Leistung einer Mietsicherheit

156

IV. Ausübung von Gestaltungserklärungen

159

1. (Fort-)Bestand der schwebenden Kündigungslage

160

a) Fortwirkung von Zahlungsrückständen für Kündigung wegen Zahlungsverzug

165

b) Fortwirkung von sonstigen Umständen für eine spätere Kündigung

169

c) Grenzen des Fortbestands

175

d) Fortwirkung der Abmahnung bzw. Abhilfefrist

176

e) Fortwirkung von Umständen der Eigenbedarfs- und Verwertungskündigung

177

aa) Kündigung wegen Eigenbedarfs

179

bb) Kündigung wegen wirtschaftlicher Verwertung

181

2. (Fort-)Bestand der schwebenden Anfechtungslage

182

a) (Fort-)Bestand der schwebenden Anfechtungslage auf Mieterseite

185

b) (Fort-)Bestand der schwebenden Anfechtungslage auf Vermieterseite

187

c) Zeitliche Wirkung der Anfechtung

189

3. (Fort-)Bestand der Mieterhöhung

190

a) (Fort-)Bestand der Mieterhöhung bis zur ortsüblichen Vergleichsmiete

191

aa) Mieterhöhung vor Veräußerung

191

bb) Mieterhöhung nach Veräußerung

193

b) (Fort-)Bestand der Modernisierungsmieterhöhung

194

aa) Modernisierungsmieterhöhung vor Veräußerung

194

bb) Beginn der Modernisierungsmaßnahmen des Veräußerers vor, Mieterhöhung nach Eigentumswechsel

195

cc) Durchführung der Modernisierungsmaßnahmen durch den Erwerber vor, Mieterhöhung nach Eigentumswechsel

199

c) (Fort-)wirkung von Mietpreisbegrenzungen und Härteeinwände nach § 559 Abs. 4 BGB

201

4. Ausübung der Kündigungs- bzw. Anfechtungserklärung vor Veräußerung

202

a) Beendigung des Mietvertrags nach Veräußerung

203

b) Beendigung des Mietvertrags vor, Räumung und Herausgabe nach Veräußerung

204

aa) Eintritt in ein "nachwirkendes Mietverhältnis" bei Kündigung

205

bb) Kein Eintritt in ein "nachwirkendes Mietverhältnis" bei Anfechtung

207

5. Erklärungsberechtigter und Erklärungsgegner

208

a) Kündigung und Mieterhöhung

208

b) Erklärungsberechtigung des Veräußerers bzw. Ermächtigung des Erwerbers

209

c) Kündigungsgegner des Mieters

211

d) Anfechtung

214

aa) Anfechtungsgegner des Mieters

214

bb) Anfechtungsberechtigung auf Vermieterseite

217

6. Fortwirkung von Erklärungsfristen

220

V. Ansprüche bei Beendigung des Mietvertrags

222

1. Anspruch auf Räumung und Herausgabe des Mietgegenstands

223

2. Anspruch auf Wegnahme von Einrichtungen nach § 539 Abs. 2 BGB

224

3. Anspruch auf Rückzahlung der Mietsicherheit

227

VI. Vermieterpfandrecht

228

1. Vermieterpfandrecht nach Eigentumswechsel

228

2. Fortwirkung der gewillkürten Einschränkung des Vermieterpfandrechts

232

F. Empfehlung, wertende Betrachtung und Ausblick

236

I. Zusammenfassung der Ergebnisse anhand der fünf Thesen von Klimke

236

II. Miete als "teilweise verdinglichtes Recht"

240

1. Definition des dinglichen Rechts

241

2. Mietrecht als obligatorisches Recht mit teilweise dinglicher Schutzwirkung

243

3. BVerfG: Mietrecht als Eigentumsposition im Sinne von Art. 14 Abs. 1 S. 1 GG

244

III. Ausblick

245

Literaturverzeichnis

246

Urteilsverzeichnis

255

Sachwortregister

269