Contract law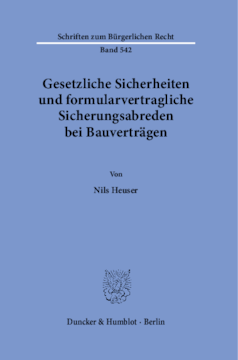 Additional Information
Book Details
ISBN

978-3-428-58507-6
978-3-428-18507-8 (print edition)

DOI

https://doi.org/10.3790/978-3-428-58507-6

Edition

1

Language

German

Pages

307

Collections

Subjects
Pricing
Institution

€ 104.00 (incl. local VAT if applicable)

Individual

€ 79.90 (incl. local VAT if applicable)
About The Author
Nils Heuser studierte von 2012 bis 2018 Rechtswissenschaften an der Goethe-Universität Frankfurt am Main und an der Philipps-Universität Marburg. Seit März 2018 ist er als wissenschaftlicher Mitarbeiter am Lehrstuhl von Prof. Dr. Tobias Helms tätig. Währenddessen trat Herr Heuser im März 2021 den juristischen Vorbereitungsdienst am Landgericht Marburg an. Seine Promotion zum Doktor der Rechte erfolgte im Oktober 2021 durch den Fachbereich Rechtswissenschaften der Philipps-Universität Marburg.
Nils Heuser studied law at Goethe University Frankfurt am Main and Philipps University Marburg from October 2012 to January 2018. Since March 2018, he has been working as a research assistant at the chair of Prof. Dr Tobias Helms. Meanwhile, Mr. Heuser began his legal traineeship at Marburg Regional Court in March 2021. His doctorate in law was awarded by the Faculty of Law at the Philipps University of Marburg in October 2021.
Abstract
Bei Bauverträgen besteht aufgrund wiederkehrender Insolvenzwellen und der Vorleistungspflicht des Auftragnehmers ein beidseitiges Sicherungsbedürfnis, dem das BGB in seiner derzeitigen Fassung nicht gerecht wird. Angesichts der bestehenden Schutzlücken steht in der Baupraxis die formularvertragliche Vereinbarung von Bankbürgschaften und Sicherheitseinbehalten durch sog. Sicherungsabreden an der Tagesordnung. Die höchstrichterliche Rechtsprechung hat allerdings seit 1997 zahlreiche formularvertragliche Sicherungsabreden an einer Inhaltskontrolle nach § 307 Abs. 1 S. 1 BGB scheitern lassen. Der Autor durchdringt alle bisherigen Entscheidungen des BGH zu dieser Problematik und unterzieht die immer kleinteiliger werdende Rechtsprechungslinie einer kritischen Analyse. Daneben werden die bestehenden gesetzlichen Sicherungsinstrumente umfassend beleuchtet. In diesem Rahmen spricht sich der Autor für eine Abschaffung von § 650e BGB und eine Reform von § 650f BGB und § 650m Abs. 2 BGB aus. »Statutory Securities and Form-Contractual Security Agreements in Construction Contracts«: In construction contracts, there is a mutual need for security on the part of the contracting parties. The author first examines the existing statutory security instruments. He argues for the abolition of § 650e BGB and a reform of § 650f BGB and § 650m II BGB. The second focus is on form-contractual security agreements and the analysis of the Federal Supreme Court's case law on this subject.
Table of Contents
Section Title
Page
Action
Price

Vorwort

5

Inhaltsverzeichnis

7

Problemstellung und Gang der Untersuchung

13

Erstes Kapitel: Rechtsgrundlagen – Von der Schaffung des BGB zum gesetzlichen Bauvertragsrecht

16

A. Die Grundkonzeption des historischen Gesetzgebers

16

B. Die Wesensmerkmale von Bauverträgen

17

C. Die VOB/B als faktische Ersatzrechtsordnung

18

D. Bedürfnis für die Schaffung eines gesetzlichen Bauvertragsrechts

21

E. Das gesetzliche Bauvertragsrecht

21

I. Der Bauvertrag, § 650a BGB

22

II. Der Verbraucherbauvertrag, § 650i BGB

24

III. Überblick über die Eckpfeiler der Neuregelung

28

F. Bewertung der Neuregelung und Zukunft der VOB/B

29

G. Auswirkungen der Neuregelung auf formularvertragliche Sicherungsabreden

31

Zweites Kapitel: Bauvertragliche Risikoverteilung und gesetzliche Sicherheiten

32

A. Die Abnahme als Dreh- und Angelpunkt der bauvertraglichen Risikoverteilung

32

I. Die dogmatische Struktur der Abnahme

32

II. Risikoverteilung vor und nach der Abnahme

34

B. Gesetzliche Schutz- und Sicherungsinstrumente

36

I. Gesetzliche Schutz- und Sicherungsinstrumente zugunsten des Auftragnehmers

36

1. Abschlagszahlungen

37

a) Die dogmatische Struktur von Abschlagszahlungen

37

b) Entwicklung und Bewertung des gesetzlichen Abschlagszahlungsanspruchs

41

2. Sicherungshypothek des Bauunternehmers

43

a) Die dogmatische Struktur des § 650e BGB

44

b) Sicherungsfähige Forderungen

46

c) Sicherungsobjekt: Grundstück des Bestellers

47

d) Vorrangige Grundpfandrechte fremdfinanzierender Banken

48

e) Verbliebene Praxisrelevanz des § 650e BGB

51

3. Bauhandwerkersicherung

55

a) Kreis der geschützten Bauunternehmer

55

b) Sicherungsfähige Forderungen, Höhe der Sicherheitsleistung und Geltendmachung des Anspruchs

57

c) Das gängigste Sicherungsmittel: Die Bankbürgschaft

58

aa) Die Rechtsverhältnisse im Rahmen von Bankbürgschaften

59

bb) Anforderungen an den Bürgen im Rahmen von § 650f BGB

61

cc) Anforderungen an die Ausgestaltung der Bankbürgschaft

63

dd) Inanspruchnahme der Bankbürgschaft

65

ee) Rückgewähr der Bankbürgschaft

69

(1) Enthaftung des Bürgen

69

(2) Rückgabe der Bürgschaftsurkunde

71

(3) Abweichende Rechtslage bei Vereinbarung einer Rückgabeklausel?

72

d) Die Handlungsmöglichkeiten des Auftragnehmers im Rahmen von § 650f BGB

73

aa) Die gerichtliche Geltendmachung des Sicherungsanspruchs

73

(1) Die Entscheidung des Bundesgerichtshofs vom 06.03.2014

74

(2) Die Entscheidung des Kammergerichts vom 15.06.2018

75

(3) Stellungnahme

76

(4) Folgerungen für die Behandlung von Einheitspreisverträgen und Nachtragsforderungen

78

bb) Das Leistungsverweigerungs- und Kündigungsrecht

81

(1) Das Verhältnis zwischen den beiden Handlungsmöglichkeiten

81

(2) Das Leistungsverweigerungsrecht

82

(3) Das Kündigungsrecht

86

e) Kostentragung

87

f) Der zwingende Charakter des § 650f BGB

90

g) Das Verhältnis von § 650f BGB zu § 650e BGB und vertraglichen Sicherheiten

94

4. Abschließende Würdigung

96

II. Gesetzliche Schutz- und Sicherungsinstrumente zugunsten des Auftraggebers

105

1. Das Leistungsverweigerungsrecht aus § 320 BGB

105

2. Das Aufrechnungsrecht gemäß §§ 387ff. BGB

106

3. Die Vertragserfüllungssicherheit gemäß § 650m Abs. 2 BGB

107

a) Die Rechtsnatur des Sicherungsinstruments

108

b) Sicherungsmittel

111

c) Sicherungszweck

112

d) Verwertung und Rückgewähr der Sicherheit

114

4. Abschließende Würdigung

115

C. Verbliebenes Sicherungsbedürfnis von Auftraggeber und Auftragnehmer

117

Drittes Kapitel: Die dogmatische Struktur der Bürgschaft

119

A. Akzessorietäts- und Subsidiaritätsprinzip

119

I. Das Akzessorietätsprinzip

119

1. Akzessorietät in der Entstehung

119

2. Akzessorietät im Erlöschen

120

3. Akzessorietät in der Rechtszuordnung

120

4. Akzessorietät im Umfang

120

5. Akzessorietät in der Durchsetzbarkeit

122

6. Die Funktionen des Akzessorietätsprinzips

126

II. Das Subsidiaritätsprinzip

127

1. Die Einrede der Vorausklage, § 771 BGB

127

2. Die Einrede der Aufrechenbarkeit, § 770 Abs. 2 BGB

128

B. Abgrenzung der Bankbürgschaft zu verwandten und speziellen Rechtsinstituten

131

I. Die Bankgarantie (auf erstes Anfordern)

132

II. Die Bürgschaft auf erstes Anfordern

140

Viertes Kapitel: Die vertragliche Absicherung des gewerblichen Bestellers mittels Bankbürgschaft

145

A. Einleitender Überblick

145

B. Vertragserfüllungs- und Gewährleistungsbürgschaften

145

I. Sicherungszweck einer Vertragserfüllungsbürgschaft

146

1. Grundsätzliches

147

2. Aus § 14 S. 1 AEntG und verwandten Vorschriften folgende Regressansprüche

148

3. Haftung für Forderungen aus Nachträgen

157

4. Ansprüche auf Rückgewähr von Überzahlungen

163

5. Mängelansprüche

164

II. Sicherungszweck einer Gewährleistungsbürgschaft

167

III. Lösung: Klare Festlegung des Sicherungszwecks in der Sicherungsabrede

169

C. Die Unwirksamkeit formularvertraglicher Sicherungsabreden

171

I. Sicherungsabreden als Allgemeine Geschäftsbedingungen

172

1. Für eine Vielzahl von Verträgen vorformulierte Sicherungsabrede

172

2. Stellen der Sicherungsabrede

173

3. Nicht im Einzelnen ausgehandelte Sicherungsabrede

174

4. Darlegungs- und Beweislast

175

II. Zweck, Maßstab und Rechtsfolgen der Inhaltskontrolle

176

1. Sinn und Zweck der Inhaltskontrolle von Allgemeinen Geschäftsbedingungen

176

2. Maßstab der Inhaltskontrolle

178

3. Rechtsfolgen der Inhaltskontrolle

181

III. Folgen einer unwirksamen Sicherungsabrede für den Auftraggeber

182

1. Rechtslage aus Sicht des Auftragnehmers

183

2. Rechtslage aus Sicht der bürgenden Bank

185

3. Fazit und Folgefragen

191

IV. Analyse der Rechtsprechung zu den häufigsten Unwirksamkeitsgründen

194

1. Verknüpfung von Bürgschaft und Sicherheitseinbehalt

195

2. Übersicherung des Auftraggebers

200

a) Zulässige Obergrenze für Vertragserfüllungs- und Gewährleistungssicherheiten

200

b) Übersicherung durch Kumulation

210

aa) Vertragserfüllungsbürgschaft und nachteilige Abschlagszahlungsvereinbarung

210

(1) Die Entscheidung des Bundesgerichtshofs vom 09.12.2010

210

(2) Die Entscheidung des Bundesgerichtshofs vom 16.06.2016

213

bb) Überschneidung der Sicherungszwecke von Vertragserfüllungs- und Gewährleistungsbürgschaft

216

(1) Die Entscheidung des Bundesgerichtshofs vom 25.03.2004

216

(2) Die Entscheidung des Bundesgerichtshofs vom 05.05.2011

220

(3) Die Entscheidung des Bundesgerichtshofs vom 20.03.2014

223

(4) Die Entscheidung des Bundesgerichtshofs vom 01.10.2014

224

(5) Die Entscheidung des Bundesgerichtshofs vom 22.01.2015

226

(6) Die Entscheidung des Bundesgerichtshofs vom 16.07.2020

226

(7) Abschließende Folgerungen aus den Urteilen

227

3. Abbedingung bürgschaftsrechtlicher Schutzvorschriften

228

a) Vereinbarung einer Bürgschaft auf erstes Anfordern

228

aa) Das Grundsatzurteil des Bundesgerichtshofs vom 05.06.1997 – ein Flächenbrand

229

bb) Keine Aufrechterhaltung der zuvor dargestellten Sicherungsabrede durch Klauselteilung und ergänzende Vertragsauslegung

231

cc) Das zweite Grundsatzurteil des Bundesgerichtshofs vom 18.04.2002

233

dd) Verhinderung eines zweiten Flächenbrands

235

ee) Zulässigkeit der Ablösung eines Gewährleistungseinbehalts durch selbstschuldnerische Gewährleistungsbürgschaft

237

ff) Auch keine Bürgschaften auf erstes Anfordern in formularvertraglichen Sicherungsabreden der öffentlichen Hand

239

gg) Keine ergänzende Vertragsauslegung bei alleiniger Ablösungsmöglichkeit des Gewährleistungseinbehalts durch Gewährleistungsbürgschaft auf erstes Anfordern

240

hh) Weitere Konkretisierungen der höchstrichterlichen Rechtsprechung

242

ii) Fazit

243

b) Ausschluss der abgeleiteten Einreden des Bürgen, § 768 Abs. 1 S. 1 BGB

244

aa) Das Urteil vom 12.02.2009 – Vertragserfüllungsbürgschaft unter Ausschluss des § 768 Abs. 1 S. 1 BGB

244

bb) Die Urteile vom 16.06.2009 und 28.07.2011 – Gewährleistungseinbehalt, ablösbar durch Gewährleistungsbürgschaft unter Ausschluss des § 768 Abs. 1 S. 1 BGB

247

cc) Kritische Würdigung und Fazit

250

c) Ausschluss der Einrede der Aufrechenbarkeit, § 770 Abs. 2 BGB

251

aa) Die Entscheidungen vom 24.10.2017

251

bb) Kritische Würdigung und Fazit

253

d) Ausschluss der Einrede der Anfechtbarkeit, § 770 Abs. 1 BGB

256

4. Blockade des Austauschrechts

259

V. Zusammenfassung und Folgerungen aus der Rechtsprechungsentwicklung

260

VI. Bisherige Reformvorschläge und Stellungnahme

262

1. Die Reformvorschläge des 3. und 6. Deutschen Baugerichtstags

262

2. Stellungnahme

263

Fünftes Kapitel: Die gesetzliche und vertragliche Absicherung des Auftragnehmers im Rahmen von Verbraucherbauverträgen

266

A. Einführung

266

B. Gesetzliche Absicherung

266

I. Ursprung und Entwicklung des Privilegierungstatbestandes

266

II. Ratio legis des Privilegierungstatbestandes und bisherige Kritik

267

III. Stellungnahme

269

C. Vertragliche Absicherung

270

I. Die Rechtslage bis zum 31.12.2017

270

II. Die Rechtslage ab dem 01.01.2018

271

III. Bisherige Kritik an § 650m Abs. 4 BGB und Stellungnahme

272

Sechstes Kapitel: Zusammenfassung der wesentlichen Ergebnisse und Ausblick

274

A. Zusammenfassung der wesentlichen Ergebnisse

274

I. Vorschläge zur zukünftigen Absicherung des Auftragnehmers

274

II. Vorschläge zur zukünftigen Absicherung des Auftraggebers

276

B. Ausblick – Neue Versicherungsformen

277

Literaturverzeichnis

283

Sachwortverzeichnis

305