Diplomacy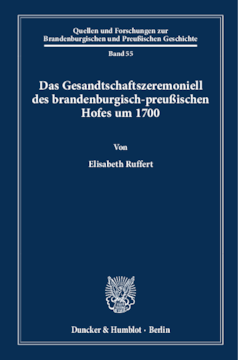 Additional Information
Book Details
ISBN

978-3-428-58327-0
978-3-428-18327-2 (print edition)

DOI

https://doi.org/10.3790/978-3-428-58327-0

Edition

1

Language

German

Pages

729

Collections

Subjects
Pricing
Institution

€ 138.00 (incl. local VAT if applicable)

Individual

€ 107.90 (incl. local VAT if applicable)
About The Author
Elisabeth Ruffert studierte und promovierte im Bereich brandenburgischen Landesgeschichte an der Universität Potsdam zum Gesandtschaftszeremoniell des brandenburgisch-preußischen Hofes. Seit 2020 ist sie im Schuldienst tätig.
Elisabeth Ruffert studied and completed her doctorate in Brandenburg regional history at the University of Potsdam on the ceremonial of legations at the Brandenburg-Prussian court. She has been in teaching since 2020.
Abstract
Die Studie analysiert das brandenburgisch-preußische Gesandtschaftszeremoniell um 1700. Der Untersuchungszeitraum von 1648 bis 1740 umfasst die Regentschaft dreier Hohenzollern, veranschaulicht vorhandene Kontinuitäten und erläutert den Einfluss einzelner Personen auf das Zeremoniell. Zugleich wird die Entwicklung des Gesandtschaftszeremoniells an sich über einen längeren Zeitraum verfolgt. Hier offenbart sich: Die Vorgänge am und das Vorgehen des Berliner Hofes muten geradezu exemplarisch an. Die Hohenzollern waren Vertreter der allgemein vorherrschenden zeremoniellen Konjunkturen.

In der vorliegenden Arbeit werden wiederkehrende Muster und Mechanismen des Gesandtschaftszeremoniells aufgezeigt, sei es das Aufeinanderbeziehen von Forderungen, der beständige Vergleich mit den übrigen Mächten oder die Darstellung von Abhängigkeiten. Es wird analysiert, welche Elemente einander bedingten, wie diese zusammenwirkten und welche Bestandteile häufig zu Diskussionen führten. »The Diplomatic Ceremonial of the Brandenburg-Prussian Court around 1700«: This study analyses Brandenburg-Prussian diplomatic ceremonial around 1700, illustrating developments, continuities and explaining the influence of individual persons. It shows that the Hohenzollerns were representatives of the prevailing ceremonial conjunctures. Recurring patterns and mechanisms of the diplomatic ceremonial are presented and analysed, which elements conditioned each other, how they interacted and which components led to discussions.
Table of Contents
Section Title
Page
Action
Price

Vorwort

5

Inhalt

7

I. Einleitung

9

II. Grundlagen

27

1. Quellengrundlage

27

2. Die Entwicklung des Gesandtschaftswesens

44

3. Begriffsdefinitionen

52

a) Das Ritual

52

b) Das Zeremoniell

55

4. Organisatorisches

64

a) Die Verantwortlichkeiten am Berliner Hofe

64

b) Die organisatorische Gestaltung einer Gesandtschaft

71

III. Grundlegende Problematiken des Gesandtschaftszeremoniells am Exempel Brandenburg-Preußens

106

1. Gemeinsames Agieren im Gesandtschaftszeremoniell?!

106

a) Vorbemerkungen

106

b) Gemeinsames Agieren im Kontext der Gestaltung des Gesandtschaftszeremoniells am eigenen Hof

110

c) Gemeinsames Agieren – An auswärtigen Höfen

123

aa) Brandenburg-Preußen und die Republiken

123

bb) Brandenburg-Preußen und die Fürsten

143

(1) Die "auswärtigen" Fürsten

143

(2) Die "deutschen" Fürsten

154

2. Rangerhöhung, Kronerwerb und Gesandtschaftszeremoniell

169

a) Einfluss, Wirkung und Anwendung des Gesandtschaftszeremoniells bis zum Januar 1701

169

b) Die Etablierung des königlichen Gesandtschaftszeremoniells am Berliner Hofe

187

c) Die Etablierung des königlichen Gesandtschaftszeremoniells an auswärtigen Höfen

231

d) Das königliche brandenburgisch-preußische Gesandtschaftszeremoniell – Eine Erfolgsgeschichte?

242

3. Herrscherwechsel und Tradition

245

4. Leithöfe und Orientierung

262

5. Das Gesandtschaftszeremoniell im außereuropäischen Kulturkreis

275

IV. Elemente des Gesandtschaftszeremoniells

298

1. Vorbemerkungen

298

2. Abschied

298

3. Die fürstliche Familie

306

4. Die Gesandtin

331

5. Geschenke

343

6. Gestik und Gegenstände

363

7. Hofstaat

402

8. Militär und Musik

429

9. Raum

448

10. Sprache

490

11. Tafelhalten

496

12. Zeit

510

V. Resümee

518

Literatur- und Quellenverzeichnis

535

Ungedruckte Quellen

535

Gedruckte Quellen und Literatur bis 1850

546

Literatur ab 1850

575

Personenverzeichnis

720