Criminal law: procedure & offences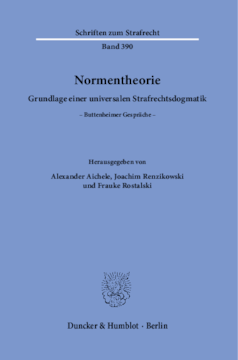 Additional Information
Book Details
ISBN

978-3-428-55434-8
978-3-428-15434-0 (print edition)

DOI

https://doi.org/10.3790/978-3-428-55434-8

Edition

1

Language

German

Pages

287

Collections

Subjects
Pricing
Institution

€ 104.00 (incl. local VAT if applicable)

Individual

€ 79.90 (incl. local VAT if applicable)
About The Author
PD (Univ. Halle) Dr. phil. habil. Alexander Aichele arbeitet selbständig als Consulting Philosopher u. Lektor (https://arkesilaos.jimdofree.com). Zahlreiche Publikationen, v.a. zu Themen der Metaphysik, Logik, Erkenntnis- u. Handlungstheorie, Ästhetik, Rechts- u. politischer Philosophie. Zuletzt erschienen: Deutsch denken. Die Philosophie der Neuen Rechten (Metzler 2021).
PD (Univ. Halle) Dr. phil. habil. Alexander Aichele works independently as Consulting Philosopher and editor (https://arkesilaos.jimdofree.com). Many books and papers, esp. on metaphysics, logic, theory of knowledge and action, aesthetics, philosophy of law, political philosophy. Recently: Deutsch denken. Die Philosophie der Neuen Rechten (Metzler 2021).

Joachim Renzikowski is Professor of Criminal Law and Legal Philosophy/Legal Theory at Martin-Luther-University Halle-Wittenberg. His main fields of research are the Theory of Norms, General Theory of Criminal Law, Crimes Against Sexual Autonomy and the European Convention on Human Rights.

Frauke Rostalski is Professor of Criminal Law, Criminal Procedure Law, Philosophy of Law and Comparative Law. Her research focuses in particular on the border area between criminal law, medicine and ethics, as well as on the questions for law and morality arising from progress in the field of artificial intelligence.
Abstract
Die normtheoretische Unterscheidung zwischen Verhaltensnormen, die sich an die Bürger richten, und Sanktionsnormen, die an die Strafverfolgungsorgane adressiert sind, stößt national wie international auf zunehmende Resonanz. Als Einfallstor der Rechtstheorie in die Strafrechtsdogmatik ermöglicht sie die Analyse dogmatischer Strukturen und eine Kritik dogmatischer Sätze. Dadurch bietet sie die Chance zu einer Verständigung im internationalen Strafrechtsdiskurs jenseits nationaler Besonderheiten. Denn die normtheoretische Analyse etwa des Gegenstands einer Norm oder des Normbruchs hängt nicht von den Zufälligkeiten des jeweiligen positiven Rechts ab, sondern kann allgemeine Gültigkeit beanspruchen. Im Zentrum einer normtheoretisch inspirierten Strafrechtsdogmatik stehen die Bestimmung der Verhaltensnorm, beispielsweise beim Versuch, beim Unterlassungsdelikt oder beim fahrlässigen Delikt, sowie des Normadressaten. Der vorliegende Band zeigt die Fruchtbarkeit einer internationalen Diskussion dieser Fragen auf. »Theory of Norms. The Fundament of a Universal Criminal Law Dogmatics«: The distinction between norms of conduct addressed to citizens and norms of sanctions addressed to law enforcement agencies is also meeting with increasing resonance internationally. From this perspective, questions are asked about the content of the norms of conduct, for example in the case of an attempt, an omission offence or a negligent offence, as well as about the addressee of the legal norm. This volume demonstrates the fruitfulness of an international discussion of these questions.
Table of Contents
Section Title
Page
Action
Price

Vorwort

5

Inhaltsverzeichnis

7

Von Joachim Renzikowski: Einführung: Was heißt und zu welchem Ende studiert man Normentheorie?

9

I. Was ist Normentheorie?

9

II. Einige Einwände und Missverständnisse

10

III. Der Zweck der Normentheorie

17

Von Alexander Aichele: Bedingungen von Normativität

21

Von Urs Kindhäuser: Normen und Direktiven

27

I. Einleitung

27

II. Unrecht

29

III. Norm und Sanktion

30

IV. Zum Tatbestand der Verhaltensnorm

36

V. Norm und Erfolg

38

VI. Norm und Normbefolgung

40

VII. Praktische Notwendigkeit

43

VIII. Norm und Sorgfaltsanforderungen

44

IX. Norm und Normadressat

50

Von Stephan Ast: Der Gegenstand des Unrechtsurteils im Strafrecht

55

I. Der Gegenstand strafrechtlicher Normen

55

II. Verbotene Zustände

55

III. Teleologische Ableitung von Handlungsnormen

55

IV. Handlungsnormen bei Engisch und Frisch

56

V. Norm und Pflicht bei Kindhäuser

57

VI. Exkurs: Die Kritik an Kindhäuser seitens Freund und Rostalski

57

VII. Dualismus und Monismus in der strafrechtlichen Normentheorie

58

VIII. Der Handlungsbegriff der kausalen und finalen Handlungslehre

59

IX. Die Handlung als Verbotsgegenstand und Grundelement der Verbrechensdefinition

60

X. Der nichtnormative Charakter der tatbestandlichen Handlungsarten

60

XI. Die Handlung als Kausalprozess aus Wille, Körperverhalten und Erfolg

61

XII. Die Frage der Unterlassung

62

XIII. Die Tat als Gegenstand des strafrechtlichen Verbots

63

XIV. Trennung von Handlung und Tatbestand

63

XV. Integration von Handlung und Tatbestand

64

XVI. Integration einer Sinnbestimmung in den Handlungsbegriff

65

XVII. Handlungsverbote gemäß der finalen Handlungslehre

65

XVIII. Akzeptanz von Verursachungsverboten

66

XIX. Nebeneinander von Verursachungs- und gleichgerichteten Handlungsverboten

67

XX. Intention und Vorsatz

68

XXI. Intention und Norm als Zurechnungsgründe

69

XXII. Die Handlung als Ergebnis der Zurechnung

70

XXIII. Der Gegenstand des strafrechtlichen Unrechts- und Schuldurteils

71

Von Yuki Nakamichi: Handlungsbeschreibung und Normen

73

I. Einleitung

73

II. Handlungsbegriff, Sinnhaftigkeit und Handlungsbeschreibung

74

1. Handlungsbeschreibung bei Welzel

74

2. Handlungsbeschreibung bei Eberhard Schmidt und Jakobs

75

III. Reduzierung der mehreren Handlungsbeschreibungen durch Normen

76

1. Multiple Beschreibbarkeit einer Handlung

76

2. Handlung als durch Normen Hergestelltes

77

3. Struktur der Handlungsbeschreibung im strafrechtlichen Kontext

78

IV. Anwendung auf Problemfelder

78

1. Mehraktigkeit

78

2. Handlungsbeschreibung als Sinnzurechnung – sexuelle Handlung

80

V. Fazit

81

Von Georg Freund: Normentheoretisch-funktionale Kritik einer Kategorie der Zurechnung

83

I. Zurechnungshypertrophie als Konsequenz eklektischer Problemlösungsversuche

83

II. Normativ-funktionale Lösung vermeintlicher Zurechnungsprobleme

89

1. Das Recht in seiner Funktion als freiheitsgewährleistende Verhaltensordnung

90

2. Das Recht in seiner Funktion als freiheitsgewährleistende Sanktionsordnung

99

a) Der (hinreichend gewichtige) Verstoß gegen eine rechtlich legitimierbare tatbestandsspezifische Verhaltensnorm als Grund und Grenze der Ahndung (Missbilligung) mit Schuldspruch und Strafe

100

b) Spezifische Fehlverhaltensfolgen und gleichwertige Tatumstände als zusätzliche Vorwurfsgegenstände

102

III. Zusammenfassung in Thesen

105

Von Jan C. Schuhr: Bemerkungen zu den Kategorien der Zurechnungsregeln und der Verhaltensre‍geln

109

Von Joachim Renzikowski: Die Fahrlässigkeitstat aus normtheoretischer Sicht

119

I. Einleitung

119

II. Der normtheoretische Status der Sorgfaltspflicht

120

1. Sorgfaltsnormen

120

a) Sorgfalt als Konkretisierung der Verhaltensnorm

120

b) Sorgfalt als Gegenstand einer (sekundären) Erkenntnispflicht

122

c) Normtheoretische Kritik der Annahme einer besonderen Sorgfaltspflicht

124

2. Die fahrlässige Handlung als Fall der außerordentlichen Zurechnung?

127

3. Die Unterscheidung von Normwidrigkeit und Pflichtwidrigkeit

129

III. Der Inhalt der Sorgfaltspflicht

131

1. Sorgfalt und individuelle Fähigkeiten

131

2. Die subjektiven Merkmale der Fahrlässigkeit im Verbrechensaufbau

135

IV. Zusammenfassung

137

Von Inês Fernandes Godinho: Sorgfalt als abstraktes Wesensmerkmal der Norm bei der Fahrlässigkeitstat

139

I. Einleitung

139

II. Der Status der gebotenen Sorgfalt

142

III. Der Inhalt der gebotenen Sorgfalt

144

IV. Schlussbemerkungen

146

Von Vicente Valiente Ivañez: Fahrlässigkeit als außerordentliche Zurechnungsstruktur

147

I. Problemstellung

147

II. Fahrlässigkeit als Problem der subjektiven Zurechnung

149

1. Die theoretische Voraussetzung

149

2. Die duale Struktur der Zurechnungsurteile

151

3. Die komplexe Struktur der Fahrlässigkeit

152

III. Zusammenfassung

156

Von Jan C. Joerden: Verhaltensnorm und "Überdetermination" von Kausalverläufen

159

I.

159

II.

161

III.

162

IV.

163

V.

164

Von Thomas Grosse-Wilde: Die Möglichkeit der Überdetermination von Kausalverläufen und ihre rechtliche Behandlung

165

I. Vorbemerkung

165

II. Überdeterminationen in Fällen "klassischer Naturkausalität"

166

III. Überdeterminationen von (Sorgfalts-)‌Pflichtverletzungen

167

IV. Erster Lösungsvorschlag – außerordentliche Zurechnung?

170

V. Zweiter Lösungsvorschlag – NESS-Test?

172

Von Juan Pablo Mañalich R.: Versuch als defizitärer Normwiderspruch

177

I. Versuch als Diskrepanz

177

II. Normwiderspruch ohne Normwidrigkeit

178

1. Normwidrigkeit als superveniente Eigenschaft

178

2. Verhaltensnormen als (externe) Handlungsgründe

180

3. Die Zurechenbarkeit eines nicht-normwidrigen Verhaltens qua Normwiderspruch

182

III. Die fehlende Tatbestandsmäßigkeit des Deliktsversuchs

183

IV. Versuch als "imperfektes" Delikt

185

1. Vollendung und Versuch

185

2. Kriminale Signifikanz und performative Kongruenz

187

3. Normwidrigkeit und mögliche Welten

188

V. Der Deliktsversuch als mangelhafte Straftat

189

1. Der Primat des Vollendungsbegriffs

189

2. Versuch als praktisches Scheitern (in schwachem Sinne)

191

3. Zurechnungsgegenstand und Zurechnungsgrund als Faktoren der Strafwürdigkeit

192

Von Luís Greco: Normentheoretisch fundierte Straftatdogmatik: von oben oder von unten?

195

I. Einleitung

195

II. Die zwei normentheoretischen Grundkonzeptionen

195

III. "Harter" Vergleich: Liegen einem Modell Denkfehler zugrunde?

197

IV. "Weicher" Vergleich: Was soll man von einem normentheoretischen Modell erwarten? Wie gut entsprechen die Modelle diesen Erwartungen?

199

V. Fazit

203

Von Norio Takahashi: Verhaltensnorm und Sanktionsnorm beim untauglichen Versuch

205

I. Einleitung

205

II. Die Verbindung zwischen Verhaltensnormen und Sanktionsnormen

206

III. Der Legitimationsgrund von Verhaltensnormen und Sanktionsnormen

207

IV. Die Bedeutung der Gegenüberstellung von Verhaltensnormen und Sanktionsnormen in der Verbrechenslehre

207

V. Der untaugliche Versuch aus normentheoretischer Sicht

209

VI. Lösung des untauglichen Versuches durch Sanktionsnormen

211

VII. Schlusswort

213

Anhang: Grundlegende Entscheidungen aus der japanischen Rechtspraxis

214

Von Kai Cornelius: Normentheoretische Annäherung an den untauglichen Versuch

215

I. Einleitung

215

II. Normentheoretische Argumente

216

III. Zusammenfassung

218

Von Jesús-María Silva Sánchez: Gesetz und Norm bei den sogenannten "unechten Unterlassungsdelikten"

221

I. Vom gesetzlichen Tatbestand zu der Verhaltensnorm

221

1. Tatbestand und Normen

221

2. Verbot und Gebot

225

3. Die Bedeutung von "töten"

227

II. Die Verhaltensnorm und das Nicht-Handeln des Garanten zu der Erfolgsvermeidung

229

1. Die Grundlagen der herrschenden Meinung in Deutschland

229

2. Der Einfluss der Entsprechungsklausel

230

III. Eine alternative Perspektive

231

1. Von der Norm zum gesetzlichen Tatbestand

231

2. Vom gesetzlichen Tatbestand zur Dogmatik

237

Von Volker Haas: Zur Trennung von Unrecht und Schuld im Strafrecht

239

I. Die heute herrschende Sichtweise

239

II. Die normtheoretischen Zweifel durch Anhänger der Imperativentheorie

240

III. Heutige Argumentationsansätze zur Verteidigung der Unterscheidung

241

IV. Mögliche Auswege aus dem Dilemma der Imperativentheorie

244

V. Die eigene Erklärung für die Beibehaltung der Unterscheidung

246

VI. Die Abgrenzung von Unrecht und Schuld

247

Von Vincenzo Militello: Zur Trennung von Unrecht und Schuld im Strafrecht

249

I.

249

II.

249

III.

252

IV.

253

V.

255

Von Ricardo Robles Planas: Normentheorie und Straftatsystem

257

I. Einleitung

257

II. Binding

257

III. Armin Kaufmann

259

IV. Mir Puig

263

IV. Eigener Ansatz

266

V. Skizze eines normtheoretisch fundierten Straftatsystems

269

1. Objektive Rechtswidrigkeit und Schutzfunktion des Rechts

269

2. Normwidrigkeit und Missbilligung des Verhaltens

269

3. Sanktionsnorm und Strafbarkeit

273

VI. Schlussbetrachtung

275

Von Alaor Leite: Normtheoretische Fehlschlüsse in der Strafrechtsdogmatik?

277

I.

277

II.

278

III.

278

IV.

279

V.

280

VI.

281

VII.

281

VIII.

282

IX.

283

X.

283

Autoren- und Herausgeberverzeichnis

285