Political structure & processes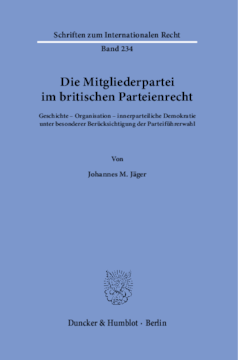 BOOK
Die Mitgliederpartei im britischen Parteienrecht
Geschichte - Organisation - innerparteiliche Demokratie unter besonderer Berücksichtigung der Parteiführerwahl
Schriften zum Internationalen Recht, Vol. 234
(2022)
Additional Information
Book Details
ISBN

978-3-428-58400-0
978-3-428-18400-2 (print edition)

DOI

https://doi.org/10.3790/978-3-428-58400-0

Edition

1

Language

German

Pages

520

Collections

Subjects
Pricing
Institution

€ 150.00 (incl. local VAT if applicable)

Individual

€ 116.90 (incl. local VAT if applicable)
About The Author
Johannes M. Jäger, nach Wehrdienst mit Reserveoffizierausbildung Jurastudium in Bonn, Lausanne und Würzburg. Erste Juristische Prüfung und »Europajurist« 2014 in Würzburg. Promotionsstudium in Würzburg und in Exeter, Promotion zum Doktor beider Rechte 2021; Referendariat u.a. in der öffentlich-rechtlichen Abteilung einer internationalen Wirtschaftskanzlei in Frankfurt und Berlin, beim wiss. Dienst des U.S. Kongresses in Washington D.C. sowie bei der hessischen Staatskanzlei in Wiesbaden. Seit 2020 Rechtsanwalt in Frankfurt; Schwerpunkt der Anwalts- und Forschungstätigkeiten im deutschen, europäischen und internationalen Öffentlichen Recht.
Johannes M. Jäger completed his reserve officer training in the German Army in 2007 before studying law in Bonn, Lausanne and Würzburg. He graduated from the latter university with the First State Examination and the additional degree title of »Europajurist« and conducted his PhD studies in canon and civil law in Würzburg and Exeter (Dr. iur. utr., 2021). After having interned, inter alia, with an international law firm in Frankfurt and Berlin, the Law Library of Congress in Washington D.C. and the Hessian State Chancellery in Wiesbaden, he passed the Second State Examination in 2019. Since 2020, Johannes has been working in German and EU public law in a law firm in Frankfurt.
Abstract
Die Arbeit analysiert, wie die (Parteien-)Demokratie im Vereinigten Königreich – als ein Staat ohne Verfassungsurkunde – funktioniert. So agieren die britischen Parteien in einem bemerkenswerten Rechtsrahmen zwischen Innovationsoffenheit und Traditionsbewusstsein: Während sich das noch junge Parteiengesetz – der Political Parties, Elections and Referendums Act 2000 – nur implizit zur Organisation der Parteien äußert, wird das hergebrachte Common Law-Prinzip der Vereinigungsfreiheit – das per se sogar undemokratisch verfasste Parteien zulässt – heute durch europäisch indizierte Antidiskriminierungsgesetze eingeschränkt. Zudem sind jene Parteien, die sich als Unternehmen nach dem Companies Act 2006 organisieren, zu einer gesellschaftsrechtlichen innerparteilichen shareholder democracy verpflichtet. Die abschließende Betrachtung der jüngst durchgeführten basisdemokratischen Parteiführerwahlen (insb. der Labour Party) zeigt die mit alledem verbundenen Herausforderungen im Lichte der britischen Traditionen und (Rechts-)Kultur auf.

Die Arbeit wurde ausgezeichnet mit dem Pelkhovenpreis 2022 der K.D.St.V. Aenania im CV zu München und des Professor Linhardt Studenten-, Heim- und Unterstützungsvereins e.V. »Evolution and Organisation of Mass Parties in the UK. Leadership Elections and the Legal Principle of Intra-party Democracy«: The British legal system has always been a curiosity to continental lawyers, in particular the (law of the) political process. Historically, British parties are free to choose their internal structure. Thus, they can be Internet-based mass membership parties or leader-centered one-member parties. This thesis explains how British party law, developed under the classical concept of liberalism, responds normatively to the legal, political, and social challenges it faces in modern society.
Table of Contents
Section Title
Page
Action
Price

Vorwort

7

Inhaltsverzeichnis

13

Abkürzungsverzeichnis

24

Vorbemerkungen

29

Einleitung

32

I. Wandel der Gesellschaft, der Verfassung und der Parteien

32

II. Party change statt party decline

35

III. Britische Parteien als Forschungsgegenstand der Rechtswissenschaft

37

IV. Fehlende Bearbeitung des Rechtsproblems der innerparteilichen Demokratie

40

V. Recht, Realität und Grenzen der Untersuchung

43

VI. Gliederung der Arbeit

46

VII. Thematische Eingrenzung

47

Erstes Kapitel: Entwicklung von Parteien und Parlament

49

A. Parlament und Verfassung seit dem späten Mittelalter

50

B. Parlamentssouveränität und Unkodifiziertheit der Verfassung als Grundsteine für das politische System

52

C. Entstehung des Parteienwesens zwischen 1688 und 1884

56

I. Entstehen der Parteien im Parlament nach der Glorious Revolution

56

II. Entwicklung des Wahlrechts ab 1832: von der Vorherrschaft des Adels zur Volldemokratie

59

III. Entwicklung der Parteien aus dem Parlament in die Wahlkreise

63

IV. Nationale Parteiorganisationen ab 1867

68

1. Birmingham Caucus: die erste lokale Parteiorganisation im modernen Sinne

69

2. Birmingham-Modell im gesamten Land: keine einheitliche Organisation

70

3. Kontrolle der Birmingham Federation über die Politikformulierung und Kandidatenauswahl?

71

4. Caucus-Idee in beiden großen Parteien

72

a) Grundsätzlicher Aufbau der Wahlkreisvereinigungen

72

b) Recht und Realität der Kandidatenselektion in den Wahlkreisvereinigungen

73

5. National Union of Conservative and Constitutional Associations

74

a) Außerparlamentarische Partei als handmaid für die Parlamentsfraktionen

75

b) Versuch einer Binnendemokratisierung im Jahre 1883

76

V. Nationale Parteien als Massenorganisationen am Ende des 19. Jahrhunderts

79

VI. Parteiführer als Vorsitzender der Partei im und außerhalb des Parlaments sowie als Premierminister der Krone

81

1. Zentrale Stellung des Premierministers und Parteiführers im Regierungssystem

81

2. Parteiführerauswahl im 19. Jahrhundert: liberale Wahl oder konservative Ernennung

82

VII. Zwischenergebnis: evolutionäre Entwicklung des Parteienwesens

84

D. Heutige Strukturen und Programmatik der Parteien im Überblick

85

I. Die zwei großen Parteien: Conservative Party und Labour Party

86

1. Labour Party

86

a) Gründung der Partei außerhalb des Parlaments

86

b) Heutige Gliederung im Überblick

87

c) Zentrale Aspekte der inneren Ordnung

88

d) Programmatik

91

2. Conservative Party

93

a) Formale Gründung der Partei im Jahre 1998

93

b) Heutige Gliederung im Überblick

95

c) Zentrale Aspekte der inneren Ordnung

97

d) Programmatik

99

II. Liberal Democrats als "dritte" Partei

100

E. Heutiges britisches Parteiensystem

102

I. Zwei- oder Mehrparteiensystem?

102

1. Zumindest ein Zweieinhalb-Parteiensystem im House of Commons

102

2. Chancen für SNP und UKIP als neue Kräfte im House of Commons?

105

II. Exkurs: Mehrparteiensysteme in den Devolutionsvolksvertretungen

107

F. Zwischenergebnis: weiterhin ein Zweiparteiensystem auf nationaler Regierungsebene

108

Zweites Kapitel: Definition, Status und Funktion der Parteien im britischen Parteienrecht

110

A. Definitionen und Funktionen der politischen Parteien

110

I. Erforderlichkeit einer umfassenden Definition der Parteien

110

II. Parteibegriff und Parteifunktionen in der internationalen Parteienforschung

111

1. Drei zentrale Parteienfunktionen: Personal-‍, Betriebs- und Interessensvermittlungsfunktion

111

2. Drei Parteiorganisationsebenen der Parteien nach Peter Mair

112

3. Zwischenergebnis: Stellung der Parteien zwischen Staat und Gesellschaft

113

III. Definitionen und Funktionen der britischen Parteien

113

1. Nur funktionale Teildefinitionen der britischen Parteien in Gesetzen

113

2. Teildefinitionen im PPERA 2000

114

3. Verwendung des Begriffs der political party in Gesetzen vor 1998

115

4. Verwendung von political purposes und political objects in Gesetzen vor 1998

117

5. Zwischenergebnis: sukzessive Anerkennung von Parteibegriff und Parteifunktionen

118

6. Parteiendefinitionen in der britischen Parteienforschung

119

a) Definitionen des Parteibegriffs im juristischen Schrifttum

119

b) Funktionale Definitionen im britischen Schrifttum

121

c) Zwischenergebnis: keine umfassende Definition aus der Literatur

124

B. Status und Rechtsnatur der Parteien

124

I. Grundsatz der Parteienfreiheit als Parteigründungsfreiheit

125

II. Privatrechtlicher Status der Parteien

125

1. Organisationsfreiheit der Parteien

125

a) Häufigste Rechtsform der Parteien: die unincorporated association

126

aa) Geschichte und Definition der unincorporated association

126

bb) Konkludente oder ausdrückliche Gründung

128

cc) Rechtliche Besonderheiten der unincorporated association

129

(1) Keine eigene Rechtspersönlichkeit der Vereinigung

129

(2) Konsequenzen im Außenverhältnis: unbeschränkte Mitgliederhaftung

130

(3) Konsequenzen im Innenverhältnis: Anwendung von Equity und Vertragsrecht

133

b) Parteienautonomie: keine zwangsläufige Organisation als unincorporated associations

134

aa) Labour Party als unincorporated association

136

bb) Conservative Party bis 1998 nicht als eine einzige unincorporated as‍sociation, sondern als politische Bewegung

137

c) Zwischenergebnis: Parteiengründungsfreiheit und Parteienorganisationsfreiheit

138

2. Privatrechtliche Parteienautonomie und alternative Organisationsformen

139

a) Parteien als gemeinnützige Organisationen?

139

aa) Unzulässigkeit der Rechtsform der charity für Parteien

139

bb) Unzulässigkeit der Rechtsform der friendly society für Parteien

140

(1) Parteiorganisationen im 19. Jahrhundert als friendly societies

141

(2) Berücksichtigung der friendly societies-Gesetzgebung in Parteiengesetzentwürfen im 20. Jahrhundert

141

b) Mögliche alternative Rechtsform: private company limited by guarantee

143

aa) Definition und Rechtsnatur der private company limited by guarantee

144

bb) Juristische Person als Lösung der Haftungsproblematik bei der unin‍corporated association

145

cc) Überlegungen zur Gründung einer "Labour Party Ltd." im Jahr 2008

146

dd) Status der Öffentlichkeit bei Parteien unter dem Companies Act 2006

147

3. Zwischenergebnis: privatrechtlicher Status der Parteien

148

III. Verfassungsrechtlicher Status der Parteien

148

1. Verständnis, Rechtsnatur und Definition der Verfassung

149

2. Quellen der britischen Verfassung

155

a) Überblick

155

b) Bedeutung der Gesetze als Verfassungsrechtsquelle

156

c) Parteieninnenrecht als Verfassungsquelle?

158

aa) Meinungsstand: Parteisatzungen als Verfassungsquellen i.w.S. nach John Alder

158

bb) Bewertung: Achtung des Parteibinnenrechts als politische Tradition mit der wohl h.M.

159

3. Status der Parteien nach dem Gesetz

161

a) Parteien in Gesetzen und untergesetzlichen Regelungen vor 1998: pecunia nervus rerum

165

aa) Fraktions- und Abgeordnetenfinanzierung: erste Anerkennung der Parteiendemokratie

165

(1) Finanzierung der Labour Party durch die Gewerkschaften

166

(a) Parteienzwangsabgabe der Gewerkschaftsmitglieder bis zum Osborne-Urteil von 1909

166

(b) Finanzierungsregime der Labour Party nach dem Trade Union Act 1913

169

(2) Ministers of the Crown Act 1937: öffentliche Finanzierung der parlamentarischen Parteiendemokratie

171

(3) Short Money als Ausweitung der Oppositionsfinanzierung ab 1975

173

bb) Short Money-Voraussetzungen und die Finanzierung von Parteitagen ab 1987

174

cc) Positive Geschlechterdiskriminierung in den Parteien nach dem Sex Discrimination Act 1975

176

dd) Sukzessive Anerkennung der Parteien im Wahlrecht vor 1998

177

(1) Verbot des Parteinamens auf dem Wahlzettel als "Illusion" einer Individualwahl

179

(a) Explizites Verbot der Parteiidentifikation ab 1948

179

(b) Beifügung auf Wahlzetteln ohne Schutz von Parteinamen ab 1969

180

(c) Folge des fehlenden Namensschutzes: spoiler candidates

183

(2) Zwischenergebnis: sukzessive Anerkennung der Parteiendemokratie

185

b) Konstitutionalisierung der Parteien in der Verfassungsreform ab 1998

187

aa) Registration of Political Parties Act 1998

187

(1) Sinn und Zweck: Namensschutz und Ermöglichung von Listenwahlen

187

(2) De jure fakultatives, de facto unumgängliches Registrierungsregime

188

(3) Parteiengesetz von 1998 im Vergleich zum Entwurf von 1969

189

(4) Zugeständnis an die Conservative Party: Unberührtheit der inneren Ordnung

190

(5) Zwischenergebnis: Parteiengesetz von 1998 als Interimslösung

191

bb) PPERA 2000 als Parteienfinanzierungsgesetz

191

(1) Diskussionen um staatliche Parteienfinanzierung seit den 1970er Jahren

191

(2) Weg zum Gesetz: Finanzierungsskandale in den 1990er Jahren

194

(3) Zentrale Regelungsinhalte: Registrierung und Finanzierung der Parteien

195

(a) Aufhebung des freiwilligen Registrierungsregimes von 1998

195

(b) Electoral Commission als Aufsichtsbehörde für die Parteien

196

(c) Regulierung der Spendenfinanzierung von Parteien, Abgeordneten und Fraktionen

196

c) Zwischenergebnis: Parteienrecht der ersten Generation

198

4. Common Law-Status der politischen Parteien

200

a) Status der Öffentlichkeit der Parteien im Außenverhältnis

200

b) Parteiengleichheit über den PPERA 2000 hinaus? Bevorzugung registrierter Parteien durch jüngste Gerichtsentscheidungen

203

5. Verfassungskonventionalrechtlicher Status der Parteien

204

a) Verfassungskonventionalregeln: Definition, Rechtsnatur und Erkennung

205

b) Beispiele für Verfassungskonventionalregeln

208

c) Verfassungskonventionalregeln und Parteibinnenrecht

209

aa) Verhältnis zwischen Krone und Parteien: Wahl des Premierministers

209

(1) Status und Auswahl des Premierministers

210

(a) Stellung des Premierministers

210

(b) Grundsatz: Ernennung durch die Krone, Auswahl durch die Parteien

211

(2) Zwischenergebnis: keine Einschränkung der royal prerogative durch Parteisatzungsrecht

215

bb) Salisbury-Convention: Umsetzung von Parteiprogrammen der Regierung ohne eigene Mehrheit im House of Lords qua Verfassungskonventionalregel

215

(1) Reduzierte Rolle des House of Lords nach den Parliament Acts 1911/1949

215

(2) Keine demokratische Legitimation des House of Lords

217

(3) Zwischenergebnis: Verfassungskonventionalregel als Bindeglied zur innerparteilichen Ordnung

219

6. Zwischenergebnis: Status der Freiheit, Gleichheit und Öffentlichkeit

219

a) Freiheitsprinzip

220

b) Gleichheitsprinzip

220

c) Öffentlichkeitsprinzip

221

Drittes Kapitel: Innerparteiliche Demokratie im britischen Parteienrecht

222

A. Kein zwingendes Gebot innerparteilicher Demokratie in der Verfassung

222

I. Keine Verpflichtung aus Gesetzesrecht und Common Law

222

1. Britische Besonderheit der rechtlichen Parlaments- und politischen Volkssouveränität

223

2. Organisation der Parteien und gesellschaftliches Demokratieverständnis

227

a) Organisation des Staates und der Parteien als Ausdruck des gesellschaftlichen Demokratieverständnisses

227

b) Gesetzliche Interventionen nur bei konkreten Verstößen gegen die "Spielregeln der Demokratie"

228

3. Rechtsschutz nur bei vereinbarten satzungsrechtlichen Rechten

229

a) Früher nur bei Verstößen gegen Equity, Eigentums- oder Vermögensrecht

229

b) Parteisatzungen als bindendes Vertragsrecht ab den 1960er Jahren

238

c) Rechtsnatur und Reichweite der richterlichen Überprüfung

241

aa) Rechtsnatur der natural justice: Gewährleistung eines fairen Verfahrens

242

bb) Materiellrechtliche Prüfung: Zweckmäßigkeitsprüfung nur in Extremfällen

244

cc) Rechtsfolgen: keine Ersetzungsbefugnis und möglicher Schadensersatz

246

dd) Ausschluss und Anwendung von natural justice im Einzelfall?

246

ee) Reichweite der gerichtlichen Überprüfung von Parteisatzungsrecht

247

(1) Grundsätzliche Bindung des Parteisatzungsrechts inter partes

248

(2) Kein judicial review-Verfahren für parteiinterne Streitigkeiten

249

(3) Breach of contract- und judicial review-Verfahren

251

(4) Stellungnahme zur Forderung nach judicial review-Verfahren in Parteien

253

II. Innerparteiliche Demokratie als Prinzip im Parteisatzungsrecht

258

1. Unbestimmtheit des Rechtsbegriffs der innerparteilichen Demokratie

258

2. Bedeutung des parteisatzungsrechtlichen Prinzips der innerparteilichen Demokratie für die Verfassung

260

III. Zwischenergebnis: innerparteiliche Demokratie als innerparteiliche Angelegenheit

262

B. Einzelne Verpflichtungen zur inneren Ordnung in Gesetzen

264

I. Keine innerparteiliche Demokratie im Parteiengesetz von 2000

264

1. Transparenz- und Rechenschaftsgebot im Außen-‍, nicht im Innenverhältnis

264

2. Zwingende Regelungen der inneren Ordnung aus Publizitätsgründen

265

a) Pflicht zur Einreichung einer Satzung bei der Electoral Commission

265

b) Erforderliche Positionen: Parteiführer, nominating officer und Schatzmeister

266

3. Fakultative Regelungen der inneren Ordnung

268

a) Mitgliedschaftsprinzip

268

aa) Mitgliederpartei als parteienrechtliche Universalie

268

bb) Kein Bekenntnis des britischen Parteiengesetzes zur Mitgliederpartei

270

b) Keine Pflicht zur horizontalen oder vertikalen Gliederung der Partei

272

aa) Zulässigkeit zentraler oder dezentraler Parteiorganisationen

272

bb) (Un-)‌verbindliche Vorschläge der Electoral Commission zur Parteienorganisation?

274

c) Zwischenergebnis: Mitgliederprinzip nur im Hintergrund des Parteiengesetzes

277

4. Indirekte Auswirkungen der Parteiengesetze von 1998 und 2000

279

a) Satzungsreform und Gründung der Conservative Party

279

b) Keine Obergrenze für korporative Mitgliedsbeiträge: keine Umorganisation der Labour Party nötig

280

5. Zwischenergebnis: Parteisatzungen als responses to specific challenges

281

II. Exkurs: Verpflichtung zur innerparteilichen Demokratie aus dem Companies Act 2006

283

1. Randparteien in der Rechtsform der private company limited by guarantee

283

2. Weitgehende Nichtbeachtung dieser Rechtsform in der Parteienforschung

284

3. Member democracy bzw. innerparteiliche Demokratie nach dem Companies Act 2006

285

a) Gesellschaftsrechtliches Mitgliedschaftsprinzip

285

b) Rechtsnatur des Gesellschaftsvertrages und der Mitgliederrechte

289

aa) Majority rule und minority protection vor Gericht

289

bb) Gerichtliche Überprüfung von Disziplinarmaßnahmen anhand der na‍tural justice?

291

cc) Keine Anwendung der ultra vires-Doktrin nach dem Companies Act 2006

295

c) Publizitätspflichten im Innen- und Außenverhältnis

296

4. Besonderheiten der Organisation einer Partei als private company limited by guarantee

297

a) Transparenz- und Publizitätspflichten

297

aa) Veröffentlichungspflichten nach außen aus dem Parteien- und Gesellschaftsrecht

297

bb) Transparenzpflichten im Innenverhältnis nur nach dem Companies Act 2006

298

b) Organisationsrechtliche Trennung von Partei als "Bewegung" und der Partei als private company limited by guarantee am Beispiel von UKIP

298

aa) UKIP als Ltd. und UKIP als unincorporated association

298

bb) Zweck der UKIP Ltd.: Aufbau einer Partei im wahl- und parteienrechtlichen Sinne

299

cc) Zweck der UKIP als unincorporated association und als wahlrechtlich registrierte Partei

300

dd) UKIP als wahlrechtliche Partei und als Unternehmen vor den Gerichten

300

ee) Mitgliederprinzip bei zwei getrennten Parteiorganisationen

302

5. Zwischenergebnis: Unbeachtlichkeit der Rechtsformfrage vor Gerichten

304

C. Rechtliche Stellung der Parteimitglieder

306

I. Rechtsnatur des Mitgliedschaftsverhältnisses

306

1. Vertragliche Begründung des Mitgliedschaftsverhältnisses

306

2. Anwendung des Human Rights Act 1998 auf das Mitgliedschaftsverhältnis?

308

a) Parteien zwischen Gesellschaft und Staat als Grundrechtsverpflichtete?

308

b) Normativer Anknüpfungspunkt: Parteien als public authorities?

311

aa) Human Rights Act 1998 als erster britischer Grundrechtskatalog

311

bb) Umfang der inkorporierten Rechte

312

cc) Regelungsmechanismus des Human Rights Act 1998

312

dd) Geltendmachung von konventionsrechtlichen Verstößen

313

(1) Grundsatz der vertikalen Bindungswirkung des Human Rights Act 1998

314

(a) Parteien nicht als core public authorities

314

(b) Parteien als hybrid bzw. functional public authorities?

315

(2) Horizontaler Effekt des Human Rights Act 1998?

320

(a) Grundsätzlich nur eine "mittelbare Drittwirkung"

320

(b) Potenzielle Bedeutung für Streitigkeiten aus dem Mitgliedschaftsverhältnis

322

c) Zwischenergebnis: Parteien nicht grundrechtsverpflichtet

324

II. Arten der Mitgliedschaft nach dem Parteisatzungsrecht

327

1. Individuelle Vollmitgliedschaft

327

a) Parteimitgliedschaft in der Conservative Party seit 1998

327

b) Labour Party: direkt-individuelle Mitgliedschaft seit 1918

330

c) Altersgrenzen für den Parteieintritt und die Mitgliedschaft von Minderjährigen

332

2. Außerordentliche Mitgliedschaft: registered supporter der Labour Party

334

3. Kollektivmitgliedschaften

336

a) Gewerkschaften in der Labour Party: keine individuelle Parteimitgliedschaft der Gewerkschaftsmitglieder

337

aa) Labour Party als (fast) rein korporative Bewegung bis 1918

339

bb) Öffnung für Individualmitglieder und Einführung des Parteiführeramtes

341

cc) Gewerkschaftsmitglieder als individuelle affiliated supporter seit 2014

342

b) Korporative Mitgliedschaft in der Conservative Party

345

4. Zwischenergebnis: sukzessive politische Entwicklung zum heute vorherrschenden Typus der Mitgliederpartei

346

III. Einzelne Rechte des (potenziellen) Mitglieds

348

1. Beitritt

348

a) Grundsatz der Parteienfreiheit: keine Pflicht zur Aufnahme von Mitgliedern

348

b) Einschränkung der Parteienfreiheit durch die Antidiskriminierungsgesetze

349

aa) Equality Act 2010 als zentrales Antidiskriminierungsgesetz

349

(1) Regelungsinhalt des Gesetzes und gerichtliche Durchsetzung

349

(a) Direct discriminations: ausnahmsweise Rechtfertigung möglich für altersmäßige Beschränkungen und positive Diskriminierungsmaßnahmen

350

(b) Indirect discriminations: Rechtfertigung grundsätzlich möglich

352

(c) Prozessuale Geltendmachung von Diskriminierungen durch Vereinigungen

353

(d) Stellung der Equality and Human Rights Commission in Bezug auf Parteien

354

bb) Anwendbarkeit des Equality Act 2010 auf die Parteien

354

(1) Vereinigungen mit mehr als 25 Mitgliedern

354

(2) Nur für wahlrechtlich registrierte Parteien

357

(3) Parteien und das Recht auf "Tendenzreinheit"

358

cc) Beispiele für (un-)‌gerechtfertigte Diskriminierungen durch Parteien vor Inkrafttreten des Equality Act 2010

361

(1) Zulässige altersmäßige Diskriminierung minderjähriger Parteimitglieder

361

(2) Equality and Human Rights Commission gegen BNP: unzulässige Diskriminierung von Mitgliedern durch ethnische Aufnahmekriterien

364

(3) McAlister v The Labour Party: keine Mitgliedschaft für Nordiren als verbotene Diskriminierung?

367

2. Austritt und Ausschluss von Mitgliedern

372

a) Austritt als unilaterale Erklärung des Mitgliedes

372

b) Mitgliederausschluss: Parteienfreiheit zwischen natural justice im Regelfall und Ermessenskontrolle in Extremfällen

374

aa) Pflichten der Partei bei einem Parteiausschlussverfahren

374

(1) Redliche Ausübung satzungsgemäßer Kompetenzen

374

(2) Die ultra vires-Kontrolle

375

(3) Natural justice und nemo iudex in sua causa am Beispiel der Militant Tendency

379

bb) Zwischenergebnis: Demokratisierung des Verfahrens zum Parteiausschluss in der Labour Party

387

D. Beteiligung der Mitglieder an der Parteiführerauswahl

388

I. Stellung des Parteiführers zwischen Verfassungs-‍, Wahl-‍, Parteien- und allgemeinem Vereinsrecht

388

1. Verfassungsrechtliche Stellung und Funktion des Parteiführers

389

a) Früher keine Vertretungsbefugnis für die Partei in verfassungsrechtlichen Fragen

389

b) Gesetzliche Stellung des Parteiführers seit der Verfassungsreform von 1998/2000

391

2. Vereinsrechtliche Stellung: Kollegialvorstand oder elective dictatorship möglich

392

II. Wahl des Parteiführers nach Gesetzes- und Verfassungskonventionalrecht

393

1. Parteiführerwahl: formelles Vereinsrecht und materielles Verfassungsrecht

393

2. Keine anwendbaren spezialgesetzlichen Vorschriften

395

3. Achtung der allgemeinen Gesetze, insbesondere des Equality Act 2010

396

4. Keine Common Law-Regelungen des Wahlverfahrens: u.a. Zulässigkeit von Online-Wahlen

397

III. Wahl und Abwahl des Parteiführers: parteiübergreifende Grundlagen

398

1. Parteiführer als Premierminister: keine turnusmäßige Wahl in Regierungszei‍ten

398

2. Feste Wahlperiode in der Labour Party in Oppositionszeiten: kein formelles Misstrauensvotum

401

3. Keine feste Wahlperiode in der Conservative Party: Vertrauensfrage und Misstrauensvotum möglich

402

IV. Mitgliederbeteiligung bei der Parteiführerwahl in der Labour Party und der Conservative Party

403

1. Labour Party

403

a) Vom Fraktionsvorsitzenden zum Parteiführer: Wahl durch die Abgeordne‍ten

403

b) Wahl des Parteiführers zwischen 1981 und 2014: Parteimitglieder im Electoral College

406

c) Wahl des Parteiführers seit 2015: one member one vote-Prinzip

409

aa) Satzungsreform 2014: Attraktivitätssteigerung der Partei für Mitglieder und Wähler

409

bb) Beseitigung der Folgen der diversifizierten Mitgliedschaftsformen

410

(1) Geringe Wahlbeteiligung der Gewerkschafter: Einführung des sog. double opting-in

411

(2) Mehrfachstimme bei Parteiführerwahlen im Electoral College bis 2015

411

cc) Parteiführerwahl 2015 als größte britische Online-Wahl: der unerwartete Wahlerfolg von Jeremy Corbyn

412

dd) Parteiführerwahl 2016 vor Gericht und ein erneuter Wahlsieg für Corbyn

415

(1) Labour-Parteiführerwahl in Oppositionszeiten: 20-%-Nominierungsquorum auch für den Amtsinhaber?

417

(2) Zulässigkeit eines Eintrittsstichtages für das aktive Wahlrecht

420

2. Wahl des Parteiführers in der Conservative Party: von den grey suits zu den grassroots

427

a) Auswahl vor 1965: keine formelle Wahl

427

b) Wahl ab 1965: nur das 1922 Committee aktiv wahlberechtigt

428

c) Wahl – nur ggf. unter Beteiligung der Parteimitglieder – seit Gründung der Partei im Jahr 1998

432

3. Zwischenergebnis: gegenseitige Beeinflussung in der Satzungsentwicklung durch beide großen Parteien

442

Schlussbemerkungen

450

Anhang: Parteiführerwahlordnung der Labour Party (2016 und 2015)

455

Literaturverzeichnis

467

Sonstige Materialien

503

Fundstellen parteisatzungsrechtlicher Materialien

506

Verzeichnis der zitierten Gerichtsentscheidungen

507

Personen- und Sachverzeichnis

513