Criminal procedure: investigation & specific proceedings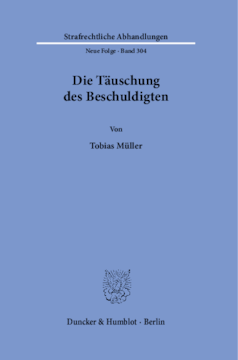 Additional Information
Book Details
ISBN

978-3-428-58519-9
978-3-428-18519-1 (print edition)

DOI

https://doi.org/10.3790/978-3-428-58519-9

Edition

1

Language

German

Pages

277

Collections

Subjects
Pricing
Institution

€ 92.00 (incl. local VAT if applicable)

Individual

€ 71.90 (incl. local VAT if applicable)
About The Author
Tobias Müller studierte Rechtswissenschaft mit Schwerpunkt im Steuerrecht an der Heinrich-Heine-Universität Düsseldorf (HHU). Nach Abschluss des ersten Staatsexamens im Jahr 2017 arbeitete er als Wissenschaftlicher Mitarbeiter und Doktorand am Lehrstuhl für Strafrecht und Strafprozessrecht von Prof. Dr. Helmut Frister sowie am Institut für Rechtsfragen der Medizin (IMR) in Düsseldorf und war als Lehrbeauftragter an der Medizinischen Fakultät der HHU tätig. Im Dezember 2020 nahm er den juristischen Vorbereitungsdienst im Bezirk des OLG Düsseldorf auf, unter anderem mit Stationen am Landgericht Düsseldorf, bei der Staatsanwaltschaft Düsseldorf und in der auf Wirtschafts- und Steuerstrafrecht spezialisierten Kanzlei VBB Rechtsanwälte.
Tobias Müller studied law (majoring in tax law) at the Heinrich Heine University Düsseldorf (HHU). After passing the first state examination in 2017, he worked as a research assistant at the Chair of Criminal Law and Criminal Procedural Law of Prof. Dr. Helmut Frister and at the Institute for Legal Issues in Medicine and as a teaching assistant at the Faculty of Medicine of the HHU. In December 2020 he started his legal traineeship in the Higher Regional Court District Düsseldorf including time spent at the District Court Düsseldorf, the Public prosecutor´s office and the law firm VBB Rechtsanwälte.
Abstract
Irreführende Ermittlungsmethoden und Vernehmungsmuster gehören seit jeher zum Repertoire der Strafverfolgungsbehörden und sind nach wie vor aus dem Ermittlungsverfahren nicht hinwegzudenken. Die StPO bezieht zu deren Einsatz in der Beschuldigtenvernehmung insoweit Stellung, als sie in § 136a Abs. 1 Satz 1 ein Täuschungsverbot für die Vernehmung statuiert und in § 136 Abs. 2 anordnet, dass die Vernehmung dem Beschuldigten die Gelegenheit geben soll, Verdachtsgründe zu beseitigen und entlastende Umstände vorzubringen. Tobias Müller folgert daraus, dass die Vernehmung entgegen der herrschenden Meinung ausschließlich der Gewährung rechtlichen Gehörs zur Beseitigung eines vorliegenden Verdachts dient, weshalb in der Vernehmung nichts geschehen darf, was dieser Entlastungsfunktion zuwiderläuft. Entgegen diesem Verbot erhobene Aussagen dürfen regelmäßig nicht verwertet werden. Außerhalb der Vernehmung ist der Beschuldigte durch die Selbstbelastungsfreiheit partiell vor Irreführungen geschützt. »Deceptions of the Accused«: Criminal proceedings are still characterized by the use of deceptive investigation techniques against the accused, particularly during interrogation. Tobias Müller examines the legitimacy of such techniques and advocates an understanding of interrogation as means of the accused's right to be heard for the purpose of exoneration.
Table of Contents
Section Title
Page
Action
Price

Vorwort

5

Inhaltsübersicht

7

Inhaltsverzeichnis

9

Abkürzungsverzeichnis

15

Einleitung

19

Kapitel 1: Vernehmung des Beschuldigten

24

A. Die Beschuldigteneigenschaft

25

I. Die grundverschiedene Stellung von Beschuldigten und Zeugen im Strafverfahren

25

II. § 157 StPO als Ausgangspunkt der Begriffsbestimmung

26

III. Der Beschuldigte als verdächtige Person

28

1. Das Vorliegen zureichender tatsächlicher Anhaltspunkte als Voraussetzung der Ermittlungsbefugnis und Ermittlungspflicht

28

a) Relativität des Anfangsverdachts

28

b) Verfolgbare Straftat

30

c) Zureichende verdachtsbegründende Tatsachen

31

2. Der Anfangsverdacht als notwendige Bedingung der Beschuldigung

32

3. Der Anfangsverdacht als hinreichende Bedingung der Beschuldigung

33

IV. Ergebnis

38

B. Der Zweck der Beschuldigtenvernehmung

38

I. Der Inquisitionsprozess der Constitutio Criminalis Carolina von 1532

40

II. Abschaffung der Folter durch Friedrich II. von Preußen als erster Schritt der Abwendung vom Inquisitionsprozess

41

III. Die Beschuldigtenvernehmung in der Reichsstrafprozessordnung von 1877

44

1. Genese der Vorschriften zur Beschuldigtenvernehmung: § 136 Abs. 2 StPO als zentrale Vorschrift

45

2. Wahrheitsermittlung als Zweck der Beschuldigtenvernehmung aus Sicht des historischen Gesetzgebers

49

3. Formulierung des § 136 Abs. 2 StPO als "Soll-Vorschrift"?

52

IV. Weitere Entwicklung des Zwecks der Beschuldigtenvernehmung und Ergebnis

54

C. Der Begriff der Beschuldigtenvernehmung

56

I. Beschuldigtenvernehmung als Befragung im Rahmen eines Strafverfahrens – Abgrenzung zu Spontanäußerungen und informatorischen Befragungen

56

1. Spontanäußerungen

57

2. Sogenannte informatorische Befragungen

58

II. Offenes Vorgehen der Vernehmungsperson als begriffskonstituierendes Merkmal der Beschuldigtenvernehmung?

59

III. Durch eine Strafverfolgungsbehörde veranlasste Befragung des Beschuldigten durch einen privaten Dritten als Vernehmung

64

IV. Ergebnis

66

Kapitel 2: Täuschung des Beschuldigten

67

A. Gegenstand der Täuschung

67

I. Täuschungen über Tatsachen

67

1. Grundlagen des Tatsachenbegriffs

68

a) Kriterium der Beweisbarkeit

69

b) Zukünftige Zustände, Ereignisse und Vorgänge als Tatsachen

71

2. Innere Tatsachen

72

II. Irreführungen über Werturteile als Täuschungen

74

III. Täuschungen über Rechtsfragen

75

IV. Ergebnis

77

B. Art und Weise der Täuschung

78

I. Einführung

78

1. Täuschung als kommunikatives Verhalten des Vernehmenden

78

2. Fehlvorstellung als psychische Reaktion des Beschuldigten: Unabhängigkeit des Täuschungsbegriffs vom Irrtumserfolg

80

II. Aktive Täuschung

81

1. Ausdrückliche Täuschung

81

2. Konkludente Täuschung

83

III. Täuschung durch Unterlassen: Verschweigen von Tatsachen und Beschuldigtenrechten

84

1. Grundlagen der Täuschung durch Unterlassen: Erfordernis einer Garantenstellung

84

2. Abgrenzung zwischen aktiver Täuschung und Täuschung durch Unterlassen

85

3. Aufklärungspflichten gegenüber dem Beschuldigten

87

a) Gesetzliche Aufklärungspflichten über Beschuldigtenrechte

88

aa) Belehrungsvorschriften im Gefüge der Strafprozessordnung

88

bb) Belehrungspflichten als Garantenpflichten

89

(1) Belehrungsvorschriften ohne Ermessensspielraum ("Ist-Vorschriften")

89

(2) Belehrungsvorschriften mit Ermessensspielraum ("Soll-Vorschriften")

94

b) Gesetzliche Aufklärungspflichten über Tatsachen

95

c) Nichtaufklärung und Ausnutzung eines Irrtums beim Beschuldigten

100

IV. Suggestiv- und Fangfragen

101

1. Fangfragen

102

a) Begriff der Fangfrage

102

b) Fangfragen als Täuschung

102

2. Suggestivfragen

104

a) Begriff der Suggestivfrage

104

b) Suggestivfragen als Täuschung

107

C. Erfordernis einer Täuschungsabsicht

107

I. Problemaufriss

107

II. Die fahrlässige Täuschung des Beschuldigten

108

1. Die Möglichkeit einer unbewussten Irreführung

108

2. Die unbewusste Irreführung als Täuschung im Sinne des Strafverfahrensrechts

109

a) Meinungsstand

109

aa) Ausschluss unbewusster Irreführungen aus dem gesetzlichen Täuschungsverbot

109

bb) Differenzierung zwischen Irreführungen über Tatsachen und Rechtsfragen

110

cc) Differenzierung zwischen polizeilicher bzw. staatsanwaltschaftlicher und richterlicher Vernehmung

110

dd) Ausweitung des Täuschungsverbots auf fahrlässige Irreführungen

111

b) Eigene Untersuchungen

111

aa) Unergiebigkeit der historischen Betrachtung

111

bb) Rechtsgebietsübergreifender Vergleich

112

cc) Untersuchung anhand des Zwecks des Täuschungsverbots

115

dd) Stellungnahme und Zwischenergebnis

116

3. Erfordernis eines fahrlässigen Verhaltens des Vernehmenden?

117

D. Ergebnis: Begriff der Täuschung

118

E. Der Konflikt der Täuschung mit dem Zweck der Beschuldigtenvernehmung

119

Kapitel 3: Die Täuschung des Beschuldigten im Lichte des Verfassungsrechts

121

A. Menschenwürdegarantie (Art. 1 Abs. 1 GG)

121

I. Ausgangspunkt: Kein Eingriff in die Menschenwürde durch Täuschungen des Beschuldigten

121

II. Unantastbarer Kernbereich privater Lebensgestaltung als Grenze

124

1. Der Einsatz verdeckt ermittelnder Personen im Umfeld des Beschuldigten als Eingriff in den Kernbereich privater Lebensgestaltung?

124

2. Verletzung des Kernbereichs privater Lebensgestaltung am Beispiel des Urteils des Landgerichts Kiel vom 15. Januar 2010 (Az. 8 Ks 4/09)

127

3. Verletzung des Kernbereichs privater Lebensgestaltung in der Untersuchungshaft und im Strafvollzug

128

III. Täuschungsgebot aufgrund kollidierender Menschenwürde Dritter?

129

IV. Ergebnis

131

B. Mitwirkungsfreiheit (nemo tenetur se ipsum accusare)

131

I. Rechtsgrundlagen der Mitwirkungsfreiheit

132

1. Europäische Menschenrechtskonvention und Internationaler Pakt über bürgerliche und politische Rechte

132

2. Verfassungsrechtliche Grundlagen der Mitwirkungsfreiheit

135

II. Täuschungen des Beschuldigten als Eingriff in die Mitwirkungsfreiheit

139

1. Grundlagen des durch die Mitwirkungsfreiheit garantierten Schutzumfangs und Meinungsstand in Rechtsprechung und Literatur

139

a) Vis absoluta und vis compulsiva

139

b) Täuschungen über die Existenz einer Mitwirkungspflicht

141

c) Die täuschungsbedingte Zwangslage in der Rechtsprechung des Bundesgerichtshofs und des Europäischen Gerichtshofs für Menschenrechte

142

2. Von der Unzulässigkeit der Pflicht zur Mitwirkung an der eigenen Strafverfolgung

146

a) Schutzzweck der Mitwirkungsfreiheit

148

b) Entlastungsfunktion der Beschuldigtenvernehmung und fehlende Mitwirkungspflicht

152

c) Die Folgen für den Einsatz von Verdeckten Ermittlern und Vertrauenspersonen

155

d) Mitwirkungsfreiheit des Beschuldigten außerhalb seiner Vernehmung, insbesondere die Zulässigkeit von technischen Überwachungsmaßnahmen

157

III. Ergebnis

159

C. Funktionstüchtigkeit der Strafrechtspflege

160

I. Das Risiko täuschungsbedingt falscher Selbstbelastungen des Beschuldigten als Gefahr für die Wahrheitsermittlung

160

1. "We don't interrogate innocent people." – Die Voreingenommenheit des Vernehmungsbeamten in der Vernehmung

161

2. Die Anwendung sogenannter Minimierungs- und Maximierungstechniken als Risikofaktor für falsche Selbstbelastungen

164

3. "Kinder und Narren sagen die Wahrheit." – Erhöhte Suggestibilität bestimmter Personengruppen

169

4. Täuschende Vernehmungsmuster als Gefahr für die Wahrheitsermittlung am Beispiel des Urteils des Landgerichts Kiel vom 15. Januar 2010 (Az. 8 Ks 4/09)

171

II. Meinungsstand zur Funktionstüchtigkeit der Strafrechtspflege als Verfassungsgebot in Rechtsprechung und Literatur

173

III. Funktionstüchtigkeit der Strafrechtspflege und positive Generalprävention

175

1. Ziel des Strafverfahrens im demokratischen Rechtsstaat

175

2. Erhalt der Funktionstüchtigkeit der Strafrechtspflege als verfassungsrechtlicher Imperativ

178

a) Funktionstüchtigkeit der Strafrechtspflege als Abwägungstopos

178

b) Funktionstüchtigkeit der Strafrechtspflege als Untermaßverbot

181

IV. Ergebnis

182

D. Ergebnis: Verfassungsrechtliche Bewertung der Täuschung des Beschuldigten

183

Kapitel 4: Prozessuale Folgen der Verletzung des Täuschungsverbots

185

A. Beweisverwertungsverbote als Fremdkörper im deutschen Strafrecht? – Zur Funktion der Beweisverwertungsverbote im System der Strafprozessordnung

186

I. Beweisverwertungsverbote im Gefüge der Strafprozessordnung

186

II. Die Funktionsweise der Beweisverwertungsverbote im Strafverfahren

189

1. Wahrheitsschützende Funktionsweise der Beweisverwertungsverbote

190

2. Individualrechtsschützende Funktionsweise der Beweisverwertungsverbote

191

3. Beweisverwertungsverbote als funktionales Mittel zur Sicherung der positiv-generalpräventiven Wirkung der strafprozessualen Entscheidung

192

III. Das materielle Strafrecht als denkbarer Ersatz von Beweisverwertungsverboten?

196

IV. Zwischenergebnis

198

B. Allgemeine Fragen der Verwertung täuschungsbedingter Beweise

199

I. Zur Unverwertbarkeit entgegen § 136 Abs. 2 StPO erlangter Beschuldigtenaussagen

199

II. Verwertungsproblematik bei Täuschungen außerhalb der Beschuldigtenvernehmung

204

C. Anforderungen an die Unverwertbarkeit der täuschungsbedingten Aussage im Einzelnen

211

I. Die unfreie Aussage des Beschuldigten

211

II. Die Täuschung als Bedingung der unfreien Aussage

214

III. Anforderungen an den prozessualen Nachweis von Täuschungsanwendung, unfreier Aussage und Ursachenzusammenhang

216

1. Ausgangsüberlegungen und Abgrenzung zwischen Freibeweis- und Strengbeweisverfahren

216

2. Die Behandlung von Zweifelskonstellationen

218

3. Indizierung des Erfolgsunwerts sowie des Ursachenzusammenhangs durch das Vorliegen einer Täuschung

222

IV. Heilung von Verstößen gegen das strafprozessuale Täuschungsverbot

224

D. Umfang und Grenzen des Verbots der Verwertung mittels Täuschung erlangter Beweismittel

225

I. Beweisverwertungsverbote als Belastungsverbote

225

II. Fehlende Dispositionsbefugnis des Beschuldigten über die Anwendung inquirierender Verhörmethoden und die Verwertung der rechtswidrig erlangten Aussage

233

III. Erstreckung des Beweisverwertungsverbots auf "mittelbar" erlangte Beweismittel? – Zur Fernwirkung des Beweisverwertungsverbots

235

1. Umfang des Beweisverwertungsverbots

235

2. Die Berücksichtigung hypothetischer Kausalverläufe

239

E. Abschließende Überlegungen und Zusammenfassung der Ergebnisse

240

Kapitel 5: Abschließende Bemerkungen und Ausblick

243

A. Überblick über die gewonnenen Erkenntnisse

243

B. Rechtspolitischer Ausblick auf das Ermittlungsverfahren

246

Literaturverzeichnis

248

Sachwortverzeichnis

275