Criminal law: procedure & offences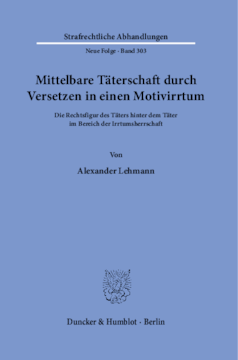 Additional Information
Book Details
ISBN

978-3-428-58528-1
978-3-428-18528-3 (print edition)

DOI

https://doi.org/10.3790/978-3-428-58528-1

Edition

1

Language

German

Pages

346

Collections

Subjects
Pricing
Institution

€ 104.00 (incl. local VAT if applicable)

Individual

€ 79.90 (incl. local VAT if applicable)
About The Author
Alexander Lehmann studierte Rechtswissenschaften an der Juristischen Fakultät der Universität Augsburg und absolvierte dort sein erstes Staatsexamen mit dem Schwerpunkt Wirtschaftsstrafrecht und Internationales Straf- und Strafprozessrecht. Nach Abschluss des ersten Staatsexamens 2016, verfasste er seine Dissertation bei Prof. Dr. Arnd Koch und war daneben von 2016 bis 2020 als Wissenschaftlicher Mitarbeiter am Lehrstuhl von Herrn Prof. Dr. Martin Kment tätig. Seit 2020 ist er Rechtsreferendar beim Freistaat Bayern im OLG-Bezirk München.
Alexander Lehmann studied law at the University of Augsburg. After completing the First State Examination in 2016, he worked as a research assistant to Prof. Dr. Martin Kment and wrote his doctoral dissertation in the field of criminal law under the supervision of Prof. Dr. Arnd Koch. As of 2020, Mr. Lehmann has been a legal trainee with the Free State of Bavaria in the Munich Higher Regional Court District.
Abstract
Die Abhandlung stellt einen Beitrag zur Diskussion um die Möglichkeit eines Täters hinter dem Täter dar. Sie nimmt hierbei die Fälle der Irrtumserregung in den Fokus und untersucht die Möglichkeit der mittelbaren Täterschaft bei vollverantwortlichem – aber einem Motivirrtum erliegenden – Tatmittler. Dabei legt die Arbeit besonderen Wert auf die Beleuchtung der Entwicklungsgeschichte der mittelbaren Täterschaft und der Rechtsfigur des Täters hinter dem Täter. Dieser historische Blickwinkel offenbart die Gründe, weshalb sich ein Täter hinter dem Täter seit jeher teilweise erheblicher Kritik ausgesetzt sieht. Darüber hinaus wird deutlich, dass diese historisch bedingten Vorbehalte mittlerweile obsolet sind. Im weiteren Verlauf der Untersuchung werden die einzelnen Fallgruppen der mittelbaren Täterschaft durch Hervorrufen eines Motivirrtums anhand der einzelnen Irrtumskonstellationen herausgearbeitet, wobei auch die Selbstschädigungsfälle mit einbezogen werden.
Table of Contents
Section Title
Page
Action
Price

Vorwort

7

Inhaltsverzeichnis

11

Abkürzungsverzeichnis

17

Einleitung

19

I. Relevanz der Untersuchung – Entscheidungserheblichkeit

21

II. Herangehensweise der Untersuchung

25

Kapitel 1: Der Motivirrtum

27

I. Die kodifizierten Motivirrtümer

28

1. Der vermeidbare Verbotsirrtum nach § 17 S. 2 StGB

28

2. Die vermeidbare irrtümliche Annahme eines entschuldigenden Notstands, § 35 Abs. 2 S. 2 StGB

30

II. Die nicht kodifizierten Motivirrtümer

31

1. Selbstschädigung aufgrund eines Motivirrtums

31

2. Fremdschädigung aufgrund eines Motivirrtums

32

3. Zwischenfazit

33

III. Möglichkeiten der rechtlichen Bewertung der Erregung von Motivirrtümern

33

Kapitel 2: Der Täter hinter dem Täter

34

I. Der Begriff des Täters hinter dem Täter

34

II. Die Entwicklung der Rechtsfigur des Täters hinter dem Täter

36

1. Die Entwicklung in der Literatur

36

a) Die Anfänge

37

b) Die Willensherrschaft kraft organisatorischer Machtapparate

42

c) das Konzept der Tatherrschaftsstufen und der Irrtum über den konkreten Handlungssinn

42

d) Grenzbereich der Entschuldigungsgründe und Benutzung eines Tatentschlossenen

46

e) Der graduelle Tatbestandsirrtum

47

f) Reaktionen und aktueller Stand

48

2. Die Entwicklung in der Rechtsprechung

50

a) Die Rechtsprechung des Reichsgerichts

50

b) Die Rechtsprechung des BGH

54

III. Ergebnis

60

Kapitel 3: Die mittelbare Täterschaft

62

I. Allgemeine Täterschaftsvoraussetzungen

62

II. Wortlaut, Systematik und Telos

63

III. Die Historie der mittelbaren Täterschaft

68

1. Das Reichsstrafgesetzbuch von 1871

71

2. Versuche der Reform des Strafrechts

76

3. Die Strafrechtsangleichungsverordnung von 1943

81

4. Der Weg zur Strafrechtsreform

84

5. Nach der Strafrechtsreform von 1975

85

6. Bindungswirkung der Historie

88

IV. Zwischenergebnis

89

V. Die Beteiligungslehren im Laufe der Zeit und deren Auswirkungen auf die Reichweite der mittelbaren Täterschaft

90

1. Die Lehre vom Tatbestand und dessen Auswirkungen auf die Beteiligungslehren

91

a) Entwicklung des Kausalitätsbegriffs und der objektiven Zurechnung

91

b) Die Leistungsfähigkeit des Kausalbegriffs

95

c) Die Unterbrechung des Kausalzusammenhangs und der Gedanke des Ausschlusses mittelbarer Täterschaft bei frei und vorsätzlich handelndem Tatmittler

96

2. Die rein subjektiven Theorien

100

a) Die Dolus- und Interessentheorie

101

b) Kritik an den rein subjektiven Theorien

102

3. Die materiell-objektiven Theorien

105

a) Die wirksamste Bedingung als Ursache

106

b) Abgrenzung nach physisch und psychische vermittelter Kausalität

107

c) Abgrenzung anhand adäquater Kausalität

108

d) Abgrenzung durch Differenzierung zwischen direkter und indirekter Kausalität

110

e) Abgrenzung nach Kriterien der Über- und Unterordnung

111

f) Zwischenergebnis

112

4. Die formal-objektive Theorie

112

a) Versuche der Erklärung der mittelbaren Täterschaft

113

b) Mittelbare Täterschaft als gestufte Täterschaft

114

5. Ganzheitliche Theorien

116

a) Die neuere Rechtsprechung

116

b) Die Ganzheitstheorie

118

6. Die Tatherrschaftslehre

119

a) Die Entwicklung der Tatherrschaftslehre

120

aa) Der Durchbruch durch Welzel

122

bb) Die Umschreibung Maurachs und die Eingrenzung durch Gallas

124

cc) Die Ausdifferenzierung durch Roxin und aktueller Stand

125

b) Kritik und Stellungnahme

128

7. Entscheidungsträgerschaft

136

8. Die Beteiligung als Zurechnungsproblem

137

a) Handlungszurechnung, Erfolgszurechnung oder Tätigkeitszurechnung?

138

b) Die Beteiligungslehre als reines Zurechnungsproblem

142

aa) Die Beteiligungslehre als Teil der objektiven Zurechnung

142

bb) Differenzierung zwischen Primärer und sekundärer Pflichtverletzung

143

cc) Unterordnung einer fremden Rechtssphäre

145

dd) Dringlichkeit der Verhaltensnorm

147

9. Autonomieprinzip

148

10. Zwischenergebnis

152

VI. Der Täterbegriff

152

1. Der restriktive und der extensive Täterbegriff

153

2. Primärer und sekundärer Täterbegriff

157

3. Formell-objektiver und materiell-objektiver Täterbegriff

159

4. Zwischenergebnis

161

VII. Ergebnis

161

Kapitel 4: Das Drei-Personen-Verhältnis

164

I. Vollständige Anerkennung

164

1. Tatveranlassung in eigener Sache

165

2. Wille zur Begehung einer eigenen Straftat

166

3. Entscheiden über die Begehung der Tat entgegen dem wahren Willen des Tatmittlers

166

4. Kritik und Würdigung

167

II. Vollständige Ablehnung

170

1. Die Rechtsprechung des Reichsgerichts und die anfängliche Rechtsprechung des BGH

170

2. Das Verantwortungsprinzip

171

a) Entwicklung und Reichweite des Verantwortungsprinzips

173

b) Die Willensfreiheit des Vordermanns

176

aa) Widerspruch bei der Benutzung eines rechtlich frei Handelnden als Tatmittler

178

bb) Das Problem des fahrlässig handelnden Vordermanns

180

cc) Zwischenergebnis

183

c) Das Verantwortungsprinzip als positives und negatives Konstitutionsprinzip der Tatherrschaft

184

aa) Tatherrschaft im faktischen Sinn

184

bb) Tatherrschaft im normativen Sinn

186

(1) Bestimmtheit der Abgrenzung

187

(2) Häufig gemachte Ausnahmen

188

(3) Mangel an Alternativen

189

(4) Fehlende positive Begründung der Tatherrschaft

191

(5) Möglichkeit der Teilung der Tatherrschaft zwischen den Beteiligten

193

(6) Das Problem des fahrlässig handelnden Vordermanns

195

(7) Exkurs: Verantwortungsverschiebung

195

d) Zwischenergebnis

196

3. Der Werkzeugbegriff

197

4. Bestehende Hemmungskräfte

200

5. Fehlende Notwendigkeit

201

6. Zwischenergebnis

201

III. Teilweise Anerkennung

202

1. Der vermeidbare Verbotsirrtum, § 17 S. 2 StGB

202

a) Die Rechtsprechung des BGH

204

b) Anknüpfung an die objektive Zurechnung

207

c) Grenzbereich der Entschuldigungsgründe

209

d) Angleichung an die Fälle des fahrlässig handelnden Tatmittlers und modifiziertes Verantwortungsprinzip

212

e) Freiverantwortlichkeit und Beseitigung von Hemmungsmotiven

215

f) Differenzierung zwischen Kenntnis der formellen und der materiellen Rechtswidrigkeit

220

g) Zwischenergebnis

224

2. Die vermeidbare irrtümliche Annahme einer entschuldigenden Situation

225

3. Der Dohna-Fall – Der manipulierte error in persona

228

a) Das kriminalpolitische Argument

229

b) Die Einstufung des Hintermanns als Nebentäter

231

c) Die Einstufung des Hintermanns als Anstifter

235

d) Die Einstufung des Hintermanns als Gehilfe

237

e) Die Einstufung des Hintermanns als mittelbarer Täter

239

aa) Der Irrtum über den konkreten Handlungssinn

240

bb) Abstellen auf das verletzte personale Rechtsverhältnis

244

cc) Herrschaft über das Opfer

248

dd) Die Benutzung eines Tatentschlossenen

248

ee) Beseitigen von Hemmungsmotiven

251

f) Zwischenergebnis

253

4. Der Irrtum über die Unrechtshöhe

254

a) Herrschaft über überschießenden Unwertgehalt

256

b) Aufspaltung in eine Anstiftungs- und eine Täterschaftskomponente

257

c) Für die Strafzumessung erhebliche Irrtümer über den konkreten Handlungssinn

259

d) Beseitigen von Hemmungsmotiven

260

e) Zwischenergebnis

261

5. Der Irrtum über Qualifikationsvoraussetzungen

261

a) Die Rechtsprechung des BGH

262

b) Tatumstandsirrtum oder Motivirrtum?

264

c) Beurteilung in der Wissenschaft

266

d) Beseitigen von Hemmungsmotiven

267

e) Einbeziehung von Qualifikationen, die auf schulderhöhenden Umständen beruhen

269

f) Zwischenergebnis

271

6. Sonstige Irrtümer

271

a) Dolus generalis Situationen

272

b) Der Risikoirrtum

273

c) Der Irrtum über taterhebliche Handlungsvoraussetzungen

274

d) Weitere relevante Irrtümer

274

IV. Ergebnis

277

Kapitel 5: Das Zwei-Personen-Verhältnis

279

I. Möglichkeit mittelbarer Täterschaft im Zwei-Personen-Verhältnis

281

II. Überblick über das Meinungsspektrum

286

III. Irrtümer, die zum Suizid führen

287

IV. Behandlung in der Rechtsprechung

289

V. Behandlung in der Wissenschaft

292

1. Ältere Ansichten

293

2. Fehlende Unterlassungspflicht

295

3. Freiverantwortlichkeit der Selbstverletzung

296

a) Fiktives Verantwortungsprinzip

297

b) Exkulpationslehre

297

c) Einwilligungslösung

299

d) Autonomiegedanke

304

4. Einwirkung auf die Abwägung zwischen Hemmungsmotiven und Handlungsimpulsen

307

a) Herrschaft über den Grund des Erfolges

309

b) Aufopferungsschwellenrelevantes Entscheidungsdefizit

311

c) Eigene Bewertung

314

Kapitel 6: Fazit

319

Anhänge

327

Literaturverzeichnis

330

Sachwortverzeichnis

344