Constitution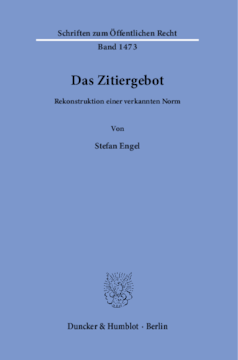 Additional Information
Book Details
ISBN

978-3-428-58442-0
978-3-428-18442-2 (print edition)

DOI

https://doi.org/10.3790/978-3-428-58442-0

Edition

1

Language

German

Pages

246

Collections

Subjects
Pricing
Institution

€ 92.00 (incl. local VAT if applicable)

Individual

€ 71.90 (incl. local VAT if applicable)
About The Author
Stefan Engel studierte Rechtswissenschaften an der Heinrich-Heine-Universität Düsseldorf. Sein Referendariat absolvierte er am Landgericht Duisburg. Im Anschluss hieran promovierte er an der Ruhr-Universität Bochum am Lehrstuhl für Öffentliches Recht, Verfassungstheorie und interdisziplinäre Rechtsforschung von Prof. Dr. Julian Krüper. Sowohl während seiner Promotion als im Anschluss auch als Rechtsanwalt war er in internationalen Wirtschaftskanzleien im Bereich des Energierechts tätig. Mittlerweile arbeitet Stefan Engel in der Landesverwaltung des Landes Nordrhein-Westfalen.
Stefan Engel studied law at the Heinrich Heine University in Düsseldorf. He completed his legal clerkship at the Regional Court of Duisburg. He then completed his doctorate at the Ruhr University Bochum in the Chair of Public Law, Constitutional Theory and Interdisciplinary Legal Research of Prof. Dr Julian Krüper. Both during his doctorate and subsequently as a lawyer, he worked in international law firms in the field of energy law. Stefan Engel now works in the state administration of North Rhine-Westphalia.
Abstract
Das Zitiergebot des Art. 19 Abs. 1 S. 2 GG hat im Verfassungsleben des Grundgesetzes keine große Rolle eingenommen. Hintergrund sind anhaltende Marginalisierungsversuche durch Rechtsprechung und Literatur. Diese Arbeit versucht eine Rekonstruktion der Norm. Sie führt die bekannten Funktionen der Vorschrift auf Verfassungsgrundsätze zurück und begründet neue, bislang nicht anerkannte Funktionen. Aus diesen Funktionen zieht sie Schlüsse für den Anwendungsbereich des Zitiergebots. Dieser umfasst, anders als nach der Rechtsprechung des Bundesverfassungsgerichts, grundsätzlich alle Grundrechte des Grundgesetzes. Nur aus den Funktionen kann sich eine Ausnahme vom Anwendungsbereich ergeben. Die Arbeit setzt sich zudem mit den Folgen einer möglichen Rechtsprechungsänderung auseinander. Zuletzt zeigt sie, dass sich die Grundrechtszitate als Symbole im soziologischen Sinn verstehen lassen, die auf hinter den Zitaten stehende Gedanken verweisen. »The Citation Rule (Art. 19 para 1 s. 2 GG). Reconstruction of a Misunderstood Norm«: The citation rule of Article 19 para 1 sentence 2 of the German Basic Law forces the German legislator to openly name interferences with fundamental rights in laws. However, the provision has hardly played a role in the Federal Republic of Germany. This thesis attempts to reconstruct the citation rule. It examines its functions and deduces that the scope of application of the norm is significantly broader than according to the case law of the Federal Constitutional Court.
Table of Contents
Section Title
Page
Action
Price

Vorwort

5

Inhaltsverzeichnis

7

Abkürzungsverzeichnis

11

Kapitel 1: Einleitung und Vorüberlegungen

15

A. Historie des Zitiergebotes

17

B. Verfassungstheoretische Annäherung

21

Kapitel 2: Die Funktionen des Zitiergebots

27

A. Das Zitiergebot als formelle Schranken-Schranke

28

B. Die Warnfunktion des Zitiergebots

29

I. Die Warnfunktion in der Rechtsprechung

30

II. Die Warnfunktion in der Literatur

30

III. Warnfunktion und Grundsatz der Verhältnismäßigkeit

32

1. Der Grundsatz der Verhältnismäßigkeit

32

a) Herleitung und Inhalt des Verhältnismäßigkeitsgrundsatzes

33

b) Die Teilgrundsätze des Verhältnismäßigkeitsgrundsatzes

35

2. Zitiergebot als formelle Sicherung der Verhältnismäßigkeit

37

IV. Ergebnis

40

C. Die Informationsfunktion des Zitiergebots

41

I. Inhalt der Informationsfunktion

41

II. Informationsfunktion und Demokratieprinzip

42

1. Das Demokratieprinzip des Grundgesetzes

43

2. Demokratische Öffentlichkeit

44

3. Ausprägungen demokratischer Öffentlichkeit

46

a) Parlamentsöffentlichkeit

47

b) Öffentlichkeit der Gerichte

48

c) Öffentlichkeit der Verwaltung

49

d) Öffentlichkeit politischer Parteien

50

e) Öffentlichkeitsanforderungen als Ausfluss des Demokratieprinzips

52

4. Zitiergebot als Baustein demokratischer Öffentlichkeit

52

III. Informationsfunktion und Rechtsstaatsprinzip

54

1. Das Rechtsstaatsprinzip des Grundgesetzes

55

2. Das Bestimmtheitsgebot

57

a) Das strafrechtliche Bestimmtheitsgebot

59

b) Die Bestimmtheit von Verwaltungsakten

60

3. Das Zitiergebot als Ausprägung des Bestimmtheitsgebotes

60

IV. Informationsfunktion und Garantie effektiven Rechtsschutzes

62

1. Zielsetzung von Art. 19 Abs. 4 GG

63

2. Anforderungen von Art. 19 Abs. 4 GG

63

3. Die Rolle des Zitiergebotes für effektiven Rechtsschutz

64

V. Ergebnis

66

D. Die Bindungsfunktion des Zitiergebotes

66

I. Wirkung des Grundrechtszitats

67

1. Zitat als (bloße) Auslegungshilfe

67

2. Grundrechtszitat bindend für die Eingriffsverwaltung

69

II. Zitiergebot und Vorbehalt des Gesetzes

70

1. Der Vorbehalt des Gesetzes

70

a) Terminologie und Verortung

70

b) Reichweite und Inhalt des Vorbehalts des Gesetzes

71

c) Die Wesentlichkeitstheorie

74

d) Vorbehalt des Gesetzes und Grundrechtseingriff

75

2. Zitiergebot als Sicherung des Vorbehalts des Gesetzes

76

3. Bindungswirkung des Grundrechtszitats

78

4. Versammlungsrechtliche Vorfeldmaßnahmen und Zitiergebot

80

a) Vorfeldmaßnahmen als Grundrechtseingriffe

80

b) Keine Ermächtigungsgrundlage in Versammlungsgesetzen

81

c) Rückgriff auf Polizeirecht

82

d) Fehlendes Zitat der Versammlungsfreiheit

83

5. Fazit: Zitiergebot und Vorbehalt des Gesetzes

85

III. Zitiergebot und Gewaltenteilung

85

1. Der Grundsatz der Gewaltenteilung

86

a) Allgemeines und Zweck der Gewaltenteilung

86

b) Ausgestaltung der Gewaltenteilung im Grundgesetz

88

c) Verhältnis von Legislative und Exekutive

89

2. Grundrechtszitat und Gewaltenteilung

90

3. Folgerung: Bindungswirkung

91

IV. Ergebnis: Bindungsfunktion des Grundrechtszitats

91

E. Die Legitimierungsfunktion des Zitiergebots

92

I. Legitimation und Legitimität

92

II. Legitimität von Herrschaft

94

1. Materielle Legitimitätstheorien

97

a) Verschiedene Ansätze

97

b) Funktionsweise des Zitiergebotes

100

2. Formale Legitimitätstheorien

102

III. Demokratische Legitimation unter dem Grundgesetz

105

1. Erfordernis demokratischer Legitimation

105

2. Funktionsweise des Zitiergebotes

106

a) (Individuelle) Warnfunktion

106

b) Informationsfunktion

108

c) Bindungsfunktion

109

IV. Zusammenfassung: Legitimierende Wirkung des Zitiergebotes

109

F. Zusammenfassung der Funktionen

110

Kapitel 3: Die Anwendung des Zitiergebots

112

A. Der zwingende Charakter des Zitiergebotes

112

B. Zeitlicher Anwendungsbereich

115

I. Vorkonstitutionelle Gesetze

115

II. Vorkonstitutionelles Recht

118

C. Anwendung auf Änderungsgesetze

123

D. Sachlicher Anwendungsbereich des Zitiergebotes

125

I. Grundrechtstheoretisches Vorverständnis des Zitiergebotes

126

II. Anwendung durch das Bundesverfassungsgericht

130

1. Prämisse des Bundesverfassungsgerichts

130

2. Anwendungsbereich nach der Rechtsprechung

131

III. Geboten: Weiter Anwendungsbereich des Zitiergebotes

133

IV. Einzelne Grundrechte

137

1. Vorbehaltlos gewährleistete Grundrechte

138

2. Allgemeine Gesetze im Sinne von Art. 5 Abs. 2 GG

141

3. Grundrechte aus Art. 2 Abs. 1 i. V. m. Art. 1 Abs. 1 GG

144

4. Allgemeine Handlungsfreiheit, Art. 2 Abs. 1 GG

148

5. Grundrechte unter Ausgestaltungsvorbehalt

154

6. Enteignungsgesetze

159

7. Gleichheitsrechte

161

a) Allgemeiner Gleichheitssatz, Art. 3 Abs. 1 GG

164

b) Spezielle Gleichheitsrechte

165

8. Grundrechtsgleiche Rechte

166

a) Keine Anwendung auf nicht einschränkbare Rechte

168

b) Anwendung auf übrige grundrechtsgleiche Rechte

170

c) Zusammenfassung

177

V. Einschränkung

178

1. Differenzierung: Unmittelbare Eingriffe / Ermächtigungsgrundlagen

178

2. Kriterium: Vorhersehbarkeit des Eingriffs

181

3. Keine Ausnahme für offenkundige Eingriffe

184

4. Eingriffe mittels Zivilrecht

187

E. Zusammenfassung des Anwendungsbereiches

189

F. Form und Ort des Grundrechtszitats

190

G. Rechtsfolgen eines Verstoßes

195

I. Nichtigkeit bei Verstößen gegen Art. 19 Abs. 1 S. 2 GG

195

II. Folgen einer Rechtsprechungsänderung

197

Kapitel 4: Das Zitiergebot als Symbol

201

A. (Bloß) Symbolische Gesetzgebung

201

B. Soziologischer Symbolbegriff

206

C. Die symbolische Bedeutung des Zitiergebotes

211

I. Der Hauptsinn des Grundrechtszitats

213

II. Der Symbolgehalt des Grundrechtszitats

213

1. Symbolischer Gehalt im Rahmen der Warnfunktion

214

2. Symbolischer Gehalt im Rahmen der Informationsfunktion

215

3. Symbolischer Gehalt im Rahmen der Bindungsfunktion

217

4. Symbolischer Gehalt im Rahmen der Legitimierungsfunktion

218

III. Zusammenfassung

219

Kapitel 5

220

Zusammenfassung in Thesen

220

Literaturverzeichnis

228

Sachverzeichnis

242