Systems of law: ecclesiastical (canon) law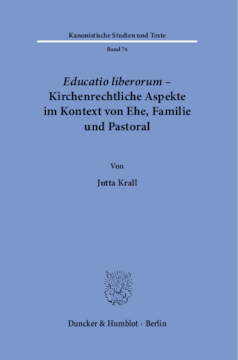 Additional Information
Book Details
ISBN

978-3-428-55406-5
978-3-428-15406-7 (print edition)

DOI

https://doi.org/10.3790/978-3-428-55406-5

Edition

1

Language

German

Pages

367

Collections

Subjects
Pricing
Institution

€ 92.00 (incl. local VAT if applicable)

Individual

€ 71.90 (incl. local VAT if applicable)
About The Author
Jutta Krall hat akademische Grade des Magisteriums und des Doktorates der Rechtswissenschaften an der Paris Lodron Universität Salzburg erworben. Nach Abschluss der Promotion mit Auszeichnung erfolgte eine Vertiefung im kanonischen Recht mit Erwerb eines Legum Magister an der Universität Wien. Ausbildungen in einer Salzburger Anwaltskanzlei und am Oberlandesgericht Graz folgten die Geschäftsführung einer Plattform im Themenfeld nachhaltiger Finanzierungskonzepte in den gesellschaftsrelevanten Sektoren Gesundheit, Bildung, Arbeit und Umwelt in Kooperation mit der Universität Wien und der Päpstlichen Accademia Alfonsiana, Rom, sowie die daran anschließende Aufnahme in den öffentlichen Dienst des Landes Kärnten.
Jutta Krall holds degrees of Magisterium and Doctorate in Law from the Paris Lodron University of Salzburg. After completing her doctorate with distinction, she specialized in canon law and acquired a Legum Magister at the University of Vienna. Training in a Salzburg law office and at the Higher Regional Court in Graz was followed by the management of a platform in the field of sustainable financing concepts in the socially relevant sectors of health, education, work and the environment in cooperation with the University of Vienna and the Pontifical Accademia Alfonsiana, Rome, as well as the subsequent admission to the public service of Carinthia.
Abstract
Die Arbeit behandelt die historische Entwicklung der Kindererziehung in der Katholischen Kirche bis zur Gegenwart. Die themenspezifische ekklesiologische Grundlegung des Zweiten Vatikanischen Konzils und das weitere kirchliche Lehramt bilden den Hintergrund für die Untersuchung der aktuellen Rechtsgrundlagen. Besonders fokussiert werden die Parameter der Personenwürde und der Religionsfreiheit. Permanenter Ausgangspunkt ist das Kind als Rechtssubjekt. Die explizite, normative Anerkennung der Rechtssubjektivität des Kindes wird eingefordert. Aus der Anspruchslage des Kindes resultiert das Postulat des rechtlichen Schutzes der Familie als Institution. Das Rechtsgut der christlichen Erziehung impliziert spezifische Pflichten der Eltern als primären Trägern und bildet einen wesentlichen Gegenstand der pastoralen Sorge der Kirche. Im Ergebnis zeigt sich die Evidenz des Erfordernisses der Implementierung eines gegenüber der gegenwärtigen Rechtslage weiterreichenden, umfassenden Rechtsschutzes zugunsten des Kindes im kanonischen Recht. »Educatio liberorum. Canon Law Aspects in the Context of Marriage, Family and Pastoral Care«: The upbringing of a child is based on the postulate of generating judgment competence in the context of freedom and responsibility. Following on the historic processing of the ›educatio liberorum‹ in the Catholic Church up to the present the particular focus is put on the parameters of human dignity and the freedom of worship from a child's perspective. The explicit, normative recognition of the legal subjectivity of the child is demanded. The rights of the child result in the postulate of legal protection of family as an institution. The legal asset of Christian education implies particular duties of the parents as prime bearer and is a broad matter in the pastoral care of the church.
Table of Contents
Section Title
Page
Action
Price

Danksagung und Widmung

7

Praefatio

9

Vorwort der Autorin

17

Inhaltsverzeichnis

25

Abkürzungsverzeichnis

27

A. Einleitung

29

B. Grundlagen

32

I. Begriff und Bedeutung der religiösen Kindererziehung

32

II. Kind

44

III. Erziehung

44

IV. Bildung

50

V. Familie

53

VI. Religion

55

VII. Ethik

57

VIII. Bindung, Freiheit und Verantwortung

60

IX. Individueller und gesellschaftlicher Kontext

68

C. Zur themenspezifischen historischen Entwicklung

76

I. Zur Implementation der educatio liberorum in den ersten Jahrhunderten

76

II. Zur themenspezifischen Relevanz der oblatio pueri

85

III. Der Einfluss des Römischen Rechts

88

IV. Zur Entstehung kollektiver Bildungseinrichtungen

92

V. Zur Entwicklung der kanonischen Rechtsgrundlagen im Mittelalter

98

VI. Zu den themenspezifischen Grundlegungen des Thomas von Aquin

101

VII. Themenspezifische Aspekte der Reformation und des Konzils von Trient

106

VIII. Themenspezifische Aspekte des Augsburger Religionsfriedens

110

IX. Themenspezifische Aspekte im Kontext des Westfälischen Friedens

111

X. Die themenspezifische Entwicklung vom 18. Jahrhundert bis zum CIC 1917

112

XI. Die educatio liberorum im CIC von 1917

116

1. Zur themenspezifischen Relevanz der allgemeinen Systematik

116

2. Zur normativen Festlegung der Altersgrenzen

118

3. Die strukturelle Einordnung der edcucatio liberorum im CIC 1917

120

XII. Zur educatio liberorum im vorkonziliären Lehramt

132

XIII. Zur Bestimmung der anni discretionis

139

XIV. Zur Entwicklung der themenspezifischen kanonischen Grundrechtsbegriffe

144

XV. Zum Rechtsstatus des Kindes im historischen Kontext

149

XVI. Zur kanonischen Einordnung der Familie

150

XVII. Religionsfreiheit

152

D. Zur Kindererziehung im geltenden kanonischen Recht

158

I. Zur themenspezifischen Grundlegung des II. Vatikanischen Konzils

158

1. Zum revidierten Selbstverständnis der katholischen Kirche

158

2. Kulturelle Diakonie als innerkirchliche Verpflichtung

159

3. Zur religiösen Erziehung in den Dokumenten des Zweiten Vatikanums

166

II. Die Dimension der Erziehung im Kodex von 1983

171

III. Strukturelle Einordnung der educatio liberorum

186

1. Necessitas und Utilitas

219

2. Glaubensfreiheit und Bekenntnispflicht

221

3. Zu den themenspezifischen kanonischen Grundrechtsbegriffen

223

4. Zur kanonischen Rechtsfähigkeit

230

IV. Erziehung als Recht und Pflicht

231

V. Die Familie als Gemeinschaft zwischen Eltern und Kindern

234

VI. Zum themenspezifischen Verhältnis von Elternschaft und Ehesakrament

235

1. Die educatio liberorum als Ehewirkung

236

2. Religiöse Erziehung in einer konfessions- oder religionsverschiedenen Ehe

242

3. Zu den Auswirkungen von Ehenichtigkeitserklärung und Trennung

248

VII. Zum Erziehungsauftrag der Paten

255

VIII. Zum Erziehungsauftrag der Seelsorger

261

IX. Zur Sendungsverantwortung aller Gläubigen

270

X. Hilfsmittel für die religiöse Erziehung

271

1. Schulen

271

2. Exkurs: Marchtalplan

277

3. Medien

281

XI. Zur themenspezifischen Relevanz von Festen und Feiern

281

XII. Auswirkungen des staatlichen Kirchenaustritts auf die Erziehungspflicht

283

XIII. Zum themenspezifischen, strafrechtlichen Schutz im Kirchenrecht

284

1. Allgemeines und verfahrensrechtliche Grundlagen

284

2. Zur strafrechtlichen Relevanz der nichtkatholischen Taufe oder Erziehung

287

3. Zum mangelnden Rechtsschutz des Kindes

292

4. Pastorale Diakonie als Prophylaxe?

294

XIV. Die religiöse Erziehung – ein Streitpunkt im Bereich der Ökumene?

295

XV. Jüngste Entwicklungen und Zukunftsperspektiven

301

XVI. Ordentliche Generalversammlung der Bischofssynode

310

XVII. Braucht die Kirche ein Kindschafts- und Familienrecht?

321

XVIII. Anspruchstellung des kanonischen Rechts an das staatliche Recht

322

E. Fazit

328

Literaturverzeichnis

332

Sachwortregister

358