Social law & Medical law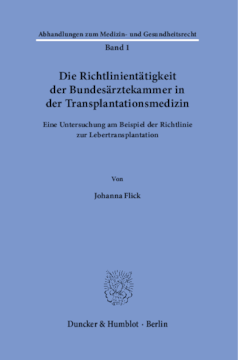 Additional Information
Book Details
ISBN

978-3-428-58518-2
978-3-428-18518-4 (print edition)

DOI

https://doi.org/10.3790/978-3-428-58518-2

Edition

1

Language

German

Pages

268

Collections

Subjects
Pricing
Institution

€ 92.00 (incl. local VAT if applicable)

Individual

€ 71.90 (incl. local VAT if applicable)
About The Author
Johanna Flick studierte von 2011 bis 2017 Rechtswissenschaften an der Universität Greifswald und absolvierte dort ihr erstes Staatsexamen. Während der Promotion arbeitete sie als wissenschaftliche Mitarbeiterin in einer großen Wirtschaftskanzlei in Hamburg. Ihr Rechtsreferendariat am OLG Schleswig schloss sie im Januar 2022 erfolgreich ab.
Johanna Flick studied law at the University of Greifswald from 2011 to 2017 and passed her first state examination there. During her doctorate, she worked as a research assistant in a large commercial law firm in Hamburg. She successfully completed her legal clerkship at the Schleswig Higher Regional Court in January 2022.
Abstract
Die Arbeit beschäftigt sich mit einem medizinrechtlichen Dauerthema – dem Transplantationsrecht. Dieses ist seit Jahrzehnten Gegenstand intensiver Diskussionen und verfassungsrechtlicher Kritik. Letztere betrifft insbesondere die Regelungen, die das Transplantationsgesetz für die postmortale Organtransplantation vorsieht. Denn dort wo Kapazitäten und Ressourcen begrenzt sind und sich Angebot und Nachfrage diametral gegenüberstehen, muss eine Vergabeentscheidung getroffen werden, die für die nicht ausgewählten Patienten im Regelfall den Tod bedeutet. Regelungen zur Organverteilung, die diesen hochsensiblen und enorm grundrechtsrelevanten Bereich betreffen, sind somit besonders gravierend. Erst nach langem Zögern erließ der Gesetzgeber ein Gesetz zur Regulierung des Transplantationswesens, wobei er die maßgeblichen Entscheidungskompetenzen an verschiedene nicht-staatliche Institutionen delegierte. Die dadurch der Bundesärztekammer zugewiesene Richtlinienkompetenz im Bereich des Transplantationswesens steht dabei im Fokus dieser Arbeit und wird u.a. an einem konkreten Richtlinienbeispiel untersucht. »The Guideline Activities of the German Medical Association in Transplantation Medicine. An Examination Using the Example of the Guideline on Liver Transplantation«: The thesis deals with a perennial topic of medical law – transplantation law. The focus of the study is the guideline competence assigned to the German Medical Association (Bundesärztekammer) by the Transplantation Act (Transplantationsgesetz) in the area of post-mortem organ transplantation. A further focus is a detailed legal and constitutional assessment of the specific guidelines of the German Medical Association on liver transplantation.
Table of Contents
Section Title
Page
Action
Price

Vorwort

7

Inhaltsverzeichnis

9

Abkürzungsverzeichnis

17

Einleitung

23

I. Themenhintergrund und Problemaufriss

23

II. Gang der Untersuchung

24

Erstes Kapitel: Einführung in die medizinische Entwicklung der Organtransplantation

26

I. Meilensteine der Transplantationsmedizin

26

1. "HLA-Matching" und Gewebekompatibilität

27

2. Die "Cyclosporin-Ära"

28

II. Standardisierung der Transplantationsmedizin

29

Zweites Kapitel: Rückblick – Die historische Entwicklung des Transplantationsrechts in der Bundesrepublik

30

I. Das deutsche Transplantationssystem vor Erlass des Transplantationsgesetzes

30

1. Eurotransplant International Foundation (ET)

31

2. Deutsche Stiftung Organtransplantation (DSO)

32

3. Transplantationszentren

33

4. Arbeitsgemeinschaft der Deutschen Transplantationszentren und die deutsche Transplantationsgesellschaft

34

5. Bundesärztekammer

34

II. Herausforderungen eines Transplantationsgesetzes

35

1. Notwendigkeit staatlicher Regulierung im Bereich der Transplantationsmedizin

35

2. Voraussetzungen einer postmortalen Organtransplantation

37

a) "Tod" des Organspenders

37

b) Rechtfertigung einer Organentnahme

39

aa) Widerspruchslösung

39

bb) Zustimmungslösung

39

3. Verteilungskriterien

40

III. Chronologischer Überblick der Gesetzgebungsgeschichte des TPG

41

1. Erster Gesetzgebungsversuch eines Transplantationsgesetzes

41

a) Erster Gesetzentwurf von 1978

41

b) Gegenentwurf des Bundesrats zum Regierungsentwurf

42

2. Aktivitäten der Fachgesellschaften und Gesetzesinitiativen auf Landesebene

43

a) Transplantationskodex

43

b) Empfehlungen der deutschen Gesellschaft für Medizinrecht (DGMR)

43

c) Landesinitiativen für ein Transplantationsgesetz

44

3. Gesetzentwürfe auf Bundesebene und Einführung des TPG

45

a) Entschließungsantrag der SPD-Fraktion vom 21.06.1994

45

b) Gesetzentwurf der GRÜNEN vom 7. November 1995

46

c) Finaler Gesetzentwurf vom 16. April 1996

46

IV. Vorgeschlagene Lösungskonzepte in den Gesetzesentwürfen

46

1. Hirntodkonzeption

46

2. Zustimmung oder Widerspruch

48

3. Verteilungskriterien: "Dringlichkeit und Erfolgsaussicht"

51

4. Institutionelle Dimension

52

V. Änderungen des TPG seit Inkrafttreten 1997

54

VI. Zusammenfassung

55

Drittes Kapitel: Heutiges Transplantationssystem

57

I. Rechtsgrundlagen der Transplantationsmedizin

57

1. Das Transplantationsgesetz als rechtlicher Rahmen

57

2. Die Richtlinien der BÄK

58

II. Voraussetzungen einer postmortalen Organentnahme

59

1. Hirntod des Organspenders, § 3 TPG

59

2. Rechtfertigung der Organentnahme

61

a) Die erweiterte Zustimmungslösung

61

aa) Einwilligung in die Organspende durch den Verstorbenen gem. § 3 Abs. 1 Nr. 1 TPG

61

bb) Zustimmung durch die nächsten Angehörigen

62

b) Die "Entscheidungslösung"

63

III. Organisation einer postmortalen Organtransplantation

66

1. Entnahmekrankenhäuser, § 9a TPG – Spenderseite

66

a) Aufgaben

66

b) Transplantationsbeauftragter, § 9b TPG

68

2. Transplantationszentren, § 10 TPG – Empfängerseite

68

3. Nationale Koordinierungsstelle nach § 11 TPG

69

4. Internationale Vermittlungsstelle, § 12 TPG

71

a) Beauftragung Eurotransplant

72

b) Aufgaben

72

aa) Organisatorische Abwicklung der Vermittlungsentscheidung

72

bb) Rechtliche Rahmenbedingungen für die Vermittlungsentscheidung

75

5. Prüfungs- und Überwachungskommission

76

a) Anlass zur Stärkung der Kontrollrechte

77

b) Kritik am Vorgehen der Kontrollinstanzen im Zuge des "Organallokationsskandals"

78

IV. Allokationssystem im TPG und Kompetenzen der Institutionen

83

1. Erste Selektionsentscheidung: Die Aufnahme auf die Warteliste durch die Transplantationszentren

83

a) Die gesetzlichen Entscheidungskriterien: "Notwendigkeit und Erfolgsaussicht" gem. § 10 Abs. 2 Nr. 2 TPG

84

b) Eigener Entscheidungsspielraum der Transplantationszentren

86

2. Der Erlass von "Verfahrensanweisungen" durch die DSO

86

3. Zweite Selektionsentscheidung: die Organvermittlung durch Eurotransplant

88

a) Die gesetzlichen Entscheidungskriterien: "Dringlichkeit und Erfolgsaussicht" gem. § 12 Abs. 3 TPG

88

b) Entscheidungsspielraum Eurotransplant

90

4. Die Befugnisse der Transplantationsinstitutionen als Ausübung hoheitlicher Gewalt

91

V. Zusammenfassung

93

Viertes Kapitel: Die Richtlinienkompetenz der Bundesärztekammer

94

I. Dogmatische Einordnung

95

1. Die Richtlinien der BÄK im Bereich der Transplantationsmedizin

95

2. Rechtsnatur und Rechtswirkung der "Richtlinien" nach § 16 Abs. 1 S. 1 TPG

97

a) Die klassischen Steuerungsinstrumente im Gesundheitssektor

97

aa) Empfehlungen

98

bb) Leitlinien

98

cc) Richtlinien

100

(1) Die Richtlinien des GBA nach § 92 SGB V

100

(2) Richtlinien der BÄK außerhalb des Organtransplantationswesens

102

(a) Richtlinien im Gewebebereich

104

(b) Richtlinien im Transfusionswesen

105

(c) Sonstige Richtlinien

106

b) Die Einordnung der Richtlinien im Schrifttum

106

3. Einordnung der Richtlinien

108

4. Rechtliche Einordnung des gesetzgeberischen Auftrags an die BÄK

113

a) Die übertragene Richtlinientätigkeit nach dem TPG als öffentlich-rechtliche Aufgabe

113

b) Beleihung der Bundesärztekammer

115

aa) Voraussetzungen einer Beleihung

115

(1) BÄK als Beleihungsadressat

116

(2) Beleihungsgegenstand

117

(3) Beleihungsakt

118

bb) Ergebnis

118

II. Verfassungsrechtliche Würdigung

119

1. Zulässigkeit der Beleihung mit Normsetzungskompetenzen

119

a) Subdelegation nach Art. 80 Abs. 1 S. 4 GG

120

b) Keine Erstdelegation nach Art. 80 Abs. 1 S. 1 GG

121

2. Zwischenergebnis

122

3. Rechtsstaatsprinzip und Parlamentsvorbehalt

122

a) Die Wesentlichkeitslehre

122

aa) Regelungsgegenstand

123

bb) Regelungsdichte

124

b) Argumente für eine eingeschränkte Geltung des Parlamentsvorbehalts im Rahmen der Organallokation

126

aa) Das Flexibilitätsargument

127

bb) Mangelnder Sachverstand des parlamentarischen Gesetzgebers

130

c) Ergebnis

130

4. Demokratische Legitimation der Bundesärztekammer

132

a) Die verfassungsrechtlichen Maßstäbe demokratischer Legitimation

133

aa) Das verfassungsrechtliche Grundmodell der demokratischen Legitimation

133

bb) Legitimation der funktionalen Selbstverwaltung

134

b) Legitimationsniveau der Bundesärztekammer

135

aa) Personell-organisatorische Legitimation

135

bb) Sachlich-inhaltliche Legitimation

137

(1) Vorsteuerung der Organallokation durch das TPG

137

(2) Der Genehmigungsvorbehalt nach § 16 Abs. 3 TPG

138

cc) Kompensationsmöglichkeit für eine defizitäre Legitimation

141

dd) Alternative Rechtfertigungsmodelle

141

III. Lösungsvarianten

144

1. Erhöhung der Steuerungsdichte im TPG als Grundvoraussetzung

144

2. Rechtsverordnungsermächtigung des BMG

144

a) Verordnungserlass mit BÄK als beratendem Gremium

144

b) Fakultative Richtlinientätigkeit der BÄK als Ergänzung der Rechtsverordnung

146

IV. Zusammenfassung

148

Fünftes Kapitel: Die Richtlinie gemäß § 16 Abs. 1 S. 1 Nr. 2 und 5 TPG zur Wartelistenführung und Organvermittlung zur Lebertransplantation

150

I. Einführung und Untersuchungsgegenstand

151

II. Deskription des Richtliniensystems

153

1. Die Aufnahme auf die Warteliste zur Lebertransplantation nach § 16 Abs. 1 S. 1 Nr. 2 TPG i.V.m. § 10 Abs. 2 Nr. 2 TPG

153

a) Auslegung des § 10 Abs. 2 Nr. 2 TPG

153

aa) "Regeln, die dem Stand der Erkenntnisse der medizinischen Wissenschaft entsprechen"

153

bb) "Notwendigkeit" i.S.d. § 10 Abs. 2 Nr. 2 TPG

154

cc) "Erfolgsaussicht" i.S.d. § 10 Abs. 2 Nr. 2 TPG

155

b) Umsetzung und Verständnis der gesetzlichen Vorgaben des § 10 Abs. 2 Nr. 2 TPG in der Leberrichtlinie der BÄK

156

aa) Notwendigkeit für die Aufnahme auf die Warteliste zur Lebertransplantation

156

bb) Erfolgsaussicht für die Aufnahme auf die Warteliste zur Lebertransplantation

157

(1) Allgemeine Kontraindikationen

157

(2) Leberspezifische Kontraindikationen

158

(a) "Alkoholkarenzklausel"

159

(b) Bösartige Erkrankungen

161

(c) Metabolische (und genetische) Erkrankungen und akutes Leberversagen

162

2. Die Organvermittlung bei der Lebertransplantation nach § 16 Abs. 1 S. 1 Nr. 5 TPG i.V.m. § 12 Abs. 3 TPG

163

a) Auslegung des § 12 Abs. 3 TPG

163

aa) "Regeln, die dem Stand der Erkenntnisse der medizinischen Wissenschaft entsprechen"

163

bb) "Eignung" und "Erfolgsaussicht"

164

cc) "Dringlichkeit"

166

dd) Chancengleichheit

167

b) Umsetzung und Verständnis der gesetzlichen Vorgaben des § 12 Abs. 3 TPG in der Leberrichtlinie der BÄK

167

aa) Faktor der "Eignung" bei der Organvermittlung zur Lebertransplantation – Blutgruppenidentität und- kompatibilität

167

bb) Faktoren der "Erfolgsaussicht" bei der Organvermittlung zur Lebertransplantation

170

(1) "Mailand-Kriterien"

170

(2) Leberteiltransplantation

171

cc) Faktoren der "Dringlichkeit" bei der Organvermittlung zur Lebertransplantation

172

(1) High-Urgency ("HU")-Patienten

173

(2) Grundparameter der Dringlichkeit – "MELD-Score"

174

(a) Berechneter MELD-Score (LabMELD)

175

(b) Zugewiesener MELD-Score (matchMELD)

176

(aa) Standard-Exception

177

(bb) Non-Standard-Exception

178

(c) Kritik am MELD-Score und Vorschläge alternativer Prognoseinstrumente

179

dd) Faktoren der Chancengleichheit

181

III. Rechtliche Analyse

182

1. Gerichtliche Aufarbeitung des Organallokationsskandals

182

a) Die aufsehenerregende Entscheidung des LG Göttingen

182

aa) "Manipulationsfälle"

183

bb) "Indikationsfälle"

184

cc) Rechtliche Bewertung des LG Göttingen

184

b) Die BGH Entscheidung vom 28. Juni 2017

187

aa) "Wartelisten- und Manipulationsfälle"

188

bb) Rechtliche Bewertung durch den BGH

188

c) Reaktion der Bundesärztekammer

190

d) Reaktionen der Wissenschaft

191

2. Vereinbarkeit der Alkoholkarenzklausel und der Mailand-Kriterien mit einfachem Recht

192

a) Alkoholkarenzklausel als Stand der Erkenntnisse der medizinischen Wissenschaft

193

aa) Regenerationspotenzial der Leber

195

(1) Alkoholbedingte Lebererkrankungen

195

(2) Erholungspotenzial der verschiedenen Lebererkrankungen

197

bb) Rückfallrisiko alkoholkranker Patienten

199

cc) Der neue Ausnahmetatbestand in der Alkoholkarenzklausel

202

b) Die Mailand-Kriterien als Stand der Erkenntnisse der medizinischen Wissenschaft

203

c) Zusammenfassung

205

3. Vereinbarkeit der Alkoholkarenzklausel und der Mailand-Kriterien mit materiellem Verfassungsrecht

208

a) Die abwehrrechtliche Komponente des Art. 2 Abs. 2 S. 1 GG

209

b) Die leistungsrechtliche Komponente des Art. 2 Abs. 2 S. 1 GG

210

aa) Originäres Leistungsrecht

210

bb) Derivatives Teilhaberecht

211

c) Freiheits- und gleichheitsrechtliche Anforderungen

214

aa) Rechtfertigungsanforderungen des Art. 3 GG

214

(1) Die Rechtfertigungsmaßstäbe

214

(2) Anwendung von Verhältnismäßigkeitskriterien

216

(3) Prüfungsmaßstab für die Alkoholkarenzklausel und das Posteriorisierungskriterium der Mailand-Kriterien

216

bb) Grundsatz der Lebenswertindifferenz

217

cc) Zwischenergebnis

218

d) Anwendung des verfassungsrechtlichen Maßstabes auf die Alkoholkarenzklausel und die Mailand-Kriterien

219

aa) Vereinbarkeit der Alkoholkarenzklausel mit dem derivativen Teilhaberecht alkoholkranker Patienten

220

(1) Erhöhtes Rückfallrisiko als sachlicher Grund

221

(a) Das Merkmal der Compliance

221

(b) Die Abstinenzpflicht als Anforderung an die postoperative Compliance

223

(2) Keine Begründung über das Gerechtigkeitskriterium Selbstverursachung

223

(3) Vereinbarkeit mit dem Diskriminierungsverbot der Lebenswertindifferenz

226

(4) Zwischenergebnis

226

bb) Vereinbarkeit der Mailand-Kriterien mit dem derivativen Teilhaberecht der Patienten mit HCC

228

IV. Zusammenfassung

230

Sechstes Kapitel: Zusammenfassung und Ergebnis

233

Dokumentenverzeichnis

236

Literaturverzeichnis

242

Sachwortverzeichnis

265