Company & business offences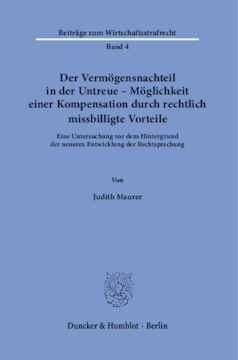 BOOK
Der Vermögensnachteil in der Untreue – Möglichkeit einer Kompensation durch rechtlich missbilligte Vorteile
Eine Untersuchung vor dem Hintergrund der neueren Entwicklung der Rechtsprechung
Beiträge zum Wirtschaftsstrafrecht, Vol. 4
(2022)
Additional Information
Book Details
ISBN

978-3-428-58495-6
978-3-428-18495-8 (print edition)

DOI

https://doi.org/10.3790/978-3-428-58495-6

Edition

1

Language

German

Pages

271

Collections

Subjects
Pricing
Institution

€ 92.00 (incl. local VAT if applicable)

Individual

€ 71.90 (incl. local VAT if applicable)
About The Author
Judith Maurer studierte von 2010 bis 2016 Rechtswissenschaften an der Albert-Ludwigs-Universität Freiburg und an der Universidad de Buenos Aires, Argentinien sowie der Universidad Nacional de Córdoba, Argentinien mit dem Schwerpunkt Strafrechtliche Rechtspflege. Ihr Referendariat absolvierte Judith Maurer ab 2016 am Hanseatischen Oberlandesgericht in Hamburg mit Stationen am Hanseatischen Oberlandesgericht und in einer Rechtsanwaltskanzlei in Barcelona. Nach Abschluss des zweiten Staatsexamens promovierte sie extern bei Prof. Dr. Dr. h.c. Walter Perron und arbeitete in Teilzeit als Rechtsanwältin in einer Hamburger Wirtschaftskanzlei. Seit 2021 ist sie in Vollzeit als Rechtsanwältin tätig.
Judith Maurer studied law from 2010 to 2016 at the Albert-Ludwigs University of Freiburg and at the Universidad de Buenos Aires, Argentina as well as the Universidad Nacional de Córdoba, Argentina with a focus on criminal law. Judith Maurer completed her legal clerkship at the Hanseatic Higher Regional Court in Hamburg starting in 2016 including stages at the Hanseatic Higher Regional Court and at a law firm in Barcelona. After completing her second state examination, she obtained her doctorate externally under Prof. Dr. Dr. h.c. Walter Perron and worked part-time as a lawyer in a Hamburg commercial law firm. Since 2021 she has been working full time as a lawyer.
Abstract
In einem globalisierten, wettbewerbsorientierten Marktumfeld werden in Unternehmen immer »kreativere« Wege der Gewinnsteigerung gefunden, welche die Rechtsprechung strafrechtlich beurteilen muss. Häufig werden dabei zur Erlangung lukrativer Aufträge Bestechungsgelder aus der Unternehmenskasse gezahlt.

Aufgrund seiner abstrakten Formulierung wird illegales wirtschaftliches Handeln meist unter § 266 StGB subsumiert. Zentrale Frage dabei ist, ob dem Unternehmen durch die illegale Abzweigung bzw. Verwendung ein Vermögensnachteil i.S.d. § 266 StGB zugefügt wird oder ob hierdurch lukrative Geschäftsabschlüsse erst ermöglicht und somit Gewinne vergrößert werden. Die Rechtsprechung ist hierbei uneinheitlich und tendiert zu ersterer Auffassung. Diese Arbeit zeigt, dass auch illegal erlangte Gewinne in die Saldierung einbezogen werden müssen und die Rechtsprechung der rein wirtschaftlichen Beurteilung von Vermögenszuflüssen – auch aus verfassungsrechtlicher Sicht – größere Beachtung schenken muss. »The pecuniary loss in the embezzlement. The possibility of compensating asset outflows through illegally obtained profits. An examination in the light of recent developments in jurisdiction«: In cases of corporate embezzlement, when an employee uses company funds to obtain lucrative contracts through bribery, a central question is whether the company suffers a loss within the meaning of Section 266 StGB as a result of the bribery or whether its assets are ultimately increased by obtaining the contract. This work shows that illegally obtained profits must be included in the assessment of the economic loss and that the compensation of asset outflows must be assessed purely economically.
Table of Contents
Section Title
Page
Action
Price

Vorwort

7

Inhaltsverzeichnis

9

Abkürzungsverzeichnis

16

Teil 1: Einführung in die Problematik

19

A. Einleitung

19

B. Gang der Bearbeitung

22

Teil 2: Analyse der uneinheitlichen Rechtsprechung zum Vermögensnachteil

23

A. BGH (4. Strafsenat), NJW 1975, 1234ff. – "Bundesliga-Entscheidung"

23

B. BGH (2. Strafsenat), NStZ 2009, 95ff. – "Siemens/Enel"

25

C. BVerfG, NJW 2010, 3209ff. – "Grundsatzentscheidung"

27

D. BGH (2. Strafsenat), NJW 2010, 3458ff. – "Trienekens"

28

E. BGH (1. Strafsenat), NJW 2011, 88ff. – "Siemens/AUB"

29

F. BGH (2. Strafsenat), NJW 2013, 401ff. – "Telekom-Spitzelaffäre"

31

G. BGH (1. Strafsenat), BeckRS 2018, 37760 – "Arzneimittel/Russlandgeschäft"

32

H. Zwischenfazit

35

Teil 3: Die Grundlagen zum Tatbestand der Untreue

36

A. Grundsatzfragen des Untreuetatbestands

36

I. Strafwürdigkeit

36

II. Geschütztes Rechtsgut

37

III. Grundsätzlich einheitliche Betrachtung des Vermögensstrafrechts

38

IV. Untreue als Auffangtatbestand?

38

V. Verschleifungsverbot

39

B. Tatbestandsmerkmale

40

I. Besondere Pflichtenstellung gegenüber fremdem Vermögen – Täterqualifikation

40

II. Pflichtwidrige Handlung

42

1. Missbrauch

42

2. Treubruch

43

a) Art der Pflicht

43

b) Pflichtwidrigkeit

44

aa) Gravierende Pflichtverletzung

44

bb) Spezifisch vermögensschützende Betreuungspflicht

46

3. Einverständnis des Treugebers

47

III. Vermögensnachteil

49

1. Vermögensbegriff

50

a) Juristischer Vermögensbegriff

50

b) Wirtschaftlicher Vermögensbegriff

50

c) Juristisch-ökonomischer Vermögensbegriff

51

d) Integrierter Vermögensbegriff

51

e) Nach der Entscheidung des BVerfG

52

f) Einschätzung

52

2. Feststellung der Minderung

53

a) Prinzip der Gesamtsaldierung

53

b) Besonderheiten des Untreue-Tatbestands

54

aa) Unterlassen der Gewinnmehrung: Verlust von Exspektanzen

54

bb) Berechnung des Nachteils

57

cc) Berechnungsmethode

57

(1) Vorher-Nachher-Vergleich

57

(2) Hypothetischer Sollzustand (korrigierte ex post-Betrachtung)

58

(3) Nach dem BVerfG

59

(4) Einschätzung

59

c) Kausalität und Zurechnung

62

aa) Pflichtwidrigkeit

63

bb) Unmittelbarkeit des Vermögensabflusses

64

(1) Keine Übertragbarkeit des Betrugs-Spezifikums der Unmittelbarkeit

64

(2) Unmittelbar entstehender Vermögensabfluss zur Begrenzung

65

(3) Einschätzung

66

cc) Schutzzweck der Norm

68

3. Sonderproblem: Vermögensgefährdung

70

4. Personalisierung des Vermögensnachteils

75

5. Kompensation

75

IV. Subjektiver Tatbestand: Vorsatz

75

V. Schlussfolgerung: "Verengung" auf zwei Tatbestandsmerkmale

77

Teil 4: Grundsätze der Bestimmung der Kompensation bei illegalem Vermögenseinsatz

79

A. Generelle Bedeutung der Kompensation im Wirtschaftsstrafrecht und Definition

79

B. Voraussetzung für die Anerkennung einer Kompensation

80

I. Wirtschaftliche Gleichwertigkeit von Vermögensabfluss und Vermögenszufluss

80

1. Bestimmung einer Werthaltigkeit: Der Vermögensbegriff auf Vorteilsseite

80

a) Juristisch-ökonomischer Vermögensbegriff

81

b) Rein wirtschaftlicher Vermögensbegriff

82

c) Einschätzung

84

d) Zwischenergebnis

89

2. Wertminderung bei rechtlicher Missbilligung

89

a) Grundsatz: Anwendung einer Wertminderung

89

aa) Abgrenzung individueller Schadenseinschlag

90

bb) Berücksichtigte Minderungsfaktoren

90

(1) Aufdeckungs- und Sanktionsrisiko

90

(2) "Reduzierung auf Null": Fehlende Nutzbarkeit

91

(3) Einpreisung durch die Parteien

92

(4) Einschätzung und Anwendung

93

b) Vorliegend zu untersuchende Fälle

94

c) Grundvoraussetzung: Risiko des Wertabflusses

95

d) Konkrete Berechnung der Wertminderung

95

aa) Anforderungen an das Entdeckungs- und Verlustrisiko

95

(1) Hoof: Unterschiedliche Betrachtung

96

(2) 4. Strafsenat (Bundesliga-Entscheidung): 51%

96

(3) Schreiber/Beulke: Hohe Wahrscheinlichkeit

98

(4) Ransiek: In dubio pro reo

99

(5) Velten: Wie bei Risikogeschäften

100

(6) Saliger/Gaede: Kritik an der "schadensgleiche‍[n] Kompensationsgefährdung"

102

(7) Burger: Eigene Saldierung

104

(8) Zwischenergebnis

105

bb) Beurteilungszeitpunkt: Ex ante/Ex post

106

cc) Bewertung der Kompensationseinbuße durch das Entdeckungsrisiko

107

(1) Relation zwischen Kompensationsgefährdung und effektivem Wertverlust

107

(2) Unmittelbarkeit der drohenden Minderung?

108

(3) Konkrete Bezifferung

110

(4) Heranziehung des Bilanzrechts?

111

(5) Anwendung auf die vorliegende Konstellation

113

(a) Sanktionshöhe

113

(aa) Einziehung

113

(bb) Bußgeld nach OWiG

115

(cc) Zwischenergebnis

116

(b) Entdeckungswahrscheinlichkeit

117

e) Zwischenergebnis: Keine Minderung

118

II. Unterschiedliche Auswirkung verschiedener Nichtigkeitsgründe?

118

Teil 5: Konkrete Faktoren zur Wertbestimmung illegal erlangter Vermögensvorteile

121

A. Feststellung des konkreten Vermögenszuflusses

121

I. Zurechnung kompensationsfähiger Vermögenszuflüsse

121

1. Kausalität/Unmittelbarkeit

122

2. Einzel-/Gesamtbetrachtung

124

a) Meinungsstand

124

b) Einschätzung

126

3. Sonderfall: Ansprüche gegen den Treunehmer?

128

a) (Schadens-)‌Ersatzansprüche

128

b) Ausgleichsfähiger und -bereiter Treunehmer

128

c) Einschätzung

130

d) Zeitabhängiger Zinsschaden

132

II. Werthaltigkeit des Vermögenszuflusses

134

1. Relevante Vermögensbestandteile

135

a) Allgemeine Positionen

135

b) Exspektanzen auf Zuflussseite

135

aa) Unterschiedliche Betrachtung bei Abfluss und Zufluss?

135

(1) Unterschiedliche Betrachtung

136

(2) Einheitliche Behandlung

138

(3) Einschätzung

140

bb) Spiegelbildliche Behandlung: Verhältnis zur Vermögensgefährdung

143

2. Wertbestimmung des Vermögenszuflusses

144

a) Exakte Bezifferung auch des Vorteils?

145

b) Rückgriff auf Sachverständige

147

c) Bilanzrecht

149

aa) Anwendung in der Grundsatzentscheidung

149

bb) Kein "bilanzrechtsakzessorisches" Vermögen

151

cc) Die relative Bilanzwahrheit

152

dd) Eignung einzelner Bewertungsgrundsätze

154

(1) Bewertungsgrundsätze des HGB

154

(2) Bewertungsgrundsätze der IFRS

156

ee) Einschätzung

157

ff) Sonderproblem: Zweifelssatz

160

gg) Fazit

161

d) Konkrete strafrechtliche Wertbestimmung der zugeflossenen Position

161

aa) Zufluss allgemeiner Positionen

161

(1) "Marktwert" eines Vermögensgegenstands

162

(a) Grundsatz

162

(b) Bewertungsperspektive

164

(2) IFRS 13: Bemessung des beizulegenden Zeitwerts

165

(3) Illegale Positionen – "Schwarzmarktwert"

165

(4) Singuläre Ereignisse

168

(5) Zwischenfazit

171

bb) Zufluss von Forderungen und Exspektanzen

171

(1) Rechtlich abgesicherte Exspektanz

172

(a) Nennwert der Forderung

173

(b) Konkreter wirtschaftlicher Wert

174

(aa) Marktwert einer Forderung?

174

(bb) Singuläres Ereignis – Einbringlichkeit der Forderung

175

(c) Zwischenergebnis

177

(2) Faktisch abgesicherte Exspektanz

177

(a) Sonderproblem: Beherrschbarkeit durch den Treunehmer

178

(b) Zwischenergebnis

179

(c) Marktwert einer faktischen Exspektanz?

180

(d) Singuläres Ereignis: Wahrscheinlichkeit der Realisierung

180

(3) Zwischenfazit für die Bewertung von Exspektanzen

183

cc) Zwischenfazit für die Wertbestimmung von Vermögenszuflüssen

183

e) Exkurs: Folgerung für die Bezifferung der Kompensationsgefährdung

184

B. Punktuelle Normativierung trotz wirtschaftlichem Vermögensbegriff?

186

I. Zulasten des Treunehmers

186

1. Das Einrichten schwarzer Kassen

186

a) Die Entwicklung der BGH-Rechtsprechung

187

b) Kritische Prüfung der Rechtsprechung

188

aa) Vermögensabfluss

189

(1) Einrichtung der schwarzen Kasse

189

(a) Totalverlust durch Aussonderung der Gelder

189

(b) Kein Vermögensabfluss durch Aussonderung

190

(c) Einschätzung

191

(2) Zinsschaden

195

(3) Konkrete Ausgestaltung – Zugriff Dritter

195

(4) Zusammenfassung

197

bb) Vermögenszufluss/Kompensation

198

(1) Chance auf zukünftige Zuflüsse

198

(a) Verwendungsabsicht des Treunehmers – vermögenswerte Exspektanz?

198

(b) Rechtliche Missbilligung der erlangten Chance?

203

(c) Zwischenergebnis

204

(2) Rückgabefähigkeit und -bereitschaft

204

c) Zusammenfassung

207

2. Individueller Schadenseinschlag

208

3. Zweckverfehlung

212

a) Einseitiger Vermögensabfluss

212

b) Gegenseitiger gleichwertiger Mittelaustausch

212

c) Einschätzung

213

4. Zwischenergebnis

215

II. Zugunsten des Treunehmers

216

1. Bewertung immaterieller Vermögenspositionen – Ausnahme von der Geldwertsaldierung?

216

a) Immaterielle Vermögenspositionen

216

b) Bewertung nach den obigen Grundsätzen?

217

c) Vermögenswerte Exspektanz

218

d) Abweichung von der Geldwertsaldierung – Geldwertäquivalentes Vorteilsbestimmungsinstrument?

219

e) Lösung über die Pflichtwidrigkeit

220

f) Zwischenergebnis

221

2. Befreiung von einer Verbindlichkeit

222

3. Vorleistung

223

III. Zwischenergebnis

224

C. Exkurs: Folge für den Vorsatz

224

Teil 6: Schlussfolgerungen für die dargestellte Rechtsprechung

227

A. Bundesliga-Entscheidung

228

B. Siemens/Enel

231

C. BVerfG-Grundsatzentscheidung

234

D. Trienekens

237

E. Siemens/AUB

238

F. Telekom-Spitzelaffäre

241

G. Arzneimittel/Russlandgeschäft

244

H. Abschließende Kritik

248

Teil 7: Fazit dieser Arbeit

251

Literaturverzeichnis

256

Internetquellen

267

Sachwortverzeichnis

268