History of ideas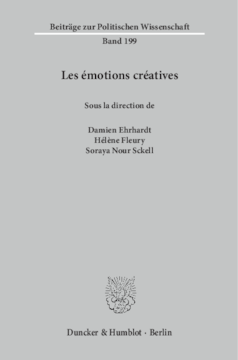 Additional Information
Book Details
ISBN

978-3-428-58501-4
978-3-428-18501-6 (print edition)

DOI

https://doi.org/10.3790/978-3-428-58501-4

Edition

1

Language

French

Pages

226

Collections

Subjects
Pricing
Institution

€ 86.00 (incl. local VAT if applicable)

Individual

€ 67.90 (incl. local VAT if applicable)
About The Author
Damien Ehrhardt wurde an der Universität Paris-Sorbonne promoviert (1997) und habilitierte sich an der Universität Straßburg (2004). Zurzeit ist er maître de conférences HC an der Universität Paris-Saclay in Évry, wo er die Achse »Mélanges Interculturels« im Rahmen des Forschungslabors SLAM leitet. Seine Forschungsschwerpunkte sind Musik- und Kulturwissenschaften. Er war DAAD- (Universität des Saarlandes, 1991-92) und Humboldt-Stipendiat (Universität Regensburg, Institut für Musikwissenschaft Weimar-Jena, 1999-2001), sowie Kulturprojektmanager, dann Vizepräsident Kultur (Universität Évry, 2008-15). Er erhielt den Preis für deutsch-französische Freundschaft und ist Präsident der Association Humboldt France. In dieser Funktion konnte er zehn Humboldt-Kollegs zu Themen wie Emotionen oder Ungewissheit (mit)organisieren.

Hélène Fleury ist Lehrbeauftragte (Universität Évry, UEVE) und Doktorandin (Universität Paris-Saclay in Verbindung mit CEIAS-EHESS). Sie erwarb zwei Master-Abschlüsse: in Geschichte (Universität Pantheon-Sorbonne) und Anthropologie (EHESS Paris). Ihre Forschungsschwerpunkte umfassen die globalisierte Rezeption von Mithila-Malereien, Vermittlungsprozesse in einem transnationalen kulturellen Feld, Interkulturalität und Transferforschung. Sie ist Autorin zahlreicher wissenschaftlicher Publikationen, hat an mehreren internationalen Kongressen teilgenommen und war Veranstalterin einer wiss. Tagung an der EHESS. Sie war Promotionsbeauftragte des CEIAS, Jurymitglied eines interuniversitären Poesie-Wettbewerbs, und ist Mitglied des Akademischen Rates der UEVE und des Forschungslabors SLAM ( Universität Paris-Saclay).
Damien Ehrhardt obtained his PhD from Paris-Sorbonne University (1997) and his habilitation from the University of Strasbourg (2004). He is currently tenured associate professor at Paris-Saclay University in Évry, while also heading the »Mélange Interculturels« branch within the SLAM research lab. His research focuses on musicology and cultural studies. He was DAAD (Saarland University, 1991-92) and Humboldt scholar (University of Regensburg, Dept of Musicology Weimar-Jena, 1999-2001), manager of the cultural project then vice-president for culture (University of Évry, 2008-15). He has received the Award for Franco-German Friendship, and is president of the Association Humboldt France, in what capacity he (co)organized ten Humboldt-Kollegs on topics like emotions or uncertainty.

Hélène Fleury is lecturer (Evry University, UEVE) and PhD candidate (Paris-Saclay University in assoc. with CEIAS-EHESS). She obtained two master's degrees in history (Pantheon-Sorbonne University) and anthropology (EHESS Paris). Her research concerns the globalized reception of Mithila paintings, mediations in a transnational cultural field, interculturality and transfer studies. She has authored numerous academic publications, was invited to multiple international conferences, and organized a study day at EHESS. She was PhD representative of the CEIAS, jury member of an interuniversity poetry competition, and is member of the Academic Council at UEVE and of the SLAM research lab (Paris-Saclay University).
Abstract
L'importance du rôle des émotions dans la connaissance conduit à voir en elles bien davantage qu'un facteur perturbateur. Leur pertinence cognitive, de plus en plus reconnue par les sciences (naturelles, sociales, humaines...), consacre l'importance d'un tournant émotionnel (emotional turn). Les émotions constituent aussi de puissants moteurs de créativité et d'innovation, cruciaux dans la construction des formations socioculturelles. Les textes rassemblés dans le présent volume, dans une perspective résolument interdisciplinaire, traitent d'émotions puissamment agissantes dans l'existence, à la convergence des échelles individuelle et collective. Les deux premières parties s'interrogent sur la spécificité des émotions humainement vécues dans leurs interactions expérimentées via le corps et la raison. Les deux dernières parties abordent les émotions à une plus large échelle: celle des champs culturel et politique. »Creative Emotions«: The scientific recognition of the cognitive significance of emotions confirms the importance of the emotional turn. Beyond this cognitive dimension, emotions are also motors of creativity, and crucial in the construction of socio-cultural configurations. The interdisciplinary texts gathered in this volume analyse how emotions act in the existence between individual and collective scales. They question the emotions in their interactions via the body and the reason, as well as in the cultural and political fields.
Table of Contents
Section Title
Page
Action
Price

Inhaltsverzeichnis

5

Damien Ehrhardt, Hélène Fleury et Soraya Nour Sckell, Préface

7

I. La raison des émotions

8

II. Les émotions inscrites dans le corps

10

III. Arts et émotions

11

IV. Émotions en politique

12

Partie I: La raison des émotions

15

Eva Weber-Guskar, Trost – das Ende von Trauer oder selbst eine Emotion?

17

I. Warum Trost keine Emotion sein sollte

18

1. Gegengründe

18

2. Warum die Gegengründe nicht überzeugen

20

II. Trost als Emotion

23

1. Emotionen als eine Art von Gefühlen

23

2. Trost als spezifischer Emotionstyp

24

a) Phänomenalität

24

b) Handlungsmotivation

25

c) Intentionalität

25

III. Spielarten von Trost

26

1. Konkretes Unglück oder Leiden an der ganzen Welt

26

2. Vom Mitmenschen, Kunst oder Gott

27

3. Was Methoden des Tröstens über den Trost erzählen

31

IV. Schluss

33

Literatur

33

Christian Sommer, Herméneutique des passions. La lecture heideggérienne de la Rhétorique d'Aristote

37

Bibliographie

43

Jean-Louis Vieillard-Baron, Le rôle de l'Allemagne dans l'interprétation des émotions par Bergson

45

I. Les sources allemandes de la théorie bergsonienne de l'émotion

46

II. L'épreuve de la grande guerre

48

III. Héroïsme et création

50

Bibliographie

52

Frauke Annegret Kurbacher, Mehr als Ratio und Emotion: Haltung. Überlegungen zu einer Philosophie der Interpersonalität

53

I. Problemlagen

53

II. Typologie von Haltung

56

III. Historische Perspektiven – Liebe und Freundschaft als Grundhaltungen und Formen von Interindividualität

59

Literatur

64

Alexandre Seurat, Le délire, entre émotion et révélation, dans Mrs Dalloway et Berlin Alexanderplatz

65

Bibliographie

76

Christophe Béal, Émotion et justice : réflexions sur la honte réintégrative

77

I. Émotions et justice restaurative

78

II. La honte réintégrative

80

III. Honte et vulnérabilité

84

IV. Conclusion : gérer la honte

86

Bibliographie

86

Jean-Marie Valentin, Pierre Fromageot, Frank Langlois, Hans-Jürgen Lüsebrink, Catrin Misselhorn, Lothar Prisor, Jean-Renaud Pycke et Olivier Remaud, Le rôle des émotions dans la connaissance

89

Partie II: Les émotions inscrites dans le corps

107

Nuno Miguel Proença, Embodiment, aesthetics and emotions according to William James

109

Bibliography

121

Sonja Neef, Affekt und Handschrift. Erspürung der Hand

123

I. Einleitung

123

1. Stimmung und Bewegungsphysiognomik

124

II. Affekt, Charakter und Gefühl

127

III. Der "jüdische Charakter"

129

IV. Daktylus und Taktylus

131

Bibliographie

132

Blanche Lochmann, La sensibilité dans La Comédie humaine ou la vision balzacienne des « névroses romantiques »

135

I. Sensibilité et effet de réel

136

II. La sensibilité comme faiblesse

140

III. La sensibilité comme fatalité

143

Bibliographie

146

Partie III: Arts et émotions

149

Jean-Marc Moura, L'humour et son étude en littérature comparée

151

I. Problèmes d'une étude comparatiste de l'humour

151

II. De l'étude de l'humour

152

III. Un champ de recherches comparatiste

153

1. La théorie de l'humour

154

2. Les études comparatistes

155

3. L'étude de l'humour dans les arts

155

Bibliographie

156

Beate Angelika Kraus, Les espaces sonores des symphonies de Beethoven. Lieux d'exécution et interprétation

159

I. La symphonie héroïque et les années 1804–1808

160

II. À la recherche des salles favorables et de l'acoustique

163

III. La neuvième symphonie et les années 1824–1826

169

IV. L'expérience de l'œuvre

171

Bibliographie

173

Hugues Schmitt, Rhétorique des émotions dans la nouvelle musique française

175

I. Contexte

175

II. Lyrisme et rhétorique des émotions

176

III. La langue commune

179

IV. L'expressivité

182

Bibliographie

185

Partie IV: Émotions en politique

187

Soraya Nour, L'émotion et la société chez Freud

189

I. L'identification

189

II. Les effets négatifs de l'identification

193

III. La critique de l'État idéologique

194

Bibliographie

196

Charles W. Scheel, La francophonie : une notion sujette aux passions

199

Lothar Prisor, Europa eine Seele geben

205

I. Zur Politik allgemein

205

II. Zur Entwicklung und Ausbau der EU bis heute

206

III. Notwendige Aufgaben – aus meiner Sicht – zur weiteren demokratischen Entwicklung der EU

209

1. Mangelnde Kenntnis des Anderen

210

2. Interessenkollissionen

210

Biographies

213

Index

223