Social & cultural anthropology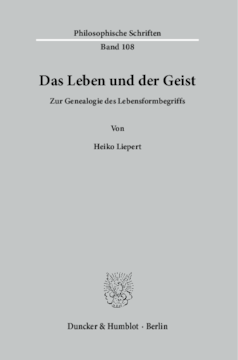 Additional Information
Book Details
ISBN

978-3-428-58542-7
978-3-428-18542-9 (print edition)

DOI

https://doi.org/10.3790/978-3-428-58542-7

Edition

1

Language

German

Pages

367

Collections

Subjects
Pricing
Institution

€ 116.00 (incl. local VAT if applicable)

Individual

€ 89.90 (incl. local VAT if applicable)
About The Author
Heiko Liepert begann 2007 sein Studium der Fächer Philosophie und Deutsch an der Christian-Albrechts-Universität zu Kiel, das er 2014 mit Master of Education abschloss. Während seines Studiums arbeitete er als Hilfskraft und Tutor sowohl am Germanistischen als auch am Philosophischen Seminar. 2015 begann er das Schulreferendariat und wechselte 2016 an den Lehrstuhl für Philosophie und ihre Didaktik der CAU zu Kiel, wo er bis heute als wissenschaftlicher Mitarbeiter tätig ist. 2021 wird er Mitherausgeber des Buches Forschendes ›Lernen und Heterogenität‹ und promoviert erfolgreich zum Thema ›Das Leben und der Geist. Zur Genealogie des Lebensformbegriffs‹.
Heiko Liepert started studying Philosophy and German at the Christian-Albrechts-University of Kiel in 2007, graduating with a Master of Education in 2014. During his studies, he worked as a student assistant and tutor at the German Department as well as the Philosophy Department. Afterwards, he started his preparatory service at a local school in 2015 and moved to the Chair of Philosophy and its Didactics at the CAU Kiel in 2016, where he worked as a research assistant to this day. In 2021 he edited the book ›Research-based Learning and Heterogeneity‹ and successfully earned his PhD on the topic ›Life and the Spirit. On the Genealogy of the Concept of Life Form‹.
Abstract
Der Lebensformbegriff gibt das Verhältnis von Leben und Geist an. Sobald er verwendet wird, schwingen grundsätzliche Vorstellungen vom richtigen Handeln und Denken mit. Er erfreut sich aktueller Beliebtheit und doch reicht seine Geschichte bis weit in die griechische Antike zurück. Dabei wird er damals wie heute kaum zum Gegenstand des Nachdenkens erhoben. Hier besteht Nachholbedarf. Es gilt, den Lebensformbegriff in seiner historischen Tiefe und in der Vielfalt seiner theoretischen Bezüge zu rekonstruieren, um den Blick für die Vielfalt der Lebensformen zu öffnen und die Lebensformverständnisse unserer Gegenwart kritisch zu reflektieren.

Vor diesem Hintergrund erhebt sich eine ›Philosophie der Lebensformen‹, die Grenzen und Übergänge, Verständigungsmöglichkeiten, aber auch die Konflikte kultureller Lebensformen sichtbar machen kann. So stellt sie sich den Lebensproblemen der Gegenwart und versucht auf diese Weise, zu einem verständigen und toleranten Miteinander beizutragen. »Life and the Spirit. On the Genealogy of the Concept of Life Form«: Whenever the concept of life form is used, fundamental ideas of the correct way of acting and thinking resonate. The history of this term goes far back into antiquity and is yet of current relevance. Due to the fact that the concept of life form is hardly ever reflected upon, it needs to be examined in detail. In terms of a ›philosophy of life forms‹, it is important to raise critical awareness for the challenges of our time and thus to contribute to an understanding and tolerant coexistence.
Table of Contents
Section Title
Page
Action
Price

Inhalt

7

Abbildungsverzeichnis

10

A. Hinführung

11

I. Besonderheiten des Lebensformbegriffs

13

1. Sprachliche Struktur

20

2. Metaphorik

22

3. Zur historischen Semantik der Form

26

II. Zur Arbeit am Lebensformbegriff

31

1. Historische Kulturanthropologie

40

2. Genealogie

49

3. Darstellung

54

III. Gedankliche Gliederung

57

B. Die Frage nach dem Verhältnis von Leben und Geist

59

I. Die Wende zum Leben: Dilthey, Spranger und Flitner

62

II. Rationale Beherrschung: Max Weber

72

III. Unmittelbarkeit des Lebens: Henri Bergson und Alfred Schütz

80

IV. Offenlegung des Konflikts: Curtius, Mannheim und Simmel

90

V. Vom Leben über das Leben hinaus: Simmel – Foucault – Simmel

99

C. Zur Genealogie des Lebensformbegriffs

114

I. Vom Schlaf der Vernunft (Goya 1799)

124

1. Der Logos des Mythos

128

2. Die Erweckung der Vernunft: Parmenides und Heraklit

133

II. Das Erwachen der Vernunft (David 1787)

135

1. Für das Leben denken: Der Sokratismus

140

2. Für das Denken leben: Der Platonismus

143

III. Der sterbende Seneca (Rubens 1611/12)

151

1. Metaphysik des Diesseits: Die hellenistische Ethik

163

2. Leben zum Jenseits: Das Christentum

177

3. Der Einstieg in die Neuzeit: Montaigne und Descartes

189

IV. Der Absolutismus der Vernunft

212

1. Die Inthronisation der Vernunft: Locke, Montesquieu und Diderot

216

2. Die Schatten der Vernunft: Hume, Rousseau und Marquis de Sade

227

3. Die Herrschaft über das Leben: Kant, Robespierre und Schiller

233

D. Zur Philosophie der Lebensformen

246

I. Wissenschaftlicher Formalismus und Lebensphilosophie

249

1. Grenze und Form bei Kant

250

2. Die Zerreißung des Individuums

253

3. Kant und die Diskursethik

256

4. Habermas, Foucault und Rorty

259

5. Simmels individuelles Gesetz und die poetisierte Kultur Rortys

261

II. Wissenschaft als Lebensform – Geist ohne Leben

264

1. Die zwei Kulturen

265

2. Kant und Goethe bei Simmel

267

3. Hegels absolutes Wissen

268

4. Marx über Hegels Einsamkeit

273

5. Webers Wissenschaft als Beruf

275

6. Wissenschaft als Idee und Lebensform bei Mittelstraß

276

7. Der objektive Geist nach Simmel

279

8. Kritik der angewandten Wissenschaften

285

9. Das Forschende Lernen

287

III. Sozialformen – Leben ohne Geist

289

1. Bourdieus Habitus

292

2. Albert Salomons Soziologie der Lebensform

295

3. Rahel Jaeggis Kritik von Lebensformen

297

4. Politische Ökonomie

300

5. Kritik der Liberalität

302

6. Pluralität von Lebensformen und experimenteller Lernprozess

304

IV. Zur Ästhetik der Existenz

307

1. Schopenhauer und Nietzsche

307

2. Die Lebensform der Mode

310

3. Die ästhetische Lebensform

312

4. Goethe und das Verhältnis zwischen Kunst und Leben

313

5. Simmels soziologische Ästhetik

316

6. Foucaults Ästhetik der Existenz

319

7. Wilhelm Schmids Lebenskunst

325

8. Pierre Hadots Philosophie als Lebensform

326

9. Individualismus, Bildung und Identität

328

V. Ausblick

332

1. Wittgensteins Lebensformkonzeption

333

2. Voraussetzungslosigkeit auf Umwegen

335

3. Montaignes Reise

336

4. Kultur und Lebensform

338

5. Lebensform und Bildung

340

Literaturverzeichnis

346

Namensregister

364