Nationalism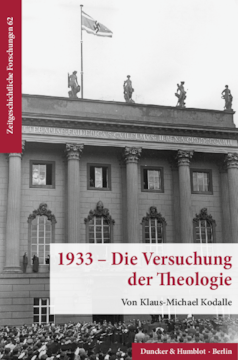 Additional Information
Book Details
ISBN

978-3-428-58370-6
978-3-428-18370-8 (print edition)

DOI

https://doi.org/10.3790/978-3-428-58370-6

Edition

1

Language

German

Pages

151

Collections

Subjects
Pricing
Institution

€ 80.00 (incl. local VAT if applicable)

Individual

€ 62.90 (incl. local VAT if applicable)
About The Author
Klaus-M. Kodalle war Professor für Praktische Philosophie an der Universität Jena. Er veröffentlichte zahlreiche Bücher zum Verhältnis von Politik und Religion (u.a. zu Hobbes, C. Schmitt, Bonhoeffer). Er lenkt die Aufmerksamkeit auf die Konstellation von Ausnahmezustand und Nonkonformität des Einzelnen. Wichtigster Anreger ist hier Kierkegaard (Publikation »Die Eroberung des Nutzlosen«, 1988). Seit dem weltgeschichtlichen Umbruch von 1989/90 wandte sich Kodalle der politisch wie moralisch außerordentlichen Erfahrungsdimension der Verzeihung zu. In mehreren Büchern untersuchte Kodalle die systematischen Dimensionen und historischen Ausprägungen von Idee und Begriff der Verzeihung (»Verzeihung denken«, 2013). Im politischen Kontext von Systemwechseln erkundete er die Möglichkeit einer Ethik der Verschonung. Er ist Mitglied der Akademie der Wissenschaften und der Literatur Mainz und Ehrendoktor der Universität Hamburg (Ev. Theologie).
Klaus-M. Kodalle was a professor of practical philosophy at the University of Jena. He published numerous books on the relationship between politics and religion (including Hobbes, C. Schmitt, Bonhoeffer). He draws attention to the constellation of the state of exception and the non-conformity of the individual. The most important inspiration here is S. Kierkegaard (publication »Die Eroberung des Nutzlosen«, 1988). Since the world-historical upheaval of 1989/90, Kodalle has turned to the politically and morally extraordinary experiential dimension of forgiveness. In several books, Kodalle examined the systematic dimensions and historical manifestations of the idea and concept of forgiveness (»Verzeihung denken«, 2013). He is a member of the Academy of Sciences and Literature Mainz and holds an honorary doctorate from the University of Hamburg (Ev. Theologie).
Abstract
Das moralische Urteil über den Nationalsozialismus als System des gigantischen Verbrechens steht fest. Die Selbstverständlichkeit dieser Distanznahme und das Gefühl moralischer Überlegenheit gegenüber den früheren Generationen lassen die Energien schwinden, in gründlichen Detailstudien verständlich zu machen, wie die geistigen Konstellationen in einzelnen Fachgebieten aussahen, in denen eine Neuorientierung vom demokratischen Pluralismus hin zur Führer-Diktatur vorbereitet wurde. Diese Vorbereitung erfolgte auf dem zur damaligen Zeit höchsten Reflexionsniveau. Von einer Primitivität der Diskurse kann demnach gar keine Rede sein. Wie Heiliger Geist und Zeitgeist sich in dem Bemühen, Orientierung zu gewinnen und zu vermitteln, verschränkten, demonstriert der Autor an Texten aus dem Fachgebiet der evangelischen Theologie: Von der Führervollmacht Jesu zu der Führervollmacht Adolf Hitlers. »The Temptation of Theology«: The greater the temporal interval to an epoch of severe crises and guilty entanglements, the more difficult it is to make transparent, turned against the compactness of self-assured moral condemnation, the ambivalences of the historical moment. The intellectual theoretical work after 1933 reflected the pressure of expectation to meet the collective wishful thinking for a reorientation. The author focuses attention on theoretically sophisticated texts of Protestant theology. In detailed analyses it is shown how familiar traditions of thought could be reconciled with the receptiveness for the authoritarian leader state.
Table of Contents
Section Title
Page
Action
Price

Inhaltsverzeichnis

5

Einleitung: 1933 – die Versuchung der Theologie

9

I. Einige Schlaglichter

10

II. Heiliger Zeitgeist. Eine Vorbemerkung zu den methodischen Grenzen dieser Studien

14

A. Paul Tillich: Auf der Grenze

15

I. 1933: Schwankend zwischen Hoffnung und Enttäuschung

15

II. Auf der Grenze? Paul Tillichs Verhältnis zum Existentialismus

19

1. Einleitung: Tillich im Spannungsfeld Kierkegaards

19

2. Macht-orientierte Daseinsanalytik. Tillichs begründungsschwache Option für den Vorrang kollektiven Einheitsdranges

24

3. Die ontologische Priorität von Substanz/Gehalt gegenüber Subjekt/Form

30

4. Macht und Machtverzicht im Kontext ambivalenter Weltstaat-Spekulation

33

5. Geschichtstheologie: 'metaphysischer Positivismusˋ

36

6. Christologie: ästhetische Unterbietung des Paradoxes

39

B. Emmanuel Hirsch: Nationalsozialistische Existenztheologie

46

I. Nationalsozialistische Existenztheologie

46

II. Mit und gegen Søren Kierkegaard

47

C. Karl Heim: Der Wunsch nach Identifizierbarkeit des göttlichen Willens

60

I. Gegen die Selbstgenügsamkeit der Theologie – für Bewährung im kritischen Diskurs und im Kraftfeld des Politischen

60

II. Identifizierbarkeit des Göttlichen? Karl Heims Rückfall in Theologisches Wunschdenken

62

1. Vorbemerkung

62

2. Die unbewusste Dynamik des Einheitsbedürfnisses

62

3. Die offene Wunde. Das 'Paradoxˋ im Apriori der 'Dimensionenˋ

64

4. Kontingenzflucht: Die Forderung nach Identifizierbarkeit des Göttlichen und der Wille zur Selbst-Preisgabe

68

5. Plädoyer für eingreifende Praxis im Zeichen theologischer Endsieg-Visionen. Gottes 'Ja zum Volkskörperˋ

71

6. Ohnmacht Gottes als Ärgernis. Religiöse Durchhalteparolen im Horizont sicherheitsfixierter Enderwartung

75

7. Die Warum-Frage – "in den Mund zurückgestoßen". Die Reaktion Bonhoeffers auf Karl Heim

81

D. Hans Michael Müller: Nachmetaphysische Theologie – nationalsozialistisch

83

I. Einleitende Vorbemerkungen

83

II. Unvermeidlicher Individualismus – unvermeidbarer Antagonismus. Die Potenzierung der Militanz durch Glauben und Theologie

84

III. Ansätze zu einer Kritik des militanten Polytheismus

89

IV. Paradox-Christologie und Systematiken als Dialekte der Heilssucht. Müller im Bezugsfeld von Kierkegaard und Barth

90

V. "Erschreckende Lieblichkeit": Die Last der Rücksichtslosigkeit gegen sich selbst. Maßlose Wahrhaftigkeit

92

VI. Die unaufhebbare Machtstruktur des Lebens – Der Tod Jesu als Besiegelung und Verklärung eines praxis-immunen Glaubens

95

VII. Der Einzelne als Opfer der Willkür des Machthaber-Gottes. Eine suizidäre Theologie

97

VIII. Gesellschaft als Raum profaner Sachlichkeit und antagonistischer Willensdynamik – Gemeinde als Kraftfeld der Verbundenheit und Spielraum der Freiheit

101

IX. Politische Prophetie als Parteinahme – 'vor dem Evangelium her…ˋ

104

X. Die Konstellation von Opferbereitschaft – Geborgenheitssehnsucht – Autoritätshörigkeit

106

XI. Vom Staatsfeind

109

XII. Vitalismus und Drang zur Hingabe an den 'letzten Sinnˋ. Generalabsolution aus dem Geist des Evangeliums

115

Nachtrag: Zur Kritik Müllers an Karl Barth

119

E. Gerhardt Kuhlmann: Aufhebung der Theologie

121

I. Fragmente einer Biografie

121

II. Holzwege der Selbstsicherung und einige Sackgassen

122

III. Das nichtige Dasein in seiner Transzendenzdynamik

127

IV. Der Zusammenbruch des Gesetzes der Verallgemeinerung: Eine divinatorische Rechtfertigung des scheiternden Willens

132

V. Gemeinschaft, Gemeinsamkeiten, das "Sein In der Mitte"

135

F. Erik Peterson: Der Kierkegaard-Impuls – Abschied vom Protestantismus

138

Nachwort: Andeutung einer theologischen Alternative

146