Constitution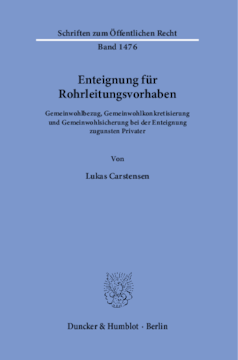 BOOK
Enteignung für Rohrleitungsvorhaben
Gemeinwohlbezug, Gemeinwohlkonkretisierung und Gemeinwohlsicherung bei der Enteignung zugunsten Privater
Schriften zum Öffentlichen Recht, Vol. 1476
(2022)
Additional Information
Book Details
ISBN

978-3-428-58588-5
978-3-428-18588-7 (print edition)

DOI

https://doi.org/10.3790/978-3-428-58588-5

Edition

1

Language

German

Pages

219

Collections

Subjects
Pricing
Institution

€ 70.00 (incl. local VAT if applicable)

Individual

€ 53.90 (incl. local VAT if applicable)
About The Author
Lukas Carstensen studierte von 2010 bis 2015 Rechtswissenschaften an der Westfälischen Wilhelms-Universität Münster. Nach dem Referendariat in Münster, Düsseldorf und Berlin folgte eine Tätigkeit als Wissenschaftlicher Mitarbeiter, ab 2018 als Rechtsanwalt für eine Essener Rechtsanwaltskanzlei. Seit 2021 ist er für das Fernstraßen-Bundesamt in Bonn tätig.
Lukas Carstensen studied law at the University of Münster from 2010 to 2015. After his legal clerkship in Münster, Düsseldorf and Berlin, he worked as a research assistant and, from 2018, as a lawyer for a law firm in Essen. Since 2021, he is employed by the Federal Highway Authority, Bonn location.
Abstract
Die Arbeit untersucht die verfassungsrechtlichen Zulässigkeitsvoraussetzungen der privatbegünstigenden Enteignung mit spezifischem Blick auf Rohrleitungsvorhaben. In kritischer Würdigung der bundesverfassungsgerichtlichen Rechtsprechung und unter Berücksichtigung bisher nicht behandelter Aspekte und bestehender offener Fragen wird der ›topos‹ privatbegünstigende Enteignung einer allgemeinen Analyse unterzogen. Die Untersuchung kommt zu dem Ergebnis, dass strengere Anforderungen als bei Enteignungen zugunsten der öffentlichen Hand verfassungsrechtlich nicht geboten sind. Insbesondere erhöhte Bestimmtheitsanforderungen sind nicht zu stellen. Im Übrigen präsentiert die Untersuchung neue Differenzierungen und genauere Handlungsanweisungen, etwa zu den Destinatären des Gemeinwohls oder der Ausgestaltung von Enteignungsgesetzen. Die dauerhafte Sicherstellung des Gemeinwohlbezugs begreift die Arbeit inhaltlich als Frage der Risikoabwehr und plädiert für ein einzelfallabhängiges Sicherungsprogramm. »Expropriation for Pipeline Projects. Common Good Reference, Concretisation of the Common Good and Safeguarding the Common Good in the Case of Expropriation in Favour of Private Parties«: The study examines the constitutional requirements for the legitimacy of expropriation in favour of private parties with regard to pipeline projects. This type of expropriation is subjected to a general analysis in a critical appraisal of constitutional court case law. As a result, stricter requirements than for expropriations in favour of the public sector are not constitutionally required. The safeguarding of the permanent public interest must be assessed on a case-by-case basis.
Table of Contents
Section Title
Page
Action
Price

Vorwort

5

Inhaltsverzeichnis

7

Abkürzungsverzeichnis

12

A. Einleitung

13

B. Spielarten der Enteignung

15

I. Enteignungsbegriff

15

II. Enteignung auf dem Gebiet des Rohrleitungsbaus: Die beschränkte persönliche Dienstbarkeit

18

III. Gesetzliche Grundlage: Nebeneinander von Legal- und Administrativenteignung

20

1. Legalenteignung

21

2. Administrativenteignung

22

a) Bundesrecht

22

b) Landesrecht

23

3. Nebeneinander von Legal- und Administrativenteignung

24

a) Rechtsprechung des Bundesverfassungsgerichts

24

b) Kritik

26

IV. Enteignung "zugunsten Privater"

29

C. Einfachgesetzliche Grundlagen für Enteignungen auf dem Gebiet des Rohrleitungsbaus

33

I. Enteignung nach dem Energiewirtschaftsgesetz

33

1. Verfassungsrechtliche Bezüge der Norm

33

2. Enteignung nach § 45 EnWG als Enteignung zugunsten Privater

34

3. Tatbestandsvoraussetzungen

35

a) Vorhabenkatalog gem. § 43 EnWG

36

b) Sonstige Vorhaben

37

c) Enteignungserforderlichkeit als energiewirtschaftliche Notwendigkeit

39

II. Rohrleitungsbau und Landesrecht

40

1. Enteignungsrechtliche Gesetzgebungskompetenz

40

2. Rangverhältnis von Enteignungsgesetzen

42

3. Allgemeine Enteignungsgesetze als subsidiäre Instrumentarien

43

4. Enteignungsrechtliche Fachgesetze auf Landesebene

46

5. Projektbezogene Enteignungsgesetze

46

a) MERO-Gesetz

46

b) NRWRohrlG

48

c) BayRohrlEnteigG

49

d) BWEthylRohrlG

50

D. Enteignung zugunsten Privater im Lichte der Rechtsprechung

52

I. Urteil des Bundesverfassungsgerichts vom 10. März 1981 (Gondelbahn) und Sondervotum Böhmers, BVerfGE 56, 266

52

II. Kammerbeschluss des Bundesverfassungsgerichts vom 20. März 1984 (Energiewirtschaftsgesetz), BVerfGE 66, 248

55

III. Urteil des Bundesverfassungsgerichts vom 24. März 1987 (Prüfgelände Boxberg), BVerfGE 74, 264

56

IV. Urteil des Bundesverfassungsgerichts vom 17. Dezember 2013 (Garzweiler), BVerfGE 134, 242

60

V. Kammerbeschluss des Bundesverfassungsgerichts vom 21. Dezember 2016 (NRWRohrlG)

65

VI. Kammerbeschluss des Bundesverfassungsgerichts vom 25. Januar 2017 (BWEthylRohrlG)

67

VII. Aktueller Befund

69

1. Grundsätzliche Zulässigkeit der Enteignung zugunsten Privater

69

2. Allgemeinwohl: Weite Einschätzungsprärogative des Gesetzgebers

70

3. Hinreichende gesetzliche Konkretisierung von Vorhaben und Gemeinwohlziel

70

4. Gesetzliche Sicherung dauerhafter Gemeinwohlnutzung

71

5. Enteignungserforderlichkeit und Enteignungsverhältnismäßigkeit, insbesondere Gesamtabwägung

74

E. Verfassungsrechtliche Voraussetzungen der Enteignung zugunsten Privater

75

I. Terminologisches Spektrum

75

1. Allgemeinwohl und öffentliches Interesse

75

2. Gemeinwohlziel – Enteignungszweck – Entziehungszweck

77

II. Allgemeinwohl

78

1. Abgrenzung zulässiger Gemeinwohlziele

79

a) Festlegung von Gemeinwohlzielen als "Qualifikationskompetenz" des parlamentarischen Gesetzgebers

80

aa) Wesentlichkeitslehre

81

bb) Gesetzmäßigkeit der Enteignung

81

cc) Kein statischer Gemeinwohlbegriff

84

b) Grenzen der gesetzgeberischen Gestaltungsfreiheit – Justiziabilität des Gemeinwohls anhand von Negativkriterien

84

aa) Negativkatalog

85

bb) Rein privatnützige Belange

88

cc) Beruhen auf offensichtlich unzulässiger Beurteilung

89

c) Positive Merkmale des Gemeinwohls

91

aa) Enteignungsrechtliche Gemeinwohlintensität

92

bb) Abgrenzung zu Art. 14 Abs. 2 S. 2 GG

93

cc) Staatsaufgaben als messbarer Schweregrad von Gemeinwohlintensität?

94

dd) Anforderungen an die Gemeinwohlintensität bei Enteignungen zugunsten Privater

95

ee) Gemeinwohl als Ergebnis einer bilanzierenden Abwägung

97

(1) Abwägungsvorgang und Verhältnismäßigkeitsgrundsatz

98

(2) Gerichtliche Bilanzierungskontrolle

99

d) Fallbeispiele für Gemeinwohlbelange auf dem Gebiet des Rohrleitungsbaus

100

aa) Gutnachbarschaftliche Beziehungen

101

bb) Stärkung der wirtschaftlichen Struktur und Sicherung von Arbeitsplätzen

101

cc) Verbesserung der Transportsicherheit

102

dd) Zwischenergebnis

103

2. Gemeinwohlbezug als Zulässigkeitsvoraussetzung der Enteignung

104

a) Enteignungsrechtliche Gemeinwohldienlichkeit

104

b) Exklusivität des Gemeinwohlbezugs

105

c) Destinatar des Gemeinwohls und grenzüberschreitende Bezüge

106

3. Allgemeinwohl und Privatwirtschaft

112

a) Kein verfassungsrechtlicher Ausschluss \nbestimmter Enteignungsbegünstigter

113

aa) Privatbegünstigende Enteignungen als historischer Normalfall

115

bb) Schutzzweck der Eigentumsgarantie

117

b) "Enteignungsansprüche" des privaten Unternehmens

118

aa) Anspruch auf behördliches Einschreiten

118

bb) Anspruch auf gesetzgeberisches Tätigwerden

120

III. Formelle Anforderungen an Enteignungsgesetze

121

1. Hintergrund weitergehender Konkretisierungserfordernisse

121

a) Vorbehalt des Gesetzes und Bestimmtheitsgrundsatz

122

b) Wesentlichkeitslehre

124

2. Wesentlichkeit als Kriterium der Regelungsdichte

125

a) Regelungsstoff

125

b) Regelungsmethode

126

3. Enteignungsrechtliche Wesentlichkeit

127

a) Regelungsstoff in Enteignungsgesetzen

127

aa) Gemeinwohlziel und Vorhaben

128

bb) Zugriffsobjekt und sonstige materielle Zulässigkeitsvoraussetzungen

129

cc) Erklärung über das Zugriffsmittel

130

dd) Regelung des Enteignungsverfahrens?

130

ee) Sicherungsregelung

132

ff) Vorgaben für die Gesamtabwägung?

133

gg) Entschädigungsregelung

135

b) Regelungsgestaltung in Enteignungsgesetzen

136

aa) Interdependenz von Gemeinwohlziel und Vorhaben

137

bb) Gemeinwohlziel

138

(1) Beispiel Wirtschaftsförderung

140

(2) Beispiel Arbeitsplätze

142

(3) Beispiel Transportsicherheit

143

(4) Negativbeispiele

144

cc) Vorhaben

144

dd) Gestaltung der sonstigen Regelungsmaterie

146

c) Einheitliche enteignungsrechtliche Bestimmtheitsanforderungen

149

IV. Nachhaltigkeit des Gemeinwohlbezugs

153

1. Erfordernis eines dauerhaften Gemeinwohlbezugs

153

2. Gemeinwohlverantwortung und Sicherungsauftrag

155

3. Risikoabwehr als Inhalt des Sicherungsauftrags

156

a) Risiken für den Gemeinwohlbezug

156

b) Risikobewertung

158

aa) Subsumptionsrisiko

158

bb) Gemeinwohlzielprognoserisiko

159

cc) Verhaltensrisiko

160

dd) Zwischenergebnis

162

c) Sicherungsprogramm als Programm der Risikoabwehr

162

aa) Handlungsoptionen: Erfolgs- oder verhaltensorientierte Maßnahmen?

163

bb) Bewertung der Handlungsoptionen

164

(1) Status des Enteignungsbegünstigten: Indienstnahme oder Rechtsverhältnis sui generis?

164

(2) Eingriffe in den Schutzbereich und Ungleichbehandlung

168

(3) Verfassungsrechtliche Rechtfertigung, insbesondere Verhältnismäßigkeitsprüfung

171

(a) Legitimer Zweck: Risikoabwehr als Sicherung des Gemeinwohlbezugs

172

(b) Geeignetheit: Beherrschbarkeit von Gemeinwohlzielen

173

(c) Erforderlichkeit: Vertrauensvorschuss?

175

(d) Angemessenheit: Verantwortung des Enteignungsbegünstigten?

177

(4) Zwischenergebnis: Einzelfallabhängiges Sicherungsprogramm

181

4. Sicherungsmittel und formelle Anforderungen

181

a) Gesetzliche Sicherungsgrundlage

182

b) Anspruch auf Rückübereignung

184

c) Vertragliche Sicherungsverpflichtung

187

V. Enteignungsrechtliche Verhältnismäßigkeit

189

1. Geeignetheit: Förderung von Vorhaben und Gemeinwohlziel

189

2. Erforderlichkeit: Unverzichtbarkeit der Maßnahme und Gebotenheit des Vorhabens

190

3. Angemessenheit, insbesondere Gesamtabwägung

193

F. Zusammenfassung in Thesen

196

Literaturverzeichnis

201

Sachwortverzeichnis

217