Methods, theory & philosophy of law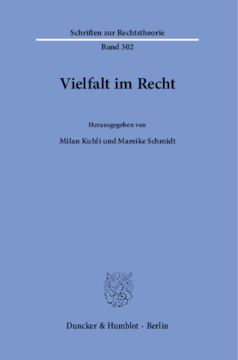 Additional Information
Book Details
ISBN

978-3-428-55984-8
978-3-428-15984-0 (print edition)

DOI

https://doi.org/10.3790/978-3-428-55984-8

Edition

1

Language

German

Pages

142

Collections

Subjects
Pricing
Institution

€ 92.00 (incl. local VAT if applicable)

Individual

€ 71.90 (incl. local VAT if applicable)
About The Author
Milan Kuhli studierte Rechtswissenschaft (1. Staatsexamen) und Mittlere und Neuere Geschichte (Magister mit dem Nebenfach Politologie) an der Johann Wolfgang Goethe-Universität Frankfurt am Main. Nach dem juristischen Referendariat (2. Staatsexamen) wurde er an der Goethe-Universität zum Dr. jur. und zum Dr. phil. promoviert. Es folgten die Ernennung zum Juniorprofessor für Strafrecht an der Universität Mannheim und die Habilitation durch den Fachbereich Rechtswissenschaft der Goethe-Universität. Seit Sommersemester 2016 ist Milan Kuhli Professor für Strafrecht und Strafprozessrecht einschließlich ihrer internationalen und historischen Bezüge an der Universität Hamburg.

Mareike Schmidt studierte Rechtswissenschaft in Würzburg, Berlin (Humboldt-Universität) und Peking (Tsinghua-Universität). Anschließend war sie wissenschaftliche Mitarbeiterin an der Universität Basel, wo sie im Jahr 2012 mit einer rechtsvergleichenden Arbeit im Produkthaftungsrecht promoviert wurde. Es folgten eine Anstellung als Mitarbeiterin am Zentrum für rechtswissenschaftliche Fachdidaktik der Universität Hamburg sowie das juristische Referendariat. Seit 2016 ist Mareike Schmidt Juniorprofessorin für Privatrecht und rechtswissenschaftliche Fachdidaktik an der Universität Hamburg.
Milan Kuhli is Professor for Criminal Law and Criminal Procedure including its International and Historical Context at Hamburg University. Kuhli has graduated in law as well as in Medieval and Modern History and Political Science. He holds a Dr. iur. and a Dr. phil. from Goethe-Universität Frankfurt. In 2015 he gained a Venia Legendi for Criminal Law, Criminal Procedure, International Criminal Law, Modern Legal History, Philosophy of Law, and Criminal Economic Law. Before joining Universität Hamburg in 2016 Kuhli was Assistant Professor of Criminal Law at Universität Mannheim.

Mareike Schmidt studied law in Würzburg, Berlin (Humboldt University) and Beijing (Tsinghua University). Subsequently, she was a research assistant at the University of Basel, where she received her doctorate in 2012 with a comparative law thesis in product liability law. Subsequently, she worked at the Center for Legal Education at the University of Hamburg and completed her legal clerkship (Referendariat). Since 2016, Mareike Schmidt has been a junior professor for private law and legal didactics at the University of Hamburg.
Abstract
Vielfalt im Recht hat zahlreiche Facetten. Sich diesen unterschiedlichen Dimensionen anzunähern, also sozusagen die »Vielfalt der Vielfalt« aufzufächern und unterschiedliche Zugänge dazu und Perspektiven darauf aufzuzeigen, war das Anliegen einer Tagung, die im Sommer 2019 an der Universität Hamburg stattfand. Was aber verbirgt sich hinter der Idee – oder besser: den Ideen – der Vielfalt im Recht? Vielfalt kann beispielsweise ein Faktum sein, mit dem Recht umgehen muss (etwa: kulturelle Vielfalt); sie kann ein Ziel sein, das durch Recht verfolgt wird (beispielsweise: Medienpluralismus); sie kann auch eine Methode oder ein Mittel sein, mit der bzw. dem das Recht arbeitet (z.B. die Vielfalt der sozialen Träger). Diese und weitere Dimensionen werden in dem Sammelband anhand ausgewählter Teildisziplinen des Rechts beleuchtet. »Diversity in Law«: Diversity in law has many facets. For example, it can be a fact that law has to deal with; it can be a goal that law pursues; it can also be a method or a means by which law works. These and other dimensions are examined in this volume, which emerged from a conference at the University of Hamburg, on the basis of selected sub-disciplines of law
Table of Contents
Section Title
Page
Action
Price

Vorwort

5

Inhaltsverzeichnis

7

Mareike Schmidt & Milan Kuhli: Vielfalt im Recht – eine Einleitung

9

I. Gesellschaftliche Vielfalt

10

II. Rechtliche Vielfalt

10

III. Zusammenhänge und Verhältnisse

12

Anna Katharina Mangold: Gleichheitsdogmatik als Verarbeitung von Vielfalt

14

I. Rechtliche Gleichheit: Abstraktion von unendlicher Vielfalt

15

1. Individualität und Gleichheit

16

2. Unterscheidungskategorien und ihre Konstruktion

19

3. Dominantes Normalmodell

20

4. Zusammenfassung

21

II. Historische Entwicklung der Gleichheitsdogmatik: Von formaler zu materialer Gleichheit

22

1. Drei-Phasen-Modell von Gleichheitskämpfen

22

2. Gleichheitsverständnisse

24

a) Formales Gleichheitsverständnis

24

b) Symmetrisches Gleichheitsverständnis

24

c) Vielfalt kategorialer Ausprägungen und Gleichheit

25

d) Materiales Gleichheitsverständnis

25

aa) Dekonstruktion des "Normalmodells" vermeintlich neutraler rechtlicher Regelungen

26

bb) Heterogenität der geschützten Personengruppen: Intersektionalität

27

cc) Dogmatische Figuren eines materialen Gleichheitsverständnisses

27

III. Anwendungsbeispiel: Das Kopftuch der Richterin zwischen "Neutralität" und Gleichheit

28

Bijan Fateh-Moghadam: Toleranz oder Neutralität?

32

I. Einleitung: Die Vielfalt des Rechts

32

II. Die Rückkehr der Toleranz: Paradigmenwechsel in der Religionspolitik?

33

III. Zum Verhältnis von Neutralität und Toleranz

36

IV. Die Lehren der Ideengeschichte von Toleranz und Neutralität

42

V. Ausblick: Europäische Religionspolitik am Scheideweg

47

Literaturverzeichnis

48

Hans-W. Micklitz: European Regulatory and Private Law – Between Neoclassical Elegance and Postmodern Pastiche

75

I. The European Context

75

II. Uniformity, Abstraction and Generality in and through ERPL

78

III. Differentiation in and through ERPL

83

IV. European Society in and through ERPL

88

V. Heterogeneity in and through ERPL

94

VI. Conclusion – is there a conclusion?

98

Hans-Heinrich Trute: Verwaltung und Verwaltungsrecht zwischen Einheit und Vielfalt

52

I. Einleitung

52

II. Die Organisation und Gewährleistung von Vielfalt durch Verwaltungsrecht

53

1. Das Medienrecht

53

a) Vielfalt als Leitbegriff und Leerstelle

54

b) Pluralisierung der Vertreter des Staates und der Politik als Vielfaltssicherung

56

c) Staat als Mitspieler im Vielfaltskonzert

57

2. Jugendhilferecht

59

3. Grundrechte als Vielfaltsgenerator und als Einheitstreiber

61

III. Vielfalt oder Einheit der Verwaltung?

62

1. Zwischen Ausdifferenzierung und Einheitspostulaten

62

2. Die Pluralisierung der Verwaltung

64

3. Herstellung von Einheit?

65

4. Differenzierung und Einheitsbildung

66

IV. Das Allgemeine Verwaltungsrecht als Antwort auf die Ausdifferenzierung der Verwaltungsrechtsordnung?

66

V. Einheit und Vielfalt in der Anwendung des Rechts

68

1. Von der klassischen Methode zur Praxis von Interpretationsgemeinschaften

69

2. Analyse der professionellen Arbeit als Aufgabe

70

VI. Schluss

71

Literaturverzeichnis

72

Florian Rödl: Die Einheit des Arbeitsrechts

100

I. Vielfalt und Einheit

100

II. Zivilrecht, Privatrecht, Arbeitsrecht

102

III. Einheit I: Kündigungsschutz

104

1. Die irrige Vorstellung von Kündigungsfreiheit

104

2. Rücktritt für die Zukunft

105

3. (Nur) Bei Wegfall des Bedarfs

106

4. Unabdingbarkeit

108

5. Zwischenfazit

109

IV. Einheit II: Tarifautonomie

109

1. Die zivilrechtliche Unterstellung: Wille eines Tauschs zum Wert

109

2. Bestimmung des Wertes der Arbeitsleistung durch Tarifnormen

109

3. Beschränkung der Tarifnormgeltung als Anreiz zum Gewerkschaftsbeitritt

110

4. Tarifvertrags- und Arbeitskampfrecht als öffentliches Recht

113

5. Zwischenfazit

114

V. Einheit III: Betriebsverfassung

114

1. Das Weisungsrecht und seine zivilrechtliche Grenze

114

2. Die Verteilung freiwilliger Leistungen und ihr zivilrechtliches Maß

115

3. Bestimmung von Billigkeit und Fairness durch Betriebsnormen

116

4. Betriebsverfassungsgesetz als öffentliches Recht

118

5. Zwischenfazit

119

VI. Schluss

119

Literaturverzeichnis

120

Peter Collin: Justizielle Vielfalt – Alternativen zur ordentlichen Gerichtsbarkeit im späten Kaiserreich und der Weimarer Republik

121

I. Einleitung

121

II. Ausgangslage

122

III. Dimensionen der Vielfalt

124

1. Pluralisierung der Organisationslandschaft

124

2. Pluralisierung des Verfahrens

127

3. Pluralisierung der materiellen Entscheidungsrationalitäten

129

IV. Schluss

134

Literaturverzeichnis

137

Verzeichnis der Autorinnen und Autoren

141