Consumer protection law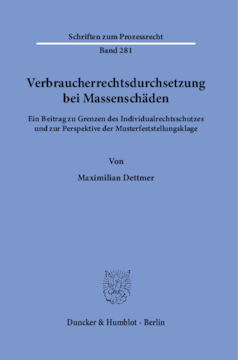 BOOK
Verbraucherrechtsdurchsetzung bei Massenschäden
Ein Beitrag zu Grenzen des Individualrechtsschutzes und zur Perspektive der Musterfeststellungsklage
Schriften zum Prozessrecht, Vol. 281
(2022)
Additional Information
Book Details
ISBN

978-3-428-58568-7
978-3-428-18568-9 (print edition)

DOI

https://doi.org/10.3790/978-3-428-58568-7

Edition

1

Language

German

Pages

300

Collections

Subjects
Pricing
Institution

€ 104.00 (incl. local VAT if applicable)

Individual

€ 79.90 (incl. local VAT if applicable)
About The Author
Maximilian Dettmer studierte von Oktober 2014 bis März 2019 Rechtswissenschaften an der Universität Leipzig. Von Oktober 2019 bis März 2022 war er an der Universität Augsburg als wissenschaftlicher Mitarbeiter am Lehrstuhl für Bürgerliches Recht, Zivilverfahrensrecht, Unternehmensrecht, Europäisches Privat- und Internationales Verfahrensrecht von Herrn Professor Dr. Raphael Koch, LL.M. (Cambridge), EMBA tätig. Dabei forschte er vorwiegend im Bereich des Zivilverfahrensrechts und beschäftigte sich insbesondere mit dem kollektiven Rechtsschutz sowie mit aktuellen Herausforderungen für die Ziviljustiz. Seit April 2022 absolviert er sein Rechtsreferendariat am OLG Stuttgart.
Maximilian Dettmer studied law at the University of Leipzig from October 2014 to March 2019. From October 2019 to March 2022, he worked at the University of Augsburg as a rese-arch assistant at the Chair of Civil Law, Civil Procedure Law, Corporate Law, European Pri-vate and International Procedural Law of Professor Dr. Raphael Koch, LL.M. (Cambridge), EMBA. His research dealt mainly with the area of civil procedural law and focused in particu-lar on collective redress and current challenges for the civil justice system. He is currently completing his legal traineeship at the Higher Regional Court of Stuttgart.
Abstract
Spätestens der im Jahr 2015 aufgedeckte Abgasskandal hat erhebliche Defizite in der Verbraucherrechtsdurchsetzung bei Massenschäden offenbart. Die Ziviljustiz und das auf den Individualrechtsschutz ausgerichtete Zivilverfahrensrecht waren nicht darauf vorbereitet, ein solch umfassendes Schadensereignis mit einer Vielzahl gleichartig geschädigter Verbraucherinnen zu bewältigen. Als Reaktion hierauf wurde insbesondere die Musterfeststellungsklage eingeführt. Die Arbeit untersucht, inwieweit das neue Verfahren mit den hergebrachten Grundsätzen des Prozessrechts zu vereinbaren ist und baut eine Brücke zwischen Individual- und Kollektivrechtsschutz. Außerdem widmet sie sich den Fragen, ob und wie die zentralen Vorgaben der neuen EU-Verbandsklagenrichtlinie im bestehenden Instrument der Musterfeststellungsklage umgesetzt werden könnten und sollten, sowie mit welchen Maßnahmen sich die vielfältigen Rechtsschutzmöglichkeiten für Verbraucherinnen ansonsten ausbauen und verbessern ließen. »Consumer Law Enforcement in Mass Tort Cases. A Contribution to the Limits of Individual Legal Protection and the Perspective of the Model Declaratory Action«: The diesel emissions scandal revealed considerable deficits in the enforcement of consumer rights in cases of mass damage and ultimately led to the introduction of the »Model Declaratory Action«, the first collective legal protection instrument in the individualistic ZPO. After more than three years of testing, the question shall now be answered – especially in light of the new EU directive on representative actions – whether the model has a future and to what extent changes are required.
Table of Contents
Section Title
Page
Action
Price

Vorwort

5

Inhaltsübersicht

7

Inhaltsverzeichnis

9

§ 1 Einleitung

15

A. Hintergrund

16

I. Zunehmende Massenschadensfälle

16

II. Bisherige Bündelungsmöglichkeiten

18

B. Untersuchungsanlass

20

I. Zwischenbilanz

20

II. Rechtspolitische Entwicklungen

23

C. Wissenschaftliche Zielsetzung und Gang der Darstellung

26

1. Teil: Zivilprozessuale Problematik von Massenschäden

28

§ 2 Prozessrechtlicher Rahmen

28

A. Leitbild des Zivilprozesses

28

I. Begriff der Parteien

29

II. Bedeutung der Parteistellung

30

III. Prozessmaximen

31

1. Dispositionsmaxime und rechtliches Gehör

32

2. Verhandlungsmaxime

33

IV. Konsequenzen bei Massenschäden

34

1. Grenzen des Individualrechtsschutzes

35

2. Vorgaben für den Kollektivrechtsschutz

36

a) Konzentration der Verfahrensleitung

36

b) Disposition über Verfahrensbeteiligung

38

B. Zweck des Zivilprozesses

39

I. Individualrechtsschutz

39

II. Kollektivrechtsschutz

40

1. Verbandsklagen mit gesetzlichem Mandat

41

2. Bündelungsformen (auch) mit Individualmandat

42

C. Fazit

44

§ 3 Defizite des Individualrechtsschutzes

45

A. Prozessunökonomische Verfahrensbewältigung

46

I. Justiz als begrenzte Ressource

46

II. Verzögerungsgefahren durch Klagewellen

49

III. Auswirkungen paralleler Prozesse

49

IV. Fazit

51

B. Prozessuales Ungleichgewicht

52

I. Unternehmerisches Abwehrinteresse

53

1. Präzedenzherbeiführung

54

2. Präzedenzverhinderung

55

II. Unternehmerische Abwehrstrategie

56

III. Auswirkungen auf Rechtsdurchsetzung

59

1. Beeinträchtigung prozessualer Waffengleichheit

59

2. Hervorrufen eines Abschreckungseffekts

62

C. Rationales Desinteresse

63

I. Verbraucherinnen als Betroffene

63

1. Schwächen im rechtlichen Konflikt

64

2. Flucht aus dem Individualverfahren

65

II. Relevante Faktoren

68

1. Kosten

69

a) Zusammensetzung und Prozesskostenrisiko

69

b) Kostenreduzierung

71

c) Fazit

73

2. Aufwand

74

a) Zeitliche Faktoren

74

b) Psychologische Faktoren

77

III. Abwägungsentscheidung über Rechtsverfolgung

78

D. Typisierung von Massenschäden

79

I. Abgrenzung nach Abwägungsabhängigkeit

80

II. Richtwert für Bagatellbereich

82

§ 4 Lösungsansätze für Massenschäden

84

A. Ausklammerung echter Bagatellschäden

84

B. Potenziale und Grenzen des Individualrechtsschutzes

86

I. Beschleunigtes Online-Verfahren

86

II. Digitale Einkleidung und Unterstützung

88

III. Vorabentscheidungsverfahren

90

C. Bedürfnis für Kollektivrechtsschutz

92

I. Modellierungen

93

1. Zielrichtung (Muster-)Feststellung

94

2. Zielrichtung Leistung

95

II. Qualitätsmerkmale

95

1. Systemkonformität und Balance

96

2. Effizienz und Effektivität

97

2. Teil: Einordnung der Musterfeststellungsklage

99

§ 5 Ausgestaltung des Verfahrens

99

A. Grundstruktur

99

I. Beteiligte

100

1. Klägerseite

100

a) Prozessstandschaft der Musterklägerin

101

b) Anmeldebefugnis der Verbraucherinnen

102

2. Beklagtenseite

104

II. Klagegegenstand

104

III. Zuständigkeit und Rechtsmittel

107

B. Zulässigkeit

109

I. Klagebefugnis qualifizierter Einrichtungen

109

1. Mitgliedszahl und Eintragungszeit

110

2. Anforderungen an Interessenwahrnehmung

111

3. Finanzielle Unabhängigkeit

114

4. Fazit

115

II. Vorgreiflichkeit und Quorum

115

C. Einleitung und Ablauf des Verfahrens

116

I. Öffentliche Bekanntmachung im Klageregister

117

II. Anspruchsanmeldung

118

1. Anforderungen

118

2. Rücknahme

120

3. Wirkungen

121

III. Verfahrensrechtliche Besonderheiten

123

1. Sperrwirkung und Verfahrenskoordination

124

2. Abweichungen zu allgemeinen Verfahrensregeln

126

D. Beendigung

127

I. Musterfeststellungsurteil

128

1. Reichweite der Bindungswirkung

128

2. Rechtsnatur der Bindungswirkung

129

II. Musterfeststellungsvergleich

131

1. Besondere Voraussetzungen

131

a) Genehmigung durch das Gericht

132

b) Austrittsrecht der Verbraucherinnen

133

2. Praktische Umsetzung

134

§ 6 Systematische Vereinbarkeit

137

A. Prozessrechtliche Rahmenbedingungen

137

I. Maximentreue

138

II. Hauptprozesszweck

140

III. Fazit

142

B. Verfassungsrechtliche Vorgaben

142

I. Anspruch auf rechtliches Gehör

143

1. Einschränkungen im Musterfeststellungsverfahren

144

2. Freiwilliger Verzicht auf rechtliches Gehör

146

a) Zulässigkeit des Gehörsverzichts

147

aa) Risiko eines Rechtsnachteils

149

bb) Entscheidungsbewusstsein

150

b) Ausbau der Schutzvorkehrungen

151

3. Fazit

154

II. Justizgewährleistungsanspruch/Gebot effektiven Rechtsschutzes

155

III. Prozessuale Waffengleichheit

157

1. Einschränkung im Musterfeststellungsverfahren

157

2. Zeitpunkt eines Gegenantragsrechts

159

3. Bestehen eines Gegenantragsrechts

160

C. Verhältnis zu weiteren ZPO-Vorschriften

163

I. Zulassung einer Klageänderung

164

1. Ausgangslage

165

2. Klageänderung nach erstem Termin

165

II. Zulassung eines Versäumnisurteils

169

D. Fazit

171

3. Teil: Perspektive der Musterfeststellungsklage

172

§ 7 Weiterentwicklung des Kernkonzeptes

172

A. Zweistufigkeit des Modells

173

I. Analyse der Verfahrensszenarien

173

1. Anmeldephase

174

2. Verfahrensende durch Vergleich

176

a) Hindernisse im Musterfeststellungsverfahren

177

b) Rahmenbedingungen eines Verbesserungsansatzes

179

3. Verfahrensende durch Urteil

181

4. Fazit

184

II. Spielraum für Umsetzung der Verbandsklagenrichtlinie

184

B. Umsetzungsperspektive der Verbandsklagenrichtlinie

186

I. Richtlinienvorgaben

188

1. Arten von Verbandsklagen

189

2. Anwendungsbereich

190

3. Klagebefugnis

191

4. Einbeziehung der Verbraucherinnen

193

5. Informations- und Unterrichtungspflichten

195

6. Verfahrensausgang

196

II. Abhilfe im Rahmen der Musterfeststellungsklage

198

1. Musterfeststellungsklage als taugliches Grundgerüst

199

a) Richtlinienkonforme Regelungen

199

b) Mögliche Anpassungen

201

2. Modellierung eines integrierten Leistungsmechanismus

202

a) Entscheidung über Mindestabhilfe

203

b) Individuelle Verteilungsphase

206

c) Abhilfefrist und Austrittsrecht

207

C. Stärkung der Anschlusslösungen

208

I. Individualklageweg

209

1. Digitalisierungspotenzial

209

2. Gebührensenkung

211

II. Anderweitige Szenarien

212

1. Gebündelte Forderungseinziehung durch Verband

212

2. Forderungsabtretung an Inkassodienstleisterinnen

214

a) Ausgangslage

216

b) Rechtslage ab 1.10.2021

218

aa) Umfang der zulässigen Tätigkeit

219

bb) Kombination mit Prozessfinanzierung

220

cc) Aufklärung der Verbraucherinnen

222

dd) Erweitertes Registrierungsverfahren

223

c) Fazit

225

3. Anspruch auf Schlichtungsverfahren

226

D. Fazit

227

§ 8 Einzelfragen

229

A. Finanzierung

229

I. Finanzierungsbedarf der Musterklägerin

231

1. Verfahrensvorbereitung

231

2. Verfahrensdurchführung

233

II. Handlungsmöglichkeiten

236

1. Umgestaltung der Klagebefugnis

237

a) Streichung der Zusatzanforderungen

237

b) Erweiterung der Klageberechtigung

240

2. Ausbau externer Unterstützung

242

a) Gewerbliche Prozessfinanzierung

242

aa) Hürden de lege lata

242

bb) Aussichten de lege ferenda

244

b) Staatliche Förderung

245

3. Fazit

247

B. Anmeldung

248

I. Verjährungsfalle

248

1. Prozessrechtliche Lösung

250

2. Materiell-rechtliche Lösung

253

a) Rechtsfortbildung de lege lata

253

aa) Teleologische Reduktion

253

bb) Einzelanalogie

254

b) Modifikation de lege ferenda

256

3. Sonderfall Scheinverbraucherin

257

II. Anspruchsabtretung

259

1. Forderungszession nach Anmeldung

259

a) Zulässigkeit

260

b) Einbeziehung der Zessionarin

261

2. Forderungszession vor Anmeldung

262

C. Haftung

264

I. Ersatzanspruch gegen Musterklägerin

264

1. Vertragliches Schuldverhältnis

265

2. Gesetzliches Schuldverhältnis

267

II. Ersatzanspruch gegen Prozessbevollmächtigte

268

III. Fazit

271

4. Teil: Schlussbetrachtung

273

§ 9 Ergebnisse

273

A. Zivilprozessuale Problematik von Massenschäden (1. Teil)

273

B. Einordnung der Musterfeststellungsklage (2. Teil)

275

C. Perspektive der Musterfeststellungsklage (3. Teil)

278

Literaturverzeichnis

281

Stichwortverzeichnis

298