Constitution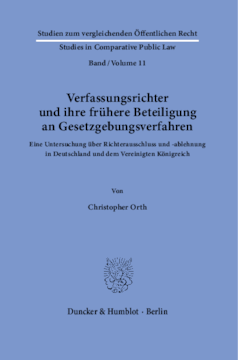 Additional Information
Book Details
ISBN

978-3-428-58563-2
978-3-428-18563-4 (print edition)

DOI

https://doi.org/10.3790/978-3-428-58563-2

Edition

1

Language

German

Pages

265

Collections

Subjects
Pricing
Institution

€ 104.00 (incl. local VAT if applicable)

Individual

€ 79.90 (incl. local VAT if applicable)
About The Author
Christopher Orth studierte von Oktober 2012 bis Januar 2019 Rechtswissenschaften an der Johannes Gutenberg-Universität in Mainz. Im Anschluss an die erste juristische Staatsprüfung verfasste er seine Dissertation, in deren Zuge er einen Forschungsaufenthalt an der University of Edinburgh in Schottland durchführte. Seit November 2020 absolviert er den juristischen Vorbereitungsdienst im Bezirk des Oberlandesgerichtes Frankfurt am Main.
Christopher Orth studied law at the Johannes Gutenberg-University in Mainz from October 2012 to January 2019. Following the first state law examination he wrote his thesis, in the course of which he conducted a research stay at the University of Edinburgh in Scotland. Since November 2020, he has been completing his legal traineeship at the Higher Regional Court in Frankfurt am Main.
Abstract
Die zurückliegende legislative Mitwirkung eines Verfassungsrichters – etwa als Abgeordneter oder vorbereitender Gutachter – an einem Gesetzeswerk, welches nun zur verfassungsgerichtlichen Überprüfung vorliegt, wirft Fragen nach der richterlichen Unvoreingenommenheit auf. Die Arbeit bereitet die einschlägige Kasuistik bundesverfassungsgerichtlicher Entscheidungen zu §§ 18 und 19 BVerfGG auf und vergleicht diese mit der Rechtspraxis der obersten Gerichte des Vereinigten Königreiches. Deren Richter waren neben ihrer judikativen Funktion teils zugleich Abgeordnete des parlamentarischen Oberhauses und somit direkt in den legislativen Alltag eingebunden. Der Gang der Untersuchung zeigt, dass die britische Rechtspraxis zum Schutz der richterlichen Unvoreingenommenheit in Ansehung zurückliegender gesetzgeberischer Tätigkeiten fundamentale Veränderungen durchlief. Auf Grundlage dieser Bestandsaufnahme werden die Lösungen beider Rechtsordnungen dargelegt, verglichen und eingeordnet. »Constitutional Judges and their past Involvement in Legislative Processes. A study of Judicial Disqualification and Recusal in Germany and the United Kingdom«: Sections 18 and 19 of the Federal Constitutional Court Act serve to ensure the impartiality of the judges of the German Federal Constitutional Court (GFCC). The thesis examines, whether the provisions meet this objective also in light of past legislative activities of its judges. For this purpose, the relevant case law of the GFCC is compared to the legal practice in the United Kingdom, whose legal system was characterized by a direct interconnection between the highest courts and parliament.
Table of Contents
Section Title
Page
Action
Price

Vorwort

5

Inhaltsverzeichnis

7

Abkürzungsverzeichnis

11

A. Einleitung

15

I. Problemstellung

15

II. Methode des Rechtsvergleiches

20

III. Grundlagen

24

1. Englisches common law

24

2. Die Verfassung des Vereinigten Königreiches

28

a) Rechtsquellen

29

b) Maximen und Grundprinzipien der Verfassung

31

aa) Parliamentary sovereignty

31

bb) Rule of law

33

3. Begriffsklärung "Verfassungsgericht"

35

a) Wesen der Verfassungsgerichtsbarkeit

36

aa) Das "europäische" Modell

36

bb) Das "amerikanische" Modell

37

b) Stellung des höchsten Gerichtes im Vereinigten Königreich

39

c) Verfassungsgerichtliche Tendenzen im Vereinigten Königreich

41

aa) European Communities Act 1972

42

bb) Human Rights Act 1998

44

cc) Devolutionsgesetze

46

dd) Rule of law

48

ee) Zwischenergebnis

49

B. Die richterliche Unabhängigkeit und Unvoreingenommenheit als verfassungsrechtliche Prinzipien

51

I. Die Gewaltenteilung in Bezug zur Verfassungsgerichtsbarkeit

51

1. Ausgestaltung in der Bundesrepublik

52

2. Ausgestaltung im Vereinigten Königreich

56

a) Teil der rule of law

57

b) Funktionelle Aufteilung

58

c) Personelle und institutionelle Trennung durch den CRA 2005

60

II. Richterliche Unabhängigkeit und Unvoreingenommenheit

62

1. Richterliche Unabhängigkeit

63

a) Sachlich

65

aa) Unabhängigkeit von der Exekutive

65

(1) Deutschland

65

(2) Vereinigtes Königreich

66

bb) Unabhängigkeit von der Legislative

67

(1) Deutschland

67

(2) Vereinigtes Königreich

69

cc) Unabhängigkeit innerhalb der Judikative

69

(1) Deutschland

69

(2) Vereinigtes Königreich

70

dd) Einflussnahme durch die Öffentlichkeit

71

(1) Deutschland

71

(2) Vereinigtes Königreich

72

b) Persönlich

72

aa) Deutschland

73

bb) Vereinigtes Königreich

74

2. Richterliche Unvoreingenommenheit

75

a) Verhältnis zur richterlichen Unabhängigkeit

75

b) Verfassungsrechtliche Verankerung

78

aa) Deutschland

78

bb) Vereinigtes Königreich

81

c) Konkretisierung

82

d) Begrifflichkeiten

83

e) Gefährdung durch vorherige legislative Vorbefassung

85

C. Ausschluss und Ablehnung von Verfassungsrichtern wegen legislativer Vorbefasstheit

89

I. Deutschland

89

1. Ausschluss

90

a) Norminhalt und Auslegung des BVerfG

91

aa) § 18 Abs. 1 Nr. 1, Abs. 2 BVerfGG

91

bb) § 18 Abs. 1 Nr. 2, Abs. 3 BVerfGG

92

b) Ratio legis und gesetzgeberische Wertung der Ausnahmetatbestände

95

c) Rechtfertigung und Kritik an § 18 Abs. 3 Nr. 1 BVerfGG

98

aa) Verkleinerung der Richterbank

98

bb) Besonderheit des Gesetzgebungsverfahrens

102

cc) Keine Vorfestlegung des Richters durch legislative Vorbefassung?

104

dd) Zwischenergebnis

107

2. Ablehnung

107

a) Norminhalt und Begriff der Befangenheit

107

b) Maßstab der Befangenheit bei Richtern des BVerfG

109

aa) Verkleinerung bzw. Manipulation der Richterbank

111

bb) Wahlverfahren

114

(1) Wahlverfahren

114

(2) Effekt auf die Unvoreingenommenheit?

118

c) Staatsprozess

121

d) Übernahme der Wertung des § 18 BVerfGG

122

3. Rechtsprechung zur legislativen Vorbefassung

126

a) Frühe Rechtsprechung

126

b) Gutachtenverfahren als Mitwirkung im Gesetzgebungsverfahren

129

aa) BVerfGE 82, 30–42

129

bb) BVerfGE 98, 134–139; 108, 279–282

132

cc) BVerfGE 101, 46–53

136

dd) Zwischenergebnis

137

ee) BVerfGE 135, 248–259

138

c) Abläufe innerhalb des Gesetzgebungsverfahrens

142

d) Frühere Einbringung eines inhaltsgleichen Gesetzes

146

e) Abgeordnetenbezogene Mitwirkung im Gesetzgebungsverfahren

150

II. Vereinigtes Königreich

159

1. Disqualification

160

2. Recusal

163

a) Maßstab der apparent bias

164

aa) R. v. Gough

164

bb) Magill v. Porter

165

b) Inhalt

166

aa) Case law

166

bb) Sonstige Rechtsquellen

168

cc) Zwischenergebnis

171

3. Verfahren

171

a) Ablauf

172

b) Waiver/necessity

175

c) Exkurs: Case assignment

177

4. Case law zur legislativen Vorbefassung

179

a) Pepper v. Hart

180

b) Reynolds v. Newspaper und Lange v. Atkinson

182

c) Hoekstra

184

d) In Re S and Others

186

e) Davidson v. Scottish Ministers

188

f) Jackson v. Attorney General

195

III. Rechtsvergleichung

198

1. Systematische und prozessuale Unterschiede

198

2. Inhaltliche Gemeinsamkeiten

204

3. Legislative Vorbefassung

207

a) Materiell-rechtliche Gegenüberstellung

207

aa) Irrelevanz von Gutachtenerstattungen im Vereinigten Königreich

207

bb) Grenzen der akzeptierten Mitwirkung

212

cc) Zwischenergebnis

215

b) Verschärfung der rule against bias und institutionelle Umwälzungen

215

c) Perspektiven für die deutsche Rechtslage?

218

aa) Fallzuteilung

218

bb) Ausweitung des Ausschluss- bzw. Ablehnungsrechtes

221

cc) Zwischenergebnis

226

D. Ergebnis und Ausblick

227

Anhang

230

Literaturverzeichnis

231

Stichwortverzeichnis

263