Damages & compensation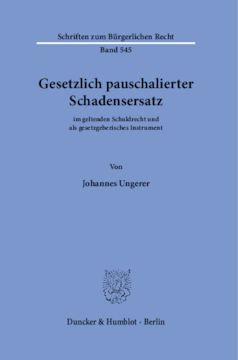 Additional Information
Book Details
ISBN

978-3-428-58580-9
978-3-428-18580-1 (print edition)

DOI

https://doi.org/10.3790/978-3-428-58580-9

Edition

1

Language

German

Pages

342

Collections

Subjects
Pricing
Institution

€ 104.00 (incl. local VAT if applicable)

Individual

€ 79.90 (incl. local VAT if applicable)
About The Author
Johannes Ungerer ist Erich Brost Lecturer für deutsches Recht und EU-Recht an der Universität Oxford. Zuvor lehrte und forschte er an der Universität Bonn, wo er promoviert wurde. Sein rechtswissenschaftliches Studium in Halle und Cardiff schloss er mit dem Ersten Staatsexamen und einem LL.M.oec. ab. Das Referendariat absolvierte er unter anderem am Gerichtshof der Europäischen Union und am Bundesverfassungsgericht, gefolgt vom Zweiten Staatsexamen. Er forscht neben dem deutschen und europäischen Privatrecht vor allem im Internationalen Privatrecht und in der Rechtsvergleichung.
Johannes Ungerer is the Erich Brost Lecturer in German Law and EU Law at the Faculty of Law and St Hilda's College, University of Oxford. Previously, he taught and researched at the University of Bonn, where he obtained his PhD. He studied law in Halle and Cardiff, and graduated with the German First State Exam and a LL.M.oec. master's degree. He qualified for the German judiciary and bar with the Second State Exam; his training placements included the Court of Justice of the European Union and the Bundesverfassungsgericht. In addition to publications on Civil and European private law, his main research focuses on private international and comparative law.
Abstract
Die Arbeit untersucht erstmals zusammenhängend die gesetzliche Schadensersatzpauschalierung und zeigt, dass sie als gesetzgeberisches Instrument mit besonderen Eigenschaften und Wirkungen wahrzunehmen ist. Dazu wird anhand der deutschen und europäischen Regelungen zum Schadensersatz bei Zahlungsverzug und zur Fluggastentschädigung offengelegt, dass der Gesetzgeber zur Pauschalierung in denjenigen Leistungsstörungsfällen greift, in denen es massenhaft zu gleichförmigen Schäden kommt, bei deren Bewältigung private Vertrags- und Marktmechanismen versagen. Dies wird verfassungs- und unionsprimärrechtlich sowie vor allem privatrechtsdogmatisch kritisch beleuchtet, da gesetzlich pauschalierter Schadensersatz erheblich von herkömmlichen Grundsätzen des Haftungs- und Schadensrechts divergiert. Gezeigt wird, dass gesetzliche Schadensersatzpauschalierung die Prozessökonomie fördert und eine verhaltenssteuernde Wirkung entfaltet. Erwogen wird außerdem das Potenzial für die künftige Gesetzgebung. »Legislatively Liquidated Damages. A Regulatory Instrument in German and European Private Law«: Legislatively liquidated damages can innovatively be understood as a regulatory instrument in private law with unique characteristics and effects. This is demonstrated by an analysis of the German and European provisions on late payment and air passenger compensation. Against the constitutional and EU legal background, the doctrinal divergences from conventional liability and damages law as well as the effects on procedural efficiency and behavioural steering are revealed.
Table of Contents
Section Title
Page
Action
Price

Vorwort

5

Inhaltsverzeichnis

11

Einführung

19

A. Problemaufriss

19

B. Gegenstand der Untersuchung

20

C. Abgrenzung des Untersuchungsgegenstands

22

D. Ziele der Untersuchung

24

E. Gang und Methodik der Untersuchung

25

Erstes Kapitel: Gesetzlich pauschalierter Ersatz für Zahlungsverzugsschäden in Form von Verzugszinsen und Beitreibungskostenbetrag

29

A. Entwicklung zum gesetzlich pauschalierten Schadensersatz

30

I. Von prozessualer Sanktion zum materiellen Schadensersatz

30

II. Vom allgemein anerkannten Verzugszins zur gesetzlichen Schadenser‍satzpau‍scha‍lierung im BGB

31

III. Entwicklung zum kreditmarktabhängig gesetzlich pauschalierten Schadensersatz

34

IV. Einführung des Beitreibungskostenbetrags

36

B. Erfordernis und Verständnis der gesetzlichen Schadensersatzpauschalierung beim Zahlungsverzug

38

I. Zahlungsverzug als gleich- und massenartige Leistungsstörung

38

1. Gleichartigkeit

38

2. Massenartigkeit

40

II. Staatliche Regelung wegen Versagens privater Vertrags- und Marktmechanismen

41

1. Mikroökonomische Opportunitäts- und Transaktionskosten der Zwangskreditgewährung

42

2. Makroökonomische Lähmung des Zahlungsverkehrs, ineffiziente Ressourcenallokation und Wohlfahrtsverluste

43

3. Vertrags- und markttheoretisches Dilemma der externen Kosten

45

4. Ausgleich durch staatliches Eingreifen

47

III. Qualifikation als Anspruch auf gesetzlich pauschalierten Schadensersatz

50

1. Verzugszinsen

50

a) Schadensersatz statt Abschöpfung ungerechtfertigter Bereicherung

50

b) Schadensersatz in gesetzlich pauschaliertem Umfang

53

2. Beitreibungskostenbetrag

55

a) Schadensersatz in gesetzlich pauschaliertem Umfang

55

b) Strafschadensersatz?

56

C. Anwendungsbereich des gesetzlich pauschalierten Schadensersatzes

59

I. Räumlich

59

II. Sachlich

60

1. Verzugszinsen für Geldschulden

61

2. Verzugszinsen für Entgeltforderungen

63

3. Beitreibungskostenbetrag nur für Entgeltforderungen

67

III. Persönlich

67

1. Grundsätze für Verzugszinsen

67

2. Differenzierung für Verzugszinsen nach Verbraucherbeteiligung

68

3. Beitreibungskostenbetrag nur von unternehmerischen Schuldnern

69

4. Sonderfall: Arbeitsvertragsparteien

71

a) Welche Verzugszinsen?

72

b) Beitreibungskostenbetrag

74

D. Tatbestand: Verzugsvoraussetzung und Exkulpationsmöglichkeit

76

E. Gesetzliche Pauschalierung der Rechtsfolgen

78

I. Verzugszinsen

79

1. Ausgangspunkt: Basiszinssatz

79

2. Sonderproblem: negativer Basiszinssatz

81

3. Aufschlag

82

a) Fünf Prozentpunkte und ausnahmsweise zweieinhalb Prozentpunkte

83

b) Neun Prozentpunkte

84

4. Andere Zinssätze

85

a) Höhere Zinsen aus anderem Rechtsgrund zugunsten des Gläubigers

85

b) Keine niedrigeren Zinsen zugunsten des Schuldners

88

II. Beitreibungskostenbetrag

89

1. Allgemeiner Fixbetrag

90

2. Höhe

90

3. Bezugspunkt "eine Entgeltforderung"

92

F. Privatautonome Modifikation der gesetzlichen Pauschalierung

93

I. Abbedingung der Verzugszinsen

93

1. Bei anderen Geldschulden als Entgeltforderungen

93

2. Bei Entgeltforderungen

94

II. Abbedingung des Beitreibungskostenbetrags

97

1. Keine vollständige Abbedingung

98

2. Reduzierung des Betrags

98

G. Weitergehender Schadensersatz jenseits der gesetzlichen Pauschalen

99

I. Anspruchsgrundlage und ihre Probleme

101

II. Anrechnung auf den Beitreibungskostenbetrag

102

H. Zwischenergebnis

103

Zweites Kapitel: Gesetzlich pauschalierte Entschädigung für Fluggäste bei Nichtbeförderung und ähnlichen Fällen

104

A. Schaffung eines pauschalierten Schadensersatzanspruchs durch den Unionsgesetzge‍ber

105

I. Gesetzliche Schadensersatzpauschalierung in der Überbuchungs-Verordnung als Gegenstück zur Luftverkehrsliberalisierung

105

II. Ausbau der gesetzlichen Schadensersatzpauschalierung durch die Fluggastrechte-Verordnung

108

III. Weitere Rechtsentwicklung

110

B. Erfordernis und Verständnis der Fluggastentschädigung als gesetzlich pauschalierter Schadensersatz

110

I. Nichtbeförderung und ähnliche Fälle als gleich- und massenartige Leistungsstö‍run‍gen

112

1. Gleichartigkeit

112

2. Massenartigkeit

114

II. Staatliche Regelung wegen Versagens privater Vertrags- und Marktmechanismen

115

1. Mikroökonomische Opportunitätskosten und andere individuelle Nachteile der Nichtbeförderung etc.

116

2. Gesamtwirtschaftliche Wohlfahrtsverluste und Störung des Luftverkehrs

118

3. Vertrags- und markttheoretisches Dilemma der externen negativen Effekte

118

4. Ausgleich durch staatliches Eingreifen

121

III. Qualifikation als Anspruch auf gesetzlich pauschalierten Schadensersatz

122

1. Schadensersatz in gesetzlich pauschaliertem Umfang

122

2. Verhältnis zum Schadensersatzanspruch nach dem Montrealer Übereinkommen über die Beförderung im internationalen Luftverkehr

125

3. Abgrenzung zu "Entschädigungen" bei Beförderung mit anderen Verkehrsmit‍teln de lege lata

127

C. Anwendungsbereich des pauschalierten Schadensersatzes durch gesetzliche Gestaltung und richterliche Erweiterung

129

I. Räumlich

129

II. Sachlich

131

1. Nichtbeförderung

131

2. Annullierung

132

3. Kraft richterrechtlicher Erweiterungen

134

a) Große Ankunftsverspätung

134

b) Erhebliche Abflugvorverlegung

138

III. Persönlich

140

1. Aktivlegitimierter Fluggast

140

2. Zessionsmöglichkeit

141

3. Passivlegitimierte ausführende Fluggesellschaft

143

4. Regressmöglichkeit

145

D. Tatbestandsvoraussetzungen und Exkulpationsmöglichkeit

147

I. Gesetzliche Schadensersatzpauschalierung nur auf privater Vertragsgrundlage

147

II. Ausnahmen für Abweichungen von der Gleich- und Massenartigkeit bzw. vom Versagen privater Vertrags- und Marktmechanismen

148

III. Möglichkeit der Fluggesellschaft zur Enthaftung aufgrund außergewöhnlicher Umstände

150

E. Gesetzlich pauschalierte Rechtsfolge des "Ausgleichsanspruchs"

155

I. Höhe der Pauschale

155

1. Keine Relation zum Ticketpreis

155

2. Relation zur Verspätung

157

II. Pauschalbetrag einmal pro Ticket ("Reise")

160

III. Zahlungsmodalitäten und Verjährung des Anspruchs auf die Pauschale

161

F. Informationspflichten der Fluggesellschaft über den Anspruch auf die gesetzliche Schadensersatzpauschale

163

G. Privatautonome Modifikation der gesetzlichen Pauschale

165

H. Weitergehender Schadensersatz jenseits der gesetzlichen Pauschale

166

I. Anspruchsgrundlagen und ihre Probleme

167

II. Anrechnung auf die gesetzliche Pauschale

169

I. Zwischenergebnis

171

Drittes Kapitel: Rahmenbedingungen für die gesetzliche Schadensersatzpauschalierung und Abgrenzung zu gerichtlichen Aufgaben

175

A. Gesetzliche Schadensersatzpauschalierung als gemäßigter Paternalismus

175

B. Gesetzgeberischer Spielraum bei der Schadensersatzpauschalierung

176

I. Zulässigkeit im Licht der Freiheitsrechte und Verfahrensgarantien

177

II. Schranke des Übermaßverbots

178

C. Gebotenheit der gesetzlichen Schadensersatzpauschalierung

180

I. Keine generelle gesetzliche Schadensersatzpauschalierung

180

II. Widerspruchsfreiheit und Systemgerechtigkeit des gesetzlich pauschalierten Schadensersatzes

181

1. Anforderungen der Gleichheit, Rechtsstaatlichkeit und Kohärenz

182

2. Schlussfolgerungen für die gesetzliche Schadensersatzpauschalierung

183

D. Realpolitischer Kontext der gesetzlichen Schadensersatzpauschalierung

184

E. Abgrenzung gesetzgeberischer zu gerichtlichen Aufgaben im Schadensersatzrecht

186

I. Konkret-individuelle Schadensbemessung als richterliche Aufgabe

186

II. "Kfz-Unfallpauschale" und "Schmerzensgeldtabelle" als Behelfsmittel bei der Schadensbemessung

188

III. Richterliche Rechtsfortbildung gesetzlicher Schadensersatzpauschalen

190

F. Zwischenergebnis

192

Viertes Kapitel: Dogmatik des gesetzlich pauschalierten Schadensersatzes

194

A. Gesetzlich pauschalierte Haftungsverantwortlichkeit

194

I. Pauschalierte Kausalität

195

II. Pauschalierte Verantwortlichkeit

196

1. Verschuldensunabhängigkeit

196

2. Exkulpation nur bei außergewöhnlichen Umständen

197

3. Mitverschuldensunabhängigkeit

198

III. Privatautonome Möglichkeiten und Grenzen der Abweichung vom gesetzgeberischen Instrument

199

1. Konsensuale Modifikation und Abbedingung

199

2. Haftungsabwendung durch Regress oder Versicherung

201

B. Gesetzlich pauschalierte Haftungsausfüllung

202

I. Funktionen gesetzlich pauschalierten Schadensersatzes

202

1. Ausgleichsfunktion und Präventionsfunktion

203

2. Abgrenzung zur Straffunktion und zu punitive damages

205

3. Schlussfolgerungen

207

II. Abweichung von natürlichem Schadensbegriff und Differenzhypothese zugunsten überwiegend normativer Schadensbestimmung

207

1. Grundlagen des Schadensbegriffs

208

2. Verhältnis der gesetzlichen Pauschalierung zu natürlichem Schadensbegriff und Differenzhypothese

209

3. Normative Schadensbestimmung durch den Gesetzgeber

210

4. Schlussfolgerungen

211

III. Abweichungen von schadensrechtlichen Prinzipien im Einzelnen

211

1. Schadenskompensation statt Naturalrestitution

211

2. Keine Differenzierung materieller und immaterieller Schäden

214

3. Keine Totalreparation (aber auch keine Verschuldensabhängigkeit)

216

4. Keine Wahrung des schadensrechtlichen Bereicherungsverbots

217

C. Zwischenergebnis

219

Fünftes Kapitel: Prozessökonomie des gesetzlich pauschalierten Schadensersatzes

221

A. Vereinfachung der Geltendmachung

221

I. Modifikation der Darlegungs- und Beweislast durch die gesetzliche Pauschalierung und Abgrenzung von Anscheinsbeweis und § 287 ZPO

222

II. Entbehrlichkeit des Beweises von Anspruchsvoraussetzungen durch den Geschädigten nach Beweis der Anwendungsbereichseröffnung

225

III. Ausnahmsweiser Exkulpationsbeweis durch den Schädiger

227

IV. Auskunftsanspruch bezüglich der Tatbestandsmerkmale?

228

B. Außergerichtlich

230

I. Durchführung eines Schlichtungsverfahrens

231

1. Prozessökonomie von verpflichtender alternative dispute resolution

232

2. Vorgaben der ADR-Richtlinie, des Verbraucherstreitbeilegungsgesetzes und des Luftverkehrsgesetzes

232

3. Beispiel der "SÖP"-Schlichtung

233

4. Vor- und Nachteile der Schlichtung

234

II. Beauftragung eines kommerziellen Dienstleisters (Factoring/Inkasso)

235

1. Geschäftsmodell

236

2. Besondere Geeignetheit des gesetzlich pauschalierten Schadensersatzes für das Factoring/Inkasso

236

3. Vereinbarkeit mit dem Rechtsdienstleistungsgesetz

238

4. Wirksamkeit eines vertraglichen Abtretungsverbots bezüglich gesetzlich pauschalierten Schadensersatzes?

238

III. Abgrenzung zu den Aufgaben nationaler Behörden

240

C. Gerichtlich

241

I. Inanspruchnahme staatlicher Gerichte zur Durchsetzung gesetzlich pauschalierten Schadensersatzes

241

II. Gerichtsstand und Verfahrensbündelung

242

III. Individuelle Erkenntnis-‍, Mahn- und Bagatellverfahren

244

IV. Kollektivverfahren

247

1. Deutsche Musterfeststellungsklage

247

2. Europäische Verbandsklage

249

3. Abgrenzung zu class actions nach US-amerikanischem Vorbild

250

V. Vollstreckungsverfahren

251

D. Digitale "smarte" Möglichkeiten durch legal tech

252

I. Existierende und konkret geplante Lösungen: von Smartphone-App zu smart contracts

252

II. Weitergehendes Potenzial von legal tech

253

E. Zwischenergebnis

254

Sechstes Kapitel: Verhaltenssteuerung durch gesetzlich pauschalierten Schadensersatz

256

A. Umstrittener Zweck im Schadensersatzrecht

257

I. Traditionelle ablehnende Haltung

257

II. Zunehmende Anerkennung

258

III. Abgrenzung zur Strafprävention durch punitive damages

259

B. Wirkung auf das Verhalten des potenziellen Schädigers

260

I. Prävention durch Abschreckung aufgrund des gesetzgeberischen Instruments der Schadensersatzpauschalierung

260

1. General- und Spezialprävention

261

2. Gezielte gesetzgeberische Intention

262

II. Prävention durch Rationalität der Schadens- und Leistungsstörungsvermeidung aufgrund des gesetzlich pauschalierten Schadensersatzes

263

1. Grundzüge der rechtsökonomischen Analyse und der behavioral economics

263

2. Rechtsökonomisches Modell der effizienzorientierten Abwägung von Schadenskosten und Schadensvermeidungskosten

265

3. Adaption des Modells für Leistungsstörungsfälle

267

4. Rentabilität größerer Leistungsanstrengung für den cheapest cost avoider infolge der gesetzlichen Schadensersatzpauschalierung

268

5. Verstärkung durch Skaleneffekte

271

6. Verhinderung des "effizienten Rechtsbruchs"

272

III. Abwendung der Gefahr einer Präventionswirkungsvereitelung

273

1. Umgehung des Anwendungsbereichs oder Tatbestands

274

a) Überlange Zahlungsfristen

274

b) Schedule padding

276

2. Versicherung und andere Abwendungsmöglichkeiten

278

IV. Adverse Effekte zulasten des Geschädigten?

279

C. Wirkung auf das Verhalten des Geschädigten

281

I. Motivation zur Geltendmachung zum eigenen Vorteil

282

1. Befähigung und Anreizwirkung

282

2. Windfall profit bei Überkompensation

285

II. Motivation zur gemeinnützigen Geltendmachung in der Rolle eines private attorney general

286

D. Zwischenergebnis

288

Siebentes Kapitel: Weitergehendes Potenzial für gesetzliche Schadensersatzpauschalierungen

289

A. Maßgaben für weitere gesetzliche Schadensersatzpauschalierung

289

B. Beispiele weiterer gesetzlicher Schadensersatzpauschalierungen

290

I. Entschädigung bei Internetanschlussstörungen

291

II. Passagierentschädigung bei Beförderungsausfall und -verspätung

294

III. Entschädigung für Datenschutzverstöße

295

C. Zwischenergebnis

298

Fazit

299

A. Zentrale Ergebnisse in Thesenform

299

B. Zusammenfassung der Untersuchung

300

Literaturverzeichnis

304

Sachwortverzeichnis

337