Corruption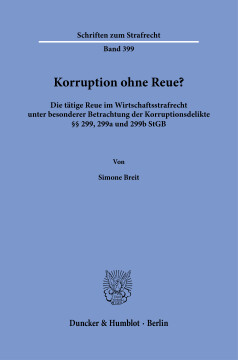 BOOK
Korruption ohne Reue?
Die tätige Reue im Wirtschaftsstrafrecht unter besonderer Betrachtung der Korruptionsdelikte §§ 299, 299a und 299b StGB
Schriften zum Strafrecht, Vol. 399
(2022)
Additional Information
Book Details
ISBN

978-3-428-58564-9
978-3-428-18564-1 (print edition)

DOI

https://doi.org/10.3790/978-3-428-58564-9

Edition

1

Language

German

Pages

292

Collections

Subjects
Pricing
Institution

€ 104.00 (incl. local VAT if applicable)

Individual

€ 79.90 (incl. local VAT if applicable)
About The Author
Simone Breit studierte Rechtswissenschaften an der Johannes Gutenberg-Universität in Mainz mit strafrechtlichem Schwerpunkt. Nach dem Referendariat am Landgericht Mainz war sie von 2016 bis 2019 als wissenschaftliche Mitarbeiterin am Lehrstuhl für Straf- und Strafprozessrecht von Herrn Prof. Dr. Jan Zopfs tätig. Seit 2016 arbeitet sie in der auf das Wirtschaftsstrafrecht spezialisierten Kanzlei Knierim & Kollegen in Mainz; dort ist sie nunmehr Partnerin. Sie ist als Lehrbeauftragte an verschiedenen Hochschulen tätig und wurde im Jahr 2021 zum Dr. jur. promoviert.
Abstract
Sowohl § 299 StGB (Bestechung und Bestechlichkeit im geschäftlichen Verkehr) als auch §§ 299a und 299b StGB (Bestechung und Bestechlichkeit im Gesundheitswesen) sehen keine Regelung einer tätigen Reue vor. Dies ist nicht ungewöhnlich, denn Regelungen zur tätigen Reue finden sich im Strafgesetzbuch nur vereinzelt und sie folgen – so die allgemeine Meinung – keiner Systematik. Diese Aussage wird von Simone Breit hinsichtlich der Delikte des Wirtschaftsstrafrechts auf den Prüfstand gestellt. Bei der Untersuchung der Delikte kristallisiert sich die Einordnung als Kumulationsdelikt, einer besonderen Form des abstrakten Gefährdungsdelikts, als wesentlicher Anknüpfungspunkt heraus. Die anschließende Frage nach dem Hintergrund der privilegierenden Wirkung tätiger Reue führt zu grundlegenden Überlegungen, die letztlich auf die Strafzwecke abzielen. Schließlich werden die Korruptionsdelikte wieder in den Blick genommen und eine spezifische Regelung der tätigen Reue bei §§ 299, 299a und 299b StGB vorgeschlagen.»Corruption without Remorse? Active Repentance in Commercial Criminal Law with Special Consideration of the Offenses of Corruption §§ 299, 299a, and 299b StGB«: Neither Section 299 nor Sections 299a and 299b of the Criminal Code contain any regulation on active repentance. This is not unusual, since regulations of active repentance - according to the general opinion - do not follow any systematic. This statement is put to the test by Simone Breit with regard to the offenses of economic criminal law. The connecting factors and criteria identified in the course of the study are then applied to corruption offenses. The work ends with a proposal for a specific regulation on active repentance in the corruption offenses.
Table of Contents
Section Title
Page
Action
Price

Vorwort

7

Inhaltsverzeichnis

9

Abkürzungsverzeichnis

18

Einleitung und Gang der Untersuchung

23

1. Teil: Untersuchungsgegenstand Wirtschaftsstrafrecht

27

1. Abschnitt: Definition des Wirtschaftsstrafrechts

27

A. Strafprozessuale Definition

28

B. Kriminologische Definitionen

29

I. Täterbezogene Ansätze

30

1. "White collar crime"

30

2. Kriminalität bei sonstiger sozialer Unauffälligkeit

30

II. Tatbezogene Ansätze

30

1. "Occupational crime" und "corporate crime"

31

2. Edelhertz' tatbezogener Ansatz

31

3. Abgrenzung nach den Auswirkungen der Delikte

32

III. Kritik an den kriminologischen Ansätzen

32

C. Strafrechtsdogmatische Definition

34

I. Definition des Rechtsguts als Abgrenzungskriterium

34

II. Ein das Wirtschaftsstrafrecht einendes Rechtsgut

37

1. Vertrauen als Kollektivrechtsgut

37

2. Wirtschaft als Kollektivrechtsgut

38

3. Soziale Marktwirtschaft als Kollektivrechtsgut

39

4. Zusammenfassung

40

D. Ergebnis

41

2. Abschnitt: Umfang des Wirtschaftsstrafrechts

43

A. Korruptionsdelikte als Wirtschaftsstraftaten

44

I. § 299 StGB

44

1. § 299 Abs. 1 Nr. 1, Abs. 2 Nr. 1 StGB

44

a) Wettbewerb

45

b) Vermögen und Chancengleichheit der Mitbewerber

45

c) Andere Individuen

46

d) Nichtkäuflichkeit von Entscheidungsmacht

46

e) Organisationsstrukturen

46

f) Stellungnahme

47

2. § 299 Abs. 1 Nr. 2, Abs. 2 Nr. 2 StGB

49

a) Schutz des Geschäftsherrn

49

b) Wettbewerb

50

c) Stellungnahme

50

3. Zwischenergebnis

51

II. §§ 299a und 299b StGB

52

1. Wettbewerb

53

2. Integrität heilberuflicher Entscheidungen

54

3. Schutz des Mitbewerbers, der Krankenkassen und der Patienten

54

4. Stellungnahme

55

5. Zwischenergebnis

56

III. Ergebnis

57

B. Wirtschaftsstrafrechtliche Regelungen

57

I. Untersuchungsumfang der Regelungen zur tätigen Reue

57

1. Regelungen der tätigen Reue im Strafgesetzbuch

58

2. Regelungen einer tätigen Reue im Wirtschaftsstrafrecht

60

a) § 149 StGB

61

aa) Vorbereitung zur Geldfälschung

61

bb) Vorbereitung zur Fälschung von Wertzeichen

62

cc) Vorbereitung zur Fälschung von Wertpapieren

63

dd) Zwischenergebnis

64

b) § 261 StGB

64

aa) Divergierende Ansichten zu einem einheitlichen Rechtsgut

64

bb) Differenzierung nach den verschiedenen Absätzen des § 261 StGB

65

cc) Stellungnahme

66

dd) Zwischenergebnis

69

c) § 264 StGB

69

aa) Vermögen als geschütztes Rechtsgut

70

bb) Planungs- und Dispositionsfreiheit als geschütztes Rechtsgut

70

cc) Funktionsfähigkeit des Subventionswesens als geschütztes Rechtsgut

71

dd) Stellungnahme

71

ee) Zwischenergebnis

74

d) 264a StGB

75

aa) Vermögen der Kapitalanleger als Rechtsgut

75

bb) Kapitalmarkt als Rechtsgut

75

cc) Stellungnahme

76

dd) Zwischenergebnis

78

e) § 265b StGB

78

aa) Vermögen als geschütztes Rechtsgut

79

bb) Funktionieren des Kreditwesens als Rechtsgut

79

cc) Stellungnahme

79

dd) Zwischenergebnis

81

f) § 266a StGB

81

aa) Rechtsgut der Absätze 1 und 2

82

(1) Sozialversicherungsaufkommen als geschütztes Rechtsgut

82

(2) Vermögen als Rechtsgut

82

(3) Wettbewerb als Rechtsgut

83

(4) Stellungnahme

83

bb) Rechtsgut des Absatzes 3

84

cc) Zwischenergebnis

85

g) § 298 StGB

85

aa) Freier, fairer und funktionierender Wettbewerb als Rechtsgut

86

bb) Vermögen als Rechtsgut

86

cc) Stellungnahme

86

cc) Zwischenergebnis

88

h) § 370 AO

88

aa) Steueraufkommen als Rechtsgut

88

bb) Vermögen als Rechtsgut

89

cc) Besteuerungssystem als Rechtsgut

89

dd) Gleichmäßige Lastenverteilung als Rechtsgut

89

ee) Bestand des Steueranspruchs als Rechtsgut

90

ff) Stellungnahme

90

gg) Zwischenergebnis

92

3. Ergebnis

92

2. Teil: Tätige Reue im Wirtschaftsstrafrecht

95

1. Abschnitt: Vergleichskriterien

96

A. Erfolgs- und Tätigkeitsdelikt

96

B. Gefährdungs- und Verletzungsdelikte

97

C. Versuch/Vollendung/Beendigung

99

2. Abschnitt: Anwendung der Kriterien auf die Delikte des Wirtschaftsstrafrechts mit Regelung einer tätigen Reue

100

A. § 149 StGB

100

I. Deliktsart

100

II. Versuch/Vollendung/Beendigung

101

B. § 261 StGB

101

I. Deliktsart

101

II. Versuch/Vollendung/Beendigung

102

C. § 264 StGB

103

I. Deliktsart

103

II. Versuch/Vollendung/Beendigung

103

D. § 264a StGB

105

I. Deliktsart

105

II. Versuch/Vollendung/Beendigung

105

E. § 265b StGB

106

I. Deliktsart

106

II. Versuch/Vollendung/Beendigung

107

F. § 266a StGB

107

I. Deliktsart

107

II. Versuch/Vollendung/Beendigung

108

G. § 298 StGB

110

I. Deliktsart

110

II. Versuch/Vollendung/Beendigung

111

H. § 370 AO

112

I. Deliktsart

112

II. Versuch/Vollendung/Beendigung

113

I. Ergebnis

116

I. Zur Deliktsart

116

II. Zu Versuch/Vollendung/Beendigung

119

1. Kurzes Versuchsstadium

120

2. Lange Beendigungsphase

121

III. Zusammenfassung

122

3. Abschnitt: Nachtatverhalten

123

A. Strafbedürfnis

123

I. Wesen der Strafe

123

II. Strafzwecke

125

1. Absolute Straftheorien

125

2. Relative Straftheorien

125

a) Generalprävention

126

b) Spezialprävention

126

3. Vereinigungslehre

127

4. Stellungnahme und Ergebnis

128

B. Privilegierendes Nachtatverhalten

129

I. Rücktritt

130

1. Anwendungsbereich Versuch

131

2. Grund der Privilegierung

132

a) Theorien mit einer isolierten Begründung der Straffreiheit

132

aa) Theorie der goldenen Brücke

133

bb) Prämientheorie

133

cc) Zwischenergebnis

133

b) Theorien mit Bezug zum Strafgrund des Versuchs

134

aa) Rechtstheorien

134

bb) Einheitstheorien

135

cc) Schulderfüllungstheorie nach Herzberg

136

dd) Gefährdungsumkehr nach Jäger

136

ee) Strafzwecktheorie

137

c) Ergebnis

139

3. Voraussetzung des § 24 StGB

140

a) §24 Abs.1 S.1 StGB

140

b) §24 Abs.1 S.2 StGB

141

4. Folgen der Anwendung

142

II. Auf Strafzumessungsebene

142

1. § 46 Abs. 2 S. 2 StGB

143

a) Anwendungsbereich und Voraussetzungen der Norm

143

b) Folgen der Anwendung

144

2. Täter-Opfer-Ausgleich gemäß § 46a StGB

144

a) Anwendungsbereich der Norm

144

b) Voraussetzung der Norm

146

c) Folgen der Anwendung

146

3. Hilfe zur Aufklärung schwerer Straftaten, § 46b StGB

147

a) Anwendungsbereich der Norm

147

b) Voraussetzungen der Norm

148

c) Folgen der Anwendung

148

III. Prozessuale Berücksichtigung

148

1. § 153a StPO

149

a) Anwendungsbereich der Norm

149

b) Voraussetzungen der Norm

149

c) Folgen der Anwendung

150

IV. Nachtatverhalten und Strafe

151

1. Gemeinsame Voraussetzungen des Nachtatverhaltens

151

2. Gründe der Privilegierung

153

a) Schuldrelevanz des Nachtatverhaltens

153

aa) Meinungsbild zur Einwirkung auf die Schuld

155

(1) Ausschließliche Präventionsrelevanz

155

(2) Unmittelbare Einwirkung auf die Schuld

157

(3) Mittelbare Wirkung auf die Schuld (Indizkonstruktion)

158

bb) Stellungnahme

158

cc) Prinzip der Verrechnung

163

dd) Mindestmaß an Strafzumessungsschuld

166

b) Auswirkungen des Nachtatverhaltens auf die präventiven Strafzwecke

167

aa) Negative Generalprävention

167

bb) Positive Generalprävention

169

cc) Negative Spezialprävention

170

dd) Positive Spezialprävention

172

ee) Ergebnis

173

3. Fehlende Strafwürdigkeit aufgrund des wiedergutmachenden Nachtatverhaltens

174

a) Ein Fall der Schuldunterschreitung?

175

b) Anknüpfung an das Maß der Schuld

177

4. Unterschiedliche Ausgestaltung des wiedergutmachenden Nachtatverhaltens

179

5. Ergebnis

181

V. Tätige Reue

182

1. Rechtsfolgen der tätigen Reue

183

2. Anknüpfung an ein gemindertes Maß von Schuld

184

a) Unrecht der abstrakten Gefährdung

185

aa) Strafgrund der abstrakten Gefährdung

185

(1) Theorie der generellen Gefährlichkeit

186

(2) Präsumtionstheorie

186

bb) Stellungnahme

187

b) Ergebnis

192

3. Tätige Reue und Strafzwecke

193

a) Regelungen der tätigen Reue

193

aa) Vorbereitung der Fälschung von Geld und Wertzeichen (§ 149 StGB)

194

bb) Geldwäsche (§ 261 StGB)

194

cc) Subventionsbetrug (§ 264 StGB)

195

dd) Kapitalanlagebetrug (§ 264a StGB)

196

ee) Kreditbetrug (§ 265b StGB)

196

ff) Vorenthalten und Veruntreuen von Arbeitsentgelt (§ 266a StGB)

197

gg) Wettbewerbsbeschränkende Absprachen (§ 298 StGB)

197

hh) Steuerhinterziehung (§ 370 AO), Selbstanzeige § 371 AO

198

b) Wirkungen auf Ebene der Strafzumessungsschuld

200

aa) Analyse der einzelnen Regelungen

200

bb) Prinzip der Gefährdungsumkehr

202

c) Wirkungen auf Ebene der Prävention

204

aa) Negative Generalprävention

204

bb) Positive Generalprävention

205

cc) Negative Spezialprävention

206

dd) Positive Spezialprävention

206

d) Zusammenfassung zur Wirkung auf Strafzwecke

207

4. Konstitutive Voraussetzungen tätiger Reue

208

a) In der Literatur benannte Kriterien

209

aa) Nichteintritt eines erheblichen Schadens

209

bb) Aktives Tätigwerden

210

cc) Reueerfolg

210

dd) Freiwilligkeit

211

ee) Zwischenergebnis

212

b) Aus der Untersuchung folgende Kriterien

212

aa) Anwendungsbereich der Vorschriften

213

bb) Erforderliches Verhalten

215

(1) Anforderungen an die Gefährdungsumkehr

215

(2) Anforderung hinsichtlich präventiver Strafzwecke

218

c) Zwischenergebnis

218

5. Ergebnis

219

3. Teil: Korruptionsdelikte und tätige Reue

222

1. Abschnitt: Darstellung und Analyse der Vorschriften

222

A. Darstellung der tatbestandlichen Voraussetzungen

222

I. Gemeinsame Voraussetzungen der §§ 299 Abs. 1 Nr. 1 und Abs. 2 Nr. 1 StGB

223

II. Gemeinsame Voraussetzungen der §§ 299a und 299b StGB

225

III. Tathandlungen

226

1. Fordern, Sich-Versprechen-Lassen und Annehmen (§§ 299 Abs. 1 und 299a StGB)

226

2. Anbieten, Versprechen und Gewähren (§§ 299 Abs. 2 und 299b StGB)

227

B. Deliktsart

228

I. §§ 299 Abs. 1 Nr. 1 und Abs. 2 Nr. 1 StGB

229

II. §§ 299a und 299b StGB

229

III. Zwischenergebnis

230

C. Versuch/Vollendung/Beendigung

231

D. Ergebnis

232

2. Abschnitt: Die Regelung einer tätigen Reue bei den Korruptionsdelikten

234

A. Rechtslage de lege lata

234

I. Regelungslücke

235

II. Erforderlichkeit einer Regelung

238

1. Erforderlichkeit einer tätigen Reue aufgrund des Schuldprinzips und des Verhältnismäßigkeitsgrundsatzes

239

a) Vereinbarkeit der geltenden Rechtslage mit dem Schuldprinzip und dem Verhältnismäßigkeitsgrundsatz

240

b) Vereinbarkeit mit dem Schuldgrundsatz und dem Verhältnismäßigkeitsprinzip de lege ferenda

242

2. Erforderlichkeit einer tätigen Reue aufgrund des Gleichheitsgrundsatzes

243

3. Erforderlichkeit einer tätigen Reue aufgrund von Opferschutz

245

4. Erforderlichkeit aus praxisrelevanten Gründen

246

III. Ergebnis

246

IV. Regelungslücke vorübergehend durch Analogie zu schließen?

247

B. Ausgestaltung einer gesetzlichen Regelung

248

I. Regelung im Allgemeinen Teil

249

II. Regelung im Besonderen Teil

250

1. Tätige Reue im Rahmen der Gesetzgebung zu § 299 StGB

250

2. Bewertung der Gesetzesentwürfe des Bundesrats und des Freistaats Bayern

252

III. Entwurf einer gesetzlichen Regelung für §§ 299, 299a und 299b StGB

253

1. Anwendungsbereich

253

2. Konstitutives Kriterium der Freiwilligkeit

254

3. Rechtsfolge

254

4. Repressive Anforderungen an die Reuehandlung

254

a) Einseitige Tathandlungen

255

aa) Fordern

255

bb) Anbieten und Versprechen

256

b) Zweiseitige Tathandlungen

257

aa) Sich-Versprechen-Lassen und Annehmen

258

bb) Gewähren

258

5. Präventive Anforderungen an die Reuehandlung

259

a) Negative Generalprävention

259

b) Positive Generalprävention

260

c) Spezialprävention

261

d) Zwischenergebnis

262

6. Anzeigepflicht

262

a) Generelle Anzeigepflicht

263

b) Realisierbarkeit der Anzeigepflicht

263

C. Ergebnis

265

4. Teil: Thesenartige Zusammenfassung der Untersuchungsergebnisse

269

Literaturverzeichnis

272

Stichwortverzeichnis

291