Economic history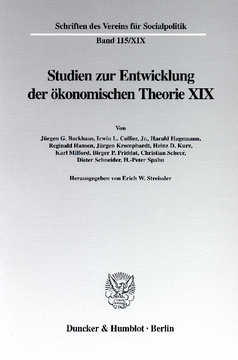 BOOK
Cite BOOK
Style
---
Streissler, E. (Ed.) (2002). John Stuart Mill. Studien zur Entwicklung der ökonomischen Theorie XIX. Duncker & Humblot. https://doi.org/10.3790/978-3-428-50872-3
and Streissler, Erich W.. John Stuart Mill: Studien zur Entwicklung der ökonomischen Theorie XIX. Duncker & Humblot, 2002. Book. https://doi.org/10.3790/978-3-428-50872-3
Streissler, E (ed.) (2002): John Stuart Mill: Studien zur Entwicklung der ökonomischen Theorie XIX, Duncker & Humblot, [online] https://doi.org/10.3790/978-3-428-50872-3
---
Format
---
John Stuart Mill
Studien zur Entwicklung der ökonomischen Theorie XIX
Editors: Streissler, Erich W.
Schriften des Vereins für Socialpolitik, Vol. 115/XIX
(2002)
Additional Information
Book Details
ISBN

978-3-428-50872-3
978-3-428-10872-5 (print edition)

DOI

https://doi.org/10.3790/978-3-428-50872-3

Edition

1

Language

German

Pages

294

Collections

Subjects
Abstract
In dem so geschichtsträchtigen Jahr 1848 erschienen John Stuart Mills "Principles of Political Economy - with Some of Their Applications to Social Philosophy". Die 150. Wiederkehr dieses Ereignisses von nachhaltigem Einfluß auf das ökonomische, ja auf das gesellschaftspolitische Denken in Europa wie Amerika nahm der Dogmenhistorische Ausschuß des Vereins für Socialpolitik zum Anlaß, sich mit dem Werk dieses großen englischen Denkers auseinanderzusetzen.Ganz kann ein kurzer Band Mill nie ausschöpfen. "Es gibt in der modernen europäischen Geistesgeschichte nur wenige Gelehrte, auf deren Zugehörigkeit so viele Wissenschaften Anspruch erheben können ... In erster Linie ist es die Philosophie, danach die Nationalökonomie, aber auch die Soziologie, die Sozialpolitik, die allgemeine Politik und nicht an letzter Stelle die Ethik. Um diesem Denker gerecht zu werden, müßte man ihn vom Standpunkte jeder dieser Wissenschaften darstellen", schrieb der Soziologe Leopold von Wiese.Der erste Abschnitt des vorliegenden Bandes ist einer kontrapunktischen Analyse von Mill als Wissenschaftstheoretiker und als Sozialphilosoph vorbehalten. Der zweite Teil gilt einem von der Theoriegeschichte vernachlässigten Gebiet: nämlich John Stuart Mill als Finanzwissenschaftler. Der längste, dritte Teil des Bandes, befaßt sich mit Mills Makroökonomie, welche immer wieder in der Ökonomie Anlaß ist, um als zentraler Reibebaum zu dienen.Vielleicht zeigt Mills ökonomisches Gesamtkonzept manche Widersprüche und noch mehr Versuche, solche Widersprüche zu überbrücken. Doch die Fülle bahnbrechender Ansätze bleibt. Es war eine Freude und oft auch Überraschung zugleich, sich mit diesem so vielfältigen Geist zu beschäftigen.