Company law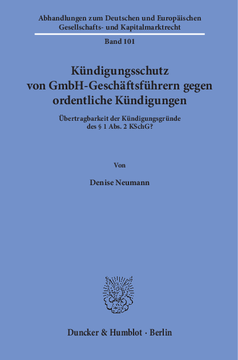 BOOK
Cite BOOK
Style
---
Neumann, D. (2017). Kündigungsschutz von GmbH-Geschäftsführern gegen ordentliche Kündigungen. Übertragbarkeit der Kündigungsgründe des § 1 Abs. 2 KSchG?. Duncker & Humblot. https://doi.org/10.3790/978-3-428-54885-9
Neumann, Denise. Kündigungsschutz von GmbH-Geschäftsführern gegen ordentliche Kündigungen: Übertragbarkeit der Kündigungsgründe des § 1 Abs. 2 KSchG?. Duncker & Humblot, 2017. Book. https://doi.org/10.3790/978-3-428-54885-9
Neumann, D (2017): Kündigungsschutz von GmbH-Geschäftsführern gegen ordentliche Kündigungen: Übertragbarkeit der Kündigungsgründe des § 1 Abs. 2 KSchG?, Duncker & Humblot, [online] https://doi.org/10.3790/978-3-428-54885-9
---
Format
---
Kündigungsschutz von GmbH-Geschäftsführern gegen ordentliche Kündigungen
Übertragbarkeit der Kündigungsgründe des § 1 Abs. 2 KSchG?
Abhandlungen zum Deutschen und Europäischen Gesellschafts- und Kapitalmarktrecht, Vol. 101
(2017)
Additional Information
Book Details
ISBN

978-3-428-54885-9
978-3-428-14885-1 (print edition)

DOI

https://doi.org/10.3790/978-3-428-54885-9

Edition

1

Language

German

Pages

338

Collections

Subjects
Pricing
Institution

€ 132.00 (incl. local VAT if applicable)

Individual

€ 99.90 (incl. local VAT if applicable)
Abstract
Die Arbeit thematisiert die kündigungsschutzrechtliche Stellung von GmbH-Geschäftsführern bei einer ordentlichen Kündigung ihrer Anstellungsverträge. Es wird nachgewiesen, dass das Kündigungsschutzgesetz auf die gesetzlichen Vertreter grundsätzlich keine Anwendung findet, die GmbH und ihre Geschäftsführer die Geltung dieses Gesetzes aber privatautonom in zulässiger Weise vereinbaren dürfen. Die Untersuchung hinterfragt in diesem Zusammenhang, wann eine Kündigung aus personen-, verhaltens- und betriebsbedingten Kündigungsgründen im Sinne des § 1 Abs. 2 KSchG gerechtfertigt ist. Hierzu wird anhand zahlreicher Beispiele unter Berücksichtigung der besonderen Stellung der GmbH-Geschäftsführer im Unternehmen herausgestellt, dass diesen in der Regel unter erleichterten Voraussetzungen als Arbeitnehmern gekündigt werden kann. Abschließend sind Gegenstand der Untersuchung die Rechtsschutzmöglichkeiten der GmbH-Geschäftsführer im Falle einer ordentlichen Kündigung ihrer Anstellungsverhältnisse.»Protection against Dismissal of Managing Directors against Ordinary Terminations«This study investigates the protected position of managing directors of a limited liability company in the case that the position is terminated. The Protection Against Dismissal Act (KSchG) basically does not apply to the legal representatives. In this connection the investigation focuses on the questions, whether the Ltd and their managing directors are allowed to agree on the validity of the law and how the grounds for dismissal of § 1 Abs. 2 KSchG can be transferred to the directors.
Table of Contents
Section Title
Page
Action
Price

Vorwort

7

Inhaltsverzeichnis

9

Einleitung

21

Kapitel 1: Anwendbarkeit des Kündigungsschutzgesetzes auf GmbH-Geschäftsführer?

24

A. Die Rechtsprechung zur Arbeitnehmereigenschaft von GmbH-Geschäftsführern

25

I. Der Bundesgerichtshof

25

II. Das Bundesarbeitsgericht

26

III. Zwischenergebnis

28

B. Die Literatur zur Arbeitnehmereigenschaft von GmbH-Geschäftsführern

28

I. Verneinende Auffassungen

28

II. Differenzierende Ansichten

31

1. Unterscheidung nach Kapitalanteilen

31

2. Unterscheidung nach Kapitalanteilen und einer persönlichen Abhängigkeit

32

III. Zwischenergebnis

33

C. Stellungnahme

34

I. Regelung des § 14 Abs. 1 Nr. 1 KSchG

34

II. Regelung des § 14 Abs. 2 KSchG

35

1. Geschäftsführerbegriff

35

2. Wertung

36

III. Auslegung des § 14 Abs. 2 KSchG

37

1. Wortlaut

37

2. Systematischer Zusammenhang

38

3. Geschichte

39

a) Darstellung der Entwicklung des Kündigungsschutzgesetzes

39

aa) Betriebsrätegesetz 1920

40

(1) Intention der Herausnahme

40

(2) Begriff des Geschäftsführers

41

bb) Zeit des Nationalsozialismus – Gesetz zur Ordnung der nationalen Arbeit 1934

42

cc) Frühe Nachkriegszeit

43

(1) Entwurf des Wirtschaftsrates für ein Kündigungsschutzgesetz

44

(2) "Hattenheimer-Entwurf" für ein Kündigungsschutzgesetz

45

dd) Erstes Kündigungsschutzgesetz 1951

46

(1) Gesetzesbegründung

46

(2) Intention der Herausnahme der leitenden Angestellten

46

(3) Begriff des leitenden Angestellten

47

ee) Kündigungsschutzgesetz von 1969

48

b) Bewertung

50

aa) Betriebsrätegesetz 1920

50

bb) Zeit des Nationalsozialismus – Gesetz zur Ordnung der nationalen Arbeit 1934

52

cc) Frühe Nachkriegszeit

53

dd) Erstes Kündigungsschutzgesetz 1951

53

ee) Kündigungsschutzgesetz von 1969 – Schutzbedürftigkeit leitender Angestellter

54

(1) Arbeitnehmerbegriff Ende der 60er Jahre

55

(2) Auffassungen in der Literatur und Rechtsprechung zur Arbeitnehmereigenschaft von GmbH-Geschäftsführern

55

(a) Kritische Auseinandersetzung mit der Mindermeinung

55

(b) Schlussfolgerung

57

c) Ergebnis Gesetzgebungsgeschichte

58

4. Sinn und Zweck

58

5. Ergebnis

59

IV. Ergebnis Stellungnahme

60

D. Gesamtergebnis Kapitel 1

60

Kapitel 2: GmbH-Geschäftsführer als "kündigungsrechtliches Freiwild" – Lösungsmöglichkeiten

61

A. Vertragliche Gestaltungsvarianten zum Ausgleich des fehlenden Kündigungsschutzes

61

I. Befristeter Anstellungsvertrag des GmbH-Geschäftsführers

62

II. Vereinbarung längerer Kündigungsfristen

62

III. Abfindung oder Übergangsgeld

63

B. Fälle der Geltung des Kündigungsschutzgesetzes

64

I. Ruhen des Arbeitsverhältnisses

64

II. Weiterbeschäftigung des Geschäftsführers nach Abberufung

67

III. Zwei verschiedene Rechtsverhältnisse

67

1. Drittanstellung

68

2. GmbH & Co. KG

68

IV. Vereinbarung der Anwendbarkeit des Kündigungsschutzgesetzes

70

C. Gesamtergebnis Kapitel 2

71

Kapitel 3: Privatautonome Vereinbarung der Anwendbarkeit des Kündigungsschutzgesetzes für GmbH-Geschäftsführer – Kündigungsschutz im Falle der Beendigung der Anstellungsverhältnisse

72

A. Zulässigkeit der Vereinbarung der Geltung des Kündigungsschutzgesetzes

72

I. Der Bundesgerichtshof zur Zulässigkeit der Vereinbarung

72

1. Kein Entgegenstehen gesellschaftsrechtlicher Grundsätze

72

2. Kein Entgegenstehen kündigungsrechtlicher Grundsätze

73

3. Zusammenfassung

74

II. Die Literatur zur Zulässigkeit der Vereinbarung

74

1. Ablehnende Auffassungen

74

a) Bauer/Arnold

74

b) Rasmussen-Bonne/Raif

77

2. Zustimmende Ansichten

77

a) Jaeger

77

b) Thiessen

78

III. Bewertung der Ansichten

79

1. Kündigungsrechtliche Rechtsgrundlagen

80

a) Auslegung des § 1 Abs. 1 KSchG

80

aa) Wortlaut und Entstehungsgeschichte

80

bb) Sinn und Zweck

80

cc) Systematik

82

b) Auslegung des § 14 Abs. 1 Nr. 1 KSchG

82

aa) Systematik

82

bb) Wortlaut

82

cc) Entstehungsgeschichte

83

dd) Sinn und Zweck

83

c) Ergebnis

83

2. Gesellschaftsrechtliche Rechtsgrundlagen

84

a) Verstoß gegen den Grundsatz vom Vorrang der Abberufungsmöglichkeit?

84

aa) Beeinflussung der Abberufungsfreiheit

85

bb) Nicht zulässige Funktionsbeeinträchtigung? – Auslegung des § 38 Abs. 1 GmbHG

85

(1) Wortlaut

85

(2) Systematik

87

(3) Entstehungsgeschichte

88

(4) Sinn und Zweck

88

(5) Ergebnis

89

cc) Weitere Sachargumente

89

(1) Vergleich zur Aktiengesellschaft sowie zur gesetzgeberischen Wertung des § 14 Abs. 1 Nr. 1 KSchG

89

(2) Vergleich zu befristeten GmbH-Geschäftsführeranstellungsverträgen

91

b) Ergebnis

92

3. Gesamtergebnis

92

B. Exkurs: Ordentliche Kündigung der GmbH-Geschäftsführeranstellungsverhältnisse bei Nichtgeltung des Kündigungsschutzgesetzes

92

I. Verhältnis zwischen Abberufung und Beendigung des Anstellungsvertrages

93

1. Grundsatz: Trennungsprinzip

93

2. Ausnahme in Koppelungsfällen

94

II. Formelle Voraussetzungen

95

1. Zuständigkeit

95

2. Form

96

3. Frist

96

a) Ansichten in Literatur und Rechtsprechung

96

aa) Kündigungsfrist nach § 622 BGB

96

bb) Kündigungsfrist nach § 621 Nr. 3 BGB

98

cc) Differenzierende Ansichten

98

b) Stellungnahme

99

aa) Auslegung der §§ 621 Nr. 3, 622 BGB

100

(1) Wortlaut und Systematik

100

(2) Sinn und Zweck sowie Gesetzgebungsgeschichte

100

(3) Ergebnis

101

bb) Analoge Anwendung des § 622 BGB auf GmbH-Geschäftsführer?

101

(1) Vorliegen einer planwidrigen Regelungslücke

101

(2) Vergleichbarkeit der GmbH-Geschäftsführer

103

(3) Schlussfolgerung

104

cc) Ergebnis

105

III. Bestehen eines Mindestkündigungsschutzes?

105

1. Grundsätzliche Überlegungen der Rechtsprechung

106

2. Übertragbarkeit auf GmbH-Geschäftsführer?

108

a) Ansichten in Literatur und Rechtsprechung

108

b) Stellungnahme

109

IV. Gesamtergebnis

110

C. Kündigungsschutz gegen eine ordentliche Kündigung der Geschäftsführeranstellungsverträge bei Vereinbarung der Geltung des Kündigungsschutzgesetzes – Grundsätzliche Überlegungen

111

I. Verhältnis zwischen Abberufung und Beendigung des Anstellungsvertrages

111

II. Reichweite der Geltung des Kündigungsschutzgesetzes

112

1. Rechtliche Wertung der vom Bundesgerichtshof zu beurteilenden Klausel

113

2. Zulässigkeit der Vereinbarung der Gesamtheit des Kündigungsschutzgesetzes oder inhaltlicher Modifikationen

114

3. Ausdrückliche Vereinbarung

116

4. Konkludente Vereinbarung

117

5. Zusammenfassung

118

III. Formelle Voraussetzungen

119

1. Zuständigkeit

119

2. Form

119

3. Frist

119

IV. Anwendbarkeit der Präklusionswirkung der §§ 4 S. 1, 7 KSchG

120

V. Erforderlichkeit der Eröffnung des Kündigungsschutzgesetzes gemäß §§ 1 Abs. 1 und 23 Abs. 1 KSchG?

123

VI. Ergebnis

124

D. Materielle Voraussetzungen einer personenbedingten Kündigung

124

I. Allgemeine Ausführungen

125

II. Krankheit

126

1. Häufige Kurzerkrankungen

127

a) Negative Gesundheitsprognose

127

aa) Kündigung eines Arbeitnehmers

127

bb) Kündigung eines GmbH-Geschäftsführers

129

(1) Prognosefähiger Zeitraum

129

(2) Wertung der einzelnen Erkrankungen

130

(3) Zwischenergebnis

131

b) Erhebliche Beeinträchtigungen betrieblicher oder wirtschaftlicher Interessen

131

aa) Betriebliche Beeinträchtigungen

131

bb) Überbrückungsmaßnahmen als Kompensation?

132

(1) Vorhalten einer Personalreserve

133

(2) Umorganisation

133

(3) Einstellen eines Aushilfsgeschäftsführers

134

(4) Vertretung des Geschäftsführers

135

(a) Bestellung eines Notgeschäftsführers gemäß § 29 BGB analog?

135

(aa) Planwidrige Regelungslücke

136

(bb) Fehlen einer vergleichbaren Interessenlage

137

(b) Stellvertretung durch die anderen Geschäftsführer?

138

(c) Berufen eines Stellvertreters gemäß § 44 GmbHG?

139

(aa) Möglichkeit der GmbH einen Stellvertreter zu bestellen

141

(bb) Betriebsinterne Person als Stellvertreter im Sinne des § 44 GmbHG

141

(cc) Zeitraum der Stellvertretung

143

(dd) Ergebnis

143

(5) Zusammenfassung

144

cc) Wirtschaftliche Belastungen

145

(1) Regelung des § 616 S. 1 BGB

146

(2) Regelung im Anstellungsvertrag

148

dd) Mildere Mittel

149

(1) Versetzung auf einen gleichwertigen oder geringwertigeren Arbeitsplatz?

150

(2) Erfordernis eines betrieblichen Eingliederungsmanagements?

152

ee) Ergebnis erhebliche Beeinträchtigungen

155

c) Interessenabwägung

155

aa) Arbeitnehmer und leitende Angestellte

155

bb) GmbH-Geschäftsführer

157

d) Ergebnis häufige Kurzerkrankungen

159

2. Dauernde Leistungsunfähigkeit

160

a) Arbeitnehmer

160

b) GmbH-Geschäftsführer

161

3. Lang andauernde Krankheiten

161

a) Negative Gesundheitsprognose

161

aa) Ermittlung eines Prognosezeitraumes bei GmbH-Geschäftsführern

162

bb) Zugrundelegung eines einheitlichen Zeitrahmens

164

b) Erhebliche Beeinträchtigungen betrieblicher oder wirtschaftlicher Interessen

165

aa) Betriebliche Beeinträchtigungen

165

bb) Überbrückungsmaßnahmen als Kompensation?

165

(1) Bestellung eines Notgeschäftsführers gemäß § 29 BGB analog?

166

(2) Einstellen eines Aushilfsgeschäftsführers

166

(3) Stellvertretung durch die anderen Geschäftsführer oder einen Stellvertreter gemäß § 44 GmbHG

166

cc) Wirtschaftliche Belastungen

167

dd) Mildere Mittel

168

ee) Ergebnis erhebliche Beeinträchtigungen

168

c) Interessenabwägung

168

d) Ergebnis lang andauernder Krankheiten

169

4. Gesamtergebnis Krankheit

169

III. Aids

170

IV. Alkohol und Drogensucht

171

V. Schwangerschaft

175

1. Anwendbarkeit des Mutterschutzgesetzes?

175

2. Auswirkungen des Urteils des Europäischen Gerichtshofs vom 11.11.2010 in der Rechtssache Danosa?

176

a) Übertragbarkeit auf deutsches Recht?

177

aa) Mutterschutzrichtlinie 92/85/EWG

178

(1) Arbeitnehmereigenschaft im Sinne der Mutterschutzrichtlinie

178

(2) Richtlinienkonforme Auslegbarkeit des § 1 Nr. 1 MuSchG

180

(a) Verneinung einer richtlinienkonformen Auslegung durch einen Teil der Literatur

181

(b) Stellungnahme

182

(c) Ergebnis

184

(3) Reichweite des Kündigungsverbotes des Art. 10 der Richtlinie 92/85/EWG – Erfassung der Abberufung?

184

(a) Verneinende Ansichten

185

(b) Zustimmende Ansichten

185

(c) Stellungnahme

186

(d) Geltung eines unbeschränkten Abberufungsschutzes?

189

(4) Ergebnis

191

bb) Diskriminierungsrichtlinien 76/207/EWG und 86/613/EWG

191

(1) Erwerbstätigen- oder Selbstständigenrichtlinie

191

(2) Innerstaatliche Geltung der Richtlinie 76/207/EWG

193

(a) Richtlinienkonforme Auslegung des § 6 Abs. 1 AGG

194

(aa) Auslegungsfähigkeit des § 6 Abs. 1 AGG

195

(bb) Erstreckung des Diskriminierungsschutzes auf die Abberufung?

196

(b) Geltung des § 2 Abs. 4 AGG – Rechtsfolge einer unzulässigen Diskriminierung?

196

(aa) Rechtsfolge bei einer unzulässigen Kündigung

196

(bb) Rechtsfolge bei einer unzulässigen Abberufung

198

(c) Ergebnis

198

(d) Richtlinienkonforme Auslegung des § 6 Abs. 3 AGG

199

(e) Ergebnis

200

(3) Innerstaatliche Geltung der Richtlinie 86/613/EWG

201

b) Gesamtergebnis

202

VI. Alter

203

VII. Abberufung als Geschäftsführer

205

VIII. Arbeits- und Berufsausübungserlaubnis

206

IX. Außerdienstliches Verhalten

207

1. Straftaten

207

a) Begehung einer Straftat durch den Geschäftsführer

207

b) Straf- und Untersuchungshaft

209

aa) Arbeitnehmer

209

bb) GmbH-Geschäftsführer – Haftstrafe

210

cc) GmbH-Geschäftsführer – Untersuchungshaft

212

2. Verschuldung

213

X. Gewissenskonflikt

214

XI. Schlechtleistung

215

1. Altersbedingte Schlechtleistung

216

2. Krankheitsbedingte Schlechtleistung

218

3. Mangelnde Eignung

219

a) Arbeitnehmer

219

b) GmbH-Geschäftsführer

220

XII. Gesamtergebnis personenbedingte Kündigung

222

E. Materielle Voraussetzungen einer verhaltensbedingten Kündigung

223

I. Allgemeine Ausführungen

223

II. Problematik des Abmahnungserfordernisses

226

1. Bisherige Rechtsprechung des Bundesgerichtshofs

226

2. Literaturansichten

227

3. Stellungnahme

228

III. Kündigungsgründe

231

1. Allgemeine Kündigungsgründe

231

a) Abwerben anderer Beschäftigte des Unternehmens

231

b) Alkohol

234

c) Anzeige durch den Geschäftsführer

235

d) Arbeitsverweigerung und Arbeitsversäumnis

237

e) Beleidigungen

238

f) Handgreiflichkeiten

240

g) Krankheit – Erfüllung der Nebenpflichten

241

h) Private Internet- und Telefonnutzung

243

i) Sexuelle Belästigung

244

j) Unberechtigter Urlaubsantritt und unberechtigte Urlaubsverlängerung

246

k) Verrat von Betriebs- und Geschäftsgeheimnissen

248

l) Verstoß gegen das Wettbewerbsverbot

249

2. Spezielle Kündigungsgründe

251

a) Fehlverhalten bei der Wahrnehmung der Aufgaben des Geschäftsführers

251

aa) § 41 GmbHG – Verletzung der Buchführungspflichten

251

bb) § 42a GmbHG – Falsches Verhalten bei Erstellung des Jahresabschlusses

252

cc) § 43 Abs. 1 GmbHG – Verstoß gegen die Sorgfalt eines ordentlichen Geschäftsmannes

253

dd) § 49 GmbHG – Weigerung der Einberufung der Gesellschafterversammlung

255

ee) § 51a GmbHG – Auskunftsverweigerung

255

ff) § 64 S. 1 GmbHG in Verbindung mit § 15a Abs. 1 InsO – Insolvenzverschleppung

256

b) Missachtung der Kompetenzordnung

257

c) Nichtbefolgung von Weisungen

259

d) Strafbare Handlungen

260

aa) Nutzung der Firmenkreditkarte

261

bb) Unberechtigte Spesenabrechnungen

263

cc) Unberechtigte Barabhebungen/Auszahlung einer Tantieme

265

e) Schmiergelder

266

f) Unberechtigte Erlangung von Vorteilen

267

g) Unberechtigte Amtsniederlegung

269

h) Zerwürfnis beziehungsweise Streitigkeiten

270

IV. Gesamtergebnis verhaltensbedingte Kündigung

271

F. Materielle Voraussetzungen einer betriebsbedingten Kündigung

273

I. Allgemeine Ausführungen

274

II. Einzelne mögliche betriebsbedingte Kündigungsgründe – Übertragbarkeit auf GmbH-Geschäftsführer?

275

1. Auftragsmängel und Umsatzrückgang

276

2. Änderung des Anforderungsprofils

277

3. Auftragsvergabe an Dritte/Auslagerung von Tätigkeitsbereichen

278

4. Stilllegung des Betriebes

279

5. Betriebsübergang

280

a) Kündigung eines GmbH-Geschäftsführers auf Grundlage eines Sanierungsplanes

281

b) Anwendbarkeit des § 613a Abs. 4 BGB auf GmbH-Geschäftsführer?

281

aa) Auslegung des § 613a Abs. 4 BGB

281

(1) Wortlaut

281

(2) Systematik

282

(3) Entstehungsgeschichte

282

(4) Sinn und Zweck

282

(5) Ergebnis

283

bb) Analoge Anwendung des § 613a Abs. 4 BGB?

283

cc) Ergebnis

285

6. Insolvenzverfahren

285

7. Ergebnis

286

III. Fehlende Weiterbeschäftigungsmöglichkeit

286

IV. Soziale Auswahl § 1 Abs. 3 KSchG

288

1. Kündigung eines Arbeitnehmers

288

2. Soziale Auswahl bei GmbH-Geschäftsführern?

290

3. Zusammenfassung

293

V. Gesamtergebnis betriebsbedingte Kündigung

293

G. Gesamtergebnis Kapitel 3

294

Kapitel 4: Rechtsschutzmöglichkeiten der GmbH-Geschäftsführer gegen eine ordentliche Kündigung

295

A. Allgemeines

295

I. Vertragliche Gestaltungsvarianten zum Ausgleich des fehlenden Kündigungsschutzes

298

II. Fälle der Geltung des Kündigungsschutzgesetzes

299

1. Ruhen des Arbeitsverhältnisses

300

2. Weiterbeschäftigung des Geschäftsführers nach Abberufung

302

3. Zwei verschiedene Rechtsverhältnisse

302

a) Drittanstellung

302

b) GmbH & Co. KG

303

4. Vereinbarung der Anwendbarkeit des Kündigungsschutzgesetzes

304

III. Vereinbarkeit der arbeitsgerichtlichen Zuständigkeit gemäß § 2 Abs. 4 ArbGG

306

B. Rechtswidrige Rechtswegverweisung

307

C. Gesamtergebnis Kapitel 4

307

Schlussteil

309

I. Unanwendbarkeit des Kündigungsschutzgesetzes

309

II. Lösungsmöglichkeiten zur Überwindung des fehlenden Kündigungsschutzes

309

III. Rechtliche Zulässigkeit und praktische Umsetzung der Vereinbarung der Geltung des Kündigungsschutzgesetzes

310

1. Personenbedingte Kündigungsgründe

311

2. Verhaltensbedingte Kündigungsgründe

312

3. Betriebsbedingte Kündigungsgründe

313

4. Unwirksamkeit einer ordentlichen Kündigung

314

IV. Rechtsschutz gegen eine ordentliche Kündigung der Anstellungsverträge

314

V. Fazit

315

VI. Ausblick

316

Ergebnisse in Thesen

317

Literaturverzeichnis

318

Stichwortverzeichnis

334