Company law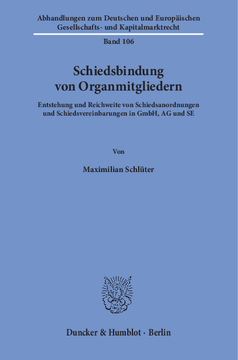 Additional Information
Book Details
ISBN

978-3-428-55212-2
978-3-428-15212-4 (print edition)

DOI

https://doi.org/10.3790/978-3-428-55212-2

Edition

1

Language

German

Pages

328

Collections

Subjects
Pricing
Institution

€ 116.00 (incl. local VAT if applicable)

Individual

€ 89.90 (incl. local VAT if applicable)
About The Author
Maximilian Schlüter hat Rechtswissenschaften an der Rechts- und wirtschaftswissenschaftlichen Fakultät der Universität Bayreuth studiert. Nach seinem Ersten Staatsexamen im Jahr 2014 war er an derselben Universität als wissenschaftlicher Mitarbeiter tätig und fertigte unter der Betreuung von Prof. Dr. Jessica Schmidt, LL.M., seine Dissertation an. Er nahm 2012 am Vis Moot teil und war von 2012 bis 2016 Vizepräsident der Bayreuth Moot Court Association e.V. Im Jahr 2016 begann er ein LL.M. Studium in International Business Regulation, Litigation and Arbitration an der New York University School of Law, das er 2017 mit Auszeichnung abschloss.
Abstract
Die Arbeit geht der Frage nach, welche Streitigkeiten zwischen einem Organmitglied und der Gesellschaft vor einem Schiedsgericht verhandelt werden können. Dafür werden zunächst alle organschaftlichen und anstellunsgvertraglichen Streitigkeiten auf ihre Schiedsfähigkeit überprüft. Besonderes Augenmerk wird auf Beschlussmängelstreitigkeiten gelegt, an denen sich auch Organmitglieder als Kläger beteiligen können. Danach wird analysiert, welche Streitigkeiten Gegenstand von satzungsmäßigen Schiedsklauseln sein können. Insbesondere werden die verfassungsmäßigen Schranken, die sich aus dem Justizgewähranspruch ergeben, sowie die für die AG und SE geltende Satzungsstrenge begutachtet. Der letzte Schwerpunkt liegt auf Schiedsvereinbarungen mit Organmitgliedern. Dabei werden vor allem europa-, verbraucher- und AGB-rechtliche Gesichtspunkte einbezogen. Besondere Beachtung findet hier der Abschluss mehrseitiger Schiedsvereinbarungen im Gesellschaftsrecht. »The Obligation to Arbitrate for Board Members of Limited Liability Companies«

The dissertation addresses the question which disputes between board members and their companies can be settled in arbitration. It analyses the arbitrability of all relevant disputes that could arise either out of their status as board member or out of their service contracts. After that it determines which disputes can fall within the scope of an arbitration clause within the articles of incorporation and within the scope of an arbitration agreement between the company and the board member.
Table of Contents
Section Title
Page
Action
Price

Vorwort

7

Inhaltsverzeichnis

9

A. Einleitung

19

I. Problemaufriss

19

II. Begriff der Schiedsbindung

21

III. Sonstige Begriffe und Prämissen

22

1. Schiedsgrundlage

22

2. Societas Europae (SE)

22

3. Organmitglieder

23

IV. Verlauf der Bearbeitung

23

B. Vor- und Nachteile von Schiedsverfahren bei Streitigkeiten zwischen Organmitgliedern und Gesellschaft

25

I. Vertraulichkeit

26

II. Verfahrensgestaltung

27

III. Kompetenz der Schiedsrichter

27

IV. Vollstreckbarkeit des Schiedsspruches

28

V. Verfahrensdauer

29

VI. Keine Präzedenzwirkung

29

VII. Befriedungseffekt

30

VIII. Unparteilichkeit des Schiedsrichters

31

IX. Unvorhersehbarkeit von Entscheidungen

32

X. Kosten

33

XI. Ungeeignetheit für den einstweiligen Rechtsschutz

33

XII. Zwischenergebnis

34

C. Potentielle Streitigkeiten zwischen Organmitgliedern und Gesellschaften und deren Schiedsfähigkeit

36

I. Objektive Schiedsfähigkeit

36

1. Gesetzgeberische Entwicklung der Schiedsfähigkeit im deutschen Recht

36

2. Schiedsfähigkeit nach § 1030 ZPO

37

a) Vermögensrechtliche Ansprüche

38

b) Nicht-vermögensrechtliche Ansprüche

38

c) Verhältnis zwischen Schiedsfähigkeit und Schiedsgrundlage

39

II. Streitigkeiten

40

1. Organschaftliche Streitigkeiten

40

a) Grundsätzliche Erwägungen zur Schiedsfähigkeit

41

b) Streitigkeiten in einer GmbH

41

aa) Organschaftliche Erstattungsansprüche

41

bb) "Entlastungsklage"

42

cc) Beschlussmängelstreitigkeiten

43

(1) Klagebefugnis der Organmitglieder

44

(a) Anfechtungsklage

44

(aa) Ansicht 1: Keine Klagebefugnis von Organmitgliedern

44

(bb) Ansicht 2: Klagebefugnis von Organmitgliedern gem. § 245 Nr. 4, 5 AktG analog

45

(cc) Ansicht 3: Klagebefugnis nur nach § 245 Nr. 5 AktG analog

45

(dd) Ansicht 4: Klagebefugnis bei allen ausführungsbedürftigen Beschlüssen

46

(ee) Ansicht 5: Klagebefugnis bei allen ausführungsbedürftigen Beschlüssen, die nicht gegen Minderheitenrechte verstoßen

47

(ff) Stellungnahme

47

(b) Nichtigkeitsklage

53

(c) Beschlussfeststellungsklage

53

(d) Zwischenergebnis

54

(2) "Schiedsfähigkeit" von Gesellschafterbeschlüssen einer GmbH

54

(a) Frühe Entwicklungen

55

(b) "Schiedsfähigkeit I"

55

(c) "Schiedsfähigkeit II"

56

(d) Bewertung der vom BGH entwickelten Voraussetzungen

58

(aa) Wirkungserstreckung der Schiedsgrundlage

59

(bb) Beteiligungsmöglichkeit

60

(cc) Besetzung des Schiedsgerichts

61

(dd) Konzentration

63

(e) Organmitglieder als Partei?

65

(aa) Funktion der Rechtskraft gem. §§ 248 Abs. 1 S. 1, 249 AktG

68

(α) Nichtigkeitsklage, §§ 248, 249 AktG

69

(β) Anfechtungsklage, § 248 Abs. 1 S. 1 AktG

71

(γ) Zwischenergebnis

72

(bb) Probleme bei fehlender Schiedsbindung

72

(α) Rechtskrafterstreckung des Schiedsspruches auf die Organmitglieder?

72

(β) Keine Erstreckung der Schiedsgrundlage auf das Organmitglied als Problem der Verfahrenskonzentration

72

(γ) Vertretung der Gesellschaft bei Schiedsklage und Parallelklage durch Geschäftsführer

73

(cc) Fazit

75

(f) Zwischenergebnis

76

dd) Klage eines Geschäftsführers gegen die Abberufung

77

ee) Klagen mit Beteiligung von Mitgliedern des fakultativen oder obligatorischen Aufsichtsrates

78

c) Streitigkeiten in einer AG

79

aa) Organschaftliche Erstattungsansprüche

79

(1) Organhaftung

79

(2) Ansprüche aus dem Wettbewerbsverbot

79

bb) "Entlastungsklage"

79

cc) Vergütungs- und Aufwendungsersatzanspruch des Aufsichtsrates

80

dd) Informationsansprüche

81

(1) § 90 AktG

81

(a) Aktiv- und Passivlegitimation bei § 90 AktG

81

(aa) § 90 Abs. 3 S. 1 AktG

81

(bb) § 90 Abs. 3 S. 2 AktG

83

(cc) § 90 Abs. 5 S. 1 AktG

84

(dd) Zwischenergebnis

84

(b) Schiedsfähigkeit

84

(2) § 125 AktG

85

(3) § 170 AktG

86

ee) Gesellschaftsrechtliche "Organklage?"

86

ff) Fehlerhaftigkeit von Hauptversammlungsbeschlüssen

89

(1) Übertragbarkeit der modifizierten Voraussetzungen des BGH

89

(2) § 23 Abs. 5 AktG als Hindernis für die Schiedsfähigkeit

89

(3) Schiedsgrundlage nach den modifizierten Voraussetzungen in der AG

90

(a) Wirkungserstreckung der Schiedsgrundlage

90

(b) Beteiligungsmöglichkeit

91

(c) Besetzung des Schiedsgerichts

91

(d) Konzentration

92

(4) Zwischenergebnis

92

gg) Fehlerhaftigkeit von Organbeschlüssen

93

(1) Fehlerhaftigkeit von Aufsichtsratsbeschlüssen

93

(2) Fehlerhaftigkeit von Vorstandsbeschlüssen

95

(3) Schiedsfähigkeit

97

hh) Abberufung von Vorstandsmitgliedern

99

(1) Feststellungsklagen

99

(2) Gestaltungsklage, § 84 Abs. 3 S. 4 AktG

100

(3) Zwischenergebnis

102

ii) Abberufung von Aufsichtsratsmitgliedern

103

d) Streitigkeiten in einer SE

104

aa) Dualistische SE

104

(1) Organschaftliche Erstattungsansprüche/"Entlastungsklage"

104

(2) Vergütungs- und Auslagenersatzanspruch des Aufsichtsorgans

105

(3) Informationsansprüche

106

(4) Fehlerhaftigkeit von Hauptversammlungsbeschlüssen

107

(5) Fehlerhaftigkeit von Organbeschlüssen

107

(6) Abberufung von Organmitgliedern

107

bb) Monistische SE

108

(1) Organschaftliche Erstattungsansprüche/"Entlastungsklage"

108

(2) Vergütungs- und Auslagenersatzanspruch des Verwaltungsrats

109

(3) Informationsansprüche

109

(4) Fehlerhaftigkeit von Hauptversammlungsbeschlüssen

109

(5) Fehlerhaftigkeit von Organbeschlüssen

110

(6) Abberufung von Verwaltungsratsmitgliedern

110

(7) Abberufung von geschäftsführenden Direktoren

111

e) Resümee und Zwischenergebnis

111

2. Anstellungsvertragliche Streitigkeiten

112

a) Verträge mit Organmitgliedern

112

b) Streitigkeiten

114

c) Allgemeines Hindernis der Schiedsfähigkeit nach § 101 Abs. 3 ArbGG

115

aa) Fiktion des § 5 Abs. 1 S. 3 ArbGG

115

bb) Organmitglieder als Arbeitnehmer im Sinne des § 5 Abs. 1 S. 1 ArbGG

116

cc) Unionsrechtlicher Arbeitnehmerbegriff

117

dd) Reichweite des § 101 Abs. 1 S. 3 i.V.m. § 2 Abs. 1 ArbGG

119

ee) Erzwingung der Zuständigkeit des Arbeitsgerichts

121

(1) Sic-non-Fälle

122

(2) Aut-aut-Fälle und et-et-Fälle

124

d) Resümee, Zwischenergebnis und Ausblick

125

3. Sonstige Streitigkeiten

126

D. Statutarische Schiedsklauseln

127

I. Allgemeine Erwägungen zu statutarischen Schiedsklauseln

127

1. Abgrenzung zwischen echtem Schiedsgericht und "Schiedsgericht" als Gesellschaftsorgan

127

2. Anwendbares Recht

128

a) Meinungsstand

129

b) Kritik an den herkömmlichen Begründungsansätzen

131

c) Zivilprozessrechtliche Herleitung

133

aa) Regelungsfälle des § 1029 ZPO und des § 1066 ZPO

133

bb) Subsumtion

138

cc) Ergebnis

140

3. Gesetzliche Vorgaben

140

a) Grundlage: Satzungsautonomie und echte Satzungsbestimmungen

141

b) Verfassungsmäßige Vorgaben

142

aa) Art. 92 GG – Staatliche Gerichtsbarkeit

142

bb) Art. 101 Abs. 1 S. 2 GG – Grundrecht auf den gesetzlichen Richter

143

cc) Rechtsstaatsprinzip i.V.m. Art. 2 Abs. 1 GG – allgemeiner Justizgewährungsanspruch

145

(1) Herleitung und Schutzbereich

145

(2) Eingriff

145

(a) Eingriff durch den Gesetzgeber durch § 1066 ZPO

146

(b) Eingriff durch die anordnende Partei

146

(c) Eingriff durch das "materielle Recht"/mittelbare Drittwirkung

147

(aa) Eingriff bei ausdrücklich freiwilligen Schiedsanordnungen

148

(bb) Eingriff bei Schiedsanordnungen, die an das Bestehen der Gesellschafter- oder Organstellung anknüpfen und mit Beendigung enden

149

(cc) Eingriff von Schiedsanordnungen ohne Lösungsmöglichkeit

151

(3) Verfassungsmäßige Legitimation

151

(a) Reichweite des Art. 9 Abs. 1 GG

153

(b) Verhältnismäßiger Ausgleich bei Wirkung für Organmitglieder

155

(aa) Gesellschaftsinterne Streitigkeiten

155

(bb) Schuldrechtliche oder sonstige Streitigkeiten

157

(cc) Ergebnis

158

(c) Besonderheit bei Einpersonen-Gesellschaft mit Fremdgeschäftsführer

159

dd) Zwischenergebnis zu den verfassungsmäßigen Vorgaben

160

c) Mehrheitserfordernisse bei Einführung einer statutarischen Schiedsklausel für Organmitglieder durch Satzungsänderung

160

aa) Qualifizierter Mehrheitsbeschluss oder Zustimmung aller Mitglieder bei statutarischer Schiedsklausel für Gesellschafter

162

(1) Meinungsstand

162

(2) Stellungnahme

164

(a) Stimmerfordernis

164

(b) Rechtsfolge bei Verstoß

167

(c) Zwischenergebnis

168

bb) Exkurs: Umdeutung einer unwirksamen statutarischen Schiedsklausel durch Mehrheitsbeschluss in eine Schiedsvereinbarung nach § 1029 Abs. 1 ZPO

168

cc) Durchschlagen der Unwirksamkeit der gesellschafterbindenden Schiedsklausel auf die organmitgliederbindende Schiedsklausel

169

dd) Zwischenergebnis

171

d) Zustimmung des Organmitglieds

171

aa) Abgrenzung zum Verzicht durch Annahme des Amtes

172

bb) Rechtsnatur der Zustimmung

173

cc) Verbandsrechtliche Zulässigkeit eines Zustimmungserfordernisses

174

dd) Verlust des Charakters als Schiedsanordnung durch Zustimmung?

175

ee) Zwischenergebnis

175

e) Formvorschriften

176

aa) Statutarische Schiedsklausel

176

bb) Annahme der Bestellung bei Bestehen einer statutarischen Schiedsklausel

178

cc) Zustimmung des Organmitglieds

178

dd) Zwischenergebnis

179

4. Personale Reichweite: Bindung von Organmitgliedern

180

5. Zeitraum der Schiedsbindung

180

a) Satzungsänderung ohne Zustimmungsvorbehalt

181

b) Satzungsänderung mit Zustimmungsvorbehalt

182

c) Schiedsklausel bei Annahme der Bestellung

183

6. Resümee und Zwischenergebnis

184

II. Besonderheiten bei der GmbH

185

1. Statutarische Schiedsklausel ohne Zustimmung des Organmitglieds

185

a) Organschaftliche Erstattungsansprüche/"Entlastungsklage"

186

b) Beschlussmängelstreitigkeiten in einer GmbH

186

aa) § 245 Nr. 4 AktG analog

187

bb) § 245 Nr. 5 AktG analog

187

cc) § 249 Abs. 1 S. 1 AktG analog

188

dd) Kosten

189

ee) Zwischenergebnis

190

c) Fehlerhaftigkeit von Beschlüssen des obligatorischen und fakultativen Aufsichtsrates

190

d) Abberufung des Geschäftsführers

191

e) Abberufung des Aufsichtsrates

194

f) Vergütungs- und Aufwendungsersatzansprüche des Aufsichtsrates

194

g) Informationsansprüche des Aufsichtsrates

195

h) Zwischenergebnis

197

2. Statutarische Schiedsklausel mit Zustimmung des Organmitglieds

198

a) Grundsätzliche Erwägungen zur Reichweite

198

b) Ausnahme bei der GmbH: § 64 GmbHG?

199

c) Einschub: Statutarische Schiedsklausel als unechte Satzungsbestimmung

200

III. Besonderheiten bei der AG

201

1. Satzungsstrenge

201

a) Übersicht über den Meinungsstand

201

b) Stellungnahme

202

c) Zwingende Regelungen zur prozessualen Geltendmachung gesellschaftsrechtlicher Streitigkeiten

205

aa) Hauptversammlungsbeschlüsse und Organbeschlüsse

205

bb) Abberufung eines Vorstandsmitglieds

206

cc) Abberufung eines Aufsichtsratsmitglieds

206

dd) Organschaftliche Ersatzansprüche

207

(1) § 147 AktG als Spezialvorschrift?

208

(2) § 148 AktG als Spezialvorschrift?

208

(a) Variante 1: Klageverfahren durch Aktionär

209

(b) Variante 2: "Beiladungen"

211

(c) Variante 3: Verfahrensübernahme durch die AG

213

(d) Folgerungen

213

(3) § 93 Abs. 5 S. 1 AktG als Spezialvorschrift?

213

(4) Zwischenergebnis

214

ee) "Entlastungsklage"

214

ff) Vergütungs- und Auslagenerstattungsansprüche der Aufsichtsratsmitglieder

216

gg) Informationsansprüche

216

hh) Zwischenergebnis

217

d) Fehlerfolgen

217

e) Zwischenergebnis

218

2. Sachliche Reichweite

218

IV. Besonderheiten bei der SE

219

1. Satzungsstrenge

219

a) Art. 9 Abs. 1 lit. b SE-VO

219

b) Art. 9 Abs. 1 lit. c iii SE-VO i.V.m. § 23 Abs. 5 AktG

220

c) Zwischenergebnis

221

2. Sachliche Reichweite

222

V. Auswertung

222

1. Statutarische Schiedsklausel in der GmbH-Satzung

222

2. Statutarische Schiedsklausel in AG- und SE-Satzungen

223

3. Fazit

225

E. Vertragliche Schiedsvereinbarung

227

I. Rechtsnatur der Schiedsvereinbarung

228

II. Zweipersonenschiedsvereinbarung zwischen Gesellschaft und Organmitglied

230

1. Zustandekommen einer Schiedsvereinbarung

230

a) Abschlusskompetenz

231

b) Allgemeine Wirksamkeitsvoraussetzungen und Hindernisse

232

aa) Schiedsvereinbarung mit Geschäftsleitern

233

(1) Formvoraussetzung: § 1031 Abs. 5 ZPO

233

(a) Verbraucherbegriff des § 1031 Abs. 5 ZPO

234

(b) Geschäftsleiter als Verbraucher i.S.d. § 1031 Abs. 5 ZPO i.V.m. § 13 BGB

237

(aa) Anstellungsvertragliche Streitigkeiten

237

(bb) Organschaftliche Streitigkeiten

239

(cc) Teleologische Reduktion?

240

(c) Zwischenergebnis

241

(2) Klausel-RL

241

(3) Nationales AGB-Recht

246

(a) § 305 Abs. 1 BGB und § 310 Abs. 3 BGB

246

(b) Bereichsausnahme, § 310 Abs. 4 S. 1 Var. 3 BGB

249

(c) Wertungskontrolle

252

(aa) Meinungsstand

253

(bb) Stellungnahme

254

(d) Zwischenergebnis

255

(4) Allgemeine Nichtigkeitsgründe

256

(5) Zwischenergebnis

257

bb) Schiedsvereinbarungen mit Aufsichtsorganmitgliedern

257

c) Zwischenergebnis

258

2. Personale und sachliche Reichweite

259

a) Grundsatz

259

b) Besonderheiten bei der GmbH: Ausnahme bei § 64 GmbHG?

261

c) Besonderheiten bei der AG und SE: Durchschlagen der Wirkung satzungsrechtlicher Wertungen auf die Schiedsvereinbarung?

262

aa) Grundsätzliches

262

bb) Schiedsvereinbarung über organschaftliche Ersatzansprüche und § 148 AktG

264

cc) Erstreckung auf § 93 Abs. 5 S. 1 AktG

266

dd) Schiedsvereinbarung über Abberufung von Aufsichtsorganmitgliedern aus wichtigem Grund

267

d) Ergebnis

268

III. Mehrparteienschiedsvereinbarungen

269

1. Abschluss mehrseitiger Schiedsvereinbarungen

270

a) Entwicklung der Grundsätze am Beispiel der GmbH

270

aa) Grundsätzliches

271

bb) Zurechnung zur GmbH

274

cc) Formerfordernis – Anwendbarkeit des § 1031 ZPO

277

b) Übertragung auf AG und SE – § 181 BGB

278

c) Praktischer Vertragsschluss

279

d) Zwischenergebnis

283

2. Erfasste Streitigkeiten und inhaltliche Anforderungen

284

3. Wechsel im Personalbestand

285

a) Änderung im Gesellschafterbestand

285

aa) GmbH

285

bb) AG und SE

287

b) Änderung auf Organebene

289

c) Umsetzung: Vertragsbeitritt

289

IV. Auswertung

291

1. Zweipersonenschiedsvereinbarung

291

2. Mehrpersonenschiedsvereinbarung

292

F. Gesamtauswertung und Erkenntnisse

294

I. Schiedsbindung von Organmitgliedern

294

1. GmbH

294

2. AG und SE

295

II. Zur Vorzugswürdigkeit des Schiedsverfahrens

296

III. Freiwilligkeit als Legitimation für das Schiedsverfahren

296

IV. Definition der Schiedsanordnung, § 1066 ZPO

297

V. Statutarische Schiedsklausel

298

VI. Voraussetzungen und Grenzen von Zweipersonenschiedsvereinbarungen

298

VII. Mehrparteienschiedsvereinbarungen im Gesellschaftsrecht

299

VIII. Organschaftliche Erstattungsansprüche und "Entlastungsklage"

300

IX. Streitigkeiten über Beschlüsse von Gesellschafter- und Hauptversammlungen

300

X. Andere Organbeschlüsse

301

XI. Abberufung von Organmitgliedern

301

XII. Informationsansprüche

303

XIII. Anstellungsvertragliche Streitigkeiten und Arbeitsgerichtsbarkeit

303

Literaturverzeichnis

304

Stichwortverzeichnis

324