Agency law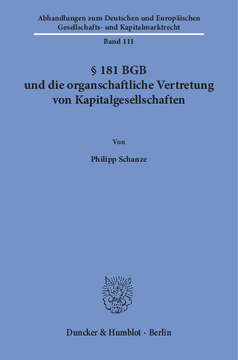 Additional Information
Book Details
ISBN

978-3-428-55356-3
978-3-428-15356-5 (print edition)

DOI

https://doi.org/10.3790/978-3-428-55356-3

Edition

1

Language

German

Pages

268

Collections

Subjects
Pricing
Institution

€ 104.00 (incl. local VAT if applicable)

Individual

€ 79.90 (incl. local VAT if applicable)
About The Author
Philipp Schanze studierte Rechtswissenschaften an der Westfälischen Wilhelms-Universität Münster und absolvierte parallel die »Fachspezifische Fremdsprachenausbildung« in der englischen Rechtssprache. Seine erste juristische Prüfung legte er im Jahr 2012 ab. Anschließend folgten zwischen 2012 und 2016 Tätigkeiten als wissenschaftlicher Mitarbeiter bei einer international tätigen deutschen Großkanzlei und am Lehrstuhl für Bürgerliches Recht, Deutsches, Europäisches sowie Internationales Handels- und Gesellschaftsrecht von Prof. Dr. Frauke Wedemann. Das zweite juristische Staatsexamen legte er im Jahr 2015 ab. Seit April 2016 ist er als Rechtsanwalt in Düsseldorf tätig.
Abstract
§ 181 BGB gilt als eine der problemträchtigsten Vorschriften des BGB bei der Vertretung im Gesellschaftsrecht. Die Handhabbarkeit der Vorschrift bereitet in der Praxis aufgrund der vielschichtigen Konstellationen im Kapitalgesellschaftsrecht besondere Schwierigkeiten. Vor diesem Hintergrund unterzieht der Autor alle wesentlichen Rechtsfragen im Zusammenhang mit § 181 BGB bei der organschaftlichen Vertretung von Kapitalgesellschaften einer aktuellen Prüfung, arbeitet die entstehenden Problembereiche unter Berücksichtigung von Rechtsprechung und Schrifttum systematisch auf und entwickelt praxisgerechte Lösungsansätze. Zusätzlich werden Auswirkungen auf die gesellschaftsrechtliche Praxis sowie bestehende Defizite der Vorschrift aufgezeigt. In abschließenden Reformüberlegungen wird zudem als möglicher Reformansatz die Abschwächung der Rechtsfolge des § 181 BGB von der schwebenden Unwirksamkeit zur Anfechtbarkeit identifiziert. »Section 181 of the German Civil Code and the Director as Agent of the Company«

Because of the complex legal framework applicable to a director's acting as agent of a company, Section 181 of the German Civil Code, pertaining to self-dealing, causes particular difficulties. The author analyzes the arising legal questions and develops practice-oriented solutions. Additionally, the author illustrates deficiencies of the provision as well as consequences for the legal profession and identifies a possible approach for reform.
Table of Contents
Section Title
Page
Action
Price

Vorwort

7

Inhaltsverzeichnis

11

1. Kapitel: Einleitung

19

§ 1 Einführung in die Problemstellung

19

§ 2 Gegenstand und Ziel der Untersuchung

21

§ 3 Gang der Untersuchung

22

2. Kapitel: Neubetrachtung des § 181 BGB bei der organschaftlichen Vertretung

23

§ 1 Zweck der Vorschrift

23

I. Schutz des Vertretenen

23

II. Schutz der Rechtssicherheit

25

1. Das Meinungsspektrum in Judikatur und Schrifttum

25

2. Kritische Würdigung der Argumentation

27

a) Das Argument der Entstehungsgeschichte

28

b) Das Argument der Formalisierung

30

c) Das Argument der hypothetischen Alternativregelung

32

d) Zwischenergebnis

33

III. Gläubigerschutz

34

1. Das Meinungsspektrum in Judikatur und Schrifttum

34

2. Kritische Würdigung der Argumentation

36

IV. Zwischenfazit

39

§ 2 Anwendungsbereich im Gesellschaftsrecht

40

I. Persönlicher Anwendungsbereich

40

II. Gegenständlicher Anwendungsbereich

41

III. Sondervorschriften

42

1. § 112 AktG

42

a) Anwendungsbereich

43

aa) Wirtschaftliche Identität zwischen Vorstandsmitglied und Drittem

44

bb) Amtierende, künftige und ausgeschiedene Vorstandsmitglieder sowie nahestehende Personen

46

b) Rechtsfolge

47

aa) Nichtigkeit nach § 134 BGB

47

bb) Schwebende Unwirksamkeit nach § 177 ff. BGB

48

2. § 89 Abs. 1 AktG

49

a) Bedeutung der Vorschrift neben § 112 AktG

50

b) Anwendungsbereich

51

c) Rechtsfolge

51

3. § 43a GmbHG

52

§ 3 Tatbestand und Rechtsfolgen

54

I. Tatbestand

54

1. Grundfall

54

a) Selbstkontrahieren und Mehrvertretung

54

b) Ausnahmen

55

c) Erkennbarkeit

57

2. Einschränkungen und Erweiterungen des Tatbestands

59

a) Einschränkungen des Tatbestands

60

aa) Lediglich rechtlich vorteilhafte Geschäfte

60

bb) Einpersonen-GmbH

61

cc) Determinierter Geschäftsinhalt aufgrund Vollmacht oder Weisung im Innenverhältnis

62

b) Erweiterungen des Tatbestands

63

aa) Einschaltung eines Untervertreters

63

bb) Ermächtigung bei Gesamtvertretung

65

(1) Analoge Anwendung des § 181 BGB

66

(2) Keine analoge Anwendung des § 181 BGB

66

(3) Sonderfall: Einpersonen-Gesellschaft

68

c) Zwischenfazit

68

II. Rechtsfolge: Schwebende Unwirksamkeit

69

III. Beweislast

71

§ 4 Zentrale Problembereiche bei der organschaftlichen Vertretung und deren Auswirkungen

71

I. Anwendbarkeit der Norm

72

1. Wirtschaftliche Identität

72

a) Möglichkeit einer analogen Anwendung des § 181 BGB

72

b) Auswirkungen auf die Wirksamkeit des Rechtsgeschäfts

74

2. Vollmachtloser Vertreter

75

a) Einseitig vollmachtlose Vertretung

75

aa) Der falsus procurator als Vertreter im Sinne der Vorschrift

76

bb) Möglichkeit einer teleologischen Reduktion

78

(1) Keine Gefahr für die Vermögensinteressen der Vertretenen

78

(2) Kein abstrakt-genereller Ausschluss eines Interessenkonflikts

79

(3) Teleologische Reduktion nur bei Offenlegung der fehlenden Vertretungsmacht

80

(4) Stellungnahme

81

b) Allseitig vollmachtlose Vertretung

83

c) Auswirkungen der Problematik

84

3. Anwendbarkeit bei der Mehrvertretung im Konzern

85

a) Anwendbarkeit in Vertragskonzern und faktischem Aktienkonzern

86

aa) Verdrängung durch die §§ 291 ff. AktG oder teleologische Reduktion

86

bb) Stellungnahme

88

(1) Vertragskonzern

88

(2) Faktischer Aktienkonzern

91

b) Anwendbarkeit im faktischen GmbH-Konzern

92

aa) Teleologische Reduktion des § 181 Var. 2 BGB

93

bb) Stellungnahme

95

(1) Vorliegen der Voraussetzungen einer teleologischen Reduktion

95

(2) Anwendbarkeit des § 35 Abs. 3 S. 1 GmbHG

96

(3) Fazit

98

c) Ursachen und Auswirkungen der Problematik

99

4. Einpersonen-GmbH

100

a) Abschluss durch den Alleingesellschafter

100

b) Abschluss durch einen Fremdgeschäftsführer

102

c) Ursache und Auswirkungen der Problematik

104

II. Wirksamkeit der Befreiung

105

1. Erfordernis einer Satzungsgrundlage

105

a) Mehrpersonen-GmbH

106

aa) Satzungserfordernis bei genereller Befreiung

106

bb) Kein Satzungserfordernis bei genereller Befreiung

107

b) Einpersonen-GmbH

109

aa) Satzungserfordernis bei Beifreiung im Einzelfall

109

bb) Kein Satzungserfordernis bei Befreiung in der Einpersonen-GmbH

111

c) Stellungnahme und Auswirkungen der Problematik

112

aa) Möglichkeiten des Wirksamwerdens von Rechtsgeschäften

113

bb) Befreiung des Fremdgeschäftsführers in der Einpersonen-GmbH

115

cc) Schwierigkeiten beim Erkennen der notwendigen Befreiungsmaßnahmen

115

dd) Sonderfall: Anstellungsvertrag

117

2. Eintragungspflicht im Handelsregister

117

a) Das Meinungsspektrum in Judikatur und Schrifttum

118

b) Stellungnahme

120

aa) Genetische Auslegung

120

bb) Teleologische Auslegung

122

cc) Fazit: Eintragungsfähigkeit, aber keine Eintragungspflicht

124

c) Folgefragen der Problematik

125

aa) Anforderungen an die Eintragung

126

bb) Wirkung der Eintragung

127

(1) Befreiung durch Satzungsänderung

128

(2) Befreiung unmittelbar durch die Satzung

128

(3) Befreiung durch Beschluss aufgrund einer Öffnungsklausel

128

(4) Zusammenfassende Einordnung

129

cc) Anwendbarkeit des § 15 HGB

130

dd) Zwischenfazit

132

3. Fortgeltung

132

a) Umwandlung in eine Einpersonen-Gesellschaft

132

b) Liquidation der Gesellschaft

134

aa) Fortgeltung der Befreiung der Geschäftsführer im Liquidationsstadium

135

bb) Geltung der Befreiungsermächtigung auch für Liquidatoren

137

cc) Auswirkungen der Problematik

138

4. Doppelstöckige Vertretungsverhältnisse

140

a) Das Meinungsspektrum in Judikatur und Schrifttum

141

b) Kritische Würdigung der Ansätze

143

c) Ursache und Auswirkungen der Problematik

147

III. Wirksamkeit der Genehmigung

148

1. Genehmigung durch den selbst nicht befreiten Geschäftsführer

149

2. Auswirkungen der Problematik

150

IV. GmbH & Co. KG

151

1. Die rechtliche Ausgangssituation in der GmbH & Co. KG

151

2. Wirksamkeit von Rechtsgeschäften zwischen den beteiligten Rechtssubjekten

152

a) Rechtsgeschäfte zwischen Geschäftsführer und GmbH

153

b) Rechtsgeschäfte zwischen Geschäftsführer und KG

153

aa) Rechtslage in der mehrgliedrigen GmbH & Co. KG

154

bb) Sonderfall: Einpersonen-GmbH & Co. KG

157

(1) Ausschluss der teleologischen Reduktion durch § 35 Abs. 3 S. 1 GmbHG

157

(2) Zwischenergebnis

159

c) Rechtsgeschäfte zwischen Komplementär-GmbH und KG

160

aa) Verhältnis des Geschäftsführers zu GmbH und KG

160

bb) Verhältnis der GmbH zur KG

161

(1) Unanwendbarkeit des § 181 BGB zwischen KG und GmbH

162

(2) Anforderungen an eine teleologische Reduktion im Verhältnis zwischen KG und GmbH

162

(a) Ausschluss eines Interessenkonflikts auf Ebene der GmbH

162

(b) Umgehung des § 181 BGB

164

(3) Ergebnis

164

d) Rechtsgeschäfte zwischen zwei GmbH & Co. KG

165

aa) Verschiedene Komplementärinnen mit demselben Geschäftsführer

165

bb) Identische Komplementärin

166

e) Anforderungen an die Gestattung

166

aa) Befreiung des Geschäftsführers durch die Komplementär-GmbH

167

bb) Befreiung der Komplementär-GmbH und des Geschäftsführers durch die KG

167

(1) Befreiung durch einen anderen Geschäftsführer der GmbH

167

(2) Befreiung durch die Gesellschafter der GmbH

168

(3) Befreiung durch Vertragsdurchbrechung im Einzelfall

169

cc) Pflicht zur Eintragung in das Handelsregister

170

3. Auswirkungen der Problematik

173

V. Beteiligung ausländischer Gesellschaften

174

1. Anwendbarkeit des § 181 BGB

174

a) Rechtsgeschäftliche Vertretungsmacht

175

aa) Das Geschäftsstatut

175

bb) Das Vollmachtsstatut

175

cc) Reichweite des Vollmachtsstatuts

177

dd) Folgen für die Vornahme von Insichgeschäften

177

b) Organschaftliche Vertretung

178

aa) Das Gesellschaftsstatut

178

bb) Reichweite des Gesellschaftsstatuts

179

cc) Folgen für die Vornahme von Insichgeschäften

179

dd) Rechtsvergleichender Rundblick in europäische Rechtsordnungen

180

(1) Rechtsordnungen mit vergleichbarer Regelung – insbesondere Italien

180

(2) Österreich

183

(3) Schweiz

184

(4) Frankreich

186

(5) Vereinigtes Königreich

189

(a) Vertretung der britischen Kapitalgesellschaft

190

(b) Anfechtbarkeit von Rechtsgeschäften mit directors

193

(c) Generelle Regelung – Interessenkonflikt und self-dealing

194

(d) Spezialvorschriften

197

(e) Vergleich mit der deutschen Rechtslage

198

(6) Ergebnis des rechtsvergleichenden Rundblicks

200

2. Eintragungsfähigkeit und -pflichtigkeit im Handelsregister

200

a) Geschäftsführendes Organ der ausländischen Gesellschaft

201

aa) Eintragungsfähigkeit zum Schutz des Rechtsverkehrs

202

bb) Keine Eintragungsfähigkeit

202

cc) Eintragungsfähigkeit einer Befreiung von entsprechenden Beschränkungen des ausländischen Rechts

204

b) Ständiger Vertreter der Zweigniederlassung

205

3. Auswirkungen der Problematik

206

VI. Zwischenfazit: Defizite der Regelung des § 181 BGB

207

1. Intransparenz

208

a) Anwendbarkeit und Behandlung des Tatbestands

208

b) Grundsätze der Handelsregistereintragung

209

c) Rechtsfolge: Unerkannt unwirksame Rechtsgeschäfte

209

2. Reichweite der Vorschrift

211

a) Keine umfassende Regelung von relevanten Interessenkonflikten

211

b) Strenge Rechtsfolge unabhängig vom tatsächlichen Bestehen eines Interessenkonflikts

212

3. Kapitel: Reformüberlegungen

214

§ 1 Überlegungen de lege lata

214

I. Verlagerung von Entscheidungskompetenzen

215

II. Verbot bestimmter Rechtsgeschäfte

215

III. Grundsätze des Missbrauchs der Vertretungsmacht

215

1. Anwendungsbereich und Voraussetzungen

216

a) Kollusion

216

b) Evidenz

217

2. Rechtsfolgen eines Missbrauchs

218

3. Insichgeschäfte als Missbrauch der Vertretungsmacht

219

a) Kollusives Insichgeschäft

219

b) Insichgeschäft unter Überschreitung der Vertretungsbefugnis

219

4. Eignung als Beschränkung für Insichgeschäfte organschaftlicher Vertreter

221

IV. Organschaftliche Treuepflicht

222

1. Treuepflicht bei Insichgeschäften

224

2. Rechtsfolgen eines Verstoßes gegen die Treuepflicht beim Insichgeschäft

225

3. Eignung als Beschränkung für Insichgeschäfte organschaftlicher Vertreter

226

a) Organschaftliche Treuepflicht beim Selbstkontrahieren

227

b) Organschaftliche Treuepflicht bei der Mehrvertretung

227

V. Ausschluss des organschaftlichen Stimmrechts

228

1. Ausschluss des organschaftlichen Stimmrechts bei Insichgeschäften

229

a) Geltung des Stimmverbots für Vertreter in der Gesellschafterversammlung

230

b) Übertragbarkeit des Stimmverbots auf Abstimmungen im Kollegialorgan

231

2. Rechtsfolgen des Verstoßes gegen ein Stimmverbot bei Insichgeschäften

232

3. Eignung als Beschränkung von Insichgeschäften organschaftlicher Vertreter

232

VI. Zwischenfazit

233

§ 2 Überlegungen de lege ferenda

233

I. Abschaffung von § 181 BGB und § 35 Abs. 3 S. 1 GmbHG

234

1. Unanwendbarkeit von § 181 BGB bei der organschaftlichen Vertretung

234

2. Abschaffung von § 35 Abs. 3 S. 1 GmbHG

235

II. Verbot bestimmter Rechtsgeschäfte

235

III. Verlagerung von Entscheidungskompetenzen

236

IV. Abschwächung der Rechtsfolge von Unwirksamkeit zu Anfechtbarkeit

237

1. Allgemeine Vorteile der Anfechtungslösung

238

2. Vorteile der Anfechtungslösung für die erörterten Problembereiche

240

a) Anwendbarkeit der Norm

240

b) Wirksamkeit von Befreiung und Genehmigung

240

c) § 181 BGB in der GmbH & Co. KG

241

d) Beteiligung ausländischer Gesellschaften

241

e) Abmilderung der Defizite von § 181 BGB

242

3. Nahtlose Einfügung in die Regelungssystematik des Zivilrechts

242

a) Anordnung der schwebenden Unwirksamkeit im Recht der Willenserklärungen

243

b) Einfügung in die Systematik der Anfechtungsrechte

243

V. Ergebnis der Überlegungen de lege ferenda

244

4. Kapitel: Zusammenfassung

245

Literaturverzeichnis

252

Stichwortverzeichnis

266