Company law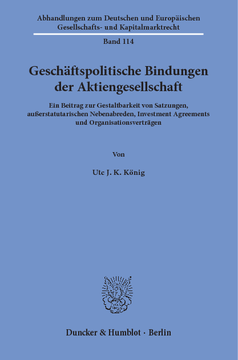 Additional Information
Book Details
ISBN

978-3-428-54927-6
978-3-428-14927-8 (print edition)

DOI

https://doi.org/10.3790/978-3-428-54927-6

Edition

1

Language

German

Pages

430

Collections

Subjects
Pricing
Institution

€ 126.00 (incl. local VAT if applicable)

Individual

€ 98.90 (incl. local VAT if applicable)
About The Author
Ute König hat Rechtswissenschaften an der juristischen Fakultät der Heinrich-Heine-Universität Düsseldorf studiert. Anschließend war sie promotionsbegleitend als wissenschaftliche Mitarbeiterin am Lehrstuhl für Bürgerliches Recht sowie deutsches und internationales Unternehmens-, Wirtschafts- und Kartellrecht bei Prof. Dr. Christian Kersting, LL.M. (Yale), tätig. Nach dem Referendariat am Oberlandesgericht Düsseldorf beriet Ute König mehrere Jahre als Rechtsanwältin in einer der führenden internationalen Wirtschaftskanzleien Mandanten insbesondere bei M&A-Transaktionen. Seit Ende 2017 arbeitet sie als Syndikusrechtsanwältin in einem globalen Chemiekonzern.
Ute König studied law at Heinrich-Heine-University in Düsseldorf. While writing her doctoral thesis, she worked as a research assistant for Prof. Dr. Christian Kersting, LL.M. (Yale), who holds a chair for German and International Company Law, Commercial Law and Competition Law. Following her traineeship at the Higher Regional Court of Düsseldorf, Ute König worked as an associate in one of the leading international law firms with a focus on transnational M&A transactions. Since end of 2017, Ute König has been working as an in-house lawyer for a global chemical company.
Abstract
Die Geschäftspolitik der Aktiengesellschaft plant de lege lata der Vorstand in eigener Verantwortung. Dadurch prägt er das Schicksal des Unternehmens. Investoren haben daher ein erhebliches Interesse daran, die Geschäftspolitik der Gesellschaft mitzugestalten. In der Praxis werden geschäftspolitische Belange der Aktiengesellschaft in Anbetracht einer Übernahme mitunter in sogenannten »Investorenvereinbarungen« oder »Investment Agreements« zwischen Investor und Zielgesellschaft geregelt. Deren Verbindlichkeit steht allerdings – jedenfalls seit der Übernahme Conti/Schaeffler – in Frage.

Die Verfasserin nimmt in Hinsicht auf das dargestellte Regelungsbedürfnis die Gestaltungsmöglichkeiten und -grenzen in Satzungen, außerstatutarischen Nebenabreden, Investment Agreements und Unternehmensverträgen in den Blick. Sie zeigt einen Weg zur verbindlichen Regelung der Geschäftspolitik in der Aktiengesellschaft auf, der sich im Abschluss eines organisationsrechtlichen Unternehmensvertrages sui generis realisiert. »Binding Agreements on the Business Policy of a Stock Corporation«

The business policy is decisive for the fate of a company. Therefore, its determination is in the stakeholders' utmost interest. The author shows that, for a German stock corporation, business policies cannot be stipulated in the articles of association, ancillary agreements of the shareholders or investment agreements. However, the corporation's business policy can be agreed upon between the company and an investor in a special company agreement that is likely to affect the statutes of the company.
Table of Contents
Section Title
Page
Action
Price

Vorwort

7

Inhaltsverzeichnis

11

Abkürzungsverzeichnis

22

§ 1 Einleitung

27

§ 2 Gang der Arbeit

40

§ 3 Definition und Funktion der Geschäftspolitik

41

I. Definition der Geschäftspolitik

41

1. Die Unternehmensphilosophie

42

2. Die Geschäftspolitik im engeren Sinn

43

3. Die strategische Planung

44

4. Die operative Planung

45

5. Die Geschäftspolitik im weiteren Sinn

45

II. Funktion der Geschäftspolitik

46

1. Die Identitäts-‍, Identifikations- und Mobilisierungsfunktion

46

2. Die Ordnungsfunktion

47

3. Die Geschäftspolitik als Parameter weicher Vermögenswerte

47

4. Die Steuerungsfunktion am Markt

48

III. Fazit

48

§ 4 Regelungsinteresse von Investor und Zielgesellschaft

49

I. Regelungsinteresse des Investors

49

1. Geschäftspolitische Planungskompetenz de lege lata

50

a) Keine Mitgestaltungsrechte des Aufsichtsrates

51

b) Keine Mitspracherechte der Hauptversammlung

54

c) Fehlen geschäftspolitischer Mitspracherechte des Investors als Aktionär de lege lata

55

2. Unzulässigkeit geschäftspolitischer Mitspracherechte aus vertraglichem Recht

59

3. Nachteile der Einflussnahme durch Organverflechtung

60

4. Haftungsrisiko des Investors für Einflussnahmen

61

5. Nachteile des Abschlusses eines Beherrschungsvertrages

61

II. Regelungsinteresse der Zielgesellschaft

62

1. Unzureichender Schutz vor unzulässiger geschäftspolitischer Einflussnahme

62

a) Fehlen eines normativen Konzerneingangsschutzes

63

b) Normative Schutzlücken im Konzern

63

c) Unzureichende Rechtsdurchsetzung im Konzern

65

2. Präventionsmodelle der Praxis

66

a) Abwehrmaßnahmen

66

b) Entherrschungsverträge

67

III. Fazit

68

§ 5 Geschäftspolitische Regelungen in der Satzung

69

I. Wirkung des Satzungsrechts

70

1. Bindung der Organe an das materielle Satzungsrecht

70

2. Kontinuität korporativer Rechtsgestaltung

72

II. Gestaltungsmöglichkeiten und -grenzen des Satzungsrechts

73

III. Unvereinbarkeit geschäftspolitischer Satzungsbestimmungen mit der Leitungsautonomie des Vorstandes

74

1. Ansatz in der Literatur zugunsten der Satzungsgestaltungsautonomie der Aktionäre

76

2. Auflösung des Spannungsfeldes der Organkompetenzen zugunsten der Unternehmensleitung

78

a) Satzungsstrenge als Indikator begrenzter Organisationsautonomie

78

b) Telos des § 23 AktG indiziert eine enge Auslegung der Satzungsgestaltungskompetenz

79

c) Planungspflicht des Vorstandes aus § 76 Abs. 1 AktG verbietet statutarische Kompetenzverschiebung

81

aa) Umfang der Planungspflicht nach dem Willen des Gesetzgebers

82

bb) Umfang der Planungspflicht nach Maßgabe der §§ 76 Abs. 1, 93 Abs. 1 Satz 1 AktG

84

cc) Umfang der Planungspflicht nach der systematischen Funktion des Aufsichtsrates

85

d) Normativer Maßstab der Unternehmensleitung nach § 76 Abs. 1 AktG

86

aa) Der Stakeholder Value-Ansatz

87

bb) Das Unternehmensinteresse als Maßstab der Unternehmensleitung

88

cc) Der Shareholder Value-Ansatz

89

dd) Verobjektivierung des Shareholder Values

91

e) Gesamtwertung des Aktien- und Konzernrechts

94

3. Die Leitungsautonomie des Vorstandes als Strukturprinzip des Aktienrechts

95

IV. Unvereinbarkeit geschäftspolitischer Satzungsbestimmungen mit dem Flexibilitätsgebot

96

1. Geschäftspolitische Planungsflexibilität des Vorstandes de lege lata

97

a) Strukturelle Bewertung der Selbstbindung durch Beschlussfassung

98

aa) Vertragsdogma

99

bb) Ergänzung des Willensdogmas durch teleologischen Geltungsbefehl

101

b) Bedeutung der Selbstbindung und Unterschiede zur Satzungsbindung

103

aa) Organisationsrechtliche Bindung der Organe und ihrer Mitglieder

103

bb) Freiheit zur Abweichung von der beschlossenen Geschäftspolitik im Einzelfall

103

cc) Freiheit zur grundsätzlichen Veränderung der Geschäftspolitik

104

2. Flexibilitätsverlust aufgrund geschäftspolitischer Satzungsregelungen

105

a) Keine existenzgefährdende Bindungswirkung des Satzungsrechts

105

aa) Keine treuepflichtkonforme, beschränkende Auslegung der Abrede

105

bb) Mertens' Theorie der Relativität satzungsmäßiger Ermessensbindungen

106

cc) Beschränkung der Satzungsbindung durch das Unternehmenswohl

106

b) Verlust der Freiheit zur Anpassung der Geschäftspolitik

107

3. Das Flexibilitätsgebot als Strukturprinzip des Aktienrechts

108

a) Verbot der Ewigkeitsbindung: Ein gesellschaftsrechtliches Prinzip der allgemeinen Rechtsgeschäftslehre

109

b) Widerlegung des Ansatzes Heys

109

c) Verfassungsrechtliche Begründung des Bindungsverbots

110

d) Widerlegung des Ansatzes Steinbecks und Beuthiens/Gätschs

111

e) Selbstbindungsverbot als Ausfluss der aktienrechtlichen Kompetenzordnung

112

4. Reichweite des Flexibilitätsbedürfnisses und der zwingenden Vorstandskompetenz

114

V. Fazit

116

§ 6 Geschäftspolitische Regelungen in außerstatutarischen Nebenabreden

117

I. Unzureichende Bindungswirkung omnilateraler, außerstatutarischer Nebenabreden

117

II. Gestaltungsgrenzen außerstatutarischer Nebenabreden

120

III. Übergang schuldrechtlicher Ansprüche und Pflichten

122

IV. Fazit

122

§ 7 Geschäftspolitische Regelungen in Investment Agreements

124

I. Investment Agreements als Verträge sui generis

126

II. Verpflichtungsfähigkeit der Aktiengesellschaft zu Binnenmaßnahmen

129

1. Ansatz in der Literatur gegen die Verpflichtungsfähigkeit der Gesellschaft zu Binnenmaßnahmen

130

2. Begründung der Verpflichtungsfähigkeit der Gesellschaft zu Binnenmaßnahmen

131

III. Beschränkte Vertretungsbefugnis des Vorstandes im Kompetenzbereich der Hauptversammlung

132

1. Verpflichtungsbefugnis des Vorstandes zu Binnenmaßnahmen anderer Organe

133

a) Keine Vertretungsbefugnis des Vorstandes in Bezug auf sozialrechtliche Akte

133

b) Vertretungsbefugnis des Vorstandes für zustimmungsbedürftige Geschäfte

134

c) Qualifiktion geschäftspolitischer Bindungen der Gesellschaft

135

2. Unzulässigkeit der Ermächtigung des Vorstandes zu finanzpolitischen Absprachen

136

a) Beschränkte Satzungskompetenz nach § 58 Abs. 1 AktG

136

b) Keine Verpflichtungsfähigkeit der Gesellschaft zu Satzungsänderungen

137

c) Verbot finanzpolitischer Drittbindungen nach dem Bestimmtheitsgrundsatz für Ermächtigungsbeschlüsse

137

d) Konsequenzen für geschäftspolitische Bindungen in Investment Agreements

138

3. Kein Zustimmungserfordernis der Hauptversammlung für Dauerbindungen im Kompetenzbereich des Vorstandes

139

a) Kein Zustimmungserfordernis nach "Holzmüller"/"Gelatine"

139

b) Kein Zustimmungserfordernis aufgrund der Qualifikation des Vertrages als Entherrschungsvertrag

141

c) Kein Zustimmungserfordernis analog § 296 Abs. 1 AktG

142

aa) Vorliegen einer planwidrigen Regelungslücke

143

bb) Fehlen einer vergleichbaren Interessenlage

144

4. Zustimmungserfordernis des Aufsichtsrats für geschäftspolitische Dauerbindungen im Kompetenzbereich des Vorstandes

144

IV. Unzureichende Durchsetzbarkeit von Investment Agreements

147

1. Durchsetzbarkeit des Investment Agreements durch den Investor

148

a) Fehlen genereller Einwände gegen die Anerkennung eines klagbaren Erfüllungsanspruchs

149

b) Praktische Verfahrenserschwernisse

150

c) Umfang des Rechtsschutzes

151

d) Einstweiliger Rechtsschutz

152

2. Keine verbandsinterne Durchsetzung des Vertrages

153

a) Divergierender Pflichtenmaßstab der §§ 280ff. BGB und des § 93 Abs. 1 Satz 1 AktG

153

b) Fehlen korporativer Durchsetzungsmechanismen

154

3. Keine Bindung des Aufsichtsrates und der Hauptversammlung an das Investment Agreement

154

a) Keine Bindung des Aufsichtsrates

156

b) Keine Bindung der Hauptversammlung

158

4. Schwächen des Garantenmodells

159

a) Der Garant als Gläubiger der Verpflichtung

160

b) Der Garant als Dienstleister i.S.d. § 611 BGB

161

aa) Unzulässigkeit korporativer Zusatzorgane

161

bb) Zusatzorgan auf schuldrechtlicher Ebene

161

(1) Keine gesetzliche Haftung des Garanten nach § 93 AktG

162

(2) Bindung des Garanten an das Unternehmensinteresse und Weisungen des Vorstandes

162

V. Gestaltungsmöglichkeiten und -grenzen von Investment Agreements

164

1. Aktienrechtliche Verbotsgesetze

166

a) Anforderungen an die Qualifikation aktienrechtlichen Verbandsrechts als Verbotsgesetz

167

b) Rechtsfolgen verbandsrechtlicher Verbotsgesetze

168

2. Ausnahme des § 82 Abs. 1 AktG für innerkorporative Rechtsgeschäfte

169

3. Keine Unwirksamkeit der Bindung wegen missbräuchlicher Überschreitung der Vertretungsmacht

171

4. Auswirkung der Treuepflichten auf die schuldrechtliche Gestaltungsfreiheit

172

5. Sittenwidrigkeit und Umgehungsverbot

173

6. Sorgfaltspflicht des Vorstandes

174

7. Prüfungsmaßstab für geschäftspolitische Abreden in Investment Agreements

174

VI. Vereinbarkeit geschäftspolitischer Absprachen mit der Geheimhaltungspflicht des Vorstandes

174

1. Vertraulichkeitspflicht des Vorstandes nach § 93 Abs. 1 Satz 3 AktG

176

a) Objektives Interesse an der Geheimhaltung der Geschäftspolitik

176

b) Fehlende Offenkundigkeit der Geschäftspolitik

177

c) Grenzen der Geheimhaltungspflicht

177

aa) Meinungsstand zur Reichweite der Vertraulichkeitspflicht

178

bb) Stellungnahme

180

2. Kapitalmarktrechtliches Mitteilungsverbot (§ 14 Abs. 1 Nr. 2 WpHG/Art. 10 Abs. 1 Satz 1, Art. 14 lit. c MAR)

182

a) Die Geschäftspolitik – eine Insiderinformation

182

b) Grenzen des Mitteilungsverbots

183

aa) Meinungsstand zur Reichweite des Mitteilungsverbots

184

bb) Mitteilungsverbot gegenüber Bietern und Investoren

185

VII. Investment Agreements – keine verdeckten Beherrschungsverträge

187

1. Hintergrund des Prinzips der Unveräußerlichkeit von Leitungsmacht

188

a) Verbot des vollständigen Leitungstransfers an Dritte

189

b) Beschränkung der Leitungsmacht unterhalb der Grenze vollständiger Leitungsübertragung

189

c) Das Rechtsinstitut des verdeckten Beherrschungsvertrags

191

d) Beherrschungsverträge erfordern einen Leitungstransfer

193

2. Einfluss des Investors aufgrund des Investment Agreements

196

a) Kein beherrschender Einfluss des Investors aufgrund des Verlustes der Freiheit zur Planungsänderung

197

b) Kein beherrschender Einfluss des Investors aufgrund durchsetzbarer Unterlassungsansprüche

199

aa) Enger Ansatz: Unantastbarkeit jeglicher Vorstandskompetenzen

199

bb) Weiter Ansatz: Unantastbarkeit des Kernbereichs der Leitungsautonomie

200

cc) Wirtschaftliche Betrachtung Wolfs

201

dd) Stellungnahme

202

ee) Bewertung geschäftspolitischer Bindungen anhand der gefundenen Maßstäbe

206

c) Die faktische Einflussnahme qualifiziert das Investment Agreement nicht als Beherrschungsvertrag

206

VIII. Vereinbarkeit schuldrechtlicher Investment Agreements mit dem Vorwegbindungsverbot

207

1. Dogmatische Herleitung eines schuldrechtlichen Vorwegbindungsverbots

208

a) Das Verbot der Bindung zukünftiger Vorstandsmitglieder als Begründungsansatz nach Lutter

210

b) Quickturn Design System, Inc. v. Shapiro: Vermeidung unlösbarer Pflichtenkollisionen

212

c) Nichtanwendbarkeit der "Quickturn"-Rechtsprechung auf das deutsche Aktienrecht

213

aa) Keine haftungsbegründende Bindung der Vorstandskompetenzen

214

bb) Kontinuität des Vorstandes in der Geschäftsführung

215

d) Beaton v. Continental Southland Savings & L. ass'n: Erhalt der Letztentscheidungsmacht der Aktionäre

216

e) Widerlegung der Beaton-Rechtsprechung nach deutschem Aktienrecht

216

f) Keine Begrenzung schuldrechtlicher Dauerbindungen nach § 138 Abs. 1 BGB

220

g) Verbot der Vorwegbindung nach §§ 76 Abs. 1 AktG, 134 BGB

221

aa) Herleitung des Vorwegbindungsverbots aus § 76 Abs. 1 AktG

221

bb) Konkretisierung des Vorwegbindungsverbots i.S.d. § 76 Abs. 1 AktG

222

cc) Geschäftspolitische Dauerbindungen als unzulässige Vorwegbindung

223

dd) Das Vorwegbindungsverbot als Verbotsgesetz i.S.d. § 134 BGB

224

2. Rechtsfolgen verbotswidriger Dauerbindungen

226

a) Keine Nichtigkeitsfolge bei Verstoß gegen das Vorwegbindungsverbot

226

b) Sorgfaltspflichtverletzung des die schuldrechtliche Dauerbindung eingehenden Vorstandes

228

c) Leistungsverweigerungsrecht infolge verbotswidriger Vorwegbindungen

229

3. Kündigungsrechte als Legitimation geschäftspolitischer Dauerbindungen

230

a) Flexibilitätsmodelle

231

aa) Flexibilität durch ERP-IT-Systeme

231

bb) Flexibilität durch die Szenariotechnik

232

cc) Alternative flexible Managementmodelle

234

b) Planungshorizont und Bindungsdauer

235

c) Sonderkündigungsrecht für den Eintritt exogener Umstände außerhalb des Szenariotrichters

236

d) Der Szenariotrichter als Geschäftsgrundlage i.S.d. § 313 BGB

236

aa) Geschäftsgrundlage

237

bb) Schwerwiegende Veränderung der Geschäftsgrundlage

237

cc) Normative Risikobetrachtung

238

dd) Unvorhersehbarkeit der Umstände außerhalb der Extremszenarien und Unzumutbarkeit der Umsetzung der Geschäftspolitik

238

ee) Rechtsfolgen

239

e) Folgen der Kündigung des Investment Agreements

240

4. Fehlende Befugnis zur Abweichung von der geschäftspolitischen Planung

241

IX. Unvereinbarkeit schuldrechtlicher Investment Agreements mit dem Gleichbehandlungsgebot des § 53a AktG

242

1. Anwendbarkeit des § 53a AktG auf Verpflichtungen der Gesellschaft gegenüber dem Investor

242

2. Materielle Ungleichbehandlung durch geschäftspolitische Absprachen in Investment Agreements

243

a) Ungleichbehandlung durch tatsächliche Einflussnahme

244

b) Ungleichbehandlung aufgrund des schuldrechtlichen Erfüllungsanspruchs

244

3. Berechtigtes Interesse legitimiert Ungleichbehandlungen nur bzgl. der Vertragsverhandlungen

245

a) Keine generelle Privilegierung von Großaktionären

246

b) Rechtfertigung der faktischen Einflussnahme des beherrschenden Aktionärs

247

c) Rechtfertigung der faktischen Einflussnahme des Ankeraktionärs

249

d) Keine Rechtfertigung der Vertragsbindung

250

4. Verzicht der Aktionäre auf Gleichbehandlung durch Hauptversammlungsbeschluss

250

5. Wirkung und Bewertung des § 53a AktG

251

a) § 53a AktG – eine verbandsinterne Ordnungsvorschrift

252

b) Verstoßfolgen richten sich nach § 93 Abs. 1 AktG

254

X. Fazit

255

§ 8 Geschäftspolitische Regelungen in Organisationsverträgen

256

I. Wirkungsunterschiede zwischen Organisationsverträgen und Investment Agreements

258

1. Bindung des Vorstandes innerhalb der Grenzen der Legalitätspflicht

259

a) Vorrang höherrangigen Rechts und Wahrung des Unternehmenswohls

260

b) Intrakorporative Durchsetzung des Organisationsvertrages

261

2. Bindung des Aufsichtsrates und der Hauptversammlung durch den Organisationsvertrag

263

3. Bindung des Investors durch Organisationsvertrag

263

II. Gestaltungsmöglichkeiten und -grenzen von Organisationsverträgen

265

1. Kein numerus clausus zulässiger Unternehmensverträge

266

2. Kein numerus clausus korporativer Unternehmensverträge

270

a) Die Rechtsnatur der Organisationsverträge rechtfertigt keine Beschränkung der Gestaltungsfreiheit

270

b) Vereinbarkeit eines weiten Verständnisses der Organisationsautonomie mit Verkehrsschutzerwägungen

276

c) Anerkennung ungeschriebener Unternehmensverträge angesichts der Bestimmtheit des Handelsregisters

279

d) Reichweite der Gestaltungsautonomie innerhalb der §§ 291 Abs. 1, 3, 309 AktG

281

aa) Enger Ansatz: Erfordernis vollständige Weisungsunterwerfung

281

bb) Weiter Ansatz: Zulässigkeit auch nur teilweiser Weisungsunterwerfung

282

cc) Rechtsfortbildender, extensiver Ansatz Veils

284

3. Positive Bestimmung der Grenzen unternehmensvertraglicher Organisationsautonomie

287

III. Abschlusszuständigkeit und Vereinbarkeit des Organisationsvertrages mit der Kompetenzordnung

288

1. Zustimmung der Hauptversammlung gem. § 293 AktG

289

2. Vereinbarkeit des Initiativrechts der Hauptversammlung mit § 76 Abs. 1 AktG

289

3. Stimmrecht des Investors beim Zustimmungsbeschluss zum Organisationsvertrag sui generis

292

4. Zustimmung des Aufsichtsrates

293

IV. Information der Aktionäre und des Aufsichtsrats gem. §§ 293a ff., 131, 90 Abs. 1 Satz 3 AktG

293

1. Anwendbarkeit der §§ 293a–g AktG auch auf nicht normierte Organisationsverträge

294

2. Berichtspflicht des Vorstandes, § 293a AktG

296

a) Umfang der Berichtspflicht nach § 293a AktG

296

b) Grenzen der Berichtspflicht gem. § 293a Abs. 2 Satz 1 AktG

297

3. Prüfung des Unternehmensvertrages, §§ 293c–293e AktG

299

a) Umfang der Schlusserklärung des Prüfers nach § 293e Abs. 1 Satz 2, 3 AktG

299

b) Grenzen der Schlusserklärung nach § 293e AktG

300

4. Anspruch auf Akteneinsicht, Abschriften, Dokumentenauslage, Erläuterung und Auskunft gem. §§ 293f, g AktG

301

5. Auskunftsanspruch aus § 131 Abs. 1 Satz 1 AktG

302

a) Umfang des Auskunftsanspruchs nach § 131 Abs. 1 Satz 1 AktG

302

b) Grenzen des Auskunftsanspruchs aus § 131 Abs. 1 AktG

303

6. Kein Auskunftsanspruch aus § 131 Abs. 4 AktG

305

7. Berichtspflicht gegenüber dem Aufsichtsrat

305

V. Der Organisationsvertrag sui generis – kein verdeckter Beherrschungsvertrag

306

VI. Vereinbarkeit des Organisationsvertrages sui generis mit dem Vorwegbindungsverbot

307

1. Abweichungsbefugnis des Vorstandes vom Organisationsvertrag im Einzelfall

308

2. Aufgabe der Abänderungsbefugnis der beschlossenen Geschäftspolitik

308

a) Kündigungsrecht gemäß § 297 Abs. 1 AktG

309

b) Kündigungsrecht gem. § 313 BGB

310

c) Vertragliches Kündigungsrecht

310

d) Verfahren im Falle der Kündigung

310

VII. Vereinbarkeit des Organisationsvertrages sui generis mit der Stimmrechtsfreiheit der Aktionäre

311

1. Keine Übertragung des Stimmrechts an Dritte

312

2. Keine Bindung des Stimmrechts an Vorschläge des Vorstandes

313

3. Die sozialrechtliche Beschlussautonomie der Hauptversammlung – ein Strukturprinzip des Aktienrechts

314

a) Das Stimmrecht – ein Individualrecht des Aktionäre

314

b) Rechtsgedanke der Aktiengattungen als Argument gegen Stimmrechtsbeschränkungen

316

c) Strenge der Kompetenzordnung verbietet Stimmrechtsbegrenzung

316

VIII. Vereinbarkeit des Organisationsvertrages sui generis mit dem Gleichbehandlungsgebot

317

1. Klagbarer Erfüllungsanspruch des Investors aus dem Organisationsvertrag

318

2. Vergleichbare, verbandsinterne Sanktionsmechanismen zugunsten der übrigen Aktionäre

320

3. Berechtigtes Gesellschaftsinteresse legitimiert Ungleichbehandlung

321

IX. Fazit

322

§ 9 Kartellrechtliche Aspekte

324

I. Geschäftspolitische Absprachen in Übernahmekonstellationen

324

1. Das Konzernprivileg

324

2. Anforderungen an das Kriterium der wirtschaftlichen Einheit

326

3. Keine Beschränkung auf Fälle konzernrechtlich zulässiger Einflussnahme

329

II. Geschäftspolitische Absprachen infolge von PIPE-Transaktionen

332

1. Der Organisationsvertrag als Vereinbarung zwischen Unternehmen i.S.d. Art. 101 Abs. 1 AEUV, § 1 GWB

333

2. Keine Tatbestandsreduktion nach dem Nebenabreden-Ansatz

333

3. Bezweckte oder bewirkte Wettbewerbsbeschränkung

335

4. Spürbarkeit der Beeinträchtigung

338

III. Fazit

339

§ 10 Kapitalmarktrechtliche Aspekte

340

I. Neutralitätspflicht des Vorstandes in der Übernahmephase

340

1. Ansatz der Literatur gegen ein striktes Neutralitätsgebot

341

2. Ansatz der Literatur für ein striktes Neutralitätsgebot

343

3. Stellungnahme

344

II. Die Stellungnahme des Vorstandes als Gegenleistung für geschäftspolitische Zugeständnisse

347

1. Zulässigkeit von Board Recommendation-Vereinbarungen

348

2. Zulässigkeit des "Handels" mit Bord Recommendation

349

III. Publizitätspflichten der Zielgesellschaft und des Investors

350

1. Stellungnahme- und Publizitätspflichten der Zielgesellschaft

351

a) Ad hoc-Mitteilung gem. § 15 Abs. 1 WpHG/Art. 17 Abs. 1 MAR

351

aa) Ad hoc-Mitteilung über das geplante Übernahmeangebot

351

bb) Ad hoc-Mitteilung über Vorstandsbeschluss und Abschluss des Investment Agreements

353

(1) Zeitpunkt der Publizitätspflicht

354

(2) Grenzen der Publizitätspflicht

355

cc) Ad hoc-Mitteilung über den Abschluss des Organisationsvertrages sui generis

356

dd) Keine umfassende Ad hoc-Mitteilung über geschäftspolitische Unternehmensgeheimnisse

357

(1) Umfang und Grenzen der Ad hoc-Mitteilung

358

(2) Keine Ad hoc-Mitteilungspflicht aufgrund vorangehender Mitteilung von Informationen an den Investor

359

b) Keine strategische Informationsveröffentlichung nach § 289 Abs. 4 HGB

362

c) Keine Stellungnahme zur geschäftspolitischen Ausrichtung nach § 27 WpÜG

363

2. Stellungnahme und Publizitätspflichten des Investors

363

a) Publizitätspflicht des Bieters nach § 10 Abs. 1 Satz 1 WpÜG

364

b) Publizitätspflicht des Investors nach § 15 Abs. 1 WpHG/Art. 17 Abs. 1 MAR

365

aa) Ad hoc-Mitteilung zum Investment Agreement und zum Organisationsvertrag sui generis

365

bb) Zur Reichweite der Konkurrenzregel des § 10 Abs. 6 WpÜG

367

cc) Befreiung des Investors nach § 15 Abs. 3 WpHG i.V.m. § Satz 2 Nr. 1 WpAIV

368

c) Angabepflicht des Bieters in der Angebotsunterlage nach § 11 WpÜG

370

IV. Fazit

371

§ 11 Resümee

374

Literaturverzeichnis

381

Rechtsprechungs- und Entscheidungsverzeichnis

418

Sachwortverzeichnis

427