Company law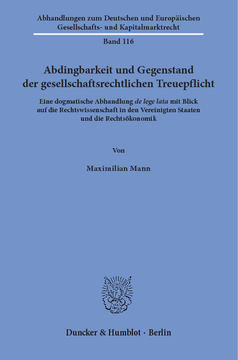 Additional Information
Book Details
ISBN

978-3-428-55386-0
978-3-428-15386-2 (print edition)

DOI

https://doi.org/10.3790/978-3-428-55386-0

Edition

1

Language

German

Pages

231

Collections

Subjects
Pricing
Institution

€ 92.00 (incl. local VAT if applicable)

Individual

€ 71.90 (incl. local VAT if applicable)
About The Author
Maximilian Mann studierte ab dem Jahr 2009 Rechtswissenschaften an der Albert-Ludwigs-Universität Freiburg und legte Anfang 2014 sein erstes Staatsexamen in Baden-Württemberg ab. Im Anschluss arbeitete er bis Ende 2017 als wissenschaftlicher Assistent von Professor Dr. Dr. h.c. Holger Fleischer am Max-Planck-Institut für internationales und ausländisches Privatrecht in Hamburg. Seit 2016 bestreitet er sein Referendariat am Hanseatischen Oberlandesgericht mit Stationen am Bundesministerium der Justiz und für Verbraucherschutz, dem Hanseatischen Oberlandesgericht sowie Freshfields Bruckhaus Deringer.
Maximilian Mann studied law at the Albert-Ludwigs-University of Freiburg starting 2009 and passed his first state examination in Baden-Württemberg at the beginning of 2014. He then worked as a research assistant to Professor Dr. Dr. h.c. Holger Fleischer until the end of 2017 at the Max Planck Institute for Comparative and International Private Law in Hamburg. Since 2016 he has been conducting his legal clerkship at the Hanseatic Higher Regional Court with stages at the Federal Ministry of Justice and Consumer Protection, the Hanseatic Higher Regional Court and Freshfields Bruckhaus Deringer.
Abstract
Die Treuepflicht ist die zentrale Pflicht im Gesellschaftsverhältnis. Literatur und Rechtsprechung haben sie in einer Fülle von Abhandlungen und Entscheidungen geformt. Dennoch ist keine leistungsfähige Definition der Treuepflicht vorhanden und noch immer ist ihr Verhältnis zu allgemeinen Instituten wie dem Rechtsmissbrauch ein Rätsel. Diese Defizite erklären, weswegen die Diskussion um die Abdingbarkeit der Treuepflicht bis vor kurzem ein Schattendasein führte, obwohl die Abbedingung der Treuepflicht sinnvoll sein kann.

Die Arbeit schließt die Lücken in der Treuepflichtdogmatik hinsichtlich des Begriffs der Treuepflicht und ihrer Abgrenzung zu anderen Instituten. Hierauf aufbauend leistet die Abhandlung einen Beitrag zur zwischenzeitlich entfachten Diskussion um die Abdingbarkeit der Treuepflicht. Dabei wird nicht nur die Deutsche Rechtswissenschaft berücksichtigt; es werden auch Anleihen bei der US-amerikanischen Rechtswissenschaft und der Verhaltensökonomik genommen. »Derogation from and Concept of the Duty of Loyalty«

The duty of loyalty is the central duty in German corporate law. Academia and judicature have shaped this duty through numerous decisions and papers. However, there's no effective definition of the duty of loyalty and its interdependence with contractual duties like the covenant of good faith and fair dealing is still a mystery; likewise, the German discussion about the derogation from the duty of loyalty, until recently, led an existence in the shadows. This monography fills these gaps.
Table of Contents
Section Title
Page
Action
Price

Vorwort

7

Inhaltsverzeichnis

9

Abkürzungsverzeichnis

14

Teil 1: Einleitung

19

A. Problemaufriss

19

B. Gang der Darstellung und Forschungsansätze

22

Teil 2: Allgemeiner Teil

26

A. Gegenstand der Treuepflicht und seine Umgebung

26

I. Abstrakte Begriffsbeschreibung der Treuepflicht

26

1. Gängige Begriffsbeschreibungen

26

2. Grundmanns Begriffsschärfung

30

3. Ableitung exakterer Kriterien

33

a) Eingrenzungskriterium aus dem Zweck

35

b) Eingrenzungskriterium aus der Wirkweise

38

c) Eingrenzungsindiz aus dem Inhalt

43

4. Geschärfte Begriffsbeschreibung

46

II. Konkretes Vorkommen der Treuepflicht

46

1. Geschäftsleiterbereich

47

2. Gesellschafterbereich

48

III. Verhältnis zur gesetzlichen Umgebung

50

1. Allgemeine Institute aus Treu und Glauben

50

a) Widersprüchliches Verhalten

51

b) Missbräuchliche Rechtsausübung (Rechtsmissbrauch i.e.S.)

53

2. (Ergänzende) Vertragsauslegung gemäß §§ 133, 157 BGB

55

3. Störung der Geschäftsgrundlage gemäß § 313 BGB

58

4. Sittenwidrigkeit gemäß §§ 138 Abs. 1, 826 BGB

59

5. Sorgfaltspflicht

59

6. Weitere gesetzliche Umgebung

60

7. Schlussbemerkung zur gesetzlichen Umgebung

60

IV. Flankierende außergesetzliche Mechanismen und Pflichten

61

1. Monetärer Anreiz

61

2. Persönliche Bindung

62

3. Kapitalmarkt

63

4. Produktmarkt

64

5. Arbeitsmarkt

65

6. Internalisierte Moralvorstellung

67

7. Reputationsinteresse

68

8. Vertragliche Einzelpflicht

68

9. Schlussbemerkung zur außergesetzlichen Umgebung

69

V. Rechtsgrundlage der Treuepflicht

69

VI. Zwischenergebnis in Thesen

72

B. Fundament einer Abdingbarkeit – Aspekte der Vertragsfreiheit

73

I. Zwecke der Vertragsfreiheit

74

1. Gewährleistung von Gerechtigkeit beziehungsweise Effizienz

74

2. Gewährleistung materieller Selbstbestimmung

76

3. Gewährleistung formeller Selbstbestimmung

76

II. Typen des Eingriffs in die Vertragsfreiheit

81

1. Fremdinteressenschutz

81

2. Weicher Paternalismus

81

3. Harter Paternalismus

85

III. Schutzpflicht aus der Vertragsfreiheit

87

IV. Vertragsfreiheit und Abdingbarkeit der Treuepflicht

88

V. Zwischenergebnis in Thesen

91

C. Zweckmäßigkeitsprobleme bei richterlichen Billigkeitsspielräumen

92

I. Begriff des richterlichen Billigkeitsspielraums

92

II. Zweckmäßigkeitsprobleme bezüglich des Ergebnisses

93

1. Einfluss außerrechtlicher Umstände auf den Richter

94

2. Stützung mit der Anreizstruktur des Richters

97

3. Stützung mit empirisch belegten Rationalitätsdefiziten

100

III. Zweckmäßigkeitsprobleme bezüglich des Prozesses

102

IV. Billigkeitsspielräume und Treuepflicht

102

1. Anwendung der Treuepflicht

102

2. Abdingbarkeit der Treuepflicht

103

V. Zwischenergebnis in Thesen

104

Teil 3: Konkrete Diskussion um die Abdingbarkeit

105

A. Abdingbarkeit im Geschäftsleiterbereich der GmbH

105

I. Zulässigkeit nach gegenwärtigem Stand der Rechtswissenschaft

106

1. Deutschland

106

2. USA

111

II. Ausgangspunkt

115

III. Normative Anknüpfung einer Unabdingbarkeit

115

1. Wesensmerkmal/Grundprinzipien des Gesellschaftsrechts

116

2. Treuepflicht als zwingendes überpositives Rechtsprinzip

119

3. Treu und Glauben als zwingendes Rechtsinstitut

121

4. Perplexität des Rechtsverhältnisses

122

5. § 276 Abs. 3 BGB

123

6. Inhaltskontrolle/Sittenwidrigkeit

124

IV. Rechtsgründe für eine Unabdingbarkeit

125

1. Fremdinteressenschutz

125

a) Gläubiger- und Arbeitnehmerinteressen

125

b) Minderheitsinteressen

127

c) Interessen zukünftiger Gesellschafter

128

d) Kollektivinteressen

129

2. Schutz vor Selbstbestimmungsdefiziten (weicher Paternalismus)

132

a) Sinnlosigkeit einer Abbedingung?

132

aa) Scheinbare Sinnlosigkeit einer Abbedingung

133

bb) Nebenwirkungen der Treuepflicht

134

cc) Andere Schutzmechanismen und monetärer Ausgleich

137

dd) Sonderfälle

139

ee) Schlussbemerkungen

139

b) Empirisch belegte Rationalitätsdefizite

140

c) Informationsdefizite, insbesondere Erfahrungsdefizite

143

d) Allgemeines Verhandlungsungleichgewicht

144

3. Schutzpflicht des Richters

145

V. Entgegenstehende Rechtsgründe

146

1. Vertragsfreiheit der Parteien

146

2. Hilfsweise: Keine Evidenz

147

VI. Zusätzliche normative Anknüpfung an die Treuepflicht selbst

149

VII. Abschließende Bewertung der materiellen Abdingbarkeit

151

VIII. Exkurs: Abdingbarkeit allgemeiner Institute

151

IX. Prozedurale und formale Anforderungen bei Abbedingung

153

1. Gegenwärtiger Stand der Rechtswissenschaft

153

2. Ausgangspunkt und allgemeine Anforderungen

155

3. § 33 Abs. 1 Satz 2 BGB (Änderung des Gesellschaftszwecks)

157

4. § 47 Abs. 4 Satz 1 GmbHG (Stimmrechtsausschluss)

158

5. Bestimmtheitsgrundsatz/Kernbereich der Mitgliedschaft

159

6. Treuepflicht selbst

160

a) Anforderungen an den Geschäftsführer

160

b) Anforderungen an die Gesellschafter

162

7. Gleichbehandlungsgrundsatz

162

X. Empfehlenswerte Maßnahmen bei Abbedingung

163

XI. Zwischenergebnis in Thesen

164

B. Abdingbarkeit im Geschäftsleiterbereich der Aktiengesellschaft

167

I. Zulässigkeit nach gegenwärtigem Stand der Rechtswissenschaft

167

II. Gemeinsamkeiten

168

III. Besonderheiten

172

1. Fremdinteressenschutz

172

a) Transaktionskosten bei Anteilserwerb

172

b) Kapitalmarkt als Ausgleichsmechanismus

173

2. Schutz vor Selbstbestimmungsdefiziten (weicher Paternalismus)

175

a) Informationsdefizite bei Abbedingung

175

b) Allgemeines Verhandlungsungleichgewicht bei Abbedingung

178

c) Defizite zukünftiger Aktionäre bei Anteilserwerb

179

3. Normative Anknüpfung an § 23 Abs. 5 AktG (Satzungsstrenge)

181

IV. Zwischenergebnis in Thesen

186

C. Abdingbarkeit im Gesellschafterbereich der OHG

187

I. Zulässigkeit nach gegenwärtigem Stand der Rechtswissenschaft

188

II. Gemeinsamkeiten

190

III. Besonderheiten

192

1. Risikofaktoren für opportunistisches Verhalten

192

2. Informationsprobleme

194

3. Normative Anknüpfung an § 705 BGB

195

4. Abschließende Bewertung der materiellen Abdingbarkeit

196

IV. Prozedurale und formale Anforderungen

196

V. Zwischenergebnis in Thesen

198

D. Abdingbarkeit im Allgemeinen

199

I. Verallgemeinerungsbare Erkenntnisse

199

II. Ausnahmen

201

1. § 23 Abs. 5 AktG (Satzungsstrenge) bei Aktiengesellschaften

201

2. Offene Gesellschaften ohne hinreichend effizienten Markt

202

3. Inhaltskontrolle als Ausgleichsmechanismus

203

III. Prozedurale und formale Anforderungen

203

IV. Zwischenergebnis in Thesen

204

Teil 4: Zusammenfassung in Thesen

206

A. Gegenstand der gesellschaftsrechtlichen Treuepflicht

206

B. Abdingbarkeit im Geschäftsleiterbereich der GmbH

207

C. Abdingbarkeit im Geschäftsleiterbereich der Aktiengesellschaft

209

D. Abdingbarkeit im Gesellschafterbereich der OHG

209

E. Abdingbarkeit im Allgemeinen

210

Literaturverzeichnis

211

Sachwortregister

227