Capital markets & securities law & regulation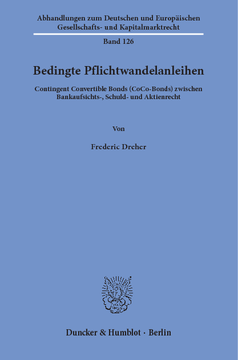 Additional Information
Book Details
ISBN

978-3-428-55548-2
978-3-428-15548-4 (print edition)

DOI

https://doi.org/10.3790/978-3-428-55548-2

Edition

1

Language

German

Pages

313

Collections

Subjects
Pricing
Institution

€ 116.00 (incl. local VAT if applicable)

Individual

€ 89.90 (incl. local VAT if applicable)
About The Author
Frederic Maximilian Dreher studierte von 2010 bis 2015 Rechtswissenschaften an der Albert-Ludwigs-Universität Freiburg. Anschließend war er als akademischer Mitarbeiter am Institut für Internationales Wirtschaftsrecht mit Schwerpunkt Ostasien (Frau Professor Yuanshi Bu, LL.M.) beschäftigt. Von September 2017 bis Juli 2018 absolvierte Dreher sein Masterstudium an der University of Chicago Law School. Im Januar 2018 erfolgte die Promotion durch die rechtswissenschaftliche Fakultät der Albert-Ludwigs-Universität Freiburg.
Frederic Maximilian Dreher studied law at the Albert-Ludwigs-University Freiburg (2010–2015). He worked as a research assistant at the Institute for International Business Law at the Albert-Ludwigs-University Freiburg under the supervision of Prof. Dr. Yuanshi Bu, LL.M. In January 2018, he obtained his Ph.D. from the University of Freiburg. In June 2018, he received his Master's Degree from the University of Chicago Law School.
Abstract
Bedingte Pflichtwandelanleihen (CoCo-Bonds) sind ein neuer Baustein der Bankaufsichtsstruktur. Grundidee der Instrumente ist es, dass sie sich im Falle des Eintritts eines Auslösungsereignisses (Krisensituation) automatisch von Fremd- in Eigenkapital (Aktien) wandeln. Die Arbeit widmet sich diesen neuen Finanzinstrumenten unter drei Gesichtspunkten: bankaufsichts-, schuld- und aktienrechtlich. Bankaufsichtsrechtlich werden diskutierte Ausgestaltungsformen vorgestellt und analysiert sowie ein Reformvorschlag (Erhöhung der Auslösungsschwelle) unterbreitet. Schuldrechtlich werden Möglichkeiten aufgezeigt, wie eine Wandlung bei Eintritt eines Auslösungsereignisses tatsächlich automatisch erfolgen kann. Aktienrechtlich wird gezeigt, dass es sich um normale Wandelschuldverschreibungen handelt, die nur über ein bedingtes Kapital abgesichert werden können. Außerdem wird gezeigt, dass eine Forderungseinbringung zum Nennwert möglich ist und ein Bezugsrechtsausschluss keine Probleme darstellt. »Contingent Convertible Bonds«

Contingent convertible bonds (coco bonds) are new financial instruments. The paper analyzes these instruments with respect to the EU banking regulation regime and under the German contract and stock corporation law. It shows the different ways of structuring such bonds and analyzes them from a regulatory perspective. Further, it shows options to structure an automatic conversion under German contract law and gives answers to several key questions arising under the Stock Corporation Act.
Table of Contents
Section Title
Page
Action
Price

Vorwort

7

Inhaltsverzeichnis

13

Abkürzungsverzeichnis

20

Einleitung

25

A. Problemaufriss und Ziel der Arbeit

25

B. Terminologie und Methodik

29

C. Eingrenzung des Untersuchungsgegenstandes und Gang der Untersuchung

31

Erster Teil: Bankaufsichtsrecht

34

§ 1 Ursprünge von CoCo-Bonds und Überblick über die Bankenregulierung in der EU

34

A. Historische Ursprünge von CoCo-Bonds

34

I. Alternativen zum Chapter 11-Verfahren in den USA

34

1. Bebchuks Options-Modell

36

2. Die Ausarbeitung von Bradley & Rosenzweig

37

3. Adlers Chameleon Equity-Vorschlag

39

4. Distress-Contingent Convertible Bonds

39

II. Aufgreifen durch die Volkswirtschaftslehre

40

III. Implementierung im Regulierungskanon

41

B. Bankenregulierung in der EU im Anschluss an die Finanzkrise

41

I. CRD IV-Maßnahmenpaket

41

1. Capital Requirement Regulation (CRR)

41

2. Capital Requirement Directive IV (CRD IV)

42

3. Umsetzung der CRD IV im KWG

43

II. SSM/SRM-Maßnahmenpaket

43

1. Das europäische Sanierungs- und Abwicklungsregime

43

2. Umsetzung durch das SAG

45

C. Zusammenfassung § 1

46

§ 2 Regulatorisches Umfeld von CoCo-Bonds im Speziellen

47

A. Das Eigenkapitalkonzept nach BASEL III

47

B. Regelung von CoCo-Bonds in der EU durch die CRR

49

C. Rechtsvergleichender Seitenblick

54

I. Verwendung von CoCo-Bonds in der Schweiz

54

1. Vorarbeiten der Expertenkommission

54

2. Gesetzgeberische Umsetzung

55

3. Zwischenfazit

57

II. Verwendung von CoCo-Bonds in den USA

58

D. Vergleichende Betrachtung

59

E. Überblick über die bisherigen Emissionen systemrelevanter europäischer Banken

59

F. Zusammenfassung § 2

61

§ 3 Ausgestaltungsparameter von CoCo-Bonds

63

A. Anknüpfungspunkt des trigger-events

63

I. Regulatorische Zielsetzung des Parameters

63

II. In der Volkswirtschaftslehre diskutierte Ausgestaltungsoptionen

64

1. Institutsspezifisches trigger-event

64

a) Bilanzielle Betrachtungsweise

64

aa) Vorteile

65

bb) Einwände

65

b) Marktbasierte Betrachtungsweise

66

aa) Vorteile

67

bb) Einwände

68

2. Systemspezifisches trigger-event

70

a) Vorteile

70

b) Einwände

71

3. Regulatorisches trigger-event

72

a) Vorteile

72

b) Einwände

72

4. Kombinationsmöglichkeiten

73

a) Vorteile

73

b) Einwände

74

III. Ausgestaltung zur Zielerreichung

75

B. Auslösungsschwelle des trigger-events

80

I. Regulatorische Zielsetzung des Parameters

81

II. In der Volkswirtschaftslehre diskutierte Ausgestaltungsoptionen

81

1. Frühe Wandlung durch hohes trigger-event

82

a) Vorteile

82

b) Einwände

82

2. Späte Wandlung durch niedriges trigger-event

83

a) Vorteile

83

b) Einwände

83

III. Ausgestaltung zur Zielerreichung

84

C. Umwandlungsverhältnis

87

I. Regulatorische Zielsetzung des Parameters

87

II. In der Volkswirtschaftslehre diskutierte Ausgestaltungsoptionen

88

1. Wandlung in Abhängigkeit der ausgegebenen CoCo-Bonds

88

a) Wandlung zum Nennwert der Anleihe

88

b) Wandlung oberhalb des Nennwerts der Anleihe

90

aa) Vorteile

91

bb) Vorgriff: Vereinbarkeit mit dem deutschen Aktienrecht

91

c) Wandlung unterhalb des Nennwerts der Anleihe

93

d) Wandlung zum Zeitwert der Anleihe

94

2. Wandlung in eine bei Emission festgelegte Anzahl an Aktien

95

3. Wandlung nach Kapitalbedarf

96

4. Exkurs: Vorschläge von Coffee und Kaal/Henkel

97

a) Wandlung in Vorzugsaktien

97

b) Vereinbarkeit mit dem AktG

98

III. Ausgestaltung zur Zielerreichung

101

D. Zusammenfassung § 3

106

§ 4 Vergleich mit der derzeitigen Rechtslage nach CRR und Änderungsbedarf

108

A. Anknüpfungspunkt des trigger-events

108

B. Auslösungsschwelle des trigger-events

108

I. Reformvorschlag für AT-1 CoCo-Bonds

109

II. Reformvorschlag für T-2 CoCo-Bonds

111

C. Umwandlungsverhältnis

112

D. Das Problem des "too-interconnected-to-fail"

114

E. Zusammenfassung § 4

116

Zweiter Teil: Schuldrecht

118

§ 5 Konstruktion der bedingten Pflichtwandlung

118

A. "Normale" Wandelanleihen

119

I. Bezugsrecht

119

1. Festofferte

120

2. Optionsvertrag

120

3. Vorvertrag

121

II. "Umtauschrecht"

122

1. Tausch, Aufrechnung und Wahlschuld

122

2. Ersetzungsbefugnis des Gläubigers

123

B. "Umgekehrte Wandelschuldverschreibung"

125

I. Bezugspflicht

125

II. "Umtauschrecht"

126

C. Pflichtwandelanleihe

127

I. Bezugspflicht

127

II. "Umtauschrecht/-pflicht"

128

1. Ersetzungsbefugnis

128

2. Aufschiebend befristete Ausübung der Ersetzungsbefugnis

130

a) Die Bedingungs- und Befristungsfeindlichkeit von Gestaltungsrechten

130

b) Die Befristung der Ersetzungsbefugnis

132

c) Anwartschaftsrecht auf die Mitgliedschaft?

133

d) Bilanz- und steuerrechtliche Auswirkungen

134

3. Aufschiebend befristeter Änderungsvertrag

135

a) Zwingendes Erfordernis einer Ersetzungsbefugnis?

135

b) Die Konstruktionsmöglichkeit Änderungsvertrag

136

c) Anwartschaftsrecht, Bilanz- und Steuerrecht

136

D. Bedingte Pflichtwandelanleihen

137

I. Bezugspflicht

137

II. "Umtauschrecht/-pflicht"

139

1. Wandlung durch Gestaltungsrecht

139

a) Umtauschrecht des Schuldverschreibungsinhabers

139

b) Umtauschrecht der Emittentin

141

2. Wandlung durch Änderungsvertrag

142

E. Zusammenfassung § 5

142

§ 6 AGB-Kontrolle und Schuldverschreibungsgesetz

144

A. Anforderungen der AGB-Kontrolle

144

I. Anleihebedingungen als Allgemeine Geschäftsbedingungen

144

1. Anwendungsbereich

144

2. Anleihebedingungen als AGB

147

a) Selbstemission

147

b) Fremdemission

148

3. Einbeziehung

149

II. Inhaltskontrolle

150

1. Verbot überraschender Klauseln

150

2. Kontrollfähige Klauseln

152

a) Leistungsbeschreibende Klauseln

152

b) Rückschlüsse auf CoCo-Bonds

154

B. Transparenzpflicht nach § 3 SchVG

156

I. Dogmatischer Gehalt des § 3 SchVG

156

1. Die herrschende Meinung

156

2. Ansatz von Schroeter

157

3. Konkurrenzverhältnisse

162

II. Anforderungen an die Anleihebedingungen von CoCo-Bonds

163

C. Zusammenfassung § 6

164

Dritter Teil: Aktienrecht

165

§ 7 Aktienrechtliche Einordnung von CoCo-Bonds

165

A. CoCo-Bonds als Wandelanleihen i.S.v. § 221 Abs. 1 S. 1 AktG

165

I. Anwendungsbereich

166

1. Tatbestand

166

2. Analoge Anwendung bei einer Wandlung mittels Änderungsvertrag

168

II. Anforderungen an den Ausgabebeschluss der Hauptversammlung

171

B. Bezugsrechte aus CoCo-Bonds als verbotene Zusicherung auf Aktien gem. § 187 AktG?

174

I. Rechtsfolgen des § 187 AktG

175

II. Auswirkungen auf CoCo-Bonds

176

C. Vereinbarkeit mit dem aktienrechtlichen Kapitalschutz

178

D. Wandlungsanordnung der Abwicklungsbehörde als Verstoß gegen die Leitungspflicht des Vorstands

180

E. Zusammenfassung § 7

180

§ 8 Sicherung der Wandlung (Kapitale)

182

A. Bedingte Kapitalerhöhung

182

I. CoCo-Bonds als zulässiger Zweck

183

II. Restriktionen durch den Hauptversammlungsbeschluss

185

1. Angabe des Gesamtnennbetrags der Emission

185

2. Angabe eines Ausgabebetrags

188

a) Wandlung zum Nennwert der Anleihe mit cap

189

b) Wandlung in eine feststehende Anzahl an Aktien

191

III. Kein Ausschluss durch die CRR

191

B. Genehmigtes Kapital

193

I. Bezugsrecht der Aktionäre

193

II. Zeitliche Begrenzung der Ermächtigung

194

III. Anwendbarkeit des § 194 Abs. 1 S. 2 AktG

196

IV. Sicherung des Hauptversammlungsbeschlusses

197

V. Volumenbegrenzung auf 50% des Grundkapitals

199

VI. Zustimmungserfordernis der Verwaltung

200

C. Kapitalerhöhung gegen Einlagen

201

I. Vorratsaktien

201

II. Kapitalerhöhung nach Eintritt des trigger-events

202

D. Bedienung durch eigene Aktien der Gesellschaft

202

I. Anwendbarkeit des § 221 AktG

202

II. Beschränkungen durch § 71 AktG

207

III. Ausschluss durch die CRR

208

E. Zusammenfassung § 8

209

§ 9 Die Problematik der Einbringung der Forderung zum Nennwert

211

A. Ausgangsproblematik

211

B. Wortlaut der Norm

212

C. Teleologie des § 194 Abs. 1 S. 2 AktG

213

I. Systematische Gesichtspunkte

213

II. Gesetzgeberische Intention

214

1. Das Sanierungsinstrument Debt-Equity-Swap

215

2. Die allgemeine Dogmatik des Debt-Equity-Swaps

216

a) Der insolvenzrechtliche Debt-Equity-Swap

216

b) Der außerinsolvenzrechtliche Debt-Equity-Swap

218

aa) Forderungseinbringung zum Nennwert

218

bb) Der Standpunkt der herrschenden Ansicht

220

cc) Einordnung § 194 Abs. 1 S. 2 AktG

222

3. Sonderregelung für Sanierungsinstrumente

224

D. Zusammenfassung § 9

226

§ 10 Ausschluss des Bezugsrechts

228

A. Bezugsrechtsausschluss gem. § 221 Abs. 4 S. 2 AktG i.V.m. § 186 Abs. 3 S. 1 AktG

228

I. Die Verweisnorm des § 221 Abs. 4 S. 2 AktG

228

II. Formelle und materielle Anforderungen des Bezugsrechtsausschlusses gem. § 186 Abs. 3 AktG

229

1. Materielle Schranken durch das Urteil Kali&Salz

229

2. Aufweichung bzw. Abkehr durch das Urteil Siemens/Nold?

230

3. Schlussfolgerung für Wandelanleihen im Allgemeinen

234

III. Bezugsrechtsausschluss bei CoCo-Bonds

236

B. Vereinfachter Bezugsrechtsausschluss gem. § 186 Abs. 3 S. 4 AktG

238

I. Notwendigkeit der Ausgabe am Börsenpreis

239

1. Wandlungspreis als Surrogat für den Ausgabebetrag der Wandelanleihe

240

2. Wert eines hypothetischen Bezugsrechts gegen Null

242

a) Finanzmathematische Bewertungsmodelle

243

b) Untauglichkeit dieser Modelle für CoCo-Bonds

245

c) Bookbuilding-Verfahren als Lösung

246

II. Nachkaufmöglichkeit

248

1. Notwendigkeit eines ungeschriebenen Tatbestandsmerkmals

249

2. Bezugspunkt der Nachkaufmöglichkeit

251

a) Wandelanleihen

251

b) Aktien

251

c) Alternative Anknüpfung

253

C. Zusammenfassung § 10

253

§ 11 Squeeze-out

255

A. Verfahrensoption Squeeze-out

255

B. Problemstellung

256

C. Einfluss auf die Berechnung des notwendigen Grundkapitals

257

D. Rechtliches Schicksal von CoCo-Bonds

259

I. Rechtslage bei einer Eingliederung gem. §§ 319ff. AktG

259

II. Der aktien- und übernahmerechtliche Squeeze-out

261

1. Aktienrechtlicher Squeeze-out gem. §§ 327a ff. AktG

261

a) Standpunkt der herrschenden Ansicht

261

b) Abweichende Ansicht

263

c) Stellungnahme

264

2. Übernahmerechtliche Squeeze-out gem. §§ 39a ff. WpÜG

266

3. Übertragung auf CoCo-Bonds?

267

III. Verschmelzungsrechtliche Squeeze-Out gem. § 62 Abs. 5 UmwG

267

1. Anlehnung an die Regelung der §§ 327a ff. AktG

267

2. § 23 UmwG als Sondernorm für Wandelschuldverschreibung

268

3. Übertragung auf CoCo-Bonds?

270

a) Das Erlöschen des übertragenden Rechtsträgers

270

b) Das Problem der Überleitung der Rechte

271

aa) Fehlende Funktionserfüllung auf anderer Konzernebene

271

bb) Fehlende Durchsetzungsmöglichkeit der Rechte aus § 23 UmwG

272

4. Zwischenfazit

273

IV. Sonderregime für CoCo-Bonds

274

1. Im Falle eines aktienrechtlichen oder übernahmerechtlichen Squeeze-outs

274

a) Kollision mit dem Regelungsziel einer effektiven Unternehmensfüh‍rung?

275

b) Verstoß gegen das Gleichbehandlungsgebot?

276

2. Im Falle einer Eingliederung

278

3. Im Falle eines verschmelzungsrechtlichen Squeeze-outs

278

E. Zusammenfassung § 11

281

§ 12 Ergebnis und Ausblick

282

Anhang: Übersicht CoCo-Bonds-Emissionen

285

Literaturverzeichnis

291

Stichwortverzeichnis

311