Partnership & cooperative law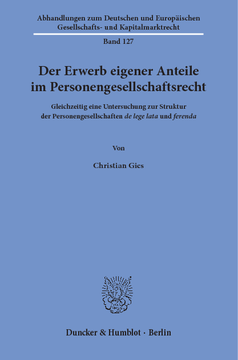 Additional Information
Book Details
ISBN

978-3-428-55555-0
978-3-428-15555-2 (print edition)

DOI

https://doi.org/10.3790/978-3-428-55555-0

Edition

1

Language

German

Pages

406

Collections

Subjects
Pricing
Institution

€ 138.00 (incl. local VAT if applicable)

Individual

€ 107.90 (incl. local VAT if applicable)
About The Author
Christian Gies studierte Rechtswissenschaften an der Universität des Saarlandes. Seit dem erfolgreichem Abschluss der ersten juristischen Prüfung im Jahr 2014, ist er als wissenschaftlicher Mitarbeiter am Lehrstuhl für Bürgerliches Recht, Handels- und Wirtschaftsrecht, Internationales Privatrecht und Rechtsvergleichung von Herrn Prof. Dr. Dr. Dr. h.c. mult. Michael Martinek an der Universität des Saarlandes tätig. Zur Zeit absolviert er zugleich den juristischen Vorbereitungsdienst am OLG Zweibrücken in Rheinland-Pfalz.
Christian Gies studied German law at Saarland University. Since the successful completion of the First Examination in Law in 2014, he has been working as a research assistant at the Chair of Civil Law, Commercial and Business Law, International Private Law and Comparative Law of Prof. Dr. Dr. Dr. h.c. mult. Michael Martinek at the University of Saarland. At the same time, he is currently completing his legal traineeship at the Higher Regional Court of Zweibrücken in Rhineland-Palatinate.
Abstract
Der Erwerb eigener Anteile stellt im Recht der Kapitalgesellschaften ein bekanntes und gern genutztes Mittel zur (Re-)Strukturierung im laufenden Geschäftsbetrieb dar. Ihre Existenz ist Folge einer konsequent zu Ende gedachten rechtlichen Abstraktion. Demgegenüber wird die Möglichkeit des Erwerbs eigener Anteile in Personengesellschaften allgemein unter Verweis auf die fehlenden verselbstständigten Strukturen bzw. das Gesamthandsprinzip verneint. Von dieser These ausgehend stellt der Autor die Dogmatik des modernen Personengesellschaftsrechts auf den Prüfstand. Er kommt zu dem Ergebnis, dass die bisherigen dogmatischen Ansätze einer Neujustierung bedürfen. Eine alle Umstände berücksichtigende Erfassung des heutigen Personengesellschaftsrechts mache eine Unterscheidung von gesamthänderisch organisierten »einfachen« und hiervon losgelösten »unternehmenstragenden« Personengesellschaften erforderlich. Letztere eröffneten einen dogmatischen Spielraum für Eigenanteile. Starting from the problem of »own shares«, the work deals with the basics of German personal partnership law. The author comes to the conclusion that these require readjustment. A modern registration of German personal partnership law requires a distinction to be made between »simple partnerships« and »partnerships carrying companies« which have overcome the traditional theories. The latter opened up a dogmatic scope for own shares.
Table of Contents
Section Title
Page
Action
Price

Vorwort

7

Inhaltsverzeichnis

9

Abkürzungsverzeichnis

17

A. Einleitung

21

I. Der Gang der Untersuchung

23

II. Überblick über die wichtigsten theoretischen Ansätze

25

1. Die traditionelle Vermögenslehre

26

2. Die Gruppenlehre

26

3. Personengesellschaften als verselbstständigte Gemeinschaften

27

B. Der "Anteil an Personengesellschaften"

28

I. Der "Anteil am Gesellschaftsvermögen" als gesetzliche Anerkennung eines auf die Gesellschaft bezogenen Beteiligungsbegriffs

30

1. Übersicht über die gesetzlichen Regelungen zum "Anteil am Gesellschaftsvermögen"

31

2. Der "Anteil am Gesellschaftsvermögen" als Mitgliedschaft des Gesellschafters

33

a) Darstellung

33

b) Bewertung

35

3. Zusammenfassung

37

II. Der Begriff des Gesellschaftsanteils

37

1. Der Gesellschaftsanteil bzw. Geschäftsanteil an bzw. in einer Personengesellschaft als Mitgliedschaft nach der herrschenden Meinung und Rechtsprechung

38

a) Überblick

38

b) Rechtliche Bewertung der Ansichten von Rechtsprechung und herrschender Lehre

39

aa) Die Mitgliedschaft nach der herrschenden Lehre

39

(1) Die Mitgliedschaft in Personengesellschaften als Stellung in einem Vertragsverhältnis

42

(2) Die Rechte und Pflichten des Mitglieds

43

bb) Gesellschafterpflichten contra Einordnung als subjektives Recht

45

cc) Insbesondere: Systematik des § 566 BGB sowie § 613a BGB als gesetzlich geregelte Fälle eines Wechsels von Vertragsparteien

48

dd) Mitgliedschaft als Bezeichnung einer Vertragszugehörigkeit ("Stellung")

50

c) Zwischenfazit

52

2. Alternative Ansätze zur rechtlichen Aufarbeitung des "Gesellschaftsanteils"

52

a) Der Gesellschaftsanteil als Teilausschnitt der Mitgliedschaft

53

aa) Überblick

53

bb) Rechtliche Bewertung

54

b) Gesellschaftsanteil als organisationsvertragliche Rechtsstellung nach Beuthien

56

aa) Überblick

56

bb) Rechtliche Bewertung

58

3. Eigener Ansatz: Gesellschaftsanteil, Geschäftsanteil und Aktie als Partizipationsrechte und -pflichten vermittelnder Rechtsgegenstand

58

a) Vorüberlegungen und Überblick

58

b) Der Gesellschaftsanteil an "einfachen" und "unternehmenstragenden" Personengesellschaften

60

c) Inhaltliche Begriffsbestimmung: Gesellschaftsanteil als Brücke zur Stellung im gesellschaftlichen Rechtsverhältnis

63

aa) Vermittlung von Eintrittsrecht und -pflicht

63

bb) Gesellschaftsanteil als Pfändungsgegenstand

65

cc) Belastungen des Gesellschaftsanteils

65

dd) Ausarbeitung eines Allgemeinen Rechts der Gesellschaftsbeteiligungen

66

(1) Der Geschäftsanteil

66

(2) Die Aktie

68

(3) Chance der Vereinheitlichung des Gesellschaftsrechts

69

III. Zusammenfassung

70

C. Erwerb eigener Anteile in GmbH und AG

72

I. Überblick

72

1. GmbH

72

2. Die Aktiengesellschaft

76

3. Genossenschaft

78

4. Kommanditgesellschaft auf Aktien

78

5. Zwischenergebnis

79

II. Dogmatik und Schwierigkeiten des Erwerbs eigener Anteile in GmbH und AG

80

1. Der Begriff der Abstraktion in BGB und Gesellschaftsrecht

81

a) Abstraktion im BGB

82

aa) Das Abstraktionsprinzip des Sachenrechts

82

bb) Das abstrakte Schuldversprechen bzw. Schuldanerkenntnis

84

cc) Abstraktheit der Vollmacht

86

dd) Die Abstraktheit der Anweisung nach § 783 BGB

88

ee) Zusammenfassung: Abstraktion als Durchbrechung natürlicher Kausalitätszusammenhänge

88

b) Abstraktion im Gesellschaftsrecht

89

aa) Abstraktion im Gesellschaftsrecht als Verstetigung relativer Rechtsverhältnisse

89

bb) Abstraktion als Bedingung für die Entstehung von Anteilen "an" Gesellschaften

94

2. Verselbstständigung und Abstraktion als notwendige Voraussetzung für Eigenanteile

95

3. Überwindung der Konfusion von Mitgliederrechten und -pflichten und Untergang der Mitgliedschaft durch Fiktion des Fortbestehens?

97

a) Untergang und (wiederholter) originärer Erwerb der Mitgliedschaftsrechte

100

b) Ruhen der Rechte nach der herrschenden Meinung und Rechtsprechung

101

aa) Ruhen der Rechte aufgrund konkludenter Vereinbarung im Gesellschaftsvertrag

102

bb) Ruhen der Rechte als Folge der Kollision von Wertpapier- und Körperschaftsrecht

103

cc) Eigener Ansatz: Ruhen der Rechte bei Unterscheidung von innerer und äußerer Beteiligungssphäre

104

4. Anerkennung der Rechtspersönlichkeit durch das Gesetz als notwendige Voraussetzung für die Verselbstständigung von Gesellschaften

106

a) Eintragung als zwingende Voraussetzung der Abstraktion

107

b) Rechtspersönlichkeit als zwingendes Element der Abstraktion

108

aa) Rechtsfähigkeit, Fremdorganschaft und beschränkte Haftung keine allein juristischen Personen vorbehaltenen Merkmale

109

bb) Rechtspersönlichkeit durch Abstraktion?

111

(1) Fiktions- und Genossenschaftslehre und Theorie der Zweckpersonifikation

111

(2) Personifikation heißt auch Verselbstständigung

113

(3) Abstraktion in den gesetzlich anerkannten Gesellschaften mit Rechtspersönlichkeit

115

(a) GmbH und AG als verselbstständigte Gesellschaften

115

(b) Der (eingetragene) Verein

117

(c) Die Genossenschaft

119

(d) Die Kommanditgesellschaft auf Aktien (KGaA)

120

(e) Die Societas Europaea (SE)

123

(f) Die Stiftung

124

(4) Gesetzliche Anerkennung der Rechtspersönlichkeit als notwendige Bedingung der Abstraktion?

125

(a) Die Vorgesellschaft von GmbH und AG als verselbstständigte Personenvereinigung ohne Rechtspersönlichkeit

126

(aa) Rückschlüsse auf Struktur wegen "Identität" von Vorgesellschaft und eingetragener Gesellschaft

126

(bb) Strukturvorgebende Kraft von Einmanngründungen

128

(b) Die Vorstiftung als Idealbild der Verselbstständigung

136

III. Zusammenfassung

137

D. Die dogmatische Struktur der Personengesellschaften – Abstraktion oder Einheit von Gesellschaft und Mitgliedern

140

I. Exkurs: Einzug der Gesamthand in das Personengesellschaftsrecht

141

1. Die Personengesellschaften im 19. Jahrhundert

142

a) Die Gesellschaft bürgerlichen Rechts als schuldrechtliche Vereinigung

142

b) Der erste Entwurf als Repräsentant des römischen Rechts

148

c) Die Kritik der Literatur zum ersten Entwurf des BGB

150

d) Das Bekenntnis zur Gesamthand

153

2. Die handelsrechtlichen Personengesellschaften vor Geltung des HGB

157

a) Die Personenhandelsgesellschaften nach Vorstellung des jüngeren Handelsrechtsgesetzgebers

157

b) Die Personenhandelsgesellschaften in der gesellschaftsrechtlichen Literatur

160

c) Die Personenhandelsgesellschaften des ADHGB als Gesamthandsgesellschaften

161

d) Abkehr vom preußischen Modell der Handelsgesellschaften

162

3. Gesellschaft bürgerlichen Rechts als Grundtyp der Personenhandelsgesellschaften des HGB

164

4. Zusammenfassung

166

II. Der Abstraktionsgrad der Personengesellschaften von ihren Gesellschaftern

167

1. Die "Gruppenlehre"

168

a) Die Gesamthand als Gemeinschaft mit "eigenthümlich genossenschaftlichem Charakter" nach Georg Beseler

168

b) Otto von Gierke als Wegbereiter des heutigen Personengesellschaftsrechts

172

c) Konkretisierung des Gierke'schen Gesamthandsmodells durch Werner Flume

177

d) Fortführung der Gruppenlehre durch Karsten Schmidt

182

e) Die Gesamthand als Rechtssubjekt im Außenverhältnis

186

f) Stellungnahme zur Gruppenlehre

188

aa) Verhältnis der Gesellschaft zum Gesellschafterstamm nach den Vertretern der Gruppenlehre

188

bb) Allgemeine Beurteilung der Gruppenlehre unter Berücksichtigung der Verselbstständigung der Gesellschaft

191

(1) Konturlosigkeit des Gesamthandsprinzips nach der Gruppenlehre

192

(2) Fehlende Vereinbarkeit mit dem Wortlaut

194

(3) Abgrenzungsschwierigkeiten zu den Körperschaften

195

(a) Funktionelle und konstitutive Stellung der Gesellschafter

195

(b) Fehlende Auswirkung des Gesellschafterwechsels auf die Außenwahrnehmung

196

(c) Willensbildung in Personengesellschaft und Körperschaft

197

(d) Unterscheidung von Satzung und Gesellschaftsvertrag

198

cc) Zusammenfassung zur allgemeinen Kritik an der Gruppenlehre

201

2. Die traditionellen "Vermögenslehren"

202

a) Die "ungeteilte Gesamtberechtigung" der Gesamthänder

204

aa) Philipp Carl Scherers Untersuchung der ehelichen Gütergemeinschaft

204

bb) Die Gesamthand nach Andreas v. Tuhr

206

cc) Die Gesellschaften im engeren Sinne als Ausdruck des "personellen Elements"

209

b) Die Gesamthand als gebundenes Sondervermögen

211

aa) Die Untersuchung der Gesamthand durch Schulze-Osterloh

211

bb) Gesamthand und juristische Person als juristische Lösungsmodelle

213

cc) Bestätigung der klassischen Gesamthandslehre durch Zöllner

217

c) Stellungnahme zur traditionellen Gesamthandslehre

219

aa) Das Verhältnis der Gesellschafter zur Gesellschaft nach den vermögensorientierten Gesamthandslehren

219

bb) Bewertung der traditionellen Vermögenslehren

222

3. Die Personengesellschaften als juristische Personen

227

a) Die Anerkennung der Rechtspersönlichkeit der Gesamthand als Wechselwirkung des modernisierten Umwandlungsrechts

230

b) Die Gesamthandsgesellschaften nach Thomas Raiser

232

c) Die Außengesellschaft als juristische Person nach Bälz

237

d) Analyse, Kritik, Stellungnahme

240

aa) Personengesellschaften als abstrahierte Gesellschaften?

240

bb) Kritik in Literatur

242

cc) Stellungnahme

243

4. Die Rechtsprechung

246

a) Die Rechtsprechung des Reichsgerichts

247

b) Die Rechtsprechung des Bundesgerichtshofs

249

aa) Überblick über die Rechtsauffassung des Bundesgerichtshofs

249

bb) Entscheidung ARGE Weißes Ross (BGHZ 146, 341 NJW 2001, 1056–1061)

252

cc) Abkehr vom Dualismus von "rechtsfähigen Gesellschaften" und "juristischen Personen" im BGH – Beschluss vom 20.05.2016, Az. V ZB 142/15?

253

dd) Fehlende Verselbstständigung aufgrund bloßer "Teilrechtsfähigkeit"

254

c) Analyse und Stellungnahme

256

5. Zusammenfassung

259

E. Personengesellschaften als abstrahierte Gesellschaftsformen

262

I. Gesamthandsprinzip als dogmatische Grundlage des modernen Personengesellschaftsrechts

264

1. Überblick über den Status quo des Personengesellschaftsrechts nach der herrschenden Gruppenlehre

265

2. Exkurs: Historische Exemplifizierung des Gesamthandsprinzips

266

a) Die familiäre Hausgenossenschaft und die ungeteilte Erbengemeinschaft

268

aa) Die Hausgenossenschaft unter der patria potestas

268

bb) Der Übergang zum consortium

270

b) Gemeinderschaft, Arbeitsgemeinschaft und Ganerbschaft im germanischen Rechtskreis

275

aa) Die Gemeinderschaften

276

bb) Die Arbeits- und Handwerksgesellschaften

279

cc) Die Ganerbschaften des Adels

279

c) Die Gemeinschaft der Gesamtbelehnten

281

d) Gemeinsamkeiten und Vergleich zum heutigen Personengesellschaftsrecht

284

aa) Gemeinsamkeiten gesamthänderischer Vereinigungen

284

bb) Vergleich mit der Personengesellschaftsdogmatik der heutigen Zeit

285

3. Fehlende Vereinbarkeit von Wortlaut des Gesetzes und herrschender Auffassung

286

4. Systemwidrige Ungleichbehandlung der Gesamthandsgemeinschaften des BGB

291

a) Die Erbengemeinschaft

292

b) Die Gütergemeinschaft der Ehegatten

294

c) Gesamthandsprinzip: einheitliches Prinzip oder dogmatischer Paradiesvogel?

296

aa) Gesamthänderisches Durchwirken eines sozialen Kontextes

296

bb) Gesamthand als Einheitsgedanke

298

(1) Die Personengesellschaften, insbesondere die Gesellschaft bürgerlichen Rechts

298

(2) Die Gütergemeinschaft der Eheleute

299

(3) Die Erbengemeinschaft

299

(4) Einheitsgedanke durch Sonderung des sozialen Kontextes

300

cc) Vielheit der Gesamthand als dogmatische Leerformel

300

dd) Zusammenfassung: Personengesellschaftsdogmatik als systematischer Widerspruch

303

5. Prägende Merkmale von Personengesellschaften – kein alleiniger Ausdruck der Gesamthand

304

a) Die Haftungsverhältnisse

305

b) Die Abhängigkeit der Gruppe von den Persönlichkeiten der Gesellschafter

307

c) Selbstverwaltung und Prinzip der Selbstorganschaft

308

aa) Das Selbstverwaltungs- bzw. Organmonopol der Gesellschafter

309

bb) Das Prinzip der Selbstorganschaft

311

6. Zusammenfassung: "Gesamthand" keine taugliche oder notwendige Grundlage des heutigen Personengesellschaftsrechts

313

II. Versuch einer strukturellen Aufarbeitung des Personengesellschaftsrechts auf Grundlage der Anschauungen des modernen Rechtsverkehrs

316

1. Terminologische Vorüberlegungen

317

2. Die einfache Gesellschaft bürgerlichen Rechts

319

a) Zuschnitt und Abgrenzungsfragen

319

b) Rechtliche Ausgestaltung im Einzelnen

321

aa) Der Gesellschaftsvertrag als schuldrechtliches Rechtsverhältnis

321

bb) Zum Wechsel der Gesellschafter, Einheit der Mitgliedschaft

321

cc) Vermögensträgerschaft

322

dd) Einheitliche Bezeichnung der Gesellschafter

323

ee) Prozessualer und vollstreckungsrechtlicher Überblick

323

3. Die unternehmenstragenden Personengesellschaften

324

a) Unverzichtbare Merkmale und Eigenschaften eines modernen Personengesellschaftsrechts

326

aa) Personengesellschaften als Teilnehmer des Rechtsverkehrs und Träger des Gesellschaftsvermögens

326

bb) Gelockerte Personenbezogenheit, Mitgliederfluktuation und die Möglichkeit der "Vinkulierung" von Gesellschaftsanteilen

327

cc) Festhalten an den Haftungsverhältnissen und dem Selbstverwaltungsmonopol

328

b) Konstruktion unternehmenstragender Personengesellschaften: Überwindung der Sozietätsstruktur im Sinne vertikaler Segregation?

329

aa) Gleichlauf von Gesellschaftsvertrag und Satzung

330

(1) Der Gesellschaftsvertrag von Personengesellschaften nach herrschender Auffassung

330

(2) Demgegenüber: Die Struktur der Satzungen auf Grundlage der herrschenden Auffassung

332

(3) Dogmatisches Leitbild als alleiniges Abgrenzungsmerkmal

335

(4) Zusammenfassung: Strukturelle Identität von unternehmenstragenden Personen- und Kapitalgesellschaften

340

bb) Verselbstständigte Strukturen in Rechtsprechung und Gesetzgebung

340

(1) Übertragung der Mitgliedschaft auf Grundlage der herrschenden Lehre als Anerkennung verselbstständigter Personengesellschaftsstrukturen

341

(2) Verallgemeinerungsfähigkeit der Auslegungsmethoden von Gesellschaftsverträgen atypischer Personengesellschaften

343

(3) Anerkennung verselbstständigter Strukturen durch die Änderungen des Umwandlungsgesetzes von 1994

346

cc) "Teilrechtsfähigkeit" contra Verselbstständigung

346

dd) Unterschiedliche Struktur wegen Unterscheidung von juristischen Personen und rechtsfähigen Personengesellschaften im Gesetz und numerus clausus des Gesellschaftsrechts

349

ee) Personengesellschaften im europäischen Vergleich

350

(1) Überblick über die wichtigsten Rechtsordnungen in Europa

351

(a) Annäherung des italienischen Personengesellschaftsrechts an die deutsche Systematik

351

(b) Das Schweizer Personengesellschaftsrecht

352

(c) Personengesellschaften in Frankreich

354

(d) Personengesellschaften des englischen Rechts

355

(e) Das (neue) österreichische Personengesellschaftsrecht

357

(2) Rechtsvergleichende Ableitungen für das deutsche Personengesellschaftsrecht

359

ff) Zwischenfazit: Anerkennung abstrahierter Strukturen sowie der rechtstheoretischen Zulässigkeit von Eigenanteilen als logischer Folgeschritt in der Entwicklung des Personengesellschaftsrechts

361

(1) Zusammenfassung der bisherigen Erkenntnisse

361

(2) Anerkennung verselbstständigter Strukturen als konsequente Fortentwicklung des Personengesellschaftsrechts

362

(3) Rechtstheoretische Möglichkeit und Grenzen des Erwerbs eigener Anteile in unternehmenstragenden Personengesellschaften

363

gg) Vereinbarkeit mit unverzichtbaren Merkmalen und anwendbares Recht

365

(1) Vereinbarkeit mit unverzichtbaren Merkmalen des heutigen Personengesellschaftsrechts

365

(a) Teilnehmer des Rechtsverkehrs und Träger des Gesellschaftsvermögens

366

(b) Stellung des einzelnen Mitglieds

366

(c) Beschränkung der Abtretbarkeit von Gesellschaftsanteilen

366

(d) Haftungsverhältnisse und Selbstverwaltungsmonopol

367

(2) Anwendbares Recht

368

F. Zusammenfassung und Auswertung

370

Literaturverzeichnis

378

Sachwortverzeichnis

403