Capital markets & securities law & regulation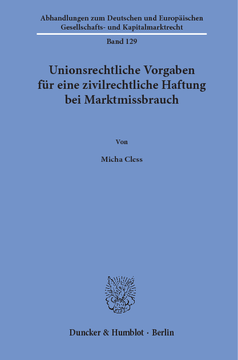 Additional Information
Book Details
ISBN

978-3-428-55568-0
978-3-428-15568-2 (print edition)

DOI

https://doi.org/10.3790/978-3-428-55568-0

Edition

1

Language

German

Pages

219

Collections

Subjects
Pricing
Institution

€ 92.00 (incl. local VAT if applicable)

Individual

€ 71.90 (incl. local VAT if applicable)
About The Author
Micha Cless studierte Rechtswissenschaft an der Ruprecht-Karls-Universität Heidelberg mit Schwerpunkt Deutsches und Europäisches Verwaltungsrecht. Sein Referendariat absolvierte er im OLG-Bezirk Karlsruhe mit Auslandsstation in Rom. Danach war er als wissenschaftlicher Mitarbeiter am Lehrstuhl für Bürgerliches Recht, Handels-, Gesellschafts- und Wirtschaftsrecht von Herrn Prof. Dr. Klaus Ulrich Schmolke an der Friedrich-Alexander-Universität Erlangen-Nürnberg tätig. Dort verfasste er auch seine Dissertationsschrift.
Micha Cless studied law at the University of Heidelberg, specializing in German and European administrative law. He served his legal traineeship at the Court of Appeal Karlsruhe and in a law firm based in Rome, followed by an employment as a research associate at the Chair of Private Law, Commercial, Company and Business Law held by Professor Klaus Ulrich Schmolke at the Friedrich-Alexander-University Erlangen-Nuremberg. In this context, he wrote his thesis.
Abstract
Die Arbeit untersucht, ob das primäre Unionsrecht in der Ausprägung, die es durch die Rechtsprechung des Europäischen Gerichtshofs erfahren hat, die Mitgliedstaaten verpflichtet, eine zivilrechtliche Haftung für Marktmanipulation und Insiderdelikte am Kapitalmarkt (Marktmissbrauch) vorzuhalten, obwohl die Marktmissbrauchsverordnung ihnen explizit nur eine öffentlich-rechtliche Sanktionierung vorgibt. In Auseinandersetzung mit der Rechtsprechung unter besonderer Berücksichtigung des Effektivitätsgrundsatzes und des institutionellen Gleichgewichts entwickelt der Autor einen Maßstab, anhand dessen eine mitgliedstaatliche Pflicht zur Haftungsbewehrung anerkannt oder zurückgewiesen werden kann. Darauf aufbauend wird die Marktmissbrauchsverordnung unter Einbeziehung rechtsökonomischer Ansätze auf ein solches Haftungspostulat hin überprüft. Zur Sprache kommen auch die Implikationen für eine deliktische Haftung nach deutschem Recht. »EU Law and Private Enforcement of the Market Abuse Regulation«

The thesis analyses whether primary EU law obliges Member States to implement private liability for market manipulation and insider dealings (market abuse). Considering landmark decisions of the CJEU, the author proposes a framework which forms the basis for acknowledging or refusing an unwritten duty of the Member States to implement private enforcement. The framework is then applied to the EU Market Abuse Regulation.
Table of Contents
Section Title
Page
Action
Price

Vorwort

7

Inhaltsverzeichnis

9

A. Einleitung

15

I. Die Einführung der Marktmissbrauchsverordnung (MAR)

15

II. Gegenstand und Gang der Untersuchung

16

III. Einbettung der Arbeit in allgemeinere Entwicklungen und Diskussionen

19

1. Funktionale Subjektivierung – Unionsbürger als "Hüter des Unionsrechts"

19

2. Das Paradigma des Private Enforcement

20

a) Grundgedanke und Herkunft

20

b) Exkurs: Private Enforcement im deutschen Recht

21

3. Regulierungsprivatrecht aus Unions- und mitgliedstaatlicher Perspektive

22

B. Sanktionsregime des reformierten Marktmissbrauchsrechts

24

I. Öffentlich-rechtliche Sanktionsvorgaben der MAR

24

II. Strafrechtliche Sanktionsvorgaben der CRIM-MAD

25

III. Verhältnis beider Sanktionssysteme zueinander

27

IV. Reaktionen auf das Schweigen der MAR zur zivilrechtlichen Haftung

28

V. Deutsche Umsetzung durch Erstes und Zweites FiMaNoG

29

1. Aufgaben und Befugnisse der BaFin

29

2. Erweiterte und angepasste Bußgeldtatbestände

30

3. Erweiterte und angepasste Straftatbestände

31

4. Bewertung der deutschen Umsetzung

32

VI. Ergebnis

32

C. Schweigen des Gesetzgebers zur privaten Haftung – Sperrwirkung?

34

I. Problemaufriss

34

II. Allgemeiner negativer Satz?

35

III. Regelungslücke als Kriterium einer Sperrwirkung?

36

IV. Europaweit einheitliche Anwendung der MAR

37

V. Parallelen im angelsächsischen Rechtskreis

38

1. USA

38

2. Vereinigtes Königreich

40

VI. Ergebnis

40

D. Status quo privater Haftung für Marktmissbrauch in anderen EU-Mitgliedstaaten

42

E. Mitgliedstaatliche Pflicht zur zivilrechtlichen Haftungsbewehrung von MAR-Verstößen aufgrund des Effektivitätsgrundsatzes?

45

I. Objektive primärrechtskonkretisierende Vorgaben des EuGH zur Durchsetzung von Unionsrecht mittels Sanktionen

45

1. Verhältnismäßigkeit der Sanktion

47

2. "Abschreckende" Sanktionen

48

3. Zivilrechtliche Haftung als Sanktion

49

4. Subsidiarität mitgliedstaatlicher Sanktionierungspflicht

49

5. Freiwilligkeit der Einführung zusätzlicher Rechtsbehelfe

50

6. Ergebnis

51

II. Subjektive Rechte als Voraussetzung zivilrechtlicher Haftung

51

III. Haftungspostulat aus Übertragung der Courage-Entscheidung des EuGH?

53

1. Sachverhalt

53

2. Modifikationen in der Folgerechtsprechung: Rs. Manfredi

54

3. Erste Lehren aus der Kartellschadensersatzrichtlinie für die MAR

55

4. Überlegungen zur Übertragbarkeit

56

a) (Abgeleitete) sachlich-gegenständliche Kompetenz des EuGH

57

b) Reichweite und Wesentlichkeit

58

c) Vergleich der Rechtsdurchsetzung

59

d) Effet-Argument

59

e) Bewertung des Entdeckungsarguments und die Lösung der MAR

61

aa) Vergleich mit der Anlageberatung

61

bb) Lösungsansatz der MAR

61

cc) Weitere Meldepflichten im EU-Kapitalmarktrecht

63

dd) Umsetzung in Deutschland

65

ee) Zwischenergebnis

66

f) Konvergenz der Sanktionierungsregime

66

g) Folgefragen

67

5. Ergebnis

68

IV. Haftungspostulat aus Übertragung der Muñoz-Entscheidung des EuGH?

68

1. Sachverhalt

68

2. Vergleich mit Courage

70

3. Überlegungen zur Übertragbarkeit

71

a) Reichweite und Wesentlichkeit

72

b) Vergleich der Rechtsdurchsetzung

72

c) Effet-Argument und subjektives Recht

73

d) Rechtsfolge und Pflichtinhalt

75

4. Ergebnis

75

V. Bewertung von Courage und Muñoz und Maßstabsbildung für die Auslegung der MAR

76

1. Keine direkte Übertragbarkeit

76

2. Dogmatik des subjektiven privaten Rechts?

76

3. Revision des effet-Gedankens als relatives Optimierungsgebot

77

4. Kritik der Rechtsverleihungspraxis des EuGH

80

5. Exkurs: Nachteile richterlicher Rechtsfortbildung

82

6. Vorschlag ausdrücklicher Kriterien für die Aufstellung eines Haftungspostulats

82

a) Keine abschließende unionsrechtliche Sanktionsordnung

84

b) Vereinbarkeit einer funktionalen Subjektivierung mit Konzept und Regelungszielen des Unionsgesetzgebers

84

c) Geeignetheit einer zivilrechtlichen Haftung zur Regelungszielerreichung

85

d) Erforderlichkeit: Unerwünschtes Durchsetzungsdefizit

85

VI. Vereinbarkeit einer funktionalen Subjektivierung mit Konzept und Regelungszielen des Unionsgesetzgebers

86

1. Wortlaut-Erwägungen

87

a) Erwägungsgründe

87

b) Art. 1 MAR als programmatischer Grundstein

88

c) Ergebnis

89

2. Systematische Erwägungen

89

a) Rechtsform-Argument

90

b) Regelungskonzept der MAR bei der Aktivierung Privater

91

c) Überprüfungsprärogative des Verordnungsgebers aus Art. 38 MAR

92

d) Rechtsaktübergreifender Vergleich

92

aa) Richtlinien

93

bb) Verordnungen

95

cc) Ergebnis

97

3. Historisch-genetische Erwägungen

98

4. Teleologische Erwägungen

99

a) Ökonomische Hintergründe der Verbotsnormen

99

aa) Manipulationsverbot

99

bb) Insiderhandelsverbot

100

b) Anlegerschutz

101

aa) Begriffliche Annäherung

102

(1) Offenheit des Begriffs "Anlegerschutz"

102

(2) Offenheit des Begriffs "Individualschutz"

103

bb) Anlegerschutz im Sinne der MAR

104

(1) Anlegerschutz als Regelungsziel der MAR

104

(2) Präzisierung des Anlegerschutzes im Rahmen von Art. 14 MAR

104

(3) Präzisierung des Anlegerschutzes im Rahmen von Art. 15 MAR

105

(4) Zwischenergebnis

106

(5) Erklärungsansatz: "Schadensdiffusion" bei Individualschutz durch Haftung

106

cc) Gegenbeispiel eines klar intendierten Vermögensindividualschutzes

107

5. Gesamtergebnis der Auslegung der MAR

108

VII. Geeignetheit einer zivilrechtlichen Haftung

108

1. In Bezug zu nehmendes Regelungsziel

109

2. Empirischer Befund zum kapitalmarktrechtlichen Enforcement

109

3. (Mehr) Prävention durch private Haftung?

111

a) Theoretisches Für und Wider einer Abschreckungswirkung

111

b) Voraussetzungen der Geltendmachung privater Ansprüche

113

aa) Aufdeckbarkeit marktmissbräuchlichen Verhaltens für Private

113

(1) Bei Marktmanipulationen

114

(2) Bei Insiderhandel

116

(3) Zwischenergebnis

117

bb) Vorliegen eines (bestimmbaren) Schadens

117

(1) Bei Marktmanipulation

117

(2) Bei Insiderhandel

118

(3) Zwischenergebnis

121

cc) Keine gegenläufigen wirtschaftlichen Interessen

122

dd) Anlegerfreundliche Ausgestaltung der Haftungsvoraussetzungen

123

c) Ergebnis

124

4. Gefahr der Überabschreckung?

125

5. Haftung als Beitrag zum Meta-Ziel der Kapitalmarkteffizienz

126

6. Spillover-Effekte für die repressive Marktmissbrauchsbekämpfung

127

7. Zwischenergebnis

128

VIII. Erforderlichkeit: Durchsetzungsdefizit

128

1. Bedürfnis nach empirischer Überprüfung des Durchsetzungsdefizits

129

2. Definition und Maßstab des Durchsetzungsdefizits

132

3. Durchsetzungsdefizit vor der Reform des Marktmissbrauchsrechts

133

a) Einschätzung der Kommission

134

b) Stimmen in der Literatur

135

c) Ergebnisse empirischer Studien zum Durchsetzungsdefizit vor der MAR?

135

4. Zukünftige Durchsetzung der Art. 14, 15 MAR

140

a) Erkenntnisse aus der Umsetzung der MAD 2003

140

b) Weitere Plausibilisierung

141

c) Insbesondere: Abschreckung durch Kriminalisierung

143

aa) Empirische Erkenntnisse zur strafrechtlichen Abschreckung

143

bb) "Der kalkulierende Täter"

144

cc) Freiheitsstrafen

145

dd) Subjektive Einflussgrößen

146

ee) Expressive function of law

147

ff) Durchsetzung

147

d) Einschätzungsprärogative des EU-Gesetzgebers

148

5. Mildere Alternativen zum Haftungspostulat

149

6. Zwischenfazit

149

IX. Ergebnis

149

F. EU-Recht auf Schadensersatz?

151

I. Grundlinie der Francovich-Rechtsprechung

151

II. Zur Übertragbarkeit von Francovich auf Unionsrechtsverstöße durch Private

153

1. Schlussanträge zur Rs. Banks

153

2. Stimmen im Schrifttum

154

3. Bewertung

155

a) Proprium der Staatshaftung

155

b) Kompetenz des EuGH für ein EU-Recht auf Schadensersatz

156

c) Verknüpfung der Rechtsprechungslinien

157

4. Ergebnis

158

G. Konstitutionelle Überprüfung des Befunds

159

I. Recht des Geschädigten auf einen Schadensersatzanspruch?

159

1. Art. 47 GRCH

159

2. Zulässigkeit eines nur fragmentarischen Vermögensschutzes

160

II. Schadensersatzhaftung als rechtfertigungsbedürftiger Eingriff in die Sphäre des Schädigers

161

III. Ergebnis

162

H. Blick auf die deutsche Rechtslage und Äquivalenzgrundsatz

163

I. Zivilrechtliche Haftung nach deutscher Rechtslage

163

1. Haftung gemäß §§ 97, 98 WpHG

163

a) Erfassung verbotenen Insiderverhaltens

164

b) Erfassung marktmanipulativen Verhaltens

165

c) Zwischenergebnis

167

2. Haftung gemäß § 823 Abs. 2 BGB

167

a) Marktmanipulationsverbot

168

aa) Vorläuferregelung des § 20a WpHG

168

bb) Neuregelung des Art. 15 MAR

169

b) Insiderverbot

171

3. Haftung gemäß § 826 BGB

172

4. Ergebnis

173

II. Haftungspostulat oder sonstige Vorgaben aus dem Äquivalenzgrundsatz?

173

1. Äquivalenz

173

2. Relevanz für ein Haftungspostulat hinsichtlich der Art. 14, 15 MAR

175

III. Vorlage nach Art. 267 AEUV

176

J. Überlegungen de lege ferenda

178

I. Kompensation

178

1. Kompensation durch Haftung und Fairnessgedanke

178

2. Alternativer Ausgleichsmechanismus

179

II. Alternativen zur Marktmissbrauchsbekämpfung durch Haftung

180

1. Verstärkter Ausbau von Hinweisgebersystemen

180

2. Big Data

183

III. Ergebnis

185

K. Ausblick

186

L. Zusammenfassung der Ergebnisse

188

Literaturverzeichnis

193

Stichwortverzeichnis

215