Liberalism & centre democratic ideologies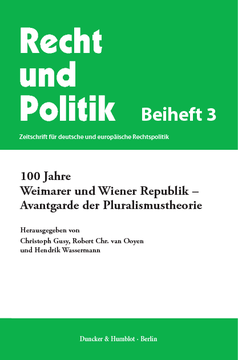 BOOK
Cite BOOK
Style
---
Gusy, C. Ooyen, R. Wassermann, H. (Eds.) (2018). 100 Jahre Weimarer und Wiener Republik – Avantgarde der Pluralismustheorie. Duncker & Humblot. https://doi.org/10.3790/978-3-428-55613-7
; Gusy, Christoph; Ooyen, Robert Chr. van and Wassermann, Hendrik. 100 Jahre Weimarer und Wiener Republik – Avantgarde der Pluralismustheorie. Duncker & Humblot, 2018. Book. https://doi.org/10.3790/978-3-428-55613-7
Gusy, C, Ooyen, R, Wassermann, H (eds.) (2018): 100 Jahre Weimarer und Wiener Republik – Avantgarde der Pluralismustheorie, Duncker & Humblot, [online] https://doi.org/10.3790/978-3-428-55613-7
---
Format
---
100 Jahre Weimarer und Wiener Republik – Avantgarde der Pluralismustheorie
Editors: Gusy, Christoph | Ooyen, Robert Chr. van | Wassermann, Hendrik
Recht und Politik. Beihefte, Vol. 3
(2018)
Additional Information
Book Details
ISBN

978-3-428-55613-7
978-3-428-15613-9 (print edition)

DOI

https://doi.org/10.3790/978-3-428-55613-7

Edition

1

Language

German

Pages

145

Collections

Subjects
Pricing
Institution

€ 58.00 (incl. local VAT if applicable)

Individual

€ 44.90 (incl. local VAT if applicable)
About The Author
Hendrik Wassermann, Studium der Rechtswissenschaft und Politikwissenschaft an der Ludwig-Maximilians-Universität München und der Freien Universität in Berlin (West). 1984 1. Juristisches Staatsexamen. Nach dem Referendariat in Berlin und Neapel 2. Juristisches Staatsexamen 1988 in Berlin. 1989–1990 Tätigkeit als Rechtsanwalt, 1990 Eintritt in den Diplomatischen Dienst. Im Auswärtigen Dienst Verwendungen in Bonn, Algier, Addis Abeba, Los Angeles, Wien OSZE und N'Djamena. Derzeit (2018) Tätigkeit im Bereich Datenschutz in der Zentrale des Auswärtigen Amts, Berlin. Verantwortlicher Redakteur von »Recht und Politik« (RuP). Interessenschwerpunkte: Freiheitsrechte, Staatstheorie, Öffentliches Recht. Christoph Gusy lehrt Öffentliches Recht, Staatslehre und Verfassungsgeschichte an der Universität Bielefeld.
Abstract
In der Weimar-Diskussion hat sich ein Paradigmenwechsel vollzogen: Nicht mehr vom Scheitern einer Republik durch »Verfassungsmängel«, sondern vom revolutionären und großen demokratischen »Experimentierkasten« ist nun stärker die Rede. Ein vergleichender Blick auf Revolution und Staatstheorie der Wiener Republik wird dabei eher selten geworfen. Es zeigt sich, dass mit Hugo Preuß und Hans Kelsen nicht nur zwei demokratische Vordenker die staatsrechtliche Diskussion um die neuen Verfassungen in Weimar und Wien geprägt haben. Beide »Verfassungsväter« sind entgegen identitärer Konzepte von »Volk« oder auch »Klasse« vielmehr Vordenker einer offenen, pluralistischen Gesellschaft. Sie zählen daher bis heute zur deutschsprachigen Avantgarde moderner Demokratie- und Verfassungstheorie. Das Recht und Politik-Beiheft Nr. 3 spürt diesen parallelen Zusammenhängen von Revolution, Verfassung und Pluralismus in Weimar und Wien nach. Mit dem Wiener Staatsrechtler Leo Wittmayer wird dabei auch ein weiterer Parteien- und Pluralismustheoretiker wiederentdeckt. »The 100th Anniversary of the Weimar Republic and the Republic of Austria – Pioneers of Pluralism«

In the discussion on the Weimar Republic a paradigm shift has occured. A comparison of the revolution and the constitutional theory of the Weimar Republic and the Republic of Austria shows that the author of the Weimar constitution Hugo Preuß, as well as his Austrian counterpart Hans Kelsen, considered democracy as a manifestation of an open pluralist society. Neither was an advocate for the identitarian concepts of people or class. Therefore Preuß and Kelsen are still regarded as pioneers of modern democracy and constitutional theory. With the Viennese constitutional lawyer Leo Wittmayer, another theorist of parties and pluralism is rediscovered.
Table of Contents
Section Title
Page
Action
Price

Vorwort: Die Entdeckung des Pluralismus. Eine Innovation des Staatsdenkens der Weimarer und Wiener Republik

5

Inhalt

7

Christoph Gusy: Die verdrängte Revolution

9

I. Die Republik eint, die Revolution spaltet

9

II. Im revolutionären Zeitalter: Vom Weltkrieg zum Bürgerkrieg

10

1. Frieden, Selbstbestimmung, Demokratie als Ziele der Revolutionen

10

2. Evolution, Revolution, Gegenrevolution: Vom Kampf gegen die alten Mächte zum Kampf um die neue Macht

13

III. "Es lebe die deutsche Republik" – Der Weg nach Weimar

15

IV. Das Staatsrecht der Revolution: Aufruf des Rats der Volksbeauftragten vom 12.11.1918

17

1. Friedensfrage und Republik: Zwischen Friedenspolitik und "Dolchstoß"

17

2. Selbstbestimmung des Volkes

20

a) Wahlrecht als Kernelement der Demokratie

20

b) Allgemeines Wahlrecht für alle "männlichen und weiblichen Personen"

22

c) "Proportionales Wahlsystem"

23

3. Freiheit und soziale Rechte

24

V. Zwischen Anerkennung des Status quo und einsetzender Verdrängung: Die Revolution in der Nationalversammlung

26

1. Errungenschaften der Revolution als Basis

27

2. Die einsetzende Marginalisierung

28

3. Die Revolution als Legitimationsdefekt der Weimarer Verfassung

29

VI. Die Revolution als verfassungshistorischer Schritt zur Republik und Demokratie

31

Sabine Leutheusser-Schnarrenberger: Hugo Preuß – das deutsche Volk und die Politik

33

I. Neue Sehnsucht nach konservativem Staatsverständnis

33

II. Das Staatsverständnis des Obrigkeitsstaates

34

III. Preuß erkannte das Verhängnis des Obrigkeitsstaates

34

IV. Die gezielte Entpolitisierung des Volkes

36

V. Preuß' bleibender Erfolg: Die Staatsgewalt liegt beim Volke

37

Andreas Voßkuhle: Hugo Preuß als Vordenker einer Verfassungstheorie des Pluralismus

39

I. Hugo Preuß – der "Vater" der Weimarer Reichsverfassung

40

1. Historisch-biographische Perspektive

40

2. Republikanisierung der politischen Kultur

41

II. Das Staats- und Politikverständnis bei Hugo Preuß

44

1. Staatstheoretischer Hintergrund: Umbildung des "Obrigkeitsstaates" in einen "Volksstaat"

44

2. Die Habilitationsschrift als Zugang zum Werk von Hugo Preuß

46

3. Vom kommunalen self-government zur supranationalen Integration

48

4. Bürgerschaftliche Partizipation am Beispiel der Rolle politischer Parteien

49

III. Die Pluralismustheorie nach dem Zweiten Weltkrieg

51

1. Das Menschenbild des Pluralismus

52

2. Die Verbindung von Pluralismus- und Demokratietheorie

53

3. Toleranzgrenzen

54

IV. Neokorporatismus, regulierte Selbstregulierung, Netzwerktheorie, Internet-Society usw.: Hat die Pluralismustheorie ausgedient?

55

Christoph Gusy: Die Weimarer Verfassung zwischen Überforderung und Herausforderung

57

I. Überforderungsthesen in der Weimarer Republik

57

II. Überforderungsthesen nach dem Ende der Weimarer Republik

64

III. Wirkungsbedingungen und -grenzen der Verfassung in der Weimarer Republik

67

1. Weimar als Verfassungslaboratorium

67

2. Die WRV im Verfassungslaboratorium

71

3. Verfassungswandel im Verfassungslaboratorium

77

IV. Verfassungsvoraussetzungen damals und heute

80

Robert Chr. van Ooyen: "Weimar" – ein Paradigmenwechsel

84

Christoph Schmetterer: Die Entstehung der Ersten Republik Österreich 1918–1920 aus rechtshistorischer Sicht

95

I. Einleitung

95

II. Der Staatsgründungsbeschluss

97

III. Das Ende von Krieg und Monarchie

100

IV. Die Ausrufung der Republik

102

V. Die Entwicklung in den Ländern

104

VI. Die Konstituierende Nationalversammlung

106

VII. Der Vertrag von St. Germain

107

VIII. Die Entstehung des Bundes-Verfassungsgesetzes

109

IX. Die Bundesverfassung 1920

112

X. Ausblick

114

Robert Chr. van Ooyen: Staatslehre ohne "Staat" – Demokratietheorie ohne "Volk"

115

I. Einführung: Kelsen, Wien und die offene Gesellschaft der Moderne

115

1. Biografische Kurznotiz

115

II. Die Identität von Staat, Recht und Verfassung

117

1. Kritik an Naturrecht, Eigentumsbegriff und Geschichtstheologie des Marxismus

117

2. Kritik an der hegelianisch geprägten "Staatstheologie" der Souveräniät

119

3. Staat ist Recht ist Verfassung

120

4. Staatslehre ohne "Staat" – Demokratietheorie ohne "Volk"

121

5. Demokratische Rechtsgenossenschaft in der europäischen Integration und modernen Zuwanderungsgesellschaft

123

III. Renaissance: Neuere Forschung zu einer persona non grata der (bundes)‌deutschen Staatsrechtslehre

124

1. Texteditionen

125

2. Rechtshistorische Aufarbeitungen

126

3. Generelle (politik)‌wissenschaftliche Theorie-Erschließung

127

4. Religionspolitologische Forschung

128

5. Verfassungs- und Demokratietheorie des Grundgesetzes

129

Detlef Lehnert: Leo Wittmayer: Ein Wiener Parteien- und Pluralismustheoretiker in den "Weimarer" politischen Verfassungsdebatten

131

I. Einleitung

131

II. Vom späten Habsburgerreich zur frühen Weimarer Republik

133

III. Beginnende Weimar-Skepsis, Österreich-Vergleich und Parlamentarismus-Studie

138

IV. Fazit: Wittmayer neben Kelsen, zwischen Preuß und Fraenkel

141

Autoren dieses Heftes

144