Company law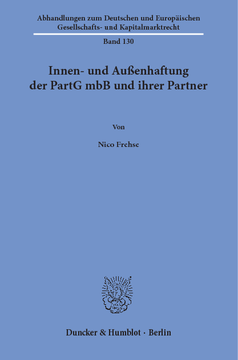 Additional Information
Book Details
ISBN

978-3-428-55597-0
978-3-428-15597-2 (print edition)

DOI

https://doi.org/10.3790/978-3-428-55597-0

Edition

1

Language

German

Pages

214

Collections

Subjects
Pricing
Institution

€ 92.00 (incl. local VAT if applicable)

Individual

€ 71.90 (incl. local VAT if applicable)
About The Author
Nico Frehse ist Rechtsanwalt im Hamburger Büro einer internationalen Wirtschaftskanzlei. Er berät zu allen Aspekten des Gesellschafts- und Kapitalmarktrechts sowie zu privaten und öffentlichen M&A-Transaktionen. Nico Frehse studierte Rechtswissenschaften an der Christian-Albrechts-Universität zu Kiel und promovierte anschließend bei Prof. Dr. Jan Lieder, LL.M. (Harvard), an der Christian-Albrechts-Universität zu Kiel und der Albert-Ludwigs-Universität Freiburg. Promotionsbegleitend arbeitete er als Wissenschaftlicher Mitarbeiter in mehreren anderen internationalen Wirtschaftskanzleien im Bereich Corporate/M&A.
Nico Frehse is an associate in the Hamburg office of an international law firm. He advises on all aspects of corporate and capital markets law as well as private and public M&A transactions. He studied law at the Christian-Albrechts-University Kiel and graduated under Prof. Dr. Jan Lieder, LL.M. (Harvard), at the Christian-Albrechts-University Kiel and the Albert-Ludwigs-University Freiburg. While working on his doctoral thesis he worked as a research assistant in the Corporate/M&A department of several other international law firms.
Abstract
Mit der Einführung der Partnerschaftsgesellschaft mit beschränkter Berufshaftung (PartG mbB) hat der Gesetzgeber ein gesellschaftsrechtliches Novum geschaffen. Nico Frehse untersucht die damit einhergehenden Rechtsfragen betreffend die Innen- und Außenhaftung der Partnerschaft und ihrer Partner. Einen Schwerpunkt bildet dabei die Beantwortung der immerwährenden Frage nach der Durchbrechung der Haftungsbeschränkung des § 8 Abs. 4 PartGG; insbesondere gestützt auf die Übertragung anerkannter Institute des Gesellschaftsrechts. Im Ergebnis gelangt der Autor zu dem Befund, dass sich die PartG mbB – trotz des bestehenden Risikos persönlicher Haftung – als ein gelungenes und praxisfähiges Gesamtkonzept präsentiert und den Partnern mit der Haftungsbeschränkung insgesamt zuverlässigen Schutz gewährt. Der Autor attestiert der haftungsprivilegierten Rechtsformvariante mithin einen eindeutigen Mehrwert für das deutsche Gesellschaftsrecht sowie eine Stärkung desselben im internationalen Wettbewerb. »Internal and External Liability of the PartG mbB and its Partners«

Nico Frehse examines the legal issues regarding the internal and external liability of the PartG mbB and its partners with a focus on answering the perpetual question of breaking the limitation of liability of section 8 para. 4 PartGG. As a result, he comes to the conclusion that, despite the existing risk of personal liability, the PartG mbB grants the partners overall reliable protection and thus represents a clear added value for German corporate law.
Table of Contents
Section Title
Page
Action
Price

Vorwort

7

Inhaltsverzeichnis

9

Abkürzungsverzeichnis

15

A. Einleitung

19

I. Gegenstand und Ziel der Arbeit

19

II. Gang der Arbeit

20

B. Einführung der PartG mbB

22

C. Gesetzgeberische Begründung zur Einführung der PartG mbB

24

D. Die PartG mbB

25

I. Rechtsnatur

25

II. Zugang zur PartG mbB

25

III. Gründung

27

1. Neugründung

27

2. "Umwandlung" und Umwandlung

27

a) Von der GbR in die PartG mbB

27

b) Von der "normalen" PartG in die PartG mbB

28

c) Von einer Kapitalgesellschaft in die PartG mbB

29

IV. Berufshaftpflichtversicherung

29

1. Mindestversicherungssummen und Jahreshöchstleistungen

30

a) Rechts- und Patentanwälte

30

b) Steuerberater

30

c) Wirtschaftsprüfer

30

d) Architekten und Ingenieure

31

e) Heilberufe

32

2. Interprofessionelle Zusammenschlüsse

32

V. Name

32

E. Haftungsverfassung der PartG mbB

34

I. Außenhaftung

34

1. Die Haftung der Partnerschaft

34

a) Vertragliche Haftung

34

b) Zurechnung vertraglichen Verhaltens

35

c) Deliktische Haftung

36

d) Zurechnung deliktischer Handlungen

36

e) § 831 BGB

36

2. Die Haftung der Partner

37

a) Haftung nach § 8 Abs. 1 PartGG

37

aa) Verbindlichkeiten der Partnerschaft

37

bb) Verweis in das HGB

38

b) Unmittelbare Haftung der Partner

39

3. Die Haftungsbeschränkung des § 8 Abs. 4 PartGG

39

a) Unterhalten der Berufshaftpflichtversicherung

40

aa) Fehlende Berufshaftpflichtversicherung

40

bb) Unzureichende Berufshaftpflichtversicherung

41

cc) Einfluss des Versicherungsrechts auf die Haftungsbeschränkung

42

b) Verbindlichkeiten der Partnerschaft

45

aa) Deliktische Verbindlichkeiten

46

bb) Vorsätzliche und wissentliche Schädigung

48

cc) Fahrlässige Schädigung

50

dd) De lege ferenda: Schließen der Schutzlücken

51

c) Schäden wegen fehlerhafter Berufsausübung

52

d) Namenszusatz

53

aa) Haftung bei (noch) fehlender Eintragung des Namenszusatzes im Register

54

bb) Fehlende Änderung des Partnerschaftsvertrages

55

cc) Anmeldung eines fehlerhaften Namenszusatzes

55

dd) Haftung bei Eintragung einer nicht zugelassenen Berufsgruppe

56

ee) Haftung bei fehlerhaft eingetragenem Namenszusatz einer zugelassenen Berufsgruppe

57

ff) Haftung beim fehlenden bzw. fehlerhaften Führen des Namenszusatzes

58

(1) Übertragbarkeit auf die PartG mbB

59

(2) Sonderfall: PartG "mbH" und Rechtsanwaltsgesellschaft

60

(3) Zusammenfassung

63

(4) Einwand des § 15 Abs. 2 S. 1 HGB

63

(5) Voraussetzungen

64

(6) Anwendungsbereich

64

(7) Rechtsfolge

65

(8) Haftung nach § 823 Abs. 2 BGB i.V.m. Schutzgesetz

66

(9) Haftung aus culpa in contrahendo

67

(10) Zusammenfassung

68

gg) Unzulässiger "Firmengebrauch" nach § 2 Abs. 2 PartGG i. V. m. § 37 HGB

68

hh) Anfechtung des Rechtsgeschäftes

68

(1) Anfechtung nach § 123 Abs. 1 BGB

68

(2) Anfechtung nach § 119 Abs. 2 BGB

69

(3) Kausalität

70

(4) Rechtsfolge der Anfechtung

71

e) Zeitpunkt der Wirksamkeit der Haftungsbeschränkung

72

aa) Bei Neugründung einer PartG mbB

72

bb) Bei "Umwandlung" einer "normalen" PartG in eine PartG mbB

72

(1) Meinungsstand im Schrifttum

72

(2) Stellungnahme

74

cc) Bei einer "echten" Umwandlung

76

dd) Bei "Umwandlung" einer GbR

76

f) Übergangsregelungen: "Vor-Partnerschaftsgesellschaft"

77

aa) Bei Neugründung

77

bb) Bei Umwandlung und "Umwandlung"

79

g) (Nach-)‌Haftung für Dauer- und Altmandate

80

aa) Bereits "begründete" Verbindlichkeiten

83

bb) Zeitpunkt der Pflichtverletzung

83

cc) Zeitpunkt des Vertragsschlusses

84

dd) Stellungnahme

85

ee) Zusammenfassung

87

h) Neueintretender Partner

87

aa) Wirksamkeit des Beitritts im Außenverhältnis

88

(1) Meinungsstand im Schrifttum

88

(2) Stellungnahme

88

bb) Haftung des neueingetretenen Partners

89

cc) Zeitpunkt des "Eintritts" i.S.d. § 130 HGB

91

(1) Meinungsstand im Schrifttum

91

(2) Stellungnahme

91

dd) Analoge Anwendung des § 28 HGB

93

i) Ausgeschiedener Partner

94

j) Auflösung der PartG mbB

96

k) Scheinpartner

98

aa) Auftreten im Rechtsverkehr

101

bb) Fehlerhafte Eintragung

101

cc) Versicherung des Scheinpartners

102

l) Schaden

105

4. Vertragliche Haftungsbeschränkung

106

a) Beschränkung der Haftung nach § 8 Abs. 1 PartGG

106

b) Beschränkung der Haftung nach § 8 Abs. 4 PartGG

108

c) Haftungsbeschränkungen aus Altmandaten

109

II. Innenhaftung

111

1. Anspruch der PartG mbB gegen den pflichtwidrig handelnden Partner

112

a) Anwendung des § 708 BGB (diligentia quam in suis)

113

b) Ausschluss des § 708 BGB

113

aa) Partnerschaftsvertraglicher Ausschluss des § 708 BGB

113

bb) Konkludenter Ausschluss des § 708 BGB

114

(1) Für einen konkludenten Ausschluss

114

(2) Gegen einen konkludenten Ausschluss

115

(3) Stellungnahme

115

c) Ausschluss des Regressanspruches für leichte Fahrlässigkeit

116

aa) Partnerschaftsvertraglicher Ausschluss

117

bb) Konkludenter Ausschluss

117

(1) Meinungsstand im Schrifttum

117

(2) Stellungnahme

117

d) Ausschluss des Regressanspruches für grobe Fahrlässigkeit

119

e) Ausschluss des Regressanspruches für Vorsatz

119

f) Nachträglicher Verzicht der PartG mbB auf bereits bestehende Ersatzansprüche gegen die Partner

119

2. Anspruch der PartG mbB gegen die übrigen Partner

121

3. Anspruch der PartG mbB gegen den Scheinpartner

123

4. Anspruch der PartG mbB gegen die angestellten Mitarbeiter und Berufsträger

124

5. Anspruch der Partner gegen die PartG mbB

125

6. Anspruch des Scheinpartners gegen die PartG mbB

127

7. Anspruch der angestellten Mitarbeiter und Berufsträger gegen die PartG mbB

127

8. Anspruch eines Partners gegen die anderen Partner

127

9. Anspruch des Scheinpartners gegen die anderen Partner

128

10. Anspruch der angestellten Mitarbeiter und Berufsträger gegen die Partner

131

11. Regress- oder Freistellungsanspruch bei deliktischer Handlung nach § 426 Abs. 1 BGB

132

a) Ansprüche der PartG mbB

132

aa) Anspruch der PartG mbB gegen den Partner nach § 426 Abs. 1 BGB

132

bb) Anspruch der PartG mbB gegen Scheinpartner nach § 426 Abs. 1 BGB

133

cc) Anspruch der PartG mbB gegen die angestellten Mitarbeiter und Berufsträger nach § 426 Abs. 1 BGB

133

b) Ansprüche gegen die PartG mbB

133

aa) Anspruch des Partners gegen die PartG mbB nach § 426 Abs. 1 BGB

133

bb) Anspruch des Scheinpartners und der angestellten Mitarbeiter und Berufsträger gegen die PartG mbB nach § 426 Abs. 1 BGB

134

c) Ansprüche gegen die anderen Partner

135

aa) Anspruch des Partners gegen die anderen Partner nach § 426 Abs. 1 BGB

135

bb) Anspruch des Scheinpartners und der angestellten Mitarbeiter und Berufsträger gegen die Partner nach § 426 Abs. 1 BGB

135

12. Nachschusspflicht nach § 735 BGB

135

a) Ausdrücklicher Ausschluss des § 735 BGB

136

b) Konkludenter Ausschluss des § 735 BGB

136

III. Durchbrechung der Haftungsbeschränkung

137

1. Existenzvernichtungshaftung

137

a) Die Existenzvernichtungshaftung als rechtsformübergreifendes Institut des Verbandsrechts

138

b) Übertragbarkeit auf die PartG mbB

138

aa) Zweckgebundenes Vermögen

139

bb) Schutzlücke im Kapitalerhaltungssystem

140

cc) Zusammenfassung

143

c) Durchgriffshaftung § 128 HGB analog oder § 826 BGB – Außenhaftung vs. Innenhaftung

144

aa) Alte Rechtsprechung des BGH: Außenhaftung nach § 128 HGB analog

144

bb) Neue Rechtsprechung des BGH: Innenhaftung nach § 826 BGB

145

cc) Meinungsstand im Schrifttum

146

dd) Stellungnahme

147

ee) Zusammenfassende Würdigung

151

d) Objektive Voraussetzungen der Existenzvernichtungshaftung

151

e) Rechtsfolge und Umfang der Existenzvernichtungshaftung

154

f) Treuepflichtverletzung

154

g) Anspruch aus § 826 BGB neben der Durchgriffshaftung (kumulativ)

156

h) Zusammenfassende kritische Würdigung der Existenzvernichtungshaftung

156

2. Haftung wegen "risikoinadäquater Berufshaftpflichtversicherung"

158

a) Allgemeine Problemdarstellung der Unterkapitalisierung

158

b) Meinungsstand hinsichtlich der Kapitalgesellschaften

159

c) Anwendbarkeit auf die PartG mbB: Haftung wegen "risikoinadäquater Berufshaftpflichtversicherung"

160

d) Stellungnahme

161

e) Treuepflichtverletzung wegen "risikoinadäquater Berufshaftpflichtversicherung"

166

aa) Adressat der Treuepflicht

168

bb) Geschäftsführung in der PartG mbB

168

cc) Keine Regelung im Partnerschaftsvertrag

168

dd) Regelung im Partnerschaftsvertrag

171

ee) Maßstab und Umfang der Pflicht

172

ff) Dispositivität

173

f) Zusammenfassung

174

3. Vermögensvermischung

174

a) Ausgangslage

174

b) Anwendbarkeit auf die PartG mbB

176

4. Haftung in der Insolvenz

177

a) Insolvenzfähigkeit und -antragsberechtigung

177

b) Insolvenzantragspflicht

178

aa) Planwidrige Regelungslücke

179

bb) Vergleichbare Interessenlage

180

cc) Zusammenfassung

182

c) Haftung der Partner in der Insolvenz

183

d) Persönliche deliktische Haftung der Partner nach § 823 Abs. 2 BGB i.V.m. § 15a Abs. 1 S. 2 InsO analog

184

e) Umfang der Haftung nach § 823 Abs. 2 BGB i.V.m. § 15a Abs. 1 S. 2 InsO analog

186

aa) Rechtsprechung

187

bb) Schrifttum

187

cc) Stellungnahme bezogen auf die PartG mbB

188

f) Quotenschaden deliktischer Neugläubiger

191

g) Insolvenzverschleppung

191

h) Anfechtung

191

i) Zusammenfassung der Haftung in der Insolvenz

192

F. Zusammenfassende Würdigung

193

G. Zusammenfassung der Ergebnisse in Thesen

196

I. Außenhaftung

196

II. Innenhaftung

198

III. Durchbrechung der Haftungsbeschränkung

198

Literaturverzeichnis

200

Stichwortverzeichnis

211