Company law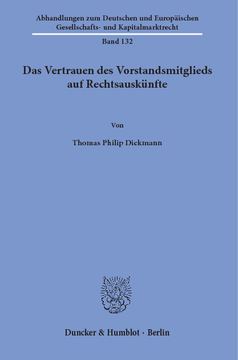 Additional Information
Book Details
ISBN

978-3-428-55546-8
978-3-428-15546-0 (print edition)

DOI

https://doi.org/10.3790/978-3-428-55546-8

Edition

1

Language

German

Pages

169

Collections

Subjects
Pricing
Institution

€ 80.00 (incl. local VAT if applicable)

Individual

€ 62.90 (incl. local VAT if applicable)
About The Author
Thomas P. Diekmann ist Rechtsanwalt im Münchner Büro der internationalen Wirtschaftssozietät Latham & Watkins. Er berät Unternehmen und Finanzinvestoren bei Fusionen und Übernahmen, Private Equity-Transaktionen und im allgemeinen Gesellschaftsrecht, einschließlich Joint Ventures und Restrukturierungen.

Thomas P. Diekmann studierte Rechtswissenschaften in Münster mit dem Schwerpunkt Steuerrecht und arbeitete vor seiner Zulassung als Rechtsanwalt als wissenschaftlicher Mitarbeiter und Referendar für verschiedene führende internationale Wirtschaftssozietäten in den Bereichen Mergers & Acquisitions, Gesellschaftsrecht und Steuerrecht in Düsseldorf, Köln und New York sowie für die Deutsch-Indische Handelskammer in Delhi. 2018 wurde Thomas P. Diekmann von der Ludwig-Maximilians-Universität promoviert. Das Vorhaben wurde von Herrn Prof. Dr. Hans Christoph Grigoleit betreut.
Thomas P. Diekmann is an associate in the Munich office of the law firm Latham & Watkins. He advises corporations and financial investors on mergers and acquisitions, private equity transactions, and general corporate law, including joint ventures and restructurings.

Thomas P. Diekmann studied law at the University of Münster, focusing on tax law. After that, he worked as law clerk for several leading international law firms in the fields of M&A, Corporate and Tax in Düsseldorf, Cologne and New York as well as for the Indo-German Chamber of Commerce in Delhi. In 2018, he obtained a doctoral degree by the University of Munich. His dissertation was supervised by Prof. Dr. Hans Christoph Grigoleit.
Abstract
»Defense of Reliance on Legal Advice«

The question of the prerequisites under which executive board members of German stock corporations may rely on legal advice is of fundamental and everyday importance to the legal consulting practice. It is therefore all the more critical that these prerequisites as well as the preceding due diligence requirements of executive board members concerning legal judgements and the existence and scope of an obligation to comply with the law are still not clearly set out in case law and the literature. This legal uncertainty leads to excessive caution in practice and, in addition to increased legal consultancy costs, may even lead to refraining from economically advantageous measures.
Applying the dogmatic determinants resulting from the relevant directors' liabilities, Thomas Diekmann pursues a holistic approach in his thesis and develops the due diligence requirements the observance of which justifies the reliance of executive board members on legal advice. Die Frage nach den Voraussetzungen, unter denen Vorstandsmitglieder berechtigterweise auf Rechtsauskünfte vertrauen dürfen, ist für die Praxis von grundlegender und alltäglicher Bedeutung. Umso kritischer ist es, dass sowohl diese Voraussetzungen als auch die vorgelagerten Fragen im Rahmen der Vorstandshaftung nach den Sorgfaltsanforderungen an die Vermeidung von Rechtsirrtümern und den Bestand und die Reichweite einer Legalitätspflicht des Vorstands in Rechtsprechung und Schrifttum immer noch weitgehend ungeklärt sind. Die vorhandenen Rechtsunsicherheiten verleiten in der Praxis zu übermäßiger Vorsicht und verursachen neben erhöhten Rechtsberatungskosten gegebenenfalls sogar den Verzicht auf wirtschaftlich vorteilhafte Maßnahmen. Thomas Diekmann verfolgt mit seiner Untersuchung einen ganzheitlichen Ansatz und entwickelt ausgehend von den dogmatischen Determinanten des jeweiligen Pflichtenkontexts die Sorgfaltsanforderungen, deren Einhaltung ein Vertrauen von Vorstandsmitgliedern auf Rechtsauskünfte rechtfertigt.
Table of Contents
Section Title
Page
Action
Price

Vorwort

5

Inhaltsverzeichnis

7

Teil 1: Einleitung

13

§ 1 Problemaufriss

13

§ 2 Rechtsauskunft

16

A. Funktion

17

I. Pflichterfüllung

17

II. Haftungsvermeidung

18

B. Gegenstand

20

I. Rechtsanwendung und Rechtsgestaltung

20

II. Aussagegehalt

21

III. Sachverhaltserhebung

23

§ 3 Gang der Untersuchung

23

Teil 2: Allgemeiner Teil

26

§ 4 Sorgfaltsprüfung

26

A. Grundlagen

27

B. Erkennbarkeit

29

C. Vermeidbarkeit

30

§ 5 Verbotsirrtum im allgemeinen Schuldrecht

31

A. Erkennbarkeit

32

I. Veranlassung zur Rechtsprüfung

32

II. Wahrscheinlichkeit des Rechtsverstoßes

32

B. Vermeidbarkeit

34

I. Allgemein

34

II. BGH, Beschl. v. 21.12.1995 – V ZB 4/94 (Wohnungsverwalter)

35

C. Abgrenzung zum Vorsatz

37

§ 6 Vorstandshaftung nach § 93 Abs. 2 Satz 1 AktG

38

A. Pflichtverletzung

38

I. Verletzung einer objektiven Verhaltenspflicht

39

II. Die Regelung des § 93 Abs. 1 Satz 2 AktG

40

B. Verschulden

40

§ 7 Sorgfaltspflichten

42

A. Allgemeine Sorgfaltspflicht

42

I. Pflichtenbeschreibung

42

II. Pflichtverletzung

43

B. Legalitätspflicht

45

I. Verbot "nützlicher" Rechtsverstöße

45

II. Interne Legalitätspflicht

47

1. Gegenstand

47

2. Deklaratorischer Charakter

48

3. Pflichtverletzung

49

III. Externe Legalitätspflicht

50

1. Herleitung

51

a) Ausgangslage

51

b) Systematische Auslegung

52

aa) Externe Rechtsbindungen

53

bb) § 396 AktG

55

2. Pflichtverletzung

55

C. Subjektive Sorgfaltspflicht

56

I. Verhältnis von objektiver und subjektiver Pflichtwidrigkeit

56

1. Allgemeine Sorgfaltspflicht und externe Legalitätspflicht

56

2. Interne Legalitätspflicht

57

II. Erlaubtes Risiko

58

§ 8 Entscheidungsspielräume

59

A. Beurteilungsspielraum

60

B. Unternehmerischer Ermessensspielraum

62

I. Unternehmerische Entscheidung

62

II. Angemessenheit der Informationsgrundlage

65

§ 9 Aufgabendelegation

66

A. Zulässigkeit

66

B. Sorgfaltspflichten

68

§ 10 Zusammenfassung der Grundlagen für die Untersuchung

69

Teil 3: Pflichtwidrigkeit und Rechtsirrtümer

72

§ 11 Haftungsrechtlicher Kontext

72

§ 12 Erlaubtes Irrtumsrisiko

73

A. Allgemeine Sorgfaltspflicht

75

B. Legalitätspflicht

76

I. Überschießende Wirkung eines strikten Geltungsvorrangs

77

II. Rechtfertigung eines strikten Geltungsvorrangs

78

1. Externe Legalitätspflicht

79

2. Interne Legalitätspflicht

80

III. Einzelfallabwägung

81

1. Wahrscheinlichkeit des Rechtsverstoßes

81

2. Schadensausmaß

82

3. Beurteilungsspielraum

82

a) Allgemein

83

b) Reduzierung des Beurteilungsspielraums auf null

84

§ 13 Konkretisierung der Sorgfaltsanforderungen

85

A. Ermittlung rechtlicher Risiken

85

I. Erfordernis eines Anfangsverdachts

85

II. Anforderungen an einen Anfangsverdacht

87

III. Sorgfaltspflichten bei Bestehen eines Anfangsverdachts

89

B. Anforderungen an den Rechtsstandpunkt

90

I. Sichere Rechtslage

91

II. Unsichere Rechtslage

91

1. Allgemein

91

2. Herausforderung einer herrschenden Meinung

95

Teil 4: Sorgfaltsanforderungen an den rechtlichen Beratungsprozess

96

§ 14 Dogmatische Grundlagen

96

A. Pflichtenkontext und Verhaltensmaxime

96

B. Aufgabendelegation

97

C. Gefahrenquellen

98

I. Beratungsfehler und mangelhafte Instruktion

98

II. Rechtsunsicherheiten

100

III. Gefälligkeitsauskünfte

100

1. Abgrenzung zum Vorsatz

101

2. Gefahrenfaktoren

102

a) Erfahrungen mit dem Rechtsberater

102

b) Wirtschaftliches Interesse des Rechtsberaters

102

c) Weisungsabhängigkeit und Ergebnisvorgabe

104

d) Wirtschaftliche Bedeutung der Maßnahme

105

§ 15 Anlass für die Einholung von Rechtsauskünften

106

A. Ausgleich fehlender Rechtskenntnisse

106

I. Legalitätspflicht

106

II. Allgemeine Sorgfaltspflicht

107

B. Delegation aus Gründen der Leitungskapazität

108

C. "Pflicht" zur Delegation

109

§ 16 Die Sorgfaltsanforderungen im Einzelnen

110

A. Vorbemerkung

110

B. Auswahlsorgfalt

111

I. Fachliche Qualifikation

111

1. Erfordernis einer Spezialisierung

112

2. Prüfungspflicht

112

3. Phänomene fachlicher Qualifikation

113

a) Fachanwaltstitel

114

b) Sonstige Selbstdarstellung

115

c) Erfahrungen mit dem Rechtsberater

116

d) Empfehlungen Dritter

116

e) Einfluss der Größe des Unternehmens

117

II. Unabhängigkeit

117

1. Erfahrungen mit dem Rechtsberater

118

2. Wirtschaftliche Abhängigkeit

119

3. Vorbefassung mit dem Auskunftsgegenstand

120

a) Abstrakte Gefahr der Befangenheit

120

b) Auswirkungen auf die Auswahlsorgfalt

121

C. Einweisungssorgfalt

123

I. Auftragserteilung

123

II. Informationsverantwortung

124

1. Ermittlung des relevanten Sachverhalts

124

a) Erkennbarkeit von Informationsdefiziten bei erfolgter Aufklärung

125

b) Erkennbarkeit von Informationsdefiziten bei unterbliebener Aufklärung

125

2. Sachverhaltserhebung

128

D. Plausibilitätskontrolle

129

I. Allgemeines

129

1. Voraussetzungen einer Prüfungspflicht

129

2. "Plausibilität"

130

3. Sorgfaltsmaßstab

132

II. Überprüfung des Rechtsstandpunkts des Beraters

134

1. Gefahr von Beratungsfehlern

134

2. Gefahr aufgrund von Rechtsunsicherheiten

135

a) Risikodarstellung

136

b) Umgang mit Rechtsunsicherheiten

137

3. Gefahr einer Gefälligkeitsauskunft

141

a) Vollständigkeit und Richtigkeit der Risikodarstellung

141

b) Verbleibendes Risiko

142

c) Sorgfaltsvorkehrungen

143

aa) Gutachterliche Darstellung der Rechtslage

143

bb) Qualitative Bewertung des Rechtsstandpunkts

144

4. Wirtschaftliche Risiken

146

5. Gesamtbetrachtung

146

III. Überprüfung des zugrunde liegenden Sachverhalts

148

1. Offenkundige Informationsdefizite

148

2. Prüfungspflicht

149

a) Vollständige und zutreffende Informationsgrundlage

149

b) Ordnungsgemäße Informationsverwertung

149

IV. Form der Rechtsauskunft

150

V. Einholen eines Zweitgutachtens

151

VI. Delegation der Plausibilitätskontrolle

154

Teil 5: Zusammenfassung der Ergebnisse

156

Literaturverzeichnis

160

Stichwortverzeichnis

167