Company law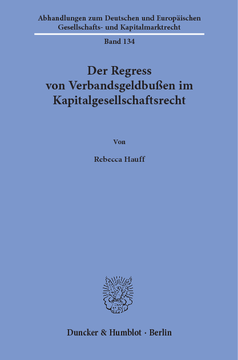 BOOK
Cite BOOK
Style
---
Hauff, R. (2019). Der Regress von Verbandsgeldbußen im Kapitalgesellschaftsrecht. Duncker & Humblot. https://doi.org/10.3790/978-3-428-55589-5
Hauff, Rebecca. Der Regress von Verbandsgeldbußen im Kapitalgesellschaftsrecht. Duncker & Humblot, 2019. Book. https://doi.org/10.3790/978-3-428-55589-5
Hauff, R, (2019): Der Regress von Verbandsgeldbußen im Kapitalgesellschaftsrecht, Duncker & Humblot, [online] https://doi.org/10.3790/978-3-428-55589-5
---
Format
---
Der Regress von Verbandsgeldbußen im Kapitalgesellschaftsrecht
Abhandlungen zum Deutschen und Europäischen Gesellschafts- und Kapitalmarktrecht, Vol. 134
(2019)
Additional Information
Book Details
ISBN

978-3-428-55589-5
978-3-428-15589-7 (print edition)

DOI

https://doi.org/10.3790/978-3-428-55589-5

Edition

1

Language

German

Pages

375

Collections

Subjects
Pricing
Institution

€ 126.00 (incl. local VAT if applicable)

Individual

€ 98.90 (incl. local VAT if applicable)
About The Author
Rebecca Hauff studierte Rechtswissenschaften an den Universitäten Freiburg und Valencia. Ihr Referendariat absolvierte sie anschließend beim Oberlandesgericht Düsseldorf mit weiteren Stationen in Santiago (Chile) und Barcelona. Während ihrer Promotion arbeitete sie als Rechtsanwältin im Bereich der bankrechtlichen Prozessführung. Seit Juli 2017 ist sie als Rechtsanwältin in einer internationalen Wirtschaftskanzlei in Düsseldorf im Bereich des Versicherungsrechts tätig.
Rebecca Hauff studied law at the Universities of Freiburg and Valencia. She then completed her legal clerkship at the Düsseldorf Higher Regional Court with further stations in Santiago (Chile) and Barcelona. During her doctorate she worked as a lawyer in the field of banking litigation. Since July 2017 she has been working as a lawyer in an international commercial law firm in Düsseldorf in the field of insurance law.
Abstract
Mit dem Urteil des Landesarbeitsgerichts Düsseldorf im sogenannten »Schienenkartell«-Verfahren befasste sich im Jahr 2015 zum ersten Mal ein deutsches Obergericht mit der Frage der Ersatzfähigkeit von (kartellrechtlichen) Verbandsgeldbußen gegenüber dem vermeintlich pflichtwidrig handelnden Geschäftsleiter. Dieses Urteil entfachte die kontroverse Diskussion um die Ersatzfähigkeit des Regressanspruchs von Neuem, welche nicht zuletzt wegen der hohen Haftungsansprüche und der Überschneidung zweier Rechtsgebiete – des Straf- bzw. Ordnungswidrigkeiten- und Zivilrechts – besondere Bedeutung erlangt. Vor diesem Hintergrund werden alle Aspekte des Verbandsgeldbußenregresses in Kapitalgesellschaften aufgearbeitet. Die Frage, ob es sich bei Unternehmensgeldbußen um ersatzfähige Schäden gem. § 93 Abs. 2 AktG handelt, stellt das zentrale Thema der Arbeit dar. »Recourse of Company Fines in Corporate Law«

With the ruling of the LAG Düsseldorf in the so-called »rail cartel« proceedings in 2015, the controversial discussion about the recovery of company fines from managers acting in breach of their duties received a new boost. Against this background, all aspects with regard to the recourse of company fines in corporations will be dealt with, whereby the central aspect of the work will be the assessment whether fines can be an indemnifiable loss pursuant to Section 93 (2) of the German Stock Corporation Act (AktG).
Table of Contents
Section Title
Page
Action
Price

Vorwort

1

Inhaltsübersicht

3

Inhaltsverzeichnis

5

Abkürzungsverzeichnis

17

A. Einleitung

21

I. Anlass und Gang der Untersuchung

21

II. Begriffliche Klärung

24

B. Grundlagen der Sanktionierung mit einer Verbandsgeldbuße

26

I. Einführung

26

1. Normzweck des § 30 OWiG

27

2. Dogmatische Grundlage des § 30 OWiG

28

II. Voraussetzungen des § 30 Abs. 1 OWiG

30

1. Sanktionsfähige Verbände

30

2. Täter der Anknüpfungstat

30

a) Vertretungsberechtigte Organe einer juristischen Person gem. § 30 Abs. 1 Nr. 1 OWiG

31

b) Generalbevollmächtigte oder in leitender Stellung befindliche Prokuristen und Handlungsbevollmächtigte gem. § 30 Abs. 1 Nr. 4 OWiG

31

c) Sonstige Leitungspersonen gem. § 30 Abs. 1 Nr. 5 OWiG

32

3. Anknüpfungstat

32

a) Handeln "als" Organ

33

b) Verletzung einer betriebsbezogenen Pflicht gem. § 30 Abs. 1 Alt. 1 OWiG

34

aa) Sonderdelikte

35

(1) § 9 OWiG: Handeln für einen anderen

35

(2) Verletzung kartellrechtlicher Sonderdelikte

36

(3) Verletzung kapitalmarktrechtlicher Sonderdelikte

36

(4) Verletzung strafrechtlicher Sonderdelikte

37

bb) Aufsichtspflichtverletzung gem. § 130 OWiG

37

(1) Geschütztes Rechtsgut und dogmatische Struktur des § 130 OWiG

38

(2) Voraussetzungen des § 130 OWiG

39

(3) Verhältnis der §§ 9, 30, 130 OWiG zueinander

40

cc) Allgemeindelikte

41

(1) Verletzung kapitalmarktrechtlicher Allgemeindelikte

42

(2) Verletzung von Strafnormen

43

dd) Sonderdelikte, die an die Eigenschaft als vertretungsberechtigtes Organ (o. ä.) anknüpfen

43

(1) Meinungsstand im Schrifttum

44

(2) Eigene Stellungnahme

45

ee) Delikte zum Nachteil des eigenen Unternehmens (Exzesstaten)

46

(1) Meinungsstand in Rechtsprechung und Schrifttum

47

(2) Eigene Stellungnahme

48

ff) Zusammenfassung

50

c) Bereicherung der juristischen Person gem. § 30 Abs. 1 Alt. 2 OWiG

50

III. Rechtsfolgen der Verhängung einer Verbandsgeldbuße

51

1. Ahndungs- und Abschöpfungsteil der Verbandsgeldbuße

51

2. Bemessung des Ahndungsteils der Verbandsgeldbuße gem. § 30 Abs. 2 OWiG

52

a) Bestimmung des Bußgeldrahmens des Ahndungsteils der Verbandsgeldbuße

52

b) Konkrete Bemessung des Ahndungsteils der Verbandsgeldbuße

52

3. Bemessung des Abschöpfungsteils der Verbandsgeldbuße gem. §§ 30 Abs. 3, 17 Abs. 4 OWiG

54

4. Konzernumsatzabhängige Bemessung von Verbandsgeldbußen

56

a) Besondere Bußgeldrahmen des Kartell- und Wertpapierhandelsrechts

56

b) Besonderheiten des Kreditwesengesetzes

56

IV. Verfahren zur Festsetzung der Verbandsgeldbuße

57

V. Zuständige Verfolgungsbehörden

58

C. Wirkung einer Bußgeldentscheidung im Regressprozess

60

I. Einführung

60

II. Bindungswirkung einer Bußgeldentscheidung für den Zivilprozess

60

1. Bindungswirkung im Kartellordnungswidrigkeitenrecht

60

2. Bindungswirkung außerhalb des Kartellordnungswidrigkeitenrechts

62

III. Anscheinsbeweis

63

D. Voraussetzungen des Schadensersatzanspruchs gem. § 93 Abs. 2 S. 1 AktG

65

I. Einführung

65

1. Vorstandshaftung als Binnenhaftung

66

2. Normzweck des § 93 Abs. 2 S. 1 AktG

66

a) Kompensationsfunktion

67

b) Präventionsfunktion

67

c) Gläubigerschutz

68

II. Pflichtverletzung eines Vorstandsmitglieds

69

1. Allgemeiner Pflichtenkreis des Vorstandsmitglieds

69

2. Legalitätspflichtverletzung

70

a) Interne, externe und spezielle Legalitätspflicht der Geschäftsleiter

70

b) Parallelität von Außen- und Innenverletzung

72

c) Externe Legalitätspflicht

72

aa) Dogmatische Grundlage

73

bb) Widerspruch zum Urteil des BGH vom 08.07.2014 – II ZR 174/13?

75

cc) Ausnahmen von der externen Legalitätspflicht

77

(1) Ausklammerung von Verstößen gegen u. a. Ordnungswidrigkeiten?

77

(2) "Nützliche" Pflichtverletzungen

78

(3) Bindung an ausländisches Recht

79

(4) Unklare oder umstrittene Rechtslage

80

(a) Keine direkte Anwendung der Business Judgment Rule

81

(b) Unklare Rechtslage und Business Judgment Rule

82

d) Zwischenergebnis

84

3. Verletzung der Legalitätskontrollverpflichtung

85

a) Grundsätzliches

85

b) Dogmatische Herleitung

87

c) Umfang der Pflichten

89

aa) Inhaltliche Konkretisierung

89

bb) Keine Pflicht zur Errichtung einer Compliance-Organisation

90

d) Verletzung des § 130 OWiG und dessen Auswirkungen auf § 93 Abs. 2 AktG

92

aa) Anknüpfung an die Legalitätspflicht in Verbindung mit § 130 OWiG

92

bb) Behandlung von Handlungsspielräumen im Rahmen des § 130 OWiG und der Legalitätskontrollpflicht

93

cc) Anknüpfung an die Legalitätskontrollpflicht

97

e) Zwischenergebnis

97

4. Ergebnis

98

III. Verschulden

98

1. Grundsätzliches

98

2. Rechtliche Unsicherheiten

98

a) Eigenes Verschulden

99

aa) Voraussetzungen des Verbotsirrtums im Außenverhältnis

99

(1) Grundsätzliches

99

(2) Vermeidbarkeit des Verbotsirrtums

99

(3) Vermeidbarkeit des Verbotsirrtums im europäischen Kartellrecht: "Schenker"

101

(4) Zwischenergebnis

102

bb) Voraussetzungen des Rechtsirrtums im Innenverhältnis

103

(1) Maßstäbe eines unverschuldeten Rechtsirrtums

103

(2) Verteilung des Irrtumsrisikos bei ungeklärter Rechtslage

104

(3) Zwischenergebnis – Auswirkungen auf den Verbandsgeldbußenregress

105

b) Überwachungsverschulden

106

3. Ergebnis

108

IV. Schaden

108

1. Grundsätzliche Ersatzfähigkeit des Ahndungsteils der Verbandsgeldbuße nach allgemeinem Schadensrecht

109

2. Meinungsstand zur Ersatzfähigkeit des Ahndungsteils der Verbandsgeldbuße

111

a) Meinungsstand in der Literatur

111

aa) Kein zivilrechtlich ersatzfähiger Schaden

111

bb) Schaden gem. § 93 Abs. 2 AktG ersatzfähig

112

b) Ansicht des LAG Düsseldorf, Teilurt. v. 20.01.2015 – 16 Sa 459/14

113

3. Ersatzfähigkeit des Ahndungsteils der Verbandsgeldbuße

116

a) Rechtsprechung mit Bedeutung für den Geldbußenregress

116

aa) Straf- und zivilrechtliche Spruchpraxis zu § 258 Abs. 2 StGB

116

bb) Zivil- und arbeitsrechtliche Rechtsprechung zur "Beraterhaftung"/ Haftung aufgrund eines besonderen Rechtsgrunds

117

cc) Arbeitsgerichtliche Rechtsprechung zur Erstattung von Geldbußen durch den Arbeitgeber

119

dd) Rechtsprechung zur Insolvenzanfechtung von Geldstrafenzahlungen

120

ee) Rechtsprechung zum Regress von Vereinsstrafen

120

ff) Bedeutung dieser Rechtsprechung für den Verbandsgeldbußenregress

121

(1) Schlussfolgerungen zur Höchstpersönlichkeit der Geldbuße im Zusammenhang mit einem Regress

121

(2) Schlussfolgerungen in Bezug auf die Vereitelung der Sanktionszwecke

123

(3) Übertragung der Rechtsprechung zur Beraterhaftung auf den Verbandsgeldbußenregress

126

(4) Zwischenergebnis

129

b) Verbandsgeldbußenregress im Rechtsvergleich

129

aa) Die Rechtslage in England

129

bb) Die Rechtslage in den USA

132

cc) Die Rechtslage in Österreich

134

c) Verhältnis von Straf-/Ordnungswidrigkeitenrecht und Zivilrecht und Vergleich mit dem private enforcement

134

aa) Einheit der Rechtsordnung

135

bb) Die Debatte um das private enforcement

138

d) Abschließende Festlegung des Sanktionsadressaten durch das Straf- und Ordnungswidrigkeitenrecht?

139

aa) Einführung in die Problematik

139

bb) Deutsches Ordnungswidrigkeitenrecht

141

(1) Sanktionsrechtliche Erwägungen

141

(2) Prozessuale Erwägungen

142

(3) Vorliegen von Sonderdelikten

143

(4) Verhältnismäßigkeitsgrundsatz

144

cc) Vergleich mit dem Regress einer Geldstrafe

145

dd) Besonderheiten des europäischen Kartellrechts

146

ee) Zwischenergebnis

147

e) Vereinbarkeit des Regresses mit den Sanktionszwecken der Verbandsgeldbuße

148

aa) Gleichstellung natürlicher und juristischer Personen

148

bb) Sanktionsrechtliche Übelszufügung

149

cc) Repressionsfunktion

150

(1) Sanktionsadressat im Außenverhältnis bleibt der Unternehmensträger

151

(2) Kein Regressautomatismus

151

dd) Präventionsfunktion

152

(1) Belastung der Aktionäre sinnvoll?

153

(2) Vorstandsmitglieder als bessere Adressaten der Präventionswirkung

155

(3) Prinzipal-Agent-Theorie

157

(4) Verstärkte Compliance-Bemühungen

157

ee) Gewinnabschöpfung

158

ff) Zwischenergebnis

159

f) Vereinbarkeit des Regresses mit den Normzwecken der Schadensersatzhaftung

160

g) Erschwerung der Aufklärung der Tat

160

h) Besonderheiten des europäischen Kartellrechts

161

i) Ergebnis

162

4. Keine Ersatzfähigkeit des Abschöpfungsteils der Verbandsgeldbuße

163

a) Meinungsstand des Schrifttums

163

b) Eigene Stellungnahme

164

aa) Grundsätze des allgemeinen Schadensrechts

165

bb) Verhältnis von Gesamtvermögensvergleich und Vorteilsausgleichung

165

cc) Abschöpfungsteil kein ersatzfähiger Schaden

167

(1) Belastung durch Abschöpfung als unmittelbare Kehrseite des Vorteils

167

(2) Nähe der Abschöpfung zur Sphäre der Gesellschaft

168

(3) Kein Widerspruch zu BGH, Urt. v. 18.11.2014 – KZR 15/12

169

(4) Schadensrechtliche Neutralität des Abschöpfungsteils

169

(5) Rechtsfolgen und weitere Fallkonstellationen

169

dd) Umsatzabhängige kartellrechtliche "Ahndungsgeldbußen"

170

(1) Abschöpfungsanteil innerhalb einer "reinen Ahndungsgeldbuße"

171

(2) Ermittlung der abgeschöpften Vorteile einer "reinen Ahndungsgeldbuße"

173

ee) Verbandsgeldbußen des Wertpapierhandelsrechts

176

c) Vorteilsausgleich bezüglich weiterer – unabgeschöpfter – Gewinne der Gesellschaft

177

aa) Voraussetzungen der Vorteilsausgleichung

177

bb) Keine Vereitelung der Präventionsfunktion des Haftungsanspruchs

179

cc) Öffentliche Interessen und Vorteilsausgleichung

180

dd) Keine Vereitelung der Kompensationsfunktion

181

ee) Abschließende Bemerkungen

182

d) Ergebnis

182

5. Möglichkeit einer Regressreduzierung?

184

a) Anknüpfungspunkte und Ausgestaltung einer Haftungsbeschränkung

185

aa) Sanktionsrechtliche Erwägungen und teleologische Reduktion

185

bb) Haftungsbegrenzungen in der Satzung oder im Anstellungsvertrag

185

cc) Grundsätze der Arbeitnehmerhaftung – innerbetrieblicher Schadensausgleich

186

(1) Analogie zum innerbetrieblichen Schadensausgleich

186

(2) Wertungstransfer des innerbetrieblichen Schadensausgleichs im Rahmen der gesellschaftlichen Fürsorgepflicht

187

(3) Eigene Stellungnahme

188

dd) Fürsorgepflicht (Treuepflicht) des Unternehmens

190

ee) Haftungsbegrenzung durch Übertragung ordnungswidrigkeitenrechtlicher Maßstäbe?

192

(1) Meinungsstand im Schrifttum

192

(2) Keine Regressbeschränkung anhand der Höhe einer hypothetisch zu verhängenden persönlichen Geldbuße

194

(3) Keine Regressbegrenzung anhand der Übertragung der Bußgeldobergrenzen

194

(a) Widersprüchlichkeit zur propagierten Trennung zwischen öffentlichem Sanktions- und Zivilrecht

195

(b) Haftungsbegrenzung für vorsätzliche Pflichtverletzungen?

196

(c) Nicht zu rechtfertigende sektorale Privilegierung

197

(d) Präventionsfunktion nicht alleiniger Maßstab der Organhaftung

199

(e) Zwischenergebnis

200

ff) Ergebnis

201

b) Zulässige Enthaftungsmöglichkeiten nach geltendem Recht

201

aa) Haftungsvergleich gem. § 93 Abs. 4 S. 3 AktG

201

bb) Begrenzung der Verfolgungspflicht durch den Aufsichtsrat

202

6. Ergebnis

203

7. Verfassungsmäßigkeit des unbeschränkten Innenregresses wegen Verbandsgeldbußen

204

a) Doppelte Sanktionierung des Vorstandsmitglieds für dieselbe Tat im öffentlich-rechtlichen Sanktions- und Zivilrecht

205

b) Allgemeines Schadensrecht – Prinzip der Totalreparation

205

c) Verfassungsmäßigkeit der unbeschränkten Organhaftung

207

aa) Keine Verfassungswidrigkeit aufgrund wirtschaftlicher Überforderung in Anlehnung an die Bürgschaftsentscheidung des BVerfG

207

bb) Schutz des Existenzminimums durch Vollstreckungsschutz und Restschuldbefreiung ausreichend

209

cc) Zwischenergebnis

210

d) Vollstreckungsrecht und Insolvenzordnung als Korrektive im Einzelfall

211

aa) Vollstreckungsschutz

211

(1) Grundsätzliches

211

(2) Verbandsgeldbuße als Forderung aus einer vorsätzlichen unerlaubten Handlung gem. § 850f Abs. 2 ZPO?

211

bb) Restschuldbefreiung nach der Insolvenzordnung

214

(1) Grundsätzliches zur Restschuldbefreiung

214

(2) Regressforderung aufgrund einer Verbandsgeldbuße von der Restschuldbefreiung umfasst?

214

(3) Zwischenergebnis

215

e) Ergebnis

215

V. Kausalität

216

1. Grundsätzliches zur Einigung zwischen den Verfolgungsbehörden und den verfolgten Unternehmensträgern

216

2. Unterbrechung des Zurechnungszusammenhangs aufgrund einvernehmlicher Verfahrensbeendigung im Wege der Verständigung mit den Verfolgungsbehörden?

218

a) Meinungsstand des Schrifttums

218

b) Meinungsstand der Rechtsprechung

218

c) Eigene Stellungnahme

219

aa) Herausforderungsfälle

219

bb) Aufwendungen

220

cc) Privatrechtliche Vergleiche und öffentlich-rechtliche Verständigungen

220

dd) Kritische Einwände von Mertens/Cahn

221

d) Ergebnis

222

3. Unterbrechung des Zurechnungszusammenhangs bei unterlassener Einlegung von Rechtsmitteln?

222

VI. Darlegungs- und Beweislast

223

VII. Berücksichtigung eines Mitverschuldens gem. § 254 BGB

225

1. Grundsätze

225

2. Exkurs: Berücksichtigung eines Mitverschuldens der Organe der Konzernobergesellschaft

226

a) Berücksichtigung eines Mitverschuldens der Gesellschafterversammlung in der GmbH

227

b) Übertragung dieser Grundsätze auf den Konzernsachverhalt

228

aa) GmbH als beherrschte Gesellschaft

228

bb) AG als beherrschte Gesellschaft

229

(1) Direkte Anwendung des § 254 BGB

229

(2) Berücksichtigung des Mitverschuldens der Konzernobergesellschaft gem. §§ 254 Abs. 2 S. 2, 278 BGB

230

(3) Entsprechende Anwendung des § 254 BGB im Konzernverhältnis

232

c) Abstufung nach Verursachungsbeiträgen

233

E. Besonderheiten des Regresses innerhalb der GmbH

234

I. Grundsätzliches

234

II. Weisung der Gesellschafterversammlung

234

III. Verbandsgeldbuße als ersatzfähiger Schaden im Rahmen von § 43 Abs. 2 GmbHG

236

1. Einführung

236

2. Keine Vereitelung der Präventionszwecke

237

IV. Regressbeschränkungen

238

1. Grundsätzliches

238

2. Disponibilität der Geschäftsführerhaftung

238

a) Ansicht der Rechtsprechung

238

b) Ansicht der Literatur

239

c) Anwendung von Haftungsbeschränkungen auf den vorliegenden Fall

240

V. Ergebnis

240

F. Verbandsgeldbußenregress gegenüber anderen Unternehmensangehörigen

242

I. Pflichtverletzung

243

II. Schaden

244

1. Meinungsstand in Rechtsprechung und Schrifttum

244

2. Eigene Stellungnahme

245

a) Keine abschließende Festlegung des Sanktionsadressaten durch das Ordnungswidrigkeitenrecht

245

b) Keine Vereitelung der Sanktionszwecke

246

3. Zwischenergebnis

248

III. Verschulden

248

IV. Regressreduzierung

248

1. Innerbetrieblicher Schadensausgleich

249

a) Persönlicher Anwendungsbereich

249

b) Sachlicher Anwendungsbereich

250

aa) Betrieblich veranlasste Tätigkeit

250

bb) Betrieblich veranlasste Tätigkeit bei Gesetzesverletzungen des Arbeitnehmers

251

c) Abstufung nach Verschuldensgraden

253

2. Mitverschulden

253

3. Auswirkung von Versicherungsschutz auf die Grundsätze der Haftungsbeschränkung

255

V. Exkurs: Gestörter Gesamtschuldnerausgleich

255

1. Grundlagen der Gesamtschuld

256

2. Ansichten zur Auflösung der gestörten Gesamtschuld

257

a) Verschiedene Lösungsmöglichkeiten der gestörten Gesamtschuld

258

b) Unterscheidung zwischen vertraglichen und gesetzlichen Haftungsbeschränkungen

258

3. Anwendung dieser Lösungsmöglichkeiten auf das Verhältnis zwischen Geschäftsleiter und Arbeitnehmer

259

VI. Ergebnis

262

G. Regress einer Unternehmensgeldstrafe nach Einführung eines Unternehmensstrafrechts

264

I. Einführung

264

II. Eigene Stellungnahme

264

H. Directors' and Officers' (D&O)-Versicherung

267

I. Einführung in die D&O-Versicherung

267

1. Grundlagen

267

2. Inhaltliche Ausgestaltung der D&O-Versicherung

269

II. Versicherbarkeit von persönlichen Geldstrafen/-bußen und Geldbußenregressansprüchen

270

1. Versicherungsschutz für persönliche Geldstrafen und Geldbußen des Geschäftsleiters

270

a) Ansichten im Schrifttum

270

b) Eigene Stellungnahme

271

c) Weitere Fallkonstellationen

273

2. Versicherbarkeit von Verbandsgeldbußen im Regresswege

273

a) Ansichten im Schrifttum

274

b) Eigene Stellungnahme

275

aa) Generelle Versicherbarkeit des Regressanspruchs wegen Verbandsgeldbußen

275

bb) Kein Versicherungsschutz für den Verbandsgeldbußenregressanspruch wegen Ziffer 5.10 AVB-AVG 2017 bzw. Ziffer 5.11 AVB-AVG 2013

278

cc) Ausschlussklauseln bezüglich Geldbußen und -strafen in der Versicherungspraxis

279

c) Weitere Ausschlussklauseln mit Relevanz für die Versicherbarkeit des Regressanspruchs wegen Verbandsgeldbußen

280

aa) Ausschluss wegen vorsätzlicher Pflichtverletzungen

280

(1) Allgemeine Erläuterungen zu Ziffer 5.1 AVB-AVG 2017

281

(2) Nachweis des Verschuldensgrades

282

(3) Zwischenergebnis

282

bb) Weitere Ausschlussklauseln bzw. Begrenzungen der AVB-AVG 2017

283

cc) Versicherbarkeit von Verbandsgeldstrafen nach einem noch einzuführenden Verbandsstrafgesetzbuch?

284

d) Fazit

285

III. Weitere Begrenzungen des Versicherungsschutzes

285

1. Begrenzte Deckungssummen

286

2. Selbstbehalt

287

IV. Ergebnis

287

I. Enthaftung oder Bußgeldminderung der Unternehmensgeldbuße durch Comp‍liance-Systeme

290

I. Einfluss von Compliance-Systemen auf Tatbestandsebene

291

1. Eigene Zuwiderhandlungen von Geschäftsleitern gem. § 30 Abs. 1 OWiG

291

a) Objektive Komponente

291

b) Subjektive Komponente

292

2. Zuwiderhandlungen von Mitarbeitern unterhalb der Leitungsebene gem. § 130 OWiG

292

3. Weitere Auswirkungen von Compliance-Systemen

295

II. Einfluss von Compliance-Systemen auf Rechtsfolgenseite bei der Bußgeldbemessung

295

1. Nationale Regelungen

296

2. Internationale Regelungen

298

a) Überblick über internationale Regelungen zur Berücksichtigung von Compliance-Systemen

298

b) Ergebnis

300

3. Berücksichtigung von Compliance-Programmen durch die Verfolgungsbehörden in der Praxis

301

4. Auswirkungen von bereits bestehenden Compliance-Systemen

303

a) Stellungnahme zur bußgeldmindernden Berücksichtigung

303

b) Dogmatischer Anknüpfungspunkt einer bußgeldmindernden Berücksichtigung

306

c) Verstöße von Leitungspersonen gem. § 30 OWiG

307

aa) Gesetzesverstoß eines Organmitglieds im Sinne von § 30 Abs. 1 Nr. 1 OWiG

308

bb) Andere Leitungspersonen im Sinne von § 30 Abs. 1 Nr. 4 und Nr. 5 OWiG

309

d) Verstöße anderer Mitarbeiter gem. §§ 30, 130 OWiG

309

e) Weitere Auswirkungen von Compliance-Systemen bei der Bußgeldbemessung

310

5. Auswirkungen von nachträglich eingeführten Compliance-Systemen

311

a) Stellungnahme zur bußgeldmindernden Berücksichtigung

311

b) Dogmatische Anknüpfungspunkte der bußgeldmindernden Wirkung

312

c) Keine Differenzierung der Täterkreise

313

6. Aktuelle Reformbestrebungen in Deutschland

313

a) Gesetzesentwurf zur Einführung einer strafrechtlichen Verantwortlichkeit von Unternehmen des Landes Nordrhein-Westfalen

313

b) Gesetzesentwurf des Bundesverbandes der Unternehmensjuristen (BUJ)

314

c) Gesetzesentwurf des Deutschen Instituts für Compliance (DICO)

315

d) Gesetzesentwurf des Deutschen Anwaltvereins

316

e) Fazit

316

III. Ergebnis

316

J. Erstattung von Geldstrafen, Geldbußen und Geldauflagen durch die Gesellschaft

319

I. Anspruch auf Erstattung der Geldstrafe, Geldbuße oder Geldauflage

319

1. Vorliegen einer dienstlichen Tätigkeit

320

2. Ersatzfähiger Schaden

321

a) Ansichten in Rechtsprechung und Schrifttum

321

b) Eigene Stellungnahme

323

c) Ergebnis

326

II. Freiwillige Erstattungszusagen

326

1. Erstattungszusagen nach erfolgter Pflichtverletzung

327

a) Strafrechtliche Beurteilung

327

aa) § 258 Abs. 2 StGB und Teilnahme/Beteiligung an der Zuwiderhandlung

327

bb) § 266 StGB

328

cc) Zwischenergebnis

330

b) Zivilrechtliche Beurteilung

330

c) Gesellschaftsrechtliche Beurteilung

330

aa) Aktienrecht

331

(1) Ansichten im Schrifttum

331

(2) Ansicht des BGH, Urteil vom 08.07.2014 – II ZR 174/13

332

bb) GmbH-Recht

333

cc) Übernahme von Geldsanktionen sonstiger Unternehmensangehöriger

333

2. Vorherige Freistellungszusagen

334

a) Strafrechtliche Beurteilung

334

b) Zivilrechtliche Beurteilung

335

aa) Darstellung des Sach- und Streitstands zur Sittenwidrigkeit von vorherigen Freistellungszusagen gem. § 138 Abs. 1 BGB

336

bb) Eigene Stellungnahme

337

c) Gesellschaftsrechtliche Beurteilung

339

K. Zusammenfassende Ergebnisse in Thesenform

340

Literaturverzeichnis

348

Stichwortverzeichnis

369