Bankruptcy & insolvency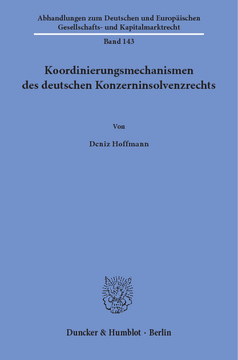 Additional Information
Book Details
ISBN

978-3-428-55575-8
978-3-428-15575-0 (print edition)

DOI

https://doi.org/10.3790/978-3-428-55575-8

Edition

1

Language

German

Pages

332

Collections

Subjects
Pricing
Institution

€ 116.00 (incl. local VAT if applicable)

Individual

€ 89.90 (incl. local VAT if applicable)
About The Author
Deniz Hoffmann studierte von 2002 bis 2007 Rechtswissenschaften an der Freien Universität Berlin. Er legte 2008 die Erste Juristische Staatsprüfung und nach dem Rechtsreferendariat am Kammergericht 2010 die Zweite Juristische Staatsprüfung ab. Nach Tätigkeiten in Steuerrechtsabteilungen internationaler Logistik- und Beratungsunternehmen in Frankfurt am Main und Zürich, arbeitete er von 2014 bis 2016 promotionsbegleitend als wissenschaftlicher Assistent am Rechtswissenschaftlichen Institut der Universität Zürich bei Prof. Dr. Frank Meyer, LL.M. und Prof. Dr. Ulrich Haas. Seit 2017 berät er als Rechtsanwalt in Frankfurt am Main in den Bereichen Steuerrecht, Gesellschaftsrecht und Erbrecht.
Deniz Hoffmann studied law at the Free University of Berlin from 2002 to 2007. He passed the First State Examination in Law in 2008 and the Second State Examination in Law in 2010 after completing his legal clerkship at the Court of Appeals. After working in tax law departments of international logistics and consulting companies in Frankfurt am Main and Zurich, he worked from 2014 to 2016 as a research assistant at the Institute of Law of the University of Zurich at the chairs of Prof. Dr. Frank Meyer, LL.M. and Prof. Dr. Ulrich Haas. Since 2017 he has been working as a lawyer in Frankfurt am Main mainly focussing on tax law, corporate law and inheritance law.
Abstract
Prominente Fälle wie Arcandor, KirchMedia oder BenQ haben den Gesetzgeber veranlasst, Insolvenzverwaltern und -gerichten geeignete Koordinierungsmechanismen zur künftigen Bewältigung von Konzerninsolvenzen bereitzustellen. Ausgehend vom Kernproblem jeder Konzerninsolvenz – dem Wegfall der Konzernleitungsmacht bei Insolvenz der Mutter- oder Tochtergesellschaft – beleuchtet die Arbeit die Funktionsweisen dieser neuen Koordinierungsinstrumente. Zunächst grenzt sie die Kompetenzbereiche der deutschen Mechanismen von den europäischen Koordinierungsregeln ab und behandelt das neue Phänomen der Unternehmensgruppe. Sodann konzentriert sich der Untersuchungsschwerpunkt auf die Inhalte und Funktionen der Kooperationspflichten, des optionalen Koordinationsverfahrens sowie der fakultativen Konzentrationsmöglichkeiten (einheitliche Verwalterbestellung und Gruppen-Gerichtsstand) und ordnet diese Mechanismen verfahrenssystematisch und rechtsökonomisch in den bestehenden Kontext von InsO und ESUG ein. »Coordination Mechanisms under German Group Insolvency Law«

The thesis deals with the recently codified coordination mechanisms designed to facilitate the handling of group insolvencies. The analysis deals with the content and functionalities of the cooperation and concentration mechanisms and with their systematic and legal-economic integration into the existing structure of the Insolvency Code. In addition to possibilities for improvement and supplementation, differences to the new European coordination mechanisms are presented.
Table of Contents
Section Title
Page
Action
Price

Vorwort

7

Inhaltsübersicht

9

Inhaltsverzeichnis

13

Abkürzungsverzeichnis

21

Einleitung

25

A. Problemdarstellung und Ausgangslage

26

B. Übergeordnete Verfahrensziele in der Konzerninsolvenz

29

C. Gegenstand und Ablauf der Untersuchung

32

Teil 1: Rechtliche Probleme der Konzerninsolvenz und aktuelle Lösungsansätze

34

§ 1 Rechtliche Auswirkungen der Konzerninsolvenz

34

A. Schicksal der Konzernleitungsmacht

34

I. Schicksal des Beherrschungsvertrags in der Insolvenz

36

II. Schicksal der Leitungsmacht im faktischen Konzern

39

III. Schicksal der Leitungsmacht im Eingliederungskonzern

40

B. Steuerrechtliche Folgen

40

C. Zusammenfassung zu § 1

43

§ 2 Konzepte zur Bewältigung von Konzerninsolvenzen

45

A. Materielle Konsolidierung

45

I. Inhalt des Konzepts

45

II. Vorteile

47

III. Nachteile

48

B. Formelle Konsolidierung

50

I. Inhalt des Konzepts

50

II. Vorteile

51

III. Nachteile

52

C. Verfahrensmäßige Koordinierung

53

I. Kooperationslösung

54

II. Konzentrationslösung

55

III. Vorteile

56

IV. Nachteile

57

D. Zusammenfassung zu § 2

57

§ 3 Aktuelle Lösungsansätze zur Bewältigung von Konzerninsolvenzen in Deutschland und der EU

60

A. Deutschland: Gesetz zur Erleichterung der Bewältigung von Konzerninsolvenzen

60

I. Koordinierungsmechanismen

61

1. Kooperationsmechanismen

61

a) Kooperationspflichten

62

b) Koordinationsverfahren

62

2. Konzentrationsmechanismen

63

a) Gruppen-Gerichtsstand

63

b) Gruppen-Verwalter

64

II. Gruppenangehörigkeit als Eingangsvoraussetzung für Koordinierungsmechanismen

65

B. Europäische Union: Reform der EuInsVO

67

I. Kooperation von Verwaltern und Gerichten

68

II. Gruppen-Koordinationsverfahren

68

C. Zusammenfassung zu § 3

71

Teil 2: Anwendungsbereich des deutschen Konzerninsolvenzrechts

73

§ 4 Räumlicher Anwendungsbereich: Konkurrenzverhältnis deutscher und europäischer Kooperationsmechanismen

73

A. Eröffnung des Anwendungsbereichs europäischer Kooperationsmechanismen

74

B. Anwendungsvorrang europäischer Kooperationsmechanismen

75

I. Grundsätzlicher Anwendungsvorrang europäischer Gruppen-Kooperationspflichten in inländischen Verfahren

76

II. Kein Anwendungsvorrang des Gruppen-Koordinationsverfahrens für inländische Verfahren

77

C. Zusammenfassung zu § 4

80

§ 5 Personeller Anwendungsbereich: Der Konzern als Unternehmensgruppe

82

A. Konzernperspektiven im Aktienrecht, Rechnungslegungsrecht und Insolvenzrecht

83

I. Regelungsaufgabe des Rechts der verbundenen Unternehmen nach §§ 15ff. AktG

83

II. Regelungsaufgabe des Konzernrechnungslegungsrechts nach §§ 290ff. HGB

84

III. Regelungsaufgabe des Konzerninsolvenzrechts

86

IV. Ausgangslage für die Analyse der "Unternehmensgruppe"

86

B. Tatbestandsmerkmale der Unternehmensgruppe

87

I. Unternehmen

87

1. Gemeinsame Schnittmengen mit AktG und HGB

87

2. Einschränkungen der Rechtsformneutralität

89

a) Juristische Person des öffentlichen Rechts als Mutterunternehmen

90

aa) Erste Auffassung: Gruppenangehörigkeit setzt Insolvenzverfahrensfähigkeit voraus

90

bb) Zweite Auffassung: Gruppenangehörigkeit setzt Beherrschungsmöglichkeit voraus

91

cc) Stellungnahme: Koordinierungsgerechte Auslegung

92

b) Juristische Personen des öffentlichen Rechts als Tochterunternehmen

93

c) Alleingesellschafter mit unternehmerischer Betätigung oder maßgeblicher Beteiligung als Mutterunternehmen

93

3. Keine branchenspezifischen Ausnahmen für regulierte Unternehmen

94

II. Rechtliche Selbständigkeit der Unternehmen

96

III. Mittelpunkt hauptsächlicher Interessen im Inland

97

IV. Verbindungsmöglichkeiten der einzelnen Gruppenunternehmen

99

1. Beherrschungsmöglichkeit, § 3e Abs. 1 Nr. 1 InsO n.F.

100

2. Zusammenfassung unter einheitlicher Leitung, § 3e Abs. 1 Nr. 2 InsO n.F.

103

V. Kapitalgesellschaft & Co. KG als Unternehmensgruppe

105

1. Gesetzliche Fiktion in § 3e Abs. 2 InsO n.F.

105

2. Rechtliche Zuordnungsversuche als Konzern, Konsolidierungskreis oder Unternehmensgruppe

106

a) Fehlendes aktienkonzernrechtliches Schutzziel

107

b) Geringer Informationsgehalt des Konzernabschlusses über die Kapitalgesellschaft & Co. KG

108

c) Kein Koordinierungsbedarf auf konzerninsolvenzrechtlicher Ebene

110

C. Zusammenfassung zu § 5

114

Teil 3: Kooperationsmechanismen

117

§ 6 Die Kooperationspflichten

117

A. Gesetzgeberische Zielvorstellung von Kooperationspflichten

117

I. Aufgabe und ökonomische Zielbestimmung von Kooperationspflichten

118

1. Ausgangsproblem und rechtsökonomischer Lösungsvorschlag

118

2. Stellungnahme zur Entscheidung des Gesetzgebers

120

II. Potentielle weitere Adressaten von Kooperationspflichten

121

1. Gläubiger

121

a) Gesellschaftsähnliche Sonderverbindung

122

b) Obstruktionsverbote und Zustimmungspflicht bei Konzernsanierungen

123

c) Analoge Anwendung des § 245 InsO bei konzernweiter Sanierung

124

2. Gesellschafter

125

3. Geschäftsleiter und vertretungsberechtigte Organe

126

a) Fremdverwaltung

126

b) Eigenverwaltung

128

B. Kooperationspflichten der Verwalter nach § 269a InsO n.F.

128

I. Inhaltsbestimmung der Kooperationspflichten

129

1. Bisherige Begründungsansätze

129

2. Pflichtenprogramm des § 269a InsO n.F.

131

a) Kooperationspflichten auf informatorischer Ebene, § 269a Satz 2 InsO n.F.

133

aa) Vorbehaltlose Informationen

133

bb) Informationen unter Vorbehaltsprüfung

134

cc) Kooperationsrelevante Informationen ohne Mitteilungspflicht

135

b) Kooperationspflichten auf instrumenteller Ebene, § 269a Satz 1 InsO n.F.

136

II. Schranken der Kooperationspflichten

137

1. Gesetzesimmanente Schranke des § 269a Satz 1 InsO n.F.

137

2. Begrenzte datenschutzrechtliche Schranke

138

III. Adressaten des § 269a InsO n.F.

140

1. Schuldner bzw. Geschäftsleitung bei Eigenverwaltung

140

2. Keine kodifizierte Kooperationspflicht für Sachwalter

141

IV. Folgen der Nichtbeachtung der Kooperationspflichten

142

1. Reichweite des § 60 Abs. 1 InsO

142

a) Beteiligtenbegriff des § 60 Abs. 1 InsO

143

b) Schutzrichtung des § 269a InsO n.F.

145

c) Enthaftung bei § 269a InsO n.F.

146

2. Aufsichtsrechtliche Maßnahme nach § 58 Abs. 2 InsO

147

3. Überwachung durch Gläubigerausschuss nach § 69 Satz 1 InsO

147

C. Kooperationspflichten der Gerichte nach § 269b InsO n.F.

148

I. Ausgewählte Katalogmaßnahmen des § 269b InsO n.F.

149

1. Allgemeine Kooperationspflicht aus § 269b Satz 1 InsO n.F.

149

2. Allgemeine Unterrichtungspflicht gemäß § 269 b Satz 1 InsO n.F. i.V.m. § 5 Abs. 1 Satz 1 InsO

150

3. Anordnung von Sicherungsmaßnahmen, § 269b Satz 2 Nr. 1 InsO n.F.

151

4. Keine Bestellung eines einheitlichen Insolvenzverwalters über § 269b Satz 2 Nr. 3 InsO n.F.

152

II. Grenzen der gerichtlichen Kooperation

153

III. Rechtsfolgen nicht eingehaltener Kooperationspflichten

154

D. Besonderheiten bei grenzüberschreitenden Kooperationen

157

I. Protocols – Vereinbarungen und Verständigungen, Art. 56 Abs. 1 Satz 2 EuInsVO n.F.

158

II. Schutzvorkehrungen bei Informationsweitergabe, Art. 56 Abs. 2 Satz 1 lit. a) EuInsVO n.F.

159

III. Prüfungspflicht von Sanierungsmaßnahmen, Art. 56 Abs. 2 Satz 1 lit. c) EuInsVO n.F.

160

IV. Befugnisübertragung auf gewählten Vertreter, Art. 56 Abs. 2 Satz 2 EuInsVO n.F.

161

V. Cross-over-Kooperation, Art. 58 EuInsVO n.F.

162

VI. Aussetzungsrecht des Verwalters, Art. 60 Abs. 1 lit. b) EuInsVO n.F.

163

1. Ablauf der Aussetzung einer Verwertungsmaßnahme

163

2. Stellungnahme: Keine Implementierung ins deutsche Recht

164

E. Zusammenfassung zu § 6

166

§ 7 Das Koordinationsverfahren

168

A. Ziel und Anwendungsbereich des Koordinationsverfahrens

168

B. Das Koordinationsgericht

170

I. Einleitung des Koordinationsverfahrens

170

II. Antragsberechtigte

170

III. Eröffnungsermessen des Koordinationsgerichts

171

IV. Rechtsmitteldefizit bei abgelehntem Koordinationsverfahren

172

C. Der Verfahrenskoordinator

173

I. Anforderungsprofil und Funktionen des Verfahrenskoordinators

173

II. Voraussetzungen für die Bestellung des Verfahrenskoordinators

175

1. Grundsätzliche Unabhängigkeit des Verfahrenskoordinators

175

2. Beteiligung des Gruppen-Gläubigerausschusses

176

III. Rechtsstellung des Verfahrenskoordinators

178

IV. Haftung des Verfahrenskoordinators

179

1. Pflichtenkanon des Verfahrenskoordinators

179

2. Schadenseintritt erfordert Umsetzungsakt

181

3. Mittelbare Kausalität als gesetzlicher Regelfall

183

4. Verschulden, Exkulpation und Mitverschulden

184

5. Geltendmachung des Schadensersatzanspruchs gegen Verfahrenskoordinator

186

6. Änderungs- und Ergänzungsvorschlag für eigenständigen Haftungstatbestand

186

V. Vergütung des Verfahrenskoordinators

187

D. Verfahrensinstrument: Der Koordinationsplan

187

I. Zustandekommen des Koordinationsplans

188

1. Planinitiatoren

188

2. Zustimmung des Gruppen-Gläubigerausschusses

191

3. Gerichtliche Prüfung des Koordinationsplans

191

II. Umsetzung des Koordinationsplans

192

1. Erläuterungs- und Abstimmungstermin

192

2. Planabweichungsmöglichkeiten

194

III. Fehlende Rechtsverbindlichkeit des Koordinationsplans

196

IV. Rechtsnatur des Koordinationsplans

197

1. Abgrenzung vom Gruppeninsolvenzplan

198

2. Unterschied zu koordinierten Insolvenzplänen

199

3. Koordinationsplan als Strategiepapier

200

V. Funktionen des Koordinationsplans

202

1. Definition der Verfahrensziele

203

2. Streitschlichtungs- und Streitvermeidungsfunktion

204

3. Dokumentationsfunktion für Insolvenzverwaltungsverträge

205

VI. Inhalt eines Sanierungs-Koordinationsplans

207

1. Darstellung und Analyse der Unternehmensgruppe

207

2. Leistungs- und finanzwirtschaftliche Sanierungsmaßnahmen

208

3. Konzernspezifische Zusatzinformationen

209

E. Besonderheiten beim grenzüberschreitenden Koordinationsverfahren

210

I. Antragsbegründung

210

II. Prioritätsregel und Gerichtsstandsvereinbarung

211

III. Opt-in und Opt-out

212

IV. Aussetzungsantragsrecht des Koordinators

213

F. Zusammenfassung zu § 7

214

Teil 4: Konzentrationsmechanismen

219

§ 8 Der Gruppen-Gerichtsstand

219

A. Rechtsunsicherheit bestehender Verfahrenspraxis

219

B. Regelungstechnik des Gruppen-Gerichtsstands nach §§ 3aff. InsO n.F.

222

I. Antragsverfahren

222

1. Antragsadressat

222

2. Antragsberechtigung

223

3. Antragsvoraussetzungen

224

a) Zulässigkeit des Antrags

224

b) Keine untergeordnete Bedeutung des gruppenangehörigen Schuldners

225

c) Ergänzende Antragsangaben, § 13a InsO n.F.

226

d) Gemeinsames Gläubigerinteresse

228

II. Folgen und Wirkungen

230

III. Verweisungsregelung

231

C. Merkmale des Gruppen-Gerichtsstands

232

I. Kritischer Schwellenwert "Arbeitnehmerzahl"

232

II. Prioritätsgrundsatz

235

III. Wahlgerichtsstände für nachfolgende gruppenangehörige Schuldner

237

IV. Verweisungsmöglichkeiten

238

1. Ungeregelte prozessuale Folgen

239

2. Vorschlag zur Erweiterung der Verweisungsmöglichkeit

241

V. Konzentrationswirkungen

242

1. Richterliche Konzentration

243

2. Gerichtliche Konzentration auf OLG-Ebene

244

D. Rechtliche Auswirkungen

247

I. Geringer Spielraum für Insolvency Planning

247

II. Wegfall des Begründungsaufwands für Folgeverfahren

248

III. Limitiertes Forum Shopping

249

1. Keine Vergleichbarkeit mit US-amerikanischem Forum Shopping

250

2. Vereinbarkeit mit Art. 101 Abs. 1 Satz 2 GG

252

3. Harmonisierung mit EuGH-Rechtsprechung

254

E. Zusammenfassung zu § 8

255

§ 9 Die einheitliche Verwalterbestellung

260

A. Bestehende Verfahrenspraxis

260

B. Gesetzlicher Regelungsbedarf

262

C. Anwendungsfelder für Gruppen-Insolvenzverwalter

263

D. Einheitliche Verwalterbestellung nach § 56b InsO n.F.

264

I. Gerichtliche Abstimmungspflicht bei Einzelverfahren

265

1. Abstimmungspflicht bei der einheitlichen Bestellung des Verwalters

266

2. Abstimmungspflicht bei der einheitlichen Bestellung des vorläufigen Verwalters und des (vorläufigen) Sachwalters

267

II. Vergleichbarkeit mit der Bestellung nach § 56 InsO

268

III. Gläubigerbeteiligung bei Verwalterbestellung nach § 56b Abs. 2 InsO n.F.

269

1. Gläubigerbeteiligung bei der Bestellung des einheitlichen Verwalters

269

2. Gläubigerbeteiligung bei der Bestellung des Sonderinsolvenzverwalters

271

E. Persönliche Anforderungen an Gruppen-Verwalter

272

I. Gesetzliche Anforderung: Unabhängigkeit des Verwalters

272

1. Konfliktlagen

273

2. Konfliktbewältigung mittels Sonderinsolvenzverwalters

277

a) Einsatzbereiche des Sonderverwalters bei Konzerninsolvenzen

278

b) Aufgaben des Sonderverwalters

279

c) Antragsrecht auf Bestellung eines Sonderverwalters

279

d) Funktionale Zuständigkeit des Insolvenzrichters

281

e) Rechtsmittel gegen Bestellung und Ablehnungsbeschluss

283

f) Rechtsstellung und Haftung des Sonderverwalters

285

g) Vergütung des Sonderverwalters

287

h) Ergänzungsvorschlag

289

II. Fachliche Anforderungen

290

F. Vergütung des Gruppen-Insolvenzverwalters

292

G. Zusammenfassung zu § 9

293

Teil 5: Zusammenfassung der wesentlichen Untersuchungsergebnisse

298

Schlussbetrachtung

304

Literaturverzeichnis

306

Stichwortverzeichnis

326