Company law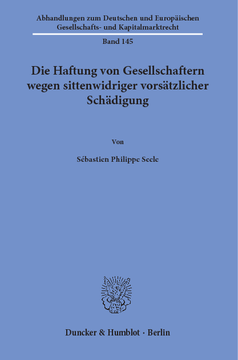 Additional Information
Book Details
ISBN

978-3-428-53641-2
978-3-428-13641-4 (print edition)

DOI

https://doi.org/10.3790/978-3-428-53641-2

Edition

1

Language

German

Pages

297

Collections

Subjects
Pricing
Institution

€ 104.00 (incl. local VAT if applicable)

Individual

€ 79.90 (incl. local VAT if applicable)
About The Author
Sébastien Philippe Seele studied law at the Bucerius Law School in Hamburg and the Humboldt University in Berlin. He earned his doctorate in law at the University of Freiburg and works as an attorney in Frankfurt/Main.
Abstract
Die höchstrichterliche Rechtsprechungsgeschichte zur Haftung von Gesellschaftern ist von einer markanten Anwendungshäufigkeit des § 826 BGB geprägt. Das Werk führt durch diese Rechtsprechungsgeschichte und untersucht aus methodischer Sicht die Gründe für den häufigen Rückgriff auf die deliktsrechtliche Generalklausel.

Im Laufe der Untersuchung macht das Werk deutlich, dass sich die Sittenwidrigkeit wie kaum ein anderer unbestimmter Rechtsbegriff des Zivilrechts als Vehikel der Rechtsfortbildung heranziehen lässt. Der Autor schlägt im Bereich der Haftung des Gesellschaftsrechts vor, sich von kaum greifbaren moralischen Kategorien zur Haftungsbegründung auf Grundlage der Sittenwidrigkeit abzuwenden und neue funktionale Begründungsmuster in der Rechtsökonomie zu suchen. The author leads through the extensive German case history of shareholder tort liability for »immoral damages« and shows that the assumed »immorality« of a shareholder action has proven to be an excellent vehicle for the development of the law of shareholder liability. The author argues moving away from ethical arguments in this context and towards economic arguments to justify shareholder liability.
Table of Contents
Section Title
Page
Action
Price

Vorwort

5

Inhaltsverzeichnis

11

Abkürzungsverzeichnis

18

§ 1 Einleitung

21

A. Grund und Gegenstand der Untersuchung

21

B. Gang der Untersuchung

23

§ 2 Anwendungsfälle der Haftung von Gesellschaftern nach § 826 BGB

25

A. Schädigung der Mitgesellschafter

30

I. Ungleichbehandlung der Gesellschafter

30

1. Anteils- und Stimmrechtsverwässerung

34

2. Verkürzung der Ausübungsmöglichkeit von Gesellschafterrechten

41

3. Einräumung von Sondervorteilen

42

4. Räuberische Anfechtungs- und Nichtigkeitsklage

46

5. Umgehung von Vinkulierungsklauseln

49

II. Gefährdung der Erreichung des Gesellschaftszwecks

50

1. Wettbewerb mit der Gesellschaft

50

2. Gefährdung des Bestands der Gesellschaft

52

3. Umgehung eines gesetzlichen Stimmverbots

53

III. Sonstige Fälle

56

1. Übervorteilung bei der Gestaltung des Gesellschaftsvertrags

56

2. Veräußerung von belasteten Geschäftsanteilen an einen Gutgläubigen

57

3. Missbräuchlicher Anteilserwerb

57

4. Beschlussfassung unter Ausnutzung des Fernbleibens übriger Gesellschafter

59

B. Schädigung der Gesellschaftsgläubiger

59

I. Missachtung der Finanzierungsverantwortung

60

1. Materielle Unterkapitalisierung

61

2. Nominelle Unterkapitalisierung

64

3. Missachtung der Zweckbindung des Gesellschaftsvermögens – existenzvernichtender Gesellschaftereingriff

66

II. Missachtung des Kapitalaufbringungs- und -erhaltungsgrundsatzes

67

1. Überbewertung von Sacheinlagen

68

2. Sonstige Gefährdung der Kapitalerhaltung

69

III. Missbrauch des Trennungsprinzips

70

1. Strukturelle Konzentration des Geschäftsrisikos auf die Gesellschaft

71

2. Vermögensvermischung

72

IV. Sonstige Fälle

73

1. Mitwirkung an einer fehlerhaften Bilanz

73

2. Vollstreckungsvereitelung

74

3. Insolvenzverschleppung

75

4. Unmittelbare Gläubigertäuschung

75

C. Schädigung der Gesellschaftergläubiger

76

D. Sonstige Anwendungsfälle

76

E. Zusammenfassung

77

§ 3 Tatbestand der Haftung von Gesellschaftern nach § 826 BGB

78

A. Handlung

78

B. Sittenwidrigkeit

79

I. Inhalt der guten Sitten im Gesellschaftsrecht

79

1. Auslegung des Rechtsbegriffs der "guten Sitten"

80

a) Wortlaut

80

b) Historie

81

c) Gesetzessystematik

83

d) Telos

83

aa) Verweis auf abstrakte ethische Maßstäbe

84

(1) Naturrecht und christlich-abendländische Moralphilosophie

85

(2) Materiale Wertethik auf dem Gebiet des Gesellschaftsrechts

86

(3) Sonstige Ansätze

88

(4) Eignung für die Zwecke der Feststellung der Sittenwidrigkeit von Gesellschafterhandeln

89

bb) Verweis auf soziologische Empirie

90

(1) Sozialmoral

90

(2) Kritik am Ansatz

90

(3) Beschränkung auf das "sozialethische Minimum"

92

(4) Bereichsspezifische Sozialmoral

93

(5) Eignung für die Zwecke der Feststellung der Sittenwidrigkeit von Gesellschafterhandeln

94

cc) Mischverweis – die Anstandsformel

95

(1) Geschichte und Inhalt

96

(2) Kritik

98

(3) Eignung für die Zwecke der Feststellung der Sittenwidrigkeit von Gesellschafterhandeln

103

dd) Verweis auf rechtsinterne Maßstäbe

103

(1) Ordre-public-Modell

104

(2) Sonstiger Verweis auf innerrechtliche Maßstäbe

105

(3) Eignung für die Zwecke der Feststellung der Sittenwidrigkeit von Gesellschafterhandeln

106

2. Subjektive Dimension der Sittenwidrigkeit

108

a) Überlappung von Vorsatz und subjektiven Komponenten der Sittenwidrigkeit

108

b) Indizwirkung von Gesellschafteregoismus

109

3. Scheitern der Objektivierung und seine Konsequenzen

111

a) Scheitern der Objektivierungsbemühungen

111

b) Konsequenzen des Scheiterns

114

aa) Fallgruppenbildung – Gefahr des Rechtsprechungspositivismus?

115

bb) Bildung funktionaler Modelle

117

(1) Funktionales Modell nach Wagner

118

(2) Rechtsfortbildungsfunktion

119

II. Die Feststellung des Sittenverstoßes im Einzelfall

120

1. Praxis der Anwendung und Begründung des Sittenwidrigkeitsurteils

121

a) Vermeintliche Evidenz der Sittenwidrigkeit

121

b) Zweck-Mittel-Relation

124

c) Gesamtbetrachtung

126

d) Verweis auf teleologische Modelle ohne Inhaltsbestimmung

127

e) Zusammenfassung

127

2. Auswirkungen und Ursachen des Begründungsdefizits

127

a) Auswirkungen des Begründungsdefizits

128

b) Ursachen des Begründungsdefizits

129

III. Der sozialethische Tadel

132

IV. Zusammenfassung

133

C. Vorsatz

134

I. Historie des Vorsatzerfordernisses

134

II. Gegenstand des Vorsatzes

135

III. Funktion des Vorsatzes und Anwendung im Bereich der Gesellschafterhaftung

137

D. Kausal verursachte Schädigung

141

E. Schutzzweckzusammenhang

141

I. Gesellschaft als Gläubiger

143

II. Mitgesellschafter als Gläubiger

145

III. Gesellschaftsgläubiger als Gläubiger

146

F. Zusammenfassung und Bewertung

148

§ 4 Haftung von Gesellschaftern nach § 826 BGB im System des Gesellschaftsrechts

150

A. Schutz der Mitgesellschafter

150

I. Sittenbindung und Treuepflicht

150

1. Treuepflicht

151

2. Verhältnis der Sittenbindung zur Treuebindung

153

a) Ablösung der Bindung an die guten Sitten durch die Treuepflicht

153

b) Sprachlicher Gehalt

154

c) Inhaltliches und funktionales Verhältnis

155

aa) Ausgangslage

156

bb) Hintergrund: Der Widerspruch von Kollektiv- und Partikularinteresse

158

cc) Anknüpfungspunkte materieller Kriterien

160

II. Haftung nach § 826 BGB und nach § 117 Abs. 1 S. 2 AktG

165

III. Sonstige deliktische Haftung

166

B. Unmittelbarer Schutz der Gesellschaftsgläubiger – der Haftungsdurchgriff

167

I. Der Haftungsdurchgriff

168

1. Begründungsmodelle

169

a) Normzweckansätze

170

b) Missbrauchsansätze

170

c) Rechtsprechungspraxis und Kritik

171

2. Anwendungsfälle

172

a) Vermögensvermischung

172

b) Sphärenvermischung

173

c) Materielle Unterkapitalisierung und strukturelle Konzentration des Geschäftsrisikos auf die Gesellschaft

173

d) Existenzvernichtungshaftung i.S.d. "Bremer Vulkan"-Rechtsprechung

173

II. Verhältnis von Haftungsdurchgriff und Haftung nach § 826 BGB

174

C. Schutz der Gesellschaft

178

I. Zweckbindung des Gesellschaftsvermögens – sittliche Pflicht der Gesellschafter gegenüber der Gesellschaft?

179

1. Hintergrund und Fallgruppen

180

a) Hintergrund der Haftung

180

b) Anwendungsfälle

181

aa) Vermögensabzug zugunsten der Gesellschafter

182

bb) Vermögensabzug zugunsten Dritter

182

cc) Bilanzneutrale Eingriffe

182

2. Lösungsansätze der Rechtsprechung bis "Trihotel"

183

a) Die konzernrechtliche Analogie

183

b) Der Missbrauch des Haftungsprivilegs – die Durchgriffshaftung

185

3. Die Lösung der Existenzvernichtungshaftungsproblematik als Binnenanspruch nach § 826 BGB

186

a) Die "Trihotel"-Entscheidung

186

b) Änderungen der Existenzvernichtungshaftung

187

aa) Endgültige Entscheidung für die Verschuldenshaftung

187

bb) Innenhaftung

188

c) Kongruenz mit dem Tatbestand des § 826 BGB und Kritik seiner Anwendung

188

d) Der Rechtsfolgenwandel

193

e) Europa- und kollisionsrechtlicher Kontext

194

II. Paradigmenwechsel im Schutzobjekt?

195

D. Zusammenfassung

195

§ 5 Rechtsfortbildendes Wirken der Anwendung des § 826 BGB im Kontext der Gesellschafterhaftung

197

A. Rechtsfortbildung durch § 826 BGB und das Tatbestandsmerkmal der Sittenwidrigkeit

198

I. § 826 BGB als Normbildungsauftrag – Der Richter als Interimsgesetzgeber?

198

1. Richterliche Rechtssetzung

199

2. Gesetzgebungsdelegation durch § 826 BGB

200

II. Die Auseinandersetzung in der Kommunikationsgemeinschaft und die Kodifizierung durch den Gesetzgeber

203

B. Das Wirken des funktionalistisch-delegativen Modells der Sittenwidrigkeit außerhalb des Gesellschaftsrechts

203

I. Kartellrecht

203

II. Lauterkeitsrecht

204

C. Das Wirken des funktionalistisch-delegativen Modells des § 826 BGB im Gesellschaftsrecht

205

I. Rechtsfortbildung im Gesellschaftsrecht

206

II. Die Fortbildung des Gesellschaftsrechts mittels § 826 BGB

208

1. Die Zweckeignung der Norm und die Notwendigkeit ihrer Verwendung

208

a) Grundsätzliche Eignung

209

b) Mangel an Alternativen

210

c) Vergleich zu anderen Modi der Rechtsfortbildung

211

d) Begründungsdefizit als Vorteil

212

e) Bewusstsein hinsichtlich der Rechtsfortbildungsfunktion

213

2. Relativierung der Tatbestandsmerkmale

214

3. Konkurrenzverhältnis

216

4. Besondere methodische Legitimität?

216

III. Kritischer Diskurs und Kodifikation

218

D. Grenzen der Rechtsfortbildungsfunktion des § 826 BGB im Gesellschaftsrecht

219

I. Die transitorische Anwendung und das legislative Unterlassen

219

II. Deflexibilisierung und Entwicklungsstagnation durch Kodifikation

220

III. Das Spannungsverhältnis zwischen Rechtssicherheit und Anwendungsflexibilität

221

IV. Verdeckung der Rechtsfortbildung

222

E. Funktionalistisch-delegatives Modell der Sittenwidrigkeit und der neue Methodenstreit

222

F. Zusammenfassung

224

§ 6 Inhalt der Rechtsfortbildung zur Gesellschafterhaftung auf Grundlage des § 826 BGB

225

A. Rechtsfortbildende funktionale Anwendung des § 826 BGB

226

I. Wesen der rechtsfortbildenden funktionalen Anwendung des § 826 BGB

226

II. Rechtsgebietsfunktionsspezifische Rechtsfortbildung als Wertungsjurisprudenz

231

III. Rechtsgebietsfunktionsspezifität als utilitaristische Ethik

234

IV. Abgrenzung zum Verweis auf rechtsinterne Maßstäbe

235

V. Besondere Eignung des Wirtschaftsprivatrechts

236

B. Funktionale Rechtsfortbildung durch die Sittenwidrigkeit im Lauterkeitsrecht

237

I. Sittenwidrigkeit im Lauterkeitsrecht

238

1. Versuche der Konkretisierung der guten Sitten

238

2. Übergang zur funktionalen Auslegung

240

II. Eignung für eine Übertragung auf das Gesellschaftsrecht und die Haftung von Gesellschaftern

242

1. Argumente für eine entsprechende Anwendung

243

2. Argumente gegen eine entsprechende Anwendung

244

C. Maßstäbe der funktionalen rechtsfortbildenden Anwendung des § 826 BGB bei der Haftung von Gesellschaftern

245

I. Ungeeignete Funktionalisierungsmaßstäbe

246

II. Gesetzliche Wertungen als Maßstab

247

1. Gesellschafterschutz

248

2. Gläubigerschutz

248

3. Bewertung

249

III. Ökonomie und Allokationseffizienz als Maßstab

250

1. Ökonomische Analyse des Rechts

250

2. Kritik und Grenzen der ökonomischen Analyse des Rechts

252

3. Spezifische ökonomische Erwägungen

254

a) Gesellschaftsrecht und ökonomische Theorie

254

b) Einzelfragen

255

aa) Schutz der Gesellschafter

255

(1) Ungleichbehandlung der Gesellschafter

256

(2) Gefährdung des Gesellschaftszwecks

258

bb) Schutz der Gesellschaftsgläubiger

258

4. Unbewusste Anwendung des Maßstabs?

261

D. Funktionale Anwendung des § 826 BGB jenseits der Sittenwidrigkeit

262

E. Bedenken gegen eine Funktionalisierung

263

I. Aufweichung des ethischen Gehalts des Begriffs der "guten Sitten" und der Einheit der guten Sitten

263

II. Scheitern der praktischen Vereinfachung

264

III. Unzulässiger Inhalt und Überdehnung der Rechtsfortbildung

265

F. Fazit

268

Literaturverzeichnis

269

Stichwortverzeichnis

294