Company law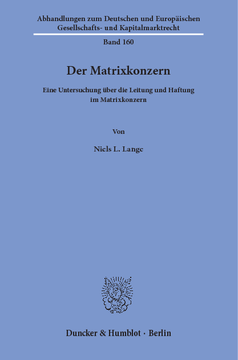 Additional Information
Book Details
ISBN

978-3-428-55946-6
978-3-428-15946-8 (print edition)

DOI

https://doi.org/10.3790/978-3-428-55946-6

Edition

1

Language

German

Pages

374

Collections

Subjects
Pricing
Institution

€ 116.00 (incl. local VAT if applicable)

Individual

€ 89.90 (incl. local VAT if applicable)
About The Author
Niels L. Lange ist Rechtsanwalt im Hamburger Büro einer internationalen Wirtschaftskanzlei und berät nationale und internationale Mandanten bei Infrastrukturprojekten sowie Großprojekten im industriellen Anlagenbau. Er studierte Rechtswissenschaften an der Universität Hamburg und promovierte dort bei Prof. Dr. Sebastian Mock, LL.M. (NYU). Während seiner Promotion arbeitete er als wissenschaftlicher Mitarbeiter in einer internationalen Wirtschaftskanzlei in den Bereichen Mergers & Acquisitions und Gesellschaftsrecht in Hamburg.
Niels L. Lange is an associate in the Hamburg office of an international law firm. He advises national and international clients on infrastructure projects and major industrial plant construction projects. He studied law at the University of Hamburg, where he also graduated under Prof. Dr. Sebastian Mock, LL.M. (NYU). While working on his doctoral thesis he worked as a research assistant in the Corporate/M&A department of an international law firm.
Abstract
Der Autor beleuchtet die in der Praxis vermehrt anzutreffende Matrixorganisation im Hinblick auf konzern- und gesellschaftsrechtliche Fragen. Einleitend untersucht er die Voraussetzungen für die Einführung der konzernweiten Matrixorganisation und kommt zur grundsätzlichen Wirksamkeit dieser. Dann befasst er sich mit den Pflichten der Akteure in der Matrixorganisation. Hier wird ein besonderes Augenmerk auf die Pflichten des Vorstands der Matrixgesellschaft und eine etwaige Unmöglichkeit der Erfüllung dieser Pflichten gelegt. Ferner wird im Rahmen dieses Teils auch die Stellung des Matrixmanagers insbesondere unter dem Aspekt des faktischen Leitungsorgans beleuchtet, dessen Anwendbarkeit der Autor im Vertragskonzern ablehnt. Abschließend nimmt er die Haftung der verschiedenen Akteure sowie Möglichkeiten der Haftungsbeschränkung für jene in den Blick, wobei auch die deliktsrechtliche Haftung der Obergesellschaft bezogen auf eine etwaige (Konzern)Organisationspflicht untersucht wird. »The Matrix-Organized Corporate Group. A Research on Liability and Management in the Matrix-Organized Corporate Group«

The matrix-organized corporate group and the resulting direct »governance« give rise to various questions regarding group and company law, such as the permissibility of this organization, the obligations of the corporate participants or the consequences of liability. This thesis deals with these problem areas in detail, in particular with the position and duties of the management body of the matrix company and the matrix manager and place these questions in an overall context of group law.
Table of Contents
Section Title
Page
Action
Price

Vorwort

7

Inhaltsübersicht

9

Inhaltsverzeichnis

13

Abbildungsverzeichnis

25

Abbildung 1: Einlinien-System mit funktionaler Aufgabenaufteilung

34

Abbildung 2: Mehrlinien-System

35

Abbildung 3: Stablinienorganisation

36

Abbildung 4: Divisionale Organisation

37

Abbildung 5: Divisionale Organisation mit Service-Einheiten Steuern und Recht

38

Abbildung 6: Funktions-Produkt-Matrix

39

Abbildung 7: Region-Produkt-Matrix

40

Abbildung 8: Klassische Matrix

43

Abbildung 9: Matrixorganisation im Konzern (nach Seibt/Wollenschläger, AG 2013, 229, 231)

46

Einleitung

27

A. Zur Thematik

27

B. These und Gang der Untersuchung

29

Erster Teil: Grundlagen zur Matrixorganisation

31

§ 1 Die Organisation

31

A. Das Organisationsproblem

32

B. Bausteine der Organisation

33

C. Grundmodelle der Organisation

33

D. Typische Organisationsformen

36

I. Funktionale Organisation

36

II. Divisionale Organisation/Objektorganisation

37

III. Erweiterung zur Matrixorganisation

39

E. Zusammenfassung

40

§ 2 Die Matrixorganisation

41

A. Die Matrixorganisation im Detail

41

I. Grundlegende Merkmale der Matrixorganisation

42

1. Mehrdimensionale Organisationsstruktur

42

2. Mehrliniensystem

42

II. Schlüsselstellen in der Matrixorganisation

42

1. Die Matrixleitung

43

2. Der Matrixmanager

43

3. Die Matrixzelle/Schnittstelle

44

B. Die Struktur der Organisation im Zusammenspiel mit dem Gesellschaftsrecht

44

I. Die Matrixorganisation im rechtlichen Kontext

45

II. Die Matrixorganisation im Konzern

45

C. Historie sowie Vor- und Nachteile der Matrixorganisation

48

I. Historie

48

II. Vor- und Nachteile der Matrixorganisation

49

1. Vorteile

49

2. Nachteile

50

D. Zusammenfassung

51

Zweiter Teil: Rechtliche Grundlagen zum Konzern

52

§ 1 Rechtliche Vorgaben zur Konzernorganisation

52

A. Allgemeines

52

B. Die verschiedenen Konzernarten des Aktienrechts

53

C. Kein Konzernorganisationsrecht

54

§ 2 Der Grundsatz des Trennungsprinzips

56

A. Bedeutung des Trennungsprinzips

57

B. Das Trennungsprinzip im Konzern

60

I. Der Grundsatz des Trennungsprinzips im Konzern

60

II. Grenzen des Trennungsprinzips im Konzern

61

C. Zusammenfassung

62

§ 3 Der Leitungsbegriff des Aktienrechts

63

A. Verhältnis Leitung und Geschäftsführung

63

I. Keine Identität von Leitung und Geschäftsführung

64

II. Leitung als herausgehobener Teil der Geschäftsführung

64

III. Verhältnis Leitung und Vertretung

65

B. Gegenstand der Leitungstätigkeit des Vorstands

65

I. Abstrakte Leitungsverantwortung kraft gesetzlicher Vorgaben

66

II. Abstrakte Leitungsaufgaben kraft typologischer Zuordnung

67

1. Ermittlung anhand betriebswirtschaftlicher Erkenntnisse

68

2. Juristische Erkenntnisse

69

a) Unternehmensplanung

69

b) Unternehmenskoordinierung

69

c) Unternehmenskontrolle

70

d) Besetzung von Führungspositionen

70

III. Konkretisierung der Leitungsaufgabe

70

1. Notwendigkeit einer Konkretisierung

70

2. Rückgriff auf § 90 Abs. 1 Nr. 4 AktG

71

a) Bedeutung der Norm

71

b) Geschäft von erheblicher Bedeutung

72

c) Merkmale des Geschäfts von erheblicher Bedeutung

72

C. Konzernbezogene Leitungspflichten

73

I. Konzernleitungspflicht gegenüber der Obergesellschaft

74

1. Leitungsverantwortung für den Konzern

74

2. Ansichten im Schrifttum zur Intensität der Leitungsverantwortung

75

3. Schlussfolgerungen für den matrixorganisierten Konzern

76

II. Konzernleitungspflicht gegenüber der Matrixgesellschaft

76

III. Konzernweite Aufgaben

77

1. Allgemeines

78

2. Planung, Steuerung und Überwachung

78

a) Konzernplanung

79

b) Konzernorganisation

79

c) Konzernüberwachung

80

d) Besetzung von Führungsstellen

82

D. Zusammenfassung

82

Dritter Teil: Die Matrixorganisation als Organisation des Konzerns

84

§ 1 Implementierung von Matrixorganisationen

84

A. Der Zugriff auf die Leitungsmacht der Matrixgesellschaft

84

I. Matrixgesellschaft als Aktiengesellschaft

85

1. Die Pflicht zur eigenverantwortlichen Leitung oder das Verbot der Fremdsteuerung

85

2. Notwendigkeit eines Beherrschungsvertrags

86

3. Eine faktische Beherrschung reicht nicht aus

87

4. Schlussfolgerung

88

II. Exkurs: Die Matrixgesellschaft als GmbH

88

1. Die GmbH als Konzernbaustein

88

2. Möglichkeiten des Zugriffs auf die Leitung in der GmbH

89

a) Die nicht beherrschungsvertraglich gebundene GmbH

90

aa) Das Weisungsrecht der Gesellschafterversammlung

90

bb) Grenzen des Weisungsrechts

91

cc) Übertragbarkeit des Weisungsrechts auf Dritte

91

b) Die GmbH im Vertragskonzern

92

c) Schlussfolgerung

93

B. Das Weisungsrecht im Vertragskonzern – Folge- und Überprüfungspflichten

94

I. Umfang des Weisungsrechts – Folgepflicht

94

II. Grenzen des Weisungsrechts im Vertragskonzern

95

1. Der Beherrschungsvertrag als Grenze

95

2. Das Gesetz als Grenze

96

3. Nachteilige Weisungen und Konzerndienlichkeit

97

4. Die Satzung als Grenze

98

5. Überlebensfähigkeit als Grenze

98

6. Weisungen in existenzieller Schieflage der Obergesellschaft

100

III. Das Weisungsrecht als Leitungsmittel in der Matrixorganisation

100

1. Ausübung des arbeitsrechtlichen Weisungsrechts durch den Matrixmanager

101

a) Anweisung zur Übertragung des arbeitsvertraglichen Weisungsrechts

101

b) Arbeitsrechtliche Zulässigkeit der Übertragung

101

c) Aufspaltung vom fachlichen und disziplinarischen Weisungsrecht

103

d) Rechtliche Konstruktion zur Übertragung des arbeitsvertraglichen Weisungsrechts

104

e) Schlussfolgerung

105

2. Ausübung des konzernrechtlichen Weisungsrechts durch den Matrixmanager

105

a) Matrixmanager als Weisungsberechtigter

105

b) Der Adressat der Weisung

107

aa) Überprüfungspflicht der Weisung

108

bb) Möglichkeit der Delegation der Aufgaben

110

cc) Schlussfolgerung

112

3. Verhältnis von arbeitsvertraglichem und konzernrechtlichem Weisungsrecht

113

C. Zusammenfassung

114

§ 2 Grenzen und Voraussetzungen bei der Obergesellschaft

115

A. Verantwortlichkeit des Vorstands der Obergesellschaft

115

I. Die nicht delegierbaren Leitungsaufgaben

116

1. Leitungsaufgaben kraft gesetzlicher Zuweisung

116

2. Ungeschriebene Leitungsaufgaben

117

3. Leitungsaufgaben vs. Vorbereitungs- und Ausführungsmaßnahmen

117

4. Schlussfolgerung

118

II. Grundsätze der Vorstandsarbeit

119

1. Grundsatz der Gesamtverantwortung

119

2. Grundsatz der Gleichberechtigung aller Vorstandsmitglieder

120

III. Die Delegation von Geschäftsführungsaufgaben auf den Matrixmanager

121

1. Zulässigkeit der Delegation

121

2. Pflichten des Vorstands der Obergesellschaft

122

a) Verhinderung einer unzulässigen Delegation

122

b) Auswahlsorgfalt

122

c) Einweisungssorgfalt

123

d) Überwachungssorgfalt

124

aa) Einschreiten bei Verdachtsmomenten

124

bb) Organisationspflichten

125

cc) Laufende Kontrolle

125

dd) Gesteigerte Überwachungspflicht

126

ee) Rückholverantwortlichkeit

126

ff) Richtlinienvorgabe

127

3. Überwachungsintensität

128

a) Steuerrechtliche Erkenntnisse

130

b) Verwaltungsrechtliche Erkenntnisse

131

c) Würdigung von Sachverständigengutachten im Zivilprozess

132

d) Schlussfolgerungen

132

4. Schlussfolgerung

133

B. Zustimmungsvorbehalte betroffener Aufsichtsräte

134

C. Mitwirkung der Hauptversammlung bei Einführung der Matrixorganisation

137

I. Zustimmung zum Abschluss und zur Änderung von Unternehmensverträgen

137

II. Hauptversammlungszuständigkeit nach gesetzlichen Zuständigkeitsbestimmungen

137

III. Ungeschriebene Hauptversammlungszuständigkeit

138

1. Holzmüller

138

2. "Gelatine"-Rechtsprechung

139

3. Anwendung dieser Rechtsprechungsgrundsätze

139

D. Zusammenfassung

141

Vierter Teil: Pflichten ausgewählter Akteure der Matrixorganisation

143

§ 1 Das Leitungsorgan der Matrixgesellschaft

143

A. Das "machtlose" Leitungsorgan

143

I. Status quo

144

1. Das "machtlose" Leitungsorgan und der Gleichlauf von Herrschaft und Haftung

144

2. Bisherige Diskussion

146

II. Unmöglichkeit der Erfüllung der Verpflichtung

147

III. Stellungnahme

149

1. Keine rechtserhebliche Unmöglichkeit

149

2. Rechtsordnung erfordert klare Verantwortlichkeiten

151

3. Drittschützende Pflichten

153

4. Verschuldenserfordernis

154

IV. Zusammenfassung

154

B. Die Leitungsaufgabe des Leitungsorgans der Matrixgesellschaft

154

I. Leitungsverantwortung des Leitungsorgans

155

II. Überwachung der Einhaltung der Grenzen des Weisungsrechts

156

III. Legalitätspflichten

157

1. Insolvenzantragspflicht

158

2. Massesicherungspflicht

160

3. Steuerrechtliche Pflichten

161

4. Buchführungspflicht

164

IV. Informationsverantwortung

165

1. Allgemeines

165

2. Selbstinformation

167

3. Informationsbeschaffung

168

4. Konzernweite Informationen

168

a) Exkurs: Informationsfluss von "unten nach oben"

169

b) Informationsfluss von "oben nach unten"

170

aa) Rechtliche Grundlage des Informationsflusses von "oben nach unten"

170

(1) Informationsrecht kraft vertraglicher Vereinbarung

170

(2) Informationsrecht aus Treu und Glauben (§ 242 BGB)

171

(3) Kein Informationsrecht der Tochtergesellschaft

173

bb) Zusammenfassung

174

c) Ergebnis

174

V. Vorkehrungen in der Matrixgesellschaft

175

1. Legalitätspflicht und unentziehbarer Leitungsbereich

175

2. Organisationskompetenz

176

3. Eingriffsrechte

177

4. Notfallorganisation

178

5. Informationsbeschaffung

178

C. Zusammenfassung

180

§ 2 Der Matrixmanager

181

A. Der Matrixmanager im Verhältnis zur Gesellschaft

181

I. Die Stellung des Matrixmanagers

181

1. Leitende Angestellte im Arbeitsrecht

181

a) Selbstständige Personalkompetenz (Nr. 1)

182

b) Handelsrechtliche Bevollmächtigung (Nr. 2)

183

c) Unternehmerische Teilfunktion (Nr. 3)

184

2. Der Matrixmanager als leitender Angestellter?

185

II. Aufgabenübertragung

186

1. Grenzen der Pflichten

186

2. Vorbereitung von Leitungsmaßnahmen

188

3. Bestehen von Kontrollpflichten

188

a) Vertragliche Kontrollpflichten

188

b) Überwachungspflichten aufgrund der Stellung als Matrixmanager

189

c) Nebenvertragliche Pflicht zur Überwachung

191

III. Die vom Matrixmanager einzuhaltenden Sorgfaltspflichten

192

1. Allgemeines

192

2. Grundsatz der Haftung von Arbeitnehmern und leitenden Angestellten

193

a) Anwendbarkeit auf den leitenden Angestellten

194

b) Stellungnahme

195

3. Anwendbarkeit der Business Judgment Rule auf den Matrixmanager

197

a) Business Judgment Rule als allgemeiner Grundsatz

198

b) Zweck der Business Judgment Rule

199

c) Anwendbarkeit trotz Weisungsbindung

200

d) "Organfunktion" des leitenden Angestellten

202

e) Gleichlauf von Pflichtenmaßstab und Haftung

203

f) Schlussfolgerung

204

4. Zusammenfassung

205

B. Der Matrixmanager als faktisches Leitungsorgan

205

I. Abgrenzung des faktischen Organs

206

1. Fehlerhaft bestelltes Organ

206

2. Faktisches Organ

207

3. Organ kraft Rechtsscheins

207

II. Grundlagen zum faktischen Leitungsorgan

208

1. Status quo

208

a) Strafrechtliche Judikatur

208

b) Zivilrechtliche Judikatur

210

c) Schrifttum

212

2. Stellungnahme

212

a) Anerkennung des faktischen Organs

213

b) Voraussetzungen

214

c) Der Matrixmanager als faktisches Leitungsorgan der Matrixgesellschaft

217

III. Kein faktisches Organ im Vertragskonzern?

218

1. Verdrängung durch das Konzernrecht

218

2. Zweckverfehlung

220

3. Wertung des § 117 AktG

220

IV. Zusammenfassung

221

C. Zusammenfassung

221

§ 3 Die Stellung des Matrixmanagers als Organ der Matrixgesellschaft

222

A. Problembeschreibung

222

B. Die Rechtsbeziehungen des Matrixmanagers

223

I. Matrixmanager und Obergesellschaft

223

II. Matrixmanager und Matrixgesellschaft

223

III. Drittanstellungsverträge

225

1. Teilweise Zulässigkeit

225

2. Generelle Zulässigkeit

226

3. Die Rechtsprechung

227

4. Stellungnahme

228

IV. Beziehung der verschiedenen Rechtsverhältnisse

230

V. Zusammenfassung

231

C. Interessenkonflikte – Das "verkappte Doppelmandat"

232

I. Interessenkollision

233

1. Konflikt zwischen arbeitsvertraglicher Weisung und konzernrechtlicher Weisung

233

2. Umgang mit Interessenkonflikten

235

II. Verhältnis zwischen Leitungstätigkeit und konzernrechtlichem Weisungsrecht

236

III. Sonderstellung des Matrixmanagers im Leitungsorgan der Matrixgesellschaft

238

IV. Zusammenfassung

239

Fünfter Teil: Haftungsrisiken im matrixorganisierten Konzern

241

§ 1 Haftungszweck

241

A. Allgemeines

241

B. Regelungsziele und Schutzbereiche der Binnenhaftung

241

I. Regelungsziele der Binnenhaftung

241

II. Schutzbereiche der Binnenhaftung

242

§ 2 Haftung des Vorstands der Obergesellschaft

243

A. Zulässigkeit des Rückzugs auf die Delegationshaftung

243

B. Haftung gegenüber der Obergesellschaft

245

I. Haftung aus § 93 Abs. 2 S. 1 AktG

246

1. Sorgfaltspflichten des Vorstands im Matrixkonzern

246

2. Verschulden

248

3. Vermögensschaden

248

4. Kausalität und Zurechnungszusammenhang

249

5. Haftung als Gesamtschuldner

249

6. Darlegungs- und Beweislastverteilung

250

II. Haftung aus dem Anstellungsvertrag

250

C. Haftung gegenüber der Matrixgesellschaft

250

I. Haftung nach § 309 AktG

250

1. Grundlagen

250

2. Haftung für eigene Weisungserteilung

251

3. Haftung für die Weisungserteilung durch den Matrixmanager

252

a) Haftung nach § 278 BGB i. V. m. § 309 AktG

252

b) Haftung nach § 309 AktG aufgrund Delegationsverschulden

253

c) Stellungnahme

253

4. Schadensproblematik

254

D. Haftung aus § 117 AktG

256

E. Haftung aus § 280 Abs. 1 BGB \ni. V. m. dem Beherrschungsvertrag

257

§ 3 Haftung des Leitungsorgans der Matrixgesellschaft

257

A. Allgemeine Organhaftung im "weisungsfreien" Raum

257

B. Haftung für die Befolgung von Weisungen

258

I. Zulässige Weisungen

258

II. Unzulässige Weisungen

258

1. Haftung aufgrund von § 310 Abs. 1 AktG

259

2. Haftung nach § 93 Abs. 2 AktG

260

3. Überwachungsverschulden

260

§ 4 Haftung des Matrixmanagers

261

A. Gesetzliche Haftung

262

I. Die Haftung als faktischer Vorstand

262

II. Haftung aus § 309 Abs. 2 AktG analog?

262

1. Status-quo

263

2. Stellungnahme

263

a) Vergleichbare Interessenlage

264

b) Planwidrige Regelungslücke

264

aa) Regelungslücke

264

bb) Planwidrigkeit der Regelungslücke

266

c) Ergebnis

268

III. Haftung aus § 117 AktG

268

B. Vertragliche Haftung

269

I. Arbeitsvertrag

269

II. Vertrag zugunsten Dritter

269

III. Vertrag mit Schutzwirkung zugunsten Dritter

271

C. Zusammenfassung

272

D. Haftung als Teil der Geschäftsleitung der Matrixgesellschaft

272

I. Gesetzliche Haftung

272

1. Haftung aus § 309 AktG

272

2. Haftung aus § 93 Abs. 2 AktG

274

3. Haftung aus § 310 Abs. 1 S. 1 AktG

274

II. Vertragliche Haftung

275

1. Haftung aus dem Arbeitsvertrag zur Obergesellschaft

275

2. Haftung aufgrund § 280 Abs. 1 BGB i. V. m. Vertrag zugunsten Dritter

275

III. Zusammenfassung

275

§ 5 Haftung der Obergesellschaft

276

A. Ausgleichspflicht nach § 302 AktG

276

B. Haftung aus § 280 Abs. 1 BGB i. V. m. dem Beherrschungsvertrag

277

C. Vertragliche Haftung

279

I. Ursprüngliche Mitverpflichtung

279

II. Schuldbeitritt, Bürgschaft, Garantievertrag

279

III. Patronatserklärung

280

IV. Rechtsscheinhaftung

281

1. Ermittlung des Vertragspartners

282

2. Duldungs- und Anscheinsvollmacht

283

3. Rechtsschein der Einheit

284

4. Schlussfolgerung

285

D. c. i. c. Haftung – § 311 Abs. 3 BGB im Konzern

285

I. Ausgangspunkt der Haftung

286

1. Fallgruppe Besonderes persönliches Vertrauen

286

2. Fallgruppe wirtschaftliches Eigeninteresse

287

II. Schlussfolgerung

288

E. Deliktische Haftung

288

I. Zurechnung gemäß § 830 Abs. 1 BGB

289

II. Geschäftsherrenhaftung der Obergesellschaft nach § 831 BGB

291

1. Tochtergesellschaft als Verrichtungsgehilfin

292

a) Ansicht des Schrifttums

292

b) Bisherige Rechtsprechung

293

c) Eigene Ansicht

296

aa) Eine juristische Person kann Verrichtungsgehilfin sein

296

2. Anwendung auf den Matrixkonzern

297

III. Haftung aus § 823 Abs. 1 BGB aufgrund der Verletzung von Organisationspflichten

299

1. Deliktsrechtliche Organisationspflichten im Konzern – Meinungsstand

299

a) Bisherige Rechtsprechung

300

b) Bejahende Literatur zu deliktsrechtlichen Organisationspflichten

301

c) Keine deliktsrechtlichen Organisationspflichten im Konzern

303

d) Eigene Auffassung

306

2. Anwendung auf den Matrixkonzern

307

IV. Zwischenergebnis

308

F. Zusammenfassung

310

Sechster Teil: Möglichkeiten der Haftungsbeschränkung

312

§ 1 Organisatorische Vorkehrungen

312

A. Anforderungen an die erteilten Weisungen

312

B. Gesellschaftsrechtliche Vorkehrungen

313

I. Einbindung in das Konzern-Informationssystem und gesellschaftseigenes System

313

II. Geschäftsverteilung

314

III. Eingriffs- und Rückholrechte

314

§ 2 Privatautonome Haftungsbeschränkung

314

A. Statuarische Haftungsbeschränkung

315

B. Schuldvertragliche Haftungsbeschränkung

316

I. Vorstand der Obergesellschaft

317

1. Keine vertragliche Haftungsbeschränkung

317

2. Halbvermögensschonung

317

a) Keine Vorwegbindung

318

b) Entscheidung am Unternehmenswohl auszurichten

319

c) Keine Umgehung des § 93 Abs. 4 S. 3 AktG

320

d) Schlussfolgerung

321

II. Leitungsorgan der Matrixgesellschaft

321

III. Matrixmanager

321

1. Matrixmanager ist bei der Obergesellschaft vertraglich gebunden

321

2. Matrixmanager ist auch Leitungsorgan der Matrixgesellschaft

322

§ 3 Anwendbarkeit des innerbetrieblichen Schadensausgleichs

323

A. Allgemeines

323

I. Dogmatische Grundlage

323

II. Rechtsfolgen

324

B. Anwendbarkeit dieser Grundsätze auf das Leitungsorgan der Obergesellschaft

326

I. Aktuelle Diskussion

326

II. Stellungnahme

327

1. Unzutreffende Ausgangsbasis

327

2. Kein Unterlaufen der Präventivfunktion

328

3. Betriebsrisiko

329

4. Business Judgment Rule bietet ausreichenden Schutz

330

5. Keine Regelungslücke

331

6. Ergebnis

331

C. Anwendbarkeit auf das Leitungsorgan der abhängigen Gesellschaft

331

§ 4 Freistellungsvereinbarung

333

A. Vorstand der Obergesellschaft und der Matrixgesellschaft

333

B. Freistellungsvereinbarung mit dem Matrixmanager

334

I. Matrixmanager als Leitungsorgan der Matrixgesellschaft

334

II. Matrixmanager als leitender Angestellter der Obergesellschaft

336

§ 5 D&O-Versicherung

336

A. Allgemeines

336

B. Gegenstand der Versicherung

337

C. Ausgestaltung des Versicherungsschutzes

337

I. Zulässigkeit

337

II. Keine Pflicht zum Abschluss und Abschlusszuständigkeit

337

III. Rechtliche Beziehungen

338

IV. Schlussfolgerung

339

Siebter Teil: Wesentliche Ergebnisse/Thesen

342

A. Allgemeines

342

B. Der Matrixmanager

343

C. Das Leitungsorgan der Obergesellschaft

343

D. Das Leitungsorgan der Matrixgesellschaft

344

E. Die Obergesellschaft in der Matrixorganisation

345

Literaturverzeichnis

346

Stichwortverzeichnis

371