Company law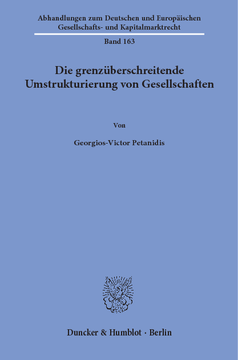 Additional Information
Book Details
ISBN

978-3-428-55910-7
978-3-428-15910-9 (print edition)

DOI

https://doi.org/10.3790/978-3-428-55910-7

Edition

1

Language

German

Pages

567

Collections

Subjects
Pricing
Institution

€ 150.00 (incl. local VAT if applicable)

Individual

€ 116.90 (incl. local VAT if applicable)
About The Author
Georgios-Victor Petanidis studierte Rechtswissenschaften an der Philipps-Universität in Marburg und der Universität Zürich, Schweiz. Anschließend promovierte er an der Christian-Albrechts-Universität zu Kiel im Internationalen Gesellschaftsrecht bei Prof. Dr. Michael Stöber und erlangte die Würde eines Doktors der Rechte. Seit 2018 absolviert Petanidis den Vorbereitungsdienst im Bereich des OLG Frankfurt am Main.
Georgios-Victor Petanidis studied law at the Philipps University in Marburg and at the University of Zurich, Switzerland. He then went on to attain his doctorate at the Christian-Albrechts University, Kiel, in international corporate law under Professor Michael Stöber and achieved the distinction of Doctor of Law. Petanidis has been doing a legal clerkship at the Oberlandesgericht Frankfurt am Main since 2018.
Abstract
Noch vor einigen Jahren war nach Auffassung deutscher Gerichte eine grenzüberschreitende Umstrukturierung unter Beteiligung deutscher Gesellschaften nicht möglich. Diese Rechtsauffassung ist spätestens mit den Entscheidungen des Europäischen Gerichtshofs zur Niederlassungsfreiheit, womit er sogleich die Büchse der Pandora öffnete, obsolet geworden. Gleichwohl stellt die Frage nach der Zulässigkeit einzelner Umstrukturierungsmöglichkeiten Rechtsanwender noch heute vor erhebliche Probleme, weil ein kodifiziertes Regelwerk fehlt.

Der Autor systematisiert das gesamte Recht der grenzüberschreitenden Umstrukturierung unter Bezugnahme auf die rechtshistorischen und rechtstheoretischen Grundlagen. Dabei berücksichtigt er nicht nur das deutsche und europäische Recht, sondern auch die einschlägigen Rechtsregeln in völkerrechtlichen Verträgen mit Drittstaaten sowie rechtsvergleichend die Regeln im nationalen Recht anderer Länder. »The Cross-border Restructuring of Corporates«

This study aims to analyze and systematize the entire law of cross-border restructuring with reference to the legal-historical and legal-theoretical foundations. It takes into account not only German and European law, but also the relevant legal rules in international agreements with third countries as well as comparative rules in the national law of other countries.
Table of Contents
Section Title
Page
Action
Price

Vorwort

7

Inhaltsverzeichnis

13

Abkürzungsverzeichnis

25

Einführung

31

I. Problemaufriss

31

II. Gegenstand der Untersuchung

33

III. Gang der Untersuchung

34

Kapitel 1: Die Rechtsakte der Verleihung und Anerkennung als gedankliche Ausgangspunkte

36

A. Verleihung

37

I. Rechtsträger im deutschen Recht

37

II. Rechtsakt der Verleihung im deutschen Recht

41

1. Historischer Rückblick bis zur Neuzeit

41

a) Römisches Reich

41

b) Römische Kaiserzeit

42

c) Mittelalter

44

d) Neuzeit

45

2. Der Theorienstreit zur juristischen Person im 19. Jahrhundert

47

3. Gründungssysteme

51

a) Das System der freien Körperschaftsbildung

51

b) Das Konzessionssystem

52

c) Das System der Normativbestimmungen

52

d) Zwischenergebnis

53

4. Der Streit um die Gründungssysteme im Gesetzgebungsverfahren für das BGB

54

III. Gründungssysteme in der heutigen Zeit

55

IV. Rechtsvergleich

57

V. Zwischenergebnis

59

B. Anerkennung

60

I. Historischer Rückblick

61

1. England

61

2. Vereinigte Staaten von Amerika

62

3. Kontinentaleuropa

64

a) Belgien

64

b) Frankreich

68

c) Deutschland

69

4. Südamerika

74

II. Anerkennung im deutschen Internationalen Privatrecht

76

1. Ausgangspunkt

76

2. Stellungnahme

77

III. Zwischenfazit

80

Kapitel 2: Rechtliche Rahmenbedingungen

82

A. Grundlagen des Internationalen Privatrechts

82

B. Bestimmung des Gesellschaftsstatuts durch autonomes nationales Recht

87

I. Begriffsbestimmung

88

1. Gesellschaft

88

a) Grundlage

88

b) Gesellschaft i.S.d. deutschen Sachrechts

89

c) Gesellschaft als Anknüpfungsgegenstand im Internationalen Privatrecht

89

2. Der Sitz der Gesellschaft im Internationalen Privatrecht

90

II. Kollisionsrechtliche Anknüpfung bei einer grenzüberschreitenden Sitzverlegung unter Wahrung der Rechtsform

91

1. Sitztheorie

92

a) Grundlage und Inhalt der Sitztheorie

92

b) Bestimmung des Gesellschaftsstatuts nach der Sitztheorie

94

c) Geltungsbereich der Sitztheorie in der Bundesrepublik Deutschland

95

aa) Rechtliche Grundlage

98

bb) Ausprägung der Sitztheorie

101

cc) Gesamt- oder Sachnormverweisung

104

dd) Sonderproblem: Personengesellschaften

106

2. Gründungstheorie

107

a) Grundlage und Inhalt der Gründungstheorie

107

b) Bestimmung des Gesellschaftsstatuts nach der Gründungstheorie

109

c) Geltungsbereich der Gründungstheorie in der Bundesrepublik Deutschland

109

3. Weitere Anknüpfungstheorien

110

a) Grasmann'sche Differenzierungslehre

110

b) Sandrock'sche Überlagerungstheorie

112

c) Kontrolltheorie

113

4. Zwischenergebnis

114

III. Kollisionsrechtliche Anknüpfung bei einer grenzüberschreitenden Umwandlung

117

1. Begriffsbestimmung

118

a) Der Begriff "Umwandlung"

118

b) Der Begriff "grenzüberschreitend"

120

2. Kollisionsrechtliche Anknüpfungstheorien

122

a) Geschriebene Kollisionsnormen für grenzüberschreitende Umwandlungen

122

aa) § 122a Abs. 2 UmwG

123

bb) § 1 Abs. 1 UmwG

124

(1) § 1 Abs. 1 UmwG als versteckte Kollisionsnorm

125

(2) § 1 Abs. 1 UmwG als allseitige Verbotsnorm

127

(3) § 1 Abs. 1 UmwG als eine rein deklaratorische Vorschrift

127

(4) § 1 Abs. 1 UmwG als selbstbeschränkende Sachnorm

128

cc) Zwischenergebnis

129

b) Ungeschriebene Kollisionsnormen

130

aa) Grenzüberschreitende Verschmelzung/Spaltung

131

(1) Anknüpfung an den Verschmelzungsvertrag/Spaltungsvertrag

131

(2) Anknüpfung an das Gesellschaftsstatut

132

(a) Einzeltheorie (Übertragungstheorie; Aufnahmetheorie)

132

(b) Vereinigungstheorie

133

bb) Grenzüberschreitender Formwechsel

135

cc) Zwischenergebnis

137

Kapitel 3: Bestimmung des Gesellschaftsstatuts durch höherrangiges Recht

139

A. Völkerrechtliche Kollisionsnormen

139

I. Freundschafts-‍, Handels- und Schiffahrtsvertrag zwischen der Bundesrepublik Deutschland und den Vereinigten Staaten von Amerika

140

1. Grundlage und Inhalt des Vertrags

140

2. Kollisionsrechtliche Bewertung

141

a) Grenzüberschreitende Sitzverlegung unter Wahrung der Rechtsform

141

b) Sonderproblem: Scheinauslandsgesellschaften

143

aa) Genuine link-Erfordernis

144

bb) Normative Korrektur im Wege der ordre public-Klausel

151

c) Grenzüberschreitende Umwandlung

152

II. Deutsch-brasilianisches Kapitalschutzabkommen

155

III. Handels- und Schiffahrtsvertrag zwischen dem Deutschen Reich und dem Irischen Freistaat

156

IV. Niederlassungsvertrag zwischen der Bundesrepublik Deutschland und dem Spanischen Staat

157

V. Deutsch-türkisches Niederlassungsabkommen

158

VI. Sonstige Niederlassungsabkommen

159

B. Europäische Kollisionsnormen

161

I. Europäische Primärakte

161

1. Die Niederlassungsfreiheit aus Art. 49, 54 AEUV als versteckte Kollisionsnorm?

161

2. Stellungnahme

162

II. Europäische Sekundärakte

168

Kapitel 4: Überlagerung des Internationalen Gesellschaftsrechts durch Unionsrecht

170

A. Sekundäres Unionsrecht

170

B. Primäres Unionsrecht

172

I. Die Niederlassungsfreiheit aus Art. 49, 54 AEUV im System der Grundfreiheiten

173

II. Anwendungsbereich der Niederlassungsfreiheit aus Art. 49 AEUV

175

1. Sachlicher Anwendungsbereich

175

2. Konkurrenzverhältnis zu den übrigen Grundfreiheiten des AEUV

177

3. Persönlicher Anwendungsbereich

180

a) Gesellschaft i.S.d. Art. 54 Abs. 2 AEUV

180

b) Unionszugehörigkeit

182

III. Beeinträchtigungen

184

1. Diskriminierungsverbot

184

2. Beschränkungsverbot

186

IV. Rechtfertigung

190

1. Geschriebene Rechtfertigungsgründe

190

a) Art. 52 Abs. 1 AEUV

190

aa) Öffentliche Sicherheit

192

bb) Öffentliche Ordnung

192

cc) Öffentliche Gesundheit

194

dd) Zwischenergebnis

194

b) Art. 106 Abs. 2 AEUV

195

2. Ungeschriebene Rechtfertigungsgründe

198

V. Zwischenergebnis

201

C. Auslegung der Grundfreiheiten durch den EuGH

202

I. "Daily Mail" (1988)

203

1. Sachverhalt und Vorlagefragen

203

2. Lehren aus dem Urteil

204

a) Kollisionsrecht

204

b) Sachrecht

205

3. Stellungnahme

206

II. "Centros" (1999)

208

1. Sachverhalt und Vorlagefragen

208

2. Lehren aus dem Urteil

209

a) Kollisionsrecht

209

b) Sachrecht

209

3. Stellungnahme

212

III. "Überseering" (2002)

213

1. Sachverhalt und Vorlagefragen

213

2. Lehren aus dem Urteil

215

a) Kollisionsrecht

215

b) Sachrecht

220

3. Stellungnahme

220

IV. "Inspire Art" (2003)

221

1. Sachverhalt und Vorlagefragen

221

2. Lehren aus dem Urteil

222

a) Kollisionsrecht

222

b) Sachrecht

223

3. Stellungnahme

227

V. "SEVIC" (2005)

229

1. Sachverhalt und Vorlagefragen

229

2. Lehren aus dem Urteil

230

a) Kollisionsrecht

230

b) Sachrecht

231

3. Stellungnahme

233

VI. "Cartesio" (2008)

236

1. Sachverhalt und Vorlagefragen

236

2. Lehren aus dem Urteil

237

a) Kollisionsrecht

237

b) Sachrecht

238

3. Stellungnahme

239

VII. "National Grid Indus" (2011)

242

1. Sachverhalt und Vorlagefragen

242

2. Lehren aus dem Urteil

243

a) Kollisionsrecht

243

b) Sachrecht

243

3. Stellungnahme

245

VIII. "VALE" (2012)

246

1. Sachverhalt und Vorlagefragen

246

2. Lehren aus dem Urteil

248

a) Kollisionsrecht

248

b) Sachrecht

248

3. Stellungnahme

252

IX. "Polbud" (2017)

254

1. Sachverhalt und Vorlagefragen

254

2. Lehren aus dem Urteil

256

a) Kollisionsrecht

256

b) Sachrecht

256

3. Stellungnahme

259

X. Zusammenfassung

261

D. Anwendung der Regeln der Europäischen Union auf Staaten des Europäischen Wirtschaftsraums

264

Kapitel 5: Überlagerung des Internationalen Gesellschaftsrechts durch Völkerrecht

265

A. Handelsübereinkommen zwischen der EU und ihren Mitgliedstaaten einerseits sowie Kolumbien und Peru andererseits

265

I. Das Niederlassungsrecht aus Art. 112 HÜ-EU/CO-PE

266

II. Option 1: Ist die europäische Niederlassungsfreiheit mit der staatsvertraglichen Niederlassungsfreiheit vergleichbar?

269

1. Anwendungsbereich

270

2. Beschränkungsverbot

271

3. Rechtfertigungsmöglichkeiten

274

4. Unmittelbare Anwendbarkeit

276

5. Zwischenergebnis

278

III. Option 2: Verstößt die innerstaatliche Anwendung der Sitztheorie gegen das staatsvertragliche Niederlassungsrecht?

279

1. Negierung des Niederlassungsrechts

279

a) Aufzwingen einer fremden Rechtsform

280

b) Mögliche Spaltung der Identität der Gesellschaft

280

2. Beeinträchtigung des Niederlassungsrechts qua Diskriminierung

282

a) Vergleichsgruppe

284

b) Vergleichbarer Sachverhalt

284

c) Feststellung einer Ungleichbehandlung

286

3. Rechtfertigung der Diskriminierung

287

a) Geschriebene Rechtfertigungsgründe

288

b) Ungeschriebene Rechtfertigungsgründe

289

4. Vorbehalte hinsichtlich der staatsvertraglichen Niederlassungsfreiheit

296

IV. Zwischenergebnis

298

B. Freihandelsabkommen zwischen der EU und ihren Mitgliedstaaten einerseits und der Republik Korea andererseits

298

C. Abkommen zwischen der Europäischen Union und Japan über eine Wirtschaftspartnerschaft

300

Kapitel 6: Überblick der Umstrukturierungsmöglichkeiten samt Auswertung

303

A. Übersicht

303

B. Grenzüberschreitende Verlegung des effektiven Verwaltungssitzes

304

I. Wegzug aus Deutschland

304

1. Ausgangslage

304

2. In die EU/den EWR

306

a) Unionsrechtliche Vorgaben im Falle des Wegzugs

306

aa) Wegzugsverbot

307

bb) Wegzugsbeschränkung

311

(1) Widerspruch zu Cartesio

311

(2) Widerspruch zu Daily Mail

312

b) Nationales Recht im Falle des Wegzugs

313

aa) Anwendbarkeit der Sitz- oder Gründungstheorie?

314

bb) Ausstrahlungswirkung auf Personengesellschaften

315

(1) Gesetzliche Rahmenbedingungen

317

(a) Kollisionsrecht

317

(b) Sachrecht

318

(aa) §§ 106f. HGB

318

(bb) § 17 Abs. 1 S. 2 ZPO

318

(cc) Sicherheit des Rechtsverkehrs

320

(2) Zwischenergebnis

323

3. In die Schweiz

323

4. In ausgewählte Andenstaaten

324

a) Kolumbien

324

b) Peru

324

c) Ecuador

325

5. In ausgewählte asiatische Staaten

326

a) Südkorea

326

b) Japan

326

6. In die USA

327

7. In die BRIC-Staaten

328

a) Brasilien

328

b) Russland

329

c) Indien

330

d) China

330

8. In einen Drittstaat

330

II. Zuzug nach Deutschland

331

1. Aus der EU/dem EWR

331

a) Unionsrechtliche Vorgaben im Falle des Zuzugs

331

aa) Herkunftsstaat gestattet eine rechtsformwahrende Sitzverlegung

331

(1) Nachträgliche Verwaltungssitzverlagerung

331

(a) Unionsrechtskonformität der strengen Sitztheorie

331

(b) Unionsrechtskonformität der modifizierten Sitztheorie

332

(2) Anfängliche Verwaltungssitzverlagerung

336

(a) Grundsätze aus Centros

336

(b) Grundsätze aus Inspire Art

337

(c) Kehrtwende durch Cadburry Schweppes und Vale

338

bb) Herkunftsstaat gestattet keine rechtsformwahrende Sitzverlegung

339

b) Nationales Recht im Falle des Zuzugs

339

aa) Herkunftsstaat gestattet eine rechtsformwahrende Sitzverlegung

339

bb) Herkunftsstaat gestattet keine rechtsformwahrende Sitzverlegung

340

cc) Ergebnis

340

2. Aus der Schweiz

341

3. Aus ausgewählten Andenstaaten

343

a) Kolumbien

343

b) Peru

343

c) Ecuador

344

4. Aus ausgewählten asiatischen Staaten

344

a) Südkorea

344

b) Japan

344

5. Aus den USA

345

6. Aus den BRIC-Staaten

345

a) Brasilien

345

b) Russland

345

c) Indien

346

d) China

346

7. Aus einem Drittstaat

347

C. Grenzüberschreitende Verlegung des Satzungssitzes

347

D. Sonderproblem: Neugründung einer deutschen Gesellschaft mit einem anfänglich im Ausland belegenen effektiven Verwaltungssitz

349

I. Rechtslage bis zum Inkrafttreten des MoMiG am 1. November 2008

349

II. Rechtslage nach dem Inkrafttreten des MoMiG am 1. November 2008

351

E. Grenzüberschreitende Umwandlungen

353

I. Verschmelzung innerhalb der EU/des EWR

356

1. Unionsrechtliche Vorgaben für die Verschmelzung

358

a) Vorgaben aus der RL 2017/1132/EU

358

aa) Entstehungsgeschichte

358

bb) Grundkonzept der Richtlinie

362

cc) Anwendungsbereich

363

(1) Sachlicher Anwendungsbereich

363

(a) Grenzüberschreitende Verschmelzung zur Neugründung

364

(aa) Grammatikalische Auslegung

364

(bb) Teleologische Auslegung

366

(cc) Systematische Auslegung

366

(dd) Historische Auslegung

367

(b) Zwischenergebnis

369

(2) Persönlicher Anwendungsbereich

370

dd) Bestimmung des anwendbaren Rechts

370

(1) Voraussetzungen

371

(2) Verfahren

371

(3) Wirkung

372

b) Vorgaben aus der EuGH-Judikatur

372

aa) Grenzüberschreitende Verschmelzung unter Beteiligung von Personengesellschaften

373

bb) Grenzüberschreitende Verschmelzung zur Neugründung

377

2. Nationales Recht im Falle der grenzüberschreitenden Verschmelzung

380

a) Bestimmung des anwendbaren Rechts

381

b) Anwendungsbereich

382

aa) Sachlicher Anwendungsbereich

382

bb) Persönlicher Anwendungsbereich

383

c) Varianten der Verschmelzungsvorgänge und Voraussetzungen

384

3. Verschmelzungsvarianten im Einzelnen

385

a) Hinausverschmelzung

386

aa) Deutsche Kapitalgesellschaft auf ausländische Kapitalgesellschaft

386

bb) Deutsche Kapitalgesellschaft auf ausländische Personengesellschaft

386

cc) Deutsche Personengesellschaft auf ausländische Kapitalgesellschaft

387

dd) Deutsche Personengesellschaft auf ausländische Personengesellschaft

387

ee) Verschmelzung allein deutscher Gesellschaften zur Neugründung einer ausländischen Gesellschaft

387

b) Hereinverschmelzung

388

aa) Ausländische Kapitalgesellschaft auf deutsche Kapitalgesellschaft

388

bb) Ausländische Kapitalgesellschaft auf deutsche Personengesellschaft

388

cc) Ausländische Personengesellschaft auf deutsche Kapitalgesellschaft

389

dd) Ausländische Personengesellschaft auf deutsche Personengesellschaft

389

ee) Verschmelzung allein ausländischer Gesellschaften zur Neugründung einer deutschen Gesellschaft

390

4. Zwischenergebnis

391

II. Spaltung und Formwechsel innerhalb der EU/des EWR

391

1. Vorüberlegung

391

2. Unionsrechtliche Vorgaben für die grenzüberschreitende Spaltung und den grenzüberschreitenden Formwechsel

393

a) Voraussetzungen

394

aa) Formwechsel

394

bb) Spaltung

399

b) Verfahren

400

c) Wirkung

401

3. Methodische Umsetzung der unionsrechtlichen Vorgaben für die grenzüberschreitende Spaltung und den grenzüberschreitenden Formwechsel

401

a) Ermittlung des Gesellschaftsstatuts im Falle der grenzüberschreitenden Umwandlung

402

b) Normwidersprüche und Regelungslücken

405

aa) Angleichung

405

bb) Substitution

406

(1) Substituierbarkeit

408

(a) Erster Lösungsansatz: durch ein Tätigwerden des deutschen Gesetzgebers

409

(b) Zweiter Lösungsansatz: unionsrechtskonforme Rechtsfortbildung

409

(aa) Das Rechtsinstitut der richterlichen Rechtsfortbildung im deutschen Recht

411

(bb) Formen der richterlichen Rechtsfortbildung

411

(cc) Notwendigkeit der richterlichen Rechtsfortbildung

412

(dd) Verfassungsrechtliche Legitimation der richterlichen Rechtsfortbildung

413

(ee) Voraussetzungen der unionsrechtskonformen Rechtsfortbildung

415

(ff) Verfassungsrechtliche Grenzen der richterlichen Rechtsfortbildung

417

(2) Funktionsäquivalenz

419

(3) Zwischenergebnis

420

4. Spaltung und Formwechsel im nationalen Recht

421

a) Formwechsel

421

aa) Das deutsche Formwechselrecht

421

bb) Das Formwechselrecht in anderen EU-Mitgliedstaaten

423

b) Spaltung

425

aa) Das deutsche Spaltungsrecht

425

bb) Das Spaltungsrecht in anderen EU-Mitgliedstaaten

428

5. Zwischenergebnis

430

a) Grenzüberschreitender Formwechsel

430

aa) Formwechsel aus Deutschland hinaus in die EU/den EWR

430

bb) Hereinformwechsel aus der EU/dem EWR

431

b) Grenzüberschreitende Spaltung

431

aa) Hinausspaltung in die EU/den EWR

431

bb) Hereinspaltung aus der EU/dem EWR

432

III. Umwandlungen mit Vertragsstaatenbezug

432

IV. Umwandlungen mit Drittstaatenbezug

433

1. Zulässigkeit grenzüberschreitender Umwandlungen nach § 1 Abs. 1 UmwG

434

a) Wortlaut

434

aa) Inhalt des Sitzbegriffs

434

(1) Maßgeblichkeit des Verwaltungssitzes

434

(2) Maßgeblichkeit des Satzungssitzes

435

bb) Beschränkung auf inländische Rechtsträger

435

cc) Zwischenergebnis

438

b) Wille des historischen Gesetzgebers

439

2. Ergebnis

441

Kapitel 7: Ausblick

442

A. Reformvorhaben

442

I. Vorentwurf einer Sitzverlegungsrichtlinie vom 22. April 1997

442

II. Aktionsplan der Europäischen Kommission vom 21. Mai 2003

444

III. Aktionsplan der Europäischen Kommission vom 12. Dezember 2012

445

IV. Company Law Package

449

1. Der grenzüberschreitende Formwechsel nach RL-Vorschlag 2018/114/EU

451

a) Anwendungsbereich

451

b) Bestimmung des anwendbaren Rechts

452

aa) Voraussetzungen

453

bb) Verfahren

456

cc) Wirkung

458

2. Die grenzüberschreitende Spaltung nach RL-Vorschlag 2018/114/EU

459

a) Anwendungsbereich

459

b) Bestimmung des anwendbaren Rechts

459

aa) Voraussetzungen

460

bb) Verfahren

461

cc) Wirkung

463

3. Stellungnahme

463

B. Brexit

469

I. Einführung

469

II. Rechtsgrundlage und Voraussetzungen für den Austritt aus der EU

470

III. Rechtsfolgen

473

1. Deutsche Gesellschaften mit Sitz im UK

474

2. Gesellschaften aus dem Vereinigten Königreich mit Sitz in Deutschland

475

a) Ausgangslage

475

b) Bestandsschutz für Gesellschaften aus dem Vereinigten Königreich

475

c) Haftung der Gesellschafter

479

IV. Gestaltungsmöglichkeiten

480

1. Grenzüberschreitende Sitzverlegung

480

2. Grenzüberschreitende Umwandlung

481

a) Grenzüberschreitender Formwechsel in eine GmbH

481

b) Grenzüberschreitender Formwechsel in eine irische Ltd.

482

c) Grenzüberschreitende Umwandlung in eine UG

483

aa) Verschmelzung zu einer UG/Formwechsel in eine UG

483

bb) Formwechsel in eine UG & Co. KG

483

d) Grenzüberschreitende Umwandlung in eine KG

485

3. Asset-Deal-/Sachagio-Lösung

486

V. Fazit

487

Kapitel 8: Ergebnisse dieser Untersuchung

489

Literaturverzeichnis

495

Stichwortverzeichnis

565