Company law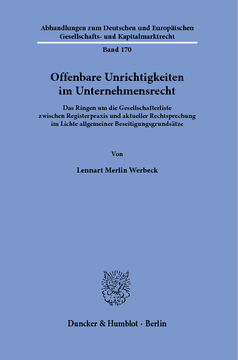 Additional Information
Book Details
ISBN

978-3-428-58156-6
978-3-428-18156-8 (print edition)

DOI

https://doi.org/10.3790/978-3-428-58156-6

Edition

1

Language

German

Pages

430

Collections

Subjects
Pricing
Institution

€ 138.00 (incl. local VAT if applicable)

Individual

€ 107.90 (incl. local VAT if applicable)
About The Author
Lennart M. Werbeck studierte Rechtswissenschaften an der Ruprecht-Karls-Universität in Heidelberg sowie an der Universitetet i Bergen (Norwegen). Seine Erste juristische Prüfung legte er 2018 ab. Im Anschluss war er neben der Anfertigung seiner Dissertation als wissenschaftlicher Mitarbeiter in internationalen Wirtschaftskanzleien in Frankfurt a.M. und Hamburg tätig. Seit April 2020 ist Lennart M. Werbeck Rechtsreferendar am Hanseatischen Oberlandesgericht in Hamburg. Schließlich folgte im Juli 2020 mit der durch Herrn Professor Dr. Jan Lieder, LL.M. (Harvard) betreuten Arbeit »Offenbare Unrichtigkeiten im Unternehmensrecht« die Promotion an der Albert-Ludwig-Universität Freiburg.
Lennart M. Werbeck studied law at the Ruprecht-Karls-University in Heidelberg and at the Universitetet i Bergen (Norway). He passed his first legal exam in 2018. In addition to writing his dissertation, he then worked as a research assistant in international law firms in Frankfurt a.M. and Hamburg. Since April 2020 Lennart M. Werbeck has been a legal trainee at the Hanseatic Higher Regional Court in Hamburg. Finally, in July 2020, Lennart M. Werbeck completed his doctorate at the Albert-Ludwig-University of Freiburg with his dissertation »Offenbare Unrichtigkeiten im Unternehmensrecht« (Obvious inaccuracies in company law), which was supervised by Professor Dr. Jan Lieder, LL.M. (Harvard).
Abstract
Welche Voraussetzungen und Rechtsfolgen die nachträgliche Beseitigung offenbarer Unrichtigkeiten im Kapitalgesellschaftsrecht hat, ist derzeit lebhaft umstritten. Dabei offenbart die kritische Analyse des deutschen »Beseitigungsrechts« durchaus ein System aus fünf statischen und variablen Kriterien, welches mangels gesetzlicher Regelungen oder gefestigter Rechtsprechung eine taugliche Leitlinie für die Rechtspraxis darstellen kann. Im Fokus des angestellten Binnenrechtsvergleichs standen diesbezüglich das Hauptversammlungsprotokoll, das Aktienregister und nicht zuletzt die GmbH-Gesellschafterliste. Denn in der jüngeren Vergangenheit warf insbesondere Letztere aufgrund ihrer engen Verknüpfung mit dem neuen Transparenzregister wiederholt Fragen über die Zuständigkeit für eine originäre oder eine fehlerbeseitigende Listeneinreichung sowie deren genauen Rechtsfolgen auf. Im Ergebnis zeigt sich schließlich: Ein homogener Umgang mit offenbaren Unrichtigkeiten ist möglich und notwendig. »Obvious inaccuracies in company law. Obvious Inaccuracies in Company Law. The Struggle for the List of Shareholders Between Register Practice and Current Case Law in the Light of General Removal Principles«

In corporate law, legal uncertainty exists with regard to the correct handling and subsequent removal of so-called obvious inaccuracies. This applies in particular to the minutes of the general meeting, the stock register and finally the list of shareholders of limited liability companies. Adequate legal regulations are still missing. However, the German »right of removal« contains an inner system which can be made fruitful in practice on the basis of certain principles.
Table of Contents
Section Title
Page
Action
Price

Vorwort

7

Inhaltsverzeichnis

13

Abkürzungsverzeichnis

23

Erstes Kapitel: Prolog

31

§ 1 Problemstellung, Gegenstand und Ziele der Untersuchung

31

§ 2 Gang der Untersuchung

34

§ 3 Wert des Vergleichs für die Untersuchung

35

Zweites Kapitel: Offenbare Unrichtigkeiten als Herausforderungen für das geltende Recht im Allgemeinen

37

§ 1 Einführung

37

§ 2 Prozessrecht als Ausgangspunkt der Untersuchung

38

A. Aus § 319 ZPO ableitbare Grundsätze

38

I. Nachträgliche Berichtigung eines Urteils gem. § 319 Abs. 1 ZPO

38

1. Anwendungsbereich

39

2. Berichtigungsvoraussetzungen

41

a) Inhaltliche Unrichtigkeit

41

b) Erkennbarkeit

42

c) Einzelfälle

43

d) Zusammenfassung

43

3. Berichtigungsverfahren

44

a) Zeitpunkt der Berichtigung und Verfahrenseinleitung

44

b) Berichtigungsgegenstand

46

c) Berichtigungskompetenz

46

d) Durchführung der Berichtigung und Formerfordernisse

47

aa) Herkömmliches Berichtigungsverfahren

47

bb) Elektronisches Korrekturverfahren

48

(1) Unzulässigkeit einer neuen elektronischen Urteilsdatei

49

(2) Berichtigung innerhalb eines elektronischen Containers

50

(3) Nutzung eines Systems der Zugriffssteuerung

51

(4) Mögliche Verwendung der Blockchain-Technologie

52

(5) Zusammenfassung

54

cc) Allgemeine Verfahrensaspekte

54

4. Rechtsschutzmöglichkeiten

55

5. Rechtsfolgen der Berichtigung

59

II. Fazit: Fünf "Beseitigungsgrundsätze" können abgeleitet werden

61

B. Ergänzung: Korrekturmöglichkeiten für sonstige gerichtliche Entscheidungen

63

I. Berichtigung nach § 42 FamFG

63

1. Anwendungsbereich

63

2. Berichtigungsvoraussetzungen

65

3. Berichtigungsverfahren

65

4. Rechtsschutzmöglichkeiten

66

5. Rechtsfolgen der Berichtigung

67

II. Berichtigung nach § 95 PatG

68

1. Anwendungsbereich

68

2. Berichtigungsvoraussetzungen

69

3. Berichtigungsverfahren

70

4. Rechtsschutzmöglichkeiten

71

5. Rechtsfolgen der Berichtigung

71

III. Berichtigung nach § 138 SGG

72

1. Anwendungsbereich

72

2. Berichtigungsvoraussetzungen

72

3. Berichtigungsverfahren

73

4. Rechtsschutzmöglichkeiten

74

5. Rechtsfolgen der Berichtigung

74

IV. Berichtigung nach § 118 VwGO

74

1. Anwendungsbereich

74

2. Berichtigungsvoraussetzungen

75

3. Berichtigungsverfahren

76

4. Rechtsschutzmöglichkeiten

77

5. Rechtsfolgen der Berichtigung

78

V. Berichtigung nach § 107 FGO

78

VI. Fazit: Gemeinsamkeiten können festgestellt werden

79

C. Die zu § 164 ZPO entwickelten Grundsätze

80

I. Anwendungsbereich

80

II. Berichtigungsvoraussetzungen

82

III. Berichtigungsverfahren

82

IV. Rechtsschutzmöglichkeiten

84

V. Rechtsfolgen der Berichtigung

86

VI. Zusammenfassung

87

D. Fazit: Grundsätzliche Homogenität im Prozessrecht

87

§ 3 Weitere Beseitigungsvorschriften als Ergänzungen des prozessualen Ausgangspunkts

88

A. Beseitigungsmöglichkeiten bei Verwaltungsakten

88

I. Allgemein im behördlichen Verfahren: Berichtigung nach § 42 S. 1 BVwVfG

89

II. Im Steuerrecht: Berichtigung nach § 129 S. 1 AO

92

III. Im Sozialrecht: Berichtigung nach § 38 SGB X

96

IV. Fazit: Grundsätzliche Regelungsparallelität

98

B. Beseitigungsmöglichkeiten im deutschen Registerrecht

99

C. Beseitigungsmöglichkeiten im Schiedsrecht

101

D. Zusammenfassung

105

§ 4 Beurkundungsrecht als Vertiefung der Untersuchung

106

A. Anwendungsbereich

106

B. Berichtigungsvoraussetzungen

108

I. Inhaltliche Unrichtigkeit

109

II. Erkennbarkeit

110

1. Adressat des Tatbestandsmerkmals

110

2. Bestimmung des Grades der verlangten Offensichtlichkeit

112

3. Abgrenzung zu § 44a Abs. 2 S. 3 BeurkG

113

4. Zusammenfassung

114

C. Berichtigungsverfahren

114

I. Berichtigungsgegenstand

115

1. Beurkundung von Willenserklärungen (§§ 6 ff. BeurkG)

116

2. Beurkundung von sonstigen Gegenständen (§§ 36 ff. BeurkG)

117

II. Berichtigungszeitpunkt

120

1. Änderung vor dem Abschluss der Niederschrift (§ 44a Abs. 1 BeurkG)

120

2. Fehlerbeseitigung nach dem Abschluss der Niederschrift (§ 44a Abs. 2 BeurkG)

121

3. Fazit: Abschluss der Niederschrift ist entscheidend

122

III. Berichtigungskompetenz

122

1. Berichtigung durch den vormals beurkundenden Notar

122

2. Berichtigung durch andere Personen: Amtsnachfolger, Vertreter, Notariatsverwalter oder Aktenverwahrer

122

3. Sonderfall: Berichtigungskompetenz bei Auslandsbeurkundung

124

IV. Technische Vornahme der Fehlerbeseitigung im Wege des Nachtragsvermerks

124

V. Kein Erfordernis einer vorherigen Anhörung der Beteiligten

126

D. Rechtsschutzmöglichkeiten

126

E. Rechtsfolgen der Fehlerbeseitigung

128

I. Zeitliche Beseitigungswirkung (ex tunc oder ex nunc)

128

II. Horizontaler Wirkungskreis (inter partes oder erga omnes)

128

III. Unterscheidung zwischen formellen und materiell-rechtlichen Beseitigungswirkungen

129

F. Rechtslage ab dem 1. Januar 2022

129

G. Exkurs: Digitalisierung im Beurkundungsrecht – Ein vorausschauender Blick auf § 44b BeurkG n.F.

130

I. Digitalisierung des Notariats

130

II. Vorstellung von § 44b BeurkG n.F.

131

1. Grundsatz der Nachtragsbeurkundung gem. § 44b Abs. 1 S. 1, Abs. 2 BeurkG n.F.

131

2. Entsprechende Anwendung von § 44a Abs. 2 S. 3, 4 BeurkG n.F.

132

3. Das Substitut der Notariatsverwahrung

132

4. Die Soll-Vorschrift des § 44b Abs. 2 BeurkG n.F.

134

III. Zusammenfassung

134

H. Fazit: Prozessrechtliche Beseitigungsgrundsätze sind auch in der Öffnungsnorm des § 44a Abs. 2 S. 1, 2 BeurkG zu finden

135

§ 5 Fazit: Einheitlicher Umgang mit offenbaren Unrichtigkeiten in der deutschen Rechtsordnung

136

Drittes Kapitel: Offenbare Unrichtigkeiten im Kapitalgesellschaftsrecht im Besonderen

138

§ 1 Fehler und Beseitigungsmöglichkeiten beim Hauptversammlungsprotokoll

139

A. Einführung

139

B. Urteil des Bundesgerichtshofs vom 10. Oktober 2017 – Az. II ZR 375/15

140

I. Sachverhalt

140

II. Entscheidung des Bundesgerichtshofs

141

III. Stellungnahme zu ausgewählten Aspekten des Urteils

143

1. Reichweite von § 44a Abs. 2 S. 3 BeurkG

144

2. Berichtigung des Hauptversammlungsprotokolls durch ergänzende Niederschrift nach Entäußerung

147

3. Berücksichtigung von Dispositionen der Aktionäre im Vertrauen auf die Richtigkeit des Protokolls

152

4. Fazit: Entscheidung schafft Rechtssicherheit, aber unterstreicht Reformbedürftigkeit des Beschlussmängelrechts

155

C. Sonderfall: Nachträgliche Berichtigung eines privatschriftlichen Hauptversammlungsprotokolls

156

D. Zusammenfassung

159

§ 2 Fehler und Beseitigungsmöglichkeiten beim Aktienregister

162

A. Einführung

162

B. Löschungsverfahren nach § 67 Abs. 5 AktG

163

I. Anwendungsbereich

163

II. Löschungsvoraussetzungen

164

III. Löschungsverfahren

165

IV. Rechtsschutzmöglichkeiten

167

1. Klage gegen die AG

167

2. Klage gegen den Widersprechenden

167

V. Rechtsfolgen der Löschung

168

1. Bei fehlerhaftem Löschungsverfahren

168

2. Bei ordnungsgemäßem Löschungsverfahren

168

a) Zeitliche Wirkung der Löschung (ex tunc oder ex nunc)

169

b) Horizontaler Wirkungskreis (inter partes oder erga omnes)

170

3. Fazit: Keine weitreichenden Rechtsfolgen

171

VI. Zusammenfassung

171

C. Teilweise Unanwendbarkeit von § 67 Abs. 5 AktG auf offenbare Unrichtigkeiten im Aktienregister

172

D. Formlose Beseitigung durch den Vorstand bei offenbaren Unrichtigkeiten im Aktienregister

173

I. Beseitigungsvoraussetzungen

173

II. Beseitigungsverfahren

173

III. Rechtsfolgen der formlosen Fehlerbeseitigung

173

IV. Unterschiede zum Prozessrecht und zum Beurkundungsrecht

174

V. Zwischenergebnis: Gefestigte Rechtspraxis im Umgang mit offenbaren Unrichtigkeiten im Aktienregister

174

E. Mögliche Anwendbarkeit von § 67 Abs. 5 AktG auf (offenbare) Unzulässigkeiten im Aktienregister

175

I. Unzulässigkeit als Aliud zur Unrichtigkeit

175

II. Beseitigung von (offenbar) unzulässigen Eintragungen im Aktienregister

176

III. Fazit: Keine Anwendbarkeit

176

F. Zusammenfassung

177

§ 3 Fehler und Beseitigungsmöglichkeiten bei der GmbH-Gesellschafterliste

177

A. Einführung

177

B. Grundlagen zum neuen System des § 40 GmbHG n.F.

178

I. Historischer Rückblick

178

II. Reformierung des § 40 GmbHG durch das MoMiG (2008)

181

III. Neufassung des § 40 GmbHG durch das Gesetz zur Umsetzung der Vierten EU-Geldwäscherichtlinie (2017)

187

1. Zeitlicher Geltungsbereich

188

2. Erweiterter Pflichtenkatalog

190

a) Prozentangaben in der Gesellschafterliste

190

aa) Art der Darstellung der wirtschaftlichen Berechtigung qua prozentualer Beteiligungsquote

191

bb) Anteilsbezogene Beteiligungsquote

192

cc) Gesellschafterbezogene Beteiligungsquote

192

b) Gesellschafterliste in Konzernstrukturen

192

c) Fazit: Erhöhte Praxistauglichkeit durch Ausgestaltung

193

3. Konkretisierung durch die Gesellschafterlistenverordnung (GesLV)

195

a) Nummerierung von Geschäftsanteilen

195

b) Einführung einer Veränderungsspalte

198

c) Unzulässigkeit von Streichungen

201

d) Anforderungen an die Angabe der prozentualen Beteiligung

201

aa) Kleinstbeteiligungen (§ 4 Abs. 4 GesLV)

202

bb) Rundung und Weglassen (§ 4 Abs. 1 GesLV)

204

cc) Angabe des Gesamtumfangs (§ 4 Abs. 2 GesLV)

207

dd) Konsequenz unscharfer Prozentangaben (§ 4 Abs. 3 GesLV)

207

ee) Gestaltung innerhalb der Liste (§ 4 Abs. 5 GesLV)

208

ff) Fazit: Prozentangaben als geldwäscherechtliches Transparenzvehikel

209

e) Übergangsregelung gem. § 5 GesLV

209

f) Fazit: Rechtssicherheit dank GesLV!

211

4. Verknüpfung der Gesellschafterliste mit dem Transparenzregister

212

a) Überblick über das neue Transparenzregister

213

b) Meldefiktion des § 20 Abs. 2 S. 1 Nr. 1 GwG n.F. i.V.m. § 22 Abs. 1 S. 1 Nr. 4 GwG n.F.

216

c) Konsequenz aus dem Erfordernis der Prozentangaben für das Transparenzregister

219

d) Meldepflicht bei unrichtiger Gesellschafterliste

222

e) Einsichtnahmerecht

222

f) Keine Gefahr einer Flucht in ausländische Rechtsformen

224

g) Offene Fragen

224

h) Fazit: Tranzparenzrechtliche Aufladung der Gesellschafterliste

227

5. Auswirkungen auf den Umfang des registergerichtlichen Prüfungsrechts

229

a) Formelles Prüfungsrecht

230

b) Materielles Prüfungsrecht

234

c) Eigene Stellungnahme

240

d) Fazit: Keine Auflösung des Konflikts durch die Novellierung des § 40 GmbHG

244

6. Gesamtwürdigung der Neufassung

246

IV. Status quo der Gesellschafterliste einer GmbH

247

1. Funktion und Rechtsnatur

247

2. Obligatorischer Inhalt

251

3. Fakultativer Inhalt

252

4. Zusammenfassung und Ausblick

255

V. Zusammenfassung

258

C. Nachträgliche Fehlerbeseitigung bei der GmbH-Gesellschafterliste im Lichte der Rechtsprechung

259

I. Urteil des Bundesgerichtshofs vom 17. Dezember 2013 – Az. II ZR 21/12

260

1. Einführung

260

2. Sachverhalt

261

3. Entscheidung des Bundesgerichtshofs

262

a) Korrekturbefugnis des Geschäftsführers

262

b) Gelegenheit zur Stellungnahme des Betroffenen

265

c) Widerspruchsrecht und einstweiliger Rechtsschutz

265

4. Resonanz der Literatur

267

a) Korrekturbefugnis des Geschäftsführers einer GmbH

267

b) Gelegenheit zur Stellungnahme des Betroffenen

273

c) Widerspruchsrecht und einstweiliger Rechtsschutz

275

5. Offene Fragen und eigene Stellungnahme

277

a) Ablehnung der analogen Anwendung von § 67 Abs. 5 AktG

277

b) Mögliches Spannungsverhältnis zu § 40 Abs. 1 S. 4 GmbHG n.F.

279

c) Erfüllungszeitpunkt der notariellen Einreichungspflicht

281

d) Korrekturbefugnis des Geschäftsführers

283

e) Kein Wiederaufleben der notariellen Einreichungsbefugnis

289

f) Geschäftsführerbefugnis bei fehlender Notarliste

289

g) Formerfordernisse bei der Benachrichtigung der Betroffenen

292

h) Rechtsfolgen bei Verstoß gegen das Anhörungserfordernis

293

i) Fazit: Reformbedarf trotz klärender Entscheidung des Bundesgerichtshofs

297

6. Exkurs: Aktualisierung von Altlisten

298

7. Zusammenfassung

300

II. Beschluss des OLG Nürnberg vom 28. Dezember 2017 – Az. 12 W 2005/17

302

1. Einführung

302

2. Sachverhalt

303

3. Bisherige Literaturauffassungen und Forschungsstand

304

4. Entscheidung des OLG Nürnberg

306

a) Fehlerbeseitigung bei offenbar unrichtigen Gesellschafterlisten gem. § 44a Abs. 2 BeurkG

306

b) Beseitigungsprocedere

308

5. Stellungnahme

311

a) Vorab: Beseitigungsbedürfnis bei fehlerhaften Gesellschafterlisten

311

b) Zeitlicher Anwendungsbereich der Prozentangabepflicht

314

aa) Umgang mit § 8 EGGmbHG

314

bb) Einreichungsvorgang als relevanter Anknüpfungspunkt

316

cc) Keine Ausnahme für sog. Korrekturlisten

319

dd) Fazit: Prozentangaben zu Recht verlangt

319

c) Offenbare Unrichtigkeiten im GmbH-Recht

320

aa) Grundsätzliches zur beseitigenden Listeneinreichung

320

bb) Vermeintlich offenbar unrichtige Gesellschafterliste 1 vom 12. April 2017

320

cc) Widerspruch zur Wertung des § 16 Abs. 3 S. 1 GmbHG

323

dd) Beispiele für offenbar unrichtige Gesellschafterlisten

323

ee) Unzuständigkeit des Listenerstellers als kein Fall der offenbaren Unrichtigkeit

324

d) Anwendbares Beseitigungsverfahren bei offenbaren Unrichtigkeiten

325

aa) Überblick

325

bb) Abgrenzung zum regulären Beseitigungsverfahren

325

cc) Irreguläres Beseitigungsverfahren

326

(1) Verteilung der Beseitigungszuständigkeiten

327

(a) Mit der Einreichungszuständigkeit korrespondierende Beseitigungszuständigkeit

327

(b) Übertragung der Grundsätze zum regulären Beseitigungsverfahren

328

(c) Reformüberlegungen zur Alleinkompetenz des Notars

331

(d) Unzulässige Übertragung auf die Gesellschafterversammlung

337

(e) Kein Recht zur Amtslöschung

338

(f) Fazit: Alleinkompetenz des Notars als Lösungsmöglichkeit trotz aktueller Geschäftsführerzuständigkeit

340

(2) Mögliche direkte oder analoge Anwendung von § 44a Abs. 2 BeurkG

341

(a) Unzulässigkeit der direkten Anwendung

341

(b) Unzulässigkeit der analogen Anwendung

342

(c) Ungenügende Subsumtion durch das OLG Nürnberg

342

(d) Fazit: Keine ersichtliche Anwendbarkeit von § 44a Abs. 2 BeurkG auf GmbH-Gesellschafterlisten

344

(3) Unzulässigkeit der analogen Anwendung von § 67 Abs. 5 AktG

345

(4) Keine Gesamtanalogie

347

(5) Zudem: Ablehnung der technischen Vorgehensweise nach dem OLG Nürnberg

348

(6) Isolierter Nachtragsvermerk reicht ebenfalls nicht aus

349

(7) Korrekturliste mit angepasster Notarbescheinigung

350

(8) Stellungnahme

351

(a) Modifizierte Übereinstimmungsbescheinigung des Notars und ergänzende Klarstellungsbescheinigung des Geschäftsführers

351

(b) Keine Gelegenheit zur Stellungnahme und keine Sperrwirkung eines Widerspruchs

354

(c) Fehlerbeseitigung mit ex tunc-Wirkung

355

(d) Fazit: GmbH-Gesellschafterliste als besonderer Beseitigungsgegenstand im Kontext des homogenen Beseitigungsrechts

358

(9) Zusammenfassung

359

dd) Fazit: "Beseitigungsgrundsätze" sind auch im Recht der GmbH einzuhalten

360

e) Legitimations- und Rechtsscheinfunktion des § 16 GmbHG sind keine zeitlichen Schranken einer Richtigstellung

361

f) Fazit: Beschluss des OLG Nürnberg bricht mit bisheriger Homogenität im "Beseitigungsrecht"

363

g) Überlegungen de lege ferenda: Beseitigungswirkungen im Falle der Eintragung von GmbH-Gesellschafterlisten

364

aa) Kein Konflikt mit § 15 Abs. 1 HGB

365

bb) Kein Konflikt mit § 15 Abs. 3 HGB

366

cc) Kein Konflikt mit § 15 HGB auch nach Umsetzung der EU-Richtlinie 2019/1151

367

dd) Zur direkten und analogen Anwendung von § 395 FamFG

368

ee) Drohende Mehrbelastung der Registergerichte und Risiko der Intransparenz

369

ff) Vorteile einer Eintragungspflicht für GmbH-Gesellschafterlisten

370

gg) Fazit: Eintragungspflicht für Gesellschafterlisten als Chance

371

6. Zusammenfassung

372

III. Fazit: Rechtsunsicherheit beim Umgang mit offenbar unrichtigen GmbH-Gesellschafterlisten

372

D. Zusammenfassung

373

§ 4 Fazit: Im Recht der Verbände sind Gemeinsamkeiten und Unterschiede im Umgang mit offenbaren Unrichtigkeiten feststellbar

374

Viertes Kapitel: Homogener Umgang mit offenbaren Unrichtigkeiten in der Rechtsordnung

378

§ 1 Systembildung im Kapitalgesellschaftsrecht durch teilweise Übertragung prozessualer Grundsätze

378

A. Wiederholung: Im Kapitalgesellschaftsrecht anwendbare prozessuale Beseitigungsgrundsätze

379

B. Dreiklang der Fehlerbeseitigung im Kapitalgesellschaftsrecht

379

I. Beseitigungstatbestand

379

II. Verfahren und Zuständigkeit

379

III. Rechtsfolge

380

C. Zusammenfassung

381

§ 2 Kriterien bei der Beseitigung von und dem Umgang mit offenbaren Unrichtigkeiten

381

A. Statische Beseitigungskriterien

381

B. Variable Beseitigungskriterien

382

C. Zusammenfassung

383

§ 3 Fazit: Einheitliche Behandlung ist möglich und notwendig

384

Fünftes Kapitel: Zusammenfassung der Untersuchungsergebnisse

386

§ 1 These des Ersten Kapitels

387

§ 2 Thesen des Zweiten Kapitels

387

§ 3 Thesen des Dritten Kapitels

389

§ 4 Thesen des Vierten Kapitels

394

Literaturverzeichnis

396

Stichwortverzeichnis

426