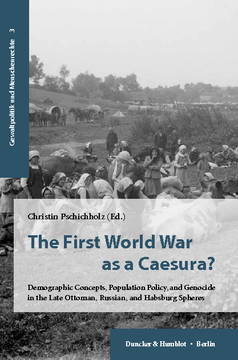 BOOK
Cite BOOK
Style
---
Pschichholz, C. (Ed.) (2020). The First World War as a Caesura?. Demographic Concepts, Population Policy, and Genocide in the Late Ottoman, Russian, and Habsburg Spheres. Duncker & Humblot. https://doi.org/10.3790/978-3-428-58146-7
Pschichholz, Christin. The First World War as a Caesura?: Demographic Concepts, Population Policy, and Genocide in the Late Ottoman, Russian, and Habsburg Spheres. Duncker & Humblot, 2020. Book. https://doi.org/10.3790/978-3-428-58146-7
Pschichholz, C (ed.) (2020): The First World War as a Caesura?: Demographic Concepts, Population Policy, and Genocide in the Late Ottoman, Russian, and Habsburg Spheres, Duncker & Humblot, [online] https://doi.org/10.3790/978-3-428-58146-7
---
Format
---
The First World War as a Caesura?
Demographic Concepts, Population Policy, and Genocide in the Late Ottoman, Russian, and Habsburg Spheres
Editors: Pschichholz, Christin
Gewaltpolitik und Menschenrechte, Vol. 3
(2020)
Additional Information
Book Details
Publisher Name

Duncker & Humblot

ISBN

978-3-428-58146-7
978-3-428-18146-9 (print edition)

DOI

https://doi.org/10.3790/978-3-428-58146-7

Edition

1

Language

English

Pages

248

Collections

Subjects
About The Author
Christin Pschichholz ist wissenschaftliche Mitarbeiterin am Lehrstuhl für Militärgeschichte/Kulturgeschichte der Gewalt der Universität Potsdam. Ihr aktuelles Forschungsprojekt befasst sich mit der deutschen Rezeption ethnischer Gewalt während des Ersten Weltkriegs. Ihre Forschungsschwerpunkte sind das Deutsche Kaiserreich, der Erste Weltkrieg, Genozidforschung und historiographische Perspektiven auf Massengewalt.
Abstract
During the phases of mobile warfare, the ethnically and religiously very heterogeneous population in the border regions of the multi-ethnic empires suffered in particular. Even if the real military situation in the course of the war hardly gave cause for concern, the image of disloyal ethnic and national minorities was widespread. This was particularly the case when ethnic groups lived on both sides of the border and social and political tensions had already established themselves along ethnic or religious lines of conflict before the war. Displacements, deportations and mass violence were the result. The genocide of the Armenian population is the most extreme example of this development.This anthology examines the border regions of the Ottoman, Russian and Habsburg empires during the First World War with regard to radical population policy and genocidal violence from a comparative perspective in order to draw a more precise picture of escalating and deescalating factors.