Corporate governance: role & responsibilities of boards & directors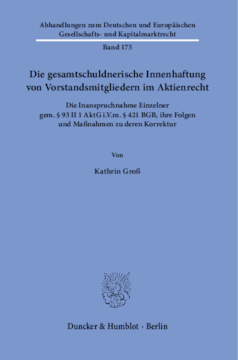 Additional Information
Book Details
ISBN

978-3-428-58181-8
978-3-428-18181-0 (print edition)

DOI

https://doi.org/10.3790/978-3-428-58181-8

Edition

1

Language

German

Pages

222

Collections

Subjects
Pricing
Institution

€ 86.00 (incl. local VAT if applicable)

Individual

€ 67.90 (incl. local VAT if applicable)
About The Author
Kathrin Groß studierte Rechtswissenschaft an der Eberhard Karls Universität Tübingen und der Universidad de Granada (Spanien). Während ihres Studiums war sie wissenschaftliche Mitarbeiterin an den Lehrstühlen von Prof. Dr. Joachim Vogel und Prof. Dr. Dr. Dres. h.c. Kristian Kühl. Ihre Erste Juristische Staatsprüfung legte sie 2013 ab, ihre Zweite in 2015 nach ihrem Referendariat am Oberlandesgericht Stuttgart. Im Anschluss widmete sie sich berufsbegleitend ihrer Dissertation, die Prof. Dr. Torsten Schöne betreut hat. Im August 2020 wurde sie von der Universität Siegen promoviert. Seit 2015 ist Kathrin Groß als Rechtsanwältin bei CMS Hasche Sigle (Stuttgart) im Bereich Gesellschaftsrecht tätig.
Kathrin Groß studied law at the Eberhard Karls University of Tübingen and the Universidad de Granada (Spain). During her studies, she was a research associate at the chairs of Prof. Dr. Joachim Vogel and Prof. Dr. Dr. Dres. h.c. Kristian Kühl. Kathrin passed her First State Examination in Law in 2013 and her second in 2015 after her legal clerkship at the Higher Regional Court of Stuttgart. Subsequently, Kathrin worked on her doctoral thesis, which was supervised by Professor Dr. Torsten Schöne, whilst pursuing her professional career. Finally, Kathrin received her doctorate from the University of Siegen in August 2020. Since 2015, Kathrin has been working as a lawyer at CMS Hasche Sigle (Stuttgart) in the area of corporate law.
Abstract
Die Vorstandshaftung ist lebendiger denn je. Dabei sind aufsehenerregende Regressfälle mit hohen Schadensersatzforderungen Realität. Die gesetzlich angeordnete Haftung als Gesamtschuldner ermöglicht es der Aktiengesellschaft bei der Geltendmachung ihrer Ansprüche aus mehreren pflichtwidrig und schuldhaft handelnden Vorstandsmitgliedern einzelne auszuwählen und von diesen den gesamten Schadensersatz zu verlangen. Die Arbeit widmet sich dieser Inanspruchnahmesituation und beleuchtet neben der Haftung der Vorstandsmitglieder auch deren Möglichkeiten, untereinander Rückgriff zu nehmen. Da die freie Schuldnerauswahl für das einzelne in Anspruch genommene Vorstandsmitglied vielfältige Risiken und Nachteile birgt, geht die Arbeit der Frage nach, ob die Ausgestaltung der aktienrechtlichen Innenhaftung sachgerecht ist. Soweit Normenkollisionen und Wertungswidersprüche bestehen, schlägt die Arbeit eine Korrektur de lege lata vor, die der aktienrechtlichen Treue-pflicht entspringt und dem Gesellschaftsinteresse Rechnung trägt. »The Joint and Several Liability of Members of the Management Board under German Stock Corporation Law. The assertion of claims against single members of the management board according to § 93 II 1 AktG in conjunction with § 421 BGB, its consequences and measures to correct them«


Directors' liability in stock corporations is more alive than ever. High claims for damages are common. The statutory joint and several liability provided for under German law enables the stock corporation, when asserting its claims, to select a single board member from several board members who have acted in breach of duty and culpably, and to demand compensation for the entire damage from that single board member. This paper deals with this liability situation, its consequences and measures to correct them.
Table of Contents
Section Title
Page
Action
Price

Vorwort

5

Inhaltsverzeichnis

7

Einleitung

15

1. Teil: Darstellung der Ist-Situation

21

A. Das Haftungsverhältnis

21

I. Voraussetzungen der Innenhaftung von Vorstandsmitgliedern

21

1. Pflichten der Vorstandsmitglieder

21

a) Sorgfaltspflichten

22

b) Treuepflicht

23

aa) Herleitung

23

bb) Inhalt

25

2. Nichterfüllung von Pflichten

26

3. Pflichtenmaßstab und Verschulden

27

4. Schaden

28

5. Kausalität

29

6. Zwischenergebnis: Voraussetzungen der Innenhaftung von Vorstandsmitgliedern

29

II. Haftung als Gesamtschuldner

30

1. Wortlaut und grammatikalische Auslegung

30

2. Systematik

32

3. Gesetzgebungsgeschichte und konkreter Sinn und Zweck

33

a) Vom Gesetzgeber festgelegte Gesetzeszwecke

34

aa) Sinn und Zweck der Rechtsfolge in § 421 BGB

34

bb) Sinn und Zweck der Gesamtschuldanordnung in § 93 II 1 AktG

34

b) Durch Auslegung ermittelter Gesetzeszweck des § 93 II 1 AktG

35

4. Zwischenergebnis: Haftung als Gesamtschuldner

36

III. Rechtsverfolgung und Möglichkeiten der Eindämmung des Haftungsrisikos

37

1. Zuständigkeit für die Verfolgung der Innenhaftungsansprüche

37

2. Rechtsverfolgungspraxis

38

a) Prüfung und Verfolgung der Innenhaftungsansprüche (Exemplarisch: Der Fall ARAG/Garmenbeck und seine Folgen)

38

b) Vergleichs- und Verzichtsvereinbarungen über Innenhaftungsansprüche (Exemplarisch: Der Fall Siemens)

39

3. Versicherung des Haftungsrisikos

40

4. Ansätze zur Haftungserleichterung

41

5. Die freie Schuldnerauswahl bei der Innenhaftung von Vorstandsmitgliedern

44

IV. Risiken und Nachteile für Vorstandsmitglieder aus der Inanspruchnahme im Haftungsverhältnis

46

1. Verteidigungsrisiko

46

a) Streitverkündung

46

aa) Voraussetzungen nach §§ 72, 73 ZPO

47

(1) Streitverkündungsgrund, Streitverkünder, Streitverkündeter und Form

47

(2) Beitritt zum Haftungsprozess

47

bb) Auswirkungen der Streitverkündung im Haftungsprozess

48

(1) Prozessrolle

48

(2) Kostenfolge im Haftungsprozess

49

cc) Bewertung als Verteidigungsmittel

50

b) Erheblicher Tatsachenvortrag

51

aa) Beweislastumkehr in § 93 II 2 AktG

51

bb) Bewertung als Verteidigungsmittel

54

c) Einrede der Verjährung

54

aa) Voraussetzungen

54

bb) Bewertung als Verteidigungsmittel

56

2. Kostenrisiko, Liquiditätsrisiko, Risiko eigener Zahlungsunfähigkeit und Insolvenzrisiko

57

V. Ergebnis: Das Haftungsverhältnis

58

B. Das Rückgriffsverhältnis

59

I. Allgemeines zum Rückgriff nach § 426 BGB

60

II. Rückgriffsansprüche nach § 426 I 1 BGB

61

1. Inhalt

61

a) Vor Befriedigung der Gesellschaft

62

aa) Anspruch auf Zahlung oder Ausgleich

63

bb) Anspruch auf Befreiung, Freistellung oder Mitwirkung

64

(1) Bei unberechtigter Inanspruchnahme

64

(2) Bei berechtigter Inanspruchnahme

66

b) Nach Befriedigung der Gesellschaft

67

c) Art und Umfang der Schuld

67

2. Materiell-rechtliche Durchsetzbarkeit

69

a) Einwendungen aus dem Rückgriffsverhältnis

70

aa) Erheblicher Tatsachenvortrag

70

bb) Einrede der Verjährung

70

(1) Anspruchsentstehung

70

(2) Kenntnis oder fahrlässige Unkenntnis

72

(3) Tatsächliche Auswirkungen

73

b) Einwendungen aus dem Haftungsverhältnis

73

aa) Existenz als Einwendung tauglicher Tatsachen

74

bb) Wirkung der als Einwendung tauglichen Tatsachen

75

(1) Erlass gem. § 423 BGB durch Verzicht oder Vergleich

75

(2) Verjährung gem. § 425 II, I BGB

79

(3) Rechtskräftiges Urteil gem. § 425 II, I BGB

83

cc) Schlussfolgerung

84

3. Prozessuale Durchsetzbarkeit

84

a) Richtige Klageart

84

b) Formulierung eines bestimmten Klageantrags

86

aa) Ausführungen zum ursprünglichen Anspruch aus § 93 II 1 AktG

87

bb) Weitere Anforderungen an den Klageantrag aus der Art der begehrten Leistung

88

c) Schlüssiger Vortrag, Darlegung und Beweis des Anspruchs aus § 426 I 1 BGB

89

aa) Grund des Anspruchs aus § 426 I 1 BGB

89

(1) Inanspruchnahme oder Befriedigung aufgrund eines begründeten Anspruchs aus § 93 II 1 AktG

89

(a) Darlegung und Beweis des Bestehens eines Anspruchs aus § 93 II 1 AktG

90

(b) Möglichkeiten zur Beschaffung beweisrelevanter Informationen

90

(c) Anwendbarkeit der Beweislastumkehr aus § 93 II 2 AktG

92

(2) Inanspruchnahme oder Befriedigung aufgrund eines unbegründeten Anspruchs aus § 93 II 1 AktG

95

bb) Höhe des Anspruchs aus § 426 I 1 BGB

96

cc) Verstoß gegen die prozessuale Wahrheitspflicht gem. § 138 I ZPO

97

d) Tatsächliche Folgen der Klageerhebung

98

4. Inhalt des Leistungsurteils und Vollstreckbarkeit

98

5. Zwischenergebnis: Rückgriffsansprüche nach § 426 I 1 BGB

100

III. Rückgriff nach § 426 II 1 BGB

101

1. Inhalt, Art und Umfang der Schuld

101

2. Materiell-rechtliche Durchsetzbarkeit

104

a) Allgemeines

104

b) Einrede der Verjährung

104

3. Prozessuale Durchsetzbarkeit

105

a) Richtige Klageart

105

b) Wirkungen nach § 265 ZPO und § 325 ZPO

106

c) Formulierung eines bestimmten Klageantrags, schlüssiger Vortrag, Darlegung und Beweis des nach § 426 II 1 BGB übergegangenen Anspruchs aus § 93 II 1 AktG

107

4. Inhalt des Leistungsurteils und Vollstreckbarkeit

109

5. Zwischenergebnis: Rückgriff nach § 426 II 1 BGB

110

IV. Maßnahmen zum Erhalt der gesetzlichen Rückgriffsmöglichkeiten nach § 426 BGB

110

1. Streitverkündung

111

a) Prozessuale Wirkung im Rückgriffsprozess

111

aa) Objektive Reichweite der Interventionswirkung

111

bb) Subjektive Reichweite der Interventionswirkung

113

b) Materiell-rechtliche Wirkung

114

c) Kostenfolge im Rückgriffsprozess

116

d) Zeitlicher Anwendungsbereich

117

2. Verjährungshemmende Maßnahmen

118

V. Schadensersatz bei Verletzung der Pflichten aus dem Rückgriffsverhältnis

119

C. Gesamtergebnis: 1. Teil

121

2. Teil: Korrekturbedarf der Ist-Situation

124

A. Konkreter Gegenstand und Inhalt der Prüfung

124

I. Rechtstatsachen

124

II. Normen

124

1. Gemeinschaftliche Haftung nach § 93 II 1 AktG

125

2. Rückgriff nach § 426 BGB und wechselseitige Auswirkungen der Schuldverhältnisse gem. §§ 422–425 BGB und § 412 BGB i.V.m. § 404 BGB

126

3. Inanspruchnahme als Gesamtschuldner gem. § 93 II 1 AktG i.V.m. § 421 S. 1 BGB

126

III. Prüfungsinhalt

127

B. Normenkollisionen und Wertungswidersprüche

127

I. Verstoß gegen das Vergleichs- und Verzichtsverbot aus § 93 IV 3 AktG

128

1. Regelungsgehalt des § 93 IV 3 AktG

128

2. Anwendbarkeit des § 93 IV 3 AktG

128

a) Rechtserheblichkeit der Handlung

129

b) Verzichtswirkung

130

3. Wertungswiderspruch zu § 93 IV 3 AktG

132

4. Zwischenergebnis: Verstoß gegen das Vergleichs- und Verzichtsverbot aus § 93 IV 3 AktG

135

II. Kollision mit der Prüfungs- und Überwachungspflicht des Aufsichtsrats

135

1. Gesetzliche Regelungen

135

a) § 111 I AktG

135

aa) Verpflichtung

136

bb) Überwachungsgegenstand und Überwachungstätigkeit

136

cc) Kollision

138

b) § 112 AktG

138

c) Aktienrechtliche Legalitätspflicht

139

d) Zwischenergebnis: Gesetzliche Regelungen

140

2. Kollision mit den Grundsätzen der ARAG/Garmenbeck-Rechtsprechung

140

a) Die höchstrichterliche Rechtsprechung als Rechtsquelle

141

b) Vergleichbarkeit mit dem Fall ARAG/Garmenbeck

142

aa) Besondere Prägung der ARAG AG

142

bb) Anzahl der haftenden Vorstandsmitglieder

142

cc) Situation der Inanspruchnahme

144

dd) Art und Weise der Nichtgeltendmachung

145

ee) Zwischenergebnis: Vergleichbarkeit mit dem Fall ARAG/Garmenbeck

145

c) Grundsätze der ARAG/Garmenbeck-Rechtsprechung und ihre Rezeption in der Literatur

145

aa) Die Prüfpflicht nach ARAG/Garmenbeck

146

(1) Grundsatz

146

(2) Ausgestaltung

147

(3) Zusammenfassung

150

(4) Wertungswiderspruch

151

bb) Die Verfolgungspflicht nach ARAG/Garmenbeck

152

(1) Grundsatz

152

(2) Ausgestaltung

153

(a) Handlungsebene

153

(b) Erkenntnisebene

155

(3) Zusammenfassung

156

(4) Wertungswiderspruch

157

d) Zwischenergebnis: Kollision mit den Grundsätzen der ARAG/Garmenbeck-Rechtsprechung

158

e) Auswirkungen der ARAG/Garmenbeck-Grundsätze auf die aktienrechtliche Legalitätspflicht

158

3. Zwischenergebnis: Kollision mit der Prüfungs- und Überwachungspflicht des Aufsichtsrats

158

III. Widerspruch zu aktienrechtlichen Treuepflichten

158

1. Treuepflicht der Aufsichtsratsmitglieder gegenüber der Gesellschaft

159

a) Anwendbarkeit, Herleitung und Inhalt

159

b) Widerspruch

162

2. Treuepflicht der Gesellschaft gegenüber den Vorstandsmitgliedern

163

a) Herleitung und Inhalt

163

b) Anwendbarkeit und Widerspruch

166

3. Zwischenergebnis: Widerspruch zu aktienrechtlichen Treuepflichten

167

IV. Widerspruch zu einem allgemeinen Gebot der Gleichbehandlung

168

V. Aufhebung der Normenkollisionen und Wertungswidersprüche durch Hauptversammlungsbeschluss

169

C. Vergleich zu ähnlich gelagerten Fällen

169

I. Fallgruppenbildung

170

II. Vergleich

173

1. Vertretungsbefugnis und Entscheidungskompetenz

173

a) Aktiengesellschaft

173

b) Gesellschaft mit beschränkter Haftung

173

2. Möglichkeiten der Verfügung über die Ansprüche der Gesellschaft

175

III. Ergebnis: Vergleich zu ähnlich gelagerten Fällen

176

D. Erreichung des konkreten Normzwecks in Vorstandshaftungsfällen

177

E. Gesamtergebnis: 2. Teil

178

3. Teil: Korrektur der Ist-Situation und ihre Folgen

180

A. Korrekturmethode

180

I. Enge Auslegung

180

II. Teleologische Reduktion

180

B. Folgen der Korrektur

181

I. Materiell-rechtliche Folgen

181

1. Inhalt der Regelung in § 93 II 1 AktG i.V.m. § 421 S. 1 BGB

181

a) Allgemeines

181

b) Sonderfälle

181

aa) Gründe außerhalb des Unternehmenswohls

182

bb) Uneinbringlichkeit der Forderung

182

cc) Alleinverantwortlichkeit im Innenverhältnis

183

2. Ergänzung von Pflichten

183

3. Bewertung als Verteidigungsmittel in materiell-rechtlicher Hinsicht

184

II. Prozessuale Folgen

184

1. Einwand der unzulässigen Rechtsausübung

185

a) Voraussetzungen

185

b) Wirkung des Einwands

186

c) Darlegungs- und Beweislast

186

2. Bewertung als Verteidigungsmittel in prozessualer Hinsicht

189

C. Gesamtergebnis: 3. Teil

192

Zusammenfassung der Ergebnisse

193

Literaturverzeichnis

196

Stichwortverzeichnis

220