European history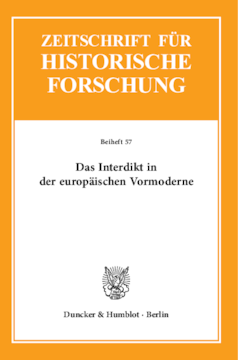 Additional Information
Book Details
ISBN

978-3-428-58221-1
978-3-428-18221-3 (print edition)

DOI

https://doi.org/10.3790/978-3-428-58221-1

Edition

1

Language

German

Pages

555

Collections

Subjects
Pricing
Institution

€ 92.00 (incl. local VAT if applicable)

Individual

€ 71.90 (incl. local VAT if applicable)
About The Author
Tobias Daniels studierte Geschichtswissenschaften, Italianistik und Germanistik an der Ruhr-Universität Bochum. 2012 wurde er mit einer Arbeit über einen gelehrten Juristen an den Universitäten Innsbruck und Pavia promoviert, 2018 erfolgte die Habilitation in Mittelalterlicher Geschichte und Historischen Grundwissenschaften an der Ludwig-Maximilians-Universität München mit einer Arbeit über die Verschwörung der Pazzi als politischer Skandal und seine europäischen Resonanzen. Er war wissenschaftlicher Mitarbeiter an der Bibliotheca Hertziana, Max-Planck-Institut für Kunstgeschichte, Rom, und absolvierte Lehrstuhlvertretungen in Trier und Zürich. Seine Forschungen betreffen u.a. Humanismus und Renaissance in europäischer Perspektive; Sozial- und Institutionengeschichte von Kirche und Königtum sowie Zusammenhänge von Kunst, Wirtschaft und Politik.

Christian Jaser studierte Geschichtswissenschaften und Mittellateinische Philologie an der Ludwig-Maximilians-Universität München, der Freien Universität Berlin und der Humboldt-Universität zu Berlin. 2011 wurde er in Mittelalterlicher Geschichte mit einer Arbeit über kirchliche Exkommunikationsrituale promoviert, 2019 habilitierte er sich mit einer Studie zu städtischen Sportkulturen des 15. und frühen 16. Jahrhunderts in transalpin vergleichender Perspektive. Seit 2020 ist er Professor für Mittelalterliche Geschichte und Historische Grundwissenschaften an der Universität Klagenfurt. Seine Forschungsschwerpunkte sind unter anderem die Geschichte mittelalterlicher Kirchenstrafen, Konfliktkulturen des Mittelalters sowie transalpine Stadtgeschichte des späten Mittelalters.

Thomas Woelki studierte Rechtswissenschaft, Geschichte und Romanistik in Berlin und Caen 1996-2005, promovierte 2010 in mittelalterlicher Geschichte und ist wissenschaftlicher Mitarbeiter am Lehrstuhl für Europäische Geschichte des Mittelalters an der Humboldt-Universität zu Berlin. Er ist Herausgeber der Acta Cusana. Seine Forschungsinteressen und Publikationen konzentrieren sich auf die spätmittelalterliche Kirchen- und Konzilsgeschichte, die Geschichte des römischen und kanonischen Rechts im Mittelalter sowie die Lebenswelt des Nikolaus von Kues.
Tobias Daniels studied history, Italian and German at the Ruhr-Universität Bochum. In 2012, he received his PhD with a thesis on a learned jurist at the Universities of Innsbruck and Pavia, and in 2018 he completed his habilitation in Medieval History and Auxiliary Sciences at the Ludwig Maximilian University of Munich with a thesis on the Pazzi conspiracy as a political scandal and its European resonances. He was a research assistant at the Bibliotheca Hertziana, Max Planck Institute for Art History, Rome, and held visiting professorships in Trier and Zurich. His research has focused on humanism and the Renaissance in a European perspective; social and institutional history of church and kingship; connections between art, economy and politics.

Christian Jaser studied History and Latin Philology of the Middle Ages in Munich and Berlin. In 2011, he received his PhD on medieval rituals of excommunication, and in 2019 he completed his habilitation thesis on fifteenth- and early sixteenth-century urban sport cultures in Italy and Germany. Since 2020 he is professor of medieval history and auxiliary sciensces of history at the University of Klagenfurt. His main fields of study are the history of medieval ecclesiastical sanctions, cultures of conflict in the Middle Ages and late medieval urban history in Italy and Germany.

Thomas Woelki studied law, history and Romance studies in Berlin and Caen 1996-2005, received his Ph.D in medieval history in 2010 and is currently a research assistant in Medieval History at the Humboldt University in Berlin. He is editor of the Acta Cusana. His research interests and publications focus on late medieval church and council history, the history of Roman and canon law in the Middle Ages, and the life of Nicholas of Cusa.
Abstract
Das lokale Interdikt im Sinne eines temporären Entzugs von Seelsorge und Sakramenten in einem bestimmten Gebiet (Kirche, Stadt, Diözese, Herrschaftsterritorium), nahm neben der Exkommunikation eine zentrale Rolle im kirchlichen Sanktionsarsenal ein. Vom Hochmittelalter bis ins 17. Jahrhundert gehörte der durch das Interdikt hervorgerufene spirituelle Ausnahmezustand fest zum Erfahrungshorizont des vormodernen Europäers, insbesondere der Stadtbevölkerung. Das Interdikt ist aus der liturgischen und frömmigkeitspraktischen Lebenswelt Lateineuropas nicht wegzudenken. Zudem enthielt diese häufig angewandte Form der kirchlichen Strafpraxis stets ein besonderes Konfliktpotential. Ein Interdikt beschwor für jeden einzelnen Gläubigen einen unheilvollen Gewissens- und Loyalitätstest herauf, der erwünschte (Druck auf die Obrigkeit) und unerwünschte (Häresien, religiöser 'Eigensinn') Reaktionsszenarien provozierte. Der Band erschließt erstmals europäisch vergleichend das analytische Potenzial des Interdikts als spezifisch vormodernes Querschnittsphänomen, das gleichermaßen kirchen-, rechts- und sozialgeschichtliche Perspektiven eröffnet.
Table of Contents
Section Title
Page
Action
Price

Inhalt

5

Tobias Daniels / Christian Jaser / Thomas Woelki: Einleitung: Das Interdikt in der europäischen Vormoderne zwischen Kirchenrecht, sozialer Alltagspraxis und publizistischer Polemik

7

I. Das Inderdikt als Forschungsproblem

25

Peter D. Clarke : The Interdict in Past and Current Historiography: Perspectives and Preoccupations

27

I. The origins and pre-Gratian history of the ecclesiastical interdict

28

II. The development of the interdict in post-Gratian canon law

30

III. Case-studies of the interdict in later medieval practice

34

IV. Contemporary polemic surrounding medieval and early modern interdicts

41

V. New perspectives on the interdict

46

Conclusion

49

Bibliography

49

Sources

49

Secondary Literature

50

Johannes Helmrath: Das Interdikt im späteren Mittelalter

55

I. Zum Interdikt

60

1. Grundsätzliches

60

2. Das spatiale Element

62

3. Das (anti-)akustische Element

64

4. Exkommunikation und Interdikt

66

5. Dauer und Frequenz: Das temporale Element

68

II. Interdikt und Stadt: der Kontext

70

III. Ein neuer Quellentyp: Agendalisten zum Interdikt. Ein Exkurs

74

IV. Phänomenologie des Interdikts

75

1. Vorbeuge- und Abwehrmaßnahmen

76

a) Prophylaxe durch Dispens und Schutzprivileg

76

b) Öffentlichkeits-/bzw. Veröffentlichungspolitik

76

c) Rechtsmittel einlegen

77

2. Repressionen und Gewalt

78

3. Ersatzmaßnahmen und Formen der Selbsthilfe im sakralen Vakuum

79

a) Neues Personal

79

b) Begräbniserzwingung

80

c) Rituelle Mimesis und Devianz

82

4. "Göttlich legitimierter Eigensinn": Gewissen und Kritik

84

V. Abnutzung der kirchlichen Zensuren im Spätmittelalter?

88

Bibliographie

93

Quellen

93

Ungedruckte Quellen

93

Gedruckte Quellen

93

Literatur

95

II. Das Interdikt als kanonistisches Problem

107

Kerstin Hitzbleck: Facta relaxatione interdicti, deridebant presbyteros celebrantes. Das Interdikt im Spätmittelalter als Katalysator individueller Gewissensentscheidungen.

109

Bibliographie

130

Quellen

130

Literatur

130

Romedio Schmitz-Esser: O quam horrificum? Der Diskurs um die Bestattung und das Interdikt vor Innozenz III.

133

I. Bestattung und Interdikt

133

II. Die interdizierten Römer und die schweigsamen Quellen

138

III. Lucius III. und ein scheinbares Privilegierungschaos

140

IV. Wozu Chaos gut sein kann

148

V. Ausblick

152

Bibliographie

153

Quellen

153

Literatur

154

Katharina Ulrike Mersch: Das Interdikt kritisieren und umgehen – legitime und illegitime Maßnahmen geistlicher Gemeinschaften vornehmlich im ausgehenden 12. Jahrhundert

157

I. Hildegard von Bingen kritisiert das Interdikt

158

II. Das Interdikt umgehen

164

III. Sich über ein Interdikt beschweren

173

IV. Fazit

176

Bibliographie

178

Quellen und Regesten

178

Literatur

181

Bernardo Pieri: 'Sacrilegious Was the Thief' or A Nonenforceable Interdict Because of an Arrest Inside a Church(Paolo da Castro in the Last of his Consilia)

185

Bibliography

192

Sources

192

Secondary Works

192

Thomas Woelki: Cusanus und das Interdikt. Norm und Praxis

195

I. Das Interdikt in der juristischen Handbibliothek des Cusanus

197

II. Das Interdikt in der Lebensgeschichte des Nikolaus von Kues

201

1. Basler Konzil

202

2. Legationsreise (1451/52)

204

3. Bischof von Brixen (1452–1460)

208

Schluss

222

Bibliographie

223

Quellen

223

Ungedruckte Quellen

223

Gedruckte Quellen

223

Literatur

224

Giovanni Chiodi: L'interdetto al crocevia della modernità: il commento di Diego de Covarrubias al c. 'Alma mater'

231

I. Introduzione

231

II. La questione della mutabilità delle leggi umane

233

III. L'interdetto come pena temporale

237

IV. I tipi di interdetto e le questioni semantiche

241

V. Gli effetti dell'interdetto e le innovazioni del c. 'Alma mater'

245

VI. Conclusioni: fonti e metodo

255

Bibliografia

258

Fonti

258

Letteratura

260

III. Städtische Interdikte zwischen Observanz und Widerstand

263

Frederik Keygnaert: The Urban Interdict in the Church Province of Reims (c. 1090–c. 1140): Causes and Consequences

265

Causes

265

Consequences

273

Bibliography

278

Sources

278

Literature

280

Christian Jaser: Unheiliges Köln? Interdikte über die Stadt Köln und ihre Bewältigung im Kontext erzbischöflich-städtischer Auseinandersetzungen (1250–1350)

283

I. "Köln contra Köln": Konfliktgeschichte und Interdiktsfrequenzen

285

II. Interdikte über Köln und ihre Bewältigung: Widerstandsstrategien und Gegenmaßnahmen

291

1. Interdiktsprophylaxen

291

2. Reaktive Gegenmaßnahmen

297

Bibliographie

310

Quellen

310

Ungedruckte Quellen

310

Gedruckte Quellen

310

Literatur

312

Luca Demontis : Civitatem interdicto ecclesiastico subiacere. Raimondo della Torre e l'arma dell'interdetto (1266–1299)

319

Bibliografia

328

Fonti

328

Fonti inedite

328

Fonti edite

328

Studi

328

Vicente Pons Alós: La ciudad bajo interdicto. Conflictos entre Iglesia y poder civil en la diócesis de Valencia (ss. XIV–XVI)

331

Las situaciones de interdicto a través de los sínodos

335

Tiempos revueltos: los episcopados de Jaume d'Aragó y Hug de Llupià

338

El conflicto de las jurisdicciones

341

Cerradas las puertas: signos externos del interdicto

344

Bibliografía

346

Fuentes

346

Fuentes de archivo

346

Fuentes impresas

346

Leteratura secundaria

347

Uwe Israel: Altera Roma? Die Folgen von Exkommunikation und Interdikt im mittelalterlichen Venedig

351

Bibliographie

367

Quellen

367

Literatur

368

IV. Das Interdikt als publizistischer Streitfall

373

De Carlos de Ayala Martínez: El Interdictum ecclesiástico en los reinos de León y Castilla hasta el IV Concilio de Letrán

375

Introducción: los antecedentes

375

I. Primeras aplicaciones de la sentencia de entredicho en los reinos de León y Castilla

376

II. La definitiva canonización del entredicho en tierras de León y Castilla

383

III. El pontificado de Inocencio III y el entredicho en León y Castilla

394

Conclusión

406

Fuentes

408

Bibliografía

409

Martin Kaufhold: Der publizistische Kampf um das Interdikt gegen Ludwig den Bayern (1324–1347)

413

Bibliographie

425

Quellen

425

Literatur

425

Tobias Daniels : Florenz und das Interdikt 1478–1480

429

Einführung

429

Präliminarien

431

Florenz und die Kurie

432

Die Verschwörung

435

Die Verhängung des Interdikts als Verhandlungssache und die öffentlichen Auswirkungen

437

Lebensweltliche Auswirkungen?

442

Der Federkrieg

445

Absolution

448

Schluss und Ausblick

451

Bibliographie

452

Quellen

452

Ungedruckte Quellen

452

Gedruckte Quellen

453

Literatur

454

Massimo Rospocher: Die Medialisierung des Interdikts

459

I. Geistige Waffe, politische Waffe, mediale Waffe

459

II. Bologna unter dem Interdikt: 1506, 1511

462

III. Die Medialisierung des Interdikts: Venedig unter dem Interdikt (1509)

468

IV. Reaktion und Absolution

479

V. Die letzten Interdikte

485

VI. Fazit

488

Bibliographie

489

Quellen

489

Literatur

492

Jaska Kainulainen: Paolo Sarpi and the Interdict of Venice, 1606–1607

495

The origins of the interdict and Sarpi's role in the conflict

497

Sarpi's notion of interdict

505

Guerra delle scritture

509

Temporal versus spiritual authority

511

Conclusion

513

Bibliography

515

Sources

515

Literature

516

Register

519

1. Personen und Werke

519

2. Orte und Institutionen

536

3. Zitate

549

4. Handschriften

550