Company law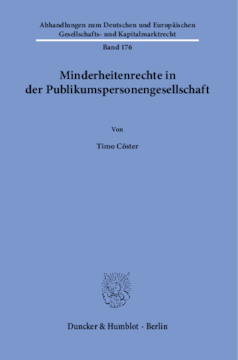 Additional Information
Book Details
ISBN

978-3-428-58151-1
978-3-428-18151-3 (print edition)

DOI

https://doi.org/10.3790/978-3-428-58151-1

Edition

1

Language

German

Pages

195

Collections

Subjects
Pricing
Institution

€ 86.00 (incl. local VAT if applicable)

Individual

€ 67.90 (incl. local VAT if applicable)
About The Author
Timo Cöster studierte Rechtswissenschaften an den Universitäten Hamburg und Paris-Sorbonne. Nach Forschungsaufenthalten am eidgenössischen Institut suisse de droit comparé und an der New York University wurde er im Jahr 2020 mit seiner von der Konrad-Adenauer-Stiftung geförderten Arbeit »Minderheitenrechte in der Publikumspersonengesellschaft« an der Universität Hamburg promoviert. Promotionsbegleitend arbeitete er als wissenschaftlicher Mitarbeiter in Wirtschaftskanzleien in Hamburg, Lausanne, New York City und Düsseldorf. Derzeit ist er Referendar am Oberlandesgericht Düsseldorf, unter anderem mit Stationen in Dublin und Brüssel.
Timo Cöster studied law at the University of Hamburg and the Paris-Sorbonne University. After research stays at the Swiss Federal Institute of Comparative Law and at New York University, he received his doctorate from the University of Hamburg in 2020 with his thesis »Minority Rights in limited partnerships with a wide range of limited partners«, which was funded by the Konrad-Adenauer-Foundation. While working on his doctorate, he worked as a research assistant at corporate law firms in Hamburg, Lausanne, New York City and Düsseldorf. He is currently a trainee lawyer at the Higher Regional Court of Düsseldorf, including stays in Dublin and Brussels.
Abstract
Minderheitenrechte sind im Personengesellschaftsrecht kaum vorgesehen. Dies gilt gerade für das von der Kautelarpraxis geprägte Recht der Publikumspersonengesellschaften. Ausgehend von diesem Befund analysiert und ergründet der Autor Ansätze zur Schaffung von Minderheitenrechten in Publikumspersonengesellschaften. Es wird aufgezeigt, inwiefern bereits das allgemeine Zivilrecht dogmatische Ausgangspunkte für den Minderheitenrechtsschutz von Publikumspersonengesellschaftern bietet. Unter welchen Voraussetzungen sich zu diesem Zwecke Anleihe an kapitalgesellschaftsrechtlichen, investmentrechtlichen und kapitalmarktrechtlichen Vorgaben nehmen lässt, bildet einen Schwerpunkt der Studie. Der tatsächliche Nutzen der Forschungsergebnisse wird sodann anhand von Konstellationen aus der Gesellschaftspraxis systematisch dokumentiert. Abschließend entwickelt der Autor Maßstäbe, anhand derer sich sachverwandte Lösungsansätze aus der schweizerischen und US-amerikanischen Rechtsordnung auf das hiesige Publikumspersonengesellschaftsrecht übertragen lassen. »Minority Rights within Limited Partnerships with a Wide Range of Limited Partners«

The author examines which approaches can be used to establish minority rights in limited partnerships with a wide range of limited partners. In particular, he analyzes the question to which extent can related regulations under capital company law, investment law and capital market law be transferred to the governing of aforementioned limited partnerships. The actual usefulness of the research results is then systematically documented based on scenarios from corporate practice.
Table of Contents
Section Title
Page
Action
Price

Vorwort

5

Inhaltsverzeichnis

9

Erstes Kapitel: Grundlegung

17

A. Einleitung

17

I. Zum Begriff der Minderheitenrechte

18

II. Problematik und Gang der Untersuchung

19

B. Die Publikumspersonengesellschaft als Phänomen der Rechtswirklichkeit

21

I. Kennzeichen der idealtypischen Personengesellschaft

21

II. Die Publikumspersonengesellschaft als kapitalistische Personengesellschaft

23

1. Begriffsmerkmale

23

2. Grundlegende organisationsrechtliche Wesensmerkmale

25

3. Rechtliche Anerkennung

26

III. Realtypische Erscheinungsformen von Publikumspersonengesellschaften

27

1. Publikums-GbR

27

2. Publikums-oHG

29

3. Publikums-KG

30

a) Publikums-KG herkömmlichen Ursprungs

31

b) Investment-KG

31

aa) Offene Investment-KG

32

bb) Geschlossene Investment-KG

34

(1) Geschlossene Spezialinvestment-KG, § 150 Abs. 2 S. 1 Nr. 2 KAGB

34

(2) Geschlossene Publikumsinvestment-KG, § 150 Abs. 2 S. 1 Nr. 1 KAGB

35

4. (Mehrgliedrige) stille Publikumspersonengesellschaft

36

5. Varianten der Beteiligungsstruktur

36

a) Unmittelbare Beteiligung

36

b) Formen treuhänderischer Beteiligung

37

aa) Unechte Treuhand

37

bb) Echte Treuhand

37

6. Gesellschaftsorgane

38

a) Geschäftsführung

38

b) Kontrollorgane

39

aa) Herkömmliche Publikumspersonengesellschaften

39

bb) Besonderheiten in der geschlossenen Publikumsinvestment-KG

40

IV. Motive für Gründung und Beitritt

41

1. Steuerliche Aspekte

41

2. Ansammlung und Verwaltung finanzieller Mittel

42

C. Fazit

43

Zweites Kapitel: Allgemeine zivilrechtliche Ansätze zur Begründung von Minderheitenrechten in (Publikums-)‌Personengesellschaften

45

A. Grundsatz privatautonomer Gestaltungsfreiheit

45

I. Vertragsfreiheit und numerus clausus im (Personen-)‌Gesellschaftsrecht

45

II. Der Publikumspersonengesellschaftsvertrag im Zentrum gegenseitiger Rechte und Pflichten

46

1. Formerfordernisse des Publikumspersonengesellschaftsvertrags

46

2. Auslegung des Publikumspersonengesellschaftsvertrags

48

a) Grundsatz

48

b) Ergänzende Vertragsauslegung

49

aa) Vertragliche Regelungslücke

49

bb) Lückenfüllung

50

(1) Ausfüllung durch den hypothetischen Parteiwillen

50

(2) Ausfüllung durch dispositives Recht

50

c) Transparenzgebot

51

3. Vertragsänderung

52

B. Allgemein-zivilrechtliche Grenzen gesellschaftsvertragsgestalterischer Freiheit

53

I. Gesetzliche Verbote

53

II. Grenzen guter Sitten, § 138 BGB

54

III. Inhaltskontrolle nach Treu und Glauben, § 242 BGB

55

1. Kontrollbedarf und -zulässigkeit

55

2. Kontrollmaßstab

57

a) Abweichen von dispositivem Gesetzesrecht

58

b) Schutzkonzept als Maßstab richterlicher Inhaltskontrolle

59

aa) Sinngemäße Übertragung der Methodik der §§ 305ff. BGB

59

bb) Personengesellschaftsrechtlicher Prüfungsmaßstab

59

cc) Übertragung kapitalgesellschaftsrechtlicher Schutzinstrumente

59

dd) Übertragung des KAGB-rechtlichen Schutzkonzepts der geschlossenen Publikumsinvestment-KG

60

3. Rechtsfolgen

60

a) Konkretisiertes dispositives Gesetzesrecht

60

b) Ergänzende Vertragsauslegung

61

C. Fazit

62

Drittes Kapitel: Mechanismen des Minderheitenrechtsschutzes in Publikumspersonengesellschaften

63

A. Normativ angelegte Minderheitenrechte

63

I. Personengesellschaftsrechtlicher Minderheitenrechtsschutz

63

II. Kapitalgesellschaftsrechtlich verorteter Minderheitenschutz

64

1. Planwidrige Regelungslücke

67

2. Vergleichbare Interessenlage

68

III. Minderheitenrechtsschutz nach dem KAGB

69

1. Minderheitsschützende Wertungen im KAGB

69

2. Ausstrahlungswirkung

70

IV. Fazit

73

B. Minderheitenrechtsschutz durch allgemeine gesellschaftsrechtliche Grundsätze

73

I. Bestimmtheitsgrundsatz

73

II. Treuepflicht

74

1. Grundlagen

74

2. Inhalt und Abdingbarkeit

76

3. Rechtsfolgen bei Verstößen

78

4. Praktisches Bedürfnis

79

III. Gleichbehandlungsgrundsatz

80

1. Grundlagen

80

2. Inhalt und Abdingbarkeit

80

3. Rechtsfolgen bei Verstößen

82

4. Praktisches Bedürfnis

83

IV. Lehre vom Kernbereich der Mitgliedschaftsrechte und Rekurs auf die Treuepflicht

84

1. Hergebrachte Methodik

84

a) Unverzichtbare Rechte

84

b) Unentziehbare Rechte

86

2. Jüngere Rechtsprechung des Bundesgerichtshofs

88

3. Stellungnahme

89

V. Interessenabwägung

90

VI. Das Wesen der Publikumspersonengesellschaft als Maßstab richterlicher Inhaltskontrolle

91

VII. Fazit

92

C. Minderheitenrechte in der Praxis der Publikumspersonengesellschaft

92

I. Der Gesellschaftsbeitritt

93

II. Beitrags- und Nachschusspflichten der Gesellschafter

94

III. Informationsrechte

96

1. Inhalt normativer Informationsrechte

97

a) Publikums-GbR und -oHG

97

b) Publikums-KG

98

c) Mehrgliedrige stille Publikumsgesellschaft

99

d) Anspruch auf Mitteilung der Namen und Adressen der Mitgesellschafter

100

2. Schranken

101

a) Gesetzlich verordnete Grenzen

101

b) Vertragliche Beschränkung

103

c) Institutionalisierung

104

3. Anspruchsberechtigter und -schuldner

105

4. Rechtsschutz gegen Informationsverweigerung

106

5. Besonderheiten in Treuhandkonstellationen

106

6. Fazit

108

IV. Minderheitenrechte im Zusammenhang mit der Gesellschafterversammlung

108

1. Einberufungsrechte

108

a) Ordentliche Gesellschafterversammlung

109

b) Außerordentliche Gesellschafterversammlung

110

2. Beschlussfassung

112

a) Beschlussfähigkeit

112

b) Teilnahme- und Stimmrecht

112

c) Mehrheitsentscheidungen

113

aa) Allgemeines

113

bb) Grenzen

114

(1) Spezifisch mehrheitsbeschränkende Schranken

114

(2) Schranken allgemeiner gesellschaftsrechtlicher Grundsätze

116

d) Beschlussmängelrecht

116

aa) Beschlussmängel

116

bb) Geltendmachung

117

3. Vertragliche Vertretungsanordnungen

119

V. Rechte zur Absetzung der Geschäftsführung

119

1. Allgemeines

119

2. Publikums-GbR

120

a) Gesellschaftergeschäftsführer

120

aa) Wichtiger Grund

121

bb) Verfahren

122

cc) Inhaltliche Beschränkungen des Abberufungsrechts

122

dd) Zustimmungspflicht

124

(1) Inhalt

124

(2) Verfahren

125

ee) Rechtswirkung

126

b) Fremdgeschäftsführer

127

3. Mehrgliedrige stille Publikumsgesellschaft

127

4. Publikumspersonenhandelsgesellschaften

128

a) Publikums-oHG

128

b) Publikums-KG

128

aa) Publikums-KG mit natürlicher Person als Geschäftsführer

129

bb) (Geschlossene) Publikums-GmbH & Co. (Investment-)‌KG

129

(1) Abberufung des GmbH-Geschäftsführers

129

(2) Abberufung der Komplementär-GmbH

130

VI. Minderheitenrechte im Zusammenhang mit dem Ausscheiden aus der Publikumspersonengesellschaft

131

1. Recht auf Auflösung der Gesellschaft

131

2. Gesellschaftsrechtlich verankerte Rechte individuellen Ausscheidens

132

a) Veräußerung des Gesellschaftsanteils

132

b) Individuelle Lösungsrechte

133

aa) Voraussetzungen

133

(1) Arglistanfechtungsrecht

134

(2) Recht zur ordentlichen Kündigung

135

(3) Recht zur außerordentlichen Kündigung

135

bb) Beschränkungen

137

(1) Arglistanfechtungsausschluss

137

(2) Kündigungsbeschränkungen

137

cc) Rechtswirkung

139

3. Kapitalmarktrechtliche Rechtsinstitute individuellen Ausscheidens

140

a) Prospekthaftungsrechtliche Tatbestände

140

aa) Prospekthaftung nach dem KAGB

140

bb) Prospekthaftung nach dem VermAnlG

141

cc) Zivilrechtliche Prospekthaftung

143

(1) Zivilrechtliche Prospekthaftung im engeren Sinne

143

(2) Zivilrechtliche Prospekthaftung im weiteren Sinne

145

b) Rechtsfolge: Übernahme der Anteile an der Publikumspersonengesellschaft

146

4. Lösung vom Treuhandvertrag

148

a) Anfechtung

148

b) Ordentliche Kündigung

148

c) Außerordentliche Kündigung

149

5. Ausschluss aus der Gesellschaft

150

a) Gesetzlich angelegte Ausschlussmöglichkeiten

150

aa) § 140 HGB

150

bb) § 737 BGB

152

b) Satzungsmäßige Hinauskündigungsklauseln

152

c) "Sanieren oder Ausscheiden"-Rechtsprechung des Bundesgerichtshofs

154

6. Zusammenfassung

154

D. Fazit

155

Viertes Kapitel: Minderheitenrechte in Publikumspersonengesellschaften ausgewählter ausländischer Rechtsordnungen

157

A. Rechtsvergleichung

157

I. Minderheitsrechtsschützende Wertungen im schweizerischen Recht der Kommanditgesellschaft für kollektive Kapitalanlagen

158

1. Rechtsgrundlagen und Wesensmerkmale der Kommanditgesellschaft für kollektive Kapitalanlagen

158

2. Ausgewählte minderheitsrechtsschützende Wertungen aus dem Recht der Kommanditgesellschaft für kollektive Kapitalanlagen im Rechtsvergleich

160

a) Treue- und Sorgfaltspflicht

160

b) Informationsrechte

162

c) Minderheitenrechte im Zusammenhang mit dem Ausscheiden aus der Gesellschaft

164

aa) Gesellschaftsrechtlich angelegte Rechte zur individuellen Loslösung von der Gesellschaft

164

bb) Ausscheiden vermittels Prospektpflicht und -haftung nach dem KAG

165

3. Zusammenfassung

167

II. Minderheitsrechtsschützende Wertungen in der Limited Partnership nach US-amerikanischem Recht

167

1. Rechtsgrundlagen und Wesensmerkmale der Limited Partnership

167

2. Ausgewählte minderheitsschützende Wertungen aus dem Recht der Limited Partnership im Rechtsvergleich

168

a) Treue- und Sorgfaltspflicht

168

b) Informationsrechte

170

3. Zusammenfassung

172

B. Resümee der Erkenntnisse für die deutsche Rechtsordnung

172

Fünftes Kapitel: Zukunft von Minderheitenrechten in der Publikumspersonengesellschaft

175

A. Spannungsfeld Minderheitenrechte

175

B. Konsolidierung von Minderheitenrechten in der Publikumspersonengesellschaft

176

I. Bestandsaufnahme der Untersuchung minderheitsrechtsschützender Ansätze

176

II. Bewertung und Vorschläge zur Optimierung minderheitsrechtschützender Ansätze

178

Literaturverzeichnis

182

Stichwortverzeichnis

193