Corporate governance: role & responsibilities of boards & directors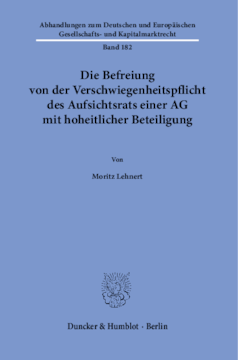 Additional Information
Book Details
ISBN

978-3-428-58338-6
978-3-428-18338-8 (print edition)

DOI

https://doi.org/10.3790/978-3-428-58338-6

Edition

1

Language

German

Pages

234

Collections

Subjects
Pricing
Institution

€ 86.00 (incl. local VAT if applicable)

Individual

€ 67.90 (incl. local VAT if applicable)
About The Author
Moritz Lehnert studierte Rechtswissenschaften an der Universität Freiburg. Sein Referendariat absolvierte er in Mannheim, München und Singapur. Er ist seit 2019 als Rechtsanwalt zugelassen und in einer bedeutenden deutschen Anwaltskanzlei in München tätig. Er ist spezialisiert auf das Gesellschaftsrecht, einschließlich der Beratung zur Corporate Governance börsennotierter und privater Unternehmen, der Beratung von Aufsichtsräten und Restrukturierungsmaßnahmen sowie öffentlichen Übernahmen, Kapitalmarktberatung und gesellschaftsrechtlichen Streitigkeiten.
Moritz Lehner studied law at the University of Freiburg and completed his legal traineeship in Mannheim, Munich and Singapore. He was admitted to the bar in 2019 and joined a major German law firm in Munich in 2019. He specialises in corporate law, including advice on the corporate governance of listed and private corporations, boardroom advice and restructuring measures as well as public takeovers, capital markets advice and corporate litigation.
Abstract
Das BVerfG hat Ende 2017 die Anforderungen für eine staatliche Beteiligung an einer Kapitalgesellschaft konkretisiert. Die Arbeit untersucht anhand dieses Urteils die verfassungsrechtlichen Anforderungen einer Eigengesellschaft sowie einer staatlichen Mehrheits- und Minderheitsbeteiligung. Daneben wird aufgezeigt, dass bei staatlichen Beteiligungen grundsätzlich allein das Gesellschaftsrecht gilt, jedoch bei zwingendem Verfassungsrecht eine verfassungskonforme Auslegung des Gesellschaftsrechts erfolgen muss. Sodann behandelt die Arbeit die Verschwiegenheitspflicht des Aufsichtsrats einer AG bei staatlicher Beteiligung. Anhand der Golden-Shares-Rechtsprechung wird die Unionskonformität der §§ 394, 395 AktG herausgearbeitet. Die Arbeit kommt zu dem Ergebnis, dass die Verschwiegenheitspflicht des Aufsichtsrats bei Eigengesellschaften sowie der Mehrheitsbeteiligung des Bundes aufgrund einer verfassungskonformen Auslegung der §§ 394, 395 AktG teilweise einzuschränken ist. »Exemption from the Duty of Confidentiality of the Supervisory Board of a Stock Corporation with State Participation«: The book examines the legal requirements for a state participation in a corporation. It is shown that in the case of a state participation, corporate law and not public law applies in principle. On the basis of constitutional law, there may be exceptions to this rule. For example, in the case of a participation of the federal government, the duty of confidentiality of the supervisory board of a stock corporation may have to be reduced due to constitutional law.
Table of Contents
Section Title
Page
Action
Price

Vorwort

7

Inhaltsverzeichnis

9

Abkürzungsverzeichnis

19

Einführung

21

I. Einleitung

21

II. Gang der Darstellung

22

Kapitel 1: Die Beteiligung der öffentlichen Hand

24

A. Ingerenzpflichten und Eingangskontrolle

24

I. Begriffsverständnis im Zusammenhang mit staatlichen Beteiligungen

24

1. Öffentliches Unternehmen

25

2. Gemischtwirtschaftliches Unternehmen

25

3. Gemischtöffentliches Unternehmen

25

4. Eigengesellschaft

25

5. Mehrheits- und Minderheitsbeteiligung des Staates

25

II. Verfassungsrechtliche Anforderungen

26

1. Grenze: Grundrechte

26

a) Grundrechtsbindung der Eigengesellschaft und eines Unternehmens mit staatlicher Mehrheitsbeteiligung

27

b) Grundrechtsbindung eines Unternehmens mit staatlicher Minderheitsbeteiligung

28

2. Rechtsstaatsprinzip, Art. 20, 28 GG

28

a) Zulässigkeit des erwerbswirtschaftlichen Tätigwerdens des Staates

29

b) Ergebnis

31

3. Legitimationserfordernisse aus dem Demokratieprinzip

31

a) Organisatorisch-personelle Legitimation

31

b) Sachlich-inhaltliche Legitimation

32

c) Eigengesellschaft und Mehrheitsbeteiligung

32

aa) Organisatorisch-personelle Legitimation im Falle der Eigengesellschaft und der staatlichen Mehrheitsbeteiligung am Beispiel der AG

33

bb) Sachlich-inhaltliche Legitimation im Falle der Eigengesellschaft und der staatlichen Mehrheitsbeteiligung am Beispiel der AG

34

d) Demokratischer Legitimationszusammenhang bei der staatlichen Minderheitsbeteiligung

35

aa) "Rettung" der Deutschen Lufthansa AG als Beispiel für die demokratischen Legitimationserfordernisse bei der staatlichen Minderheitsbeteiligung

37

bb) Ergebnis

39

4. Garantie kommunaler Selbstverwaltung, Art. 28 Abs. 1 S. 1 GG

39

5. Ingerenzpflichten und Eingangskontrolle als Konsequenz der verfassungsrechtlichen Anforderungen

39

III. Bundesgesetzliche Voraussetzungen für eine staatliche Beteiligung gemäß § 65 BHO

40

1. Wichtiges Interesse des Bundes und Subsidiarität

40

2. Haftungsbegrenzung

41

3. Angemessener Einfluss auf das Unternehmen

41

a) Vorrangige Einflussnahme über den Aufsichtsrat

42

aa) Historie: § 48 RHO, § 16 RBG und Erfahrungen der Weimarer Republik

43

bb) Ökonomische Erwägungen: Prinzipal-Agent-Theorie und REM-Hypothese

45

b) Ergebnis

48

c) Vorrang der GmbH gegenüber der AG

48

4. Besondere Anforderungen an Jahresabschluss und Lagebericht

50

IV. Landesrechtliche Voraussetzungen für eine staatliche Beteiligung

50

1. Voraussetzungen für eine staatliche Beteiligung gemäß § 103 GemO BW

51

2. Vorrang der GmbH, § 103 Abs. 2 GemO BW

52

V. Ergebnis

52

B. Geltung des Gesellschaftsrechts bei der Betätigung des Staates in privatrechtlichen Unternehmensformen

53

I. These vom Verwaltungsgesellschaftsrecht (Modifikation des Gesellschaftsrechts durch das öffentliche Recht)

53

1. Konkrete Modifikationen des Gesellschaftsrechts infolge des Verwaltungsgesellschaftsrechts

54

2. Modifikation des Gesellschaftsrechts durch landesrechtliche Bestimmungen

55

3. Kritik an der These des Verwaltungsgesellschaftsrechts

55

II. These vom Vorrang des Gesellschaftsrechts

57

III. Urteil des BVerfG vom 07.11.2017

58

IV. Lösungsansatz

59

1. Grundsätzlich keine Modifikation des Gesellschaftsrechts durch das öffentliche Recht

59

2. Salomonische Lösung: Vorrang des Gesellschaftsrechts, gleichwohl verfassungskonforme Auslegung im Ausnahmefall

60

C. Fehlerhafte Eingangskontrolle

62

I. Pflicht der öffentlichen Hand zur Korrektur der Einwirkungsbefugnisse

62

1. Nachträgliche Korrektur der Einwirkungsbefugnisse bei der Eigengesellschaft und der staatlichen Mehrheitsbeteiligung

62

2. Mehrheitsbeteiligung ohne qualifizierte Beschlussmehrheit und Minderheitsbeteiligung

63

II. Ergebnis im Falle der fehlerhaften Eingangskontrolle

64

Kapitel 2: Grundlagen der §§ 394, 395 AktG

65

A. Die Verschwiegenheitspflicht des Aufsichtsratsmitglieds einer AG

65

I. Gesetzliche Grundlagen der Verschwiegenheitspflicht

65

1. § 116 S. 1 i.V.m. § 93 Abs. 1 S. 3 AktG

65

a) Zweck der Verschwiegenheitspflicht

65

b) Vertrauliche Angaben und Geschäftsgeheimnisse, § 116 S. 1 AktG

66

2. Klarstellungsfunktion des § 116 S. 2 AktG

67

3. Umfang der Verschwiegenheitspflicht

68

II. Empfehlungen

69

1. Deutscher Corporate Governance Kodex

69

2. Public Corporate Governance Kodex

70

3. Hinweise für gute Beteiligungsführung bei Bundesunternehmen

71

B. Grundlagen der §§ 394, 395 AktG

71

I. Informationsasymmetrie in der AG

72

II. §§ 53, 54 HGrG

73

1. Erweiterte Abschlussprüfung, § 53 HGrG

73

2. Ausgestaltung der Satzung zur unmittelbaren Unterrichtung der Rechnungsprüfungsbehörde, § 54 HGrG

74

III. Grundlagen von § 394 AktG

74

IV. Zusammenspiel der §§ 394, 395 AktG

75

1. Erstreckung der Verschwiegenheitspflicht auf Berichtsadressaten gemäß § 395 Abs. 1 AktG

75

2. Mitteilungen im dienstlichen Verkehr, § 395 Abs. 1 Hs. 2 AktG

76

3. Veröffentlichungsverbot, § 395 Abs. 2 AktG

77

Kapitel 3: Unionskonformität der §§ 394, 395 AktG

78

A. Kapitalverkehrsfreiheit, Art. 63 Abs. 1 AEUV

78

I. Zweck der Kapitalverkehrsfreiheit

79

II. Anwendungsbereich der Kapitalverkehrsfreiheit

79

1. Räumlicher Anwendungsbereich, Art. 52 EUV, 355 AEUV

79

2. Persönlicher Anwendungsbereich

79

3. Sachlicher Anwendungsbereich

80

a) Direktinvestitionen

81

b) Portfolioinvestitionen

81

c) Grenzüberschreitender Bezug

82

d) Abgrenzung zur Niederlassungsfreiheit

82

e) Spannungsverhältnis zwischen der Kapitalverkehrs- und Niederlassungsfreiheit

82

4. Einordnung der §§ 394, 395 AktG

83

III. Beschränkung des Kapitalverkehrs

84

1. Diskriminierungsverbot

84

2. Beschränkung i.e.S. des Kapitalverkehrs

85

a) Beschränkungsbegriff im Schrifttum

85

b) Beschränkung der Kapitalverkehrsfreiheit nach dem EuGH

86

c) Der Meinungsstand zur Beschränkung der Kapitalverkehrsfreiheit durch die §§ 394, 395 AktG

87

d) Rspr. des EuGH zu staatlichem Sonderrecht

89

3. Beschränkung der Kapitalverkehrsfreiheit durch die §§ 394, 395 AktG

93

IV. Rechtfertigung

96

1. Keine gemeinschaftliche Harmonisierungsregelung

97

2. Art. 65 Abs. 1 b) AEUV

97

a) Maßnahmen zur Vermeidung von Zuwiderhandlungen gegen innerstaatliche Rechts- und Verwaltungsvorschriften

98

b) Gründe der öffentlichen Ordnung und Sicherheit

99

3. Zwingende Gründe des Allgemeininteresses

100

a) Der Meinungsstand zur Qualifikation der Haushaltskontrolle als zwingenden Grund des Allgemeininteresses

101

b) Die Haushaltskontrolle als zwingender Grund des Allgemeininteresses

101

c) Rspr. des EuGH zu zwingenden Gründen des Allgemeinwohls

103

4. Verhältnismäßigkeit

104

a) Geeignetheit

104

b) Erforderlichkeit

104

aa) Abstrakter Prüfungsmaßstab für staatliches Sonderrecht

105

bb) Überprüfung der §§ 394, 395 AktG anhand des Prüfungsmaßstabs des EuGH

106

cc) Weniger einschneidende Maßnahmen

108

5. Ergebnis

109

B. Niederlassungsfreiheit, Art. 49 AEUV

109

I. Anwendungsbereich

109

1. Räumlicher und persönlicher Anwendungsbereich

109

2. Sachlicher Anwendungsbereich

110

II. Beschränkung

111

Kapitel 4: Voraussetzungen zur Befreiung von der Verschwiegenheitspflicht gemäß § 394 AktG

112

A. Beteiligung einer Gebietskörperschaft

112

I. Der Meinungsstand zur Beteiligungshöhe der Gebietskörperschaft

112

II. Untersuchung, ob § 394 AktG eine bestimmte Beteiligungshöhe verlangt

114

1. Wortlaut des § 394 AktG

114

2. Historie zu § 394 AktG hinsichtlich einer etwaigen Beteiligungshöhe

114

3. Systematische Erwägungen bezüglich einer etwaigen Beteiligungshöhe

116

a) Beteiligungsbegriff des § 271 HGB

116

b) Erfordernis einer Mehrheitsbeteiligung/"Ins Gewicht" fallende Beteiligung wegen § 65 BHO und § 53 HGrG

117

c) Rückgriff auf die Beteiligungsschwellen des WpHG

117

d) Rückgriff auf die Definition der "Beteiligung" im PCGK für § 394 AktG

119

4. Telos des § 394 AktG

120

III. Ergebnis

121

B. Bestellung auf Veranlassung der Gebietskörperschaft

121

I. Veranlassung bei unmittelbarer Beteiligung der Gebietskörperschaft

122

1. Entsendung, § 101 Abs. 2 AktG

122

2. Wahl, § 101 Abs. 1 AktG

122

a) Veranlassung der Wahl bei unmittelbarer Beteiligung ohne Stimmmehrheit

122

b) Würdigung

123

II. Veranlassung bei gerichtlich bestellten Aufsichtsratsmitgliedern

124

1. Historische Perspektive: § 111 Abs. 1 Nr. 2 RHO

125

2. Unabhängigkeit der Gerichte

126

3. Vermutungsregelungen

127

4. Ergebnis

127

III. Veranlassung bei mittelbarer Beteiligung

127

1. Der Meinungsstand zur Veranlassung bei der mittelbaren Beteiligung der Gebietskörperschaft

128

2. Anforderungen an die Veranlassung bei der mittelbaren Beteiligung

129

a) Vergleich mit unmittelbarer Beteiligung

129

b) Keine Mehrheitsbeteiligung erforderlich

129

c) Veranlassungsbegriff im Konzern- und Beamtenrecht

130

d) Rückgriff auf Vermutungsregelungen

132

e) Offenlegung der Einflussnahme durch die öffentliche Hand

132

3. Ergebnis

132

C. Berichtspflicht

133

I. Berichtspflicht aus Gesetz

133

II. Berichtspflicht gemäß Satzung

134

III. Berichtsplicht aus einem Rechtsgeschäft

134

1. Parteien des Rechtsgeschäfts

135

2. Grenzen des Rechtsgeschäfts

135

3. Praxishinweis

136

IV. Berichtspflicht kraft beamtenrechtlicher Weisungsbindung

137

1. Grundsätzliche Weisungsfreiheit des Aufsichtsratsmitglieds einer AG

137

2. Rspr.

138

3. Meinungsspektrum im Schrifttum

139

4. Weisungsfreiheit des Aufsichtsratsmitglieds einer AG

139

a) Historie: § 70 DGO 1935

140

b) Systematik: Weisungsfreiheit im Konzernrecht

140

c) Folgen aus dem Urteil des BVerfG vom 07.11.2017

141

d) Verfassungskonforme Auslegung des § 111 Abs. 6 AktG

142

e) Praxiserwägungen: Konsultations- und Verständigungspflichten

144

f) Ergebnis

144

5. Berichtspflicht kraft beamtenrechtlicher Weisungsbindung

145

a) Der Meinungsstand zur Berichtspflicht kraft beamtenrechtlicher Weisungsbindung

145

b) Konflikt zwischen der Weisungsfreiheit des Aufsichtsratsmitglieds und der Berichtspflicht kraft beamtenrechtlicher Weisungsbindung

146

c) Anforderung des § 394 S. 3 AktG

146

d) Vorrang des Gesellschaftsrechts

147

e) Fehlende Notwendigkeit einer Berichtspflicht kraft beamtenrechtlicher Weisungsbindung

148

6. Ergebnis

148

D. Berichtsadressat

148

I. Gewährleistung der Vertraulichkeit als ungeschriebenes Tatbestandsmerkmal des § 394 S. 1 AktG

149

II. Parallele zu Arbeitnehmervertretern

149

III. Reichweite der Gewährleistung der Vertraulichkeit

151

IV. Berichtsadressaten auf Bundesebene

152

1. Bundesrechnungshof als Berichtsadressat

152

2. Ausschüsse und Gremium des Bundestages als Berichtsadressat

152

a) Der Meinungsstand, ob Abgeordnete als "Prüfpersonen" i.S.d. § 395 Abs. 1 AktG gelten

153

b) Abgeordnete als "Prüfpersonen" i.S.d. § 395 Abs. 1 AktG

154

c) Tatsächliche Vorkehrungen zur Gewährleistung der Vertraulichkeit

154

3. Bundestag als Berichtsadressat

156

a) Der Meinungsstand im Schrifttum zur Frage, ob der Bundestag tauglicher Berichtsadressat sein kann

157

b) Entscheidung des BVerfG vom 07.11.2017

158

aa) Parlamentarisches Frage- und Informationsrecht gemäß Art. 38 Abs. 1 S. 2, 20 Abs. 2 S. 2 GG

158

bb) Grenze: Fiskalisches Interesse des Staates am Schutz vertraulicher Informationen seiner (Beteiligungs-)‌Unternehmen

159

cc) Mildere Mittel zum Ausgleich des Geheimhaltungsinteresses und dem parlamentarischen Informationsinteresse

161

dd) Reaktionen im Schrifttum auf das Urteil des BVerfG

163

c) Lösungsansatz

165

aa) Kein absolutes Verbot der Weitergabe von vertraulichen Informationen mehr vertretbar

165

bb) Zulässigkeit der Weitergabe von vertraulichen Informationen bei hinreichenden Vorkehrungen zur Wahrung der Vertraulichkeit

166

cc) Konkrete Vorkehrungen für die Gewähr der Vertraulichkeit

167

dd) Das Aufsichtsratsmitglied beurteilt das Maß der notwendigen Vorkehrungen zur Wahrung der Vertraulichkeit

168

ee) Zwischenergebnis

170

ff) Verfassungskonforme Auslegung der §§ 394, 395 AktG

170

d) Verfassungskonforme Auslegung der §§ 394, 395 AktG bei der Eigengesellschaft des Bundes

171

aa) Kollision der §§ 394, 395 AktG mit dem parlamentarischen Frage- und Informationsrecht

171

bb) Zulässigkeit der verfassungskonformen Auslegung der §§ 394, 395 AktG anhand der Auslegungsmethoden

173

cc) Kollision der §§ 394, 395 AktG mit dem Beweiserhebungsrecht des parlamentarischen Untersuchungsausschusses

174

dd) Ergebnis für die Eigengesellschaft des Bundes

176

e) Verfassungskonforme Auslegung der §§ 394, 395 AktG bei der Mehrheitsbeteiligung des Bundes

176

aa) Kollision der §§ 394, 395 AktG mit dem parlamentarischen Frage- und Informationsrecht

177

bb) Kollision der §§ 394, 395 AktG mit dem Beweiserhebungsrecht des parlamentarischen Untersuchungsausschusses

178

cc) Ergebnis für die Mehrheitsbeteiligung des Bundes

179

f) Verfassungskonforme Auslegung der §§ 394, 395 AktG bei der Minderheitsbeteiligung des Bundes

179

aa) Kollision der §§ 394, 395 AktG mit dem parlamentarischen Frage- und Informationsrecht

179

bb) Kollision der §§ 394, 395 AktG mit dem Beweiserhebungsrecht des parlamentarischen Untersuchungsausschusses

182

cc) Ergebnis für die Minderheitsbeteiligung des Bundes

183

V. Berichtsadressaten auf Landesebene

183

1. Gewähr der Vertraulichkeit bei Auskunftsverlangen nach den landesrechtlichen Informationsgesetzen

183

2. Ausschüsse und Gremien als Berichtsempfänger

184

3. Landtag als Berichtsempfänger

184

a) Gewährleistung der Vertraulichkeit im Falle des parlamentarischen Fragerechts auf Landesebene

186

aa) Beschränkung des AktG durch die Landesverfassung

186

bb) Fragerecht eines Landtagsabgeordneten und Art. 28 Abs. 1 S. 1 GG

187

b) Ergebnis

188

VI. Berichtsadressaten auf kommunaler Ebene

188

1. Rechnungsprüfungsamt als Berichtsadressat

188

2. Oberbürgermeister als Berichtsadressat

189

3. Gemeinderat als Berichtsadressat

189

a) Meinungsstand im Schrifttum

190

b) Keine Überlagerung des Gesellschaftsrechts durch das Kommunalrecht

191

c) Einzelfallentscheidung

192

4. Ausschüsse und Ratsfraktionen als Berichtsadressat

192

Kapitel 5: Rechtsfolge des § 394 AktG

194

A. Beschränkte Berichterstattung

194

I. Betriebs- und Geschäftsgeheimnisse i.S.d. § 394 S. 2 AktG

194

II. Zweck der Berichterstattung

195

1. Beurteilung zweier Aspekte im Rahmen des § 394 AktG

195

2. Beurteilung des Umfangs der weiterzugebenden vertraulichen Information

196

a) Der Meinungsstand zur Frage, wer den Umfang der weiterzugebenden vertraulichen Information zu beurteilen hat

196

b) Beurteilung durch das Aufsichtsratsmitglied

196

3. Beurteilungs-/Ermessensspielraum des Aufsichtsratsmitglieds, ob der Zweck der Berichterstattung die Weitergabe von vertraulichen Informationen erfordert

197

a) Der Meinungsstand zum Beurteilungs-/Ermessensspielraum des Aufsichtsratsmitglieds

197

b) Das Aufsichtsratsmitglied hat keinen Beurteilungs- oder Ermessensspielraum

198

B. Weitergabe vertraulicher Unterlagen

199

I. Zulässigkeit der Weitergabe von vertraulichen Unterlagen

199

II. Weitergabe des Prüfungsberichts des Abschlussprüfers

200

1. Der Meinungsstand zu den Voraussetzungen der Weitergabe des Prüfungsberichts des Abschlussprüfers

200

2. Die Voraussetzungen für die Weitergabe des Prüfungsberichts des Abschlussprüfers

200

Kapitel 6: Verstöße gegen die §§ 394, 395 AktG

202

A. Verstöße gegen § 394 AktG

202

I. Strafrechtliche Folgen

202

II. Zivilrechtliche Folgen

202

1. Haftung des Aufsichtsratsmitglieds

202

a) Regressanspruch des Beamten gemäß § 102 BBG gegen die Gebietskörperschaft

203

b) Haftungsfolgen und Nachteilsausgleich im Falle einer verfassungskonformen Auslegung

203

2. Abberufung, § 103 Abs. 3 AktG

205

3. Haftung der vertretenen Gebietskörperschaft

205

a) Keine Haftung aus § 839 BGB i.V.m. Art. 34 GG

205

b) Haftung als Beteiligter, § 830 BGB

206

c) Verletzung der mitgliedschaftlichen Treuepflicht

206

d) Haftung aus § 117 AktG

206

B. Verstöße gegen § 395 AktG

207

I. Straf- und disziplinarrechtliche Folgen

207

II. Zivilrechtliche Haftung

208

Kapitel 7: Schlussbetrachtung

209

A. Ergebnisse

209

B. Ausblick

218

Literaturverzeichnis

219

Stichwortverzeichnis

232