Capital markets & securities law & regulation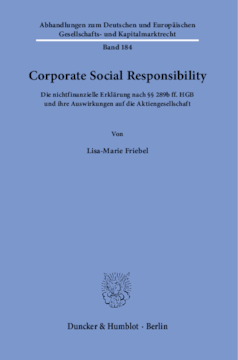 Additional Information
Book Details
ISBN

978-3-428-58303-4
978-3-428-18303-6 (print edition)

DOI

https://doi.org/10.3790/978-3-428-58303-4

Edition

1

Language

German

Pages

272

Collections

Subjects
Pricing
Institution

€ 92.00 (incl. local VAT if applicable)

Individual

€ 71.90 (incl. local VAT if applicable)
About The Author
Lisa-Marie Friebel studierte in den Jahren 2013 bis 2018 Rechtswissenschaften an der Universität Augsburg. Danach war sie von April 2018 bis März 2021 Wissenschaftliche Mitarbeiterin am Lehrstuhl für Bürgerliches Recht, Zivilverfahrensrecht, Unternehmensrecht, Europäisches Privat- und Internationales Verfahrensrecht von Herrn Professor Dr. Raphael Koch, LL.M. (Cambridge), EMBA. In dieser Zeit entstand ihre Dissertation. Sie widmet sich seit April 2021 ihrem Vorbereitungsdienst für Rechtsreferendare am OLG München.
Lisa-Marie Friebel studied law at the University of Augsburg from 2013 to 2018. Afterwards, she was a research assistant at the chair of Civil Law, Civil Procedure Law, Corporate Law, European Private and International Procedural Law of Professor Dr Raphael Koch, LL.M. (Cambridge), EMBA from April 2018 to March 2021. During this time, she wrote her thesis She has been devoting herself to her preparatory service for legal trainees at the Munich Higher Regional Court since April 2021.
Abstract
Die Untersuchung befasst sich mit der durch das CSR RUG in der handelsbilanzrechtlichen Lageberichterstattung fixierten nichtfinanziellen Erklärung nach §§ 289b ff. HGB und ihren Auswirkungen auf die Aktiengesellschaft. Nach einer Skizzierung ihrer Entwicklungsstufen wird die nichtfinanzielle Erklärung als gesetzlicher Höhepunkt der Diskussion um »Corporate Social Responsibility« analysiert, um anschließend eine Bewertung über ihre tatsächliche Einflussnahme auf das bestehende Aktienrechtsregime vorzunehmen. Das unter Herausarbeitung ihrer Anreiz- und mittelbaren Steuerungsfunktion erörterte Resultat, dass die CSR-Berichtspflicht nicht über das Bilanzrecht hinaus die aktienrechtliche Leistungssorgfalt beeinflusst, stellt einen weiteren Schwerpunkt dar. Die Arbeit konzentriert sich außerdem auf eine Einschätzung, ob es sich bei dem gewählten Modell hinsichtlich des nationalen und europäischen Regelungsbedürfnisses um eine effektive Verankerung eines CSR Konzepts handelt. Sie schließt mit einem Ausblick de lege ferenda. »Corporate Social Responsibility. The Non-Financial Declaration According to §§ 289b ff. HGB and its Impact on the Public Limited Company«: The study deals with the non-financial declaration according to §§ 289b ff. HGB and its effects on public limited companies. Building on basic findings on the non-financial statement, its actual influence on the existing stock corporation law regime is assessed. This is followed by an assessment of whether the chosen model is an effective anchoring of a CSR concept.
Table of Contents
Section Title
Page
Action
Price

Vorwort

7

Inhaltsverzeichnis

11

§ 1 Einführung

19

A. Fragestellung

20

B. Gang der Untersuchung

22

Teil 1: Historische Entwicklung von CSR

24

§ 2 Corporate Social Responsibility

24

§ 3 Entwicklungsstufen

25

A. Von der gesellschaftspolitischen Verantwortung zum konkreten CSR-Konzept

25

B. Meilensteine der CSR-Berichterstattung

31

I. Grünbuch der Europäischen Kommission

32

II. Erste Mitteilung der Europäischen Kommission und CSR-Forum

34

III. Bilanzrechtsreformgesetz

35

IV. Zweite Mitteilung der Europäischen Kommission

35

V. Die "neue EU-Strategie (2011–14)"

36

VI. Die CSR-Richtlinie

38

C. CSR-Umsetzungsgesetz – Ein unabhängiges, selbstständiges Regelungskonzept

40

Teil 2: Die nichtfinanzielle Lageberichterstattung über CSR-Belange

43

§ 4 Zielsetzung der nichtfinanziellen Erklärung nach §§ 289bff. HGB

43

§ 5 Anwendungsbereich und Veröffentlichung der nichtfinanziellen Erklärung nach §§ 289bff. HGB

46

A. Anwendungsbereich der CSR-Berichtspflicht

46

I. Die Pflicht zur nichtfinanziellen Erklärung nach § 289b Abs. 1 HGB

47

1. "Große" Kapitalgesellschaft nach § 289b Abs. 1 S. 1 Nr. 1 HGB

47

2. "Kapitalmarktorientiert" im Sinne des § 264d HGB

48

3. Arbeitnehmerbeschäftigung

50

4. Das nationale Verständnis vom "Unternehmen von öffentlichem Interesse"

50

II. Befreiungstatbestände

50

B. Art der Veröffentlichung

51

I. Erweiterung des Lageberichts

52

1. Erweiterung um einen separaten Abschnitt

52

2. Vollintegrierte nichtfinanzielle Erklärung

52

a) Vollintegrierte Erklärung als nichtfinanzielle Erklärung

53

aa) Grammatikalische Auslegung

54

bb) Rechtsentwicklung des § 289b HGB

55

cc) Systematik

55

dd) Telos

56

ee) Ergebnis

58

b) Kein Widerspruch zu allgemeinen Berichterstattungsgrundsätzen

58

II. Eigenständiger Bericht

60

III. Fazit

61

C. Veröffentlichungszeitpunkt

62

§ 6 Inhaltliche Anforderungen an die nichtfinanzielle Erklärung nach §§ 289bff. HGB

63

A. Inhaltliche Mindestanforderungen nach § 289c HGB

63

I. Beschreibung des Geschäftsmodells

63

II. Reichweite der nichtfinanziellen Erklärung

64

1. Benannte Belange nach § 289c Abs. 2 Nr. 1–5 HGB

64

2. Unbenannte CSR-Belange

66

a) Erweiterung auf unbenannte CSR-Belange

66

b) Unternehmensindividuelle Bestimmung

67

c) Erweiterung der Berichtspflicht auf wesentliche unbenannte CSR-Belange

69

III. Konkrete Angaben zu den Aspekten

69

1. Wesentlichkeitsgrundsatz nach § 289c Abs. 3 HS. 1 HGB

70

2. Beurteilungsmaßstab und Bestimmbarkeit

72

a) Bestimmbarkeit

72

b) Beurteilungsmaßstab

74

3. Einzelangaben nach § 289c Abs. 3 Nr. 1–6 HGB

74

a) Verfolgte Konzepte einschließlich der Due-Diligence-Prozesse

75

b) Ergebnisse der Konzepte

76

c) Wesentliche Risiken der Geschäftstätigkeit

76

d) Wesentliche Risiken der Geschäftsbeziehungen, Produkte und Dienstleistungen

77

e) Bedeutsamste nichtfinanzielle Leistungsindikatoren

78

f) Hinweise auf im Jahresabschluss ausgewiesene Beträge und Erläuterungen

79

g) Zusammenfassung

79

IV. Comply or Explain nach § 289c Abs. 4 HGB

80

V. Anwendbarkeit der Anforderungen auf unbenannte Aspekte nach § 289c Abs. 2 HGB

81

VI. Freiwillige Erweiterung

82

VII. Resümee zu den inhaltlichen Mindestanforderungen nach § 289c HGB

83

B. Verwendung von Rahmenwerken

84

C. Weglassen nachteiliger Angaben nach § 289e HGB

88

§ 7 Berichtspflicht im Konzern

89

A. Pflicht zur nichtfinanziellen Konzernerklärung §§ 315bff. HGB

89

B. Befreiung des Einzelunternehmens nach § 289b Abs. 2 HGB

91

§ 8 Straf- und Bußgeldvorschriften

93

A. Unrichtige Darstellung nach § 331 Nr. 1 und Nr. 2 HGB

93

B. Verstoß gegen die Rechtsvorschriften zur Aufstellung nach § 334 Abs. 1 Nr. 3 und Nr. 4 HGB

95

C. Anwendung auf übrige verpflichtete Gesellschaftsformen

96

D. Zusammenfassung

97

Teil 3: Tatsächlicher Wirkungskreis der CSR-Berichterstattungspflicht in der Aktiengesellschaft

98

§ 9 Pflichtenzuwachs in der Aktiengesellschaft

99

A. Leitungsorgan als erklärendes Organ

99

I. Handlungspflichten des Vorstands

100

1. Ausführungspflichten und Wahlrechte

101

a) Anfertigung der Erklärung

101

aa) Pflicht zur Geschäftsmodellbeschreibung

101

bb) Auseinandersetzung mit ausdrücklich benannten CSR-Belangen

102

cc) Identifizierung wesentlicher Informationen

102

dd) Konzept- und Ergebnisbeschreibung sowie Comply or Explain

103

ee) Beschreibung der übrigen Einzelangaben nach § 289c Abs. 3 Nr. 3–6 HGB

104

ff) Veröffentlichungsart und Verwendung von Rahmenwerken

104

b) Veröffentlichung der Erklärung

104

2. Vorbereitungs- und Verifizierungspflichten

105

3. CSR-Compliance

105

4. Unterrichtung des Aufsichtsrats nach § 170 AktG

106

5. Vorlagepflicht nach § 320 Abs. 1 HGB und § 320 Abs. 3 S. 1 HGB

107

6. Keine Pflicht zur Beauftragung einer externen Prüfung

107

7. Ein neues "Pflichtenbündel" für den Vorstand

107

II. Delegation und Übertragbarkeit an Dritte

108

1. Grundsätzliche Delegations- und Übertragungsmöglichkeiten des Vorstands

108

2. CSR-bezogene Delegations- und Übertragungsmöglichkeiten

110

a) Ausdrücklich kodifizierte Leitungsaufgaben

110

b) Leitungsaufgaben mit Entscheidungsverantwortung

112

aa) CSR-Konzepte als Bestandteil der Planungs- und Steuerungsverantwortung

112

bb) CSR-Konzepte als "Chefsache"

113

c) Vorbereitungs- und Ausführungsmaßnahmen ohne Entscheidungsverantwortung

114

3. Zwischenergebnis

115

III. Pflichtenbündel mit unübertragbarem Kernbestand

115

B. Die Prüfung der CSR-Erklärung

116

I. Der Abschlussprüfer

116

1. Formelle Prüfungspflicht des Abschlussprüfers

116

2. Freiwillige externe Prüfung

119

3. Keine Auswirkungen auf die Prüfung nach § 289 Abs. 3 HGB und § 315 Abs. 3 HGB

120

4. Bilanzkontrollverfahren

120

5. Die formelle Prüfung durch den Abschlussprüfer

120

II. Der Aufsichtsrat

121

1. Umfang der Prüfungspflicht nach § 171 Abs. 1 AktG

122

2. Übertragbarkeit auf die CSR-Berichterstattung

124

a) Einschränkung der Prüfungsanforderungen

125

b) Vollumfängliche Prüfungsleistung des Aufsichtsrats

127

aa) Wortlaut und Systematik

128

bb) Genetische Auslegung

130

cc) Teleologische Auslegung

131

(1) CSR-Angaben als gleichwertige Informationen

131

(2) Interessenabwägung

133

(3) Die gemeinsame Aufgabe von Vorstand und Aufsichtsrat

135

(4) "Neue Erwartungslücke" beim Aufsichtsrat

137

(5) Vollumfängliche Prüfung als ratio legis des § 171 Abs. 1 AktG

141

dd) Ergebnis

142

c) Keine Einschränkbarkeit der Pflichtprüfung durch den Aufsichtsrat

142

3. Vollumfängliche Pflichtprüfung durch den Aufsichtsrat

143

III. Beauftragung nach § 111 Abs. 2 S. 4 AktG

143

IV. Ergebnis für die Prüfung der nichtfinanziellen Erklärung

144

C. CSR als Inhalt der Überwachungspflicht des Aufsichtsrats

145

I. Begleitende Überwachung und Beratung durch den Aufsichtsrat nach § 111 AktG

146

II. Zustimmungsvorbehalt des Aufsichtsrats nach § 111 Abs. 4 S. 2 HGB

146

1. Comply-Entscheidungen

147

2. Explain Entscheidungen

149

3. Zustimmungsvorbehalt bei bedeutsamen CSR-Entscheidungen

150

D. CSR-Ausschuss

151

I. Plenarvorbehalt

152

1. Plenarvorbehalte nach § 107 Abs. 3 S. 7 AktG

152

2. Ungeschriebener Plenarvorbehalt

153

II. Übertragbarkeit nach § 107 Abs. 3 S. 2 AktG

154

III. CSR-Ausschuss

157

IV. Resümee

159

E. Zusammenfassung

160

§ 10 Gesellschaftsinterne Auswirkungen der CSR-Berichterstattungspflicht auf die Aktiengesellschaft

161

A. Haftungsrisiken und Gestaltungsmöglichkeiten

162

I. Innenhaftung der Verwaltungsorgane

163

1. Objektiv sorgfaltswidrige Pflichtverletzung

163

2. Schuldhafte Pflichtwidrigkeit

165

3. Kausaler Schaden

166

4. Innenhaftung bei vorsätzlicher Pflichtverletzung

167

II. Außenhaftungsrisiken gegenüber Wertpapierinhabern

167

1. Kein Eingriff in Mitgliedschaftsrecht nach § 823 Abs. 1 BGB

168

2. Verletzung eines Schutzgesetzes nach § 823 Abs. 2 BGB

169

a) CSR-Berichterstattungspflichten als Schutzgesetz

170

b) Schutzgesetzeigenschaft der §§ 331, 334 HGB

171

c) Vorsätzliches Handeln

171

d) Kausaler Schaden

171

3. Keine vorsätzlich sittenwidrige Schädigung nach § 826 BGB

172

4. Haftung bei Erwerb auf dem Primärmarkt

172

a) Prospekthaftung nach §§ 9, 10 WpPG

173

aa) Prospekthaftung wegen fehlerhaftem Börsenzulassungsprospekt nach § 9 WpPG

174

(1) Nichtfinanzielle Berichterstattung als Bestandteil des Prospekts

174

(2) Unrichtigkeit und Unvollständigkeit

175

(3) CSR-Informationen als "wesentliche" Angabe

176

(4) Bestehendes Haftungsrisiko wegen fehlerhaftem Börsenzulassungsprospekt

178

bb) Prospekthaftung wegen fehlerhaftem Verkaufsprospekt nach § 10 WpPG

179

cc) Haftungsausschluss bei fehlerhaftem Prospekt § 12 WpPG

180

(1) Ausschluss nach § 12 Abs. 1 WpPG

180

(2) Keine haftungsbegründende Kausalität § 12 Abs. 2 Nr. 1 WpPG

180

(3) Ausschluss nach § 12 Abs. 2 Nr. 2 WpPG

181

dd) Prospekthaftung bei unrichtiger Berichterstattung über wesentliche Informationen

181

b) Mängelgewährleistung bei fehlerhafter CSR-Berichterstattung

182

aa) Anwendbarkeit der Sachmängelhaftung

183

bb) Bezugspunkt der Sachmängelhaftung

185

cc) CSR-Angaben und der Beschaffenheitsbegriff

186

dd) Rechtsfolgen aus dem Gewährleistungsrecht

189

(1) Nacherfüllung gemäß § 437 Nr. 1 in Verbindung mit § 439 BGB

189

(2) Rücktritt und Minderung

192

(3) Schadensersatz

193

c) Deliktische Haftungsansprüche

194

d) Zusammenfassung zur Primärmarkthaftung

195

5. Haftung bei Erwerb auf dem Sekundärmarkt

196

6. Resümee zu den Außenhaftungsrisiken

197

III. Zusammenfassung der Haftungsrisiken und Gestaltungsmöglichkeiten

198

B. CSR-Berichterstattung als Gegenstand der Hauptversammlung

199

I. Anfechtbarkeit von Hauptversammlungsbeschlüssen

200

II. Verweigerung der Entlastung und Anfechtung von Entlastungsbeschlüssen

201

1. Verweigerung der Entlastung

202

2. Anfechtung des Entlastungsbeschlusses

202

a) Vollständiges Fehlen der Erklärung oder ihrer wesentlichen Bestandteile

204

b) Unrichtige Erklärung

205

c) Zwischenergebnis

206

III. Anfechtbarkeit des Wahlbeschlusses

207

IV. Anfechtbarkeit des Jahresabschlusses

207

C. Abberufung des Vorstands aus dem Amt

207

D. Recht zur Überprüfung

208

E. Das vorsätzliche Missachten als scharf sanktioniertes Verhalten

209

Teil 4: Der raffinierte Wirkungsmechanismus der CSR-Berichterstattungspflicht und rechtspolitische Vorschläge de lege ferenda

211

§ 11 Ausstrahlungswirkung der CSR-Berichterstattungspflicht auf die deutsche Aktiengesellschaft

211

A. Handlungsanreize der nichtfinanziellen Erklärung

212

I. Kategorisierung der Erklärungstypen

212

II. Selbststeuerung durch unternehmerische Selbstinformation

213

III. Fremdsteuerung durch Marktteilnahme

214

1. Fremdsteuerung durch Offenlegung der Geschäftspolitik

214

2. Fremdsteuerung durch Marktkonkurrenz

215

IV. Mittelbare Regulierungsfunktion

216

V. Resümee

217

B. Veränderung des Formalziels der Aktiengesellschaft

217

I. Keine gesetzliche Verankerung

217

II. Faktisch materielle Verhaltensvorgaben?

218

1. Nichtfinanzielle Leistungserfolge als eigenständiges Unternehmensziel?

219

2. Keine Indienstnahme des Aktienrechts durch das Bilanzrecht

220

III. Kein Ausgreifen in die aktienrechtliche Formalzielleitbestimmung

223

C. Bindungswirkung der positiven nichtfinanziellen Erklärung

224

I. CSR-Erklärung als unverbindliche Absichtserklärung

224

II. CSR-Verfolgung keine "Nebenleistungspflicht"

225

III. Konzeptverfolgung als "Bemühenspflicht"

226

IV. CSR-Verfolgung als Obliegenheit

227

V. Nichtfinanzielle Erklärung als unverbindliche Absichtserklärung

228

D. Ergebnis

228

§ 12 Effizienz und Ausblick de lege ferenda

229

A. Das nationale Konzept "Funktionstrias der CSR-Rechnungslegungsvorschriften"

229

I. Funktion als Informationsbasis

230

1. Offizielle und unmittelbar vom Unternehmen stammende Informationen

230

2. Verlässlichkeit

230

3. Verständlichkeit

231

4. Festhalten an § 289d HGB de lege ferenda?

232

a) Die ersatzlose Streichung des § 289d HGB de lege ferenda

233

b) Keine ersatzlose Streichung des § 289d HGB

234

c) Verbindliche Vorgabe eines staatlichen Leitfadens in § 289d HGB

235

d) Resümee

236

5. Erweiterung des Anwendungsbereichs der Berichtspflicht de lege ferenda

237

a) Regulierung als Hauptzweck der CSR-Berichterstattung?

237

b) Informationsvermittlung als Hauptfunktion

238

c) Entscheidungserheblichkeit für den Kapitalmarkt?

239

d) Ausweitung des Anwendungsbereichs auf "große" Kapitalgesellschaften

240

e) Ergebnis

241

II. Vervollständigung der Lageberichterstattung

241

1. Die Lageberichterstattung als "unstimmiges Gesamtkonzept"?

241

2. Nichtfinanzielle Informationen als für die Gesamtwürdigung erforderliche Informationen

242

3. Das stimmige Gesamtkonzept der Lageberichterstattung

243

III. Förderung einer nachhaltigen Unternehmenspolitik

243

1. Erweiterung des Wesentlichkeitsgrundsatzes § 289c Abs. 3 HS. 1 HGB de lege ferenda

244

2. Einbettung in die Geschäftsleiterpflichten

245

a) Bedürfnis eines über die Berichtspflicht hinausgehenden Modells

245

b) Verankerung im materiellen Aktienrecht

245

aa) Gründe für eine Befürwortung der aktienrechtlichen Einbettung

245

bb) Keine verbindliche rechtsethische Anreichung der Geschäftsleitung

246

3. Mittelbare Steuerungswirkung als ausreichendes Konzept

248

B. Der "Übergang" zu einer nachhaltigen globalen Wirtschaft

249

Teil 5: Ergebnisse

252

§ 13 Zusammenfassung

252

A. Teil 1

252

B. Teil 2

252

C. Teil 3

254

D. Teil 4

256

Literaturverzeichnis

259

Stichwortverzeichnis

270