Capital markets & securities law & regulation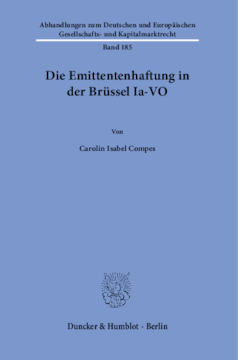 Additional Information
Book Details
ISBN

978-3-428-58395-9
978-3-428-18395-1 (print edition)

DOI

https://doi.org/10.3790/978-3-428-58395-9

Edition

1

Language

German

Pages

345

Collections

Subjects
Pricing
Institution

€ 116.00 (incl. local VAT if applicable)

Individual

€ 89.90 (incl. local VAT if applicable)
About The Author
Carolin Isabel Compes begann im September 2012 das Studium der Rechtswissenschaften an der Bucerius Law School in Hamburg, während dem sie im Jahr 2014 ein Auslandssemester an der New York University in den USA absolvierte. Die Prüfung des Ersten Juristischen Staatsexamens legte sie im November 2017 vor dem OLG Hamburg ab und begann im März 2018 mit der Promotion an der Juristischen Fakultät der Universität zu Köln. Von Februar 2018 bis März 2020 arbeitete sie als Wissenschaftliche Mitarbeiterin bei der Kanzlei Loschelder Rechtsanwälte in Köln. Im Juni 2020 begann sie den Juristischen Vorbereitungsdienst beim Landgericht Köln.
Carolin Isabel Compes began the Studies of Law at Bucerius Law School in Hamburg in September 2012, during which she spent a semester abroad at New York University in the USA in 2014. She passed her first bar exam at the Higher Regional Court of Hamburg in November 2017 and began her doctoral studies at the Law Faculty of the University of Cologne in March 2018. From February 2018 to March 2020, she worked as a research assistant at the law firm Loschelder Rechtsanwälte in Cologne. In June 2020, she began her legal traineeship at the Regional Court of Cologne.
Abstract
Die Arbeit beschäftigt sich mit der gerichtlichen Zuständigkeit nach der Brüssel Ia-VO für Schadensersatzansprüche aufgrund der Verletzung von Prospekt- und Ad-hoc-Publizitätspflichten. Die Haftungstatbestände werden dem Gerichtsstand der unerlaubten Handlung zugeordnet. Bei der Bestimmung des Handlungs- und Erfolgsortes setzt sich die Autorin mit der Rechtsprechung des EuGH und den Ansätzen in der Literatur kritisch auseinander und entwickelt ein Konzept der zuständigkeitsbegründenden Handlungszurechnung. Ferner beleuchtet sie die Bedeutung des Mehrparteiengerichtsstandes in derartigen Schadensersatzprozessen. Zudem werden die Anforderungen an Gerichtsstandsvereinbarungen in Gesellschaftsverträgen und Anleihebedingungen dargelegt sowie ihre persönliche und sachliche Reichweite bestimmt. Schließlich beleuchtet die Autorin das Verhältnis des Musterverfahrens nach dem KapMuG zu den Anerkennungs- und Verfahrenskoordinierungsvorschriften der Brüssel Ia-VO. »Issuer liability in the Brussels Ia Regulation«: This paper examines the jurisdiction in tort matters under the Brussels Ia Regulation in the context of liability for breaches of prospectus and ad-hoc publicity obligations. The multiple-party jurisdiction is discussed and the requirements for the prorogation of jurisdiction in articles of association as well as in terms and conditions of bonds are outlined. It examines the relationship of the model proceeding under the KapMuG to the provisions of recognition and procedural coordination.
Table of Contents
Section Title
Page
Action
Price

Vorwort

7

Inhaltsverzeichnis

9

Kapitel 1: Einführung in die Thematik

19

Kapitel 2: Grundlagen der Kapitalmarktinformationshaftung

26

A. Grundbegriffe des Kapitalmarktrechts

26

B. Die Kapitalmarktinformationshaftung im deutschen Sachrecht

30

I. Prospekthaftung

30

1. Prospekthaftung nach dem Wertpapierprospektgesetz

31

a) Haftung bei fehlerhaftem Börsenzulassungsprospekt nach § 9 WpPG

32

aa) Anwendungsbereich

32

bb) Unrichtigkeit oder Unvollständigkeit

33

(1) Beurteilungsmaßstab und -zeitpunkt

33

(2) Wesentlichkeit der Angaben

34

(3) Unrichtigkeit

34

(4) Unvollständigkeit

35

cc) Prospektverantwortlicher gemäß §§ 8, 9 Abs. 1 WpPG

36

dd) Verschulden

37

ee) Anspruchsberechtigter

38

ff) Haftungsbegründende Kausalität, § 12 Abs. 2 Nr. 1 WpPG

38

gg) Sonstige Haftungsausschlüsse, § 12 Abs. 2 Nr. 2–5 WpPG

39

hh) Ersatzfähiger Schaden

39

ii) Verjährung

40

b) Haftung bei sonstigem Prospekt nach §§ 10, 12 WpPG

40

c) Haftung bei fehlendem Prospekt nach § 14 WpPG

41

d) Haftung bei fehlerhaftem bzw. fehlendem Wertpapier-Informationsblatt nach §§ 11, 13 und 15 WpPG

43

2. Verkaufsprospekthaftung nach § 306 KAGB

44

a) Anwendungsbereich

44

b) Haftung bei fehlerhaftem Verkaufsprospekt nach § 306 Abs. 1 KAGB

45

c) Haftung bei fehlendem Verkaufsprospekt nach § 306 Abs. 5 KAGB

46

d) Haftung wegen fehlerhafter Angaben in den wesentlichen Anlegerinformationen nach § 306 Abs. 2 KAGB

46

3. Verkaufsprospekthaftung nach dem VermAnlG

46

a) Anwendungsbereich

47

b) Haftung bei fehlerhaftem Verkaufsprospekt gemäß § 20 VermAnlG

47

c) Haftung bei fehlendem Verkaufsprospekt gemäß § 21 VermAnlG

48

d) Haftung bei unrichtigem oder fehlendem Vermögensanlagen-Informationsblatt nach § 22 Abs. 1 VermAnlG

48

4. Allgemein-zivilrechtliche Prospekthaftung i.e.S.

49

a) Anwendungsbereich

49

b) Anspruchsvoraussetzungen

50

aa) Prospekt

50

bb) Prospektmangel

50

cc) Anspruchsberechtigter

51

dd) Anspruchsgegner

51

ee) Haftungsbegründende Kausalität

51

ff) Verschulden

52

gg) Ersatzfähiger Schaden

52

5. Haftung nach allgemeinem Deliktsrecht

53

a) Haftung aufgrund vorsätzlicher sittenwidriger Schädigung nach § 826 BGB

53

b) Haftung aufgrund einer Schutzgesetzverletzung nach § 823 Abs. 2 BGB

55

II. Haftung aufgrund einer Ad-hoc-Publizitätspflichtverletzung

56

1. Haftung nach §§ 97, 98 WpHG

57

a) Anwendungsbereich

57

b) Anspruchsgegner

57

c) Verletzung der Ad-hoc-Publizitätspflicht gemäß Art. 17 Marktmissbrauchs-VO, §§ 97, 98 WpHG

58

aa) Insiderinformation

58

bb) Unterlassen der Veröffentlichung einer Ad-hoc-Mitteilung gemäß Art. 17 Marktmissbrauchs-VO, § 97 Abs. 1 WpHG

59

cc) Fehlerhafte Insiderinformation gemäß § 98 Abs. 1 WpHG

60

dd) Unmittelbare Betroffenheit des Emittenten

61

d) Anspruchsberechtigte

61

e) Verschulden

62

f) Ersatzfähiger Schaden und haftungsbegründende Kausalität

62

g) Haftungsausschluss

64

2. Haftung nach allgemeinem Deliktsrecht

65

a) Haftung aufgrund vorsätzlicher sittenwidriger Schädigung nach § 826 BGB

65

b) Haftung aufgrund einer Schutzgesetzverletzung nach § 823 Abs. 2 BGB

67

Kapitel 3: Die Zuständigkeit nach der Brüssel Ia-VO

70

A. Anwendungsbereich

71

B. Die Gerichtsstände der Brüssel Ia-VO

72

I. Allgemeiner Gerichtsstand, Art. 4 Abs. 1 Brüssel Ia-VO

72

1. Grundsatz des Beklagtengerichtsstandes

72

2. Keine ausschließliche Zuständigkeit nach Art. 24 Nr. 2 Brüssel Ia-VO

73

II. Gerichtsstand der unerlaubten Handlung, Art. 7 Nr. 2 Brüssel Ia-VO

74

1. Kapitalmarktinformationspflichtverletzungen als unerlaubte Handlung

75

a) Der Begriff der unerlaubten Handlung

75

b) Abgrenzung zur vertraglichen Streitigkeit nach Art. 7 Nr. 1 Brüssel Ia-VO

75

aa) Begriff des vertraglichen Anspruchs in Abgrenzung zur deliktischen Haftung

76

bb) Qualifikation der Ansprüche aufgrund Kapitalmarktinformationspflichtverletzungen im Einzelnen

80

(1) Prospekthaftung

81

(a) Die Rechtsprechung des EuGH aus der Rechtssache Kolassa

81

(b) Die Prospekthaftungstatbestände im Einzelnen

82

(aa) Spezialgesetzliche Prospekthaftungstatbestände

82

(bb) Allgemein-zivilrechtliche Prospekthaftung i.e.S.

85

(cc) Haftungstatbestände des allgemeinen Deliktsrechts

86

(2) Haftung wegen Ad-hoc-Publizitätspflichtverletzungen

86

cc) Zwischenergebnis

88

c) Annexkompetenz zugunsten des Vertragsgerichtsstandes?

88

2. Abgrenzung zum Verbrauchergerichtsstand

90

a) Anwendungsbereich

90

b) Die sachliche Reichweite im Hinblick auf Schadensersatzansprüche aufgrund der Verletzung von Kapitalmarktinformationspflichten

91

aa) Anwendbarkeit des Verbrauchergerichtsstands bei Rechtsnachfolge?

91

bb) Einbeziehung kapitalmarktrechtlicher Streitigkeiten in den sachlichen Anwendungsbereich der Art. 17ff. Brüssel Ia-VO?

94

c) Ergebnis

97

3. Grundlagen zur Bestimmung des Tatortes

97

a) Auslegungskriterien

97

b) Ubiquitätsprinzip

99

4. Handlungsort

100

a) Begriff des Handlungsortes

100

b) Zuständigkeitsbegründende Handlung bei der Haftung wegen der Veröffentlichung fehlerhafter Kapitalmarktinformationen

101

aa) Die Rechtsprechung des EuGH

103

bb) Prospekthaftung

105

(1) Mögliche Lösungsansätze

105

(a) Ort der Erstellung des Prospektinhalts

105

(b) Ort der Entscheidungszentrale

105

(c) Veröffentlichungsort

105

(d) Veröffentlichungsort, aber Unbeachtlichkeit von Notifizierungen

106

(2) Bewertung

106

(a) Sach- und Beweisnähe

106

(b) Interessen des geschädigten Anlegers

108

(c) Interessen des Emittenten

111

(d) Schlussfolgerungen

112

cc) Haftung wegen fehlerhafter Ad-hoc-Mitteilungen

114

(1) Mögliche Lösungsansätze

114

(2) Bewertung

115

(a) Sach- und Beweisnähe

115

(b) Interessen des geschädigten Anlegers

116

(c) Interessen des Emittenten

116

(3) Schlussfolgerungen

117

c) Die Bestimmung des Handlungsortes bei arbeitsteiliger Deliktsverwirklichung

117

aa) Die Rechtsprechung des EuGH und BGH

119

(1) Rechtssache Melzer

119

(2) Rechtssache CDC Hydrogen Peroxide

120

(3) Rechtsprechung des BGH

121

(4) Zwischenergebnis

122

bb) Bewertung der Argumente gegen eine Handlungszurechnung

122

(1) Abschließende Regelung durch Art. 8 Nr. 1 Brüssel Ia-VO?

123

(2) Fehlende ausdrückliche Regelung?

123

(3) Mangelnde Sach- und Beweisnähe?

124

(4) Überlastung der Zuständigkeitsprüfung?

125

(5) Interessen des klagenden Geschädigten

126

(6) Interessen des beklagten Schädigers

127

(7) Unmöglichkeit, autonome Kriterien zu entwickeln?

128

(8) Zwischenergebnis

129

cc) Umfang der Handlungszurechnung

129

(1) Organe einer Gesellschaft

129

(2) Unselbständig handelnde Personen

130

(a) Der Begriff des Verrichtungsgehilfen

130

(b) Die für den Geschäftsherrn zuständigkeitsbegründende Handlung

131

(3) Selbständige Dritte

133

(a) Einschränkendes Kriterium der Handlungszurechnung

133

(aa) Mögliche Begrenzungsmodelle

134

(bb) Bewertung im Hinblick auf die Haftung wegen fehlerhafter Kapitalmarktinformationen

135

(b) Schlussfolgerungen

136

d) Unterlassene Veröffentlichung eines Prospektes bzw. einer Ad-hoc-Mitteilung

138

e) Ergebnis zum Handlungsort

140

5. Erfolgsort

140

a) Die Bestimmung des Erfolgsortes bei primären Vermögensschäden

141

b) Die Konkretisierung des Erfolgsortes durch den EuGH

141

aa) Rechtssache Kronhofer

142

bb) Rechtssache Kolassa

143

cc) Rechtssache Universal Music International Holding

144

dd) Rechtssache Löber

146

ee) Würdigung

148

ff) Übertragung der Rechtsprechung auf Haftungsfälle aufgrund Ad-hoc-Publizitätspflichtverletzungen?

149

c) Bestimmung des Erfolgsortes für die Haftung aufgrund kapitalmarktrechtlicher Informationspflichtverletzungen

151

aa) Prospekthaftung

152

(1) Mögliche Anknüpfungspunkte

152

(a) Marktort

152

(b) Belegenheitsort des konkret geschädigten Vermögensteils

152

(c) Ort der Vermögensverfügung i.S.d. Erwerbsvertragsabschlusses

153

(d) Ort der Vermögensverfügung i.S.d. Anlageentscheidung

153

(2) Stellungnahme

154

(a) Zum Marktort

154

(b) Zum Ort des Erwerbsvertragsabschlusses

156

(c) Zum Ort der Anlageentscheidung

159

(d) Zum Belegenheitsort des unmittelbar geschädigten Kontos

160

(3) Zwischenergebnis

164

bb) Haftung wegen Ad-hoc-Publizitätspflichtverletzung

164

(1) Mögliche Lösungsansätze

164

(2) Stellungnahme

165

d) Rückgriff auf Vermögenszentrale des geschädigten Anlegers?

168

e) Verzicht auf Zuständigkeit am Erfolgsort?

170

f) Ergebnis zum Erfolgsort

172

III. Mehrparteiengerichtsstand, Art. 8 Nr. 1 Brüssel Ia-VO

172

1. Räumlich-persönlicher Anwendungsbereich

173

a) Sitzverschiedenheit

173

b) Drittstaatenproblematik

173

2. Das Konnexitätserfordernis

176

a) Auslegungsmaßstab

176

b) Das Erfordernis der einheitlichen Tatsachen- und Rechtsgrundlage

177

aa) Konkretisierung der einheitlichen Tatsachengrundlage

180

bb) Konkretisierung der einheitlichen Rechtsgrundlage

183

c) Das Problem der Zuständigkeitserschleichung

186

aa) Notwendigkeit der Vermeidung einer Zuständigkeitserschleichung

186

bb) Umsetzung

189

(1) Auslegung des Konnexitätserfordernisses

189

(2) Anwendung auf relevante Fallgestaltungen

190

(a) Unzulässige Ankerklage

190

(b) Offensichtlich unbegründete Ankerklage

191

(c) Nachträglicher Wegfall der Ankerklage

192

3. Die Konnexität zwischen Streitigkeiten aufgrund kapitalmarktrechtlicher Informationspflichtverletzungen

194

a) Geschädigter Anleger erhebt Klage

195

aa) Einheitliche Tatsachengrundlage

195

(1) Prospekthaftung

195

(2) Verletzung der Ad-hoc-Publizitätspflicht

197

bb) Einheitliche Rechtsgrundlage

198

(1) Prospekthaftung

198

(a) Vergleichbarkeit bei denselben Anspruchsgrundlagen

198

(b) Vergleichbarkeit verschiedener Anspruchsgrundlagen desselben nationalen Rechts

198

(c) Vergleichbarkeit verschiedener Rechtsordnungen

199

(2) Haftung aufgrund der Verletzung der Ad-hoc-Publizitätspflicht

202

(a) Vergleichbarkeit bei denselben Anspruchsgrundlagen

202

(b) Vergleichbarkeit verschiedener Anspruchsgrundlagen desselben nationalen Rechts

202

(c) Vergleichbarkeit verschiedener Rechtsordnungen

203

(3) Zuständigkeitserschleichung

205

(4) Zwischenergebnis

205

b) Emittent erhebt negative Feststellungsklage gegen Anleger

206

aa) Einheitliche Tatsachen- und Rechtsgrundlage

207

(1) Prospekthaftung

207

(2) Haftung aufgrund der Ad-hoc-Publizitätspflichtverletzung

209

(3) Zwischenergebnis

209

bb) Fehlende Vorhersehbarkeit

210

4. Ergebnis zum Mehrparteiengerichtsstand

211

C. Vereinbarungen über die Zuständigkeit, Art. 25 Brüssel Ia-VO

211

I. Gerichtsstandsvereinbarungen in Gesellschaftsverträgen

213

1. Bestandteil einer Satzung einer Aktiengesellschaft

213

a) Formwirksame Vereinbarung

213

aa) Bedeutung und Grundlagen

214

bb) Die Entscheidungen des EuGH in den Rechtssachen Peters und Powell Duffryn

216

cc) Gründungsgesellschafter

219

dd) Im Zuge einer Kapitalerhöhung beitretende Aktionäre

219

ee) Derivativer Aktienerwerb

221

ff) Nachträgliche Einführung durch Mehrheitsbeschluss

224

gg) Zwischenergebnis

227

b) Sachliche Reichweite und Bestimmtheit der Gerichtsstandsvereinbarung

227

aa) Unterscheidung zwischen allgemein gefassten Gerichtsstandsvereinbarungen und expliziter Erwähnung von kapitalmarktrechtlichen Streitigkeiten

228

bb) Einbeziehung von kapitalmarktrechtlichen Streitigkeiten

228

(1) Maßgebliche Rechtsordnung der Auslegung

228

(2) Die Auslegung nach deutschem Recht

231

(a) Der bisherige Stand in der Rechtsprechung

231

(b) Die Ansätze in der Literatur

233

(c) Bewertung im Hinblick auf kapitalmarktrechtliche Streitigkeiten

234

(3) Zwischenergebnis

237

cc) Bestimmtheit

237

dd) Schlussfolgerungen

241

c) Wirksamkeit nach nationalem Gesellschaftsrecht

241

aa) Vereinbarkeit mit dem Gebot der Satzungsstrenge

241

bb) Einführung einer Gerichtsstandsklausel durch Mehrheitsbeschluss

243

2. Bestandteil von Gesellschaftsverträgen weiterer Gesellschaftsformen

245

a) GmbH

245

b) Personengesellschaften

246

II. Gerichtsstandsvereinbarungen in Anleihebedingungen

248

1. Formwirksame Vereinbarung

249

a) Ersterwerb am Primärmarkt

249

aa) Die Rechtsprechung des EuGH in der Rechtssache Profit Investment SIM

249

bb) Übertragung der Grundsätze zu Gerichtsstandsvereinbarungen als Satzungsbestandteil

250

cc) Schlussfolgerungen

253

b) Zweiterwerb am Sekundärmarkt

254

aa) Die Rechtsprechung des EuGH in der Rechtssache Profit Investment SIM

254

bb) Geltung der Grundsätze zu Gerichtsstandsvereinbarungen als Satzungsbestandteil

256

(1) Bindung kraft Rechtsnachfolge

256

(2) Kenntnisnahmemöglichkeit als zusätzliche Voraussetzung?

257

cc) Gerichtsstandsvereinbarungen in Anleihebedingungen als Handelsbrauch gemäß Art. 25 Abs. 1 S. 3 lit. c) Brüssel Ia-VO

259

2. Sachliche Reichweite und Bestimmtheit

261

a) Auslegung

262

b) Bestimmtheit

263

3. Zwischenergebnis

264

III. Prorogationsbeschränkungen im Verhältnis zu Verbrauchern

265

1. Satzung einer AG

266

2. Sonstige Gesellschaftsverträge und Anleihebedingungen

266

IV. Allgemeine Missbrauchskontrolle

269

Kapitel 4: Das Musterverfahren nach dem KapMuG im Anwendungsbereich der Brüssel Ia-VO

272

A. Grundzüge des Musterverfahrens

273

I. Anwendungsbereich

273

II. Einleitung des Musterverfahrens in den Ausgangsverfahren

274

III. Das Musterverfahren vor dem Oberlandesgericht

274

1. Feststellungsziele als Streitgegenstand des Musterverfahrens

274

2. Verfahrensgang und Beteiligte

275

3. Abschluss des Musterverfahrens

276

B. Wirkungen des Musterentscheids gemäß § 22 KapMuG

276

I. Bindung der Prozessgerichte

276

II. Rechtskraftwirkung zwischen den Parteien

277

III. Bindung der Beigeladenen

280

1. Dogmatische Einordnung

280

2. Bindungswirkung für Folgeverfahren

282

IV. Die von der Bindungswirkung erfassten Verfahren

283

1. Erfordernis eines Aussetzungsbeschlusses im Sinne des § 8 Abs. 1 S. 1 KapMuG

283

2. Bei deutschen Prozessgerichten rechtshängige Ausgangsverfahren

284

a) Erfordernis der örtlichen Zuständigkeit des Prozessgerichts nach § 32b ZPO?

285

b) Vereinbarkeit der Zuständigkeit des OLG nach § 6 KapMuG mit den Zuständigkeitsregeln der Brüssel Ia-VO

286

3. Bei einem mitgliedstaatlichen Gericht rechtshängige Parallelverfahren

287

a) Beschluss nach Art. 30 Abs. 1 Brüssel Ia-VO als Aussetzungsbeschluss i.S.d. § 8 Abs. 1 S. 1 KapMuG?

288

b) Würdigung

289

C. Die Anerkennung des Musterentscheids im mitgliedstaatlichen Ausland

291

I. Entscheidung im Sinne des Art. 2 lit. a) Brüssel Ia-VO

292

1. Begriffsbestimmung durch den EuGH

292

2. Die Ansätze in der Literatur

293

3. Würdigung

295

II. Anerkennungsfähige Wirkungen

297

1. Ansätze zur Bestimmung der Entscheidungswirkungen

298

a) Grundsatz der Wirkungserstreckung

298

b) Autonome Bestimmung?

300

2. Anerkennungsfähige Wirkungen des Musterentscheids

302

a) Die Bindung der Parteien des Musterverfahrens

303

b) Die Bindung der Beigeladenen im Verhältnis zum Beklagten

303

D. Die Koordinierung von Parallelverfahren

306

I. Beteiligte des Musterverfahrens

307

1. Rechtshängigkeit des Ausgangsverfahrens

307

a) Voraussetzungen und Rechtsfolge einer Aussetzung nach Art. 29 Brüssel Ia-VO

307

b) Anwendung auf Ausgangsverfahren und Parallelverfahren

308

2. Klagerücknahme im Ausgangsverfahren

310

a) Aussetzung nach Art. 29 Abs. 1 Brüssel Ia-VO?

310

b) Aussetzung nach Art. 30 Brüssel Ia-VO

312

aa) Konnexität gemäß Art. 30 Abs. 3 Brüssel Ia-VO

312

bb) Ermessensentscheidung über die Verfahrensaussetzung

313

II. Nicht am Musterverfahren beteiligte Anleger

314

1. Koordinierungsansätze in der Literatur

315

2. Kritische Würdigung

316

Kapitel 5: Zusammenfassung der Ergebnisse

319

Literaturverzeichnis

323

Sachverzeichnis

343