Company law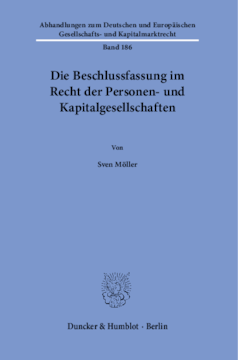 Additional Information
Book Details
ISBN

978-3-428-58450-5
978-3-428-18450-7 (print edition)

DOI

https://doi.org/10.3790/978-3-428-58450-5

Edition

1

Language

German

Pages

345

Collections

Subjects
Pricing
Institution

€ 104.00 (incl. local VAT if applicable)

Individual

€ 79.90 (incl. local VAT if applicable)
About The Author
Sven Möller studierte Rechtswissenschaft an der Friedrich-Schiller-Universität Jena und schloss sein Studium im Jahr 2017 mit der Ersten Juristischen Staatsprüfung ab. Neben der Promotion arbeitete er als wissenschaftlicher Mitarbeiter am Lehrstuhl für Bürgerliches Recht, Handels- und Gesellschaftsrecht, Privatversicherungsrecht und Internationales Privatrecht von Herrn Prof. Dr. Walter Bayer an der Friedrich-Schiller-Universität Jena. Den Juristischen Vorbereitungsdienst hat er im Jahr 2021 im Bezirk des Landgerichts Leipzig begonnen.
Sven Möller studied law at the Friedrich Schiller University of Jena. After passing his First State Examination, he worked as a research assistant at the Friedrich Schiller University of Jena at the Chair of Civil Law, Commercial and Corporate Law, Private Insurance Law and Private International Law of Professor Dr Walter Bayer. In the year 2021 he began his legal clerkship in the district of the Leipzig Regional Court.
Abstract
Die Beschlussfassung bildet die Grundlage für die Willensbildung und Willensäußerung von Verbänden. In ihren Einzelheiten ist die Dogmatik von Beschlüssen bis heute umstritten, was auch auf das Fehlen einer allgemeinen gesetzlichen Grundlage zurückzuführen ist. In der vorliegenden Arbeit werden – unter Berücksichtigung des bisherigen Diskussionsstandes in Rechtsprechung und Schrifttum – Parallelen, aber auch Unterschiede zwischen Personen- und Kapitalgesellschaften aufgezeigt. Daran anschließend werden die gesetzlichen Stimmverbotsregelungen in den Blick genommen. Obwohl diese eine herausragende praktische Relevanz aufweisen, sind sowohl Anwendungsbereich als auch Umfang der Stimmverbote nicht vollends geklärt. Ein besonderer Fokus der Arbeit liegt auf dem Verbot von Insichgeschäften nach § 181 BGB und dessen Bedeutung für die Stimmrechtsvertretung. »The Adoption of Resolutions in the Law of Partnerships and Corporations«: The thesis analyses various aspects concerning the adoption of resolutions by partners and shareholders. In addition to dogmatic questions regarding the resolution, the voting prohibitions under corporate law are examined. A further focus lies on the prohibition of self-dealing in Section 181 of the German Civil Code (BGB) and its significance for the resolution procedure.
Table of Contents
Section Title
Page
Action
Price

Vorwort

5

Inhaltsverzeichnis

7

Kapitel 1: Einleitung

19

A. Anlass, Gegenstand und Eingrenzung der Untersuchung

19

B. Aufbau der Untersuchung

20

Kapitel 2: Beschlussfassung und Beschlussdogmatik

22

A. Zustandekommen von Beschlüssen

22

I. Begriffsklärung und Grundzüge eines Beschlussverfahrens

22

II. Beschlussverfahren und Mehrheitsklauseln im Recht der Personengesellschaften

24

1. Allgemeines

24

2. Zulässigkeit von Mehrheitsentscheidungen

25

a) Bestimmtheitsgrundsatz

26

b) Kernbereichslehre

28

c) Belastungsverbot

30

d) Rechtsfolgen des Ausbleibens einer erforderlichen Mitwirkung durch die Gesellschafter

31

III. Beschlussverfahren und Mehrheitsverhältnisse im Recht der Kapitalgesellschaften

32

IV. Beschlussfassung durch einen Gesellschafter – ein Widerspruch?

35

B. Stimmabgabe und ihre rechtliche Behandlung

37

I. Stimmabgabe in Bezug auf den Beschlussantrag

37

II. Rechtsnatur der Stimmabgabe

38

1. Negative Stimmabgabe

38

2. Stimmenthaltung

39

3. Schweigen als (zustimmende) Stimmabgabe?

41

III. Zugang und Widerruflichkeit der Stimmabgabe

42

1. Adressat der Stimmabgabe

42

a) Kapitalgesellschaften

42

aa) Aktiengesellschaft

42

bb) Gesellschaft mit beschränkter Haftung

43

b) Personengesellschaften

44

c) Sonderfall: Ein-Personen-Gesellschaft

48

2. Widerruflichkeit nach Zugang?

48

IV. Anfechtbarkeit der Stimmabgabe

51

1. Allgemeines

51

2. Besonderheiten im Aktienrecht

51

3. Besonderheiten im GmbH-Recht und Personengesellschaftsrecht

53

4. Rechtsfolgen für den Beschluss

54

C. Rechtsnatur und Form von Beschlüssen

55

I. Rechtsnatur

55

1. Beschluss als Rechtsgeschäft?

55

2. Beschluss als Vertrag?

57

II. Form

60

1. Aktienrecht

60

a) Grundsatz: Notarielle Beurkundung

60

b) Nachholung der Beurkundung mit Rückwirkung?

61

2. GmbH-Recht

63

3. Recht der Personengesellschaften

63

D. Abschluss der Beschlussfassung durch Feststellung des Beschlusses

64

I. Allgemeines

64

II. Beschlussfeststellung von Hauptversammlungsbeschlüssen

65

III. Beschlussfeststellung als verbandsübergreifendes Beschlusselement?

67

1. Fehlen zwingender gesetzlicher Vorschriften

67

2. Parallele zur Beschlussfassung in der Wohnungseigentümerversammlung

68

3. Beschlussfeststellung als unverzichtbares Beschlusselement?

69

a) Beschlussfeststellung in (gescheiterten) Reformvorhaben

69

b) Analogie zum Aktienrecht

70

c) Beschluss als Akt des Gesamtorgans

71

d) Sonderfall: Beschlussfassung im Umlaufverfahren

74

e) Ergebnis und rechtspolitischer Ausblick

75

IV. Folgen der Beschlussfeststellung

75

1. GmbH-Recht

75

2. Personengesellschaftsrecht

77

V. Inhaber der Beschlussfeststellungskompetenz

79

1. Aktienrecht

79

2. GmbH-Recht

80

a) Meinungsstand

80

b) Stellungnahme: Differenzierte Betrachtung

81

aa) Gesellschafterversammlung mit originärer Beschlussfeststellungskompetenz

81

bb) Versammlungsleiter als Funktionsgehilfe der Gesellschafterversammlung

83

cc) Ausschließliche Kompetenz des Versammlungsleiters

85

c) Entscheidungsvorgaben für den Versammlungsleiter

86

3. Rechtsfolgen der unberechtigten Übernahme der Versammlungsleitung

87

4. Recht der Personengesellschaften

87

VI. Verpflichtung des Versammlungsleiters zur Beschlussfeststellung?

88

E. Der "stimmlose Beschluss" – eine Sonderkategorie in der Beschlussdogmatik?

89

I. Aktienrecht

89

1. Rechtslage in der Mehr-Personen-AG

89

2. Besonderheiten bei der Ein-Personen-AG?

91

II. GmbH-Recht

92

III. Recht der Personengesellschaften

94

F. Auslegung von Beschlüssen

94

I. Differenzierte Betrachtung in Rechtsprechung und Schrifttum

94

II. Stellungnahme

96

G. Inhalt und Umsetzung von Beschlüssen

99

I. Bedingte und befristete Beschlüsse

99

II. Wirkungen des Beschlusses im Innen- und Außenverhältnis

100

Kapitel 3: Stimmrecht und Stimmrechtsausschluss

103

A. Stimmrecht als Mitgliedschaftsrecht

103

I. Klassifizierung des Stimmrechts

103

II. Stimmrechtsinhaber und gewillkürter Stimmrechtsausschluss

104

1. Kapitalgesellschaften

104

2. Personengesellschaften

106

a) Überblick

106

b) Anwendung auf die (Einheits-)‌GmbH & Co. KG

108

III. Verbot der Abspaltung des Stimmrechts

109

1. Dogmatische Herleitung und Umfang des Abspaltungsverbots

109

2. Abspaltungsverbot und Stimmrechtsübertragung

112

3. Bestellung eines Nießbrauchs an Kapital- und Personengesellschaftsanteilen

114

IV. Vertretung bei der Stimmrechtsausübung

116

1. Kapitalgesellschaften

116

a) Aktiengesellschaft

116

b) GmbH

116

2. Personengesellschaften

117

B. Normative Grundlagen des Stimmrechtsausschlusses

119

I. Stimmverbot und Stimmrechtsausschluss

119

1. Begriffliche Differenzierung

119

2. Normzweck der Stimmverbotsvorschriften

119

3. Kein allgemeines Stimmverbot

121

II. Historie

122

1. Aktienrecht

122

a) Allgemeines Deutsches Handelsgesetzbuch

122

b) Ablösung durch Handelsgesetzbuch

123

c) Neuerung durch Aktiengesetz von 1937

123

d) Fortgeltung durch Aktiengesetz von 1965

124

2. GmbH-Recht

124

3. Vereinsrecht

125

III. Dogmatische Grundlagen der Stimmverbote

125

1. Verbot des Insichgeschäfts und des Richtens in eigener Sache

125

2. Identität mit Verbot des Insichgeschäfts (§ 181 BGB)

126

3. Eigenständige Ausschlusstatbestände für bestimmte Befangenheitsfälle

128

Kapitel 4: Rechtsformübergreifende Darstellung der (starren) Stimmverbote

129

A. Sachlicher Anwendungsbereich der kapitalgesellschaftsrechtlichen Stimmverbote

129

I. Beschlussfassung über Entlastung

129

1. Gesamtentlastung

130

2. Einzelentlastung

130

a) Überblick

130

b) Relevanz des Entlastungsverfahrens für die Reichweite des Stimmverbots

131

c) Ausdehnung des Stimmverbots auf weitere Organmitglieder

131

aa) Keine generelle Erweiterung

131

bb) Gemeinsame Pflichtverletzung und Verletzung von Aufsichts- und Überwachungspflicht

132

3. Ausdehnung auf Mitglieder anderer Organe

135

a) Stimmverbot des Geschäftsführungsorgans

135

b) Stimmverbot des Überwachungsorgans

136

II. Befreiung von einer Verbindlichkeit

137

III. Geltendmachung eines Anspruchs bzw. Einleitung oder Erledigung eines Rechtsstreits

138

IV. Vornahme eines Rechtsgeschäfts

140

1. Grundlagen

140

2. Identität von Gesellschafter und Geschäftsgegner

142

3. Ausnahme vom Stimmverbot für Abstimmung über "Sozialakte"

142

a) Dogmatische Grundlage

143

aa) Tatbestandliche Einschränkung aufgrund historischer Auslegung?

143

bb) Beurteilung anhand des Normzwecks

145

b) Einzelfälle der teleologischen Reduktion

146

aa) Bestellungs- und Anstellungsmaßnahmen sowie Abberufung und Kündigung

147

(1) Bestellung und Anstellung als Geschäftsführer

147

(2) Abberufung als Geschäftsführer und Kündigung des Anstellungsvertrages

149

(3) Wahl und Abwahl als Versammlungsleiter

150

bb) Maßnahmen mit unmittelbarer Wirkung auf das Mitgliedschaftsverhältnis

150

(1) Kaduzierung von GmbH-Geschäftsanteilen

150

(2) Einziehung von GmbH-Geschäftsanteilen

150

(3) Ausschluss des Gesellschafters

153

cc) Strukturändernde und grundlegende Maßnahmen

154

B. Persönlicher Anwendungsbereich der kapitalgesellschaftsrechtlichen Stimmverbote

155

I. Verbandsmitglied

155

1. Grundsatz

155

2. Rechtsprobleme bei der Beteiligung von Drittgesellschaften

155

a) Ausweitung des Stimmverbots von der Drittgesellschaft auf Gesellschafter und Organmitglieder

155

b) Ausweitung des Stimmverbots von Gesellschaftern und Organmitgliedern auf die Drittgesellschaft

162

3. Teleologische Reduktion der Stimmverbote

165

a) Gleichmäßige Betroffenheit aller Gesellschafter

165

b) Beschlussfassung durch Alleingesellschafter

166

II. Stimmrechtsvertreter

166

1. Grundsätze

166

2. Stimmverbot für (organschaftlichen) Vertreter der Ein-Personen-Gesellschaft?

167

III. Stimmverbot aufgrund persönlicher Nähebeziehung?

168

C. Stimmverbote im Personengesellschaftsrecht

169

D. Stimmverbot bei der Beschlussfassung aus wichtigem Grund im GmbH-Recht

172

I. Dogmatische Herleitung

172

II. Einzelausprägungen im GmbH-Recht und Auswirkungen auf die Beschlussfassung

174

1. Geschäftsführerabberufung aus wichtigem Grund

174

a) Darstellung des Meinungsstandes

176

aa) Stimmverbot bereits aufgrund des Beschlussgegenstandes

176

bb) Stimmverbot bei (substantiierter) Behauptung des wichtigen Grundes

176

cc) Stimmverbot nur bei objektivem Vorliegen des wichtigen Grundes

177

dd) Entscheidungshoheit der rechnerischen Gesellschaftermehrheit in der Versammlung

177

b) Anforderungen an das Eingreifen des Stimmverbots

178

aa) Gesetzliche Ausgangslage

178

bb) Gerichtlicher Rechtsschutz

178

cc) Rechtssicherheitsaspekte

180

dd) Zwischenergebnis

180

c) Kompetenz zur Entscheidung über die Stimmverbote

181

d) Vorläufige Wirksamkeit des Beschlusses

182

aa) Grundsatz

182

bb) Modifikationen bei der paritätischen Zwei-Personen-GmbH?

182

(1) Erhöhte Anforderungen an den wichtigen Grund?

182

(2) Beschlussfeststellung und Wirksamwerden einer Abberufungsentscheidung

183

cc) Besonderheiten zum Schutz eines Sonderrechtsinhabers?

184

2. Ausschluss des Gesellschafters und Einziehung des Gesellschaftsanteils aus wichtigem Grund

184

a) Geltung eines Stimmverbots

184

b) Anforderungen an das Eingreifen des Stimmverbots

185

aa) Ausschließung durch gerichtliches Urteil

185

bb) Ausschluss unmittelbar durch Beschluss sowie Einziehung aus wichtigem Grund

186

c) Eintragung in Gesellschafterliste

187

3. Rechtsfragen der Versammlungsleitung

187

a) Möglichkeit der Abberufung des Versammlungsleiters

187

b) Beschlussfeststellungskompetenz des befangenen Versammlungsleiters?

188

c) Stimmverbot bei der Abberufung des Versammlungsleiters aus wichtigem Grund?

189

III. Aktienrechtliches Stimmverbot bei der Beschlussfassung aus wichtigem Grund?

190

1. Abberufung von Aufsichtsratsmitgliedern aus wichtigem Grund

190

2. Abberufung des Hauptversammlungsleiters aus wichtigem Grund

190

E. Rechtsfolge und Abdingbarkeit von Stimmverboten

191

I. Aktienrecht

192

II. Recht der GmbH

192

III. Personengesellschaftsrecht

196

Kapitel 5: Verbot von Insichgeschäften nach § 181 BGB bei der Beschlussfassung

198

A. Einführung zum Verbot von Insichgeschäften nach § 181 BGB

198

B. Insichgeschäfte bei (Befreiungs-)‌Beschlüssen des geschäftsführenden (Allein-)‌Gesellschafters im Wandel von Rechtsprechung und Gesetzgebung

201

C. Dogmatik von Insichgeschäften bei der Stimmrechtsvertretung

203

D. Selbstbetroffenheit aufgrund des Gegenstandes der Beschlussfassung

205

I. Vorliegen eines Insichgeschäfts nach § 181 BGB

205

II. Selbstbestellung des Vertretungsorgans der Muttergesellschaft in einer Tochter-GmbH

208

1. Anwendbarkeit spezieller Stimmverbote

209

a) Meinungsstand in Rechtsprechung und Schrifttum zur Selbstbestellung im GmbH-Recht

209

b) Stellungnahme

210

c) Zwischenergebnis

211

2. Selbstbestellung als Insichgeschäft nach § 181 BGB

211

3. Zuständigkeit des Aufsichtsrates einer Mutter-Aktiengesellschaft nach § 112 S. 1 AktG?

212

E. Stimmrechtsvertretung durch Mitgesellschafter sowie Mehrvertretung

214

I. Entwicklung in der Rechtsprechung

215

II. Analogie zu § 181 BGB und Notwendigkeit einer differenzierten Beurteilung

218

1. Dogmatische Einordnung

218

2. Zulässigkeit der Differenzierung nach dem Beschlussgegenstand

218

3. Einteilung der Beschlussgegenstände

220

a) Grundlagenbeschlüsse

220

aa) Änderung der Satzung bzw. des Gesellschaftsvertrages

220

bb) Kapitalmaßnahmen im Aktien- und GmbH-Recht

221

cc) Anpassung von Beitragspflichten im Personengesellschaftsrecht

223

dd) Auflösung und Fortsetzung der Gesellschaft

224

ee) Umwandlungsmaßnahmen und Unternehmensverträge

225

ff) Zustimmung zum Gesellschafterwechsel

226

b) Geschäftsführungsbeschlüsse

228

aa) Grundsätze

228

bb) Ausnahme: Holzmüller-/Gelatine-Grundsätze

229

(1) Aktienrecht

229

(2) Recht der GmbH und Personengesellschaften

230

cc) Bestellung, Abberufung und Entlastung des Geschäftsführungsorgans

230

dd) Feststellung des Jahresabschlusses und Gewinnverwendung

231

(1) Feststellung des Jahresabschlusses

231

(2) Gewinnverwendungsbeschlüsse

232

4. Differenzierung nach Beschlussmehrheiten?

233

F. Tatbestandliche Beschränkung nach Rechtsform der Gesellschaft?

234

I. Personengesellschaften

234

II. Kapitalgesellschaften

235

1. GmbH

235

2. Aktiengesellschaft

236

a) Vorrang aktienrechtlicher Regelungen?

236

b) Fehlen eines Interessenkonfliktes

238

c) Ergebnis

238

G. Zulässigkeit des Insichgeschäfts

239

I. Gestattung durch vertretenen Gesellschafter

239

1. Zulässigkeit der Gestattung

239

2. Form der Gestattung

240

3. Gestattung bei organschaftlicher Stimmrechtsvertretung

241

4. Gestattung bei Verwaltern fremden Vermögens kraft Amtes

243

II. Stimmabgabe in Erfüllung einer Verbindlichkeit

244

H. Rechtsfolgen eines Verstoßes gegen § 181 BGB

244

I. Grundsätze

244

II. Anwendung auf die verbandsrechtliche Beschlussfassung

245

1. Rechtsfolgen einer Stimmrechtsvertretung ohne Vertretungsmacht

245

2. Übertragung auf Insichgeschäfte im Rahmen der Beschlussfassung

246

III. Rechtsformspezifische Besonderheiten

247

1. Hauptversammlungsbeschlüsse

247

a) Schwebende Unwirksamkeit der Stimmabgabe?

247

b) Auswirkungen auf den Beschluss

248

c) Nachweis der Gestattung des Insichgeschäfts

249

2. Beschlüsse der GmbH-Gesellschafterversammlung

250

a) Wirksamkeit der Stimmabgabe

250

b) Auswirkungen auf den Beschluss

250

c) Nachweis der Gestattung des Insichgeschäfts

251

3. Gesellschafterbeschlüsse in der Personengesellschaft

251

IV. Reichweite der Vertretungsbeschränkung aus § 181 BGB

252

1. Stimmrecht des Vertreters im eigenen Namen

252

2. Möglichkeit der Enthaltung?

252

Kapitel 6: Vorbereitung und Durchführung der Beschlussfassung im Überblick

254

A. Einberufung der Gesellschafter- bzw. Hauptversammlung

254

I. GmbH-Recht

254

1. Grundsatz

254

2. Einberufungsrecht der Gesellschafterminderheit

255

a) Überblick

255

b) Materieller Gehalt von § 50 Abs. 2 GmbHG

255

aa) Meinungsstand im Schrifttum

255

bb) Stand der Rechtsprechung

256

cc) Stellungnahme

257

(1) Materieller Minderheitenschutz

257

(2) Zulässigkeit eines Nichtbefassungsbeschlusses in Geschäftsführungsangelegenheiten?

258

(3) Schutz der Minderheit bei unberechtigter Absetzung von der Tagesordnung

260

(4) Genereller mitgliedschaftlicher Bescheidungsanspruch?

261

II. Aktienrecht

262

1. Grundsatz

262

2. Einberufungsrecht der Aktionärsminderheit

262

a) Überblick

262

b) Absetzung bzw. Vertagung einzelner Tagesordnungspunkte

263

aa) Vor Eröffnung der Hauptversammlung

263

bb) Nach Eröffnung der Hauptversammlung

264

III. Recht der Personengesellschaften

266

1. Grundsätze

266

2. Kommanditgesellschaft

267

3. Besonderheiten für Publikumspersonengesellschaften

268

B. Rechtsfolgen von Einberufungsfehlern

269

I. Aktienrecht

269

1. Überblick

269

a) Nichtigkeit und Heilung

269

b) Anfechtbarkeit

270

2. Vollversammlung

270

II. GmbH-Recht

270

1. Überblick

270

2. Vollversammlung

272

3. Rügeverzicht

272

III. Recht der Personengesellschaften

273

C. Einzelfragen zum Beschlussverfahren

274

I. Aktienrecht

274

1. Entscheidung über Form der Stimmrechtsausübung

274

2. Block- oder Einzelabstimmung

275

3. Verfahren bei Wahlbeschlüssen der Hauptversammlung

275

a) Zuständigkeit zur Festlegung des Wahlverfahrens

275

b) Wahlverfahren bei Aufsichtsratswahlen

276

aa) Listenwahl

277

bb) Einzelwahl

279

4. Abstimmungsreihenfolge

280

II. GmbH-Gesellschafterversammlung

282

1. Überblick

282

2. Kombinierte Beschlussfassung

282

a) Notwendigkeit einer Satzungsregelung?

282

b) Rechtsfolgen bei fehlender Satzungsregelung

285

III. Recht der Personengesellschaften

287

D. Sonderreglungen im Zusammenhang mit der COVID-19-Pandemie

288

I. Aktienrecht

288

1. Vereinfachung vorhandener Handlungsoptionen

288

2. Schaffung einer Online-Hauptversammlung

289

3. Weitere Sonderregelungen

290

4. Zustimmung durch den Aufsichtsrat

291

5. Beschränkung des Anfechtungsrechts

291

II. GmbH-Recht

291

III. Personengesellschaftsrecht

293

Kapitel 7: Thesenförmige Zusammenfassung

294

A. Beschlussdogmatik

294

B. Stimmrecht und Stimmverbote

295

C. Beschlussfassung und § 181 BGB

296

D. Vorbereitung und Durchführung der Beschlussfassung

298

Literaturverzeichnis

299

Sachverzeichnis

342